These baked Ham and Cheese Crescent Rolls appetizers can be whipped up as an easy appetizer, brunch food, or even a midnight snack.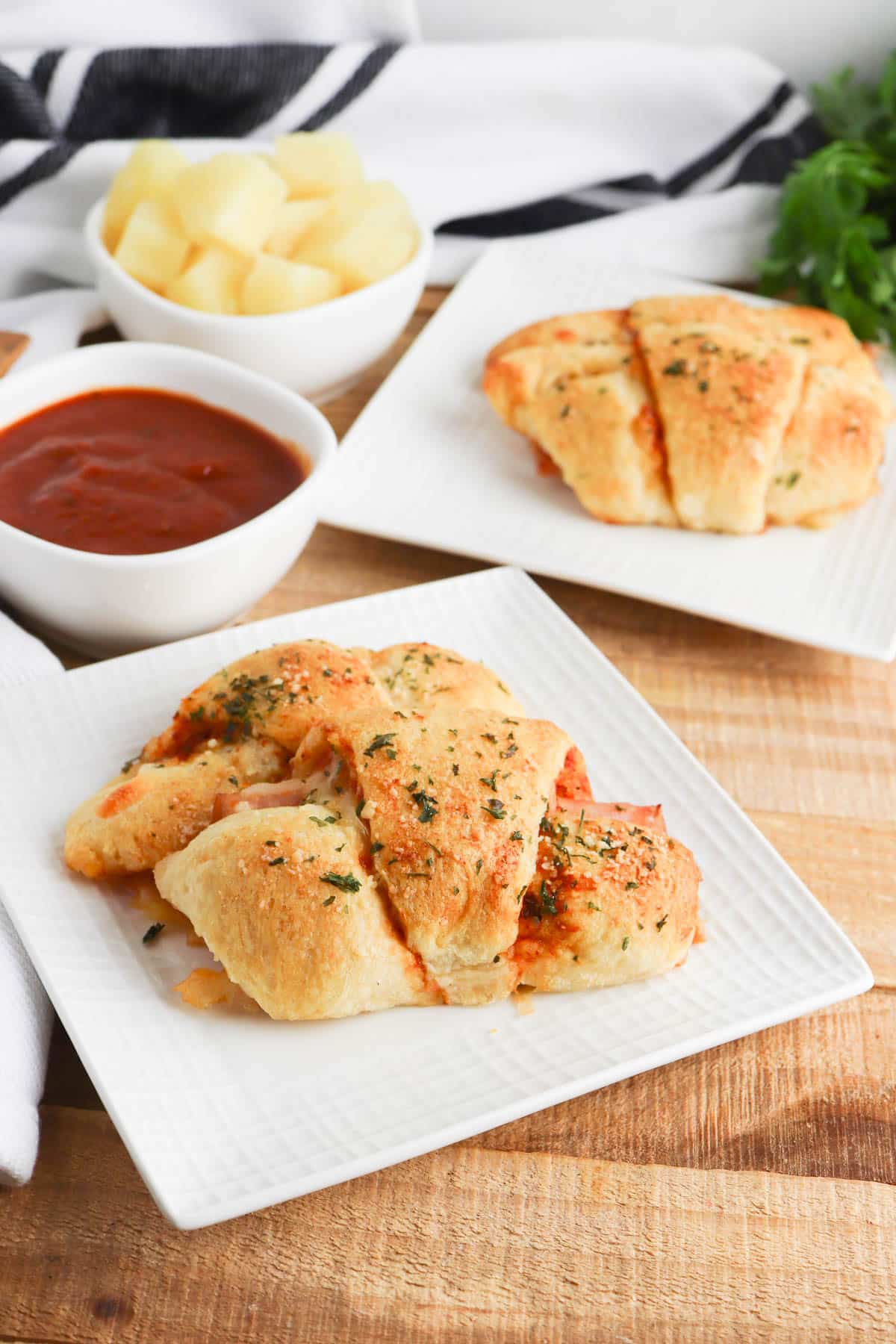 We took these crescent roll ups up a notch, giving them the full Hawaiian pizza treatment with sauce and pineapple. Let me tell you, it's delicious!
We like quick and easy snacks to have with a glass of wine, like these Italian Stromboli Crescent Rolls, sweet potato bites, or a cheese charcuterie board.
A little sweet and a little salty, plus filled with cheesy goodness, these ham and cheese crescent rolls are a great snack option for all ages.
These melty cheese rolls with hot ham slices are so easy to make and don't take much time at all.
The best part is you may have all the simple ingredients in your home already!
In less than 15 minutes, you can whip up a batch of these great appetizers. This is great when people stop by at the last minute, or your family is looking for a quick snack.
Why This Recipe Works
This recipe is super easy!
Simple enough that even kids can help put it together.
Premade crescent dough sheets are a kitchen lifesaver
Prep time is minimal
Baking time under 15 minutes
When you're looking for a quick and delicious appetizer, these buttery rolls are a good option to put together in a hurry.
With the combination of ingredients, it goes beyond tired pigs-in-a-blanket recipes to make something uniquely tasty.
What Goes Into This Recipe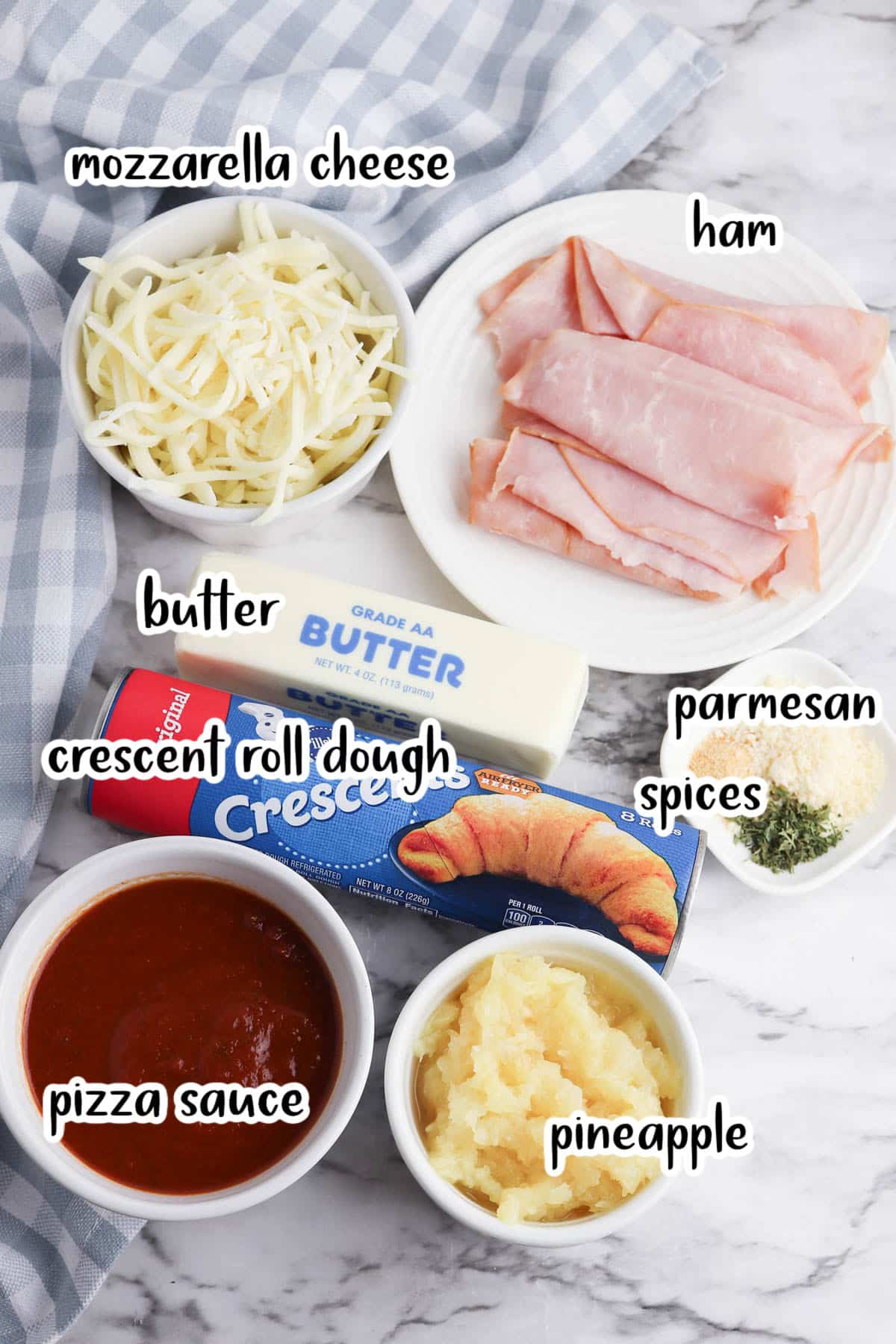 Key Ingredients
1 Crescent Rolls. You can find these canned crescent rolls in your grocery store refrigerated case. They are a staple of many recipes like this with their quick bake time and buttery, fluffy texture.
2 Ham. Thin-sliced deli ham, like black forest ham, works great for this. You want to make sure that you will be able to roll up the delicious ham into the crescent roll.
3 Cheese. There are two types of cheese used with this recipe. The first is the mozzarella that goes inside of the crescent rolls. But a sprinkle of parmesan on the outside before baking adds a wonderful savory flavor burst.
See recipe card for quantities and full directions.
How to Make Ham and Cheese Crescent Rolls
Step 1. Line a baking sheet with aluminum foil, or cut a piece of parchment paper to lay on the sheet.
Step 2. Preheat the oven to 375º F.
Step 3. Open the tube of crescent roll dough. Unroll the dough, and use the perforation to separate the dough into triangles.
Step 4. Open and drain the can of pineapple.
Step 5. Put a thin layer of pizza sauce on one side of each dough triangle.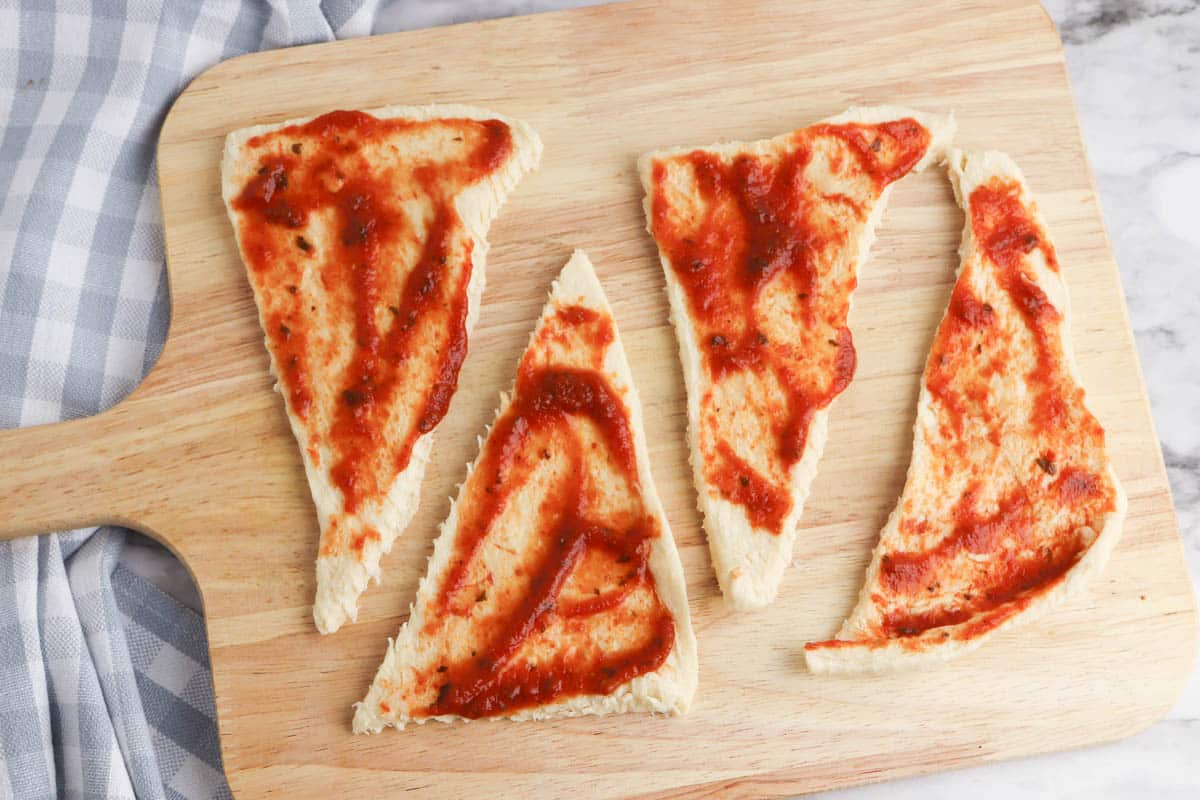 Step 6. Add some crushed pineapple on top of the sauce.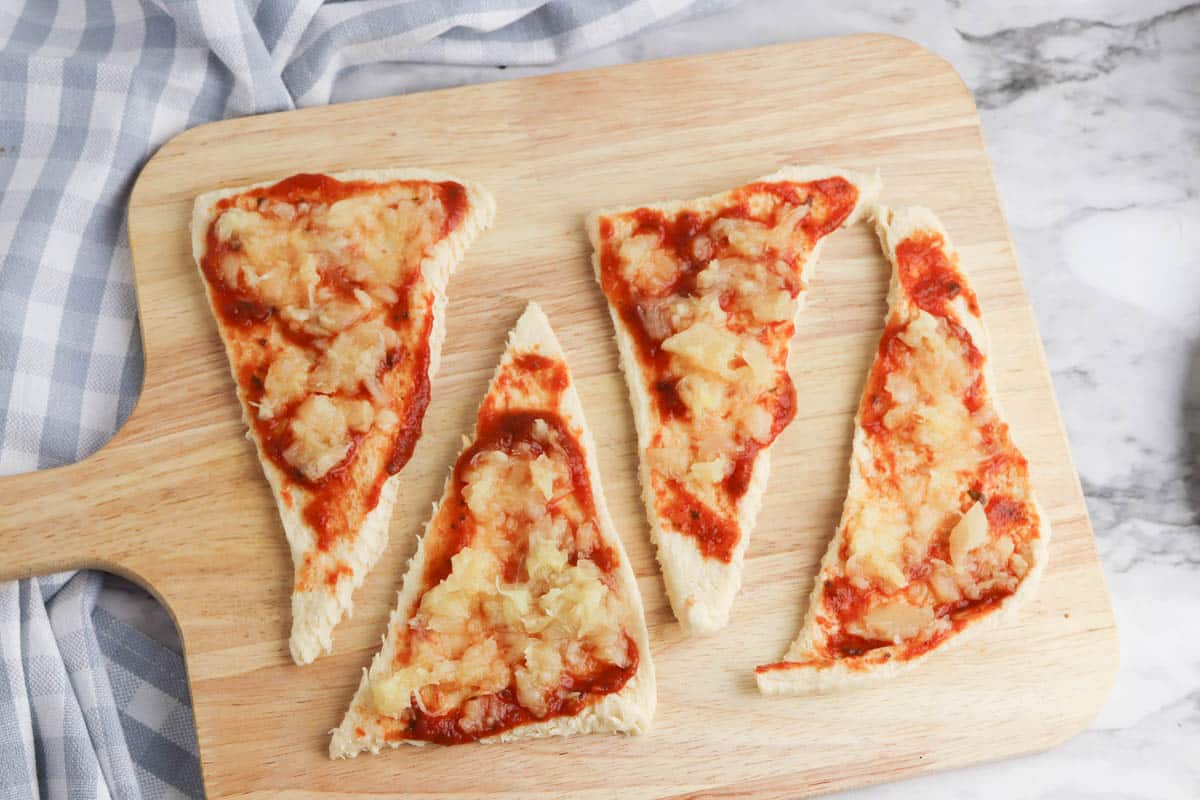 Step 7. Sprinkle with a layer of shredded mozzarella cheese on top of the pineapple.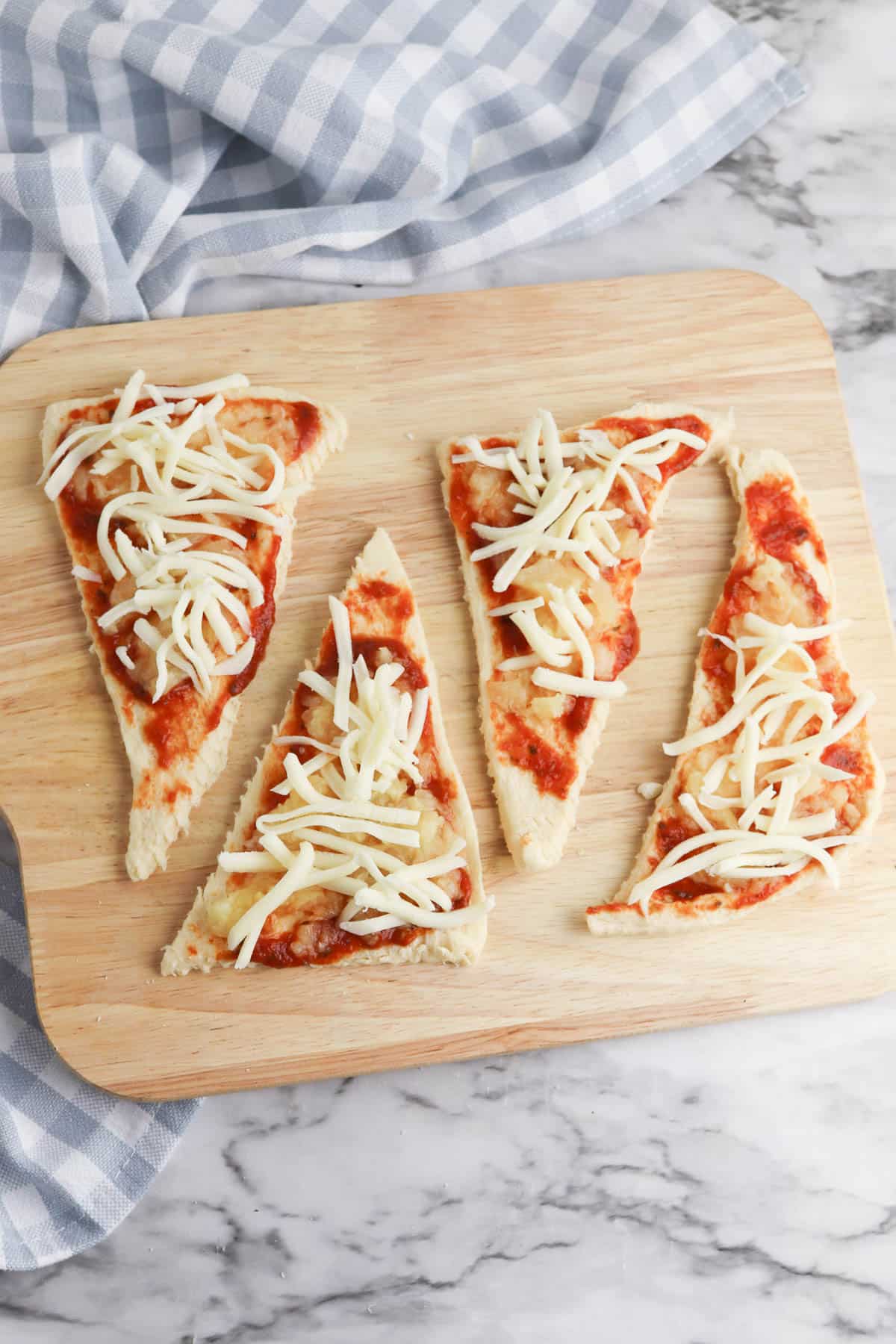 Step 8. Roll up a slice of deli ham, and place it at the wide end of the dough.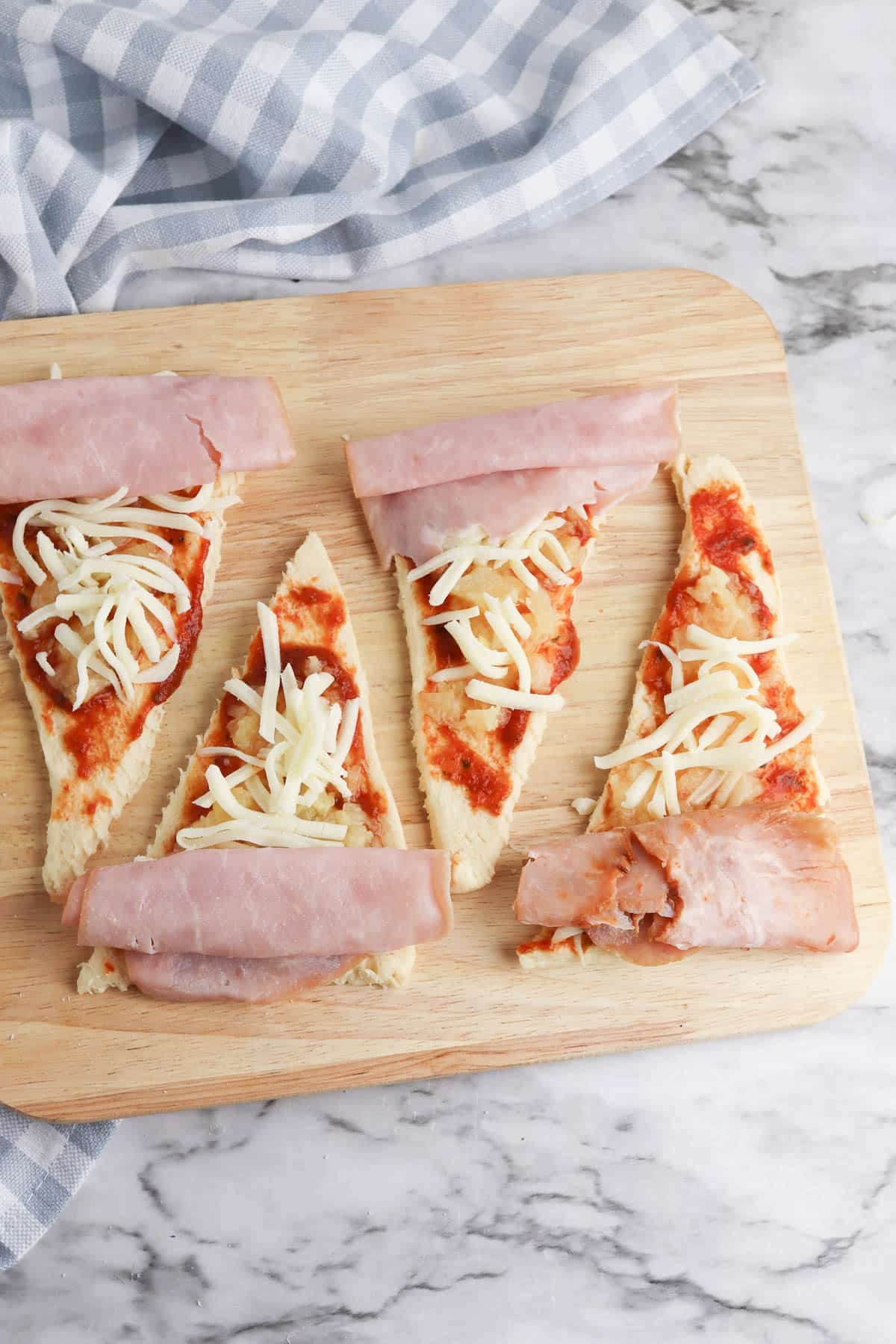 Step 9. Carefully roll the dough around the ingredients, and make sure to push any ingredients that fall out back into the roll.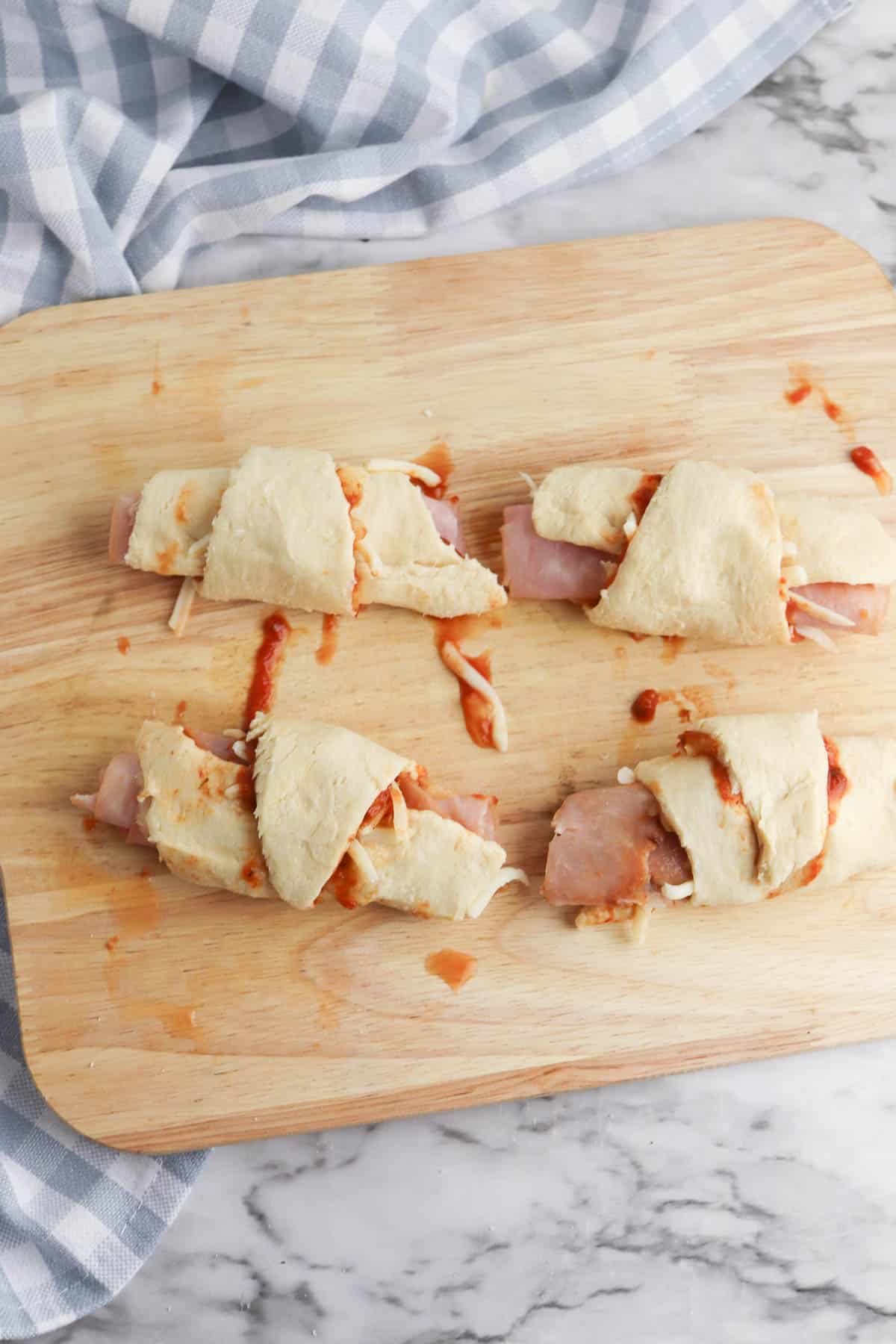 Step 10. Place the rolls on the cookie sheet.
Step 11. Use a pastry brush to lightly brush melted butter on the rolls.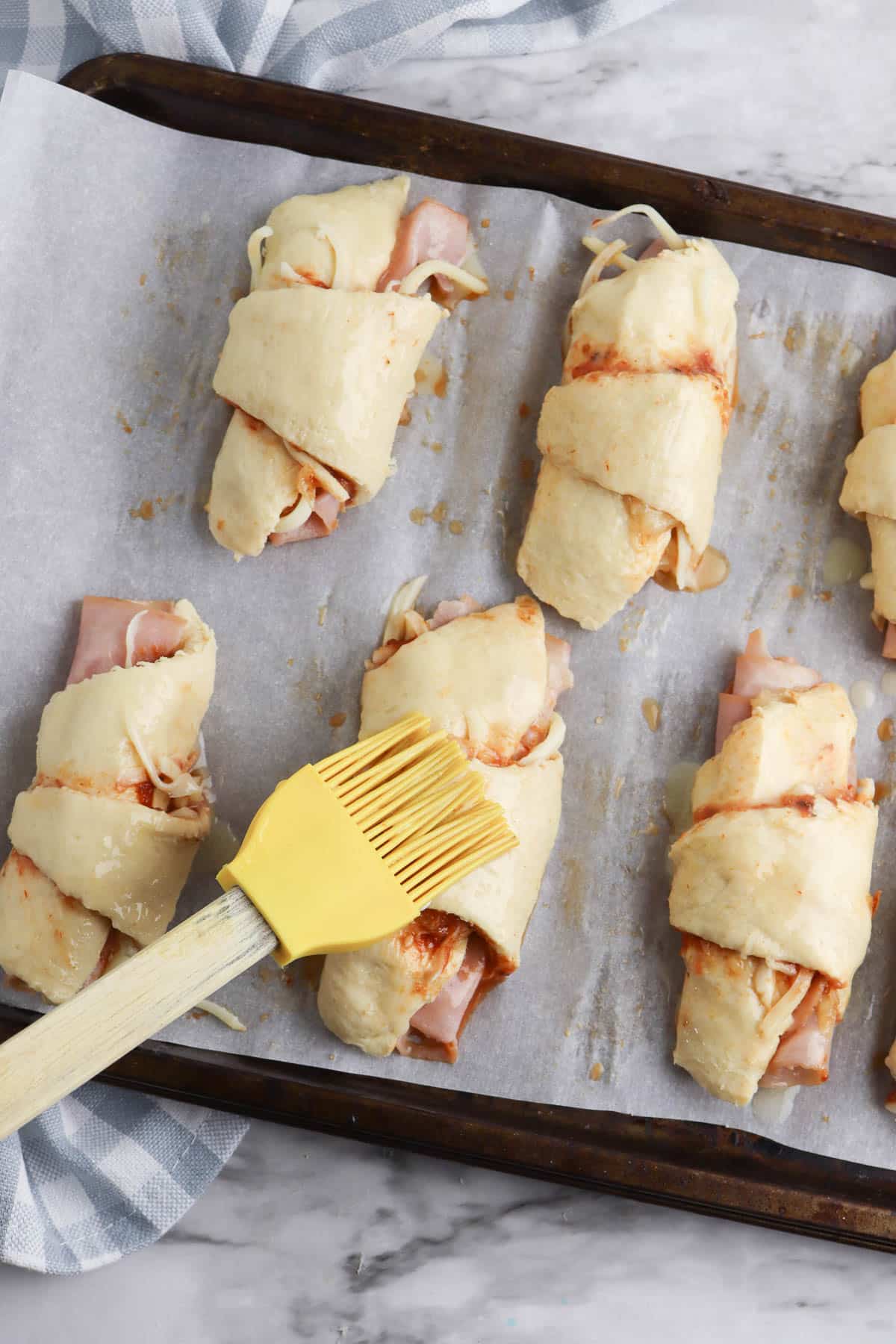 Step 12. Sprinkle with garlic powder, parmesan cheese, and parsley.
Step 13. Bake for 10 to 13 minutes until golden brown.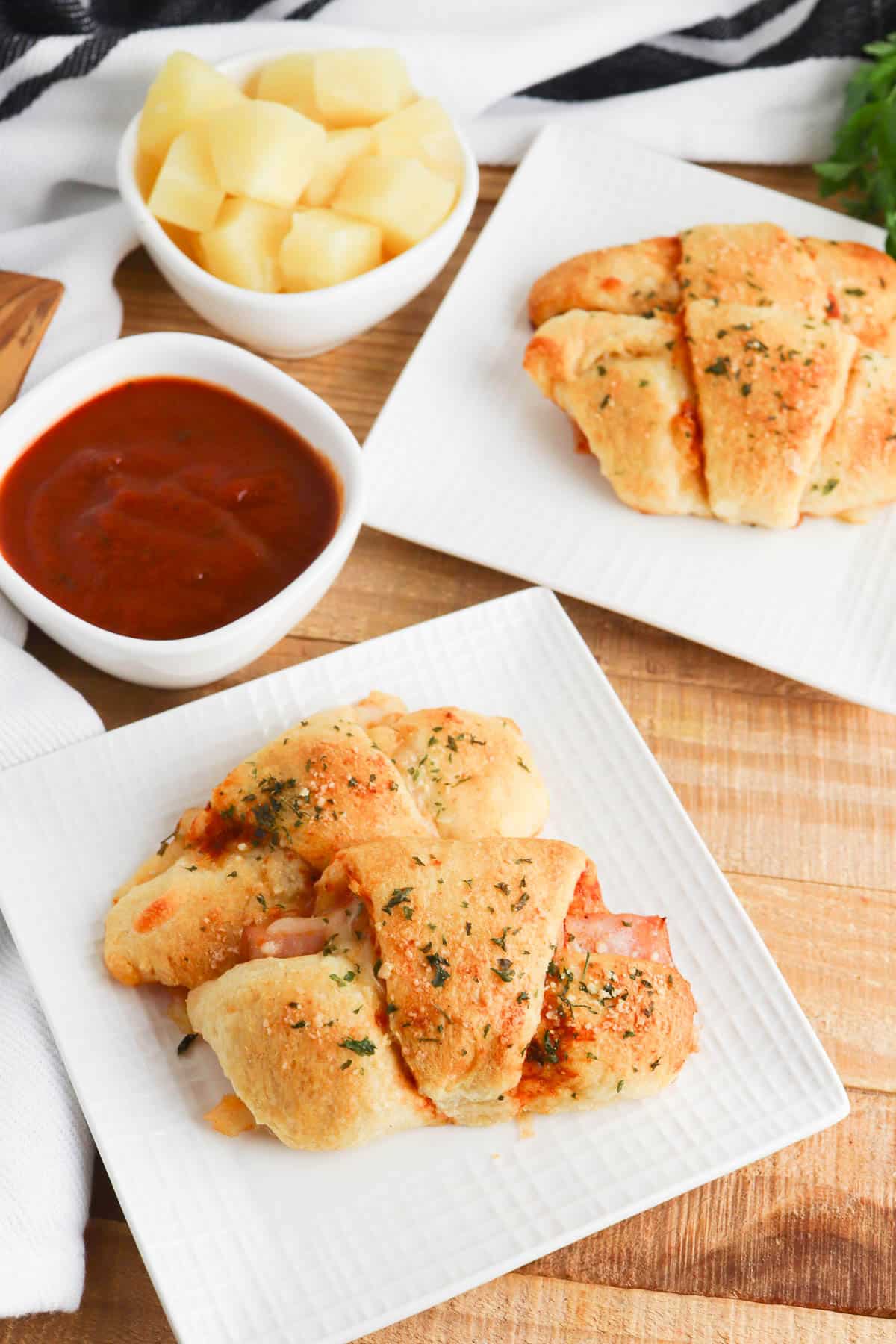 Step 14. Serve warm, but be careful – the filling may be hot!
Variations
Even though these easy ham and cheese crescent rolls appetizers are great as is, there are many ways to change up the flavor for even more fun.
A simple dip like marinara or honey mustard is a fun addition.
You can also make a dip with melted butter, a little Worcestershire sauce, and a bit of Dijon mustard. So good!
Cuban-style rollups. For a flavor like a Cuban sandwich, in addition to the ham, substitute Dijon mustard instead of the pizza sauce, Swiss cheese instead of mozzarella, and pickle relish instead of pineapple. For added flavor, add a bit of pulled pork before rolling it up.
A game day favorite can be made with roast beef (either instead of ham or in addition to it!), pepper jack cheese instead of mozzarella, and cream cheese instead of pizza sauce to hold it all together.
Need a vegetarian option? Simply swap out the slices of ham for slices of bell pepper. The pepper will go great with the sweetness of the pineapple.
Want to make it extra fancy? Instead of ham, upgrade to prosciutto, and include asparagus spears. This makes a classic brunch favorite.
For some added texture, taste, and visual appeal, you can sprinkle poppy seeds, sesame seeds, or everything seasoning on the rolls before you bake them.
Frequently Asked Questions
Do ham and cheese croissants need to be refrigerated?
Once cooked, a ham and cheese croissant can stay out at room temperature for a couple hours. If you plan to keep them overnight, wrap them in foil or put them in an airtight container and store in the refrigerator. 
How do you keep crescent rolls warm without getting soggy?
If you're transporting the crescent rolls to somewhere else, you'll want to make sure they have proper ventilation to let steam out. The steam is what makes the surface soggy.
How do you reheat leftover ham and cheese croissants?
The fastest method is to put them in the microwave for 30 seconds. If you want a more crispy outside, reheat in the air fryer for 1-2 minutes at 350º F.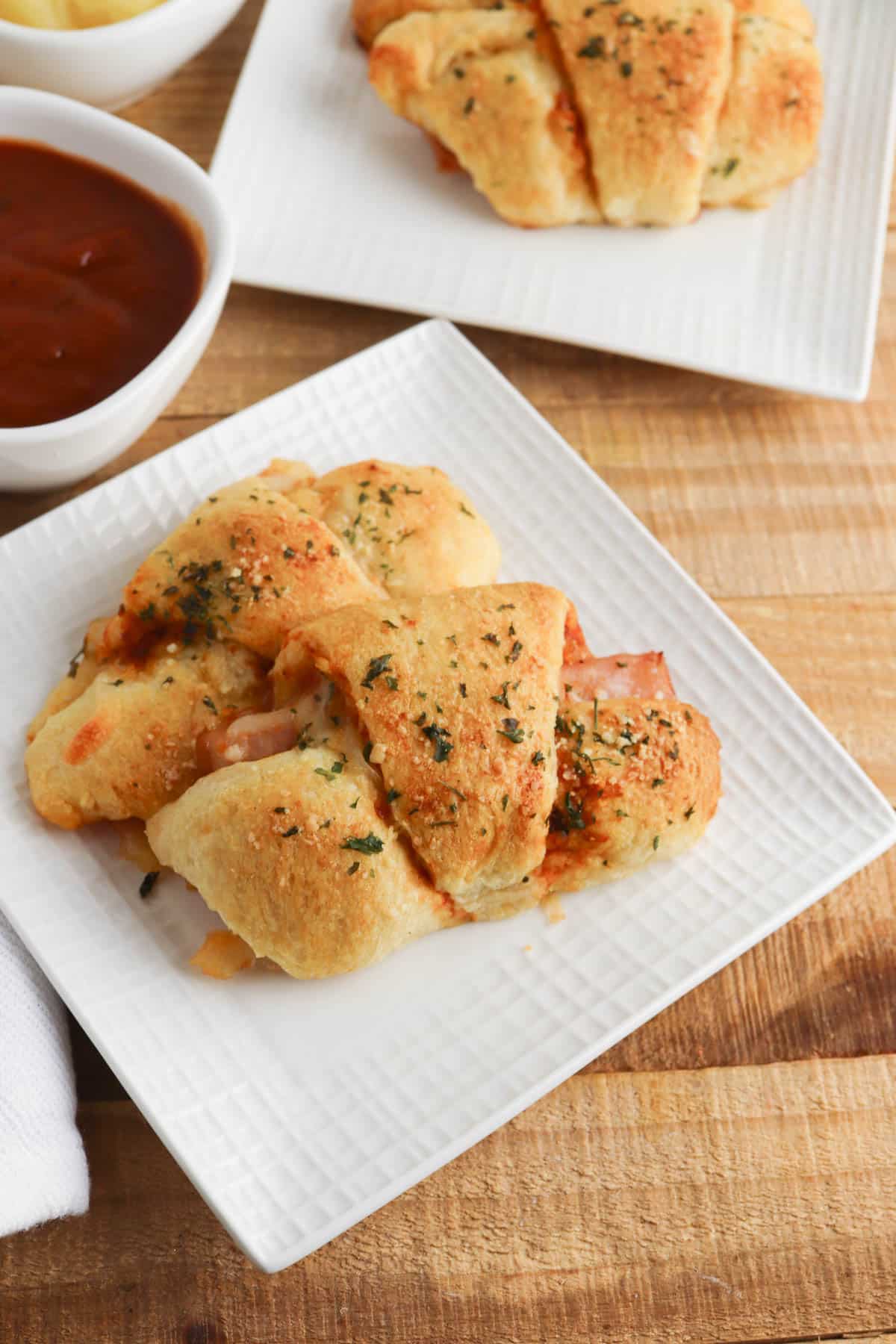 Top Tips
Because these tasty treats don't take a lot of time to make, it's best to make them fresh. While you can reheat them, there is nothing quite like having them come fresh out of the oven.
As you're including the ingredients for filling, try not to pile on the filling too thick. Having too much filling ingredients makes it more difficult to roll up neatly.
Looking for a fun party activity? Have party guests make their own with their choices of fillings!
More Delicious Appetizers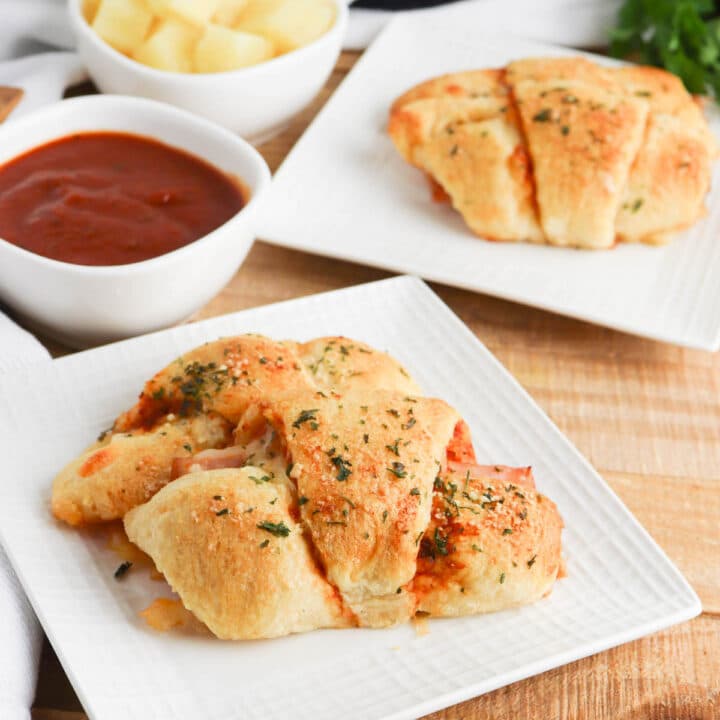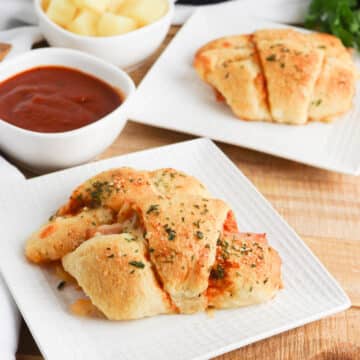 Baked Ham and Cheese Crescent Rolls
We decided to make these baked ham and cheese crescent rolls Hawaiian pizza style! Filled with pizza sauce, cheeses, ham, and pineapple, you are going to love this flavor combination!
Print this Recipe
Pin this Recipe
Rate
Ingredients
1

package crescent roll dough

½

cup

pizza sauce

1

cup

crushed pineapple

drained

1

cup

shredded mozzarella cheese

8

slices

ham

2

tablespoons

butter

melted

1

teaspoon

parsley

½

teaspoon

garlic powder

1

tablespoon

grated parmesan cheese
Instructions
Preheat your oven to 375º.

Line a baking sheet with parchment paper or aluminum foil.

Open the crescent rolls and unroll the dough. Separate the triangles.

Using a spoon, spread a thin layer of pizza sauce on top of each triangle of dough.

Drain pineapple.

Spoon the crushed pineapple over the sauce.

Add a layer of shredded mozzarella cheese over the sauce.

Roll up a piece of ham and place it on the wide end of the roll.

Roll up the dough around the inside ingredients, tucking in any ingredients that slip out.

Place rolls on the lined baking sheet.

With a pastry brush, lightly brush the top of each crescent roll with melted butter.

Sprinkle the rolls with parmesan cheese, parsley, and garlic powder.

Bake the crescent rolls for 10 to 13 minutes, until the tops are golden brown.

Serve warm.
Notes
Make these ham and cheese crescents fresh. Though they are okay reheated, they are so delicious freshly made.
Since they don't take long in the oven, you could even bake them once arriving to a party so they are hot out of the oven. Just let your host know you'll need some oven space.
Be careful not to overfill the crescents or the filling will spill out and make a mess.
Nutrition
Serving:
2
|
Calories:
344
kcal
|
Carbohydrates:
15
g
|
Protein:
20
g
|
Fat:
23
g
|
Saturated Fat:
11
g
|
Polyunsaturated Fat:
2
g
|
Monounsaturated Fat:
8
g
|
Trans Fat:
0.2
g
|
Cholesterol:
73
mg
|
Sodium:
1108
mg
|
Potassium:
354
mg
|
Fiber:
1
g
|
Sugar:
11
g
|
Vitamin A:
539
IU
|
Vitamin C:
8
mg
|
Calcium:
172
mg
|
Iron:
1
mg