As I just took my girls to Disney World, I wanted to share my top 6 reasons you'll love Mickey's Very Merry Christmas Party. This wasn't my first time attending, but I will say this year was the best I've been to yet!
Mickey's Very Merry Christmas Party at Walt Disney World's Magic Kingdom began on November 9 this year and runs through December 22. This celebration has been one of the most popular Disney events each year since it began in 1983.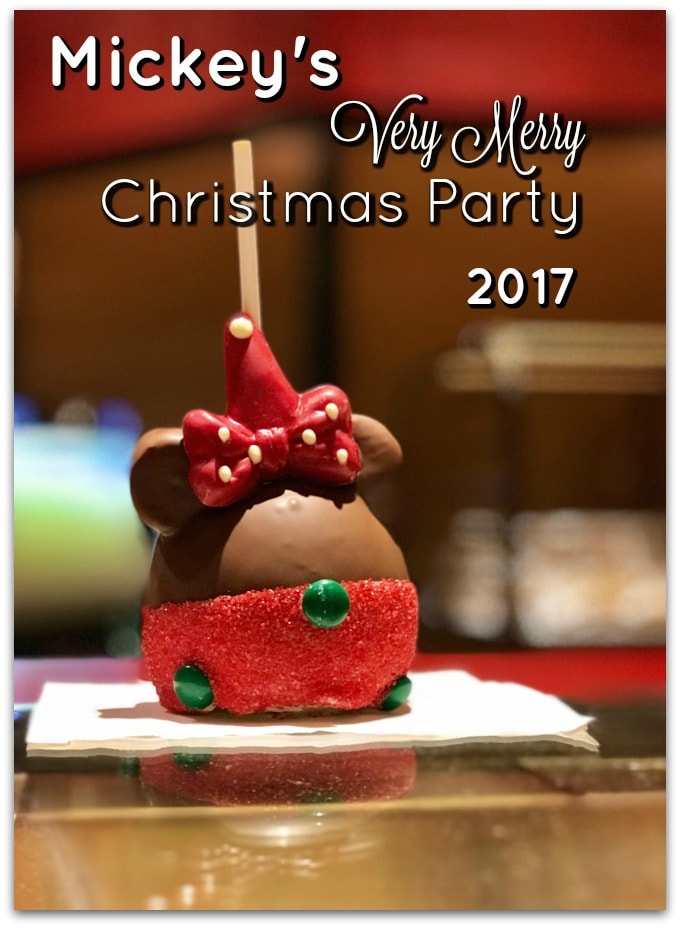 The event begins nightly at 7 pm and lasts until midnight, though the last event (Mickey's Most Merriest Celebration) is at 11:55. Basically, everything closes at midnight, and the park closes right after the show.
During Mickey's Very Merry Christmas Party, you can do all the things you can typically do at the park, but you'll also have special entertainment, treats, decorations, and special character greetings.
6 Reasons to Attend Mickey's Very Merry Christmas Party
If you've been to this site before, you probably know my first reason! Though the ticket for this event is purchased separately, it's a really special event, with extras that you don't get otherwise, like free Christmas treats!
The Food
There is special holiday-themed food at Mickey's Very Merry Christmas Party, and I wanted to try as many of the Christmas treats as I could. I do need to let you know what's good, right? My recommendation? Eat everything!
We were hungry when we first arrived and excited to see this on the menu at Gaston's Tavern. It was a perfect snack to energize us for the festivities!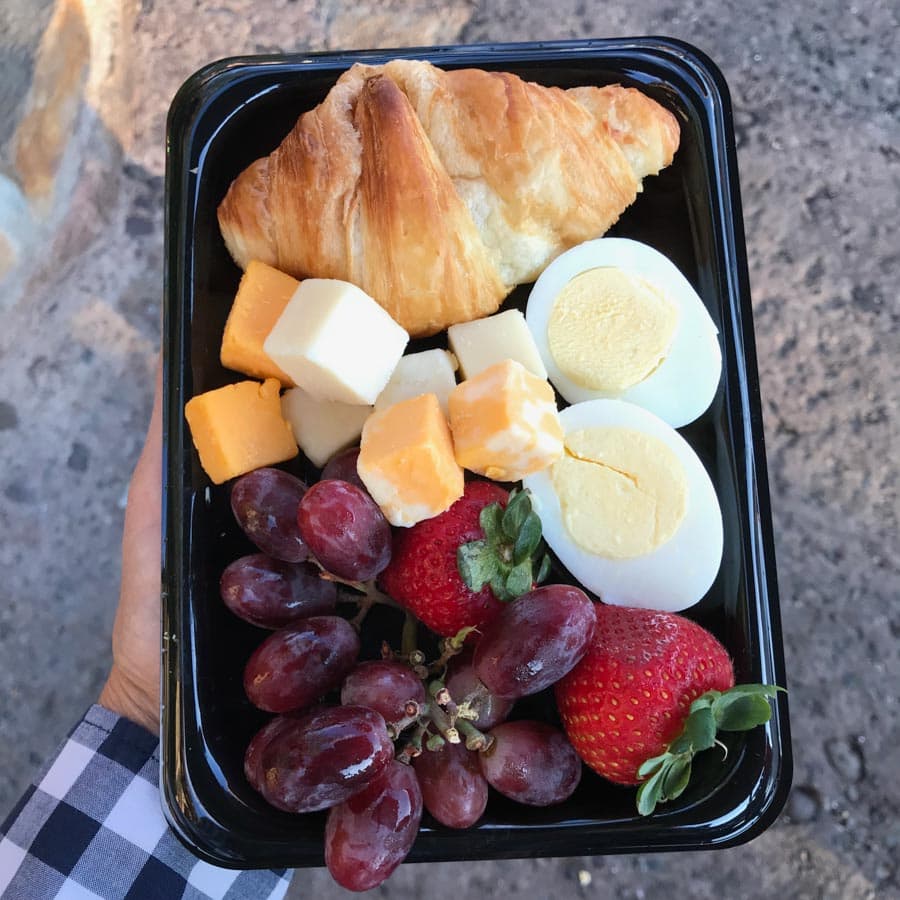 My first stop for holiday treats was Pinnochio Village Haus where they told me I was early. Bah-humbug! It was only 6 and the party didn't officially start until 7.
I sat down for a minute to strategize what to do until 7, when all of sudden I heard such a clatter and rose from my seat to see what was the matter! (Oh wait! That's a different story!)
A cast member walked up to me with a huge box of beautiful cupcakes and asked if I would like one and did I think anyone else would? Someone at a nearby table overheard and we smiled at each other as they jumped up to get a cupcake.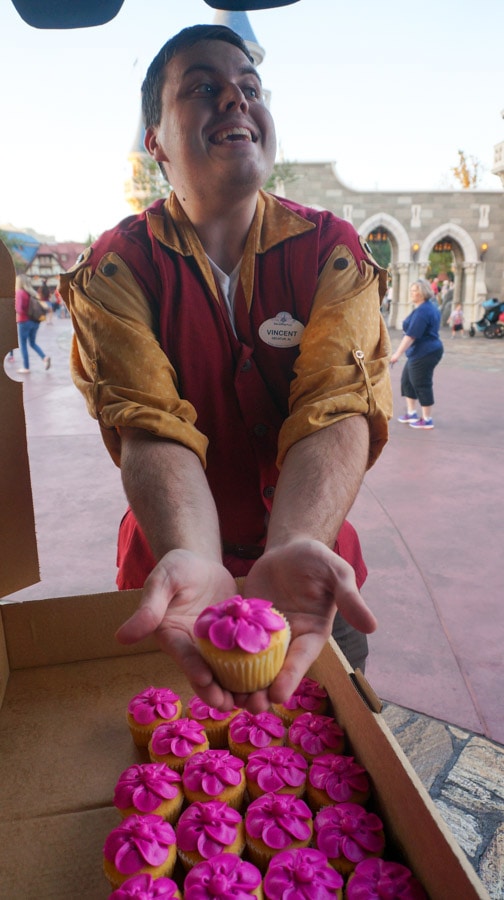 I saw a family walking along and pointed to the cupcakes. They came over to see and were thrilled when they realized they were being invited to take a cupcake.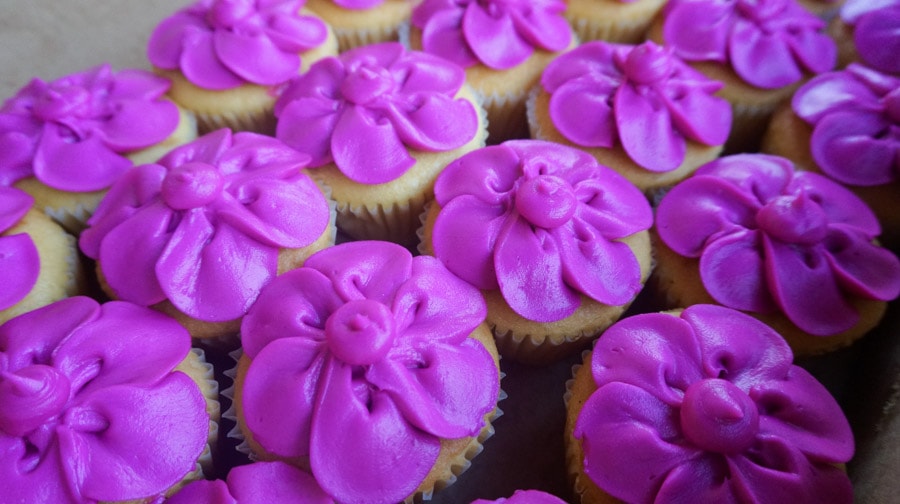 Before we knew it, the box was empty. Can I tell you- that was one of my favorite moments ever! Vincent totally made my night! You never know what's going to happen at Walt Disney World!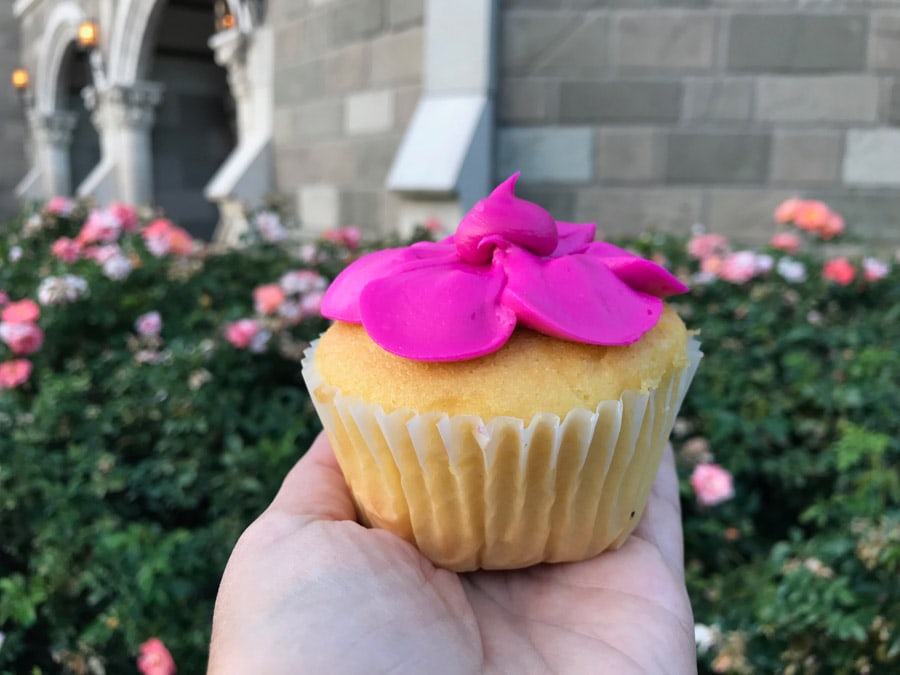 As I was already on cloud nine, I floated over to Auntie Gravity's Galactic Goodies (see what I did there?) for the Sno-Cone and Santa Claus Cookies.
We actually ate dinner at Cosmic Rays and it was fabulous and more food than we could finish even with my daughter and me sharing. The roasted chicken was fantastic!
On our way out from dinner, we stopped by and picked up our hot chocolate and Snickerdoodle cookie, which is given out to all guests.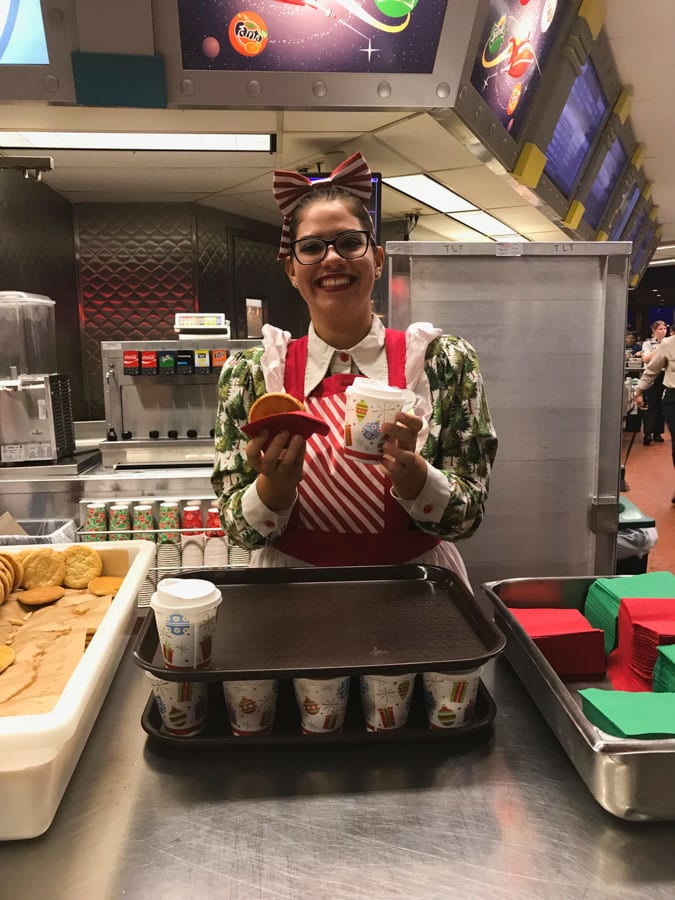 Who doesn't love hot chocolate and cookies?
At the Friar's Nook, you'll get a glass of sparkling cider and a piece of silky smooth Dove Chocolate.
At Pete's Silly Sideshow, you'll be treated to a Peppermint Crunch Cookie and Nestle Nesquik, and at Liberty Square Ticket Office, they serve up yummy ginger molasses cookies and eggnog. YUM!
Just before we left for the evening, we stopped by Tortuga Tavern and got a Snowman soft pretzel and a Sno-Cone.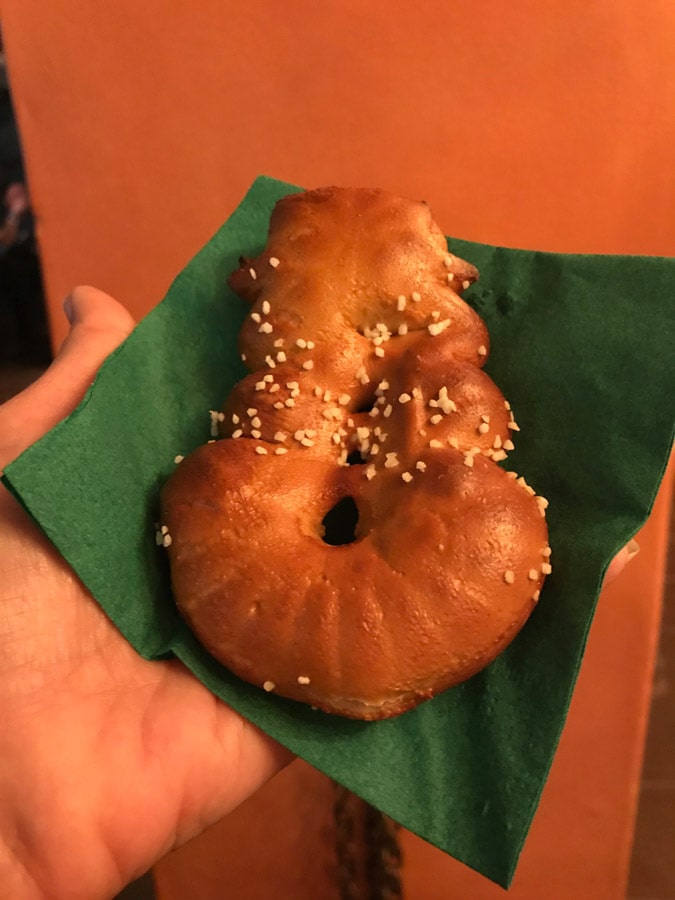 The included treats are all delicious, but you'll also see some extra special dessert items that you can pick up for an extra cost, like the Mickey Candy Apples.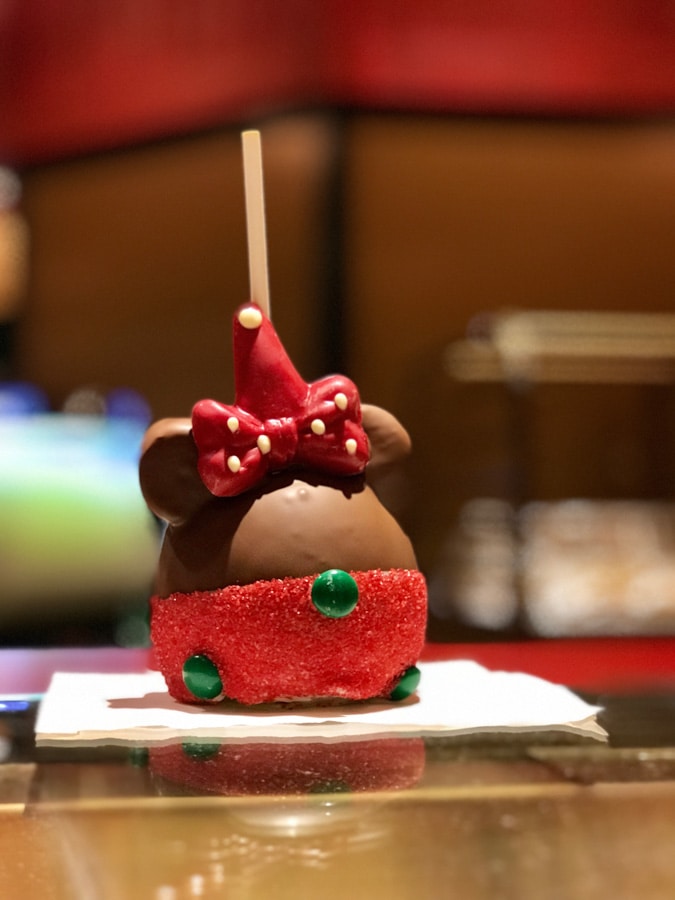 In the schedule of events you can grab up at the front of the park, you'll also see there are other specialty items available for purchase.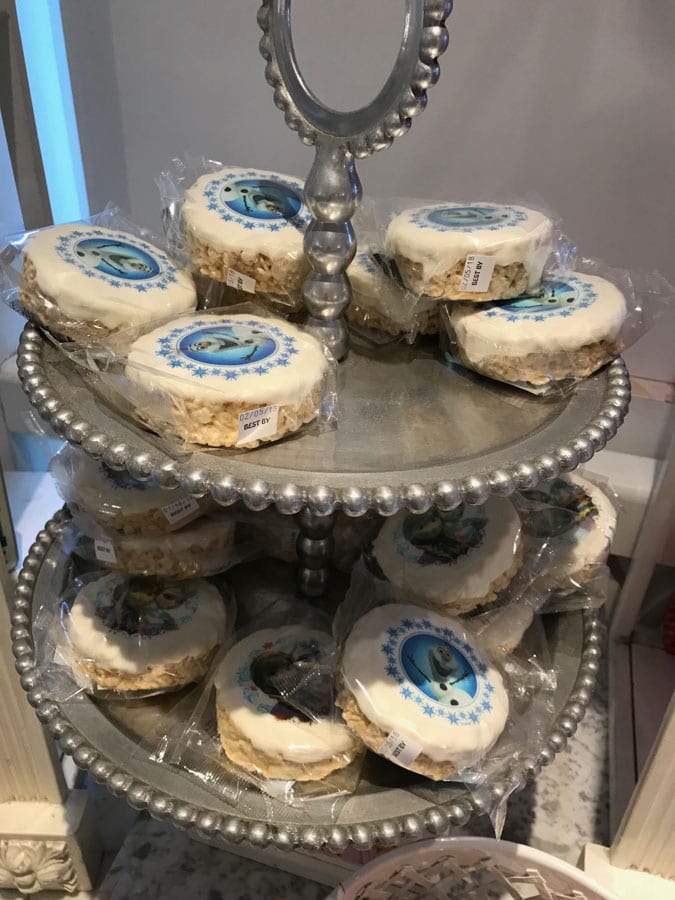 So much deliciousness at one event!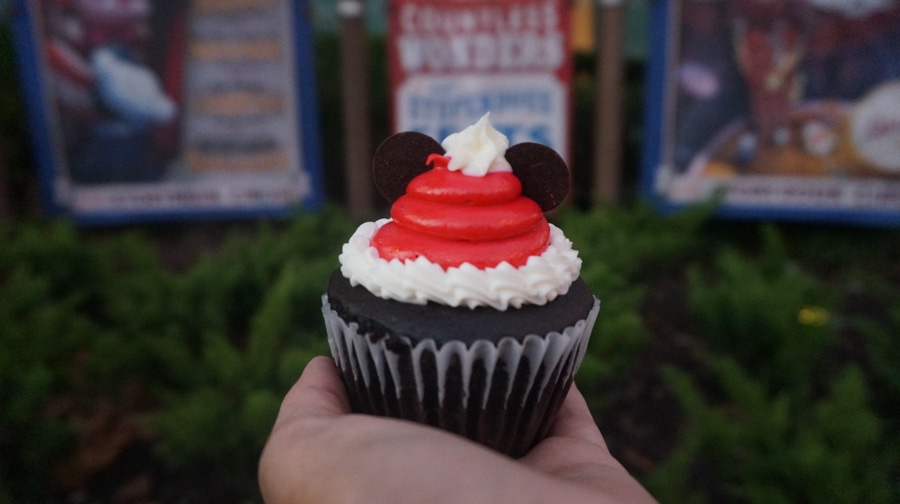 I was too full to try the Yuletide Log Dessert, the Sandy Claws Dessert, the Enchanted Christmas Belle Dessert, and the Eggnog Custard Dessert. I still have time and might head back before it's over!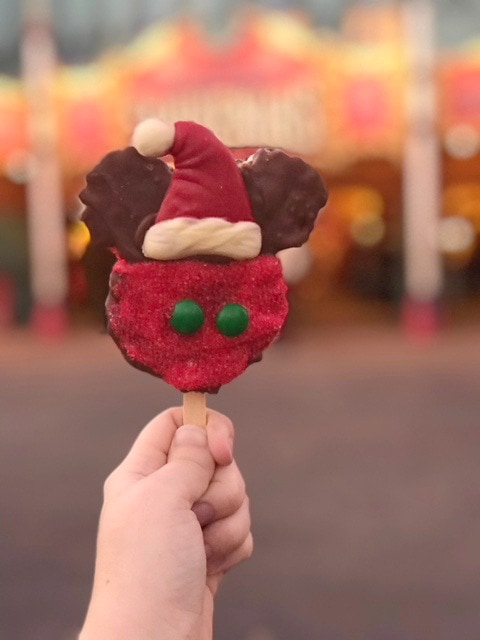 The Shows
This year our favorite event was Mickey's Most Merriest Celebration, which begins at 7:40, 9:25, 10:30, and 11:55 every night of the Party right on Castle Forecourt Stage.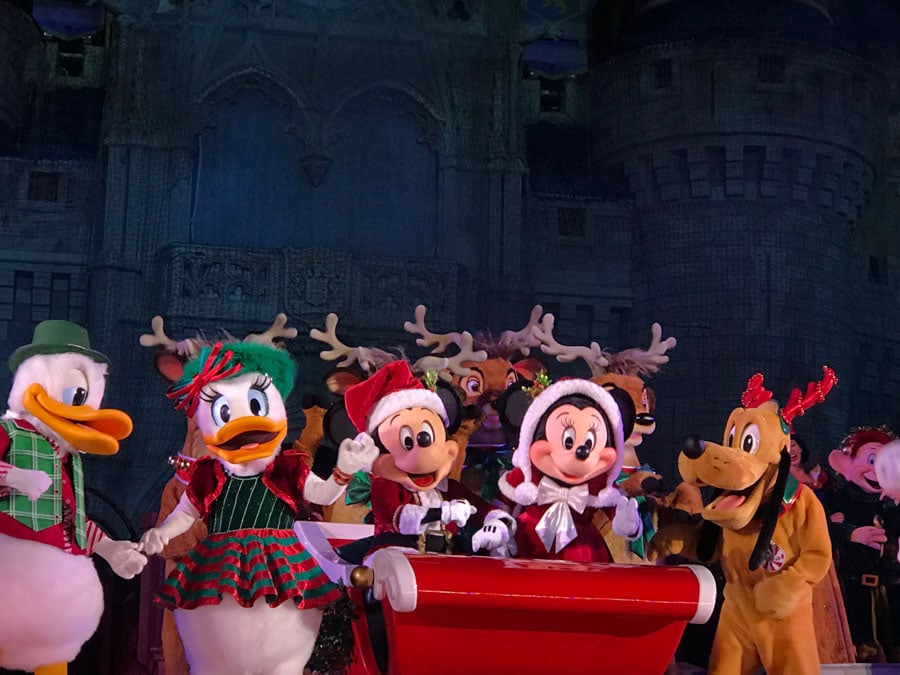 The music was fantastic, the dancing was amazing, and many of our favorite Disney characters took part in the show.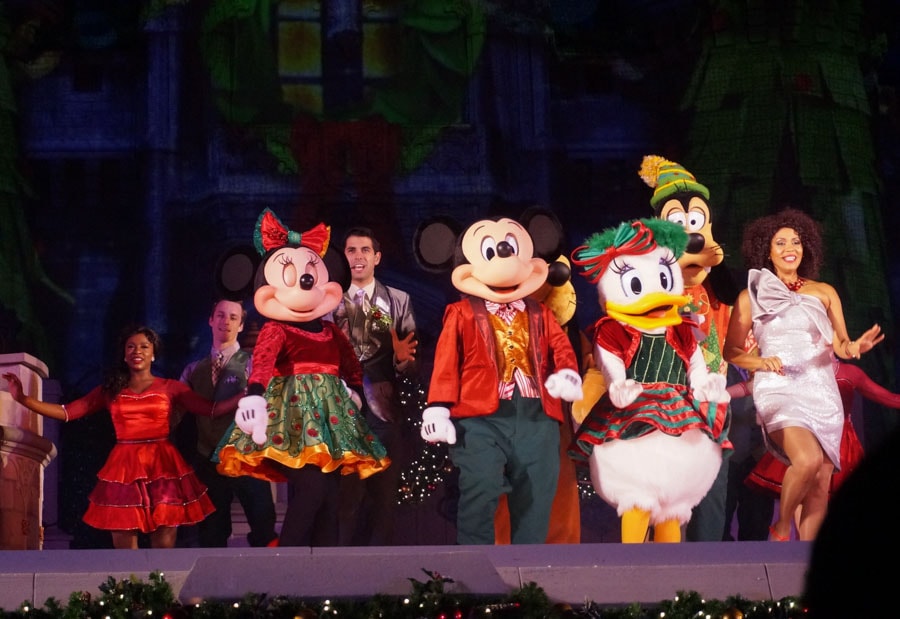 Donald Duck and Daisy Duck both joined in the fun, along with Goofy, Woody and Jessie from Toy Story, and others. And of course, Mickey and Minnie were the main attraction!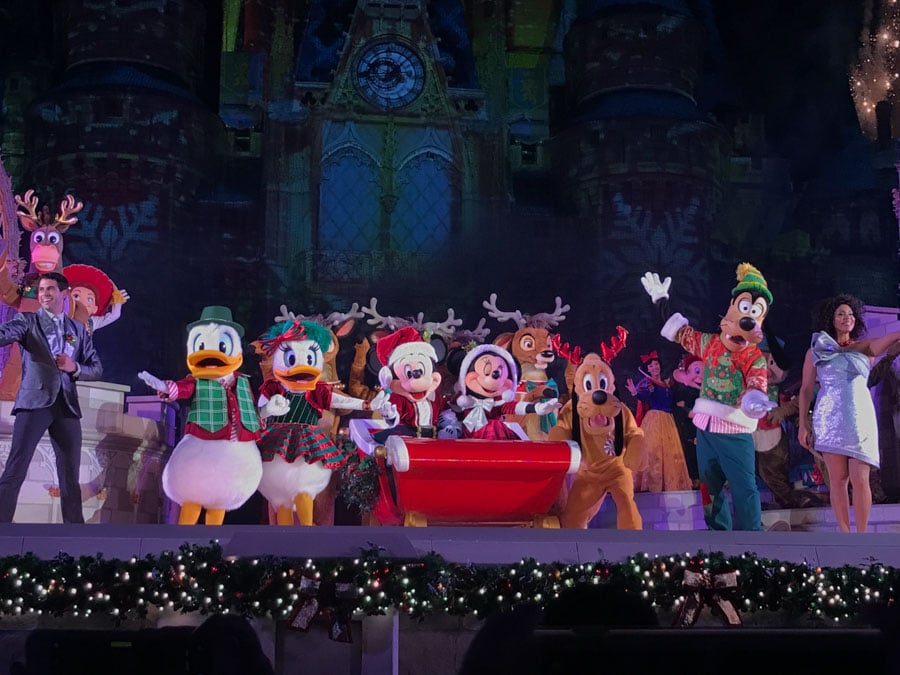 Though the performers and our Disney friends were all incredible, be sure to watch the reindeers. They are serious about making sure Mickey's Most Merriest Celebration is stellar, and they truly rock out for the occasion!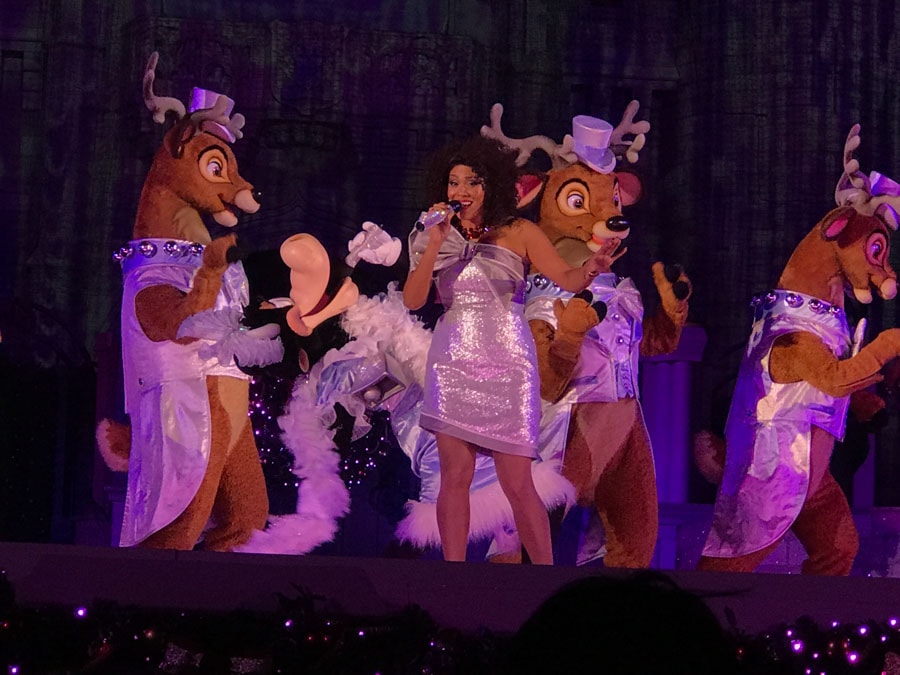 Don't you just love Mickey and Minnie?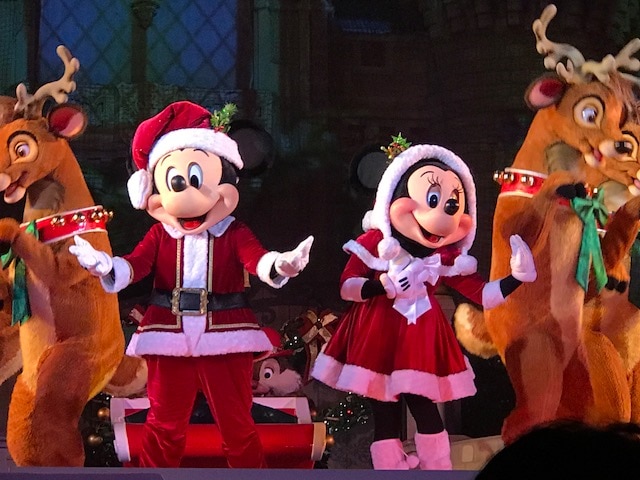 The Parade
Fans of Anna and Elsa won't want to miss A Frozen Holiday Wish, also right on the Castle Stage, at 8:15, and Mickey's Once Upon a Christmastime Parade comes rolling through the park at 8:30 and 11:00 pm.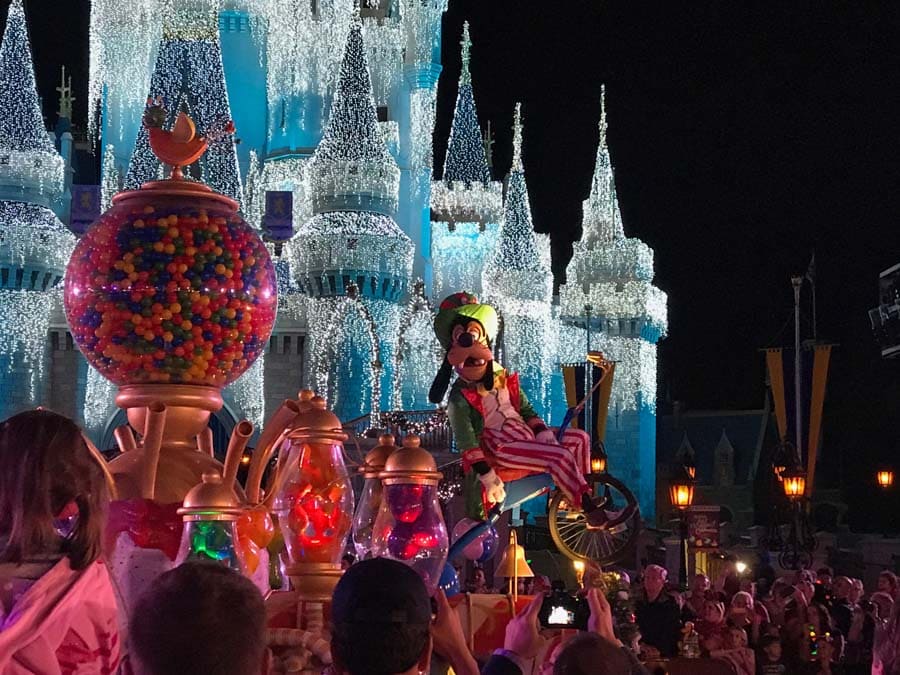 Though you can see there are a lot of people, we had great spots to see everything during the special events.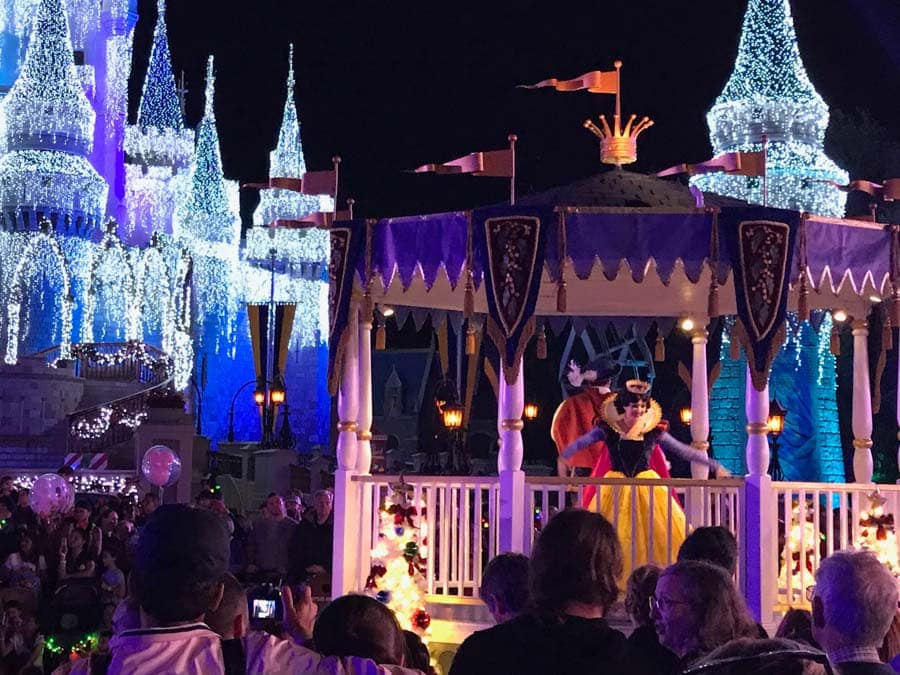 The Special Disney Character Spottings
Many of the Disney characters are in holiday attire, and this is the only time of year when you will see them dressed that way. For character appearances, be sure to look for the Mickey symbol in the program guide.
When my girls were younger we traveled to Disney World a couple of times a year. Their favorite thing to do was get Disney character autographs. Though we did stand in line for meet and greets back then, you never know when you might simply run into one of the Disney characters!
The Club Tinsel Dance Party is always fun and has no set time, so stop in and join the dancing! TIP for Parents: this was always my favorite photo opp!
Be sure to catch A Totally Tomorrowland Christmas with your favorite Tomorrowland friends. While you're in Tomorrowland, check out the a cappella concert Voice Play, on Rockettower Plaza Stage.
Though all the rides at Walt Disney World are fun, be sure to ride the Jungle Jingle Cruise as it's extra special during the Christmas season!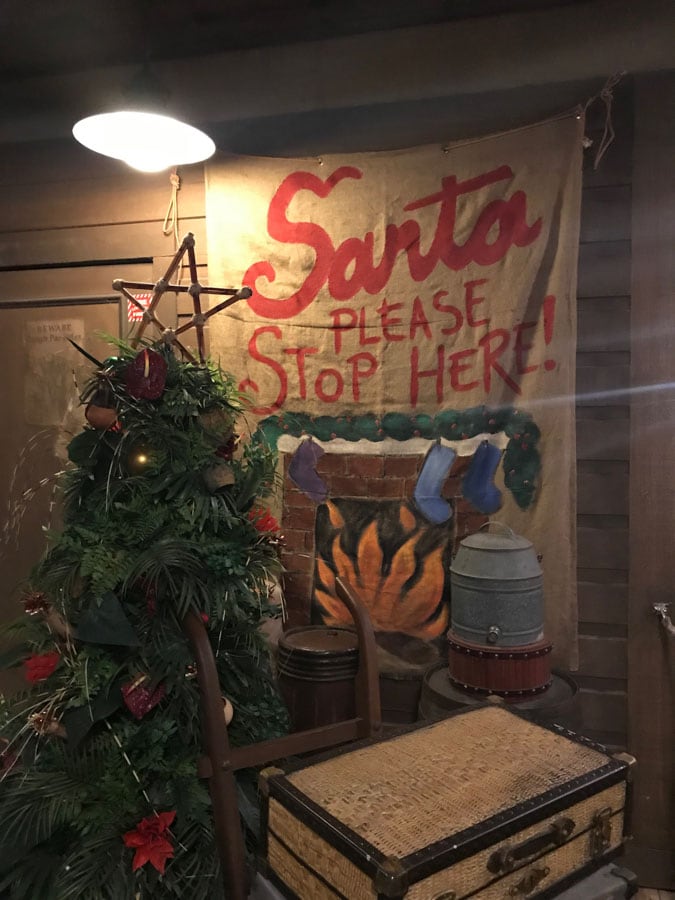 Holiday Wishes Fireworks
At 10 pm each night, the skies light up for Holiday Wishes, a truly spectacular holiday fireworks display.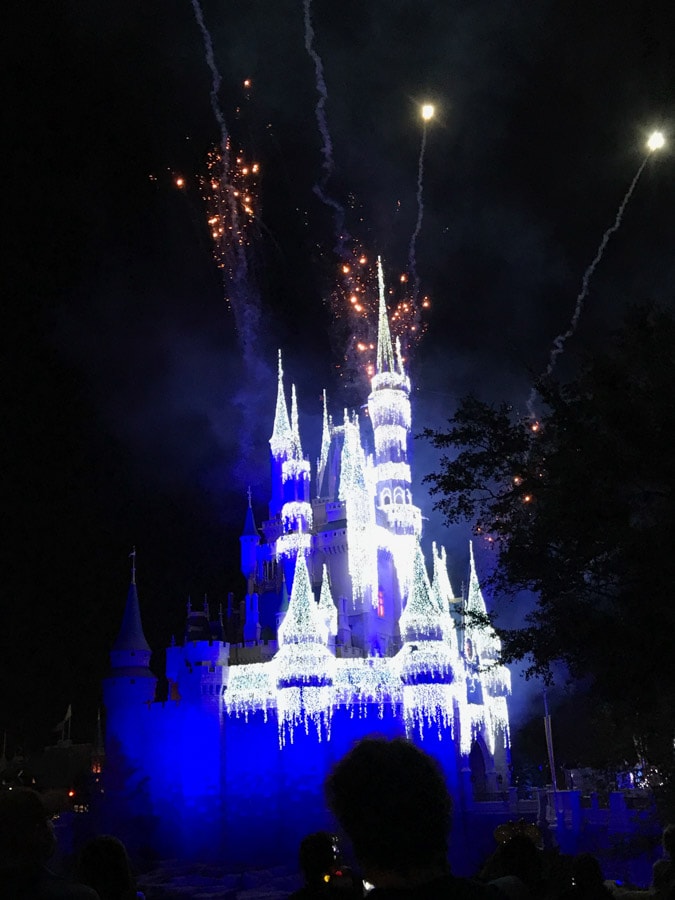 Special Merchandise
Remember that during Mickey's Very Merry Christmas Party, there will be merchandise you can only pick up during the Christmas season, so think about doing some Christmas shopping while there!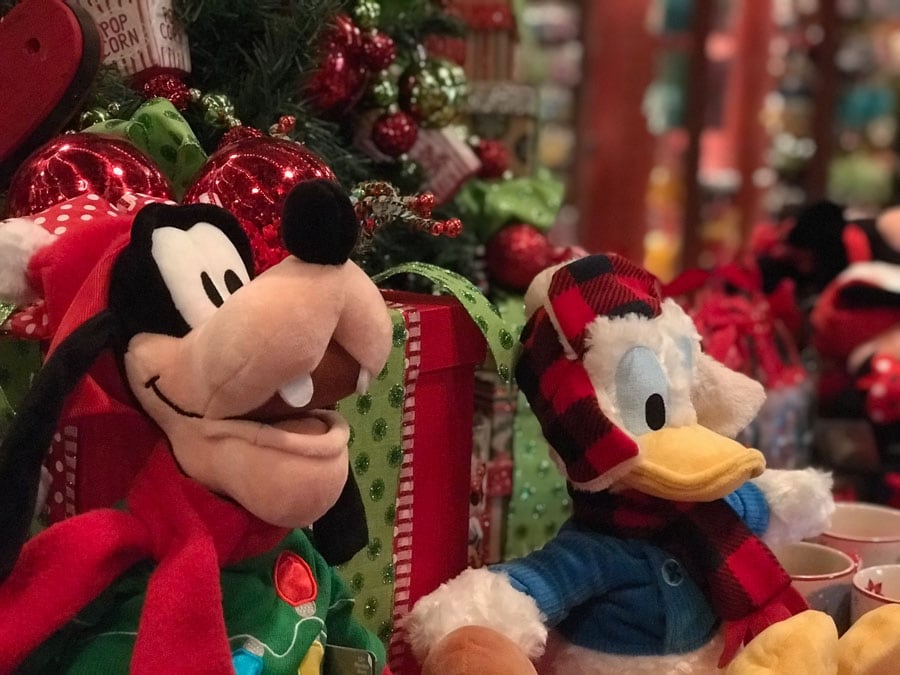 Gingerbread popcorn! I don't ever remember seeing that before, but it sounds delicious!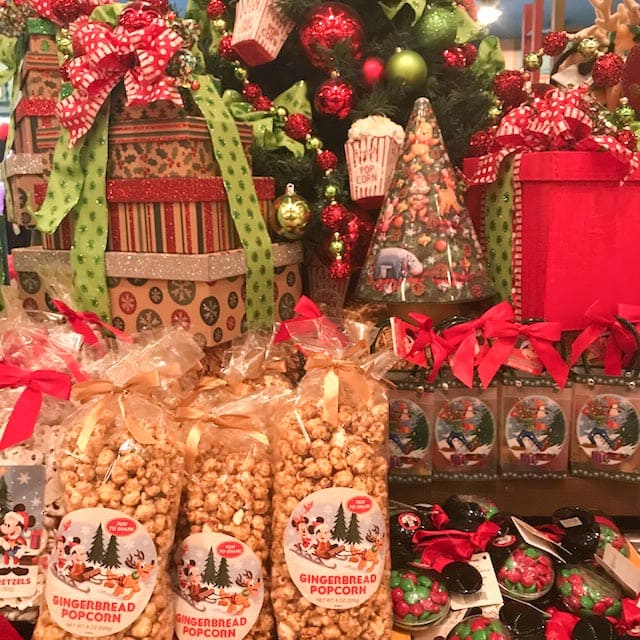 Mickey's Very Merry Christmas Party only runs through December 22, so be sure to get your tickets and kick off the Christmas holidays at the most magical place on earth.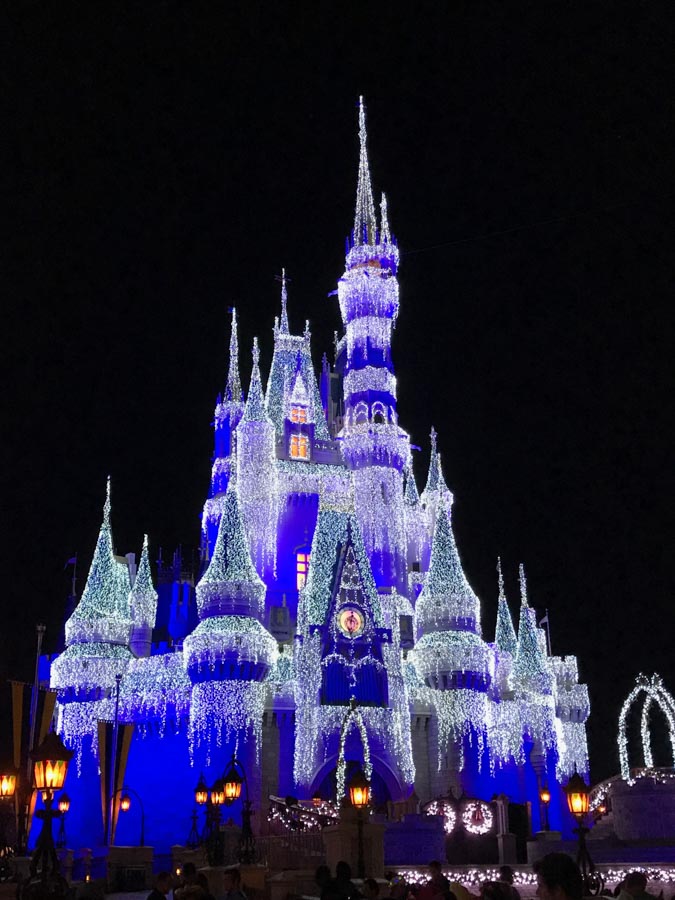 Many thanks to Walt Disney World for hosting me at this event so I could share it with you.
Planning a family vacation to Disney this year? Check out these tips about traveling with kids and read my tips about how to save on food while traveling.