Can you really road trip Arches National Park in one day? You can! You will be worn out and probably cancel your dinner plans (or was that just us?!) but it will be one of the best days of your life!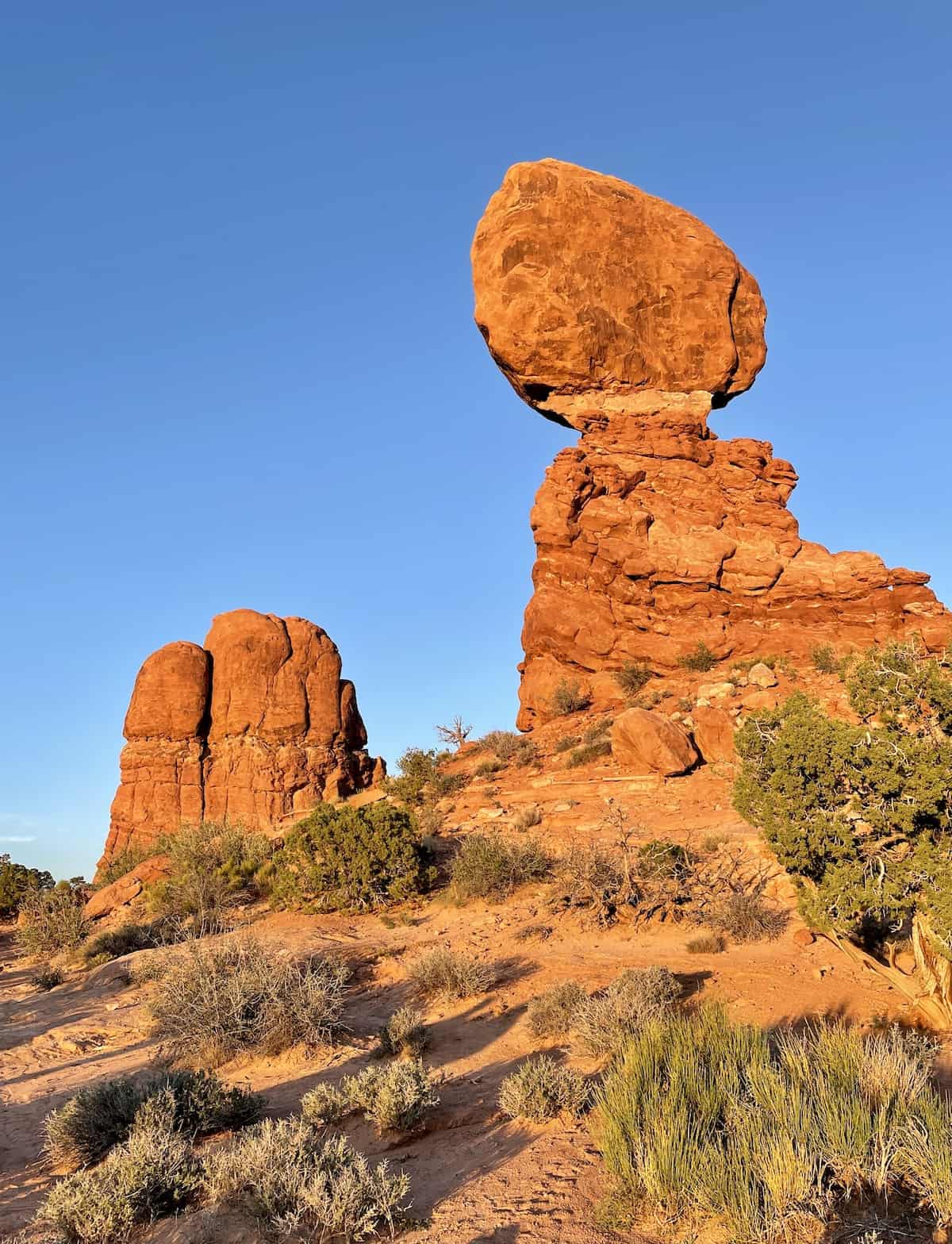 Plan to be at Balanced Rock for sunset to see this gorgeous glow. I picked up a book specifically about photographing Arches National Park, and it was a huge help.
If you're doing this trip with the kids, check out how to plan for a family hike, especially if you've never done anything like this before.
Don't forget to bring a few items from this list of best road trip snacks in case your crew gets hungry. There are no stores or restaurants in the parks.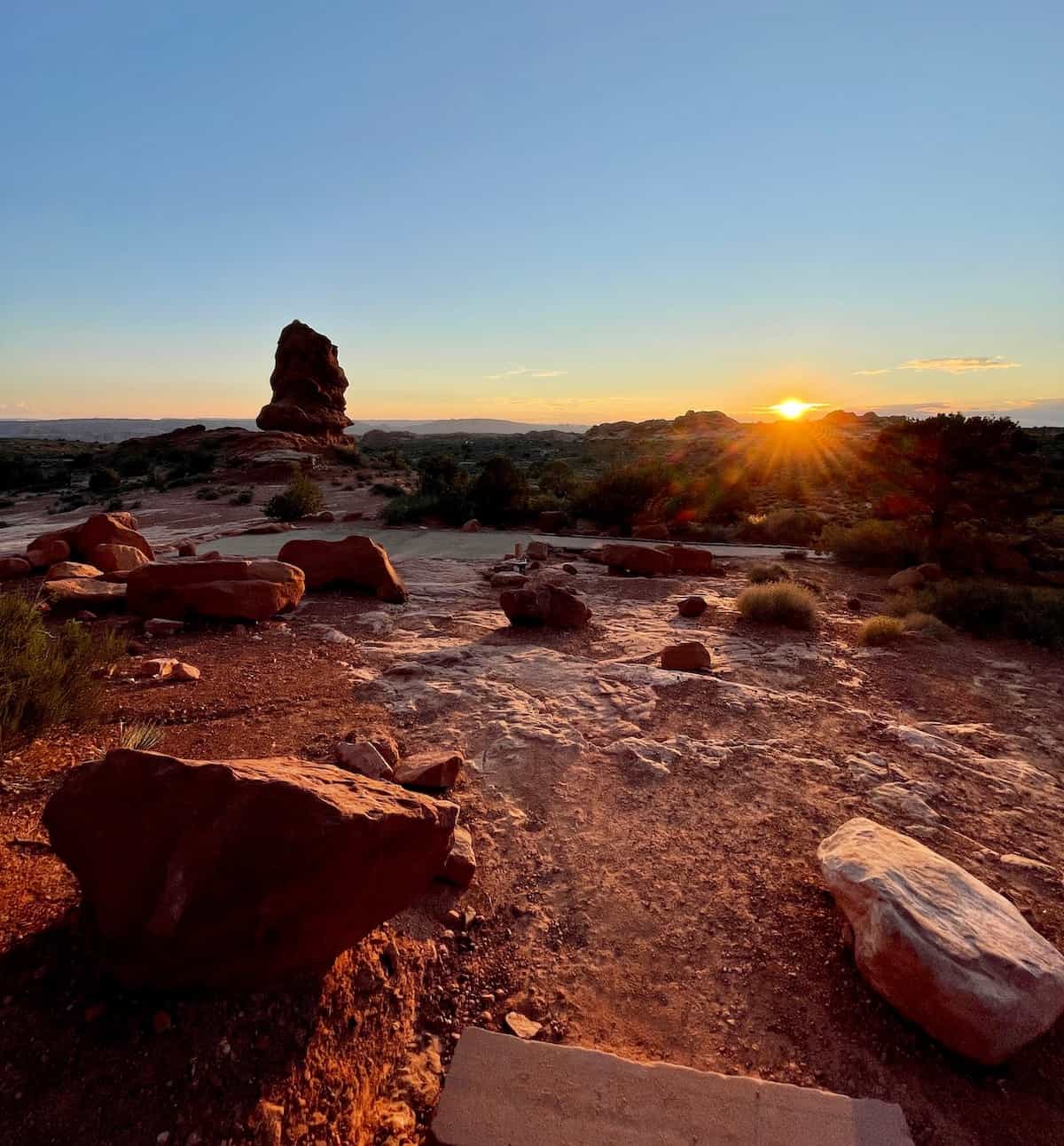 Where is Arches National Park?
Arches National Park is in southeast Utah, five miles north of the city of Moab. It is about a four-hour drive from Salt Lake City and five hours from the Grand Canyon.
For an incredible luxury experience, you can take Rocky Mountaineer, a train that goes from Denver to Utah National Parks by train.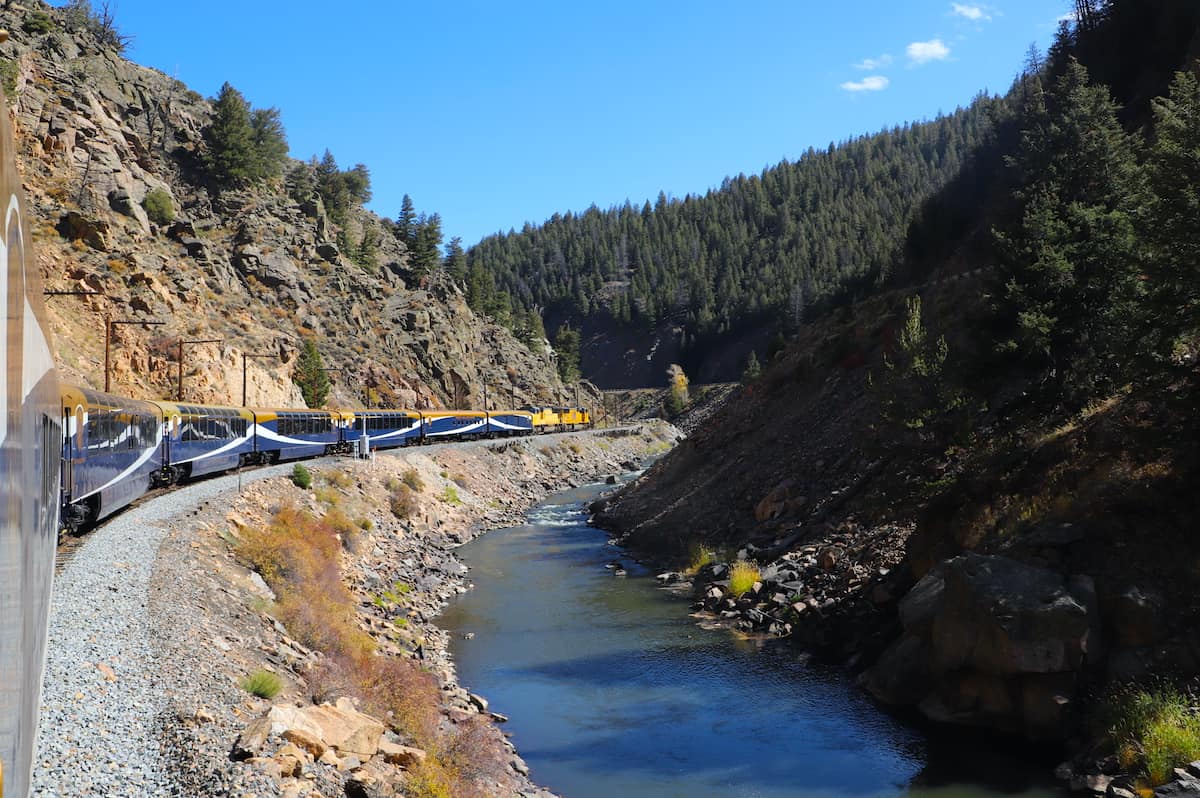 Why We Love Arches National Park
Arches National Park is home to more than 2,000 sandstone arches in more than 76,000 acres of high desert on the Colorado Plateau, with the Colorado River as its southern boundary.
We had seen the Grand Canyon and thought we were prepared for what we would see at Arches, but there is no comparison. It's not that Arches is better, it's just different, and a must see at least once in your lifetime.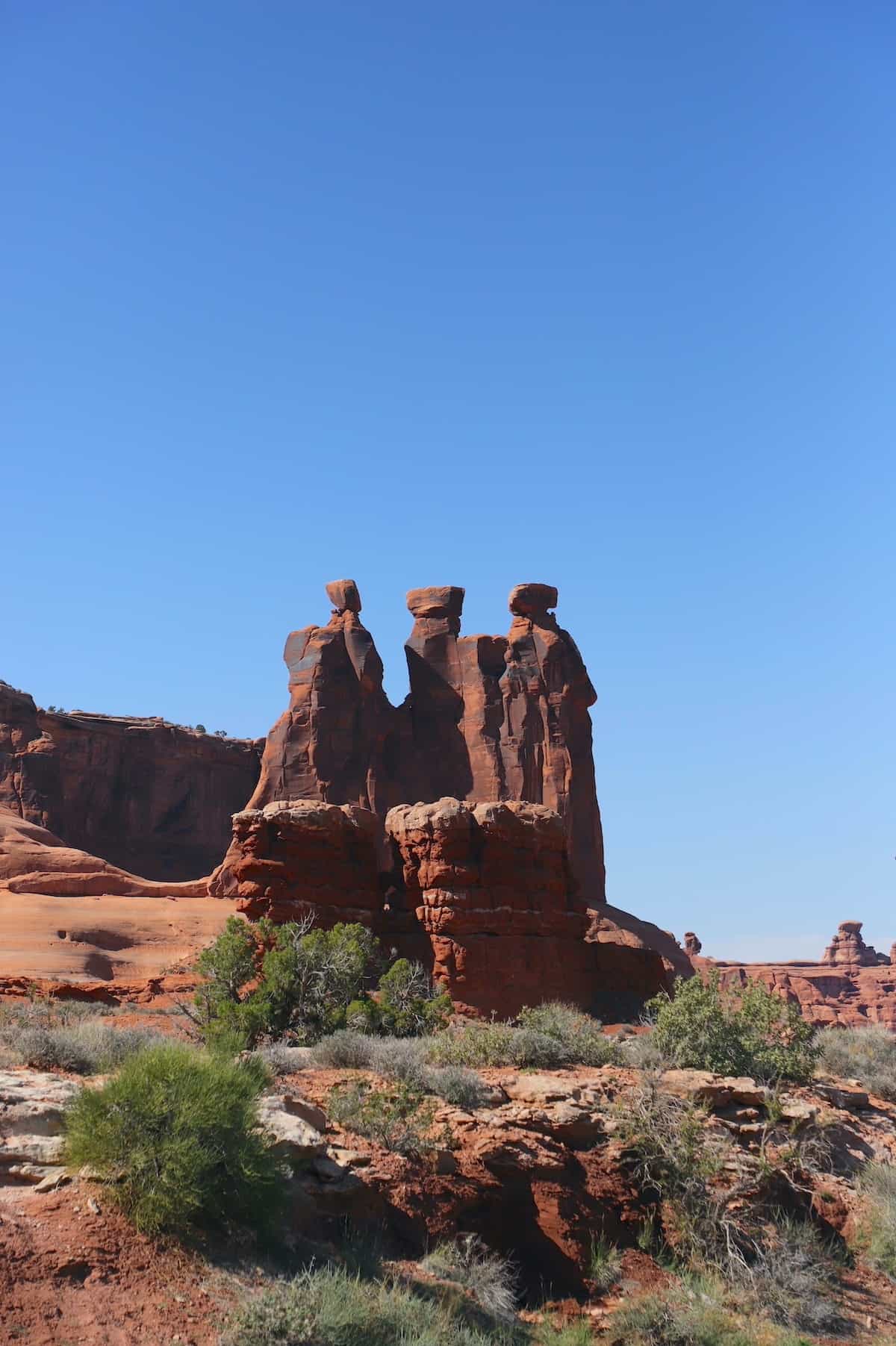 With the bright, blue skies and the stunning red rock formations, Arches is simply beautiful. It has the highest density of natural stone arches in the world. Everywhere you turn there is something to see.
Landscape Arch, in an area known as the Devils Garden, is the fifth-longest sandstone arch in the world.
Delicate Arch is a 52-foot-tall arch that is depicted on license plates for the state of Utah.
The Windows contains features with intriguing names like Parade of Elephants, Garden of Eden, Double Arch, and more. It's crazy to think that over time, all the present arches will collapse.
New arches will form, of course, but they won't be exactly like the arches in the park presently. All the more reason to go!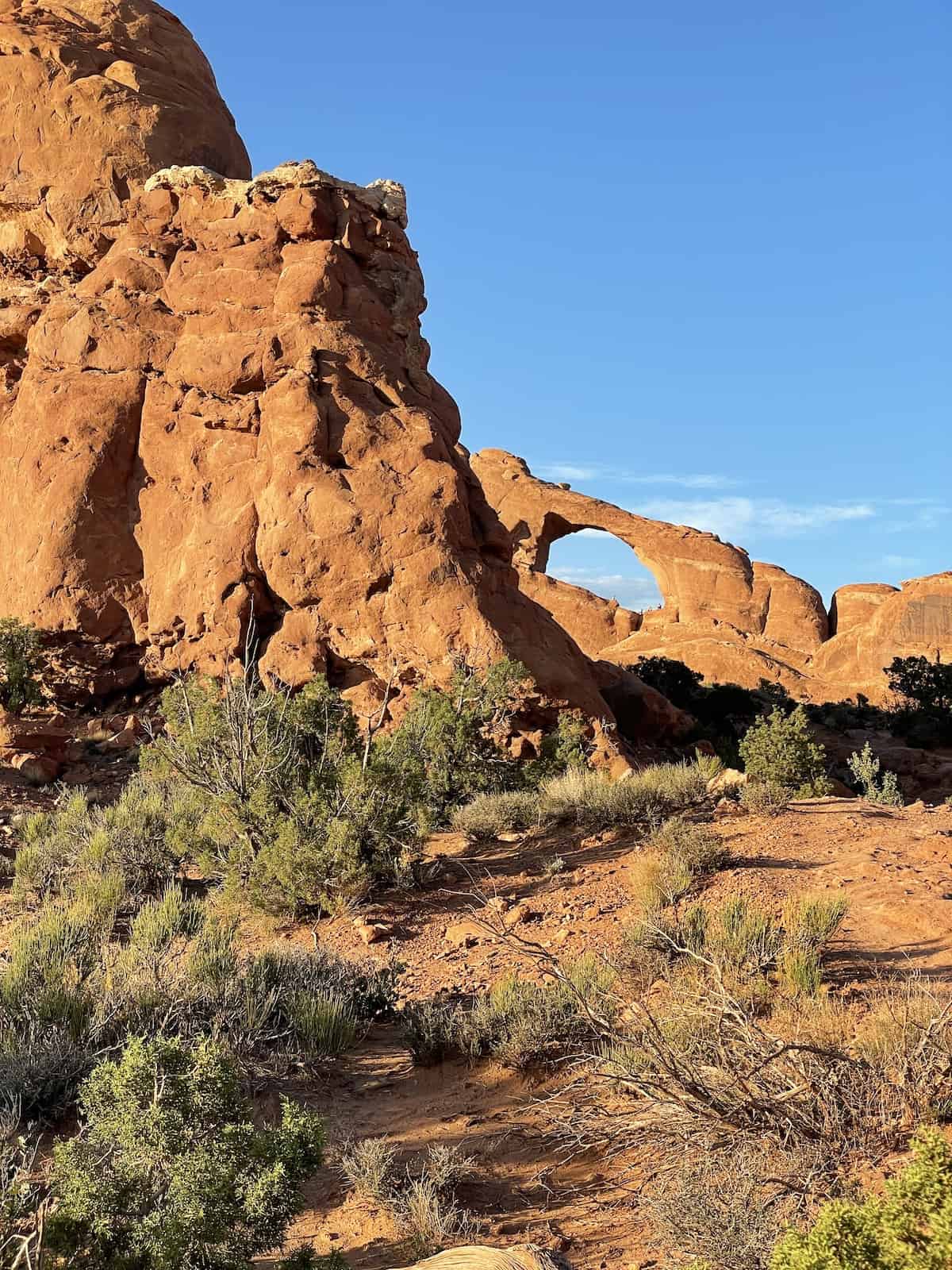 Even if you're not the rugged outdoors type, you can explore Arches National Park. There are options for hiking at all skill levels, as well as biking, backpacking, and horseback riding.
My husband and I decided we wanted to do more of this after visiting Arches. It was such a special time together. There's also an 18-mile scenic drive so you can enjoy the beauty without too much walking.
When Is the Best Time of Year to Go to Arches?
This is a desert environment, so summers are hot and winters are cold.
Summer months can reach daytime temperatures over 100°F. In the late summer, monsoons can cause flash floods and heavy rain in the area.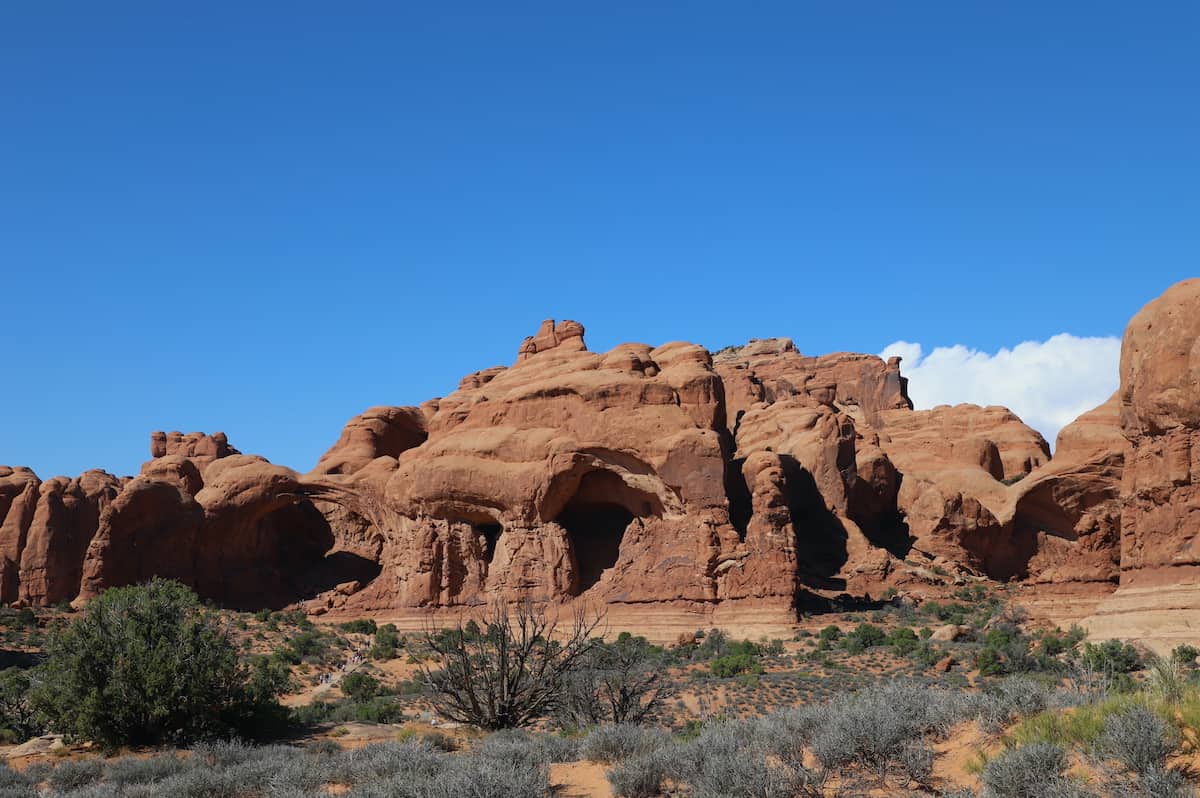 In the winter, you can find highs between 30-50°F and lows well below freezing. Large snowfall amounts aren't likely, but small amounts of snow or ice can make travel on the roads difficult. If you plan to hike around this time, you will want traction devices and trekking poles to handle icy paths.
Spring and fall have the best weather, with temperatures in the 60s-80s by day and 30s-50s by night. Because the temperatures are so comfortable, Spring and Fall are the most popular time to visit.
In the fall, the nearby La Sal Mountain Drive gives you a scenic drive with the beauty of a rainbow of fall colors.
Things to See
Before you go, print a copy of the official Visitor's Guide. This free document contains a ton of information, a hiking guide, a park map, and more.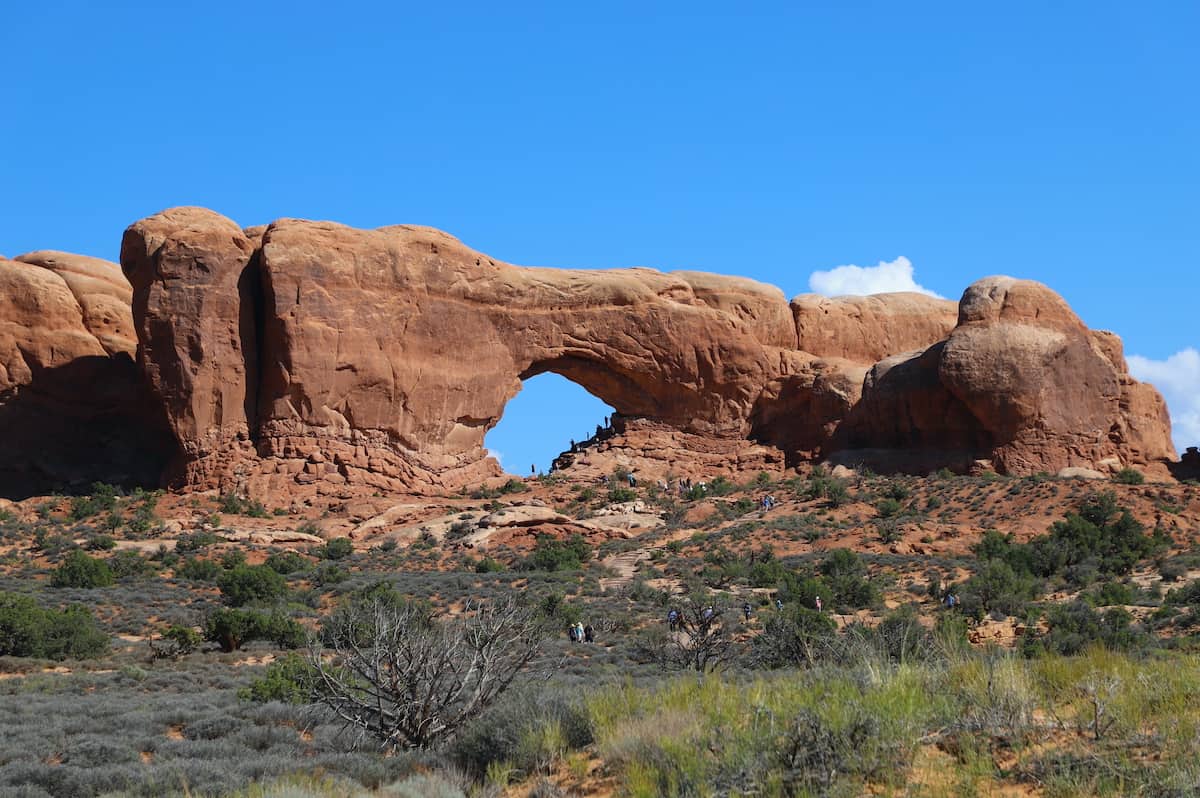 Even if you've done research and planning before your trip (which is why you're reading this, right?), make your first stop at the Visitor's Center near the park entrance.
At the visitor center, explore exhibits about the national park and the formation of the arches. There are also sculptures, a bookstore, restroom facilities and drinking water, and more. This is a great way to learn about the history, geology, and plants and animals of this park.
Behind the visitor center, there's a small nature trail that provides information about desert plants. This 10-minute hike is on flat land, but will give you a feel for that day's weather if you plan one of the longer hikes.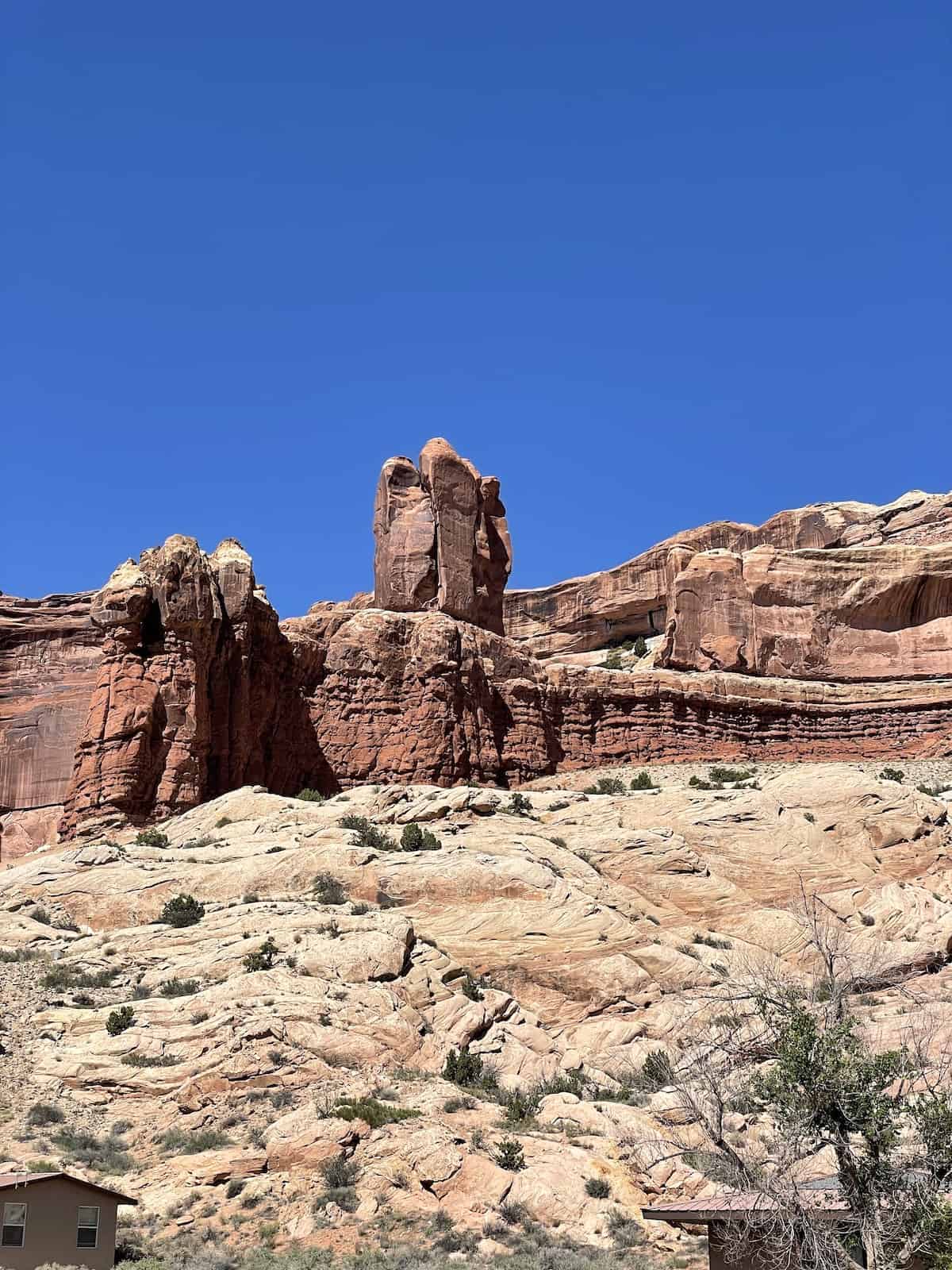 For a fun road trip day, after the visitor center, drive on to the La Sal Mountains Viewpoint, Balanced Rock, The Windows Section (the large concentration of arches), Delicate Arch Viewpoint, and Skyline Arch.
Each of these stops has minimal walking and will take less than a half hour at each location. This will give you a great feel for what Arches National Park has to offer. If you are just looking at driving, there are paved roads tour options for as little as 1.5 hours or up to 4.5 hours.
If you're planning to stay longer, there are multi-day itineraries to help you see even more of this amazing park.
Hikes in Arches National Park
Arches National Park has 16 different hikes, from easy ones with no elevation change that take less than a half hour to difficult trails that take several hours of navigating steep terrain. Here's some of what you can find.
Easy Trails
There are several short hikes of an hour or less for every skill level. The easiest, Double Arch, is about a half mile round trip and fairly flat.
Sand Dune Arch takes you through deep sand to see a fairly secluded arch. The trail is flat, and it will take you about half an hour to hike.
The Broken Arch trail is about a mile and a half, and crosses a large meadow to view Broken Arch.
The Windows is a mile round trip, but it takes about an hour as the elevation changes a bit.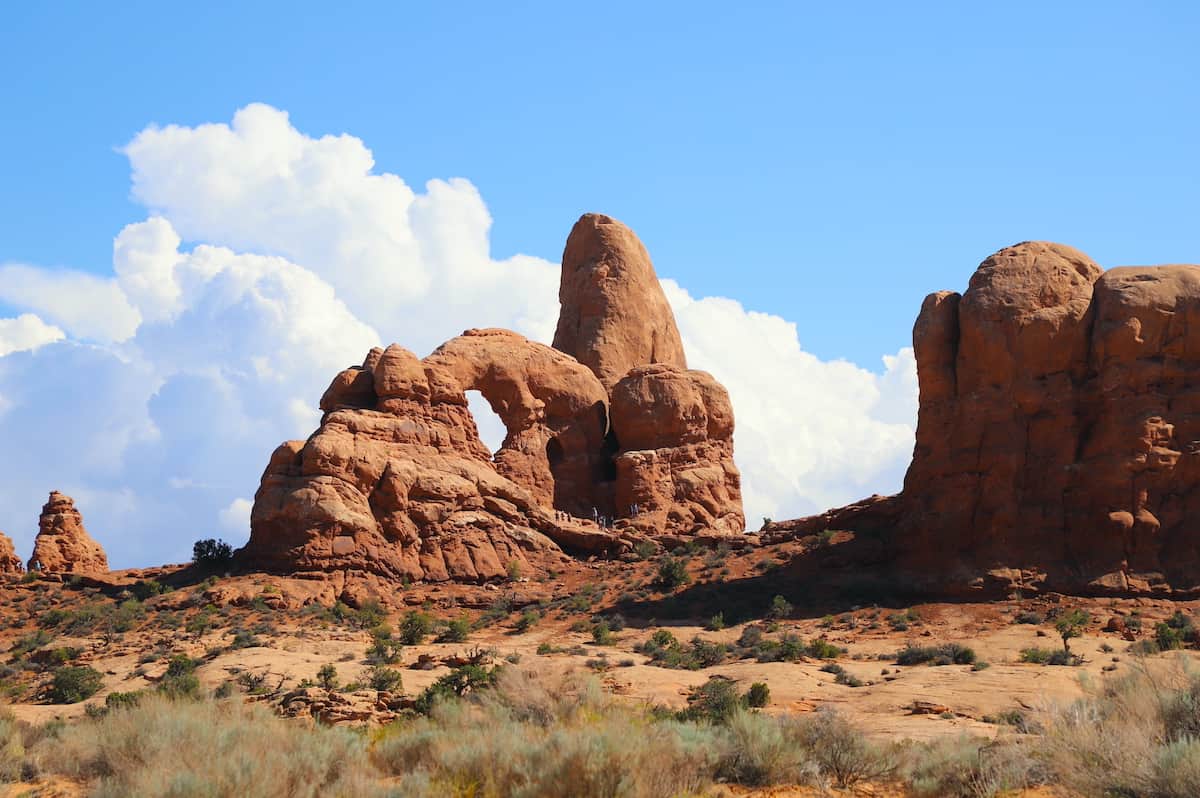 Landscape Arch trail is just under two miles round trip and takes around an hour. It leads out to a beautiful view, and then continues on for the more challenging four-mile-long Double O Arch trail.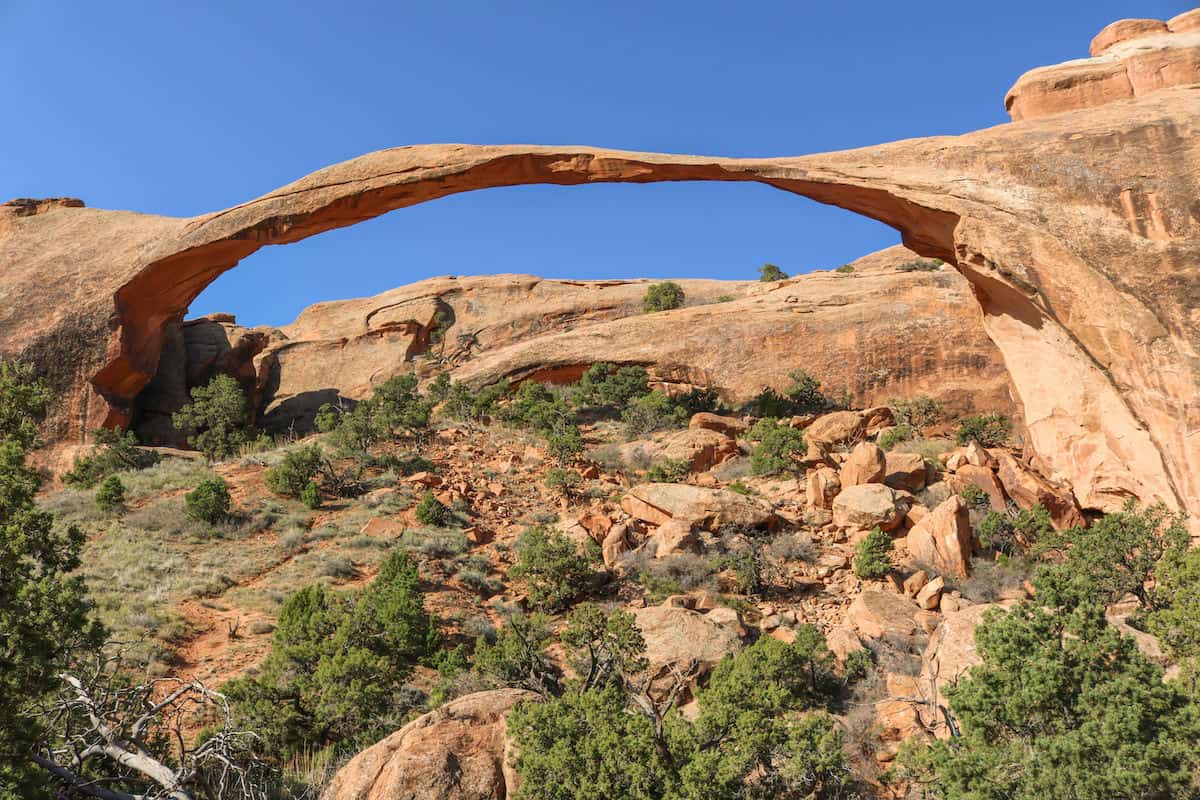 If you're not looking for a bigger challenge, just turn back at the start of the Double O Arch trail.
Moderate Trails
There are two main moderate trails. Park Avenue is two miles out and takes about an hour to descend more than 300 feet down into a cavern. Once you get to the end of the trail, for your safety, you'll need to follow the trail back instead of walking along the main road.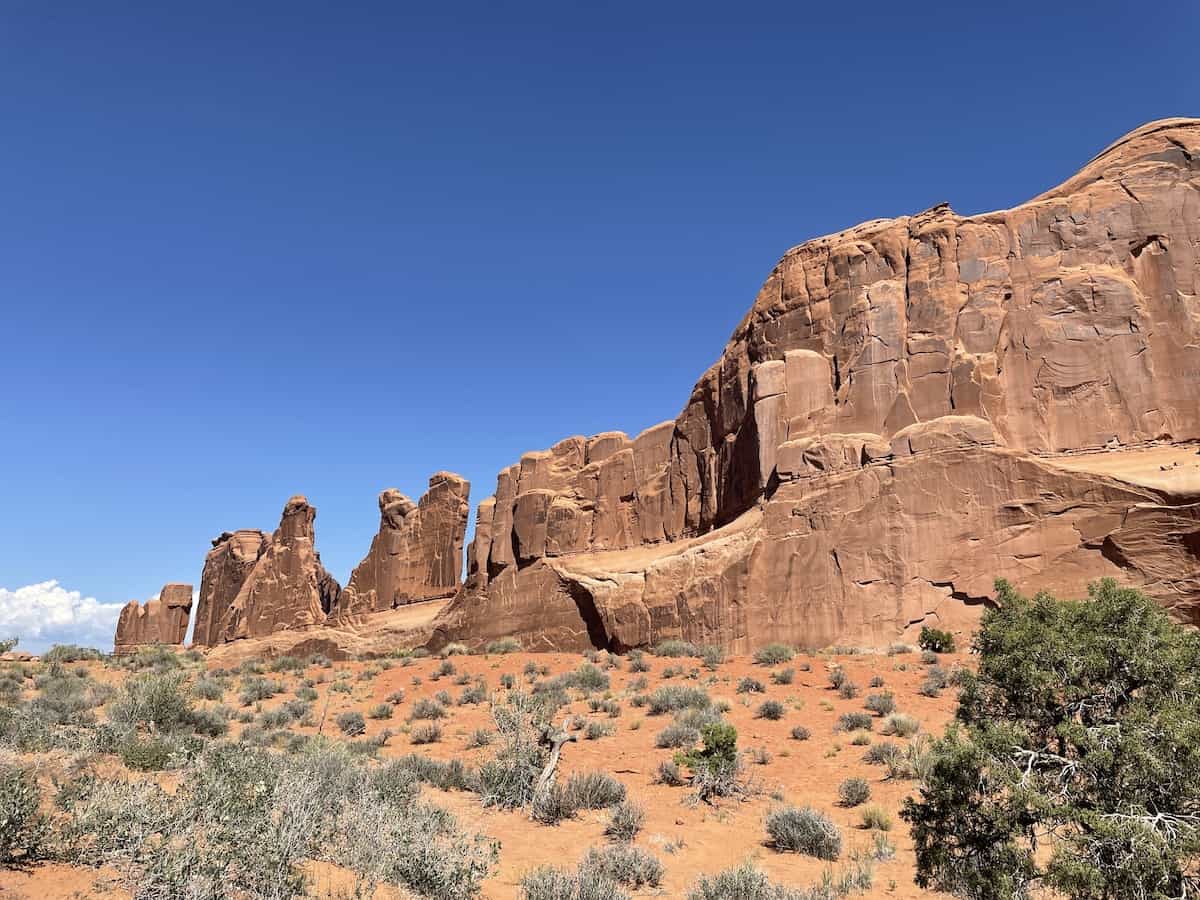 There are two segments to the Delicate Arch Viewpoint trail. The lower Delicate Arch Viewpoint segment is a flat and accessible trail that leads to the lower viewing area and takes just a few minutes.
The second segment is more difficult and climbs 171 feet over half a mile to the upper viewpoint with a good view of Delicate Arch.
Delicate Arch trail is three miles round trip and takes 2 ½ hours. Though this was the busiest trail we took, it is a fairly tough trail.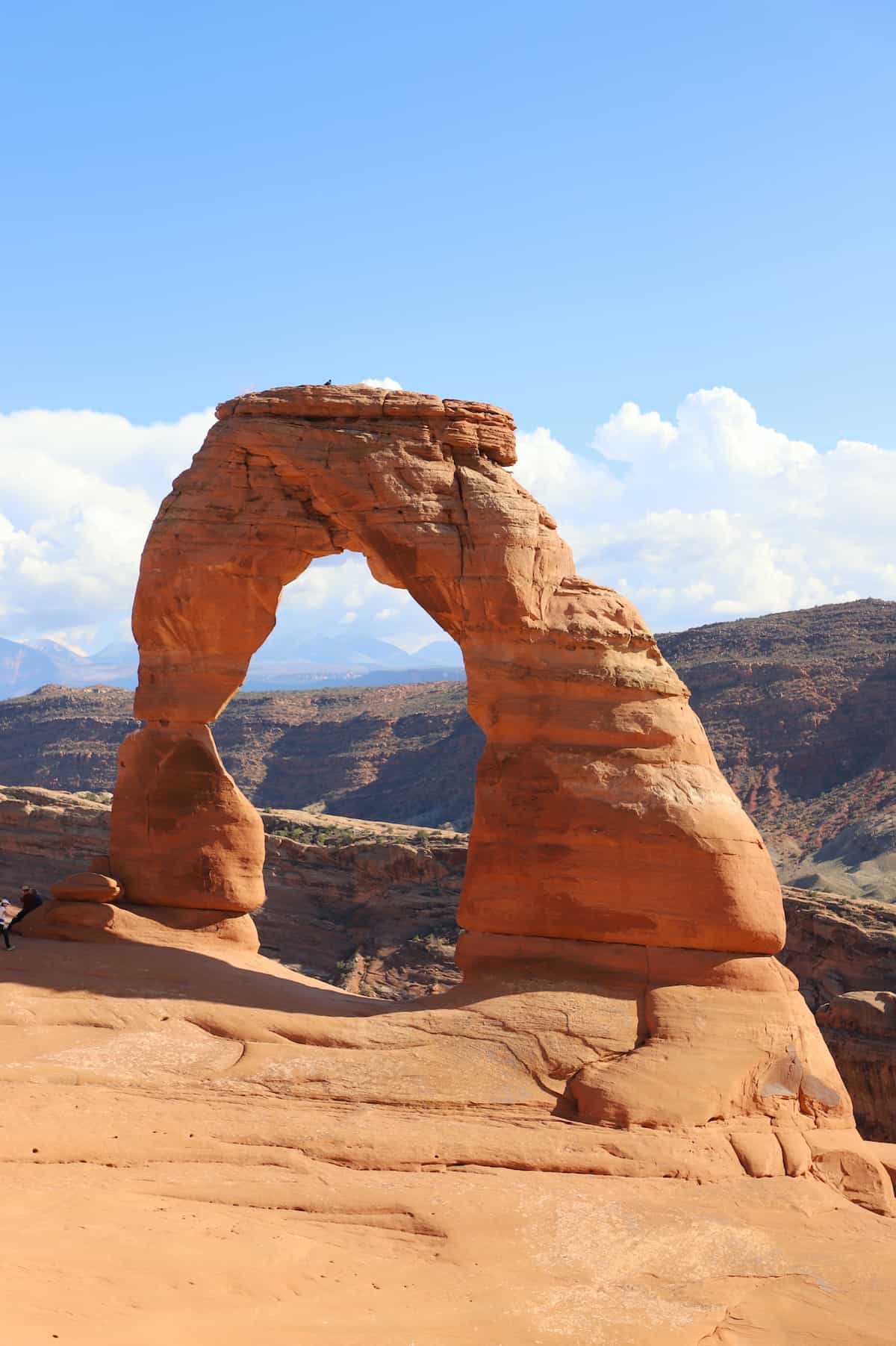 When you're about half way and you look at the tiny people up on the top and realize you are going there, you'll see what I mean! Worth it? Absolutely! Bring water, reapply sunscreen often, and avoid this trail during the midday heat in the summer.
This is when you might be thinking a rafting adventure would be a good idea!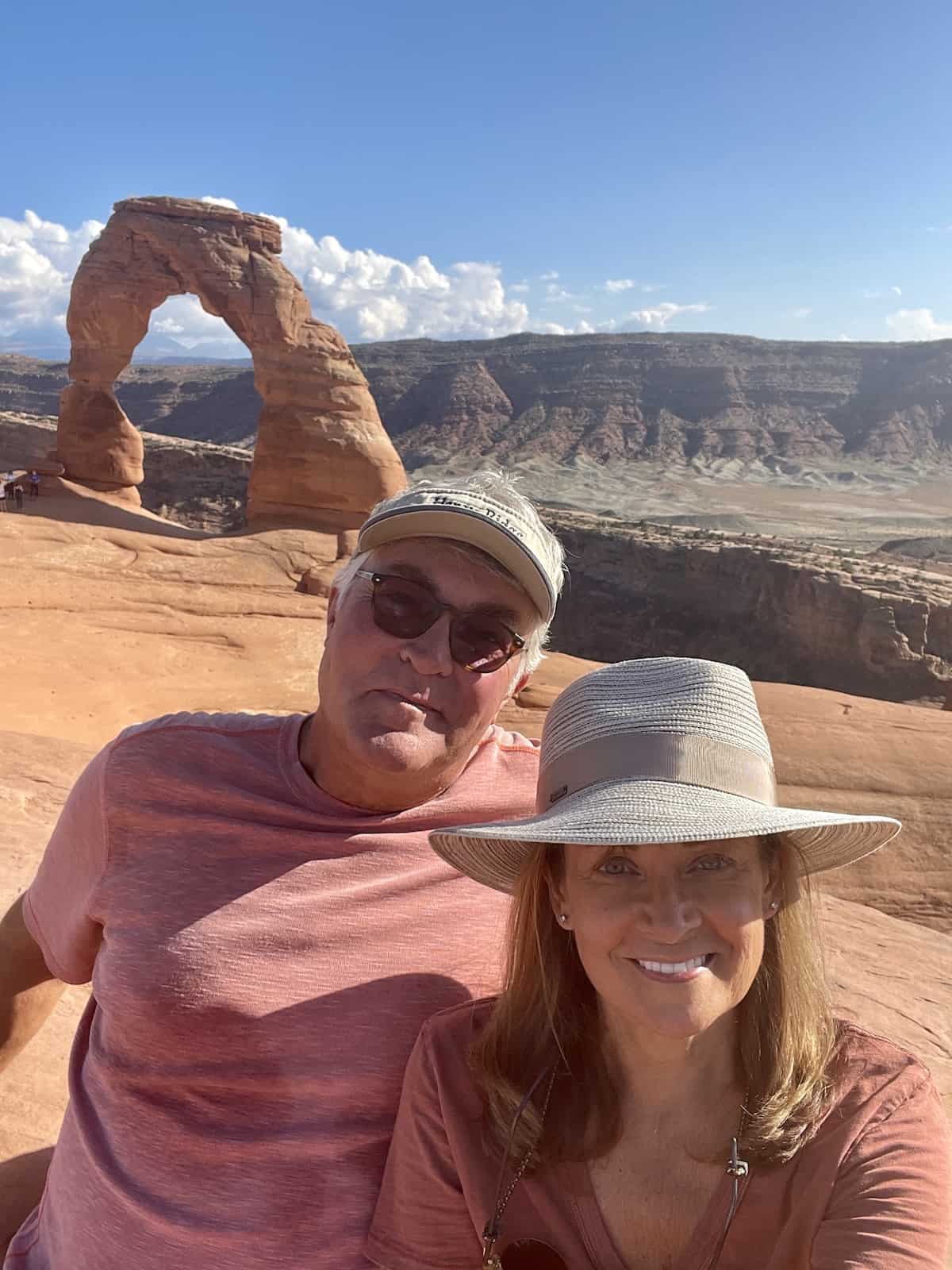 Tough Trails
Some of the arches are really difficult to hike to, so if you want to see them and would just prefer not to hike, plan a 4 x 4 tour of Arches National Park or a Hell's Revenge UTV tour.
Tower Arch trail is 2.6 miles and takes about 2 ½ hours. This trail gets washed out during rain so look at the weather first.
Double O Arch at Devils Garden Loop is four miles and takes 2 ½ hours. It's challenging, rocky, and if you have a problem with heights, it might not be for you.
The Devils Garden trail system is 8 miles and takes 4 hours to complete. It includes the Landscape Arch, Double O Arch, and Dark Angel trails, plus a primitive trail. With narrow ledges, uneven footing, and steep exposures, this is a trail series for experienced hikers.
Fiery Furnace trail has no marked trail and you need a guide or a day-use pass. You could get lost on this trail which meanders through a labyrinth of caverns. If this is a trail you have your heart set on, get your pass in advance.
Seeing Arches National Park should really be on your bucket list. Let me know if you go! And be sure to make time for Canyonlands, too. It's spectacular.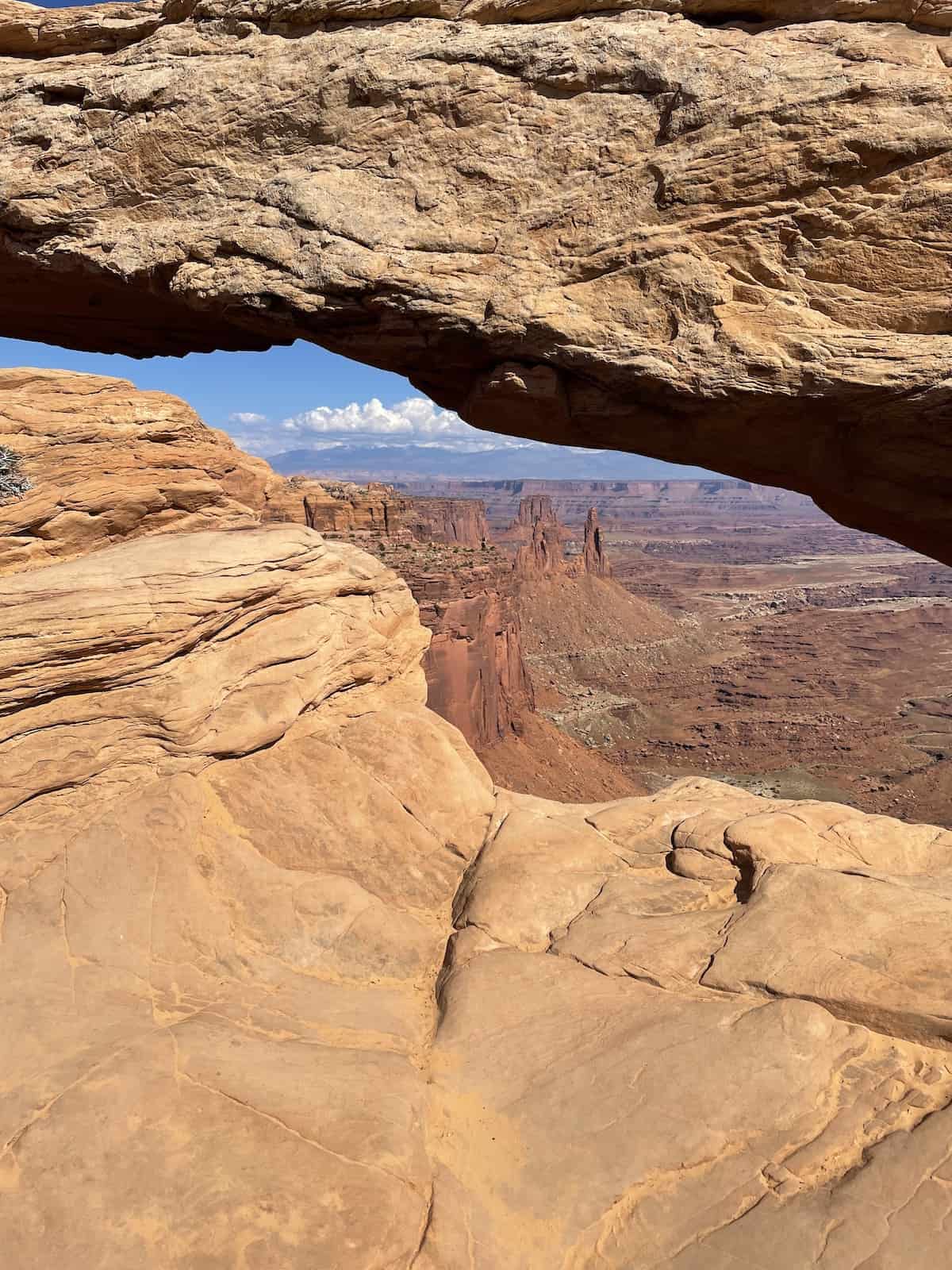 Frequently Asked Questions
Do you have to hike long distances to see the top sites?
No! North Window is only a quarter mile from the road, and it's an easy hike. Other sites like Balanced Rock also have a fairly short walk. We spoke with a woman who had 2 artificial legs and who was walking to a lot of the sites. When in doubt, check your park information guide and ask the rangers at the Visitor's Center. They are happy to help you find the best hikes for your group.
Is there a lot of wildlife at Arches National Park?
Because Arches National Park is in a desert area, you might think there's not a lot of wildlife to see. But you can find squirrels, chipmunks, birds of prey, and lizards and snakes during the day, especially in spring through fall.  At dawn and dusk, you may find mule deer, rabbits, songbirds, coyotes, and porcupines. Other animals appear at night, such as kangaroo rats, skunks, foxes, bats, owls, bobcats, and mountain lions.
Does it cost to enter Arches National Park?
General admission is $30 per vehicle for up to 15 passengers, $25 for a motorcycle and riders, or $15 per person for pedestrians. This admission is a seven-day pass, so you can visit again within the week.
Tips
My personal most important tip is to know sunset times and keep it in mind when planning hikes.
There were people going up to Delicate Arch when we were coming down, and there was no way they would make it back by sunset. I personally would not want to be coming down that trail after dark as it's pretty steep in spots.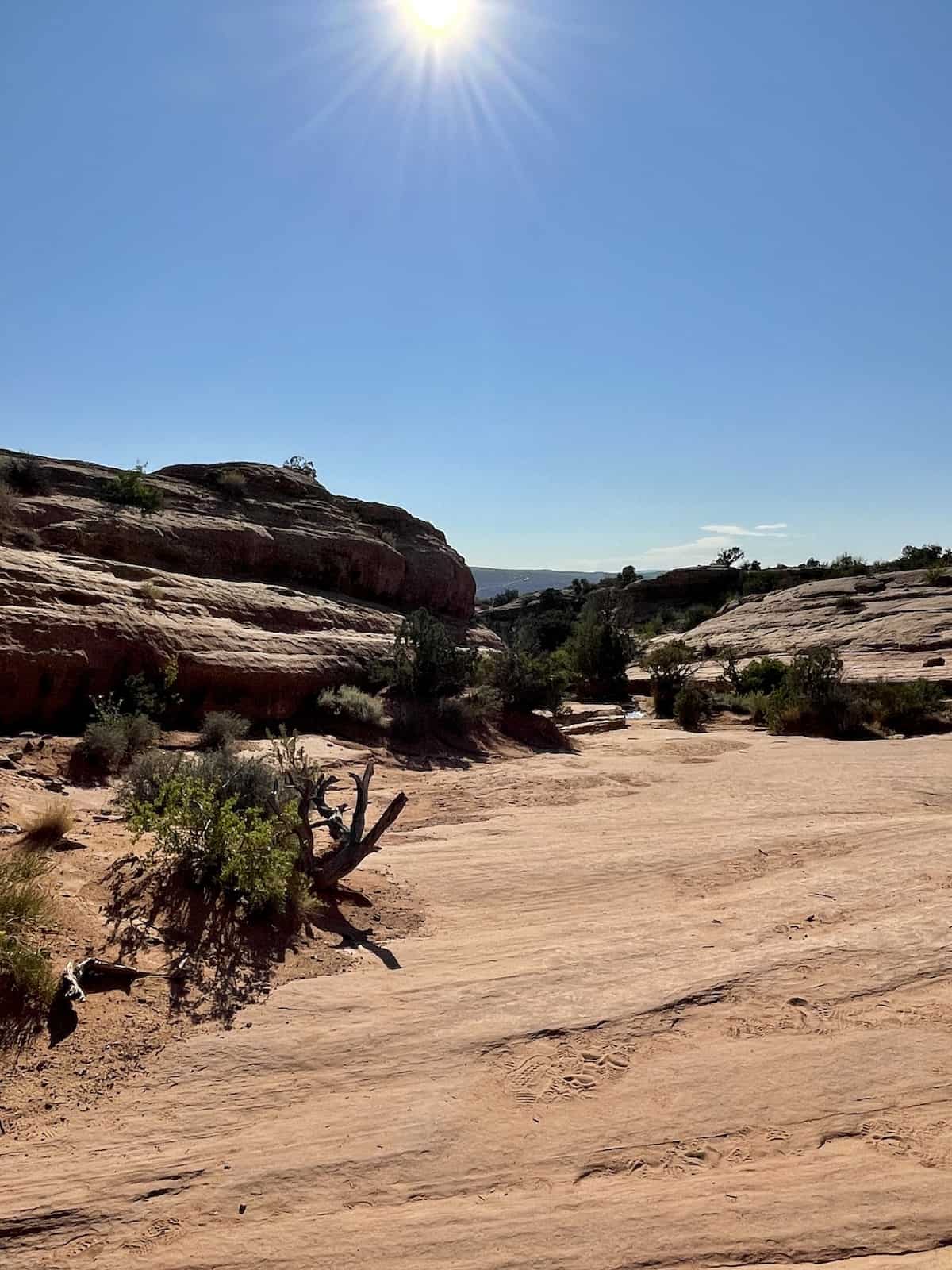 Get the $55 per vehicle Southeast Utah Parks Pass if you plan to visit again within the year. This pass includes admission to Arches National Park, Canyonlands National Park, and Natural Bridges National Monument. This is a great value, and a wonderful way to support conservation of these precious sites.
If you know you will be visiting a lot of national parks in a year, the America the Beautiful pass is a fantastic value. At $80 for the year, this includes admission fees per vehicle or up to four adults at more than 2,000 federal recreation areas across the United States.
Some regional areas that accept the America the Beautiful interagency pass include Zion National Park, Bryce Canyon National Park, and more.
Take lunch as there is no food in the park. We stopped at Moonflower Community Coop and got their Mediterranean box of hummus and pita with grape leaves and it was so good we did the same thing the next day when we went to Canyonlands.
Make sure to check the Arches National Park web site for information about Timed Entry Reservations between April and October, 2022.
And most importantly, drink plenty of water, and observe trail and safety signs.
Like our content? Follow us on Pinterest!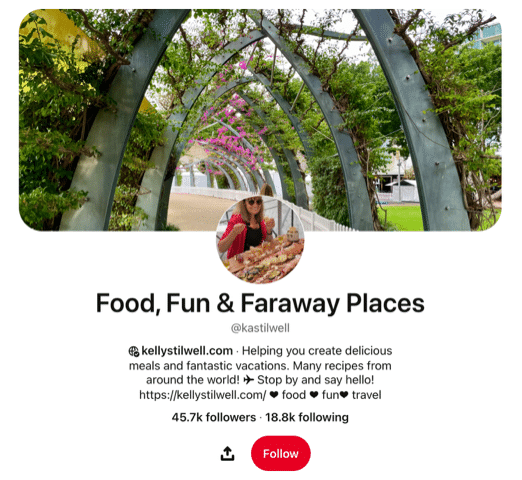 More Bucket List Destinations