Knowing which bread for soup goes best will help you create a flavorful simple meal of comfort food.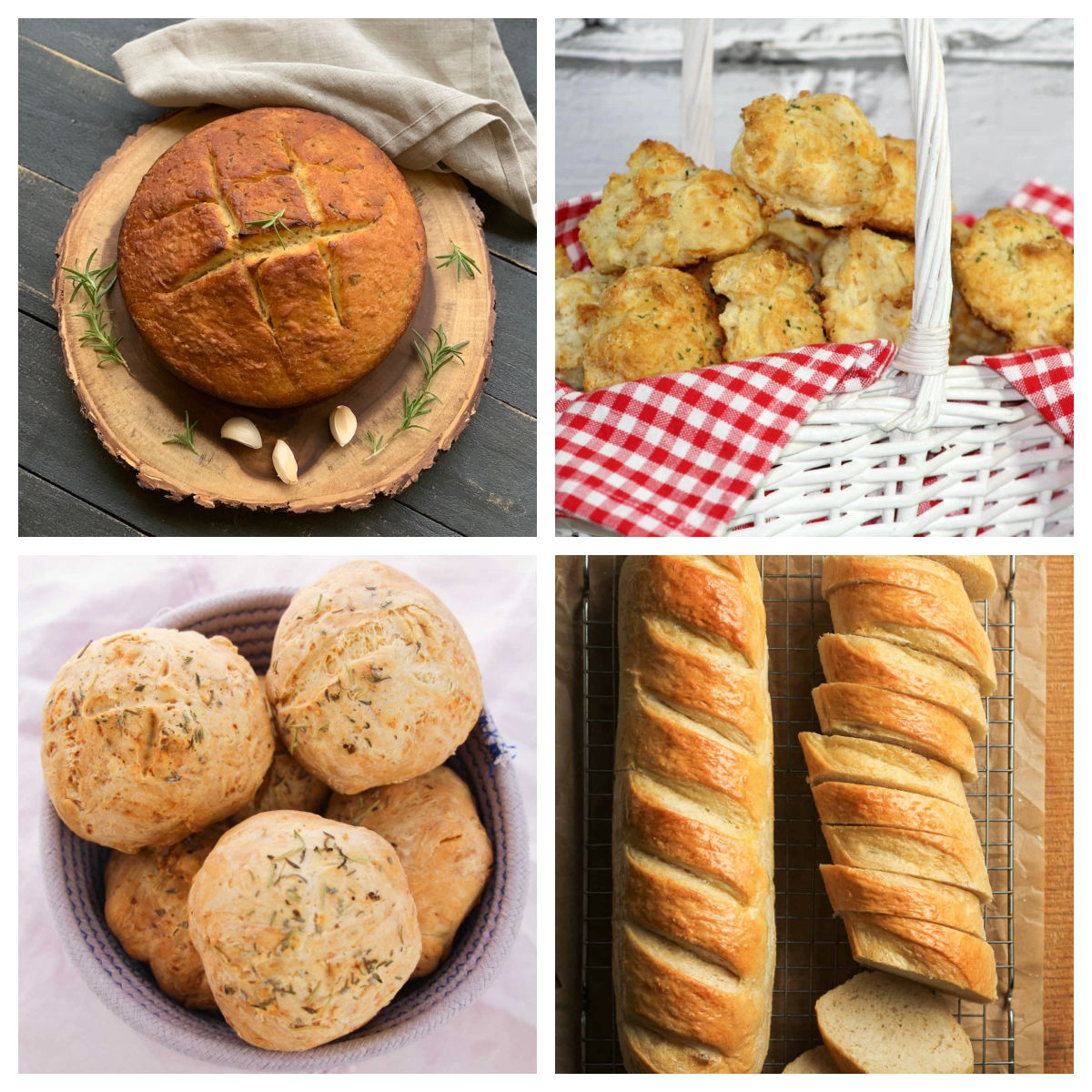 Jump to:
What's more perfect than spending a chilly day inside with a steaming bowl of homemade soup and delicious warm baked bread? Nothing. Absolutely nothing.
Soup and bread go together like peanut butter and jelly. They are a dynamic duo and the ultimate cold-weather comfort food.
Check out this list of our favorite soup recipes and chowders or this list of easy chicken soup recipes.
Why We Love These Bread Recipes
Making homemade bread isn't nearly as daunting as you would think. In fact, it's really easy.
Most bread recipes only take a handful of ingredients to make, most of which you probably already have on hand. You also don't need any fancy equipment for these easy recipes, just a mixing bowl and a hot oven.
The most important step of baking bread is to wait. Waiting for your dough to rise is essential if you want the inside to be soft and flavorful. While you're waiting for the dough to proof, put a pot of your favorite soup on the stove and let it simmer.
My favorite thing to do on a cold day is to find a great recipe for fresh homemade bread and pair it will a steaming cup of soup with great flavor!
Common Ingredients and Equipment for Baking Bread
Most bread recipes have a similar base of ingredients. If you have these main ingredients on hand, you will always be able to make fresh warm bread.
Flour: bread recipes require several cups of flour. I would recommend stocking your kitchen with several different kinds of flour, especially all-purpose, bread, and whole wheat flour.
Warm Water
Yeast: a yeast mixture is needed to make bread rise. This is part of the fermentation process.
Salt: gives the bread flavor and controls fermentation.
Sugar: a pinch of sugar acts as food for the yeast.
Some other useful ingredients for baking bread are eggs to make an egg wash, a little olive oil, garlic powder, different types of cheese, and herbs.
Baking homemade bread doesn't take a lot of equipment, most of what you need you probably already have.
Baking sheet/sheet pan
Stand mixer with dough hooks (not a necessity, but convenient)
Small bowl
An area to make a floured surface
Some other useful baking equipment to have is a Dutch oven, proofing basket, aluminum foil, zip-top bags, plastic wrap, food processor, parchment paper, clean kitchen towel, and a warm place for the dough to rise.
Our Favorite Bread Recipes
Bread Rolls
Tips For Making Bread
If it's your first-time baking bread you will need to make sure you get a head start and follow the step instructions.
Depending on the type of bread you are making, it will be a good idea to set aside enough time for the first and second rise. The overall rise time will vary by recipe.
Make sure to read over the full recipe first and use the right kind of yeast. There are several different yeasts and each one is used in different recipes.
Also, you will want to keep your fresh yeast in the fridge for no more than a few weeks. Old yeast won't work correctly, and your bread won't ferment properly.
A great way to use up stale bread is to make French toast, bread pudding, or homemade breadcrumbs and croutons!
Best Soups to go with Homemade Bread
Pretty much every soup can go with bread, but these are my favorites. The best part about baking bread is to use it to sop up a warm bowl of soup.
French onion soup
Pappa al Pomodoro
Immune Boosting Chicken Soup or chicken noodle
Brothy soups like Miso and savoy cabbage soups
Potato soup
Hearty soup like meatball and creamy tortellini soups.
Frequently Asked Questions
Sweet Bread Recipes