Shrimp tacos are one of my favorite meals. My family never tires of Mexican food, and these easy grilled shrimp tacos are perfect for sharing.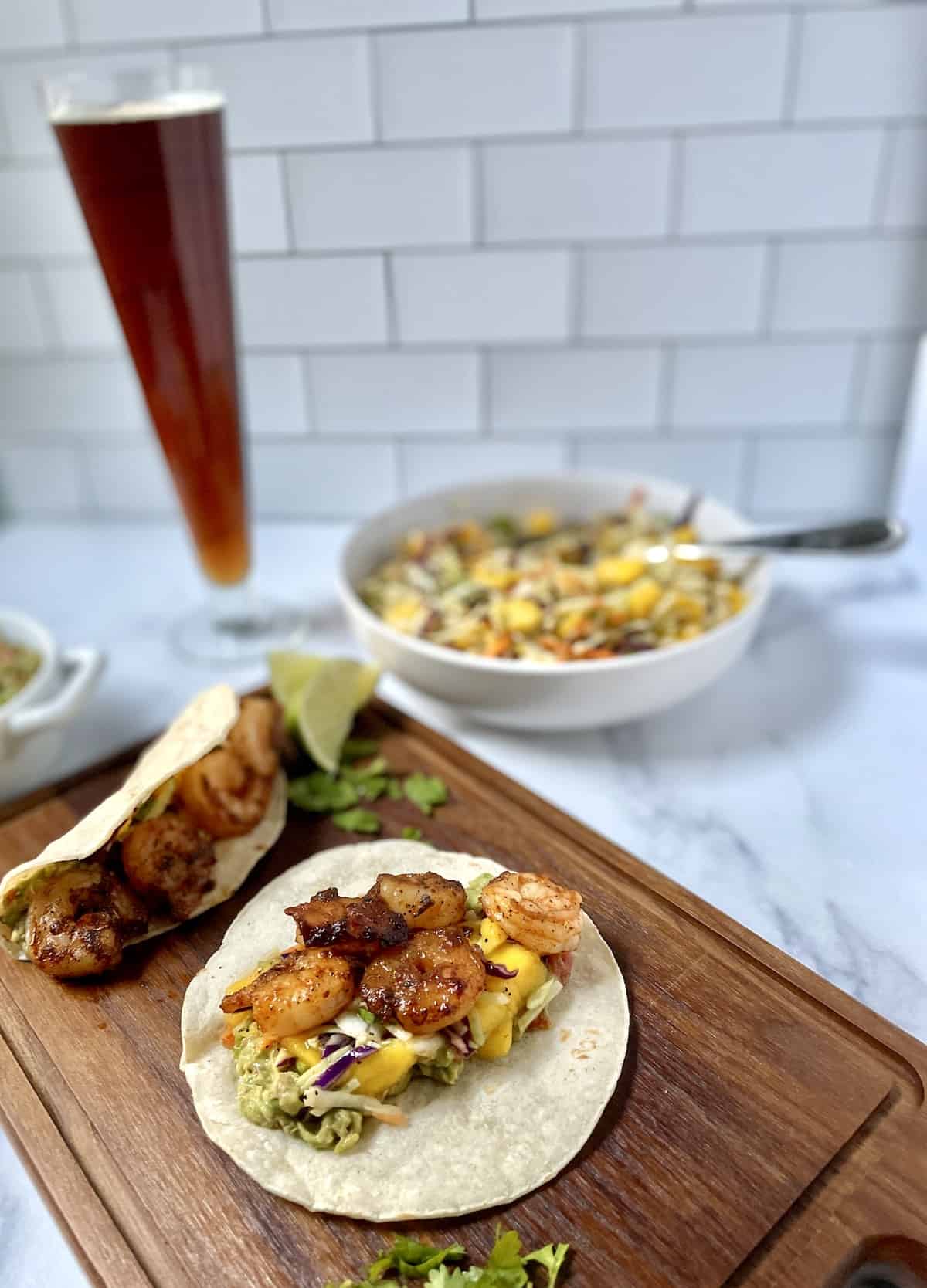 We love throwing together a little party for Taco Tuesday, even if it's only us! Whip up this grilled shrimp taco recipe in no time and serve it with one pot Mexican Quinoa for easy clean up!
Want a recipe you can pop in the oven when it's time for dinner? You're going to love this Taco Casserole!
Ingredients
To make the grilled shrimp, you will need blackening seasoning, medium shrimp, and a pat of butter.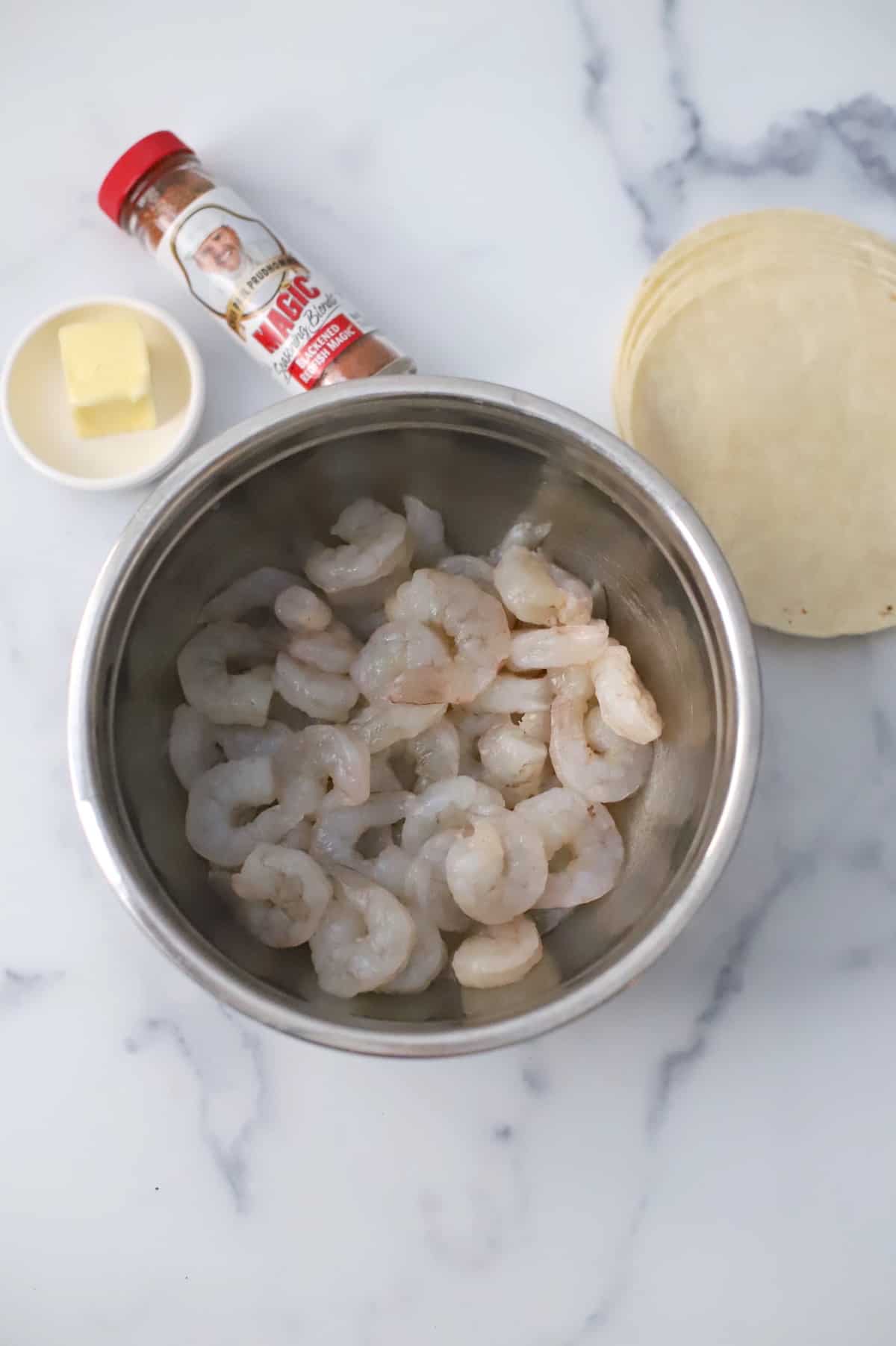 You will also need smashed avocado, cilantro, lime wedges, and mango slaw. And of course you'll need tortillas to wrap up all that goodness.
And if you've never made your own tortillas, you have to try this recipe for easy homemade flour tortillas. So good!
Scroll down to the recipe card for the full list of ingredients and directions.
How to Make Grilled Shrimp Tacos
Place raw shrimp in a large bowl and sprinkle with seasoning.
Add butter to cast iron skillet over medium high heat over grill grates until melted and the grill pan is hot.
Add shrimp and cook until just pink and slightly firm.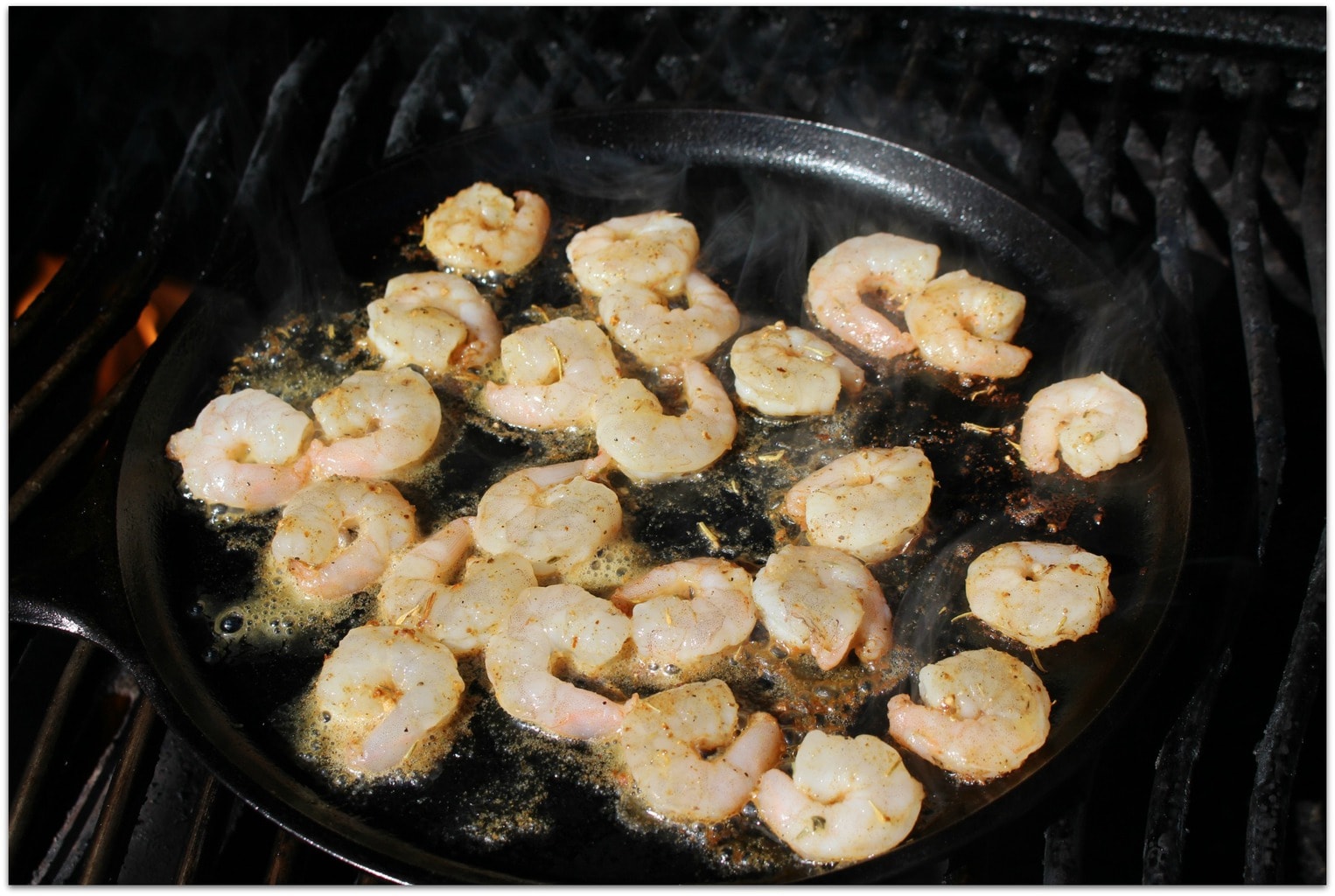 While shrimp is grilling, warm tortillas over medium heat until they are slightly golden.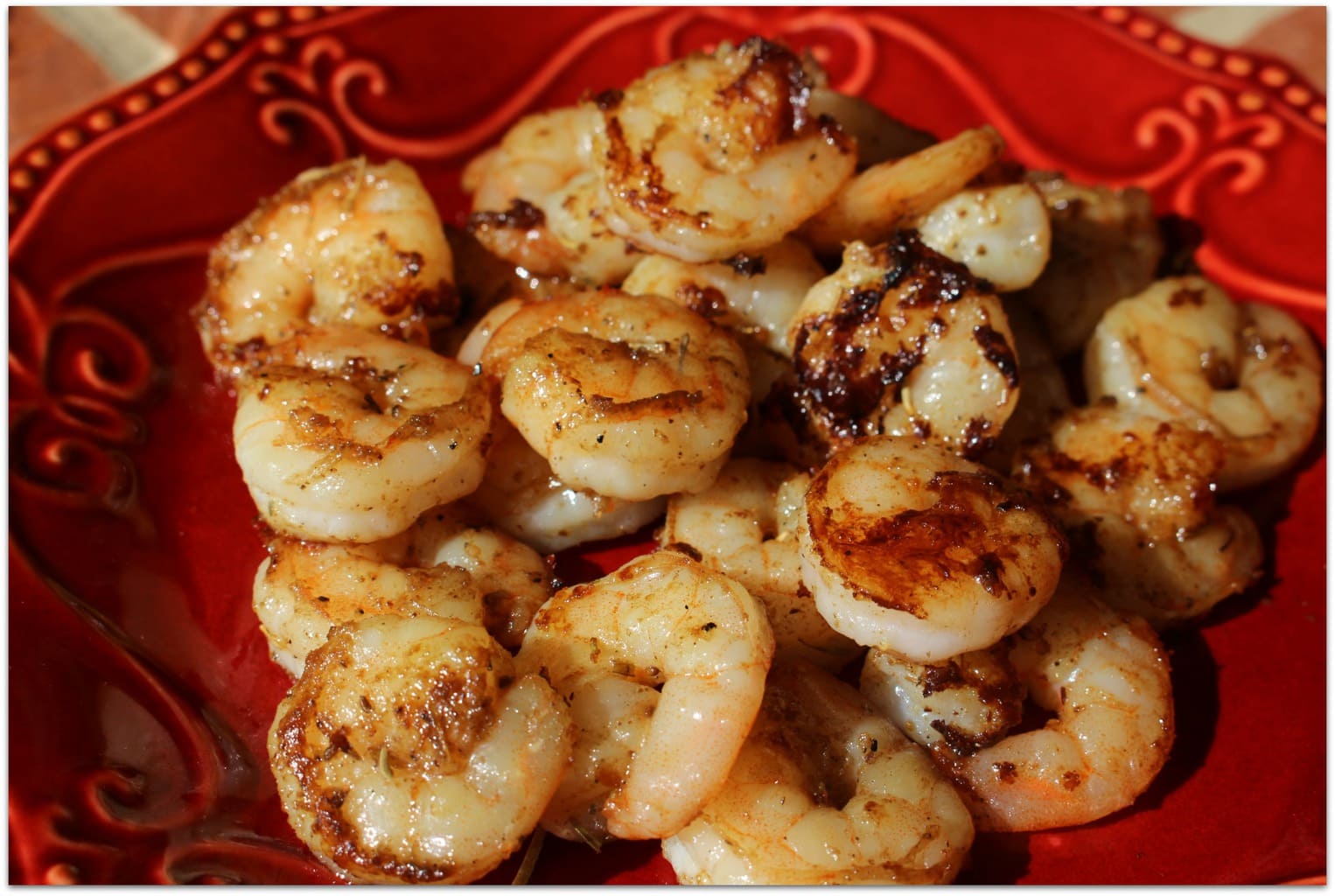 Place bowls of smashed avocado or guacamole, mango slaw, and fresh cilantro on the table and let each person build their own taco.
Serve with lime wedges on the side. A squeeze of fresh lime juice really brightens the flavor!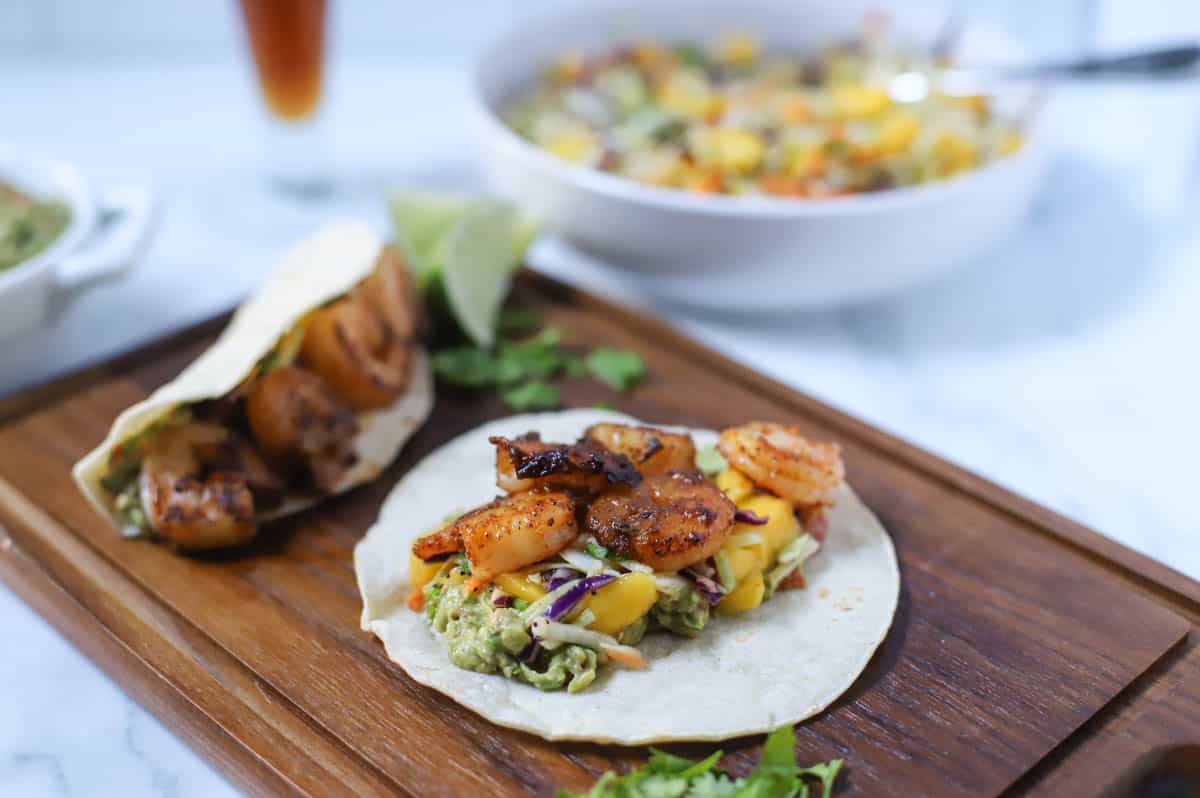 How easy is that? Grilled Shrimp tacos are a delicious meal any night of the week!
Variations
Cooking the Shrimp
You can also cook the shrimp on metal skewers. Wooden skewers can catch fire on the grill, so make sure you soak them in cold water first. Simply thread shrimp onto the skewers and brush with butter or a little olive oil.
We prefer cooking the shrimp in the skillet as it saves some of the juices which adds flavor. Alternatively, can also make these on the stove top.
Tortillas
Feel free to use corn tortillas if you prefer. We do switch it up now and then.
Add Veggies and Spices
You can add so much to these easy grilled shrimp tacos. Try adding red onion or green or red pepper, shredded red cabbage or green cabbage, or tomatoes. Feel free to add a dash of garlic powder or chili powder. Cayenne pepper will add even more heat if you like spice.
Add Your Favorite Toppings
The additions to these grilled shrimp tacos are endless, so add cheese, sour cream, sliced green onion, Mexican crema, or your favorite toppings!
Frequently Asked Questions
Can I use large shrimp for grilled shrimp tacos?
Though large shrimp are delicious for some recipes, we find they can get a little tough for this recipe. We think the medium shrimp make more tender shrimp.
How do you keep the shrimp moist on the grill?
We use the cast iron pan versus grilling on skewers like many people do. It's easier and retains the juices.
How do you prevent overcooking the shrimp?
You only need to cook the shrimp until it is no longer translucent. Also, get the shrimp out of the pan right away as it is still cooking even when off the heat! The minute you overcook shrimp, it becomes tough.
Top Tips
We like to change things up to make taco night fun. Sometimes we have regular Mexican salsa, other times we like the mango slaw.
This watermelon salsa recipe is one of my favorites! I had it the first time when I was on a girl's getaway with Carnival Cruises and made it as soon as I got home. So good!
This fresh peach salsa is also really amazing on tacos, fish, or with chips for dipping!
Let us know if you try this recipe! Please give it a 5 star rating if you love it! It means the world to me!
Like our content? Follow us on Pinterest!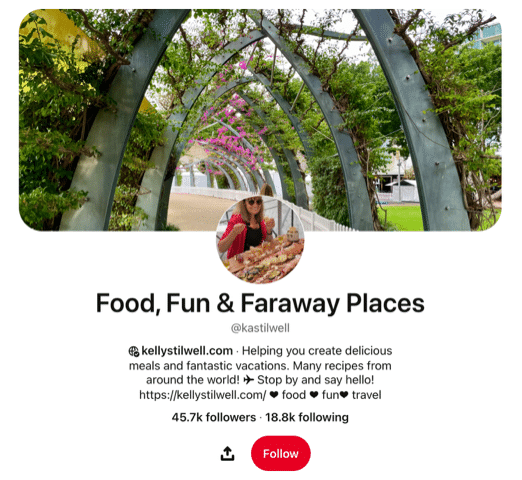 More Mexican Recipes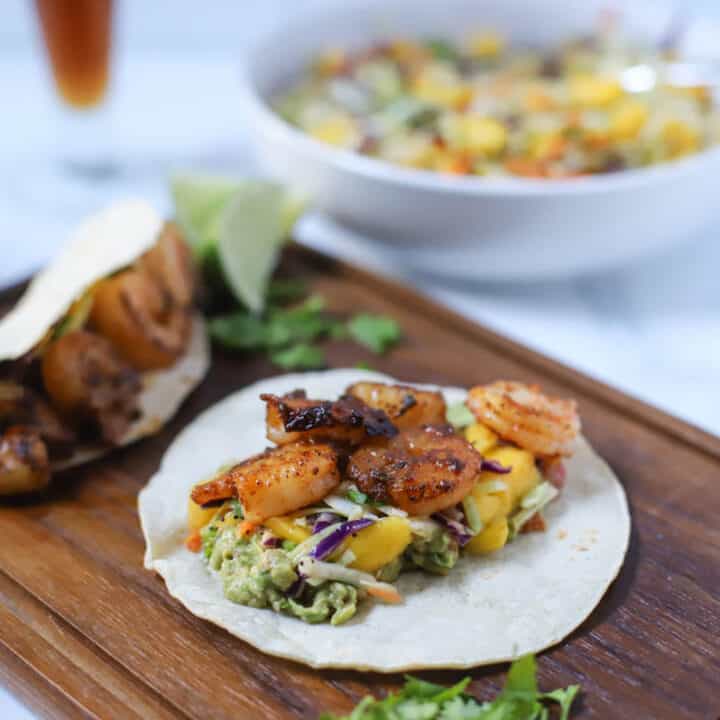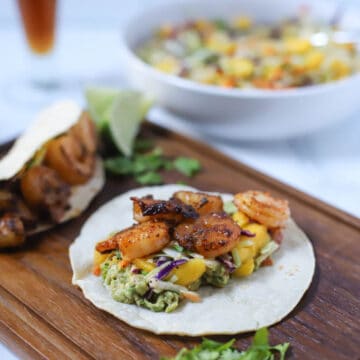 Grilled Shrimp Tacos
We make tacos at least a couple of times every month. Shrimp is our favorite filling and what we eat the most, but we also full our shells with ground beef on occasion. Both are delicious!
Print this Recipe
Pin this Recipe
Rate
Ingredients
Instructions
Preheat grill to medium high.

Sprinkle shrimp with seasoning. 

Add butter to cast iron pan and heat on grill rack until melted and pan is hot.

Add shrimp and cook until just pink and slightly firm.

While shrimp is grilling, warm tortillas in a pan on the stove.

Place bowls of avocado, cilantro, and slaw on the table and let each person build their own taco. Serve with lime wedges on the side.
Nutrition
Serving:
2
tacos
|
Calories:
189
kcal
|
Carbohydrates:
9
g
|
Protein:
14
g
|
Fat:
12
g
|
Saturated Fat:
4
g
|
Polyunsaturated Fat:
1
g
|
Monounsaturated Fat:
5
g
|
Trans Fat:
0.2
g
|
Cholesterol:
126
mg
|
Sodium:
6857
mg
|
Potassium:
371
mg
|
Fiber:
3
g
|
Sugar:
5
g
|
Vitamin A:
935
IU
|
Vitamin C:
17
mg
|
Calcium:
61
mg
|
Iron:
1
mg