Looking for the perfect dessert for a shark birthday party or a special treat for a shark party? We've got the perfect fun dessert!


There was a time when there would be nothing but the Discovery Channel on TV at our house during Shark Week. For a time, I thought my oldest might go into Marine Biology. She loves marine animals.
Unfortunately, she hates math, so that pretty much put a hole in that major.  She plans to be an artist, so who knows, maybe she can combine the two like Guy Harvey has done. These Shark Party Cupcakes are a work of art, too! Aren't they beautiful?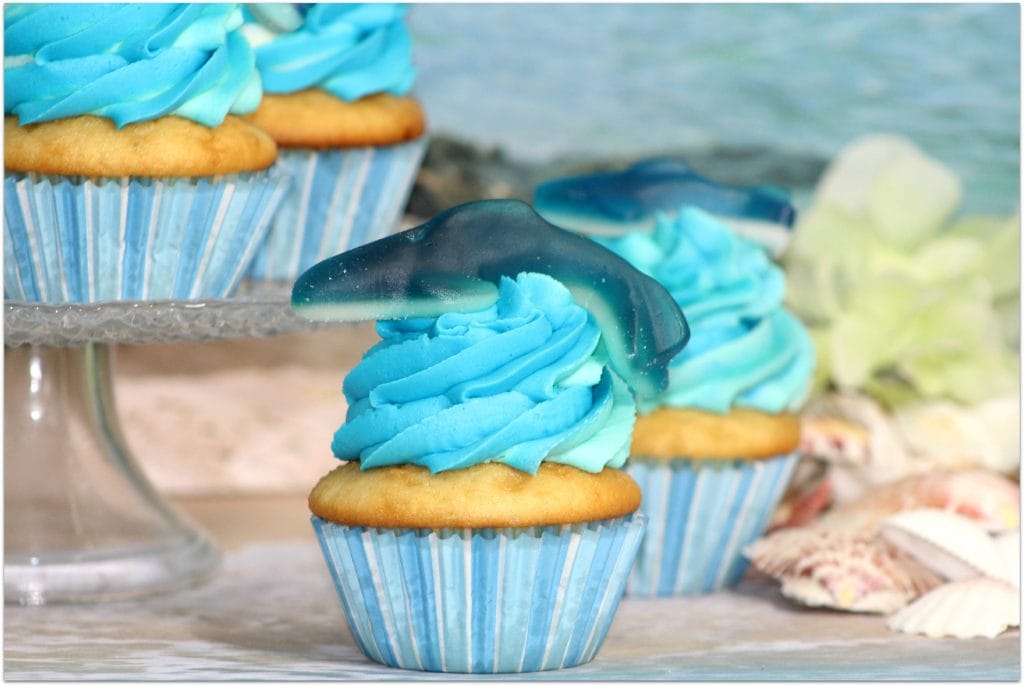 Shark Party Cupcakes
Cupcake Ingredients
¾ cup unsalted butter (room temp)
1 ½ cups sugar
3 large eggs (room temp)
2 teaspoons vanilla extract
½ teaspoon almond extract
1 ¼ cups sour cream (room temp)
2 ½ cups cake flour
1 teaspoon baking powder
½ teaspoon baking soda
½ teaspoon salt
Frosting Ingredients
1 cup butter, softened
3 ½ cups confectioner sugar, sifted
1 teaspoon cream
2 teaspoons pure vanilla extract
1 ½ teaspoons vanilla bean paste
1/8 teaspoon salt
Sincerely Nuts Gummy Blue Sharks 1 LB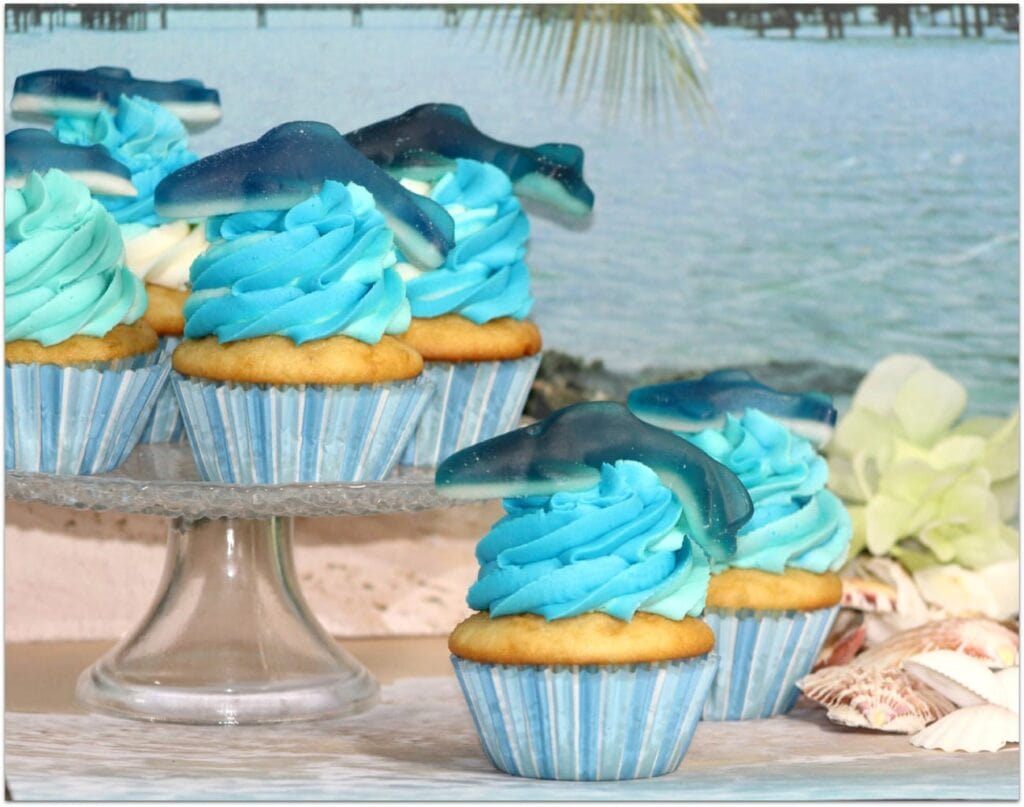 Cupcake Instructions
Preheat the oven to 350°
Line 2 muffin tins with cupcake liners
Sift flour, baking powder, baking soda and salt into a medium bowl Place to the side.
In a bowl cream butter and sugar with an electric mixer until it's light and fluffy.
Begin to add the eggs one at a time, mix to combine after each one you add.
Add the vanilla, sour cream and almond extract, mixing until combined.
Reduce the mixer speed to low and stir in the flour by adding ½ cup at a time.
Stir in the last bit of flour with a spatula until just combined.
Fill the cupcake tins 2/3 of the way full.
Bake in oven for 14-18 minutes or until a toothpick inserted into the center comes out clean.
Cool for 2 hours before icing.
Frosting Instructions
In the bowl of a stand mixer, cream butter, sugar and salt on medium-high speed until combined.
Add cream, vanilla extract, and vanilla bean paste and continue to beat until light and fluffy.
Separate frosting in thirds into three different bowls.
Add 3 drops of blue food coloring into one bowl of frosting
Add 3 drops of Teal food coloring ( Spring ) into the second bowl of frosting
Leave the third bowl as white
Using a large frosting piping bag, add 1 scoop of Teal
Add 1 scoop of Blue frosting into the same bag together with the Teal frosting
Add the white frosting last and begin to push all the frosting down to the bottom of the pastry bag where you begin to see frosting coming out of the tip…
Frost the cupcakes starting in a circle on the outer ring and begin to work your way in till you reach the center and form a peak.
Place a gummy shark on top of each cupcake.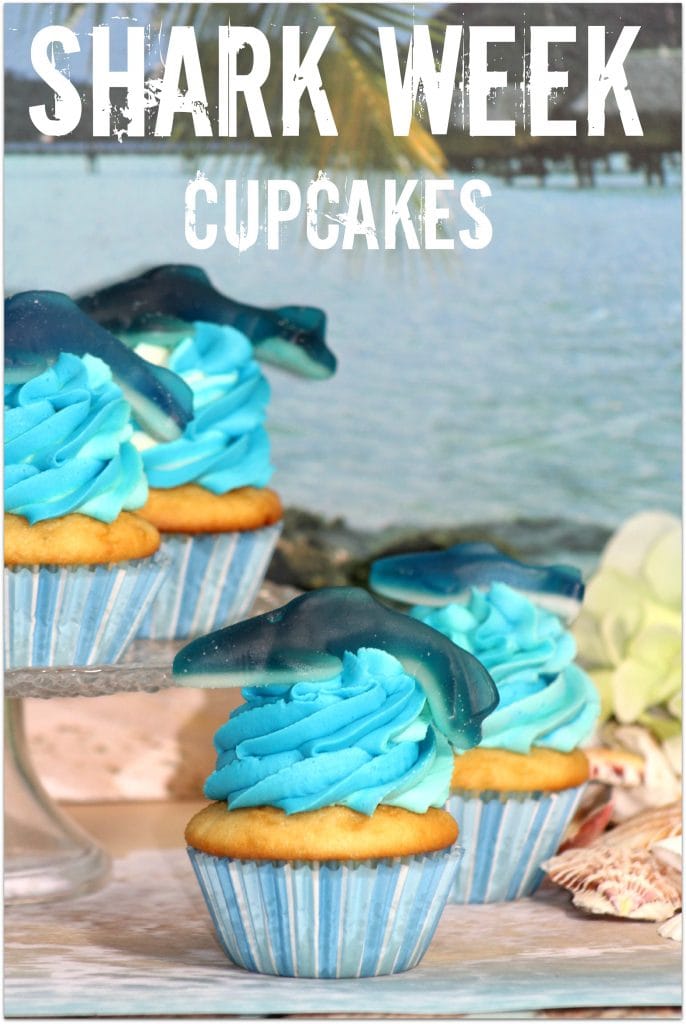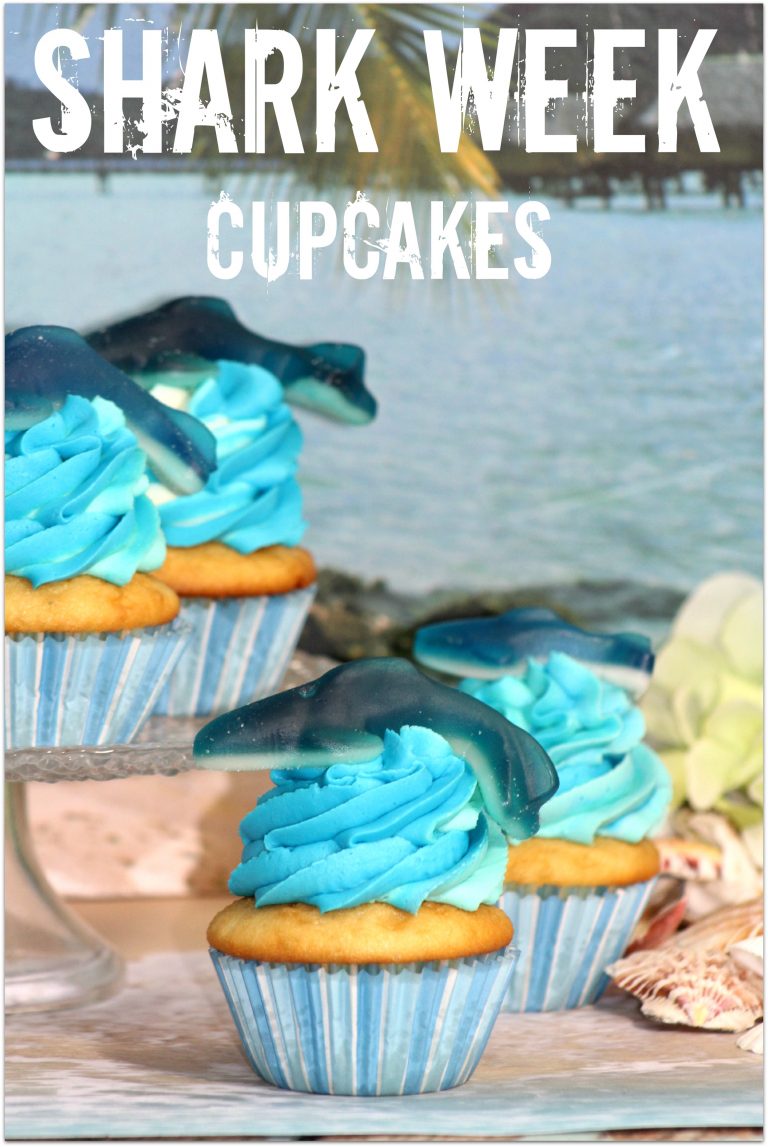 Pretty cute, right? These are great for any kind of shark party, but also fun for a beach party.
If you love cupcakes, check out one of my most popular cupcake post of all time, 17 Disney Cupcakes! You can also find tons of cupcakes on my Cupcake Crazy Pinterest Board!