Sydney Australia is a beautiful city with so much to see, but if you want to see a totally different aspect of this gorgeous country, you will want to take a Blue Mountains day trip from Sydney!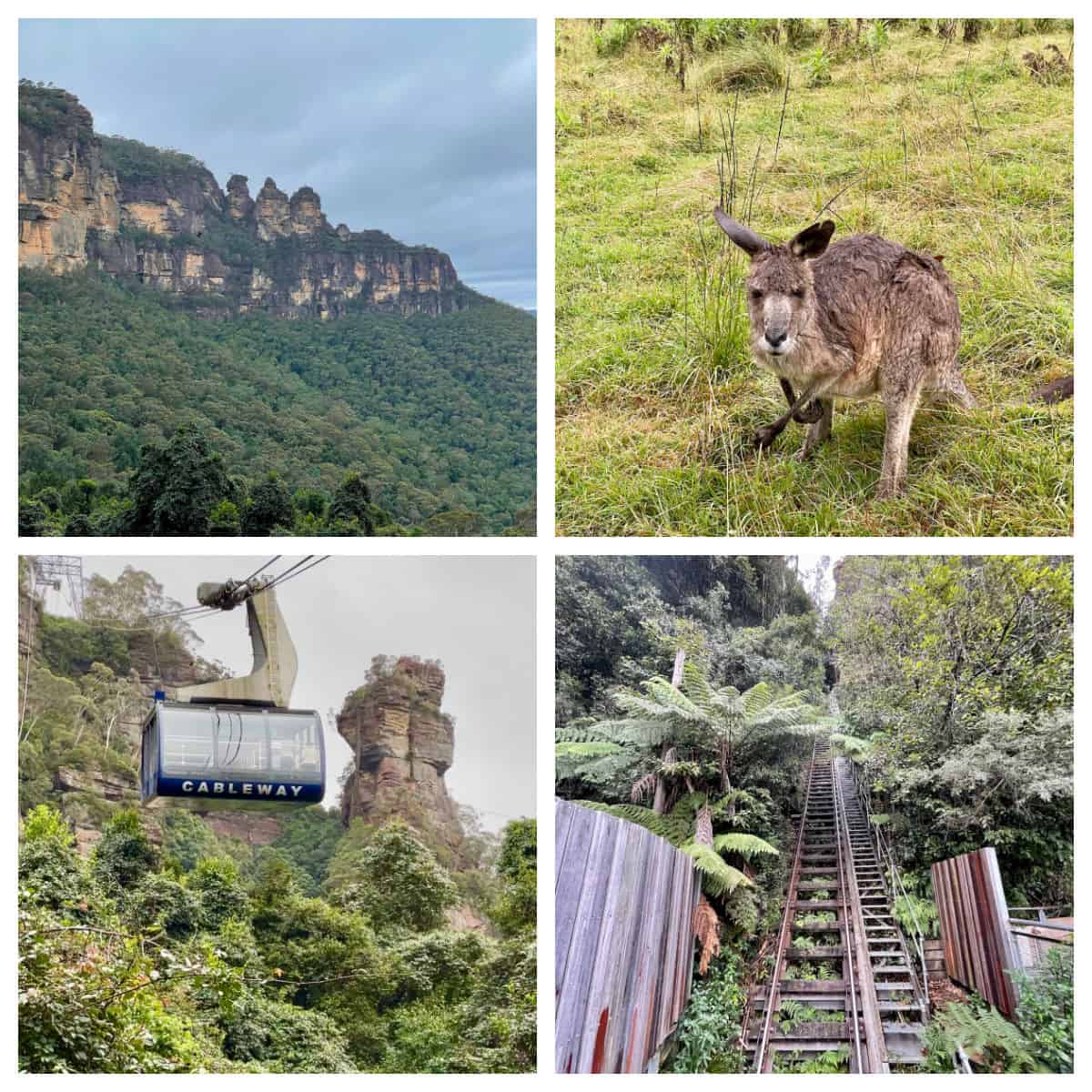 Only 90 minutes away by car, we have the top things to see and experience in the Blue Mountains.
Not driving? No worries! The train will get you there in about 2 hours. Trains leave Central Station every hour, so it's convenient, too.
Train service will drop you off right at Katoomba Station, a perfect launch point for your visit.
Plan to spend at least a few days in this beautiful part of the country. Choose your lodging from this list of the best eco lodges in the Blue Mountians.
And be sure to check out where to stay in Sydney so you can book it ahead of time, too.
Where Are the Blue Mountains?
The Blue Mountains area is located in New South Wales, in the southeast part of Australia. It is approximately 30 miles (about 50 kilometers) west of Sydney.
Geography of Blue Mountains
The Blue Mountains area is defined by the Hawkesbury River and Nepean River on the east. To the south and west, you have Lake Burragorang and the Cox River.
The Wolgan River and Colo River are to the north. From a geological standpoint, it is part of the Sydney Basin extending off the Great Dividing Range.
The Great Western Highway follows a large portion of its length, as well as the Main Western railway.
The Blue Mountains area is known for stunning mountain formations, including the Three Sisters. It's well worth the short day trip from Sydney. Read on for the not-to-miss main attractions.
🖤 Why We Loved the Blue Mountains
The Views
Who doesn't love amazing views that will take your breath away? From Jamison Valley in the Blue Mountains region, you can see its signature other-worldly blue haze.
Three Sisters
You've also got the massive Three Sisters rock formation. According to one legend, the Three Sisters rocks are actually three beautiful sisters who were turned to stone to protect them during a fierce battle.
Sadly, the person who turned them to stone was killed in battle, and the Three Sisters would forever be stone. This stone formation has special spiritual significance to the Aboriginal people of Australia.
Activities
There are also a lot of hiking trails and other activities to do in the area. If you love the outdoors, the Blue Mountains have something for everyone!
Things to Do
Blue Mountains National Park
Blue Mountains National Park is incredibly diverse in its offerings. It is divided into six distinct areas: Katoomba, Blackheath, Glenbrook, Lower Grose Valley, Mount Wilson, and Southern Blue Mountains. All of these are within a day's drive for a Blue Mountains day trip from Sydney.
Each of the areas of Blue Mountains National Park has its own scenic features, hiking trails, and other sights to see and experience.
For a day trip from Sydney, the Katoomba area features many iconic sights and experiences to fill a day.
There are so many activities to do in the Blue Mountains that it can be hard to choose. Here are some favorites that are worth checking out.
Three Sisters Walk and Echo Point Lookout (Katoomba)
This easy trail takes you to the Echo Point lookout for an impressive view of the Three Sisters and the Jamison Valley.
We had so much cloud cover, we couldn't even see the Three Sisters for the first 45 minutes or so. Once the clouds lifted, it was magnificent.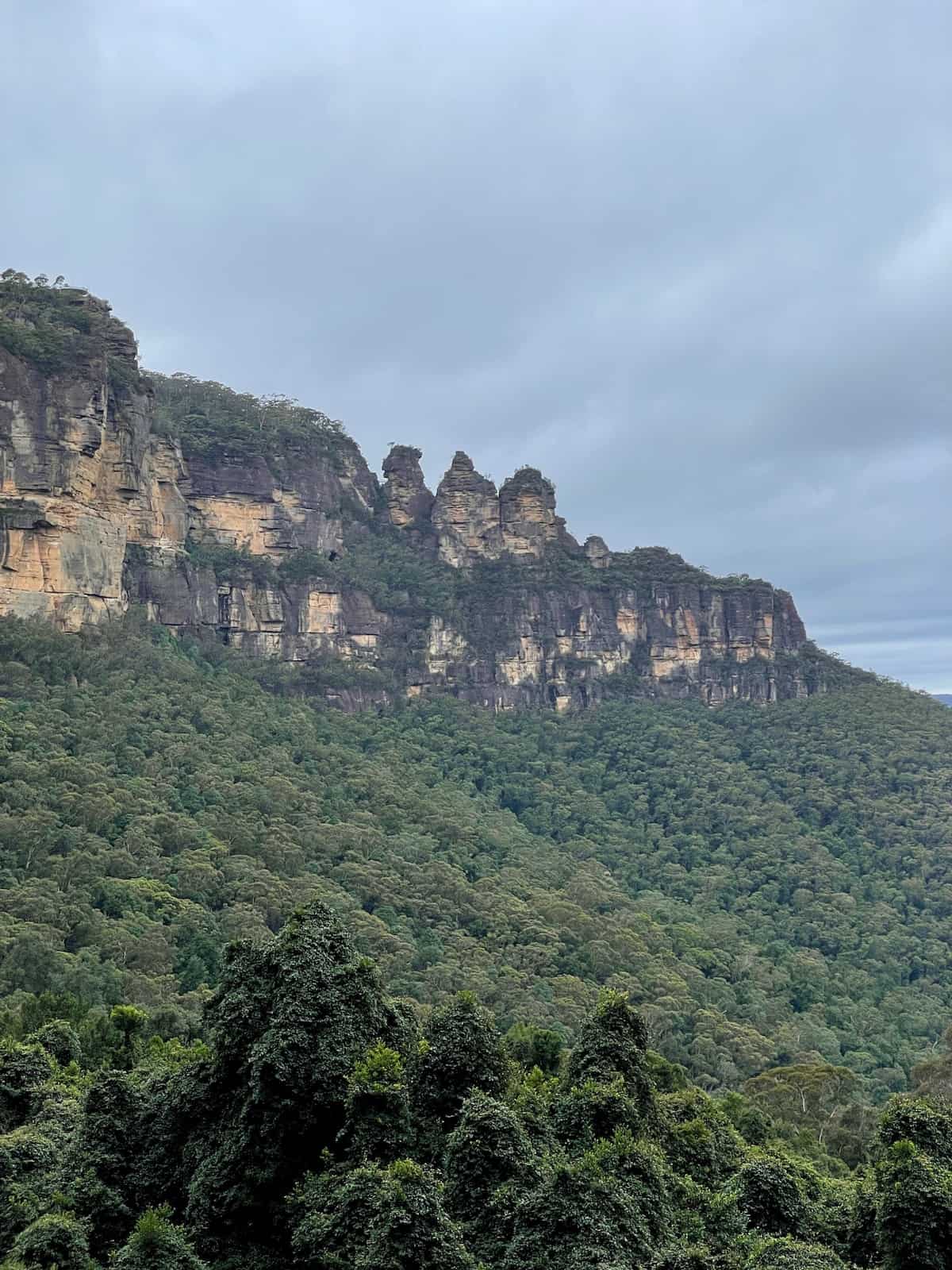 The Three Sisters is a UNESCO World Heritage Site and a must-see in the Blue Mountains. There is also a Visitor Center with information that is open every day except Christmas from 9 a.m. to 4 p.m.
Blue Mountains Aboriginal Culture Tour (Katoomba)
This cultural tour provides a bit of everything for the Blue Mountains including a traditional Aboriginal ceremony, views of the waterfalls and rock formations, and a stop at Featherdale Wildlife Park on the way back to Sydney.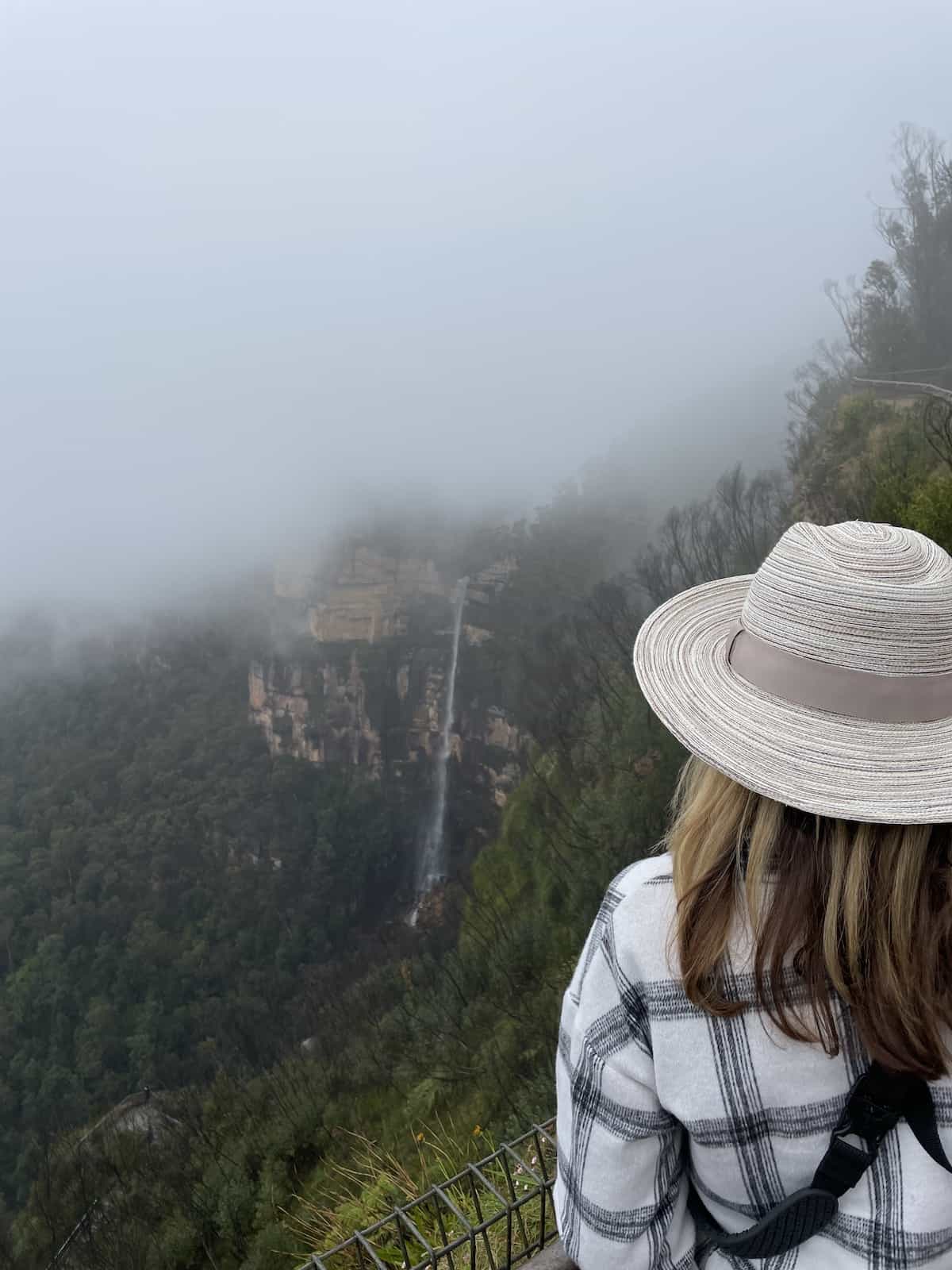 Wentworth Falls to McMahon's Point (Katoomba)
If you love to travel by bike or 4WD, this trail ride is sure to please. It's about an 8-hour bike ride and is hilly and has some long climbs, so it isn't for amateurs.
If you're up to the experience, you can see views of Lake Burragorang, McMahons Point, and the Old Queen Victoria Hospital. Along the way, you will be able to spot caves and waterfalls.
Lyrebird Dell Walking Tracks (Katoomba)
This walking track area is a medium-difficulty hike with some interesting things to spot. As the Lyrebird Dell name suggests, you can often see the stunning lyrebird rummaging through leaves on the ground.
The hike takes you down steep stairs to Gordon Creek, through an area of ferns, and down to the Pool of Siloam.
It's a Grade 3 hike that is around 1.7 km in length, and should take most people 45-90 minutes to complete.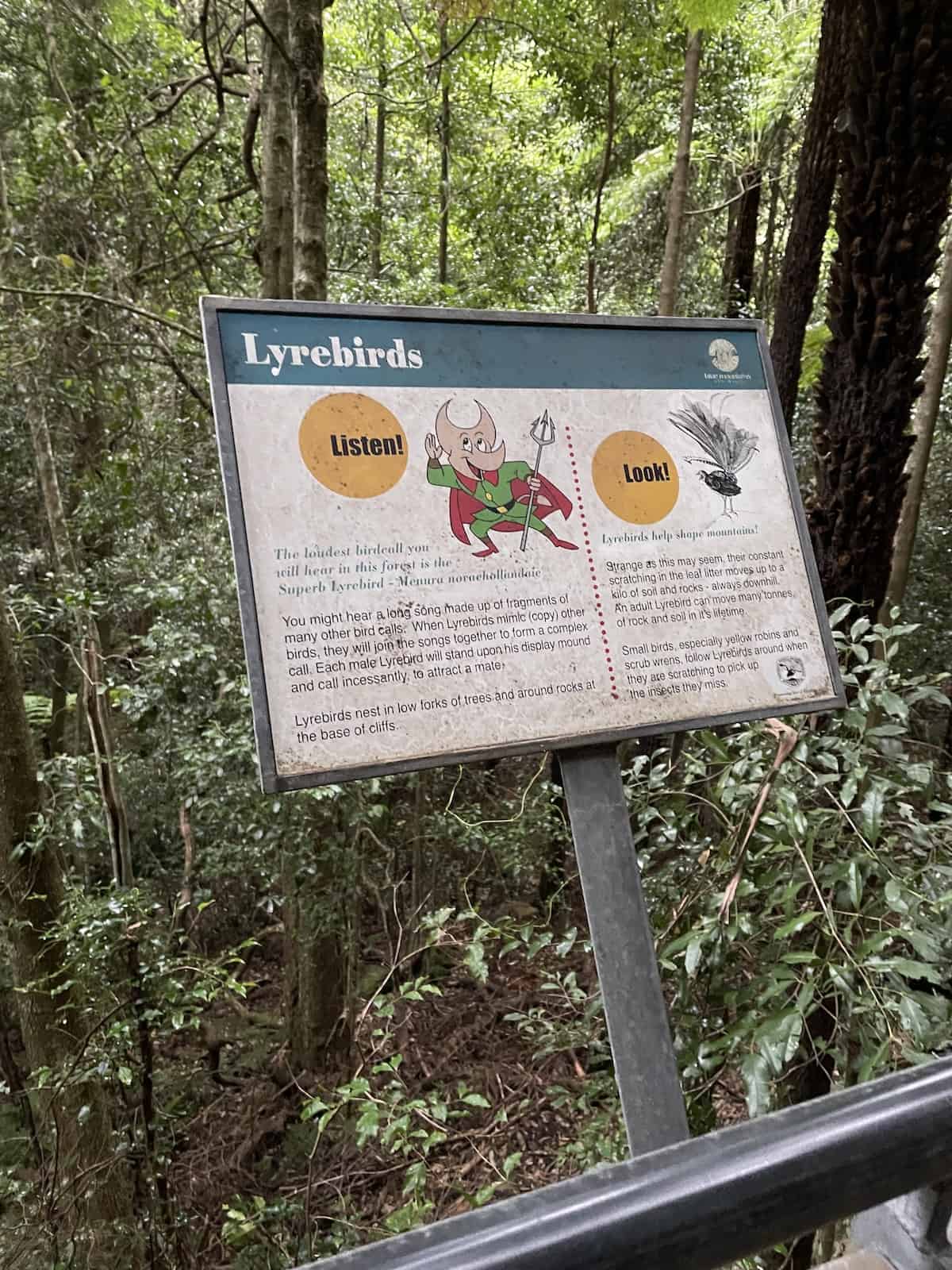 Blue Mountains National Park Wentworth Falls Picnic Area (Katoomba)
It would be difficult to find a picnic spot with better views than this anywhere in the world. Picnic facilities are nestled among the gum trees and banksias. Nearby, there are some easy walking trails to take you to a view of Wentworth Falls or Weeping Rock. In the area, have your binoculars ready to look for sulphur-crested cockatoos or a peregrine falcon.
Leura Cascades (Katoomba)
This 4.5 km loop to Leura Cascades is rated at a Grade 4 hike. It offers incredible views of Bridal Veil Falls along with a path through the rainforest, an excellent area for birdwatching. The suggested time to allot for this hike is about 3 hours, and it offers an impressive view of Jamison Valley.
Mount Victoria (Katoomba)
Mount Victoria is the westernmost village in the Blue Mountains and a delightful little town. Some of the sights to see include the old Tollkeeper's Cottage, Victoria and Albert Guesthouse, and Mount Vic Flicks, a retro movie theater serving homemade choc-tops (chocolate-dipped ice cream).
Speaking of food, have lunch at Piccolo Deli where they have the most amazing sausage rolls. Here's your chance to have one of the most famous Australian snacks!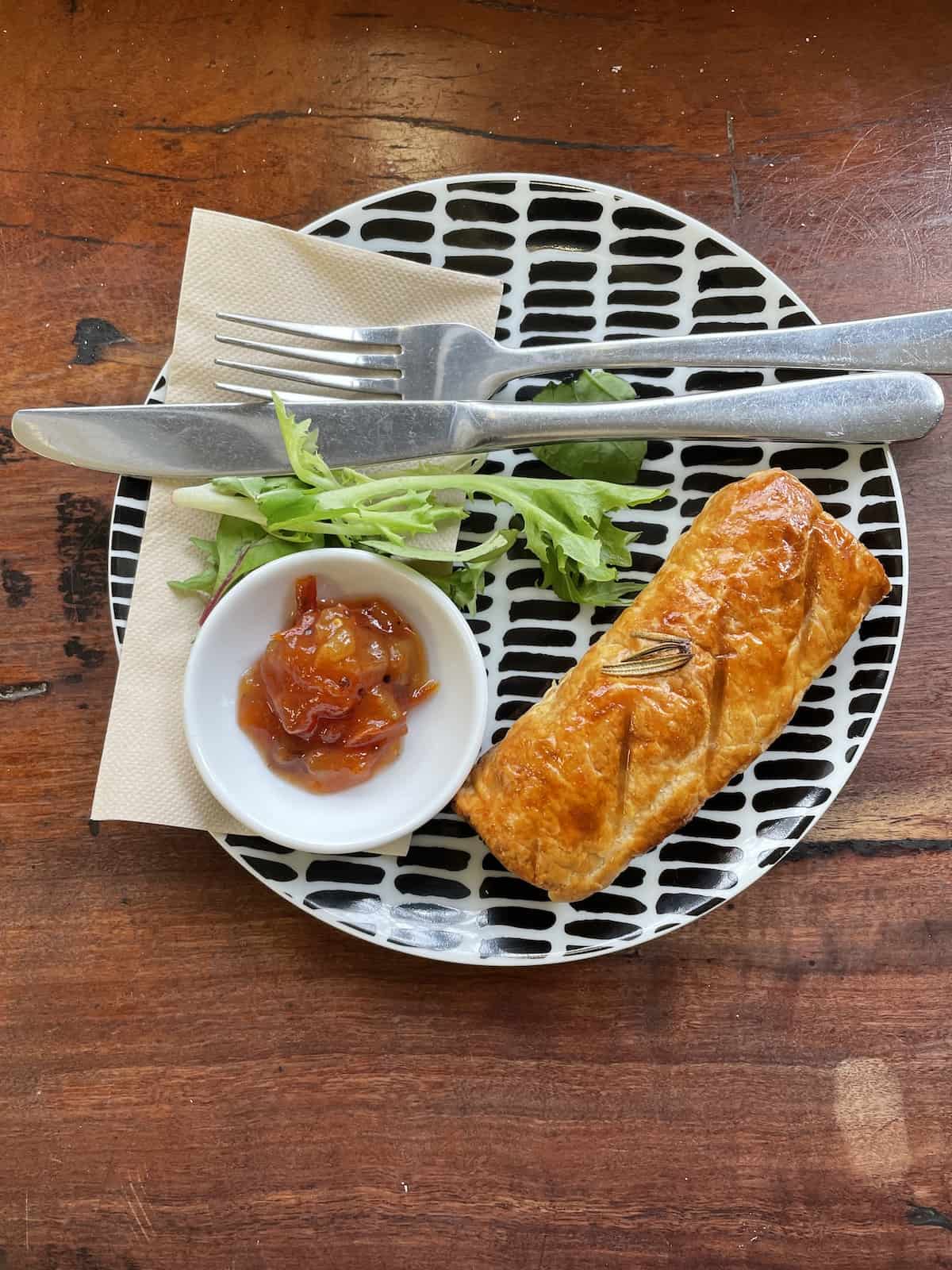 From what I'm told, the correct way to eat it is with their version of tomato sauce, which is ketchup to us! Personally, I prefer the delicious chutney they served with it at Piccolo Deli.
Govett's Leap Lookout (Blackheath):
Govetts Leap Lookout is one of the most famous lookouts in all of Australia, looking down at a 180m waterfall and views into the Grose Wilderness.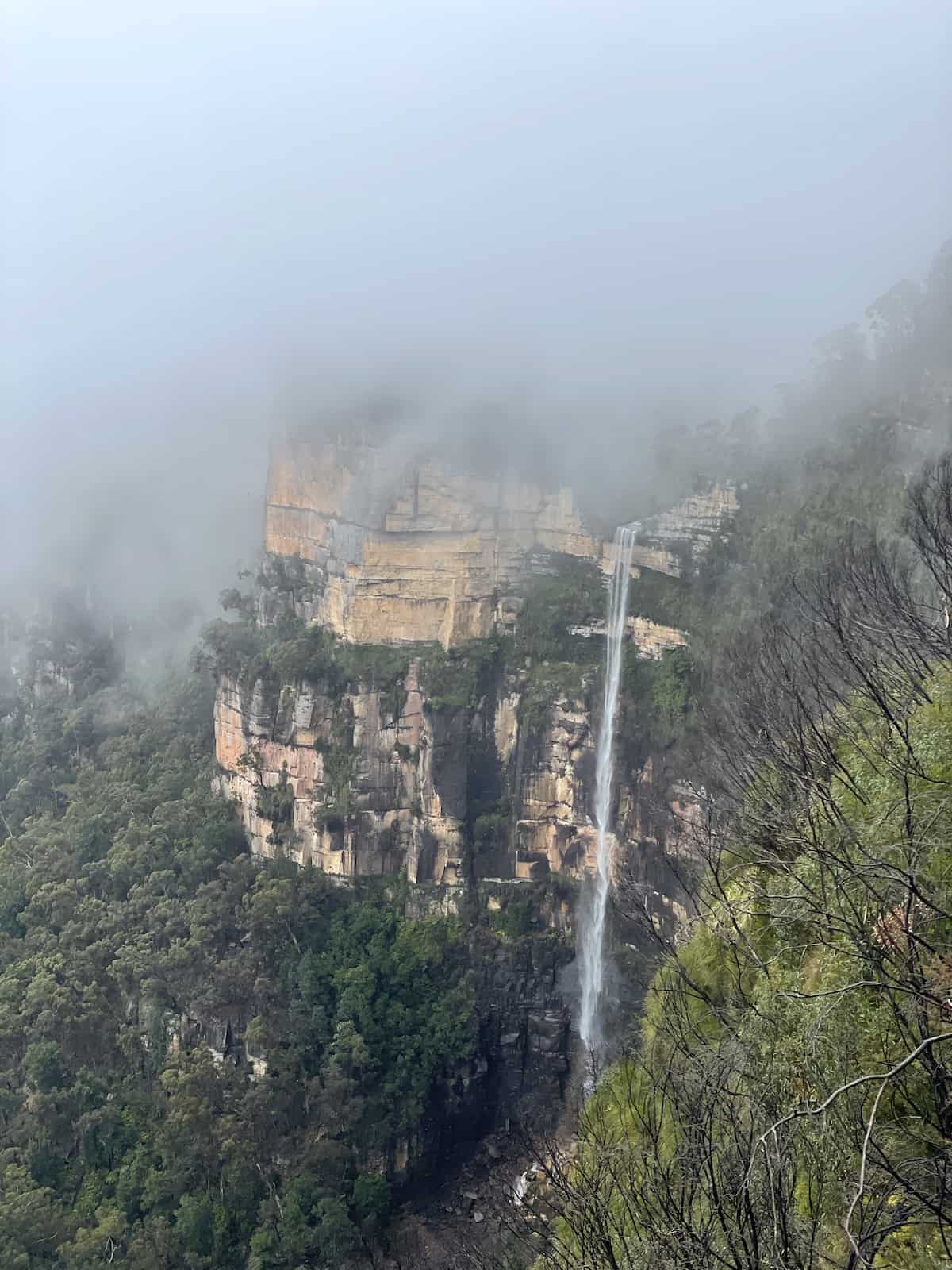 You can often spot king parrots and yellow tailed black cockatoos flying nearby.
The lookout was named by William Govett in 1831 as shown on this stone obelisk.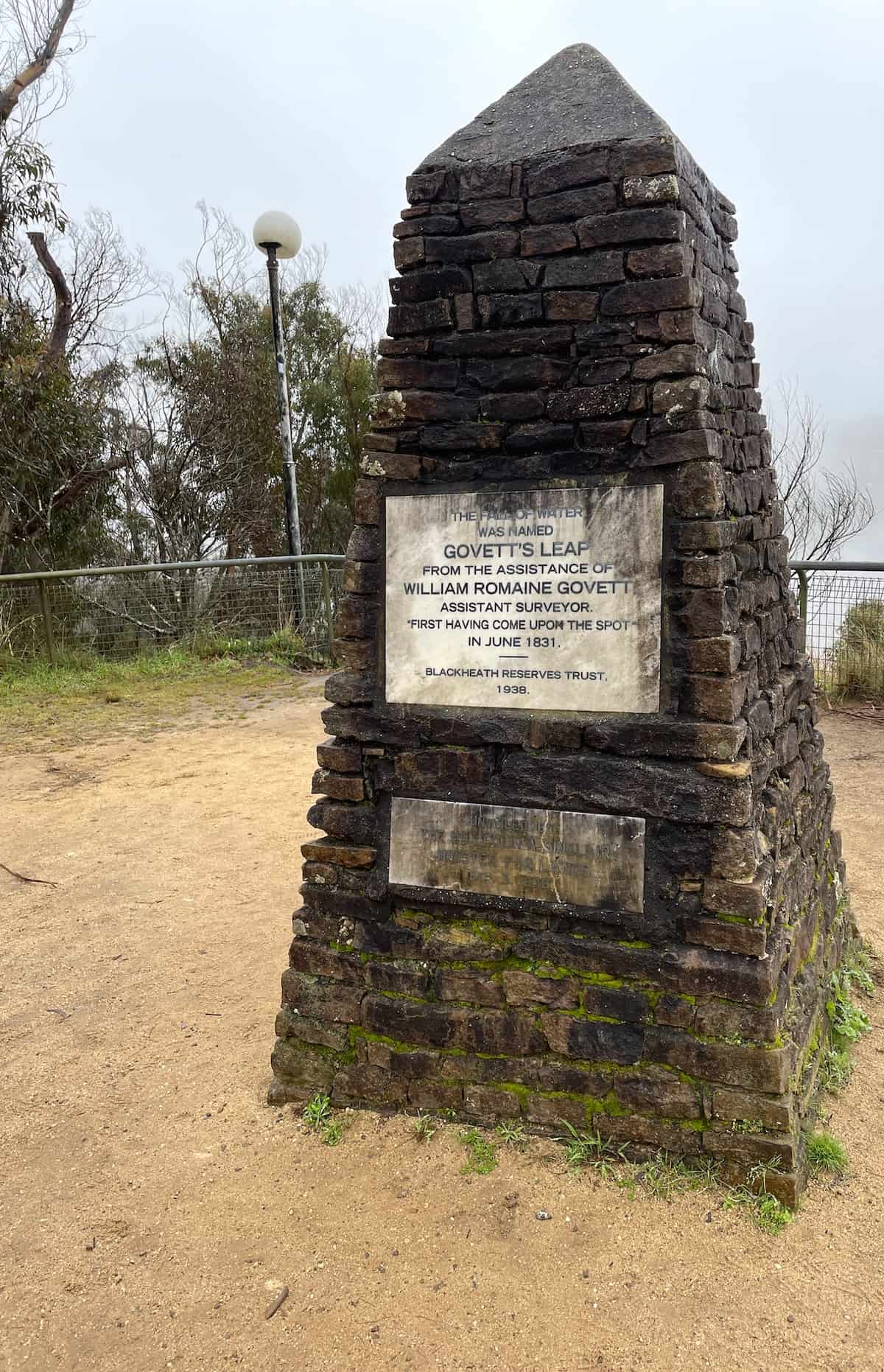 Blue Mountains Heritage Centre (Blackheath)
The Heritage Centre is essentially the visitor center for the Blue Mountains. Filled with exhibits, information, and more, it is a great way to get familiar with the area.
There's also a gift shop with Australian-made gifts. For a unique experience, there's an Oculus Rift VR experience to virtually tour the Claustral Canyon. This experience costs $10 for 15 minutes. The Centre is open from 9:00 a.m. to 4:30 p.m. daily, except for Christmas.
Katoomba Falls (Katoomba)
Katoomba Falls is an incredibly beautiful waterfall, falling 150 meters into the Jamison Valley below. The entrance to the easy hike to get there is located near the entrance to Scenic World. What makes this trail even more unique is that there's a nighttime viewing as well, with the trail being well lit and easy to walk.
Scenic World
This location has so much to offer that it needs its own section! Scenic World has some incredible experiences that are unique to the Blue Mountains area.
Scenic Railway
You've never been on a train like this! The Scenic Railway is the steepest passenger railway in the world, going downhill at a 52-degree incline and a vertical drop of 675 feet.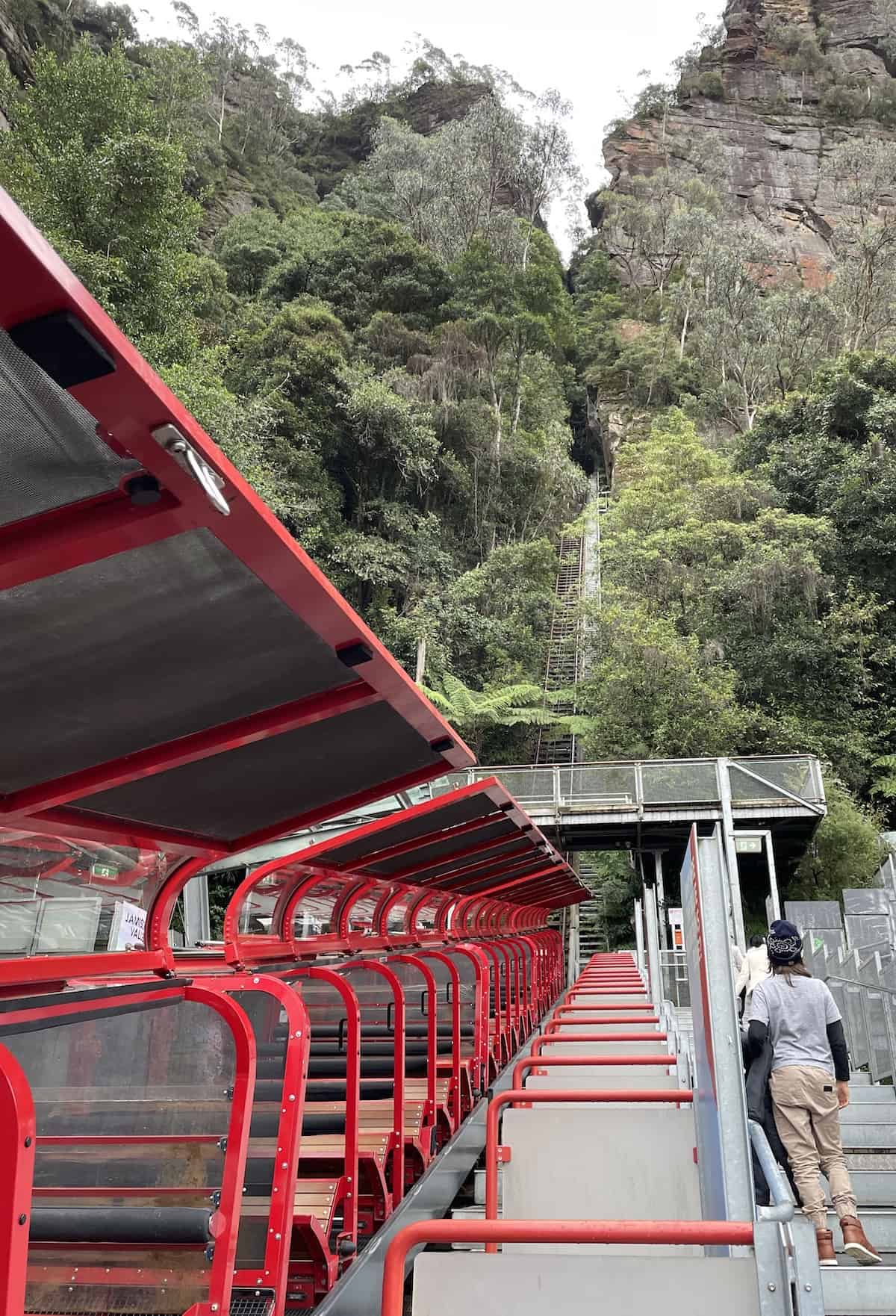 If you're thinking it would feel like a roller coaster, you're right!
It was built in the early 1880s with the purpose of hauling coal from the mine in the Katoomba Seam all the way up to the cliff top.
The mine's founder, John Britty North, is believed to have been awarded a contract to supply coal to the NSW Railways after he brought up a 200 kg block of coal to put on display at the 1879 International Exhibition in Sydney.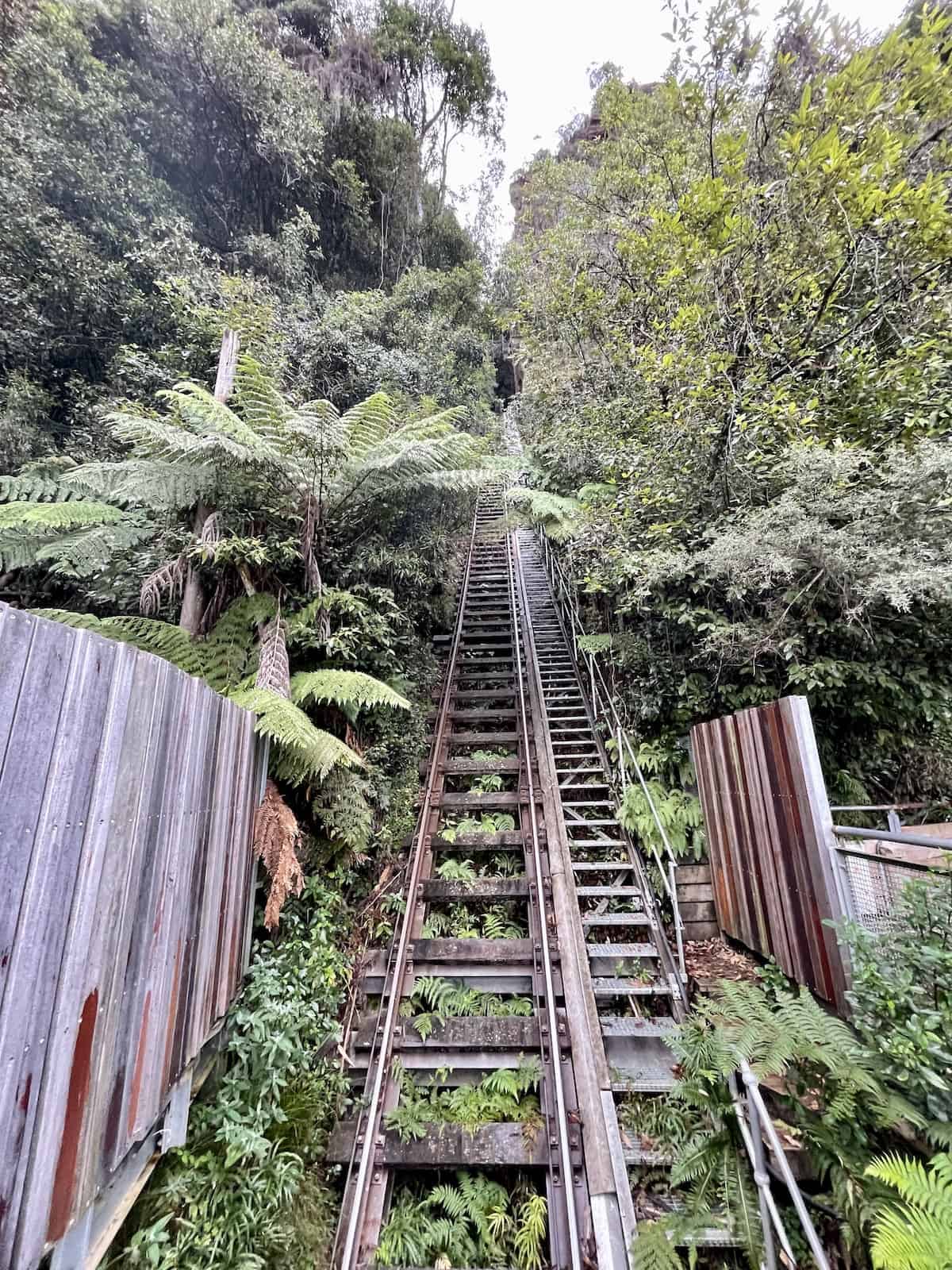 Norman Selfe, a Sydney civil engineer, built the incline railway with two tracks. A significant amount of rock blasting had to be done to give a uniform grade down the cliff. It opened in 1882, and passed through a natural tunnel between Orphan Rock and the location of the present-day tourist center.
This funicular railway takes riders down alongside and through sandstone cliffs and shale formations from the Triassic period as well as coal seams, shale, and sandstone from the Permian Period. This means these rocks are all older than the time of the dinosaurs!
Scenic Walkway and Katoomba Coal Mine
This easy walking path through a temperate rainforest is an easy way to see many native species of flora and fauna that have been a part of this area for thousands of years. Keep your eyes open to look for the enchanting lyrebird.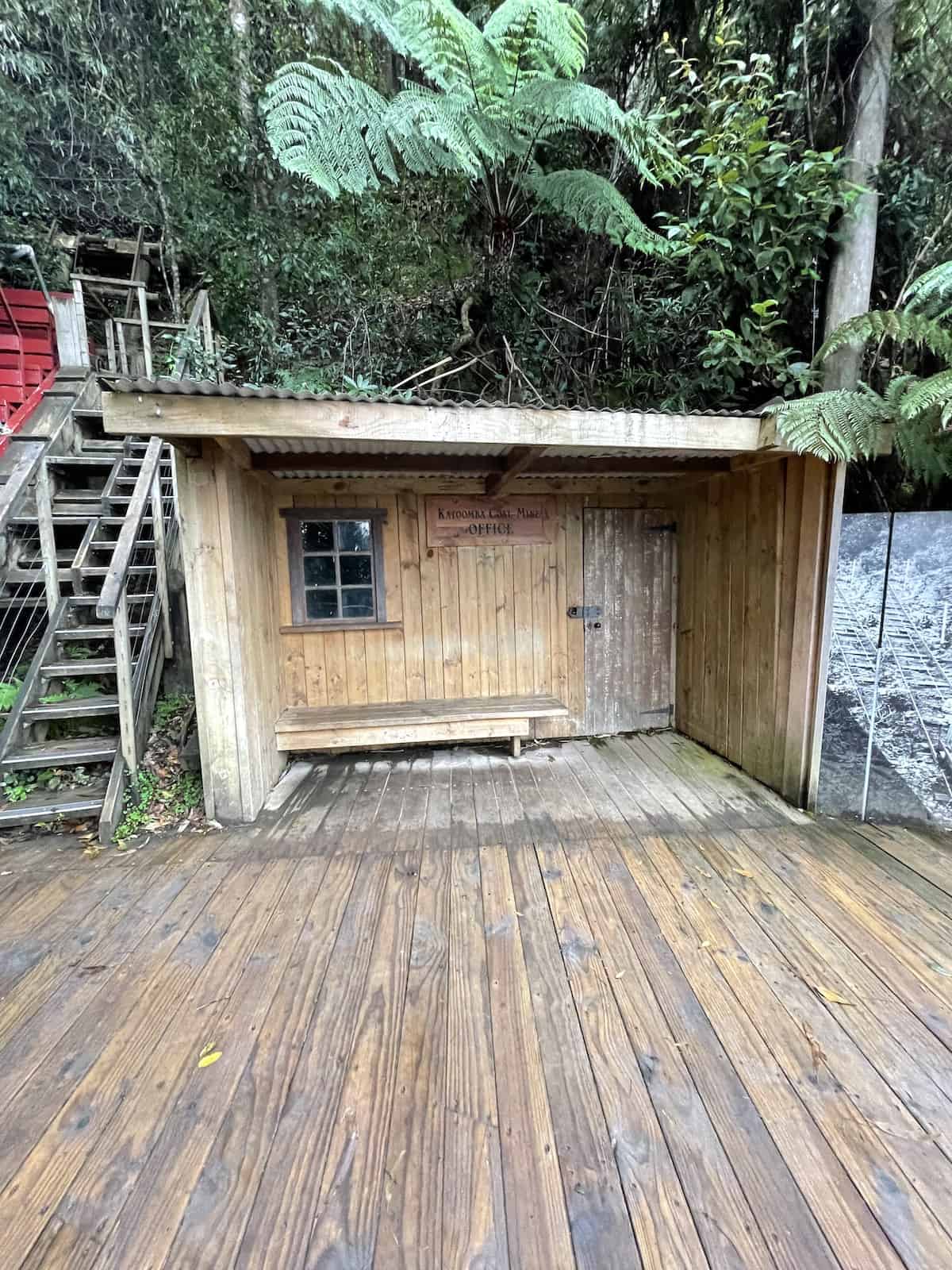 Also featured in this area are a replica of a miner's hut. Information about the Katoomba Coal Mine at its entrance, along with a bronze sculpture of a miner with his pit pony.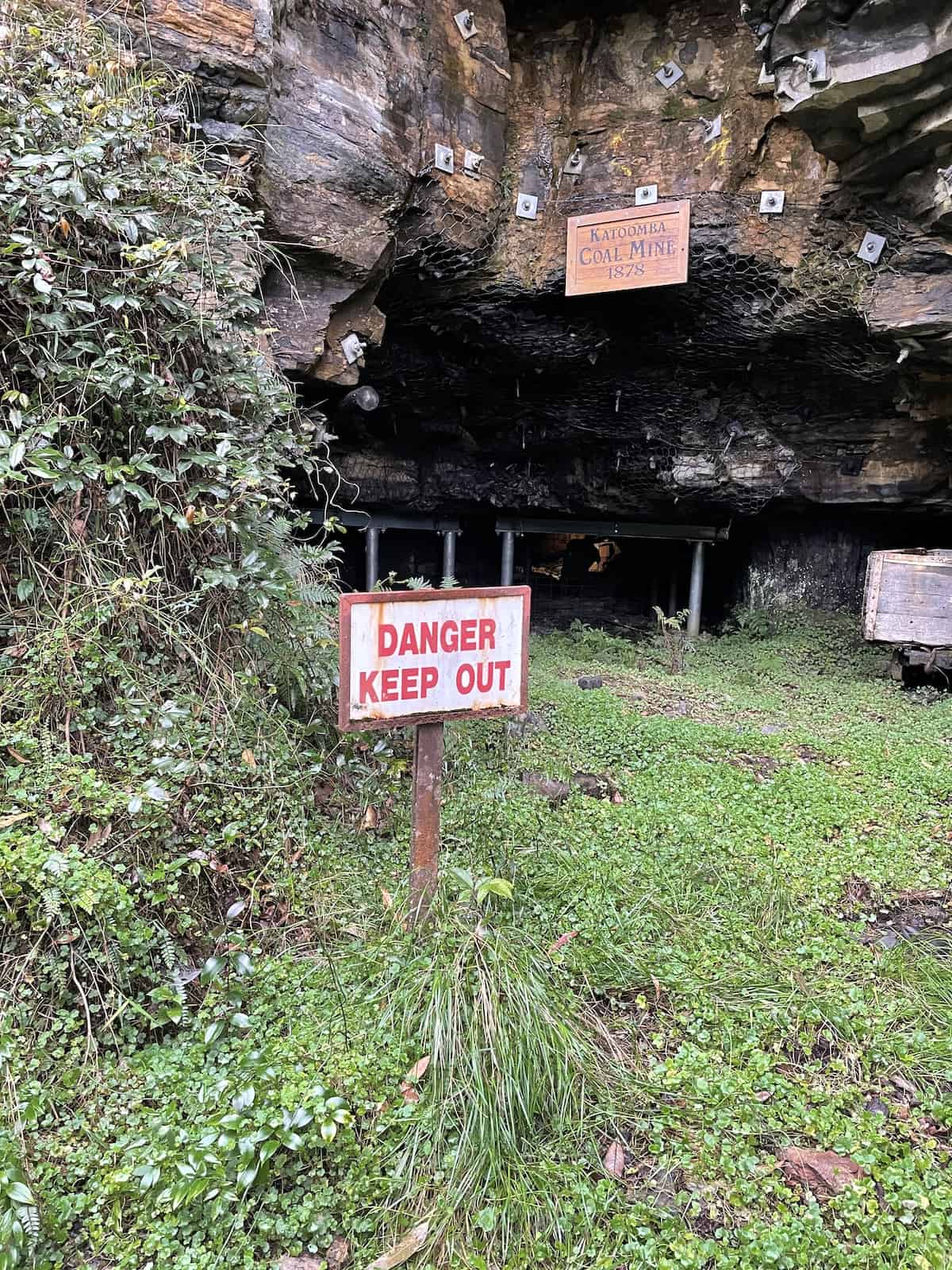 Scenic Skyway Cable Car
Get a bird's-eye view of the Jamison Valley on this 545-meter-long fully enclosed cable car that slowly moves down through the Jamison Valley and back up.
This is the steepest aerial cable car found in the Southern Hemisphere and provides amazing views of the rock formations around the valley.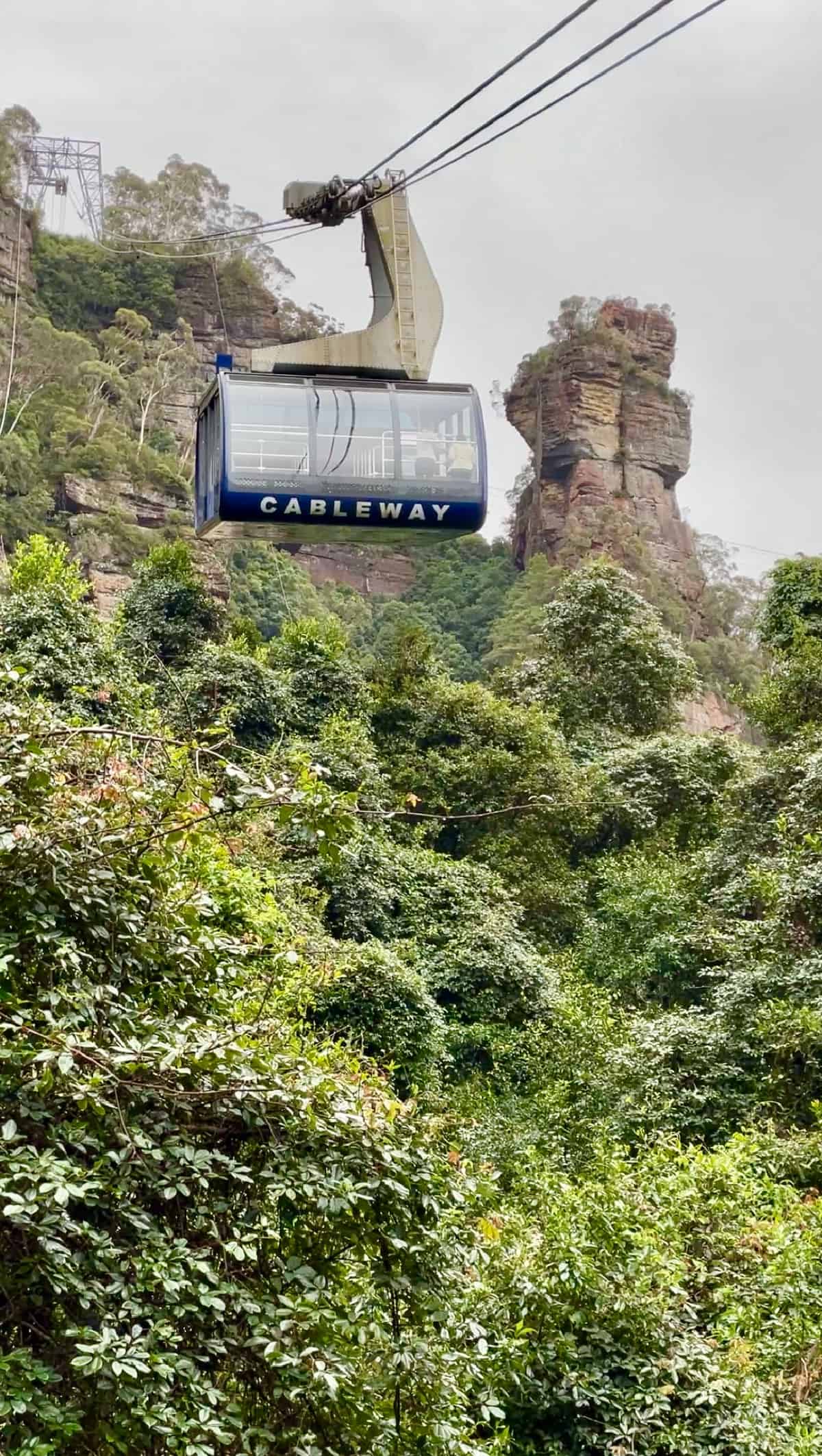 Experience Beyond Skyway
Looking for something with more thrills than the Cableway? The Beyond Skyway experience is for you.
You'll be securely tethered to safety equipment on top of the aerial cable car. With amazing views from outside on top of the car, it's a unique experience that you won't ever forget!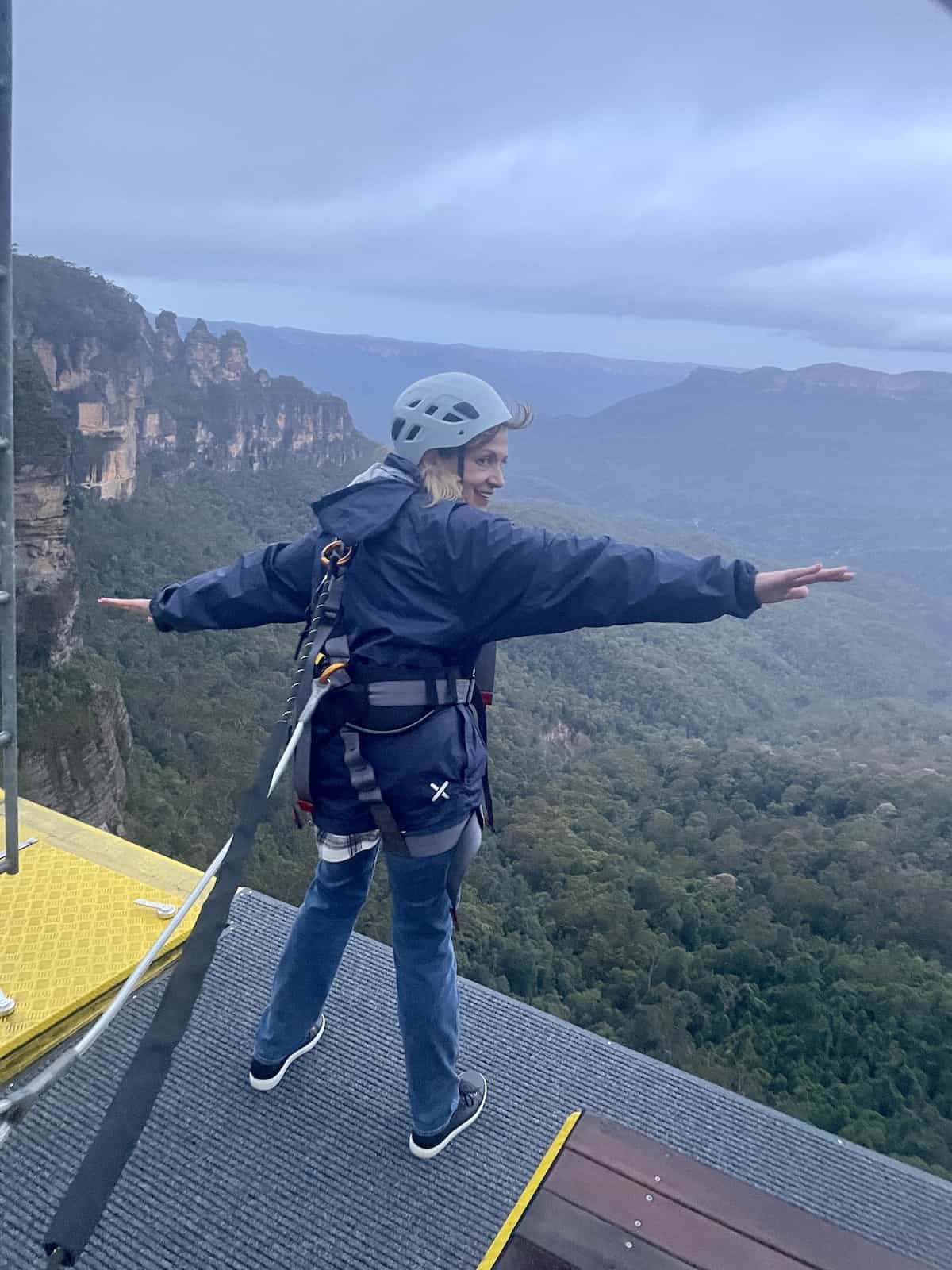 It was a chilly day so we were served tethered cups of hot cocoa while on top of the cable car! Our group may have taken a selfie or two!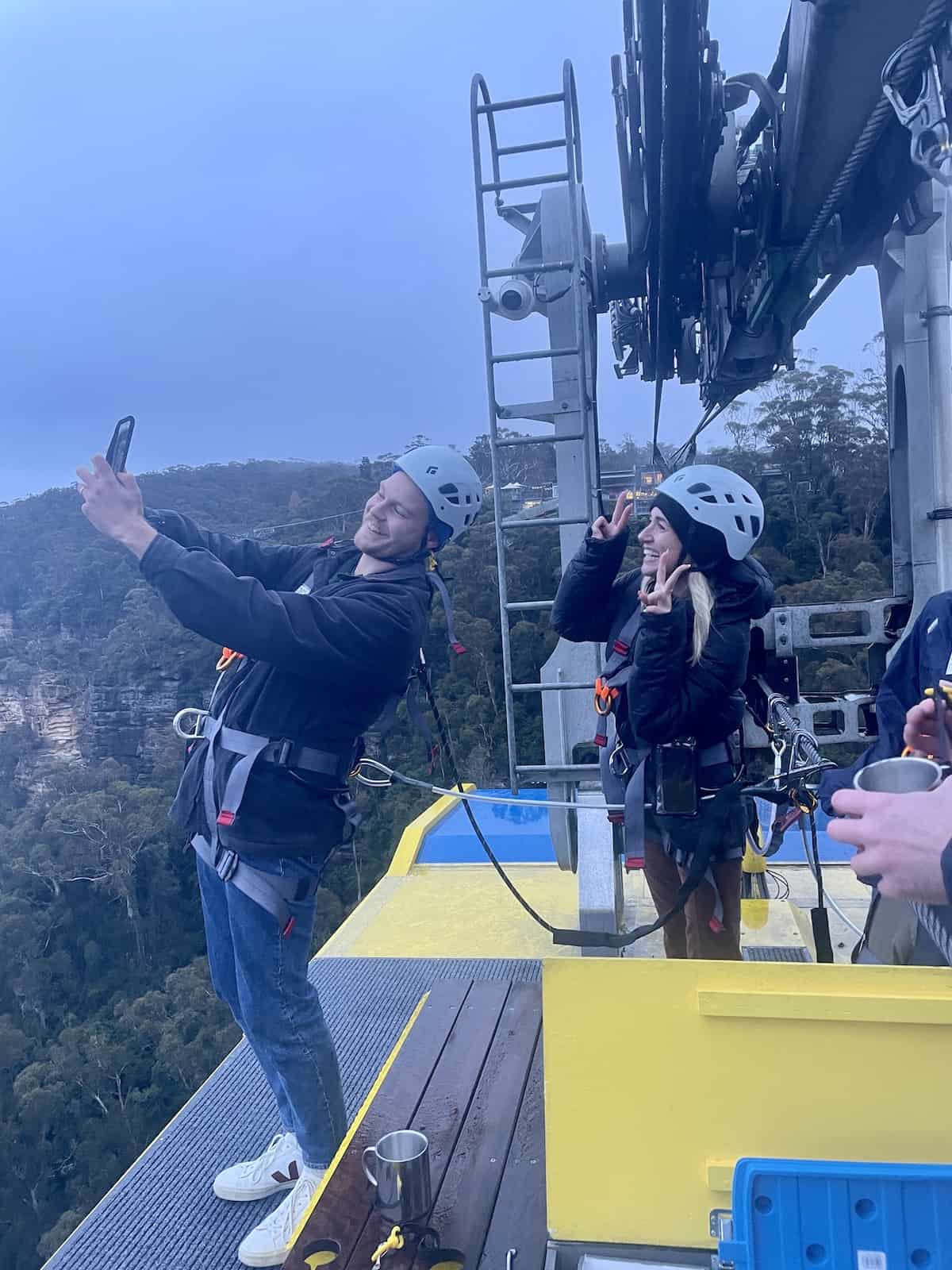 After the experience, we were served a glass of champagne to reward us for our bravery! It was such a fun afternoon!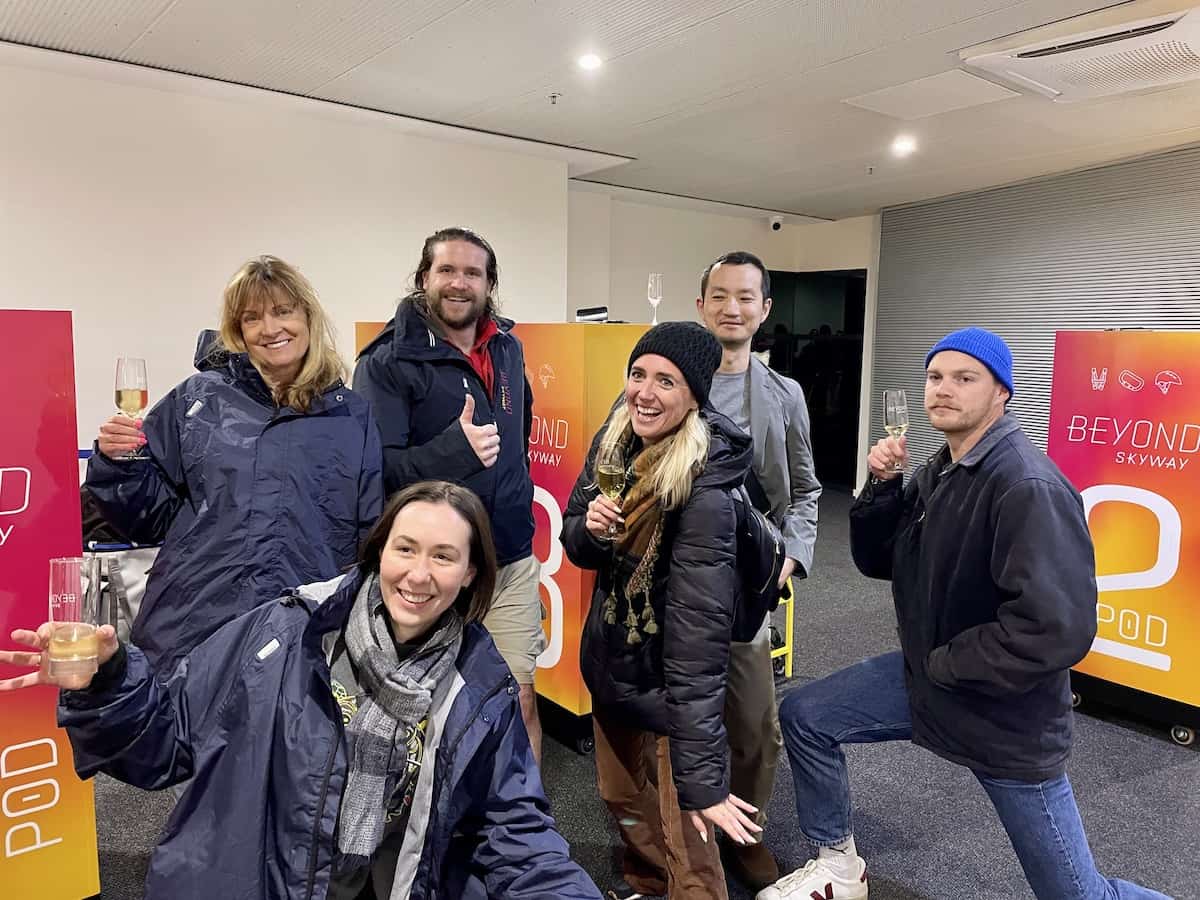 Dinosaur Valley
Down in the Jurassic rainforest at the base of the world's steepest railway, it's time to come face to face with dinosaurs in Dinosaur Valley!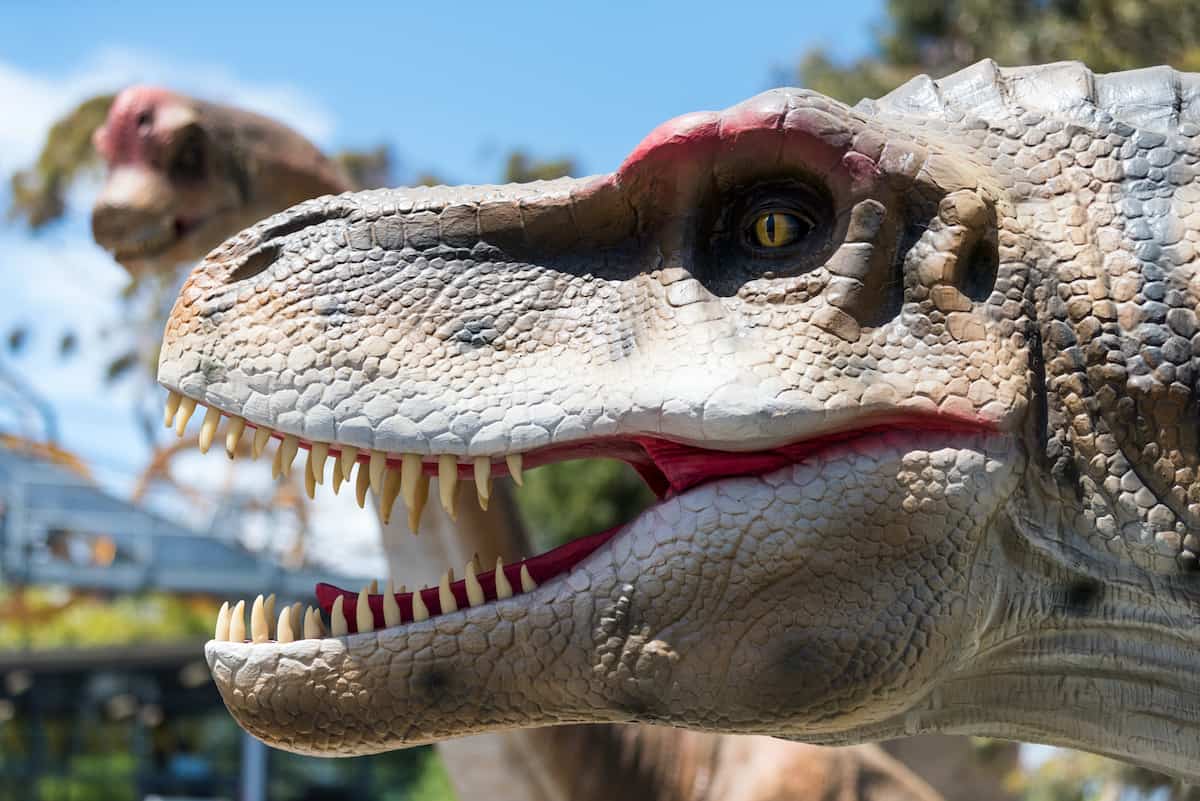 Explore the rainforest to come face to face with dozens of life-size roaring, moving dinosaurs. There are plenty of activities for kids, and even a Dino Play Zone with a Fossil Dig, Dino Disco, and Jurassic Jungle Gym.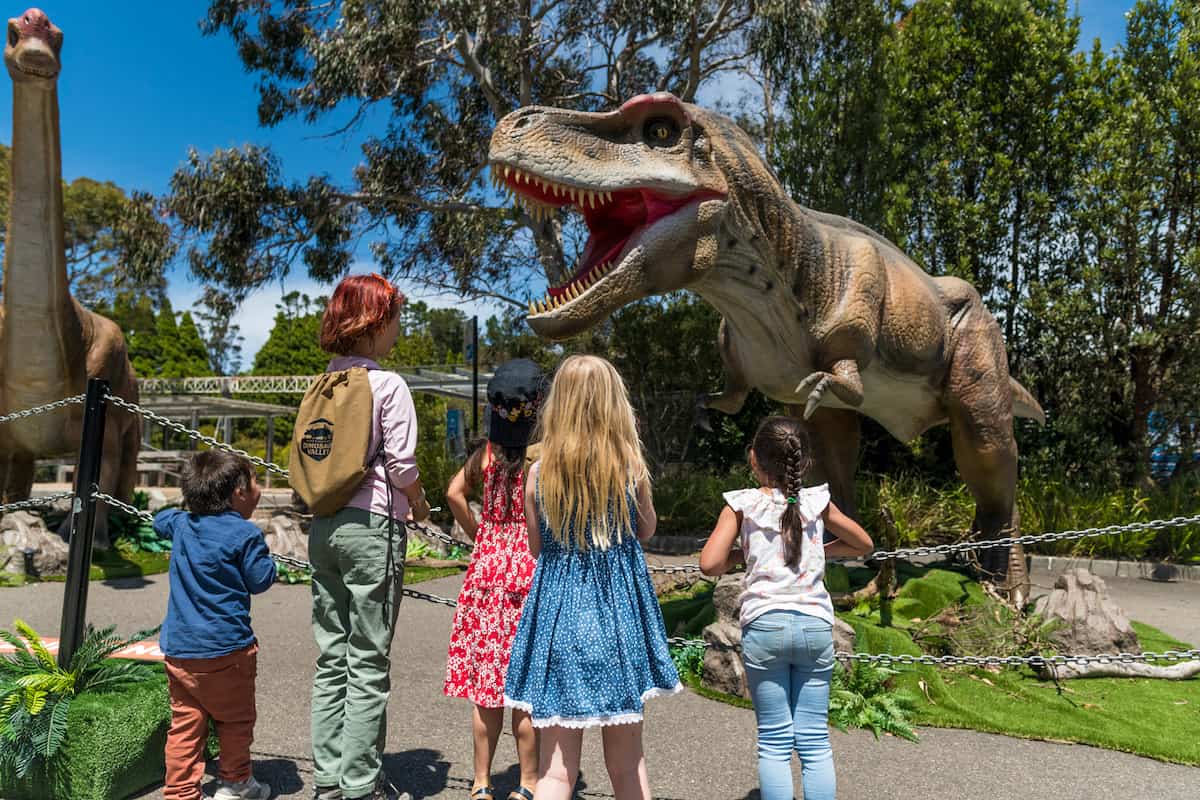 The hours for Scenic World are 9:00 a.m. to 5:00 p.m. seven days a week during school holidays. Outside of school holidays, the hours are 9:00 a.m. to 5:00 p.m. on Saturday and Sunday and 10:00 a.m. to 4:00 p.m. on Monday through Friday.
To visit Scenic World, you need to book in advance, and currently all bookings provide timed-ticket entry.
Other Regional Sights and Experiences
Jenolan Caves Tour
Located approximately 2 hours from Katoomba, the Jenolan Caves are the most famous caves in all of Australia, and one of the world's oldest cave systems.
There are a variety of different caves that you can take guided tours to see in all their wonder. There are tours from an easy, level cave experience all the way to a strenuous cave exploration.
Currently, Jenolan Caves is closed due to necessary road maintenance from heavy rain, so be sure to check to make sure it's open before visiting this popular attraction. They are expecting to reopen in December 2022.
Featherdale Wildlife Park
Australian wildlife is some of the most unique on the planet. Here's your opportunity to get up close and personal with the cute, cuddly, and downright strange creatures of the land down under at Featherdale Wildlife Park. Meet a koala, feed a kangaroo, or try to snap a selfie with a quokka. You won't forget these amazing experiences!
Tread Lightly Eco Tours
If you have time, book a tour with Tread Lightly Eco Tours. We spent the night in and had breakfast with the kangaroos first thing in the morning.
For nature lovers, this is the best way to get off the beaten track and see kangaroos in their natural habitat. This is not a staged kangaroo meet and greet, but a walk through an area where kangaroos live.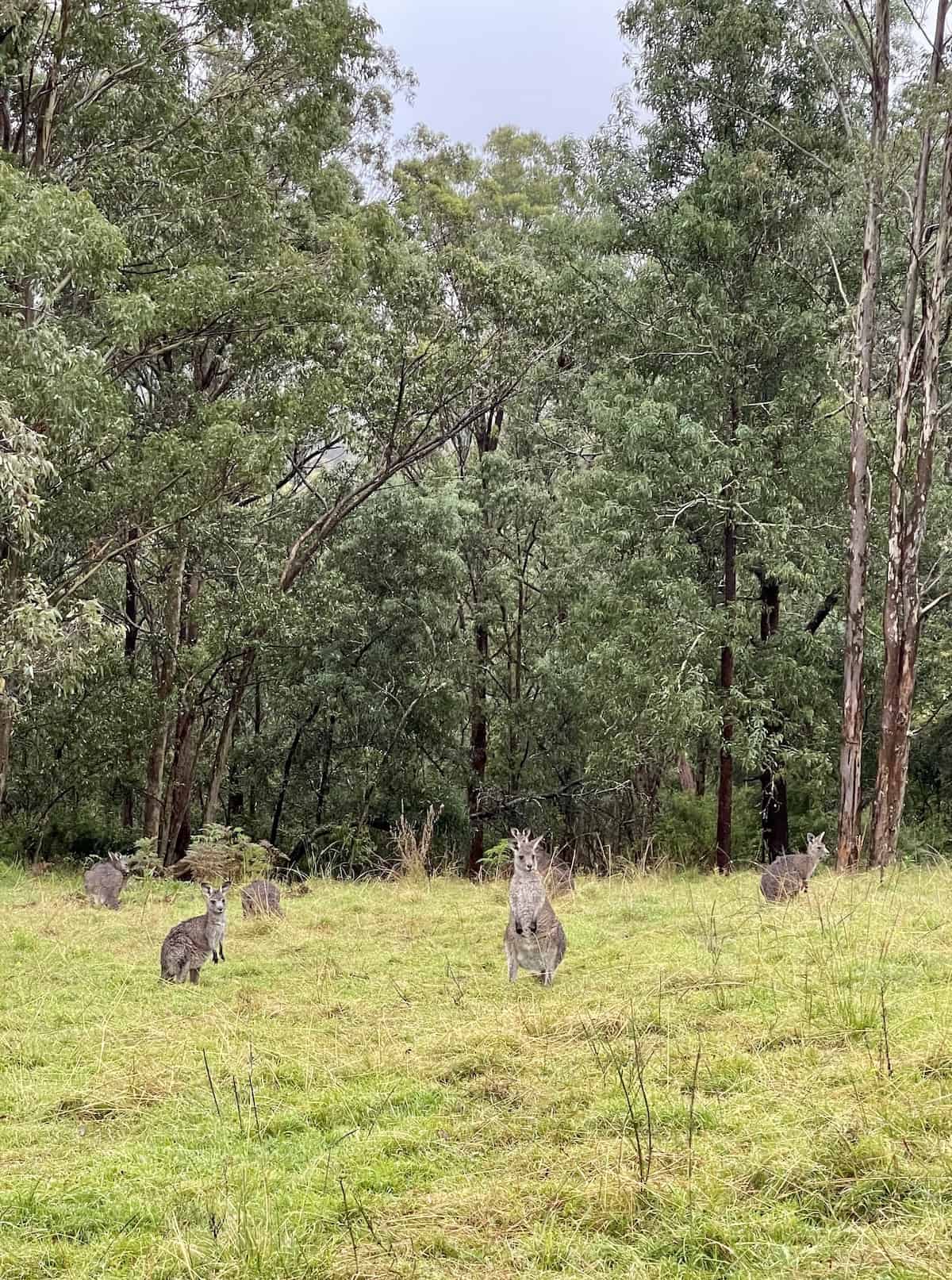 You're also able to take your time admiring these beautiful animals. Tread Lightly brought hot coffee, hot cocoa, juice, and pastries for us to enjoy while hanging out with the kangaroos.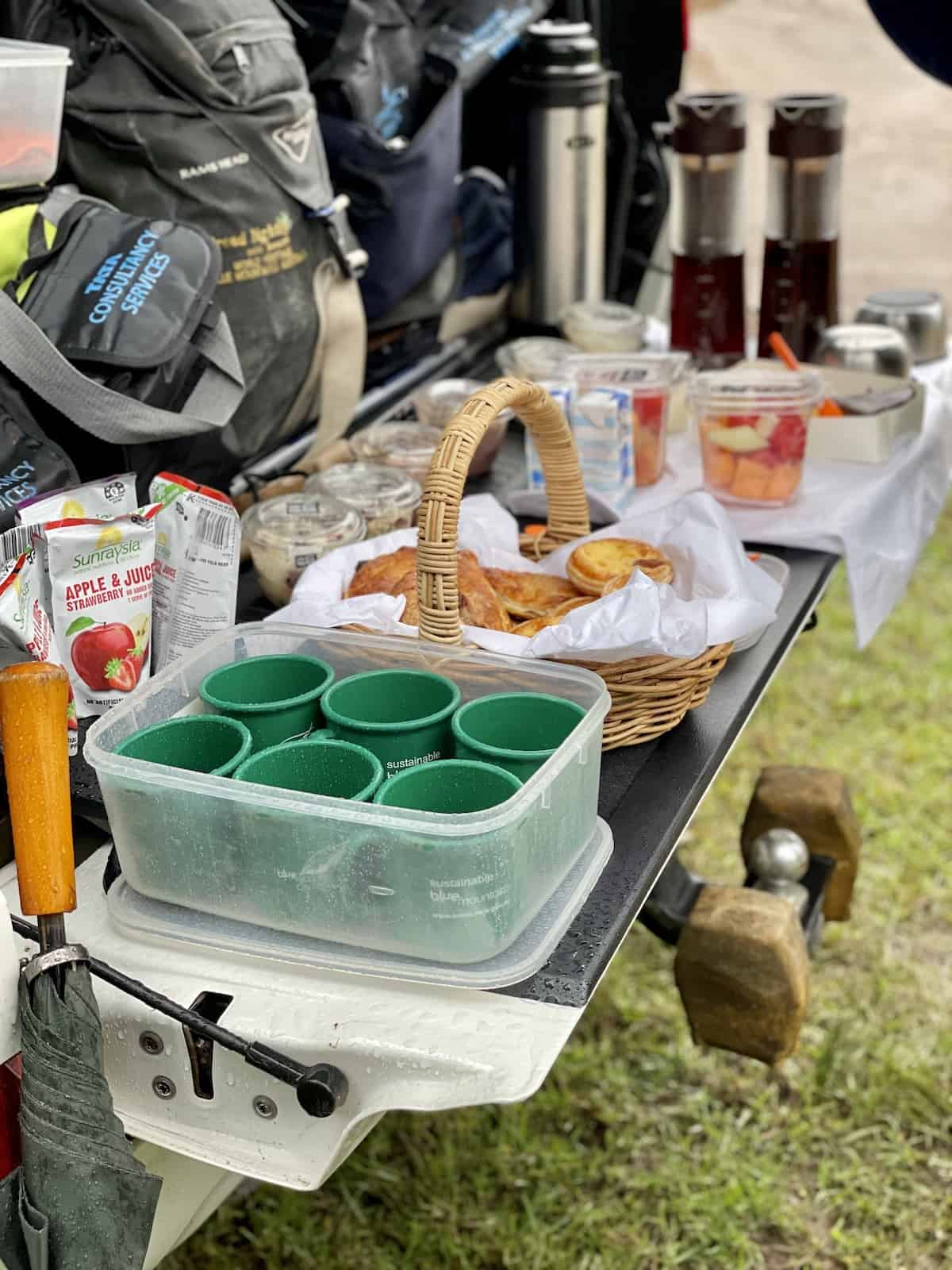 It was a very wet morning, and this guy was clearly not excited about having his photo taken!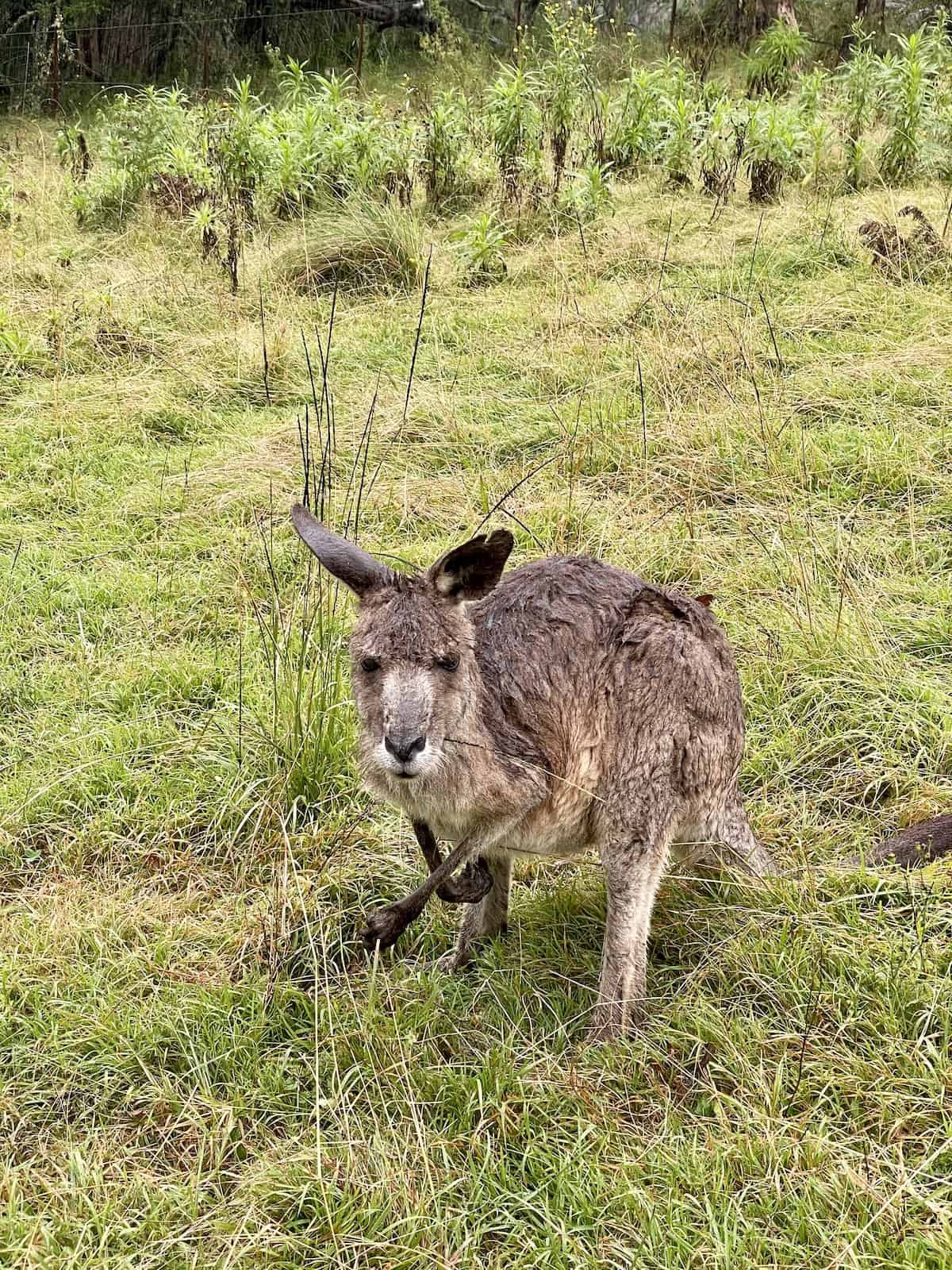 Though there is so much more to do on a Blue Mountains day trip from Sydney, fitting anything else in would turn your getaway into a weekend! Visit the New South Wales website for more ideas if you're thinking you'd like to extend your trip!
Where to Stay
After spending a full day exploring, it's a great idea to just spend the night so you can take a leisurely trip back to Sydney the next day.
The Blue Mountains area offers a wide variety of accommodations, from no-frills hotels for less than $100 per night up to luxury five-star accommodations over $1500 per night.
We stayed at Kyah Boutique Hotel in Blackheath and it was lovely! Have dinner at Blaq Restaurant, right in the hotel.
This is the perfect place to lay your head after a busy day. The rooms were lovely and the hospitality was wonderful.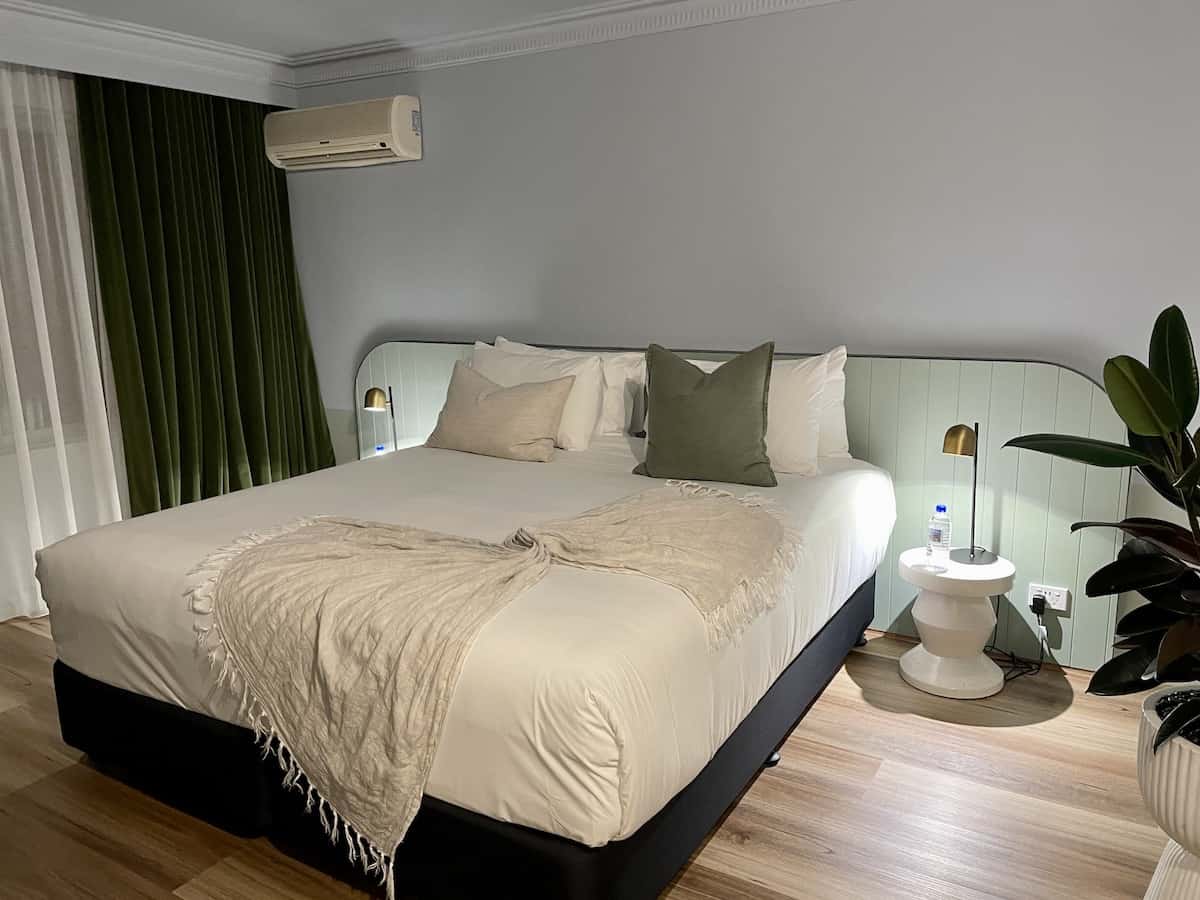 💭 Tips for Visiting the Blue Mountains
Dress for the weather
Because so much of what you will be doing is outside, dressing for the weather is a must.
Temperatures
The warm season in Katoomba is from December through March, with temperatures into the 80s (Fahrenheit) and a heat index that can make it feel like the 90s.
The cold season is late May through August, where temperatures top out in the mid 50s, but lows can dip below freezing. You should also look to prepare for rain or possible snow, and of course wear good shoes, especially if you plan to do a lot of hiking.
If you're coming from the Northern Hemisphere, remember that seasons are reversed south of the equator!
Hop-On-Hop-Off Bus
The Blue Mountains Explorer Bus is a hop-on-hop-off bus that takes you to a variety of sites around Katoomba and Leura. There's even a stop at Katoomba Railway Station, so it is incredibly convenient when coming from Sydney.
With more than 30 stops with buses arriving hourly between the 9:00 a.m. and 4:00 p.m. hour, it is an easy way to hit many of the major sights. An adult pass is $49, and kids ride free!
Check for Closures Before you Go
Brush fires, flooding, road improvements, and more can cause areas to be closed off to the public. Check the National Parks website before you head out to make sure that where you want to go is open and accessible.
Sunscreen and Hats are a MUST
For some people, going anywhere outside means sunscreen is a necessity. For others, there are times when they feel they can go without.
A visit to the Blue Mountains is a time when everyone should use sunscreen and wear a hat.
The sun can be brutal in summer and even noticeable in winter, and a bad sunburn is not the souvenir you want to bring home!
Frequently Asked Questions
Do you need a private tour or can you explore on your own?
Working with a tour company can ensure that you see the best of what the Blue Mountains have to offer. If you are interested in hiking and don't necessarily feel comfortable going out on your own in unfamiliar territory, a local guide can provide a wealth of experience. 
That said, it is perfectly safe and easy to visit many locations throughout the Blue Mountains without a tour guide.
Why are the Blue Mountains blue?
The stunning Blue Mountains are named for the bluish haze that can be found in the Jamison valley, which makes the mountains look blue. It is caused by oil droplets from eucalyptus trees that evaporate into the atmosphere where they mix with dust and water vapor. The haze it creates acts like a bluish filter in the air.
Is there a cost for places and activities in the Blue Mountains?
Blue Mountains National Park does not have a fee for entry, but there are some costs to take into consideration. If you are bringing a car, some areas, such as the area near Echo Point, may have parking fees. The Glenbrook area does charge by the carload for access. Scenic World charges for admission to its activities. The Jenolan Caves area itself is free to wander around, but you do have to pay for a guided tour to go into the caves. The hop-on-hop-off bus is an extra fee. But most of the area in the Blue Mountains is free of charge to explore.
Like our content? Follow us on Pinterest!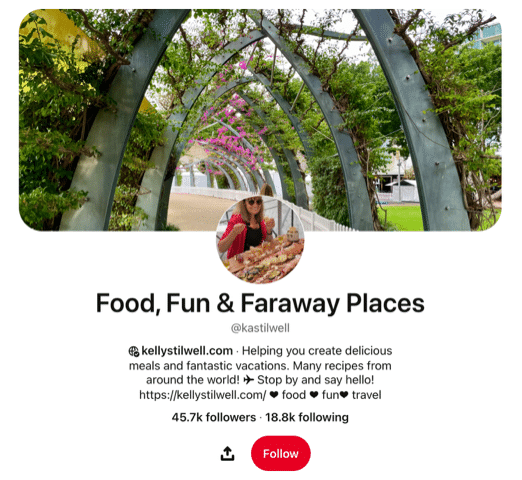 More Asia Pacific Destinations