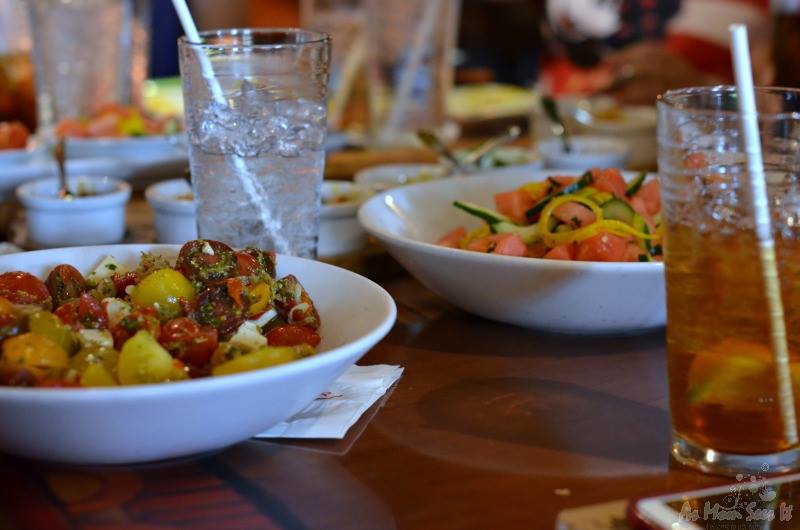 While visiting Disney World last week for the Monkey Kingdom press event, our group was treated to lunch at Sanaa in Animal Kingdom Lodge. Honestly, all the restaurants in the resorts are wonderful! I've never had a meal I didn't love at a Disney resort restaurant. However, Sanaa, is more than just exceptional food. Sanaa is an experience all on its own.
To begin with, you can look out over incredible views of the animals that are part of Animal Kingdom Lodge. You'll see giraffes, zebras, gazelles, and more, all while dining. In fact, there are over 200 hoofed animals from over 300 species at Animal Kingdom Lodge. The views right outside the window are just spectacular. You can also stroll along the path and get a little closer to the animals. Be sure to grab your camera!
Inside you'll see beautiful African artisan crafts like necklaces and woven baskets. It's fun to take a walk before or after your meal and just explore.
And speaking of the meal, Sanaa is a foodie paradise. I love Indian style food. Hummus, pita bread, tapenade...all my favorite things! When we first ordered our drinks, we were served this platter. I really could have eaten it for lunch. The whole thing!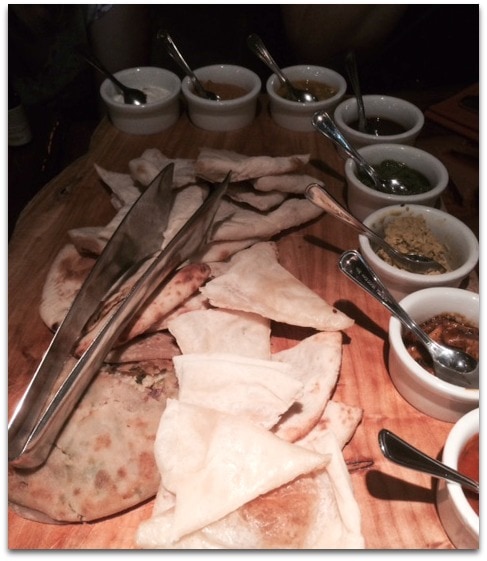 Sanaa has a wonderful selection of slow cooked meats like beef short ribs, spicy Durban shrimp, delicious vegetarian dishes, salads, and other African specialties. And don't worry, there are traditional dishes for those who would prefer a simple burger, grilled chicken or pizza. You may decide you want to try something new once you taste the bread and dip! The traditional African food really is exceptional.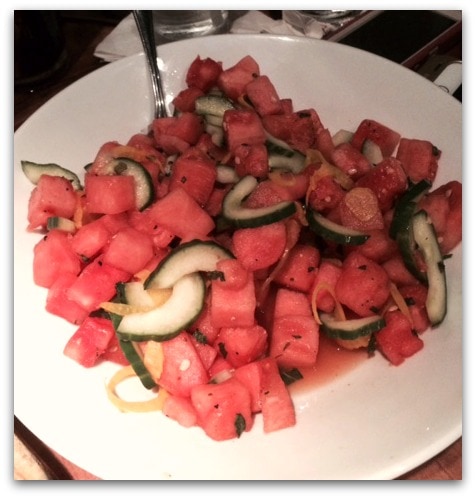 Sanaa also serves wines from South Africa (some of our favorites!) beer from Kenya or India, as well as specialty cocktails. And did I mention the desserts? Oh my word. Please order dessert!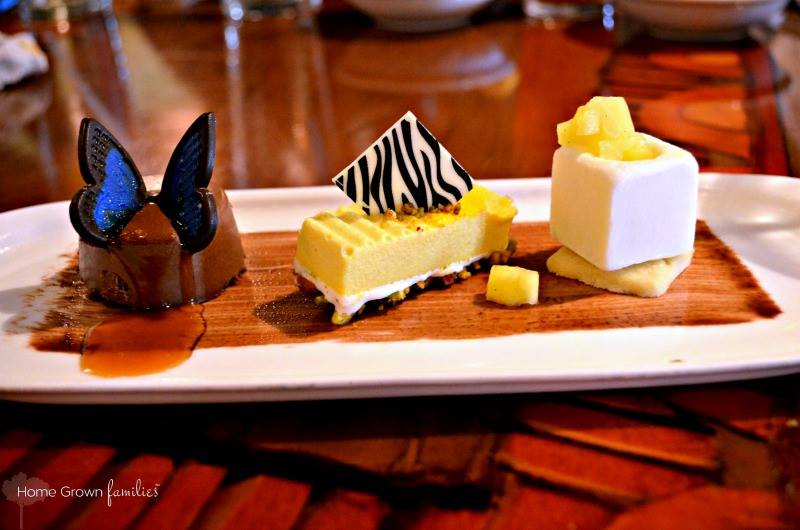 As much as the food is the focus for us, what makes Sanaa really special is the opportunity to dine with Animal Specialists. We spent about 30 minutes with Dr. M Sanjayan, Disneynature Ambassador, and another 30 minutes with Greg Peccie, Animal Curator,  so we could really get a first hand look at the activity. It was obvious after dining with both men that they are passionate about animals, and even more passionate about making sure we understand the importance of conservation.
Taking the kids out of school for a vacation? Just think about the report they could write after dining with an Animal Specialist! I can promise you it won't be the typical Look what I did on vacation! By the way, you'll dine on a four-course meal during your lunch, too. To learn more about this special activity, call (407) WDW-DINE or (407) 939-3463. Advance reservations are strongly suggested and can be made up to 180 days in advance.
Sanaa is located in Animal Kingdom Lodge. Hours for lunch are 11:30 until 3 pm, and dinner hours are 5 until 9:30. For more information about the Lodge, check out my 5 Things that Surprised Me about Animal Kingdom Lodge!
Remember to see Monkey Kingdom while it's still in theaters! It's a fascinating look at the macaque monkeys and is perfect for the whole family to see together. Here's a short trailer: