These incredibly easy Cast Iron Skillet recipes feature a selection of mouthwatering delectable appetizers and hearty main courses that will put that timeless cast iron skillet to good use.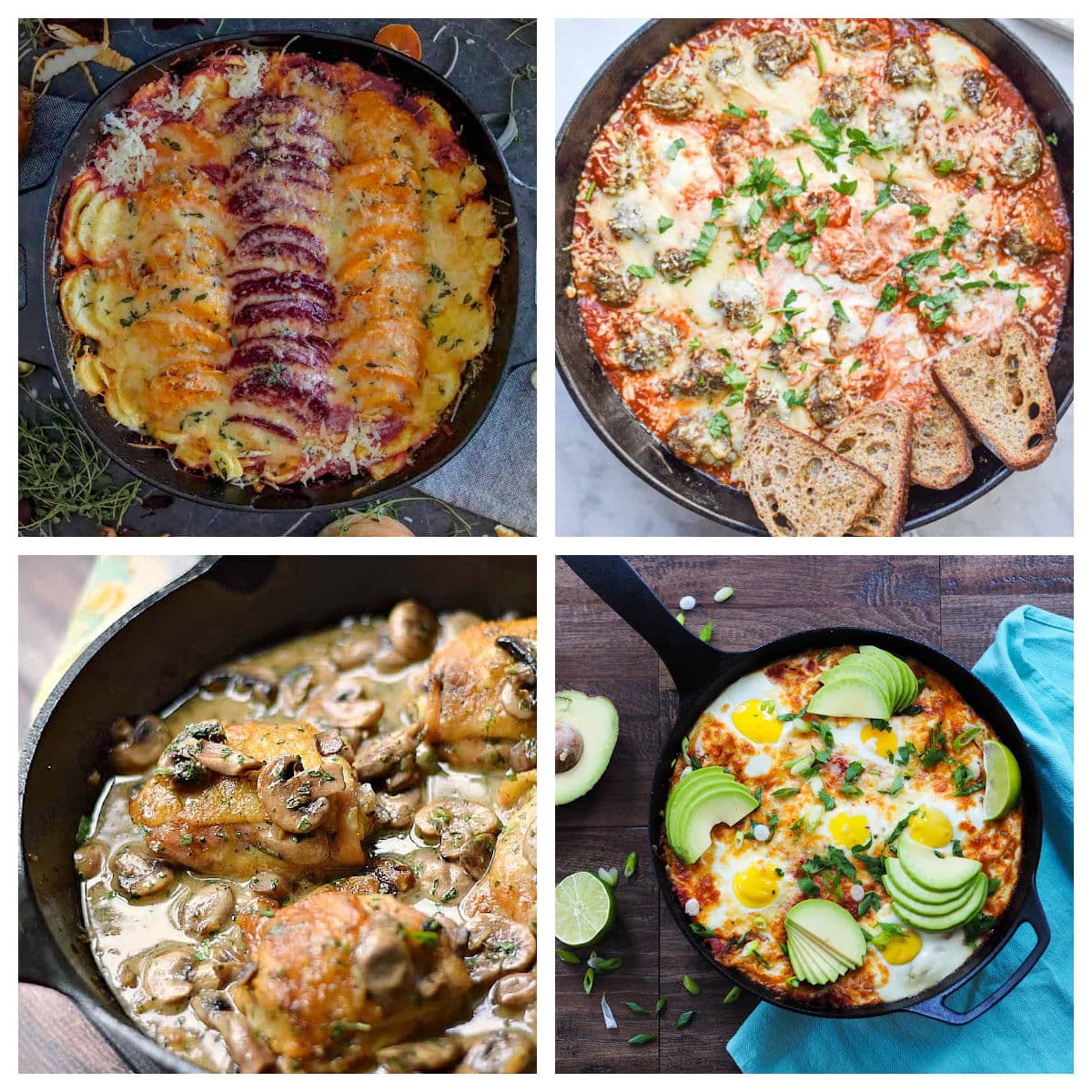 If you've been intimidated to try your hand at cooking in cast iron, these recipes are here to show you just how easy it can be.
If you're looking for a side dish, you've got to try this freshened up green bean casserole without mushroom soup. It's so good!
Why You'll Love These Cast Iron Recipes
The wonderful thing about cast iron cooking is that it creates dishes with the most delicious flavors and textures.
There are four easy reasons why cast iron skillets are better:
Heats up and stays hot.
Unbeatable heat distribution.
Allows meats and vegetables to get the perfect sear.
All ingredients cook evenly all over.
How to Choose a Cast Iron Skillet
You can do your own due diligence by looking at reviews, but there are only a handful of really good cast iron skillet companies.
Go with a manufacturer that is trusted. You can't go wrong with a Lodge cast iron skillet or Le Creuset brand.
These scrumptious recipes showcase the incredible versatility of cast iron skillets.
With a few simple instructions, you'll be creating mouthwatering dishes with that trusty cast iron skillet.
Don't be surprised when everyone starts asking for your secret cooking tips!
From perfectly seared chicken and gooey mac and cheese to flavorful veggies, these recipes offer a wide range of options that will satisfy everyone.
And just wait until you try the shrimp tacos with these easy homemade flour tortillas. Too good for words!
If you love cooking traditional German food, the easy bratwurst skillet recipe is a complete meal in one. After one bite, it will change the way you cook brats forever.
No matter which dishes you decide to try, one thing is for certain, these cast iron skillet recipes will add a cozy charm to any delicious meal.
Bonus: Serving right from the skillet means fewer serving dishes! Remember to place a trivet under the skillet.
And don't forget dessert!
Recipe FAQs
Top Tips for the Best Cast-Iron Skillet Recipes
Always start with a hot skillet: Whether it's a fatty steak or lean pork chops, to prevent food from sticking, always preheat your cast iron skillet before adding any ingredients.
Use oil for seasoning and even cooking: Seasoning your cast iron skillet is one of the easiest ways to create a non-stick surface. Each time, before cooking, just add a little high smoke point oil to the bottom of the cast-iron pan.
Don't overheat: Cast iron conducts heat very well. So, you'll want to use moderate heat and allow the skillet to heat gradually for best results.
Use the right utensils: Even though cast iron seems indestructible, you'll want to use utensils that won't scratch or damage your well-seasoned cast-iron skillet. Wooden, silicone, or stainless-steel utensils are ideal for stirring, flipping, and serving.
Watch the handles: It should go without saying, but I have made the mistake of grabbing the handle of a hot skillet. Cast iron handles get really hot, so handle them with caution.
More Easy Dinner Recipes