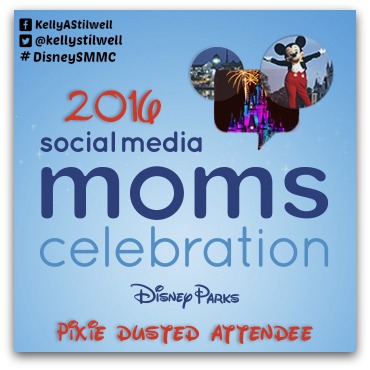 It's hard to believe I've been at this business of blogging for almost six years now. Who knew the day that editor suggested I start a blog to showcase my writing would change my life forever? Forever? Yes, honestly, forever. In the last six years I have traveled to ten US states as well as Puerto Rico and Quebec, all because of this blog. This year, I will be traveling to France and the Dominican Republic in the same month. Travel is one of my passions, and I feel incredibly blessed to be able to do what I love to do through this site.
Another one of my passions is Disney, and talk about blessings! I've been to seven events with Disney Pictures, including several where I walked the red carpet with the stars. I've been invited to multiple events at Walt Disney World and Disneyland, and still get excited just to walk through those gates!
A couple of weeks ago, I got one of the most exciting invitations I've ever received; I was invited to the Disney Social Media Moms Celebration. And I cried, because it is something I have wished for, hoped for, and yes, even prayed about, for the last five years, ever since I learned about the Celebration. In fact, I was sitting in a movie theater in Disney Springs, right after watching Zootopia, when I turned my phone on and saw the email.

So why am I so excited about this event? Actually, I've got 10 reasons.
Disney Social Media Moms is not a program you can apply for. It's a selection process done by the Social Media Team at Disney. It is truly an honor to be included.
The event takes place in Disney World, the most magical place on Earth.
Lodging is at Disney's Yacht Club Resort, one of my bucket list hotels. 
 I'll be participating in networking sessions with the best bloggers in the business who all have one thing in common; a love for all things Disney.
There will be a special movie screening! Any guesses?
I'll be attending speaker sessions. Though we don't know the speakers yet, in past years it has been people like Jonas Rivera, producer of Inside Out (who I interviewed at Pixar!), blogging guru Chris Brogan, Olympic Gold Medalist Shannon Miller, and social media expert Guy Kawasaki. I can't wait to see who we will be learning from this year!
The food! I'm such a foodie, and Disney knows how to do food!
The rides! Who else loves The Mine Train? The Jungle Cruise? It's a Small World?
16 Fast Passes for rides for each of my family members!
Attending an amazing Mother's Day brunch with my family along with about 150 Disney Moms!
I am still just floored to be invited, and so grateful to the team at Disney.
I hope you will follow along with me and the other Disney Social Media Moms for 2016! We will be flooding social media with hashtag #DisneySMMC, sharing all the fun and surprises from May 5-8!