Looking for the best frozen Mezcal margarita recipe? We've got you covered with this delicious cocktail from Mexico!
Made with smoky mezcal, this frosty cocktail is perfect for cooling off on a hot summer day.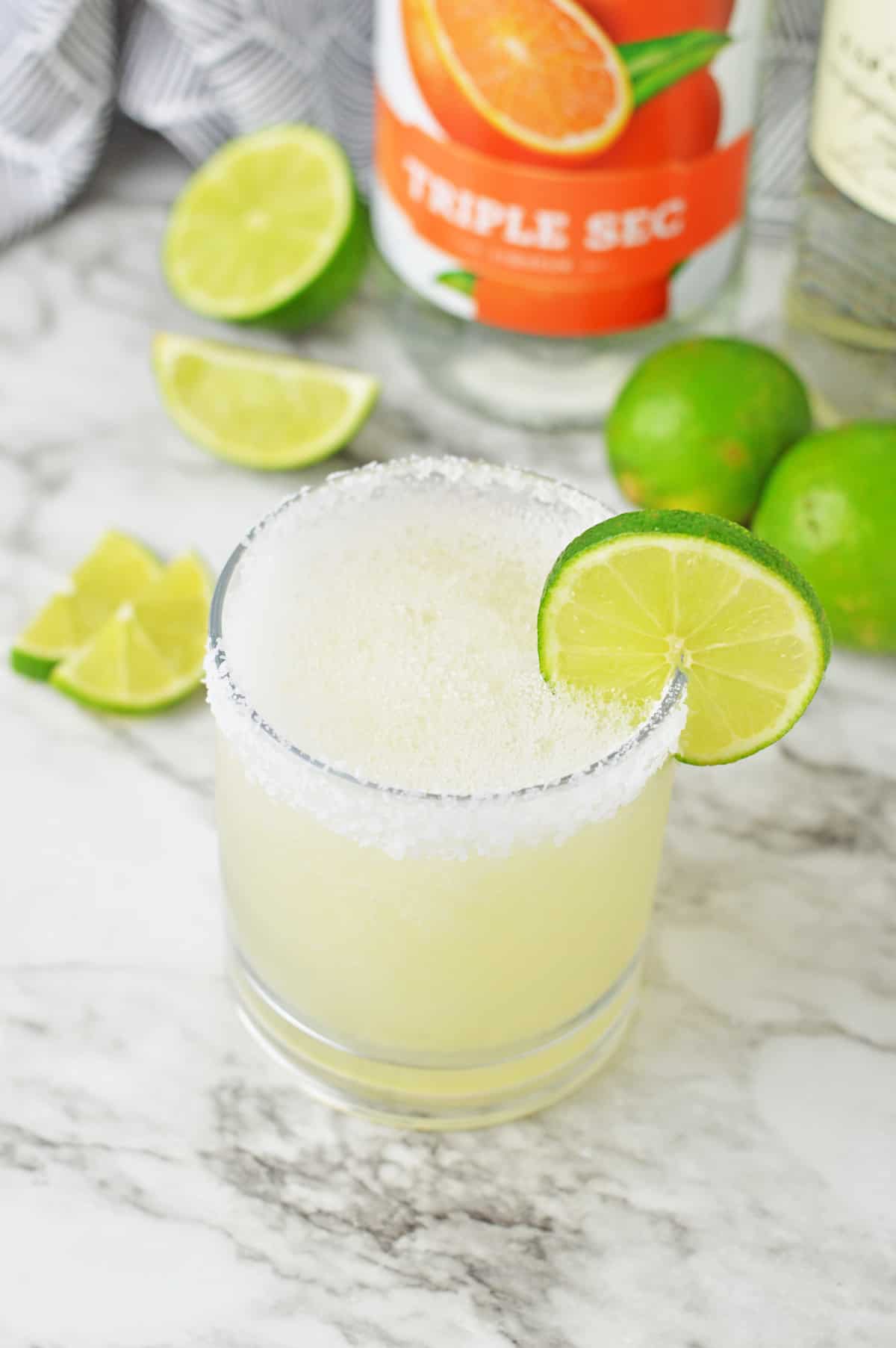 This frozen mezcal margarita recipe makes a refreshing and delicious cocktail that's perfect for any occasion!
Whether you're serving it for your next your Cinco de Mayo party or sipping it by the fire on a chilly night, this recipe is a wonderful twist on the classic margarita that's sure to impress your guests and leave them wanting more!
The name mezcal means," oven-cooked agave," which is where it gets its distinct smoky flavor. The subtle smokiness provides the perfect balance of flavor that pairs well with the tartness of lime and sweetness of agave syrup.
I visited Mexico four times last year, and have already been once in 2023! From my trip to Secrets Moxche Playa del Carmen to Xcaret in Riviera Maya to all the way over on the west coast in Mazatlan, they all have their specialty drinks made with Mezcal!
All you need to complete the fun is to serve this delicious drink with a few tasty appetizers like this White Bean Dip with these homemade crackers or this amazing Authentic Mexican Salsa.
Looking for Mexican dinner ideas? How about these Quinoa Tacos? Make them with this recipe for easy homemade flour tortillas! You may never buy tortillas again!
❤️Why We Love this Recipe
A fun twist on a classic margarita, this recipe for mezcal margaritas makes a fabulous cocktail that's perfect for all your Cinco de Mayo festivities, summer parties, or just for hanging out by the pool with friends on a hot day.
It's a must-try, super easy recipe to make. With just a few simple ingredients, some ice, and a blender, you can create this tasty frozen drink in a matter of minutes.
Make sure to check out our new post featuring the Best Blenders for Frozen Drinks. We've done the research so you don't have to!
Everyone will be asking for this frozen Mezcal margarita recipe!
🛒 What Goes into This Recipe
Mezcal: A distilled spirit that has a nice smoky flavor that takes your margarita to the next level.
Triple sec: This orange liquor works with fresh lime juice to give the cocktail the perfect citrusy flavor you expect in a good margarita.
Agave: This is a natural sweetener that comes from the blue agave plant. It's used as a substitute for sugar, simple syrup, honey, and molasses to add a touch of sweetness to cocktails.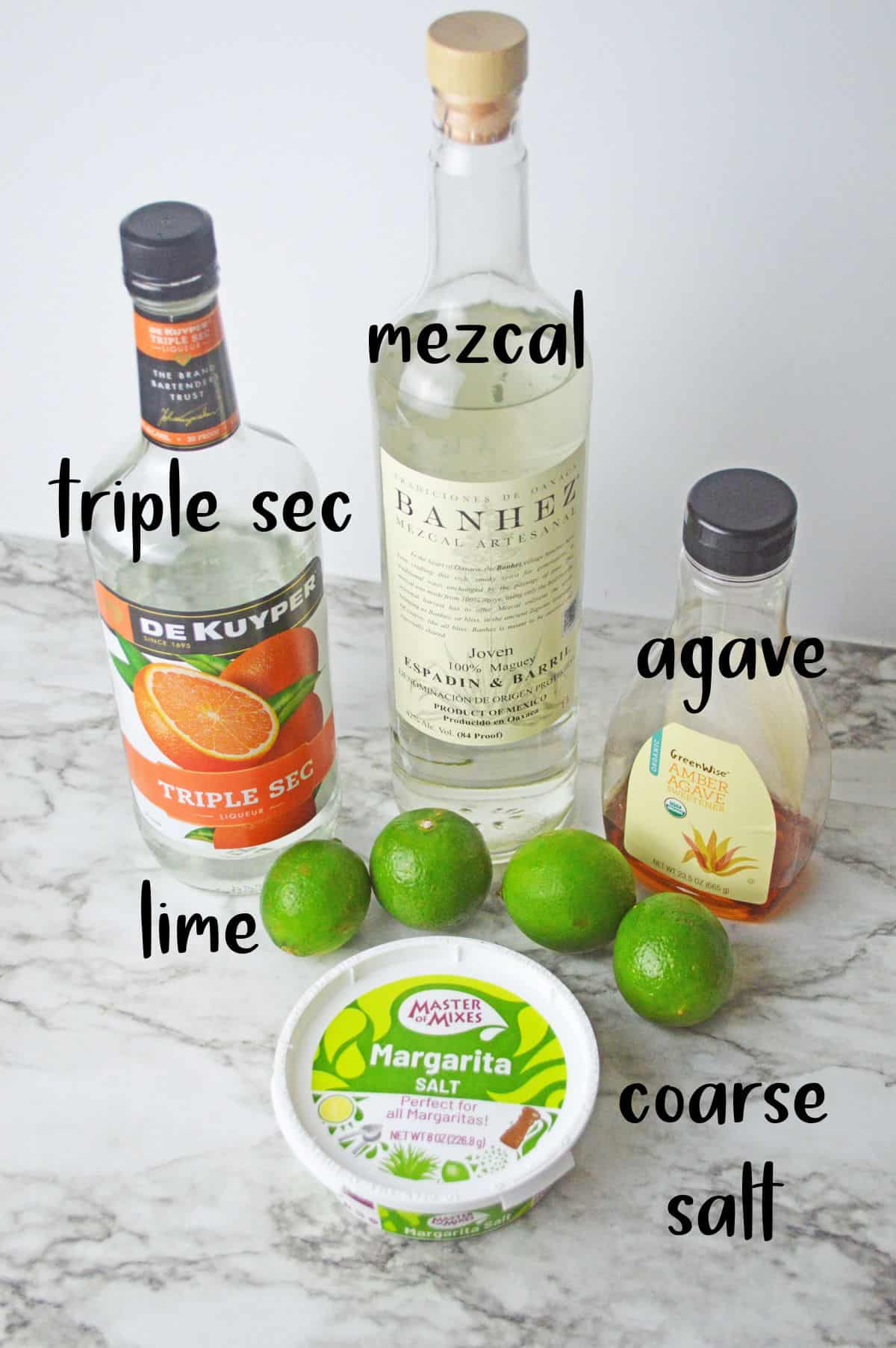 👩🏻‍🍳 How to Make a Frozen Mezcal Margarita
Step 1: Add your ice cubes and the agave to a blender.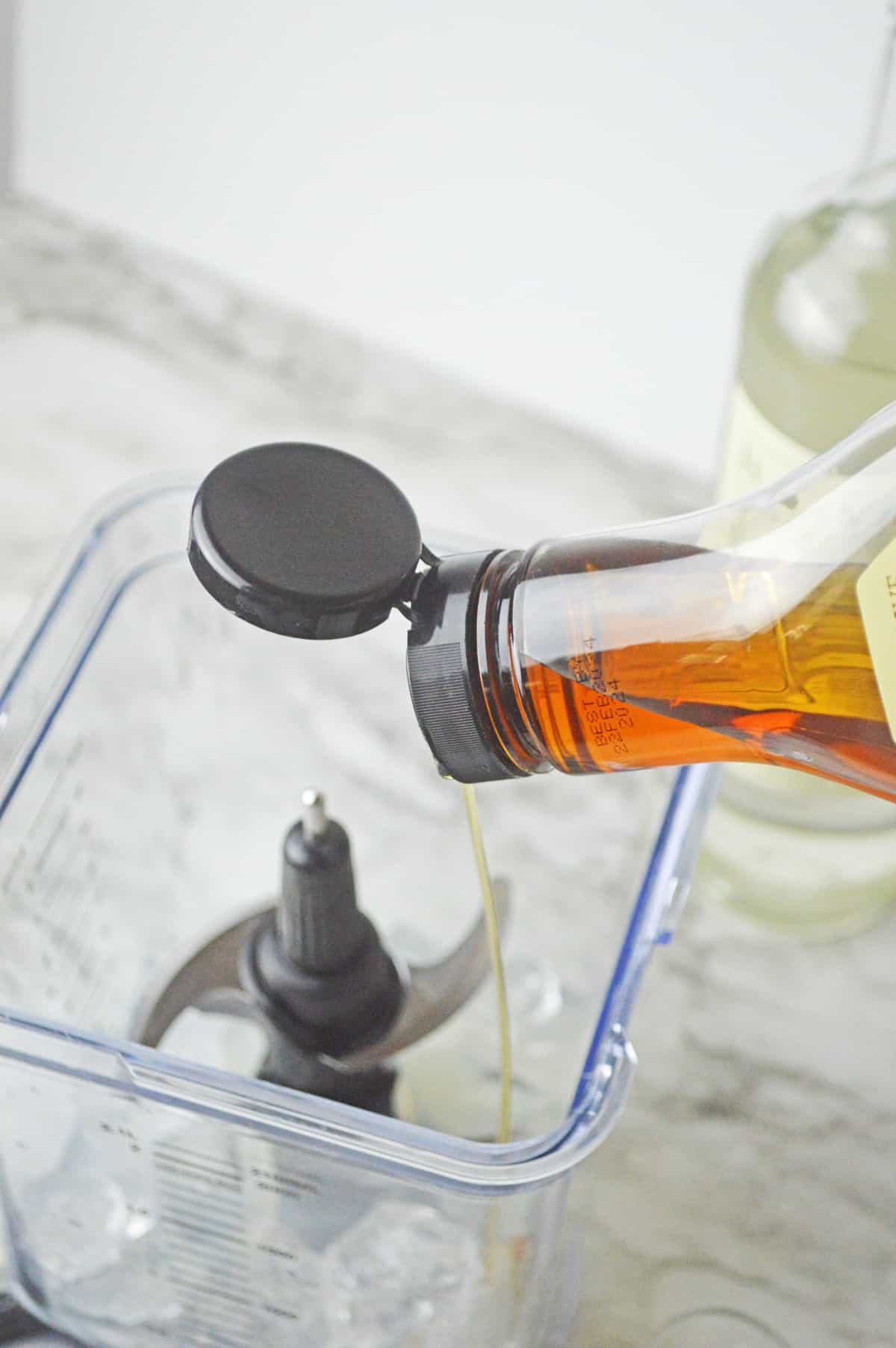 Step 2: Next, in goes the Triple Sec.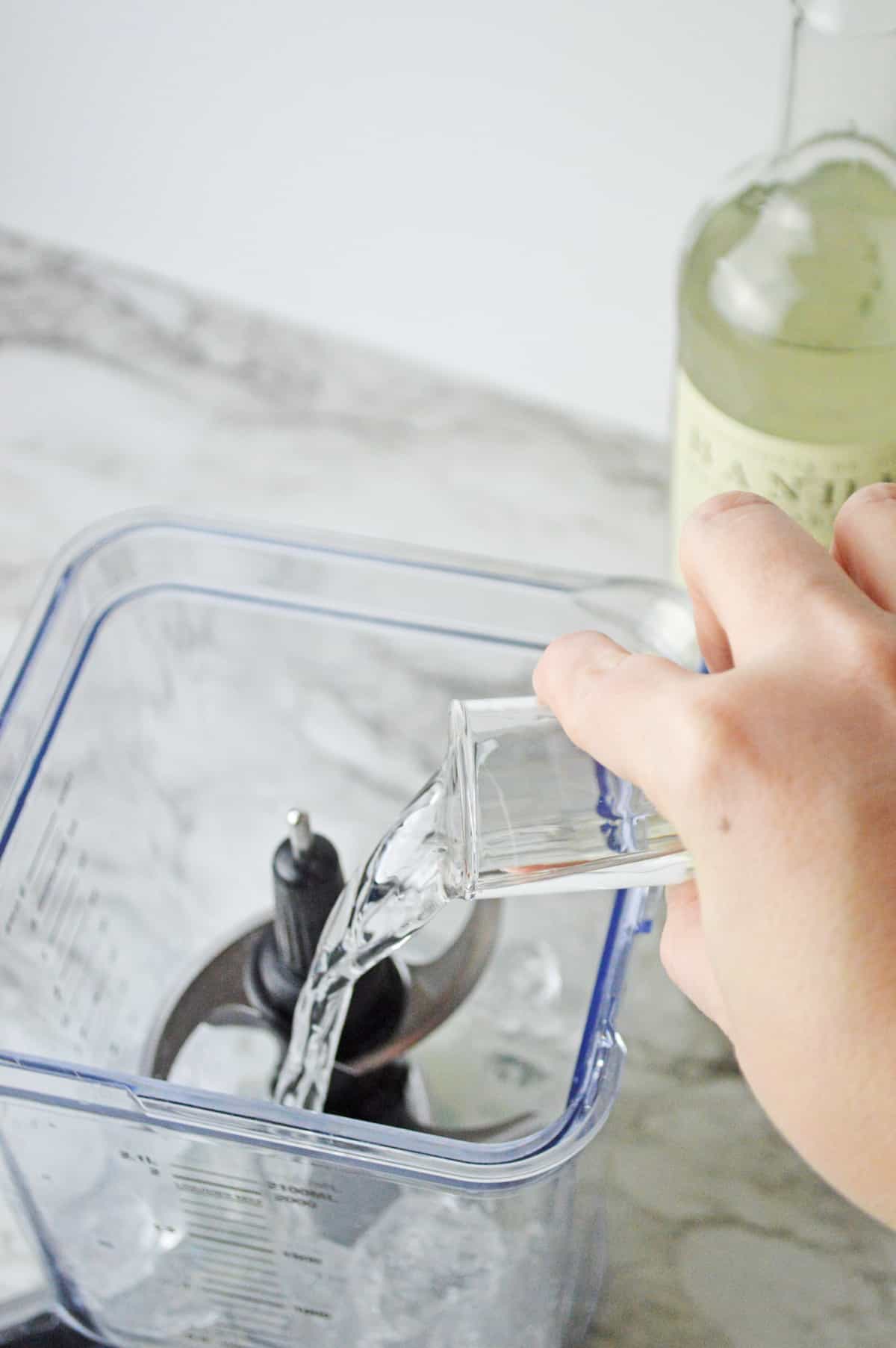 Step 3: Add the Mezcal.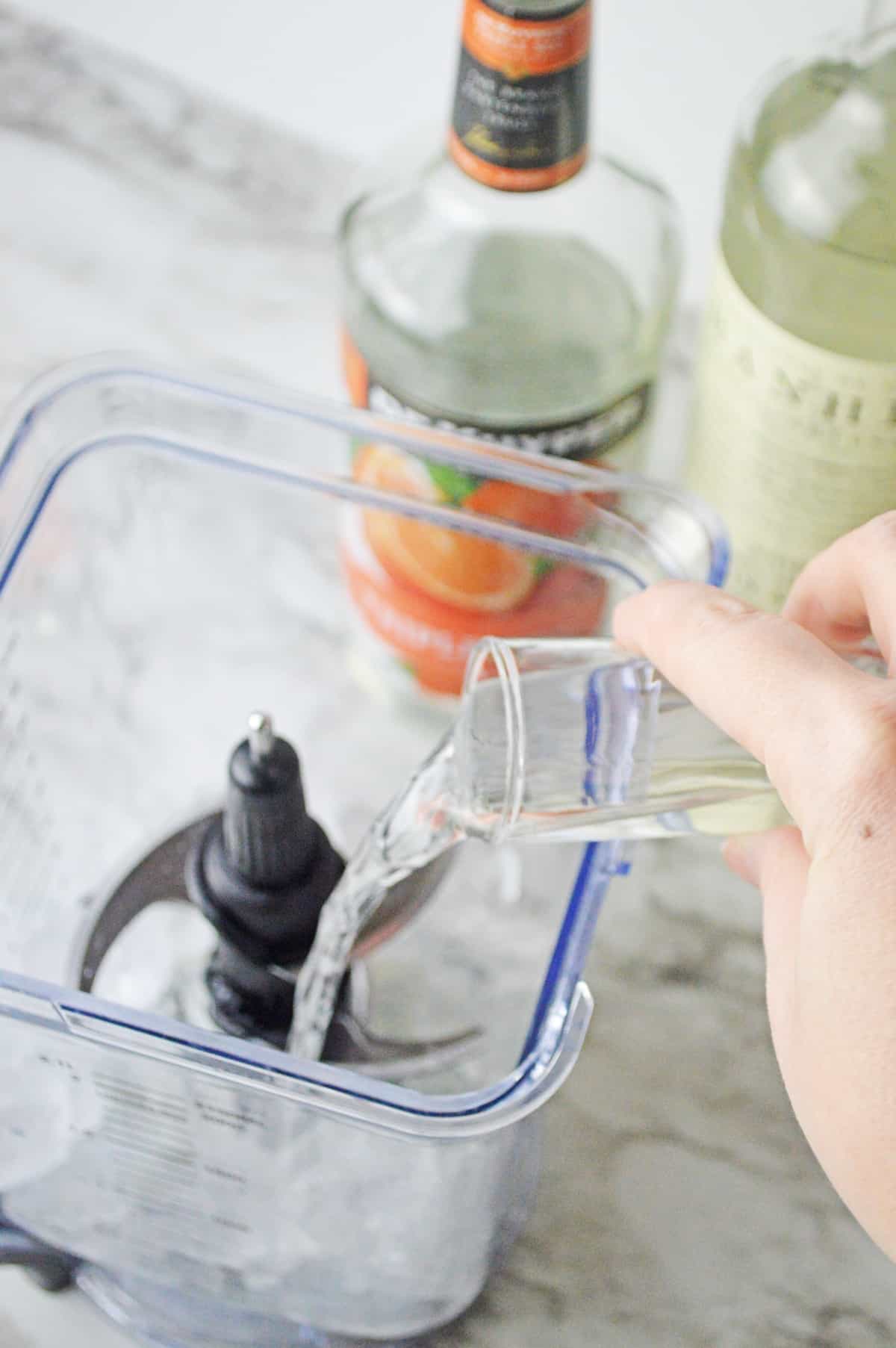 Step 4: Finally, add the lime juice.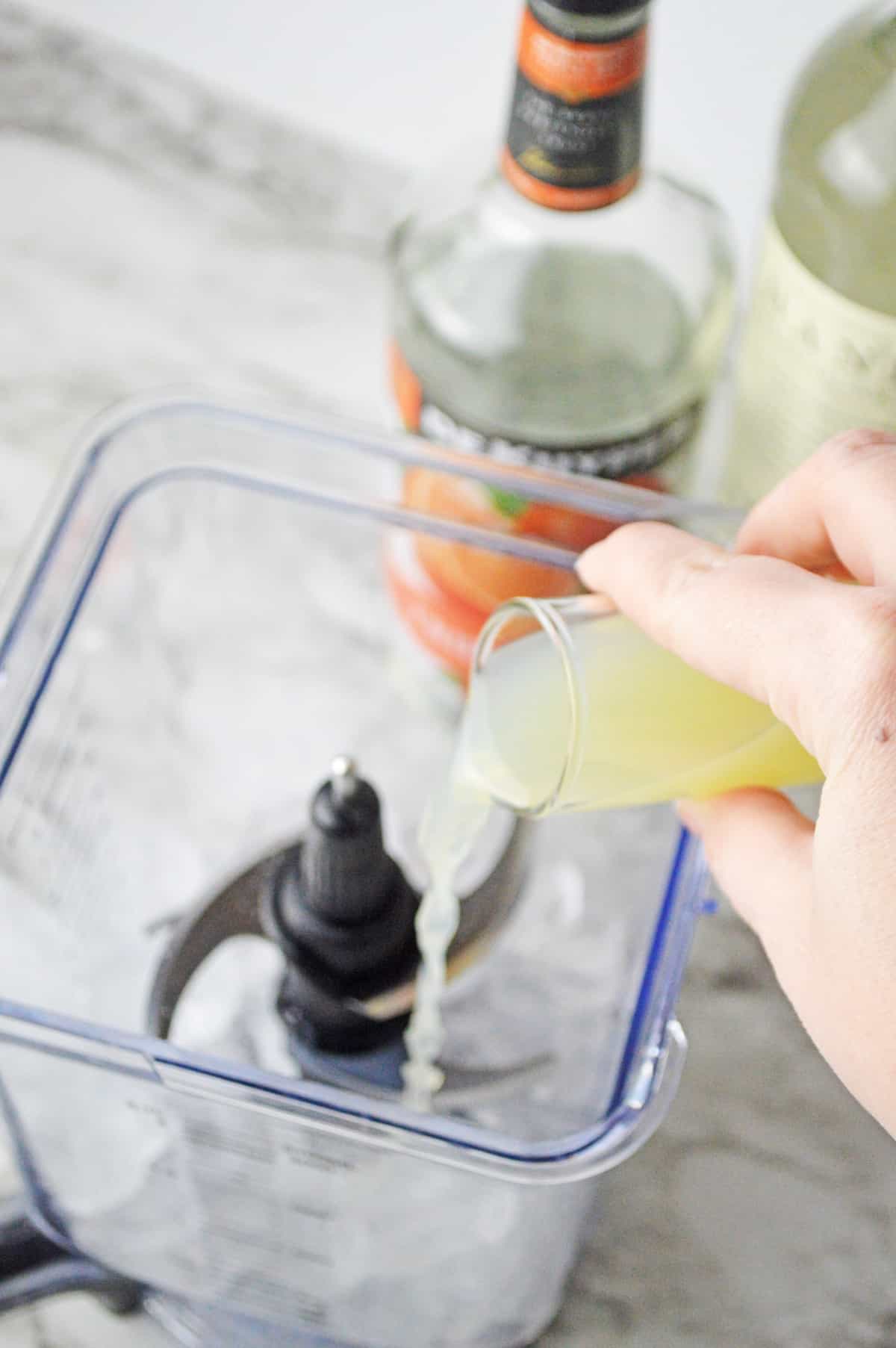 Step 5: Blend ingredients until smooth.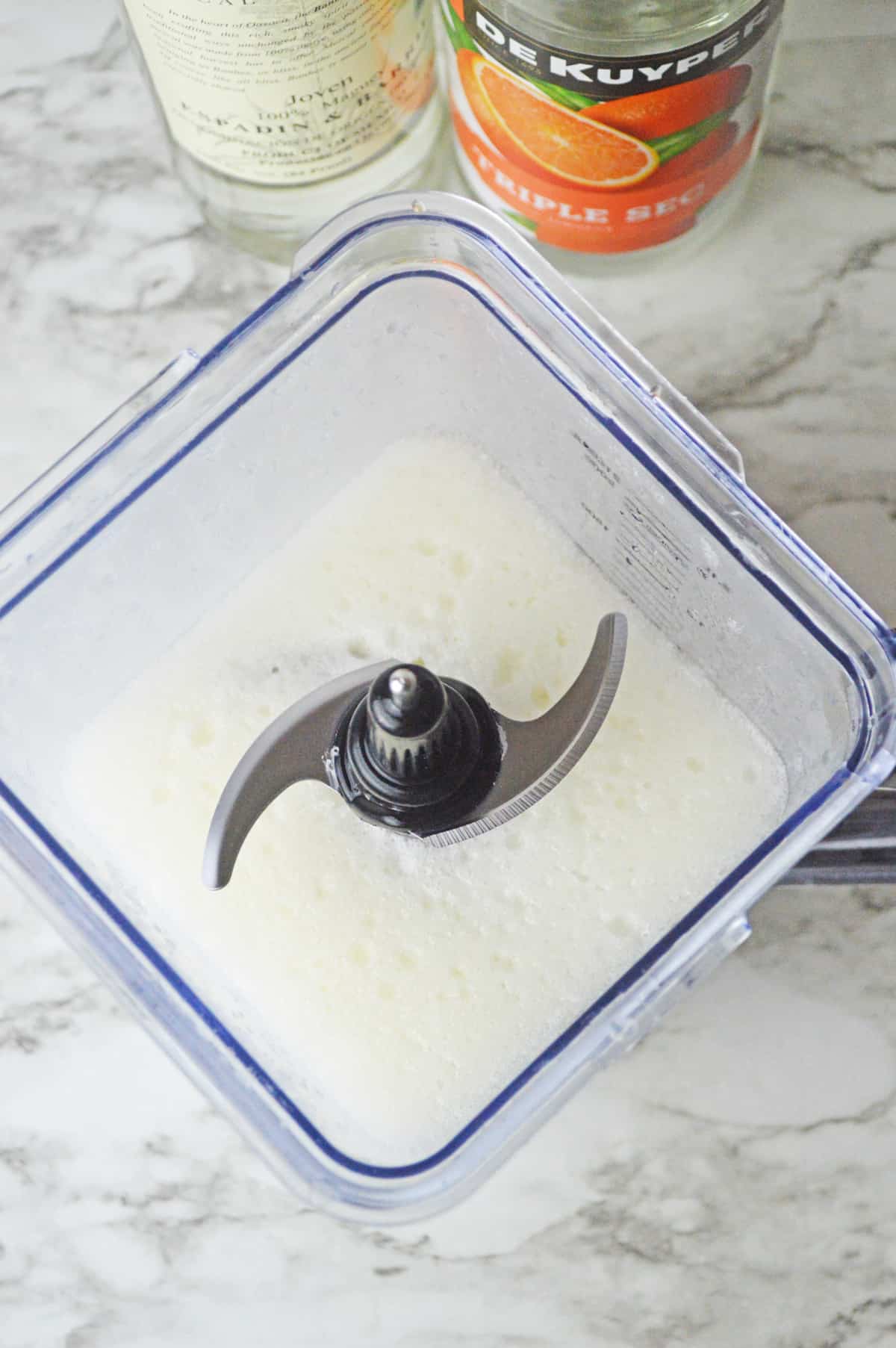 Step 6: For the salted rim, sprinkle some margarita salt on a small plate. Run the lime around the rim of the glasses and dip them into the salt.
Serve and enjoy!
📖 Variations
Agave: If you can't find agave sweetener, you can always substitute it with simple syrup or honey, though agave has a velvety texture that adds a special touch to cocktails.
Triple sec: You can use any type of orange liqueur you'd like. Grand Marnier is a great option, and it has a wonderful orange flavor.
Lime: Try experimenting with different types of citrus fruits to find your favorite flavor profile. Orange juice or grapefruit juice are both refreshing options.
Spicy mezcal margarita: For an extra kick of heat, you add a dash of chili powder or hot sauce to the mix.
Spicy salt rim: Run a freshly sliced jalapeño pepper around the rim of the glass along with the lime wedge. The oils of the pepper give a nice spicy essence to the salt.
💭 Top Tips
If you prefer a sweeter taste, just add a bit more agave nectar.
You just can't beat fresh citrus juices. Always use fresh lime juice for the best results.
If serving these mezcal cocktails over on the rocks, you can make your ice cubes out of orange juice or even lime juice instead of water. It adds so much flavor as they melt and your drink doesn't get watered down.
To help keep your cocktails stay cold longer, chill your margarita glasses in the freezer.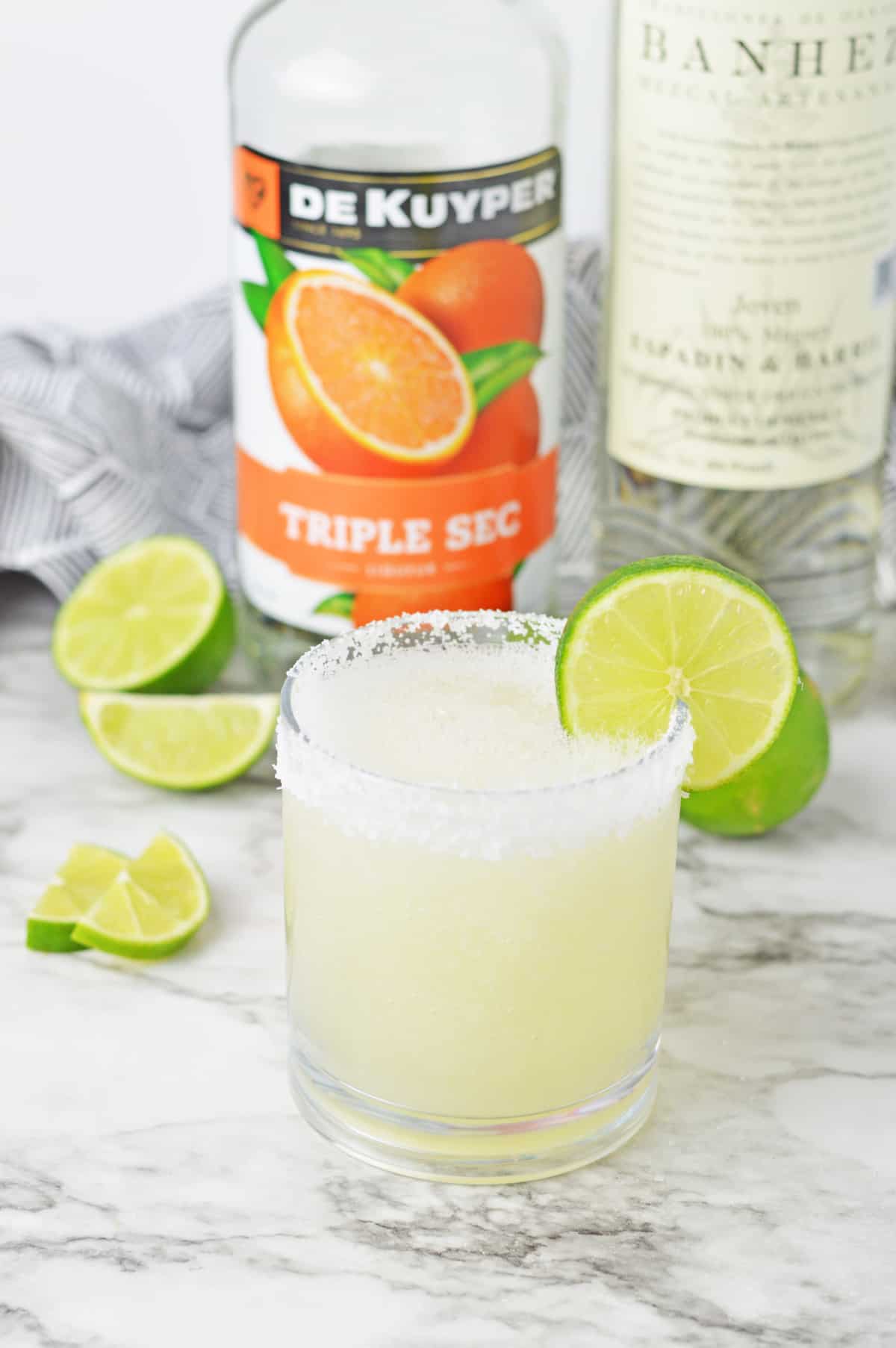 Frequently Asked Questions
How does mezcal taste compared to tequila?
Tequila is actually a variety of mezcal, but mezcal has a smoky flavor whereas tequila has more of a spicy flavor and is what is used in a traditional margarita.
Can I use tequila instead of mezcal?
You can, but you won't get the same smoky flavor of this Frozen Mezcal Margarita recipe.
Do I have to make this a frozen margarita?
Of course not! You can certainly mix it up in a cocktail shaker and serve it on the rocks instead!
What can I use if I don't have margarita salt?
You can make your own! Just place some kosher salt or sea salt on a cutting board with a pinch of fresh citrus zest. Crush them with a rolling pin until combined. Store in an airtight container in the fridge for up to a week.
Like our content? Follow us on Pinterest!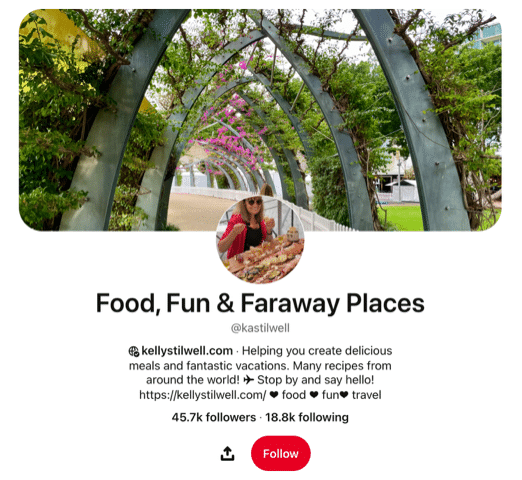 More Margarita Recipes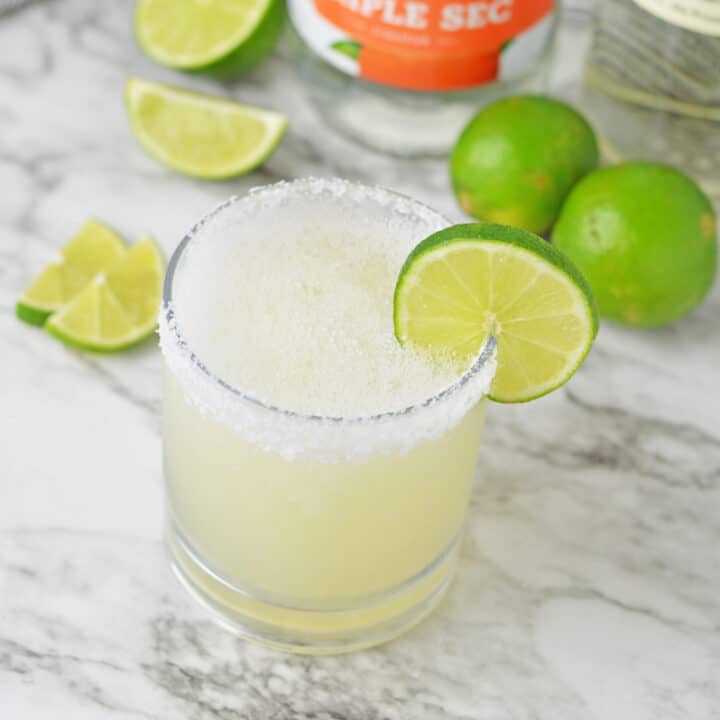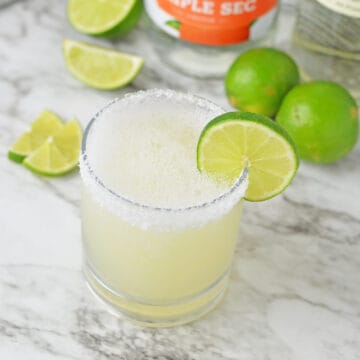 Ingredients
4

oz.

fresh lime juice

4

oz.

Mezcal

2

oz.

Triple Sec

1

oz.

Agave

2

cups

ice

Margarita salt for the rim

Fresh lime wedges or slices for garnish
Instructions
Add fresh lime juice, Mezcal, triple sec, agave, and ice to a blender.

Blend ingredients until smooth.

Run a lime wedge around the rim of two glasses. Dip each glass into the coarse salt.

Pour the margaritas into the two salt-rimmed glasses.

Garnish each glass with fresh lime slices, wheels, or wedges.
Nutrition
Serving:
1
|
Calories:
276
kcal
|
Carbohydrates:
25
g
|
Protein:
0.3
g
|
Fat:
0.2
g
|
Saturated Fat:
0.03
g
|
Polyunsaturated Fat:
0.04
g
|
Monounsaturated Fat:
0.01
g
|
Sodium:
16
mg
|
Potassium:
77
mg
|
Fiber:
0.3
g
|
Sugar:
20
g
|
Vitamin A:
28
IU
|
Vitamin C:
19
mg
|
Calcium:
15
mg
|
Iron:
0.1
mg