Everyone knows the surfing in the land down under is spectacular. After spending some time there last year, I thought a guide to the best surf spots in Australia might be helpful for those who are planning to visit.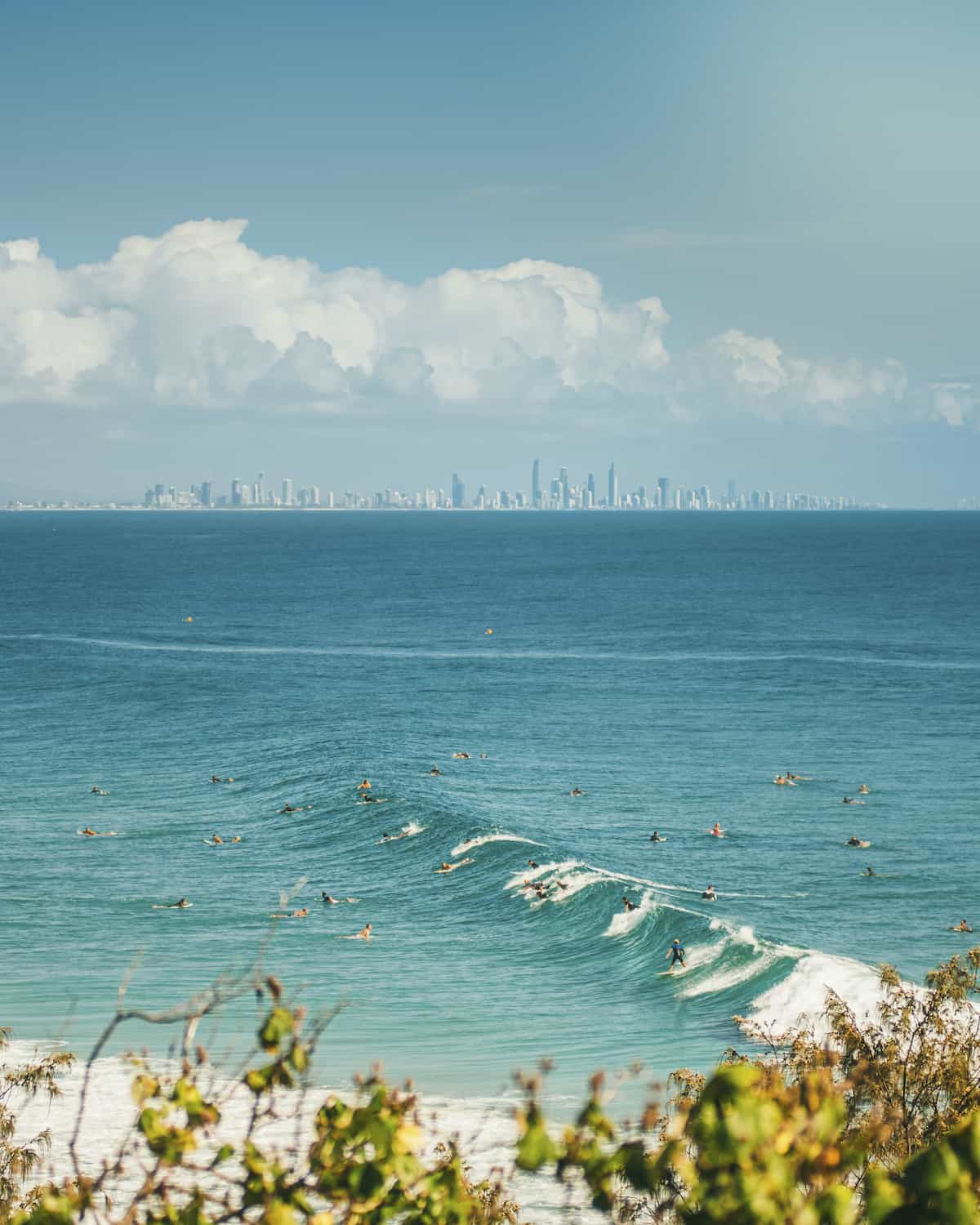 Whether you're looking for a point break, beach break, or reef bank, we have a list of the best beaches for good surfing.
You may remember seeing photos of me in Indonesia with a surfboard. I spent a couple of hours trying to learn, but it really wasn't enough time. Sadly, I wasn't able to stand, but I did have a blast trying!
For those who have never surfed, there are plenty of places to take lessons in Australia by just searching the web.
I'm betting if you're reading this, you've probably already experienced surfing and are looking for the best places to catch a wave.
We Asked the Experts
For that, I enlisted some help from the guys I met when I toured S*Lab, creator of custom boards and experiences with world champion surfers.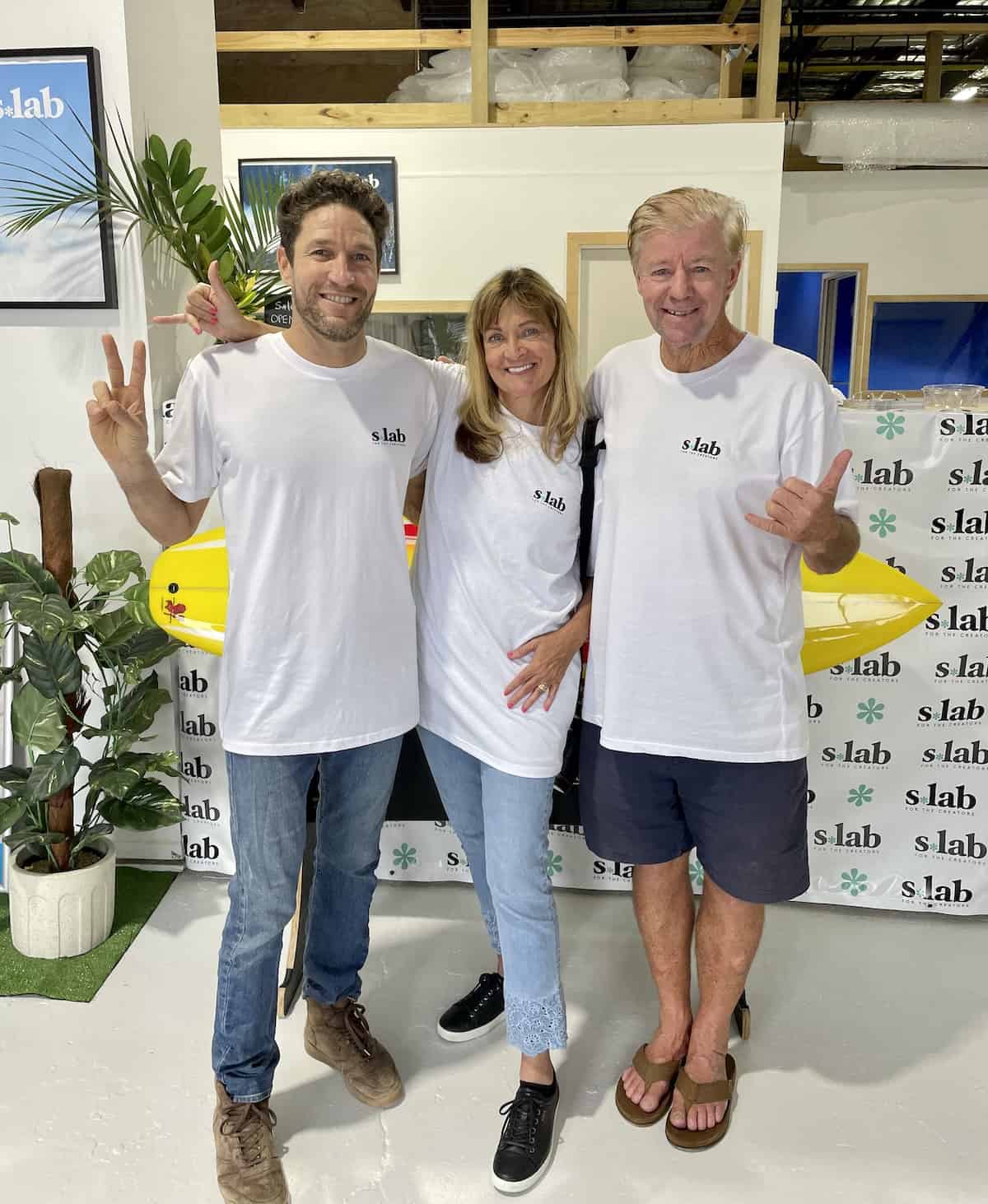 Wayne "Rabbit" Bartholomew was the 1978 World Champion surfer winning eight world tour contests and is known as pioneering professional surfing. He is also a member of the Australian Surfing Hall of Fame and the USA Surfing Hall of Fame. You can book an experience with Rabbit at S*Lab.
Beau Young is an Australian surfer, winning the ASP World Longboard Championship in 2000 and 2003. Young now owns Beau Young Surfboards, creating handcrafted custom boards
Andrew McKinnon is a surf columnist for Gold Coast Bulletin and was the World Longboard Champion in 1988. Known to his fans as Andy Mac, he also broadcasted the daily surf report on Sea FM for 28 years. His was the voice surfers waited to hear when looking for the waves that day.
Choosing a Surfboard
S*Lab is the spot if you want to have a custom board made. We were able to go through the entire process of making a board from start to finish.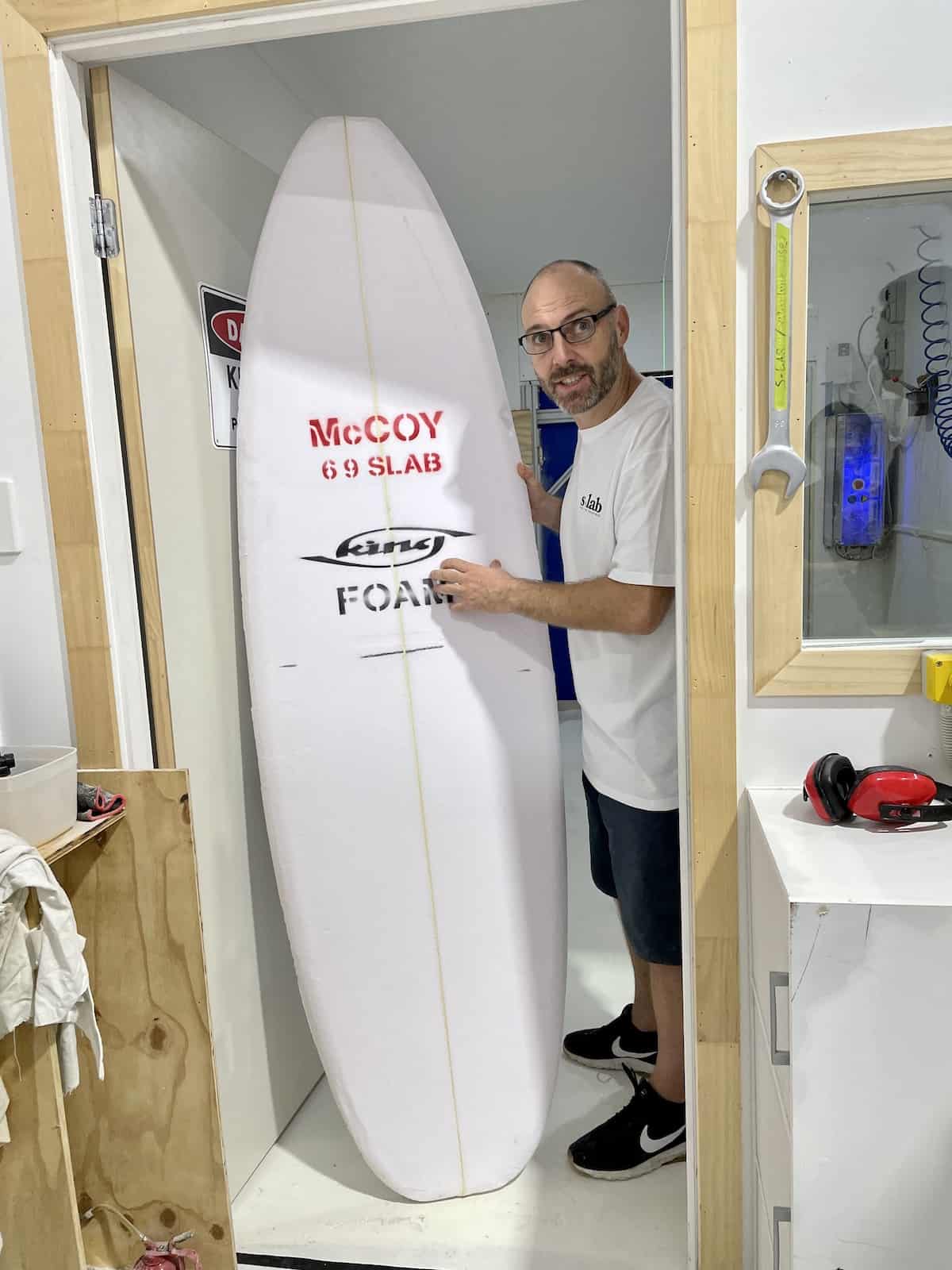 Each of us had some hands-on time learning.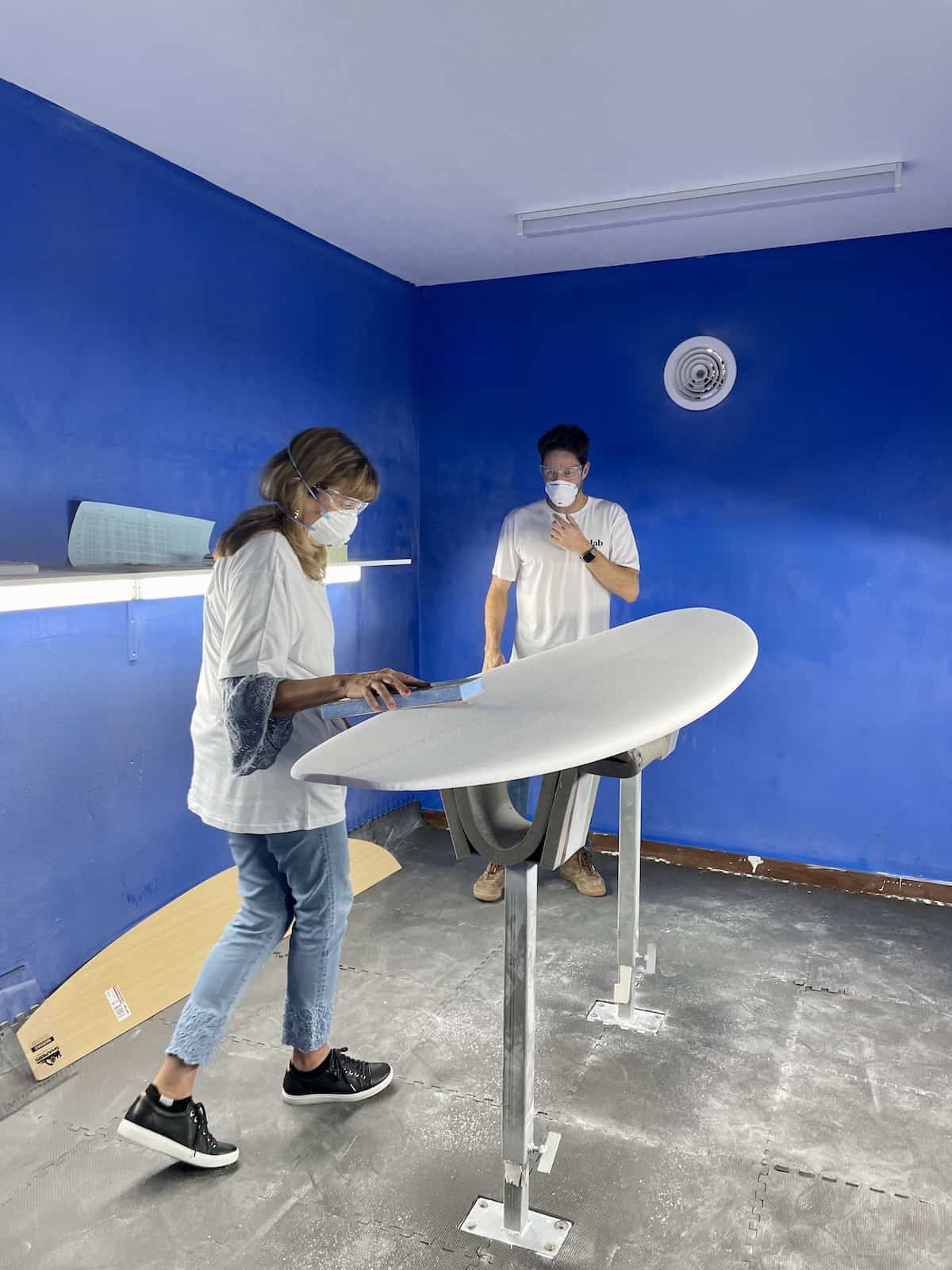 After the experience, we toured the rest of the shop to see a few of the boards. This is a great place for other surfing equipment, too, so be sure to stop by when in the area, or book an experience ahead of time.
Once you've got your board, you'll want to know where to go for idyllic waves and perfect beaches. We've got you covered with the best surfing spots below!
Where to Surf In Australia
These best spots to surf are not listed in order of ranking as they all have their own special attributes.
Be sure to check the weather and surf report before you go to be sure you'll have the best conditions for consistent waves.
Also, it's a good idea to pay attention to whether the spot you're heading has gentle waves for beginner surfers, is better for long boarders, or should only be taken on by experienced surfers.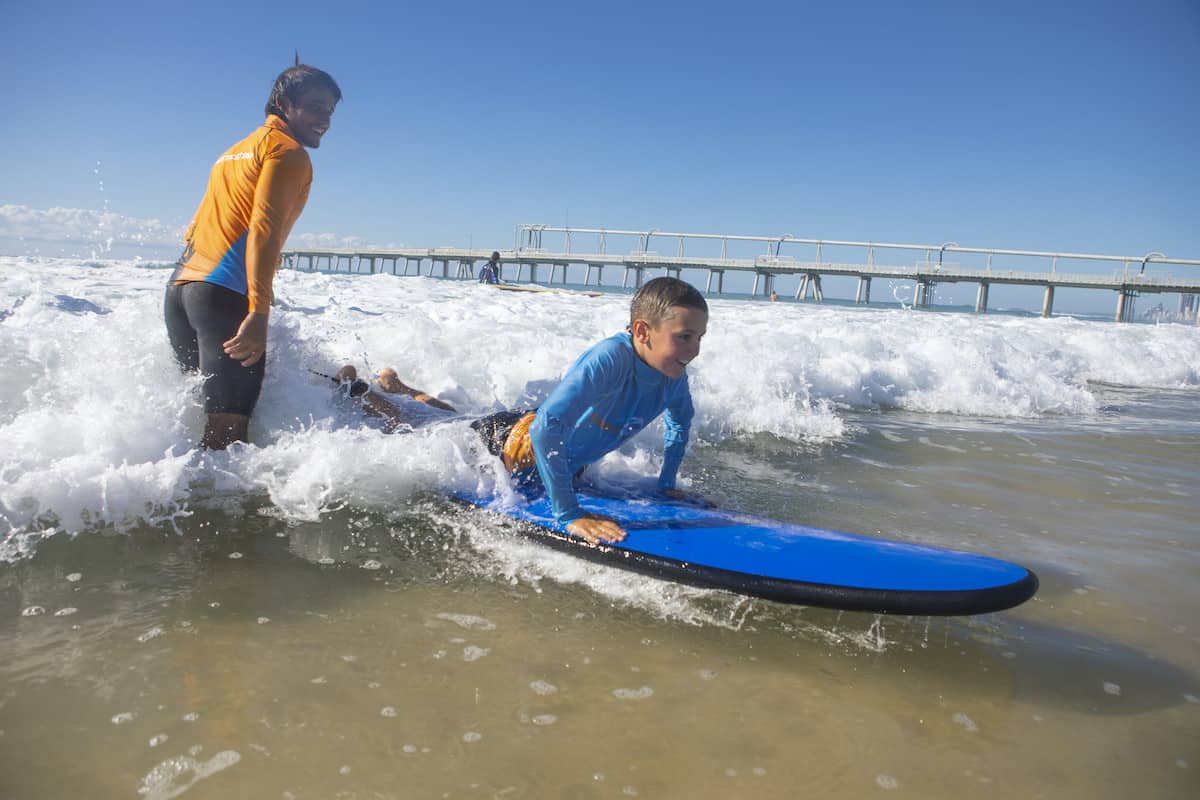 Ask the local surfers what they think. They are always willing to help people find the best surf destinations.
Whether you're a beginner, advanced, or somewhere in between, there's a perfect wave just waiting for you in Australia.
Kirra Point
Kirra Point is located in Queensland, where the film Ticket to Paradise was filmed, transforming the area into a Bali-inspired film set.
I spent two weeks in Indonesia and though I didn't spend much time in Bali, I did fall in love with the vibe in Gili Trawangan, a more laid back alternative.
Offering panoramic views of the coastline, Gold Coast World Surfing Reserve Kirra Point was chosen by all three interviewees for its waves.
Bartholomew talked about how he found many of the world's best waves were measured by Kirra in an article in the Daily Telegraph.
Young said the "wave is truly incredible. Just a gorgeous powerful wave tunnel you can spend long amounts of time in. In truth the ultimate surfing experience we all would love."
Mckinnon shared, Kirra Point is "one of the most perfect point breaks in the world."
Snapper Rocks
Snapper Rocks is the first wave of the Superbank in Queensland, located near Rainbow Bay. River dredging made it what it is today - arguably one of the best beach waves in the world.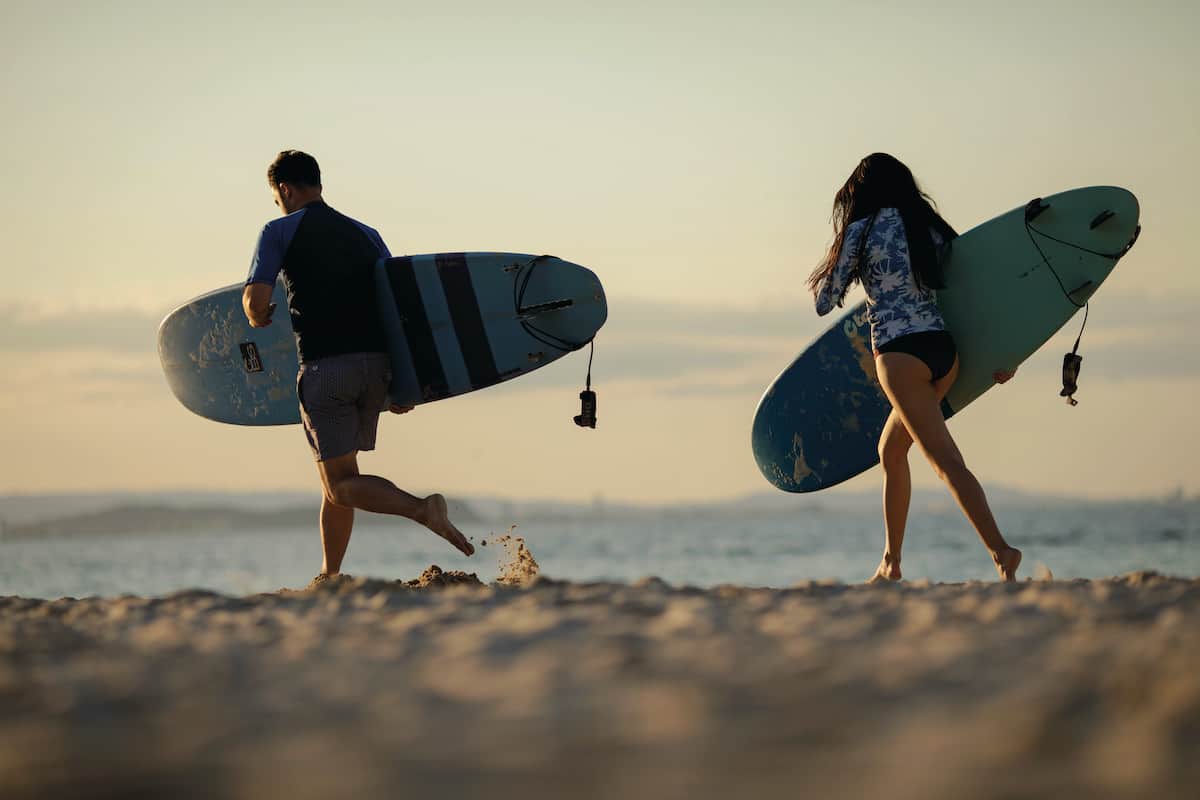 Bartholomew began surfing here at 13. He said on some days the Superbank "connects all the way through as one amazing wave." He's referring to Snapper Rocks, Greenmount, and Kirra turning into one super wave.
And he should know. As a teen, Rabbit surfed this area before, after, and even sometimes during school hours. And that's how world champions are made.
According to McKinnon, Superbank is "one of the longest right hand point breaks in the world."
By the way, If you're visiting Queensland and plan to dive and snorkel, you'll want to explore the Tangalooma Wrecks on Moreton Island.
This artificial reef was created when the Queensland government sank several ships between 1963 and 1984. It's really a bucket list snorkeling and dive spot.
Currumbin
Look beachside from Gold Coast Highway in Currumbin and you can spot The Alley, one of the most famous breaks on the Gold Coast. This is a great spot to learn or improve your surfing.
Currumbin may not be as famous as Kirra or Snapper Rocks, but it's said it can be pretty close as far as enjoyment, especially when the waves are big.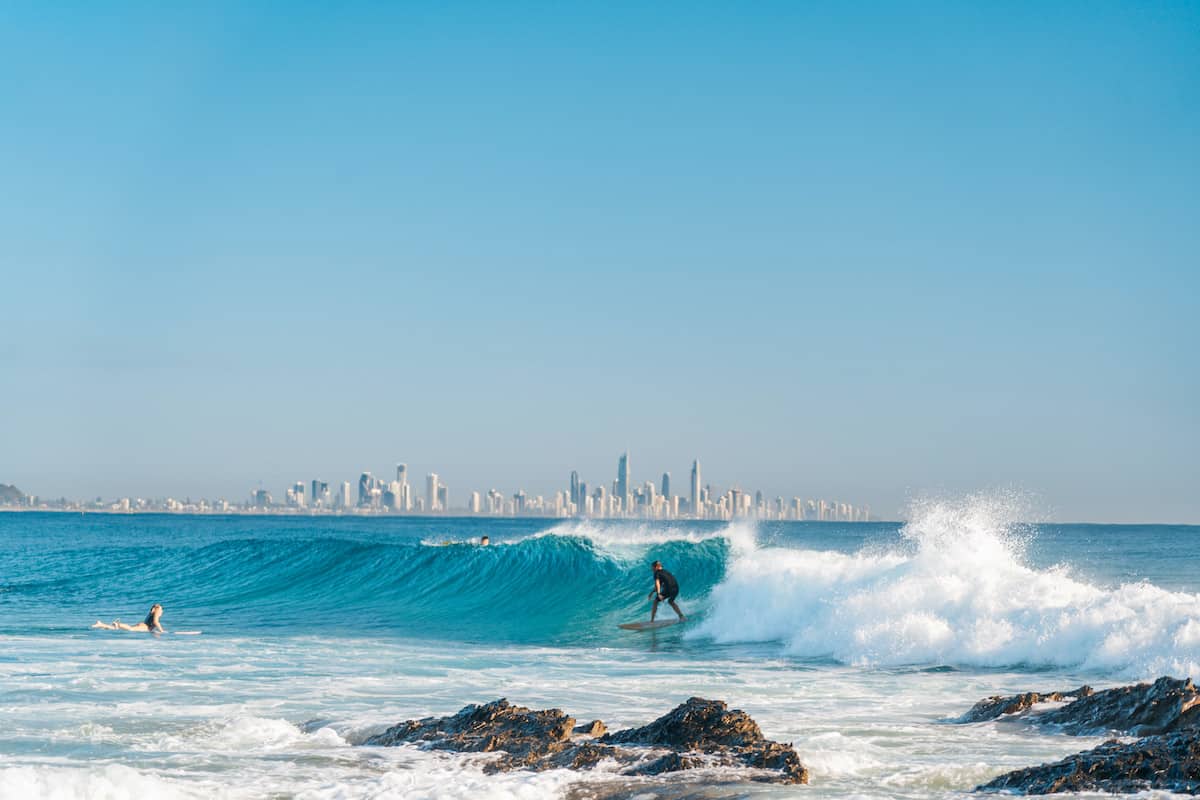 Bartholomew called Currumbin a surfer's paradise.
McKinnon agreed, Currumbin Alley is "predominantly a right-hander point break, perfect for all levels of surfing."
Burleigh Point
Located on the Gold Coast, it's said that Burleigh Point was once the most popular surfing spot in the region.
The Point is located in Burleigh Heads and looks like the perfect place for a surf trip. Even if some people in your group don't surf, it's a great place to just relax on the incredible beaches.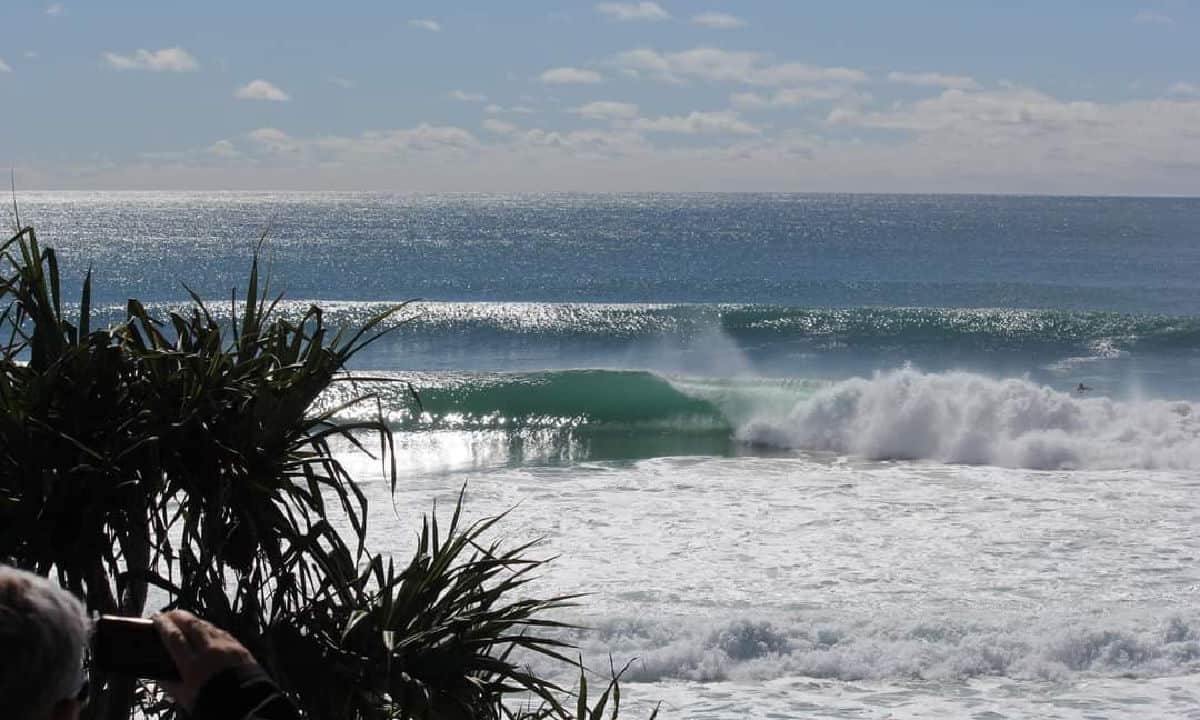 Home to the Gold Coast Open which takes place in April, the event brings surfers from all over the world to compete against Australia's best and take part in the live music and cinematic experiences.
Burleigh Point was one of Wayne Bartholomew's favorite surf spots.
McKinnon said this is the "Famous GC point break for the famous Burleigh barrel!"
Kirra Point, Snapper Rocks, Currumbin, and Burleigh Point are all within the Gold Coast World Surfing Reserve.
Noosa Heads
There are a lot of reasons to visit Noosa Heads, with beautiful beaches being one of the top draws on the Sunshine Coast.
Noosa National Park covers more than 9,800 acres of beautiful forests and dunes, perfect for outdoor adventures like hiking, paddling, and catching the perfect wave.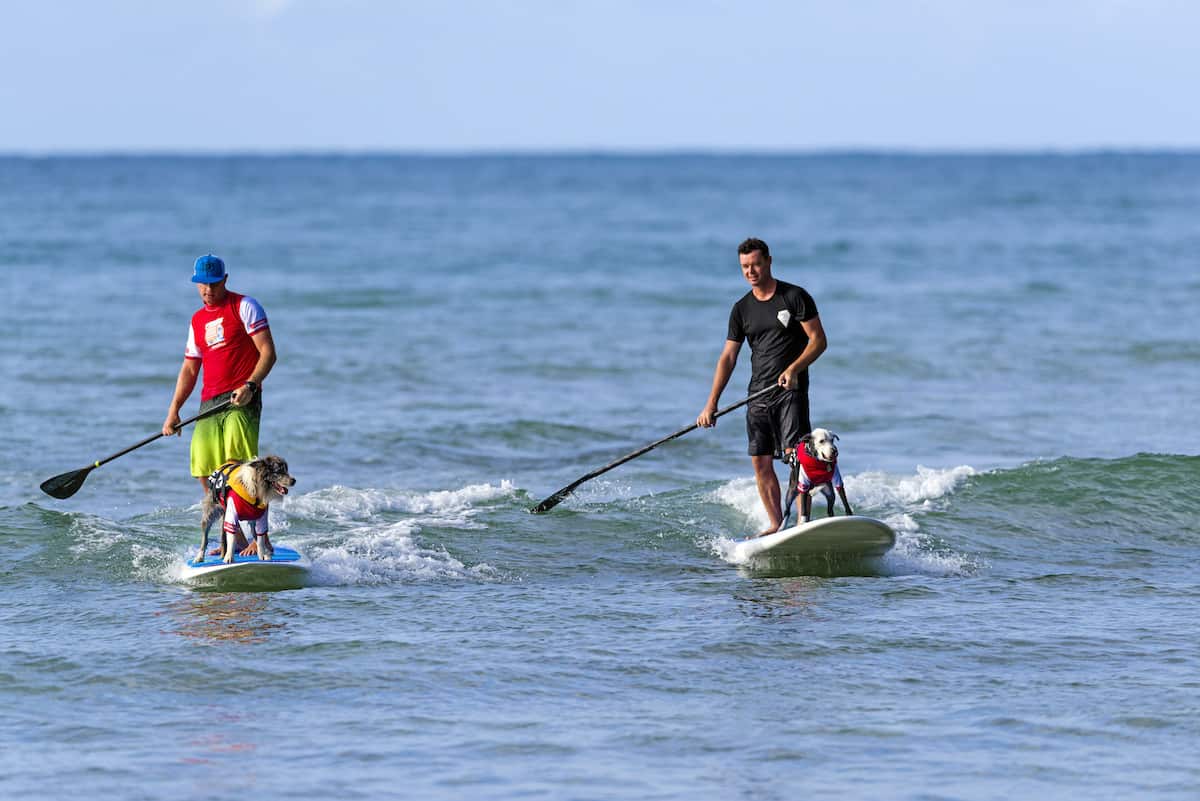 Noosa Everglades is home to one of two of the only everglades ecosystems in the world, the other being just a few hours from me in Florida. Lucky for them, the gators are here, and you won't find them in Noosa.
McKinnon shared Noosa was one of his top picks, with "First Point, National Park, and Ti Tree all right-handers for all levels."
Young said Noosa Heads is "undoubtedly one of the greatest point breaks in the world. It's hard to go past one of these many waves as a favourite break. The only drawback can be the crowds, especially during the holiday period."
Byron Bay
Byron Bay was a favorite for top surf locations among our experts, though we did hear differences of opinion on the perfect spot.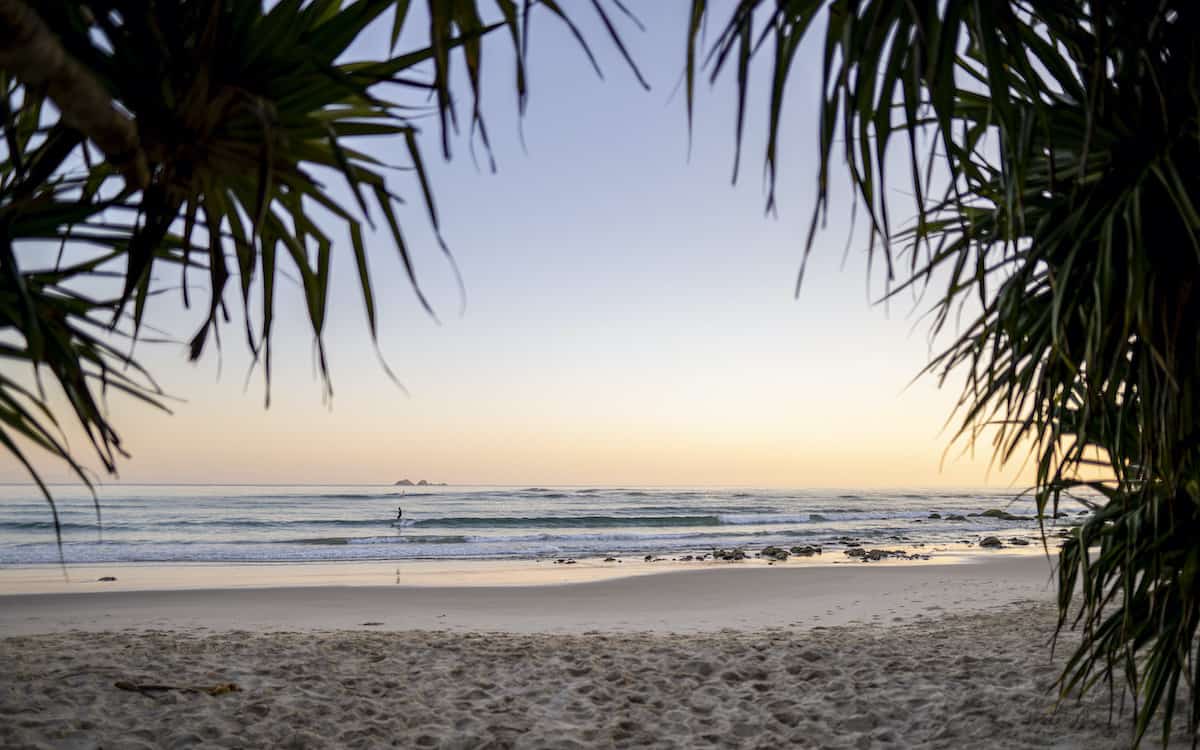 Young said he preferred Wategos Beach and The Pass:
"Tucked away ever so slightly and never as busy as its neigbouring wave, The Pass, Wategos is long, playful, and fun for all levels and ages." It's "considered predominantly a longboard style wave."
A world renowned sand point break, The Pass is "great for a long or short board. The top section of the wave is more powerful and suited to a shortboard, and further inside the wave is perfect for a longboard."
McKinnon said his choice was Broken Head as it's a "fun right-hand point-break for all levels."
Palm Beach
Palm Beach, located in Sydney North, is perfect for beginning surfers and a spot you can visit if your only destination is the capital of New South Wales.
Planning to go? Check out where to stay in Sydney.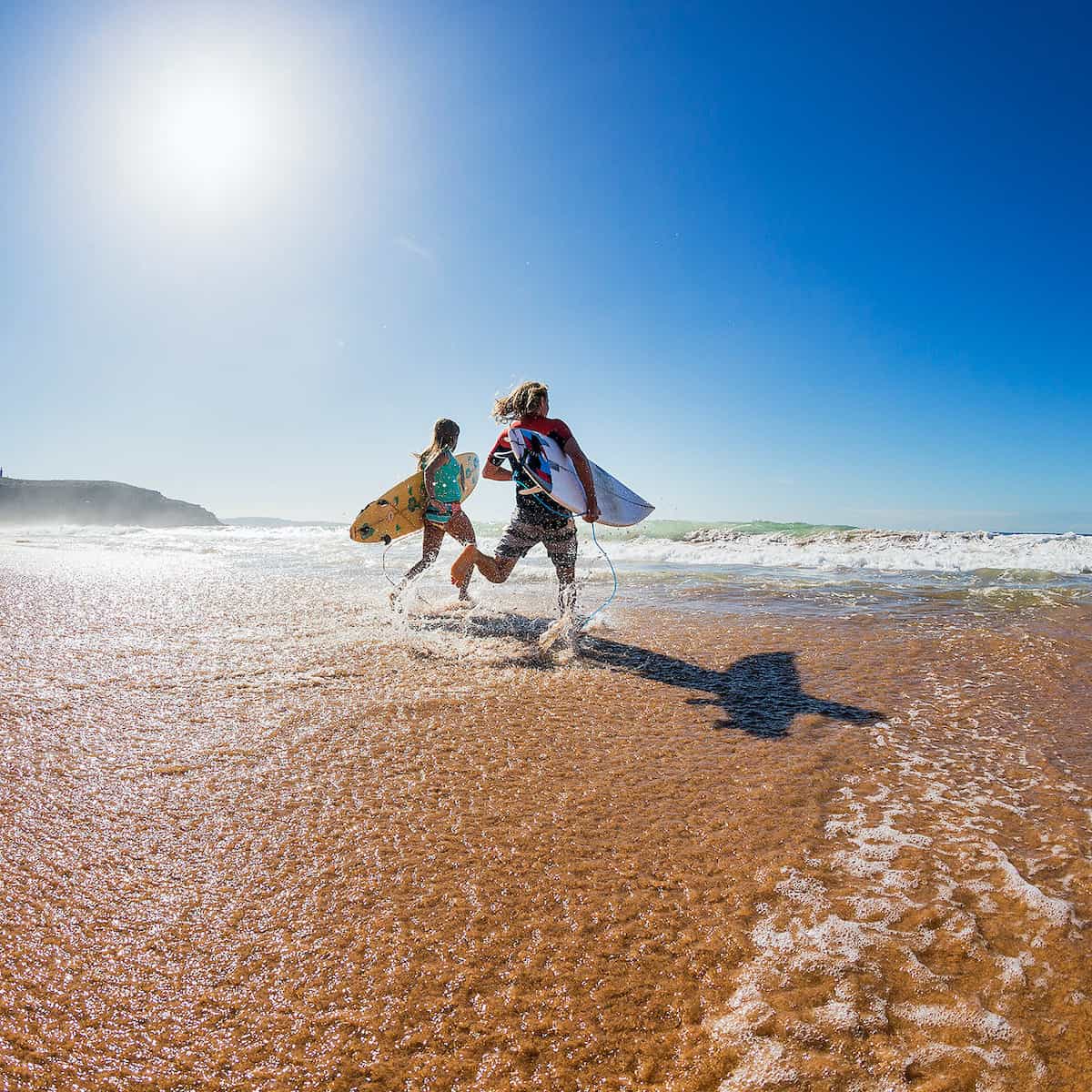 Located at the farthermost end of the northern beaches peninsula, Young shared, "Palm beach has really fun waves and is often a good wave choice when so many other spots nearby are wind affected."
Other Favorite Surf Spots In Australia
Other favorite surfing locations in New South Wales included Bungan Beach (a little harder to reach), Seal Rocks (great for beginners), and Angourie (a designated National Surf Reserve.)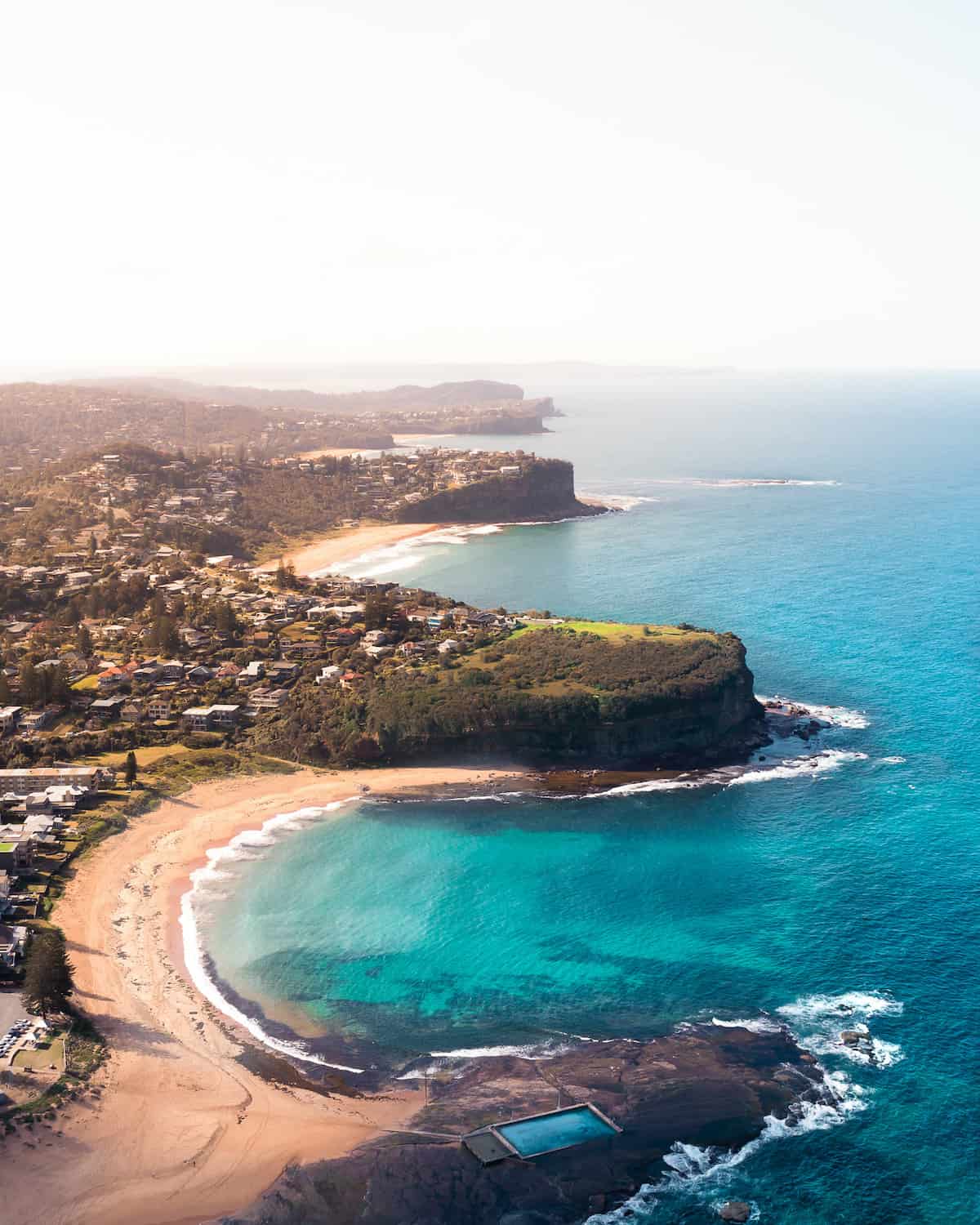 Also mentioned was Kiama, home of The Kiama South Coast NSW Open. Young shared, "This region is stunning and there are lots of great waves to be had, a relaxed laidback area with bountiful waves."

In Western Australia, Beau Young said of Margaret River, "Pulling on a wetsuit and surfing some powerful larger Hawaiian-style waves in Australia is always a lovely thing as a surfer." Margaret River is a National Surfing Reserve.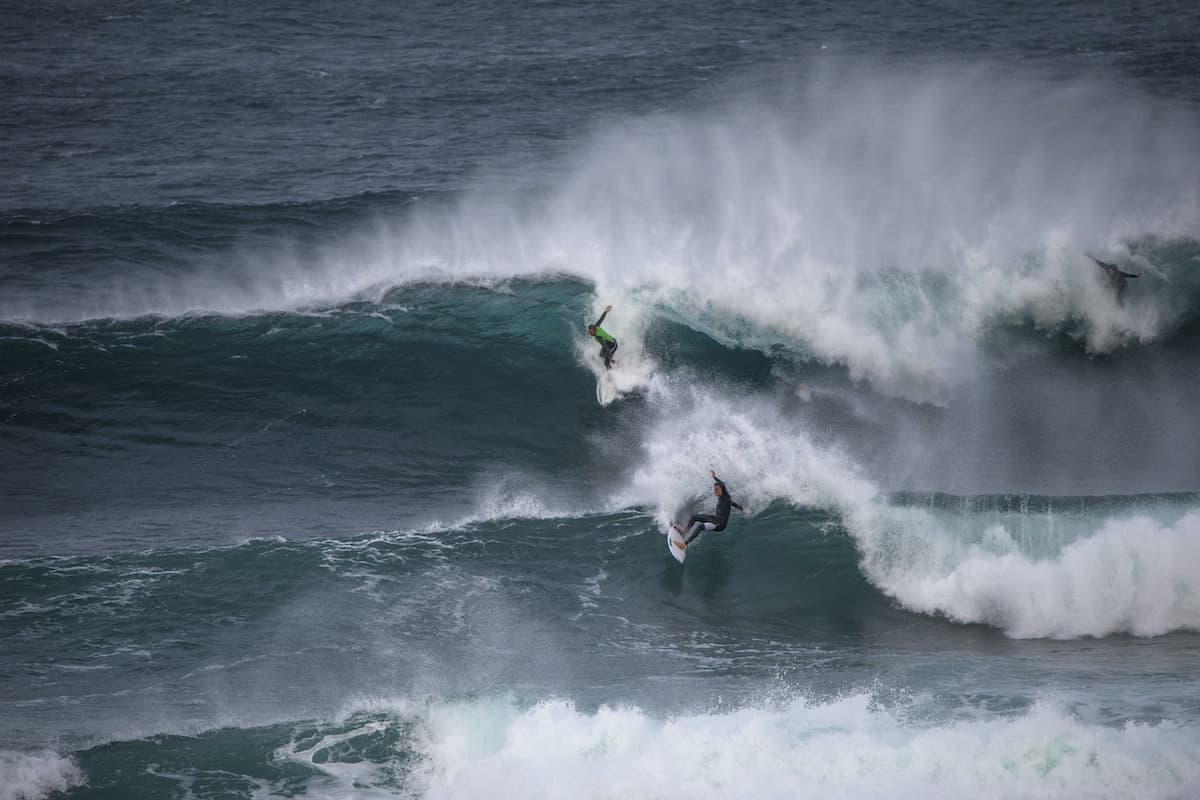 Also in WA, McKinnon said, Gnaraloo is a "serious lefthand reef break for experienced tube riders." Advanced surfers, take note!
In the southeastern part of the country, Bells Beach in Victoria is legendary. Young said, "It may sound a bit cliche as it is such a famous spot but it really is a fantastic right hander. A beautiful part of the world with the great ocean road beginning right there."
Australia is definitely one of the most beautiful parts of the world I've visited, and there's so much more to see. I look forward to getting back to Oz soon.
For more on surfing including where you can take a lesson, see the ultimate surfing guide to Australia.
Frequently Asked Questions
Why is Australia known for great surfing?
Australia gets giant swells that come from all directions and has the world's second-largest number of surfers, after the United States.
When is the best time of the year to surf in Australia?
You can surf year-round in Australia, though it's said the best time for beginners is May through September.
Do you need a wetsuit to surf in Australia?
It depends on the time of year and where you're surfing. In summer, Gold Coast temps are warm, so you may only need a rash guard. Check the weather and water temps before you go, and hit a surf shop for a "steamer" (full arm and leg wetsuit) if you need one.
Like our content? Follow us on Pinterest!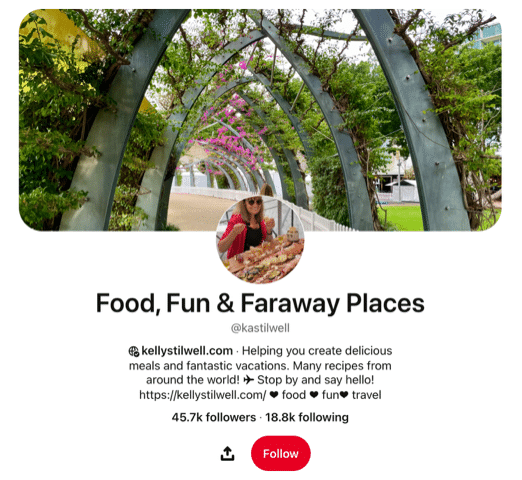 More Destinations in Oceania