These omelet bites are so easy to make and really delicious! I often make food for our worship team at church. Usually, it's muffins and fruit, but they really enjoy hot food now and then.
I had seen photographs on Pinterest of omelet bites made in muffin tins, so thought I would try it. They were fantastic and so easy to grab and go. I didn't even have to provide silverware!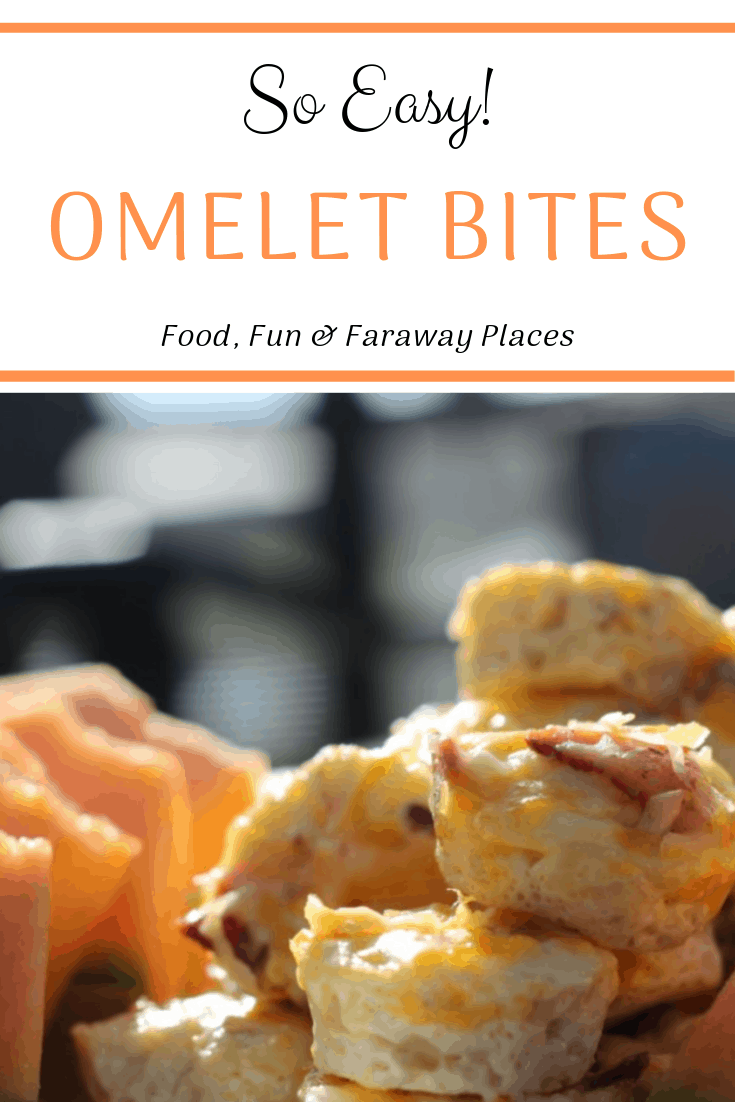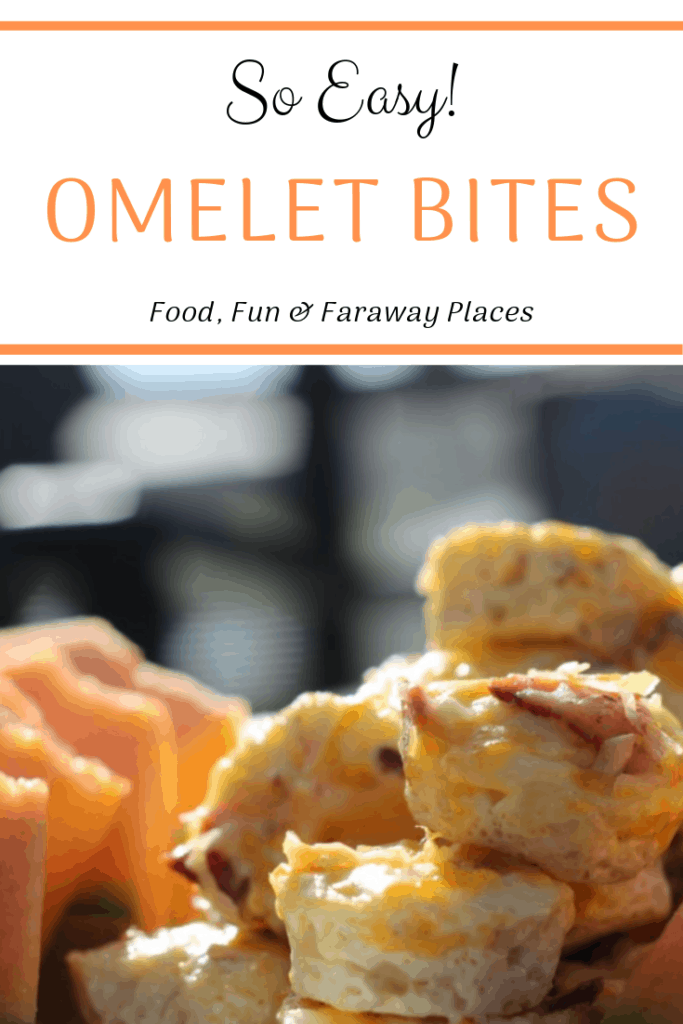 How to Make Omelet Bites
Preheat over to 350º.
Cook bacon until crisp and let cool.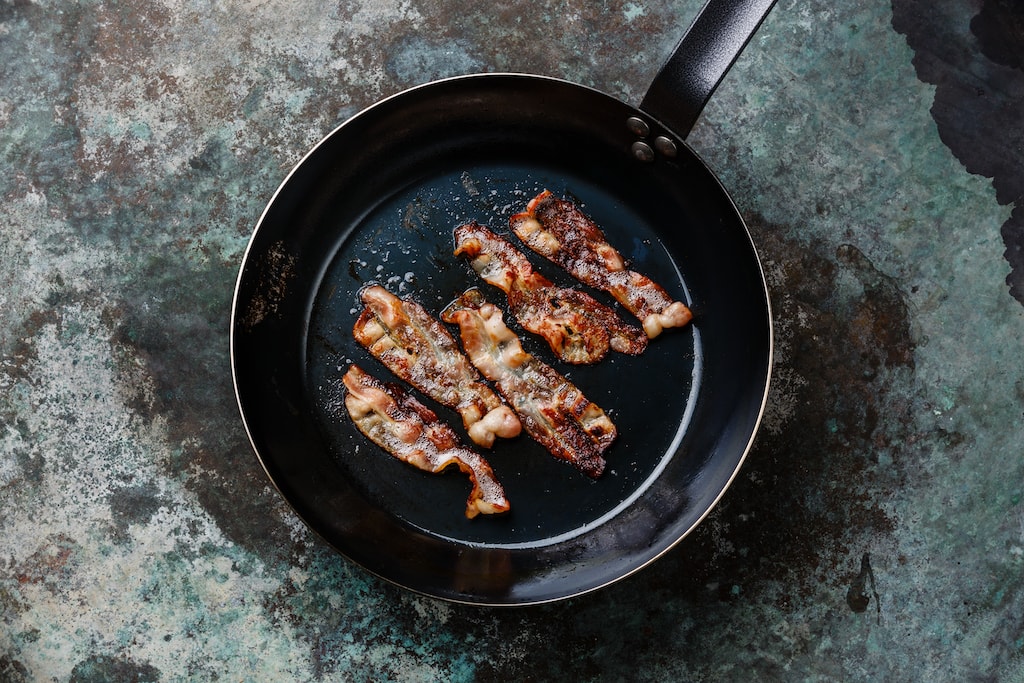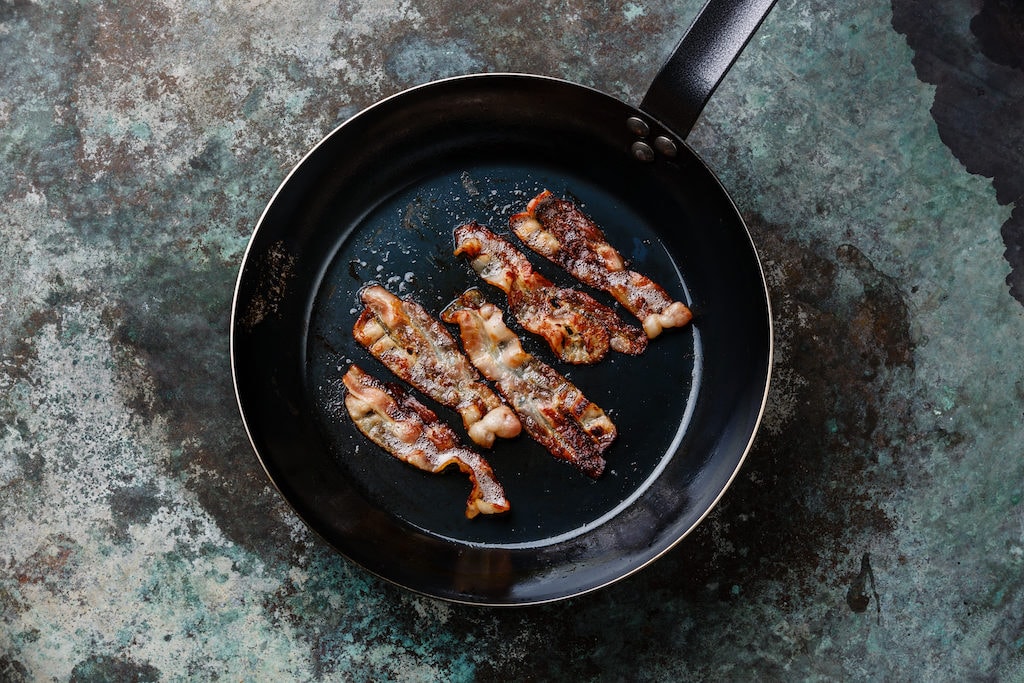 Whisk eggs and egg whites together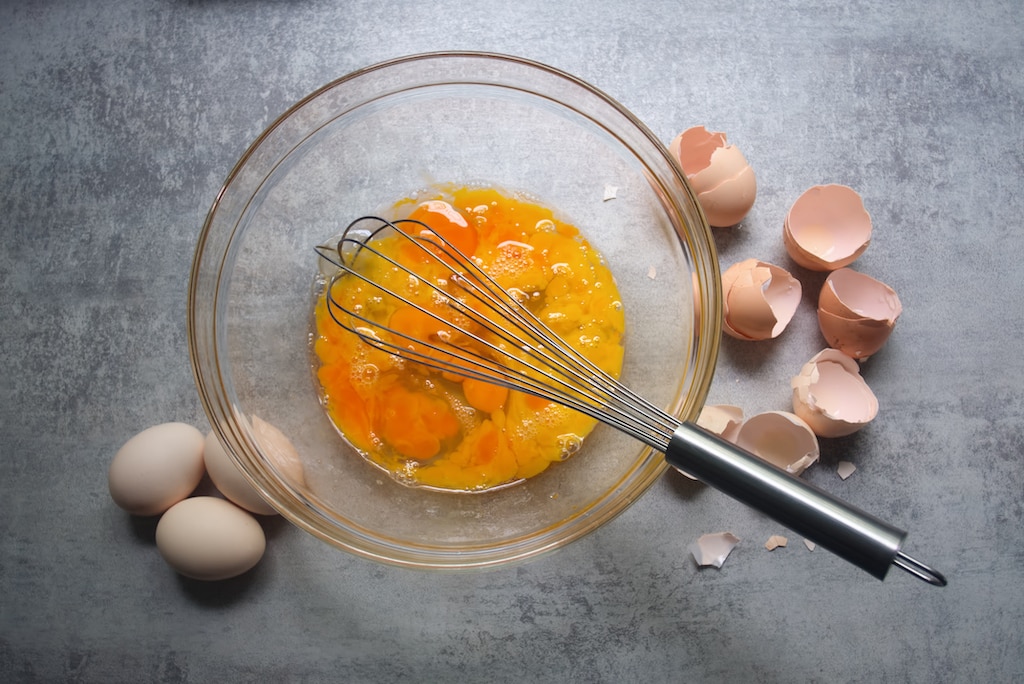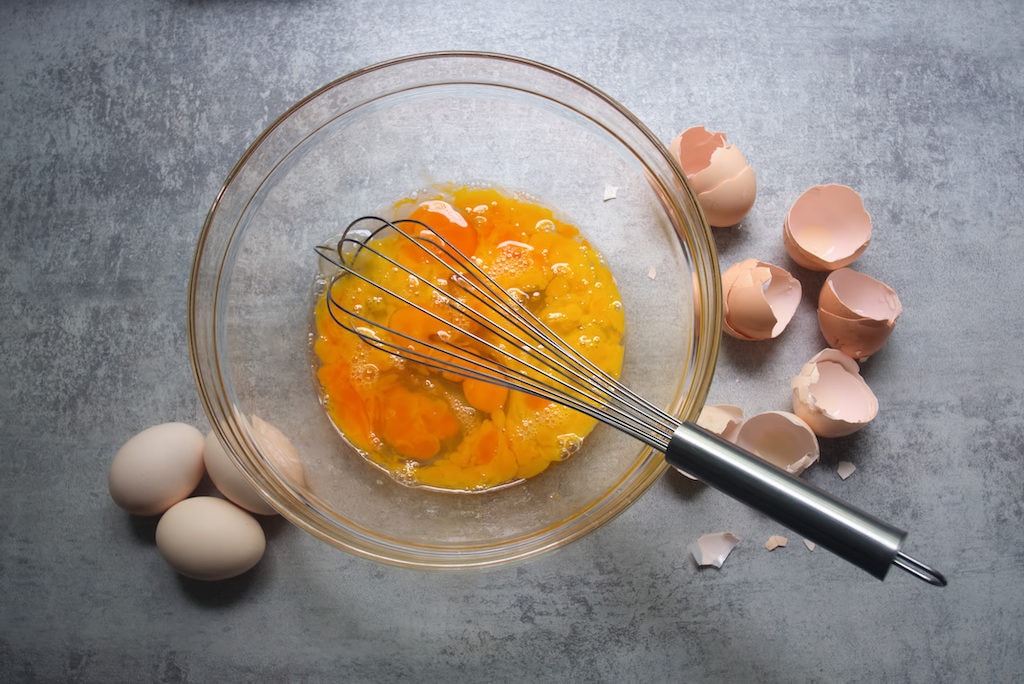 Add cheese, hash browns, and cooked bacon to egg mixture. (Hashbrowns can be cooked or straight out of the package, but I think browning them gives it better flavor!)
Spray mini muffin tins with non-stick spray or coat lightly with olive oil.
Fill tins ¾ of the way to the top and bake for 10-12 minutes or until firm.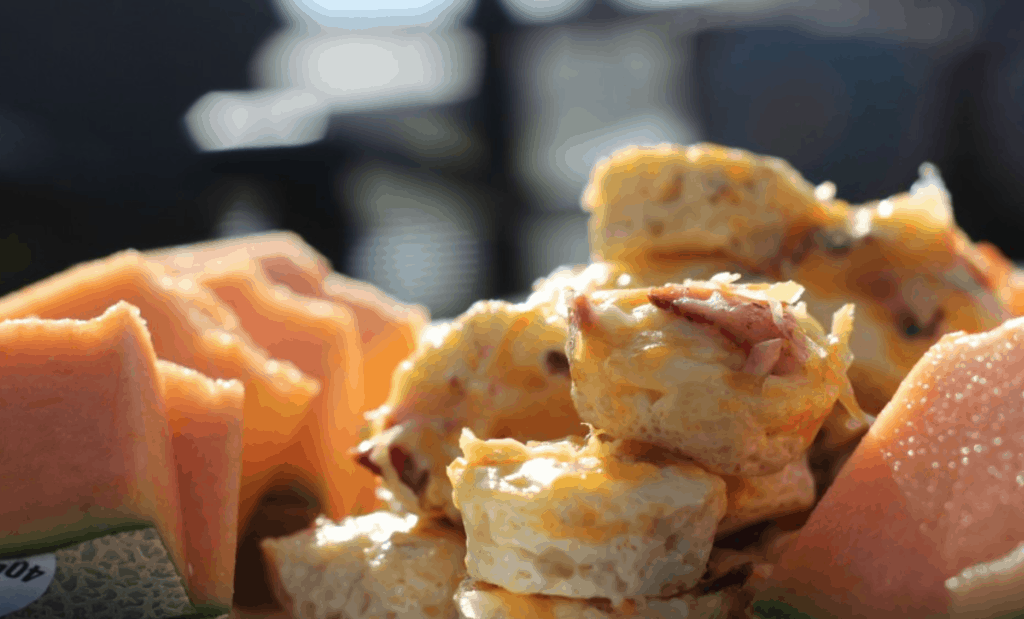 Don't Do This!
I do have to share a quick story about this. I made the omelet bites and put them in a crockpot, layered between tin foil to keep them warm.
I also cut up a large cantaloupe into bite-size pieces, leaving the rind on for easy grabbing. Everything was ready to go. My husband put the food in the trunk of his car.
When he got in his car, it wouldn't start. I decided I better get the food out of his car and put it in mine, but his trunk wouldn't open! The electrical system in the car went haywire, with every light flashing. I tried and tried, but the trunk would not open. This can only happen to me!
Fortunately, I had made a lot of the egg mixture as I wanted to make more of these for breakfast for my family for the week. I made another batch of bites, cut up more fruit, and ran them to church. What a morning! And yes, when the guy came to tow the car, he managed to get the trunk open in time to rescue the food!
I hope you enjoy these omelet bites as much as we did. They really are perfect for a quick breakfast, and for taking a treat to someone special. Think about making them for your team at church. They would also make a wonderful back to school breakfast for teachers!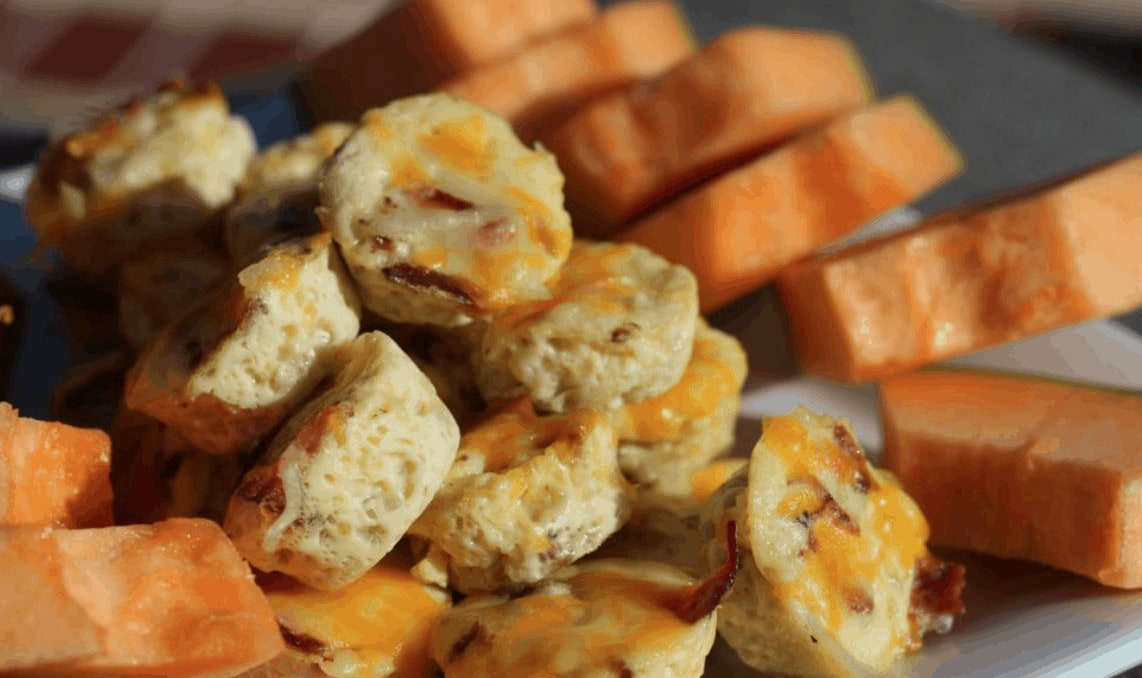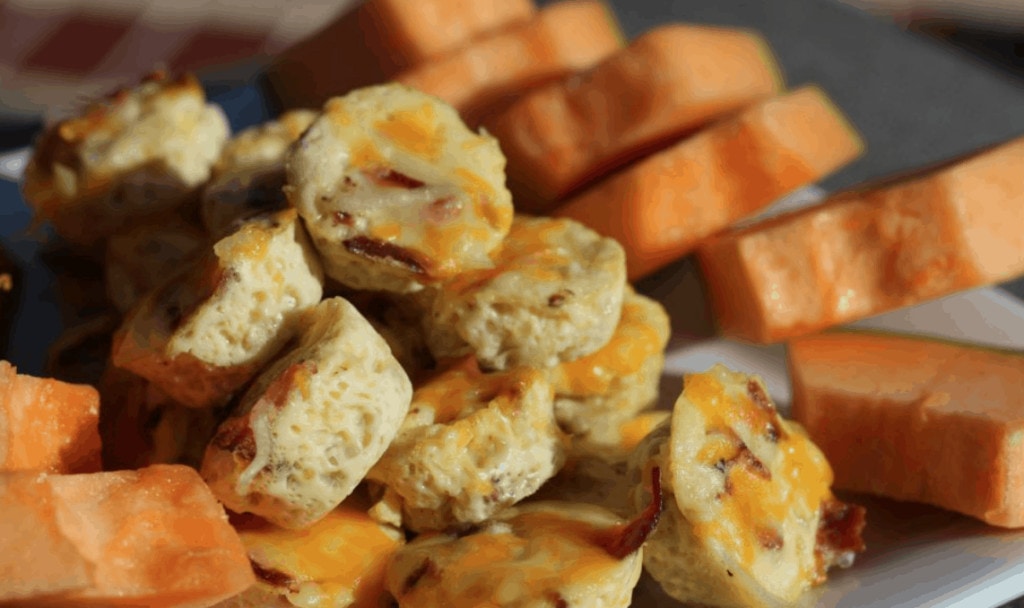 Freezing Omelet Bites
You can absolutely freeze these omelet bites. Believe it or not, cooked eggs can be frozen for 6 months to a year! These never last more than a month in my house. I would probably double the recipe and have a few breakfasts ready to go in the oven for busy school mornings.
What Can I Add to Change Up the Flavor?
There are so many possibilities for changing up these omelet bites depending on what your family likes. You could add peppers and onions and serve with salsa. Add spinach and feta for a different flavor. Instead of cheddar cheese, try swiss or gouda. Most vegetables would add great flavor. Try broccoli or mushrooms for another nice combination. Let me know what you try!
A printable list is below.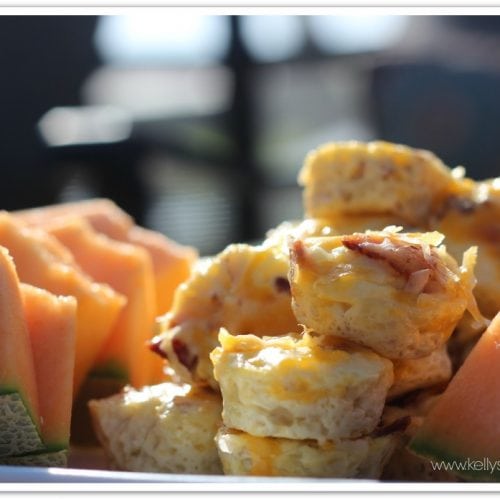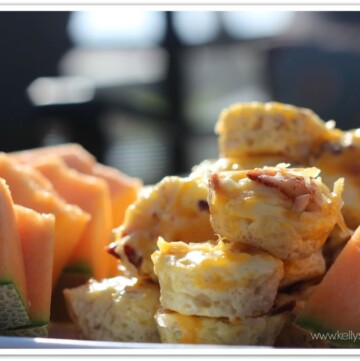 Omelet Bites Make an Easy & Healthy Breakfast
These egg bites are so easy to make an perfect for a grab & go breakfast on busy mornings! They are also great for a crowd.
Print this Recipe
Pin this Recipe
Rate
Ingredients
4

eggs

12

egg whites

1

pound

bacon

1

cup

cheddar cheese

2

cups

hash browns

Hashbrowns can be cooked or straight out of the package, but I think browning them gives it better flavor!

Nonstick cooking spray
Instructions
Preheat oven to 350 degrees.

Cook bacon until crisp and let cool.

Whisk eggs together.

Add cheese and hash browns.

Spray mini muffin tins with nonstick cooking spray.

Crumble bacon and add to mixture.

Fill tins to ¾ way to top.

Bake for 10-12 minutes, or until bites are firm.
Notes
If serving for a crowd, place in layers between sheets of tin foil in crockpot on warm. The bites can also be refrigerated for up to 3 days, and freeze well for up to one month.
I know I'll be making these again soon, and they will be on my go-to list for making breakfast for a crowd. I hope you enjoy them, too!
Looking for more breakfast ideas? This Breakfast Mac and Cheese will be a new favorite with everyone!  Here's a roundup of 27 Delicious Breakfasts and if you love blueberries, you've got to try some of these Blueberry Breakfast Recipes!