I was invited to a Laika Studios Set Visit for Kubo and the Two Strings and to interview Travis Knight and Arianne Sutner, creators of the film. I knew Laika Studios made films that were unique, but seeing the set and chatting with the filmmakers made me realize why films from Laika are so incredible.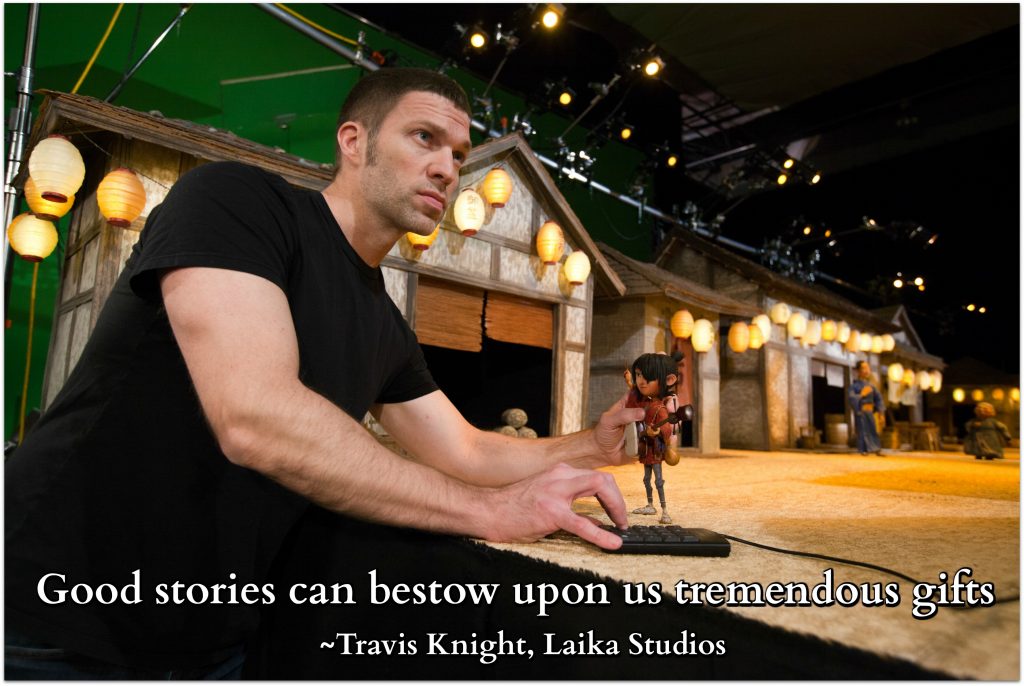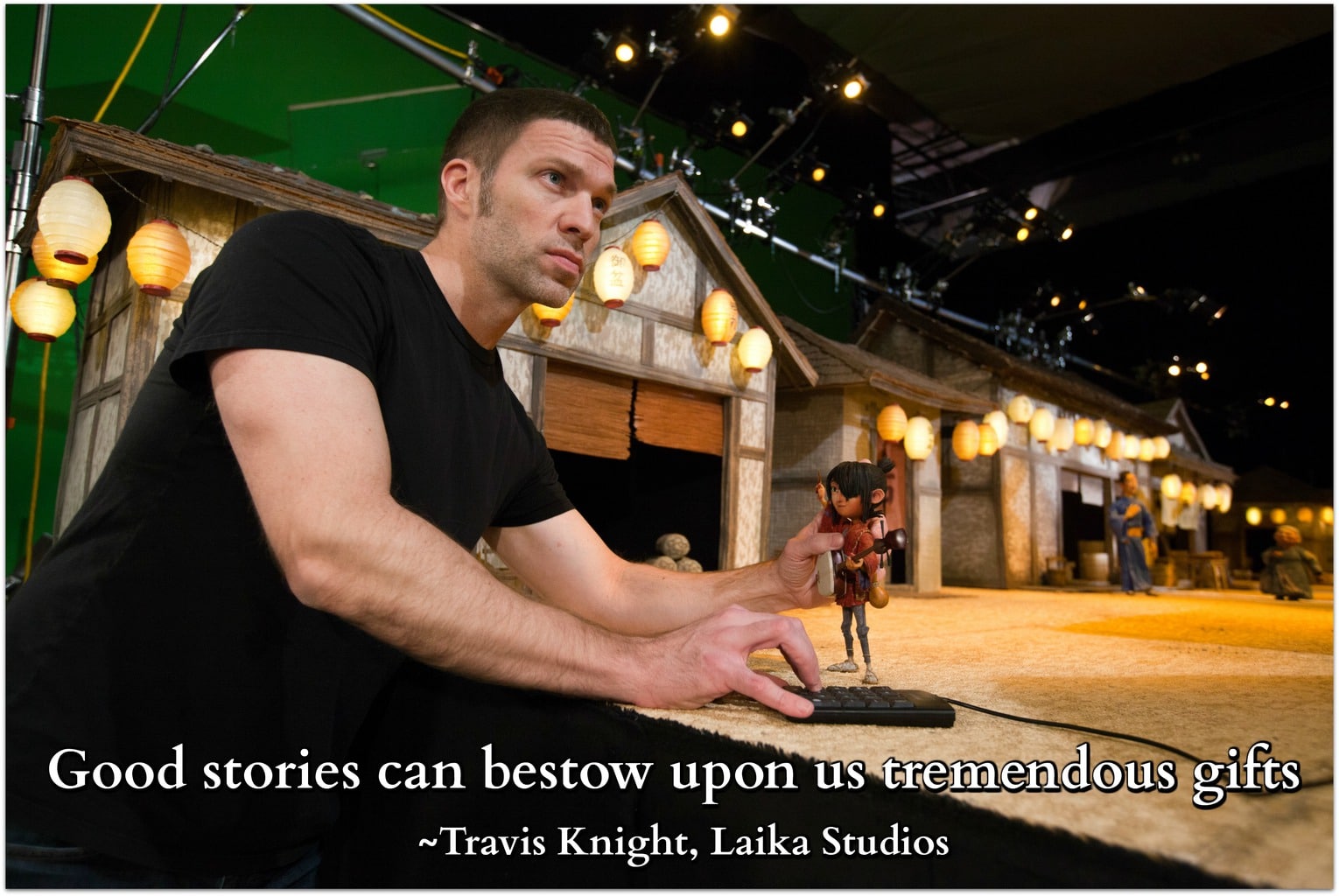 Over the long five years it took to complete Kubo and the Two Strings, the film became a love letter to Japanese culture from the entire team of artists, craftspeople, engineers, and technologists who worked on the film. It truly is a work of art, and I can't wait for you to see it. Bring tissues. Just sayin'.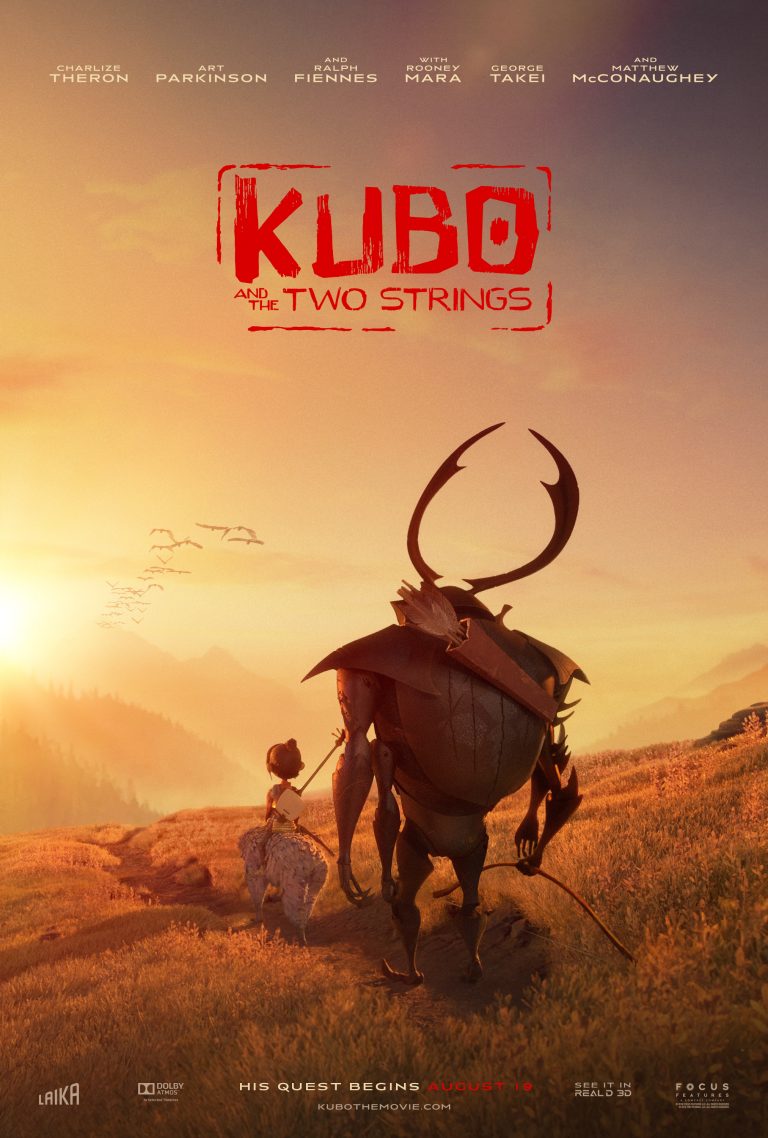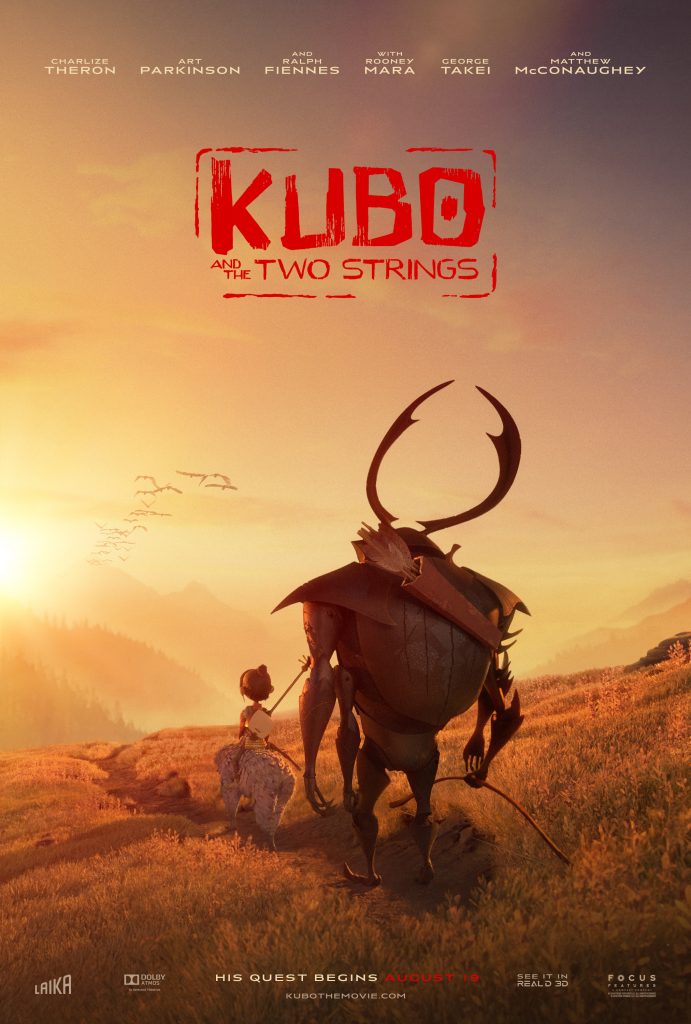 We began the tour by spending time with Costume Designer Deborah Cook. Deborah has been in the stop motion animation industry for twenty years, and was nominated for a Visual Effects Society Award for Laika film, Coraline.
In fact, each of the last five features she has worked on were nominated for Academy Awards, including Coraline, The Boxtrolls, ParaNorman, Corpse Bride, and Fantastic Mr. Fox. If you've seen these films, it's easy to understand why they were nominated. My daughter, who is studying to be an animator, would say these are her top five favorites.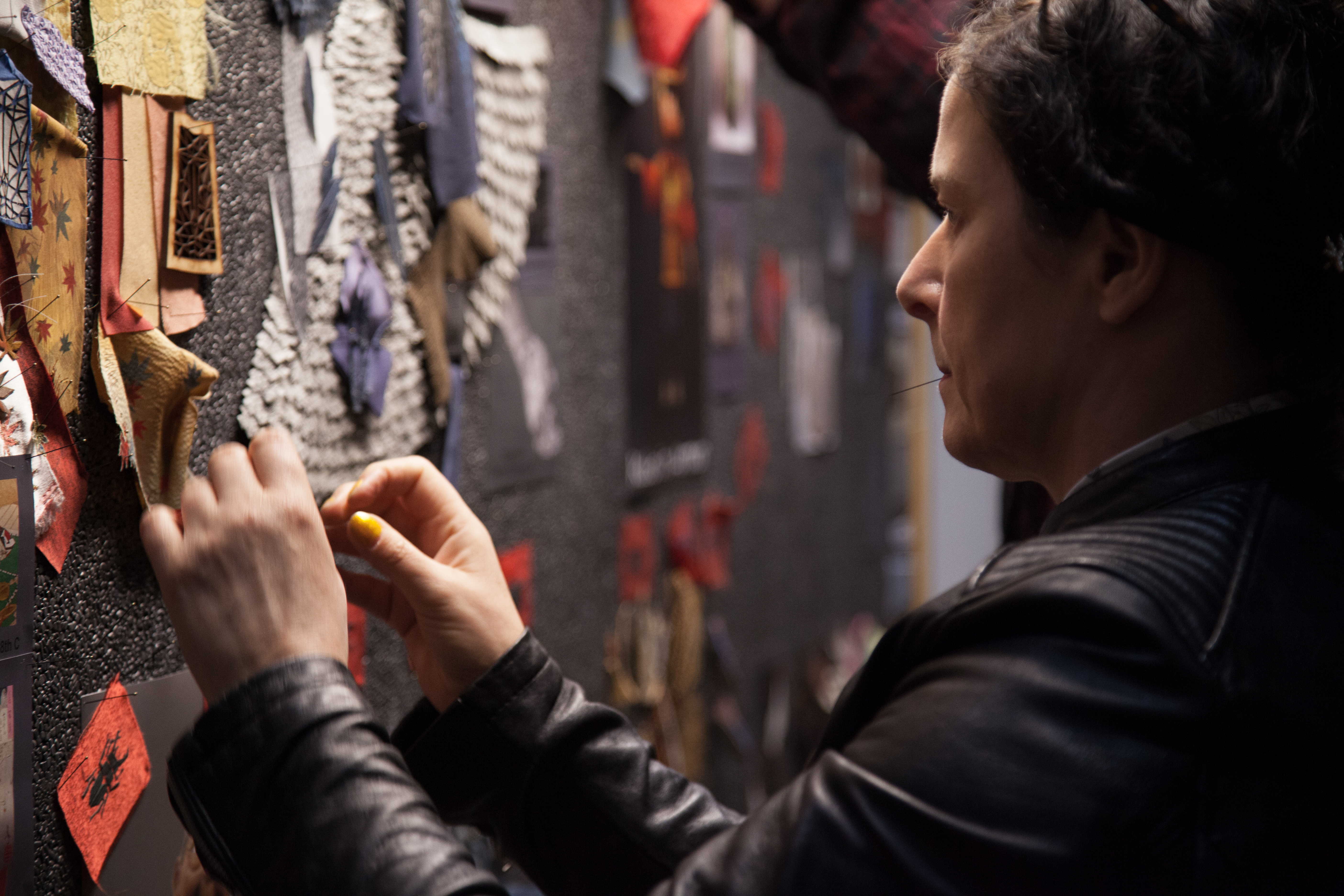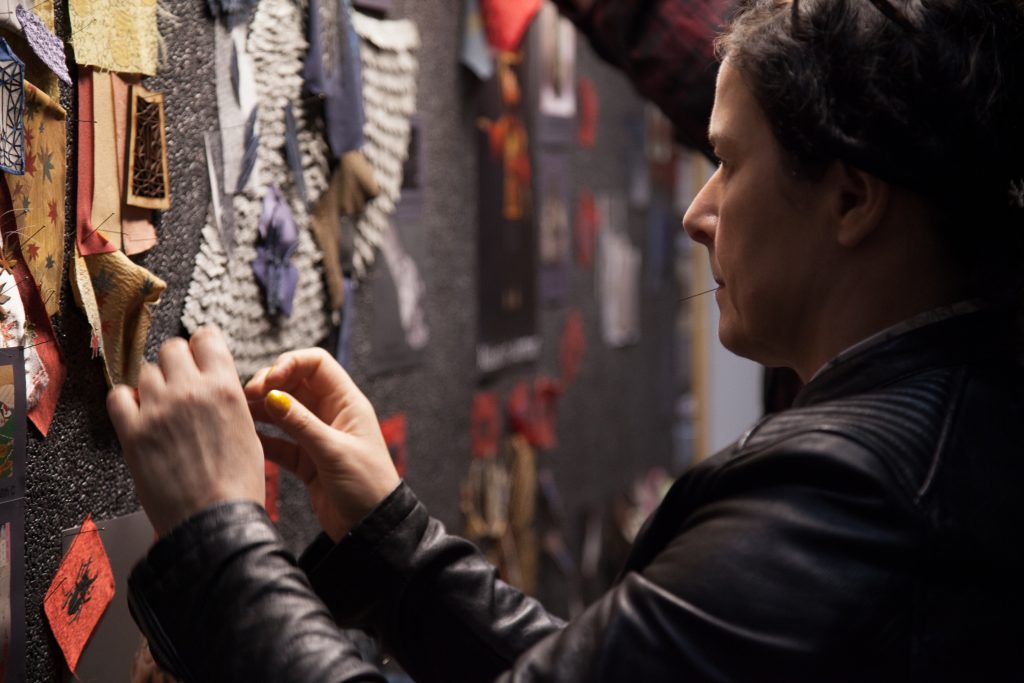 Looking at the creatives board for Kubo and the Two Strings made me wonder if Deborah played with paper dolls when she was young. I loved cutting out the clothes and creating a wardrobe with the designs in a paper dolls book. I think it's a lost art.
Deborah did love designing clothes when she was little, so I wasn't far off. However, seeing the pieces Deborah created for the characters of Kubo was mind-boggling. All the pieces on the board are from the costume designs Deborah created.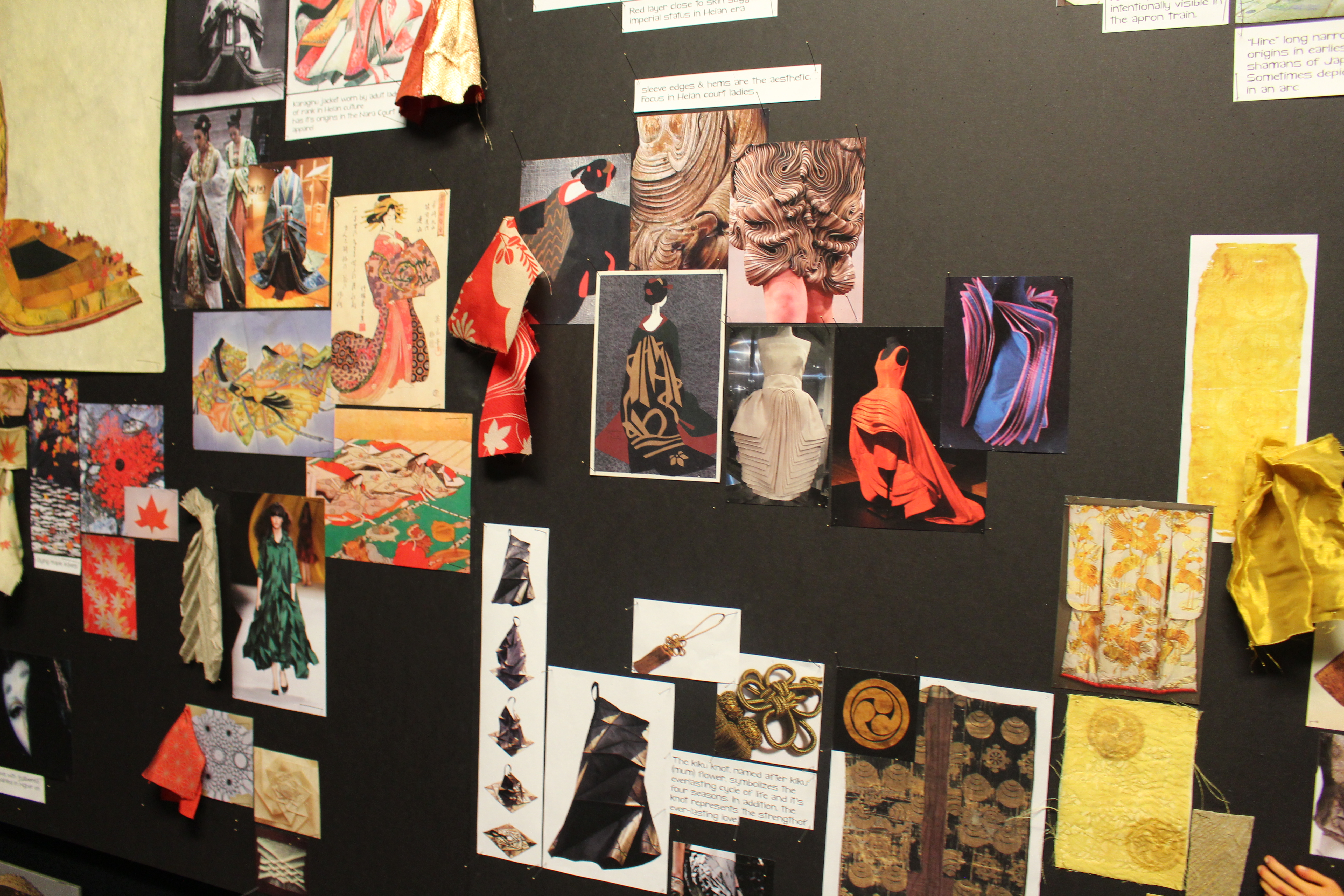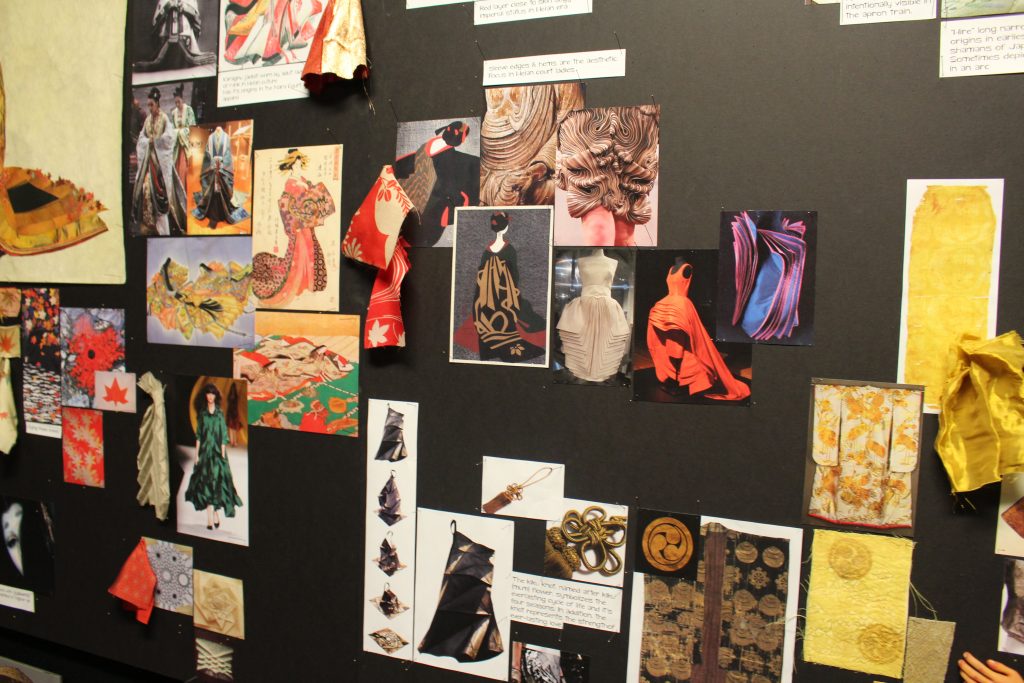 Next we met with Georgina Hayns, Puppet Fabrication Supervisor. Kubo and the Two Strings is Georgina's fourth film with Laika. She also supervised puppet fabrication on The Boxtrolls, ParaNorman and Coraline.
In the business for over twenty years, you've surely heard of some of the TV shows she's worked on, like Noddy, Bob the Builder, and the Oscar-nominated short film, Periwig Maker.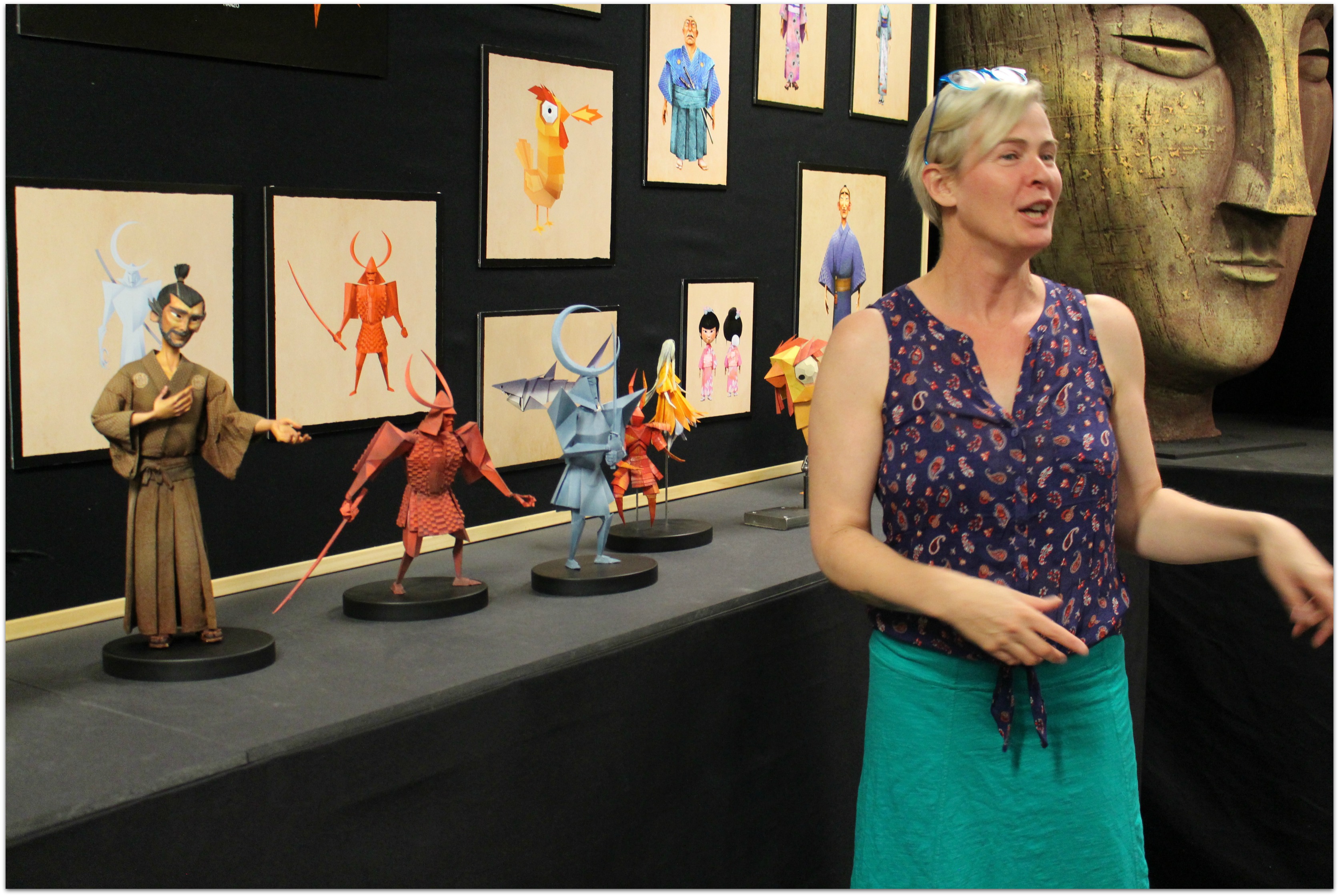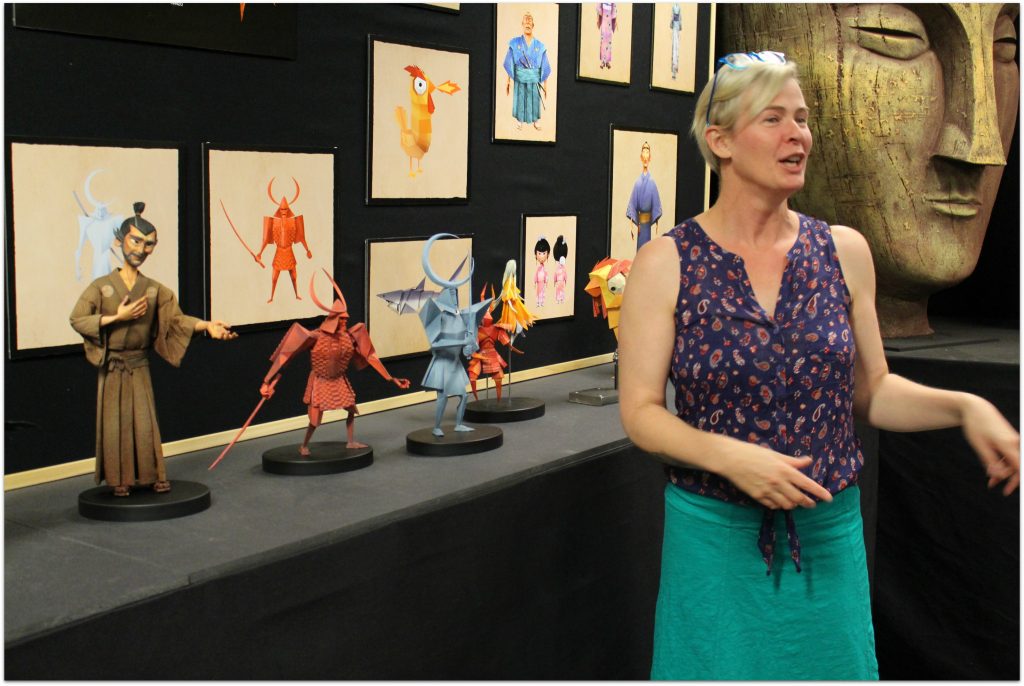 Georgina showed us the detail on Monkey, and we were just blown away. Can you imagine how long it took to make this puppet? And that was only one of the many puppets in this film.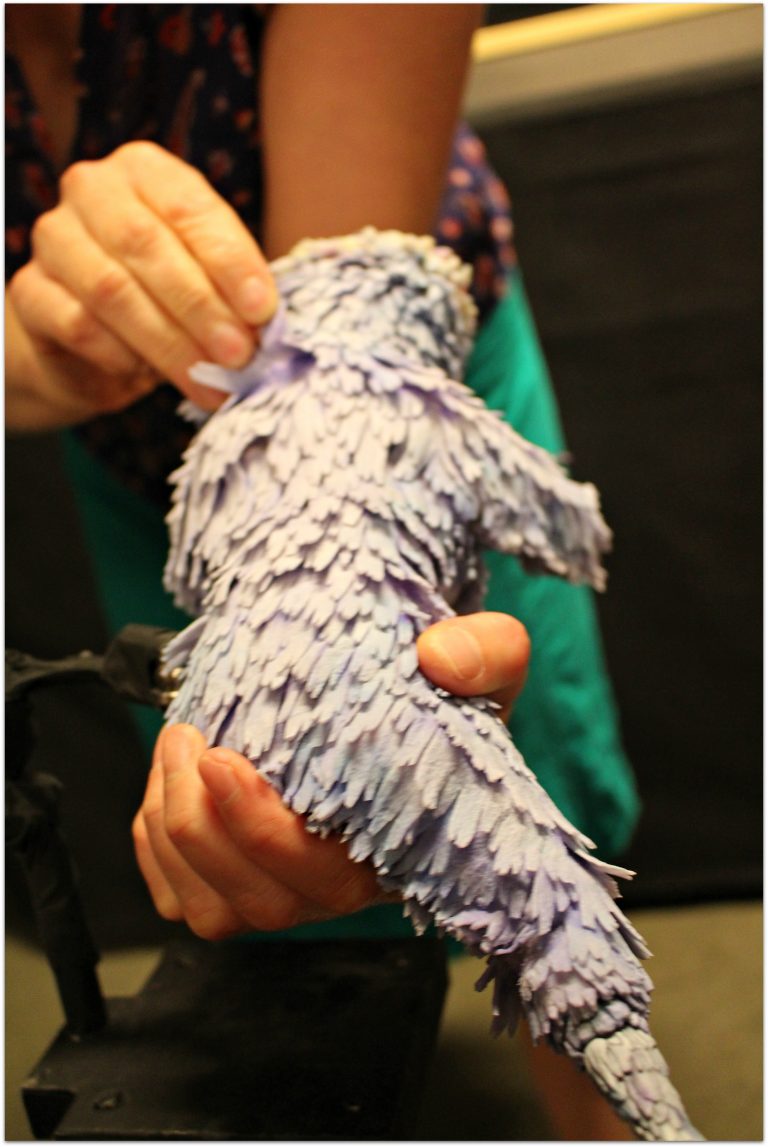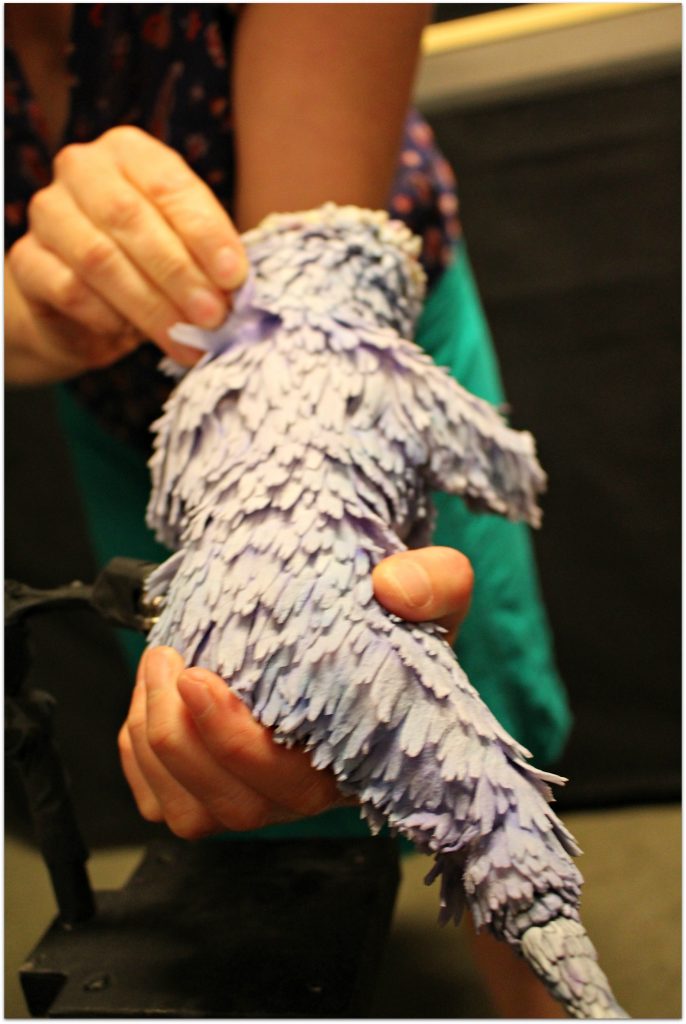 Not to mention the detail on this cape.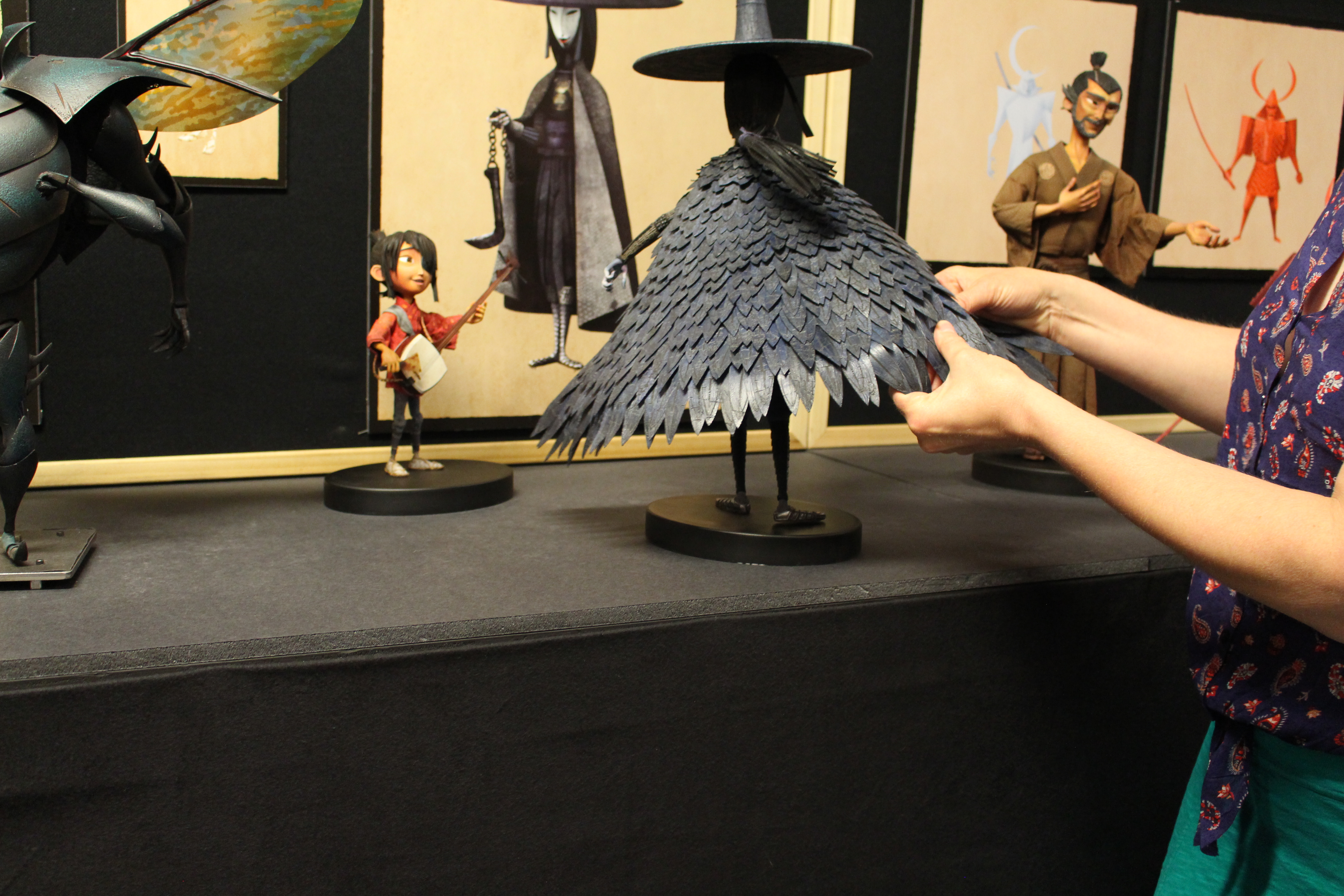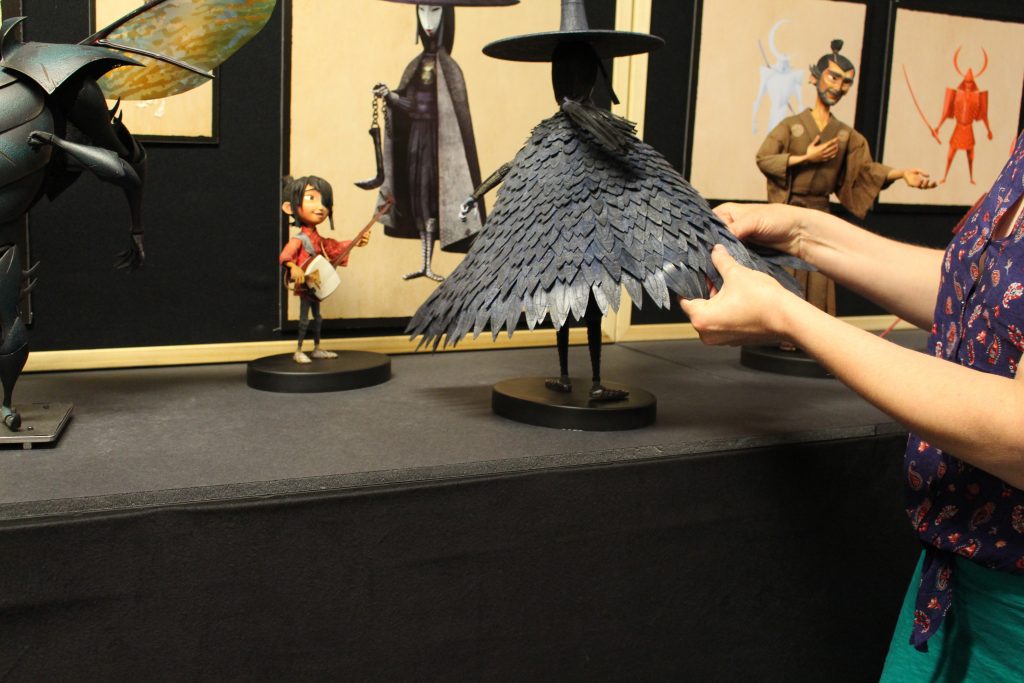 Next we met with Brian McLean, who is the supervisor for Rapid Prototype. You may be asking, What in the world is rapid prototype? I know I was!
To put it simply, Brian's department brings together the complex technological elements of 3D printing with animation.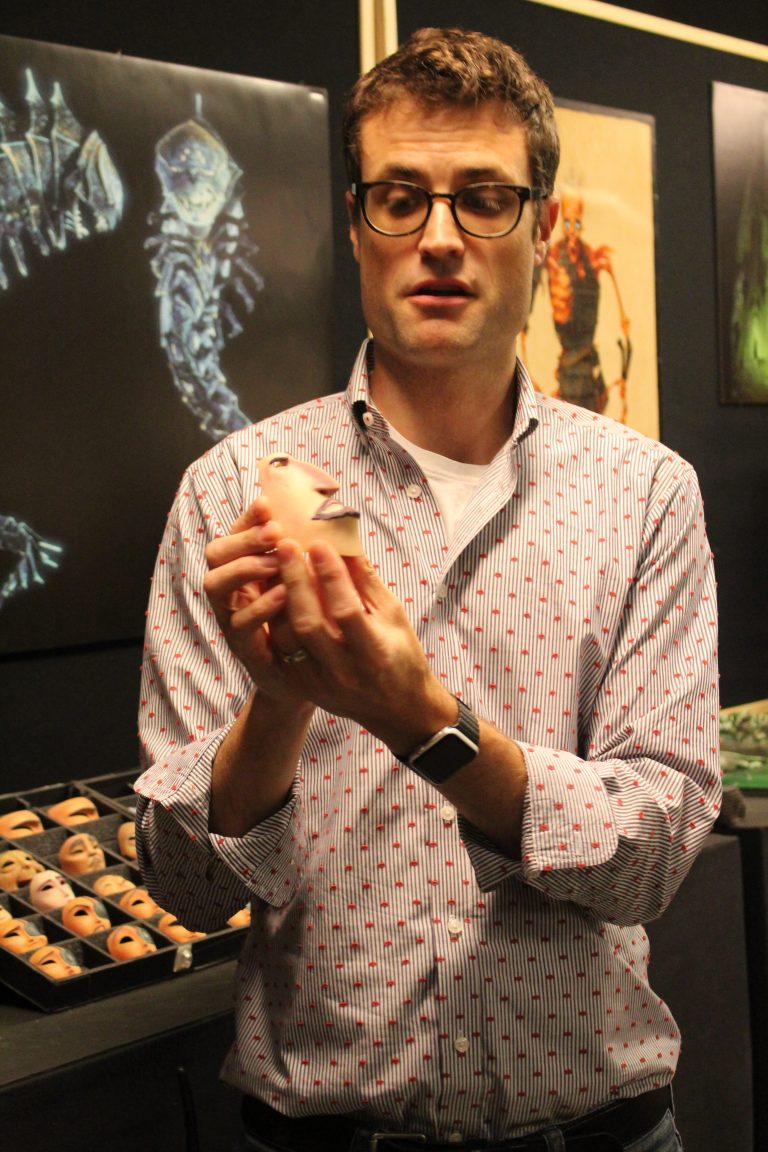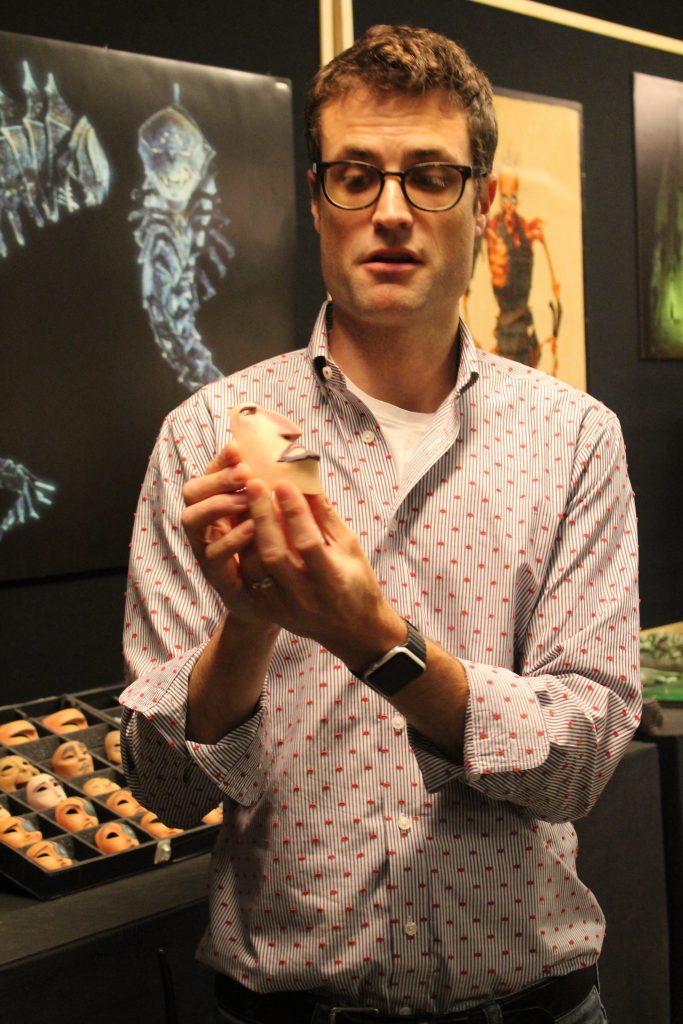 Brian learned about 3D printing while working as a model-maker and sculptor, and introduced it when the studio was filming their first film, Coraline.
Brian was showing us the many faces of the different characters, and explaining how they are able to get the expressions you'll see in the film.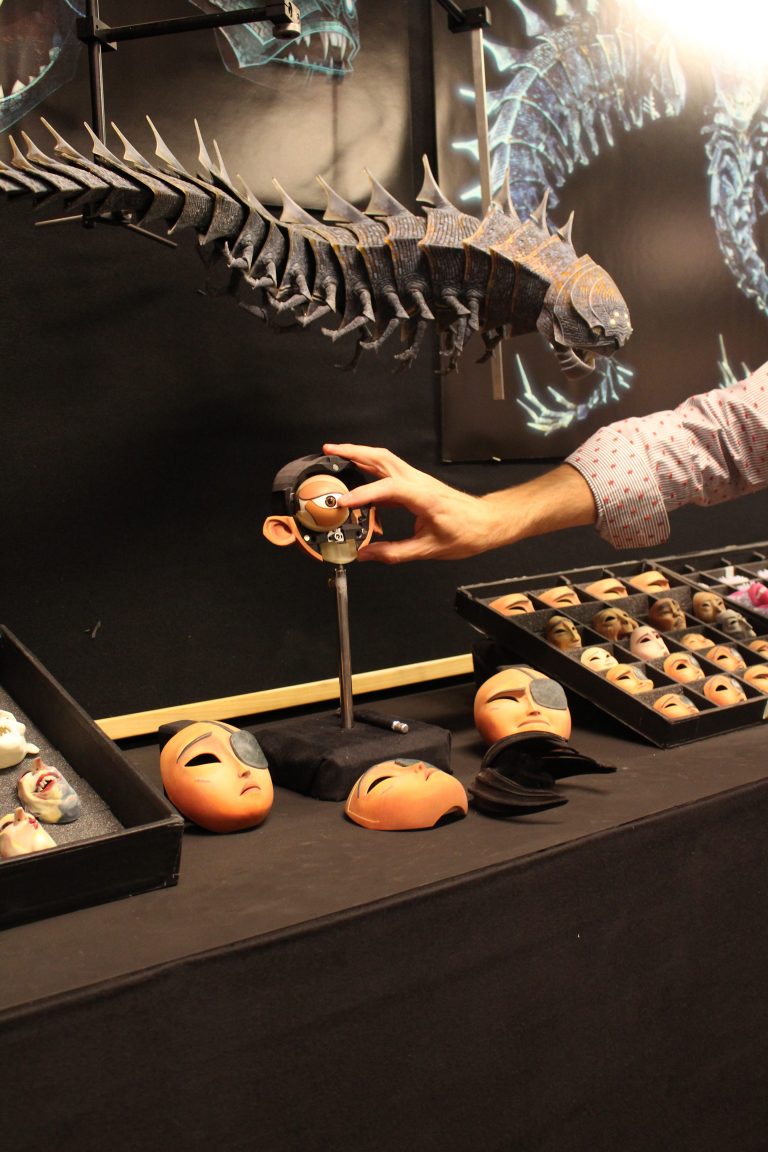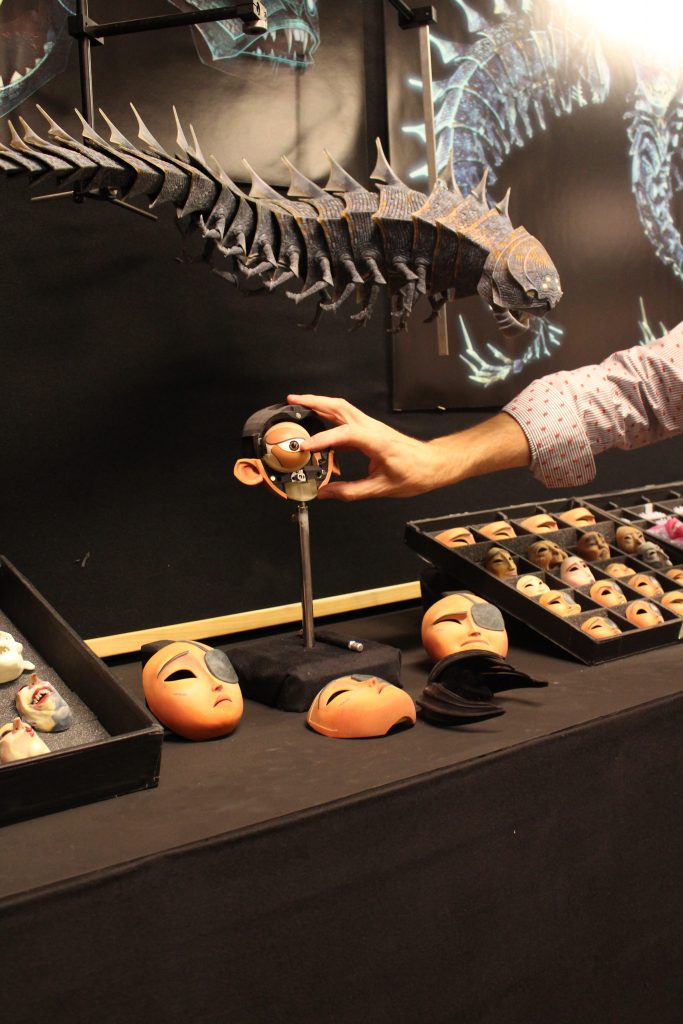 As we toured the studio, we met with Oliver Jones, Animation Rigging Supervisor, who explained how rigging comes into play in filmmaking. Oliver also worked on The Boxtrolls and ParaNorman as well as Corpse Bride and Fantastic Mr. Fox. Below is the Garden of Eyes.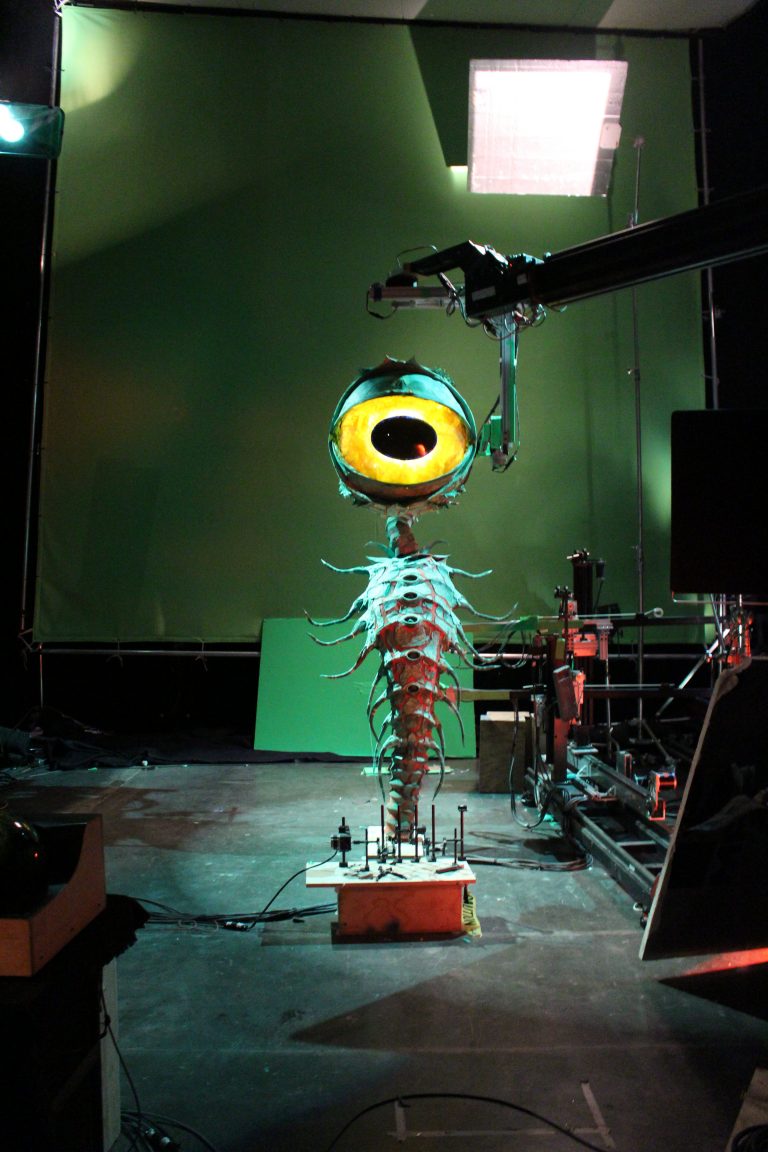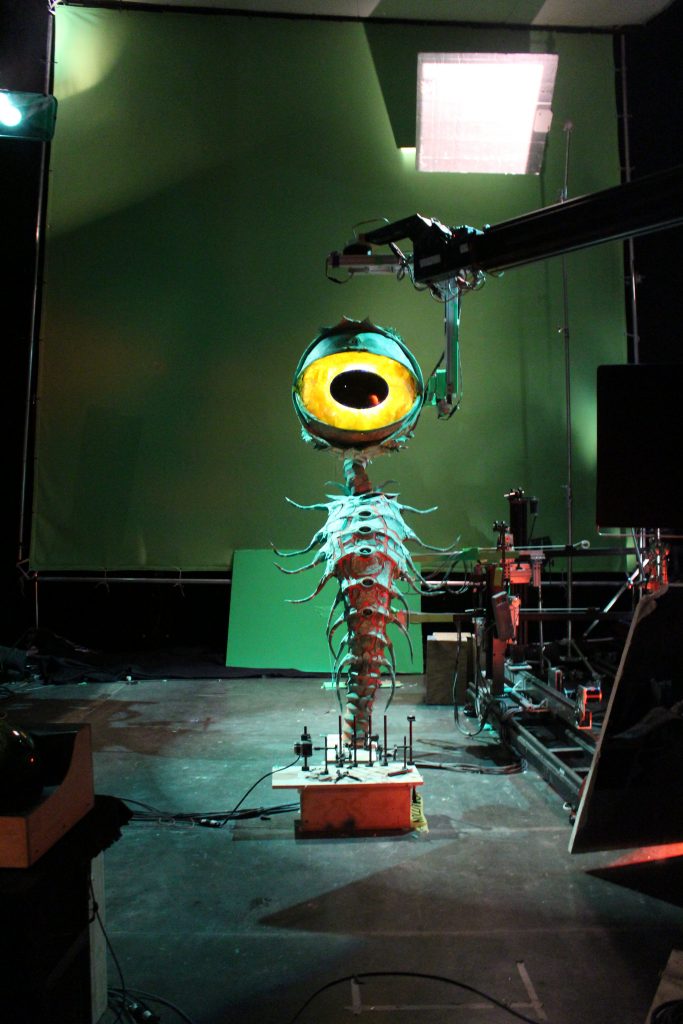 We had a demo of how it works. Crazy!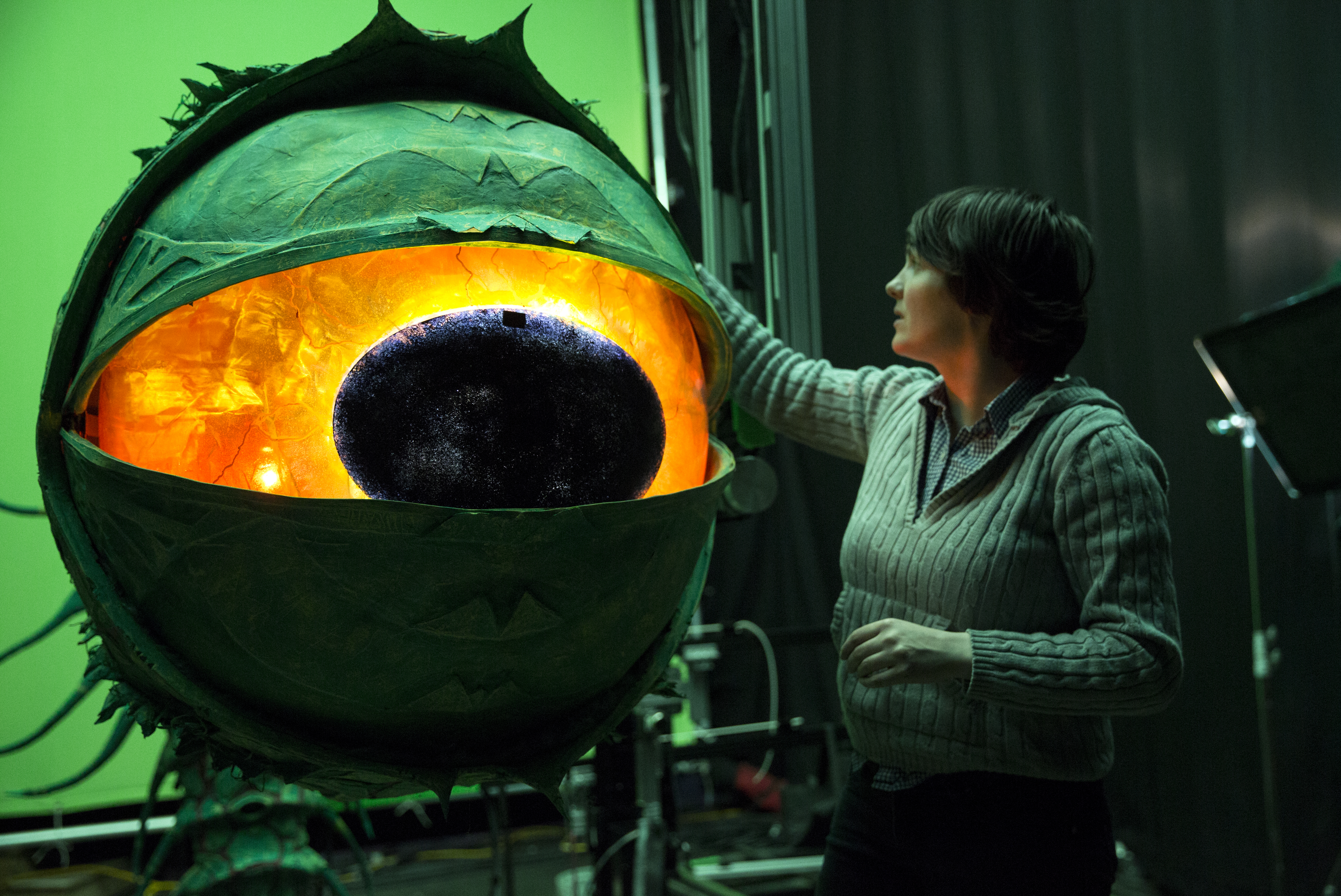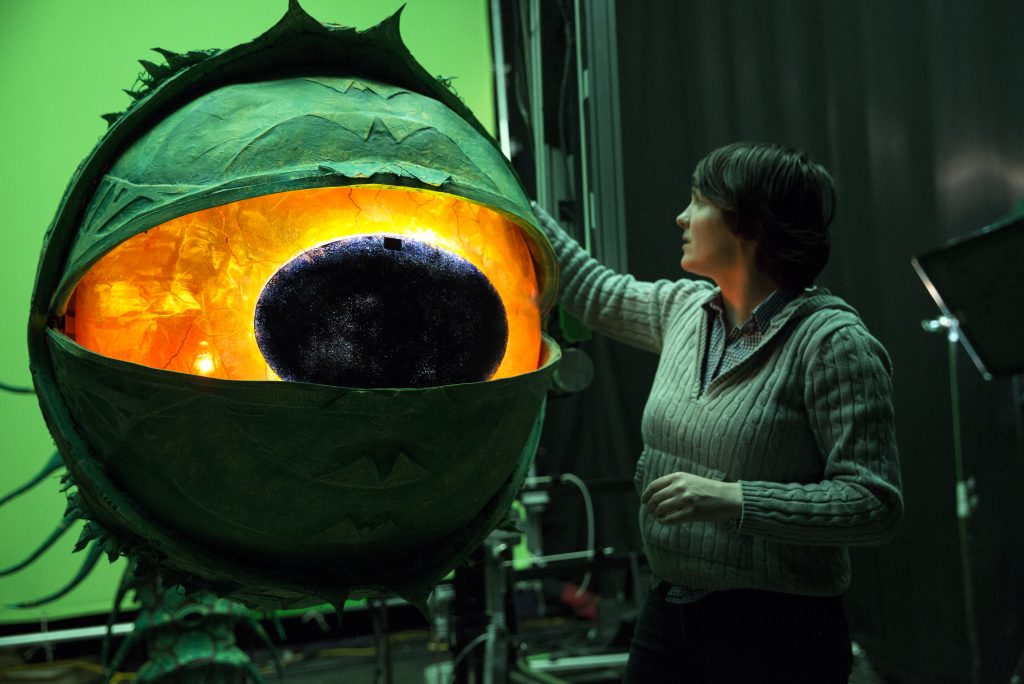 I think one of the things I love most about Laika is that they are just ingenious. It's like they get together and say, "This would be cool. How can we create it?" And then they go to work using whatever it takes to make it happen. They used a bowling ball to control the Garden of Eyes!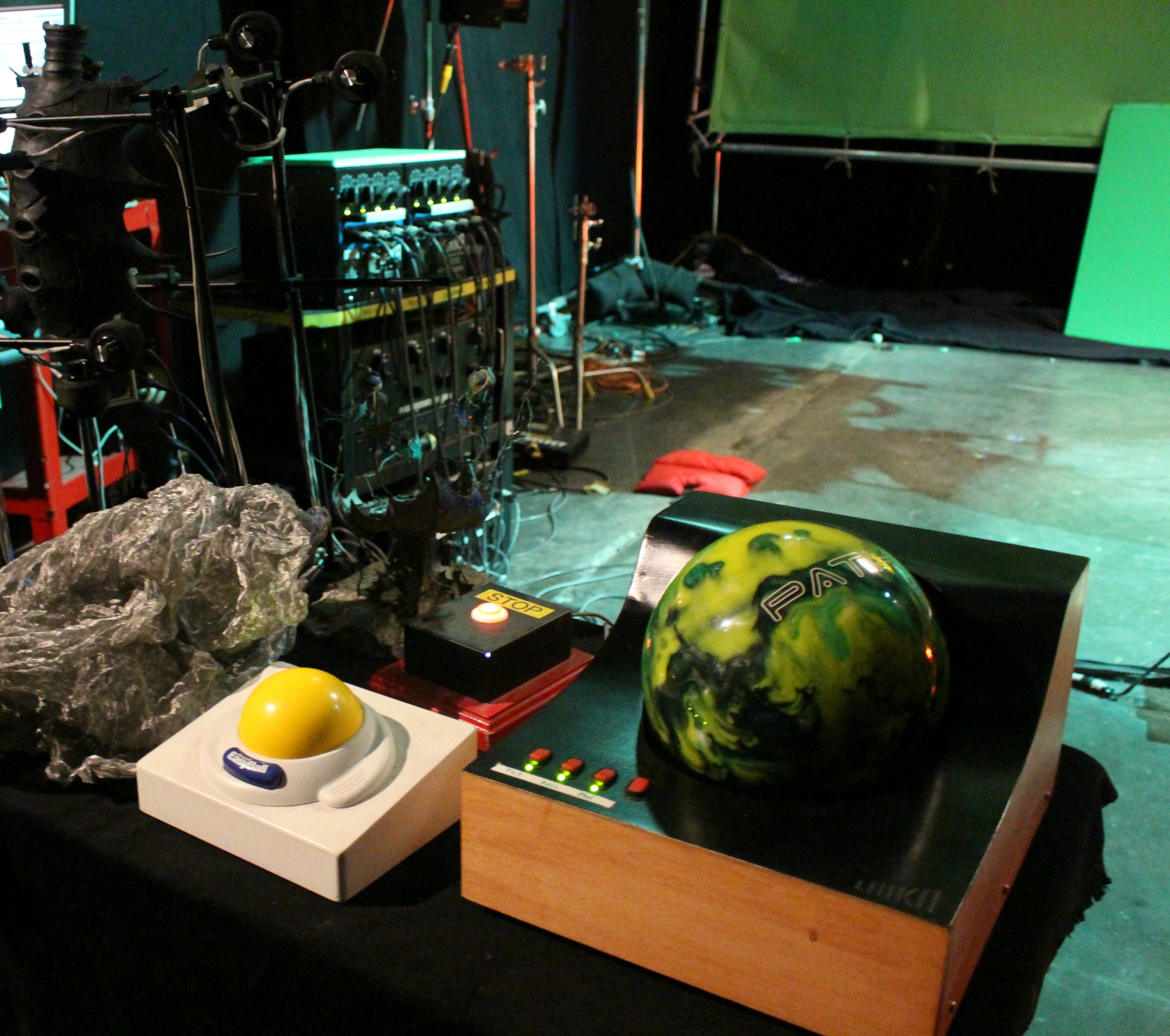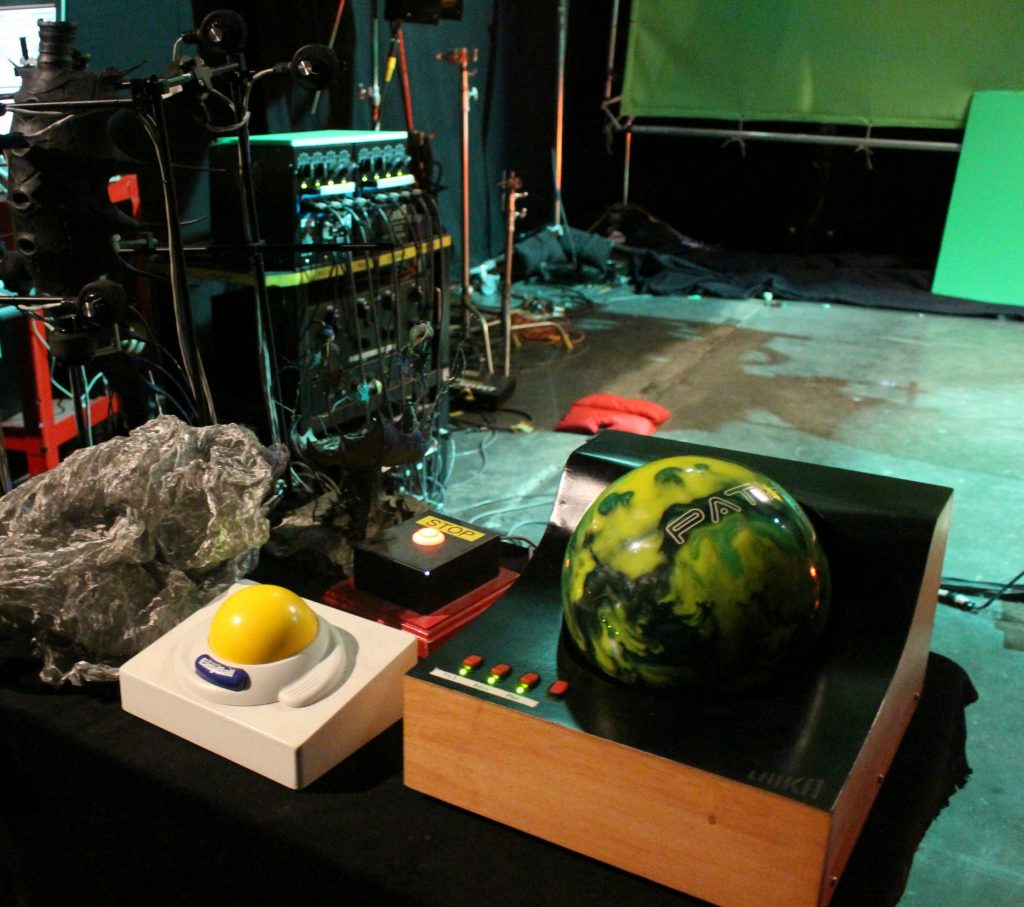 Finally, we were able to see the stage units, which were just insane! Again, I can't imagine the hours that were put into the building of these sets.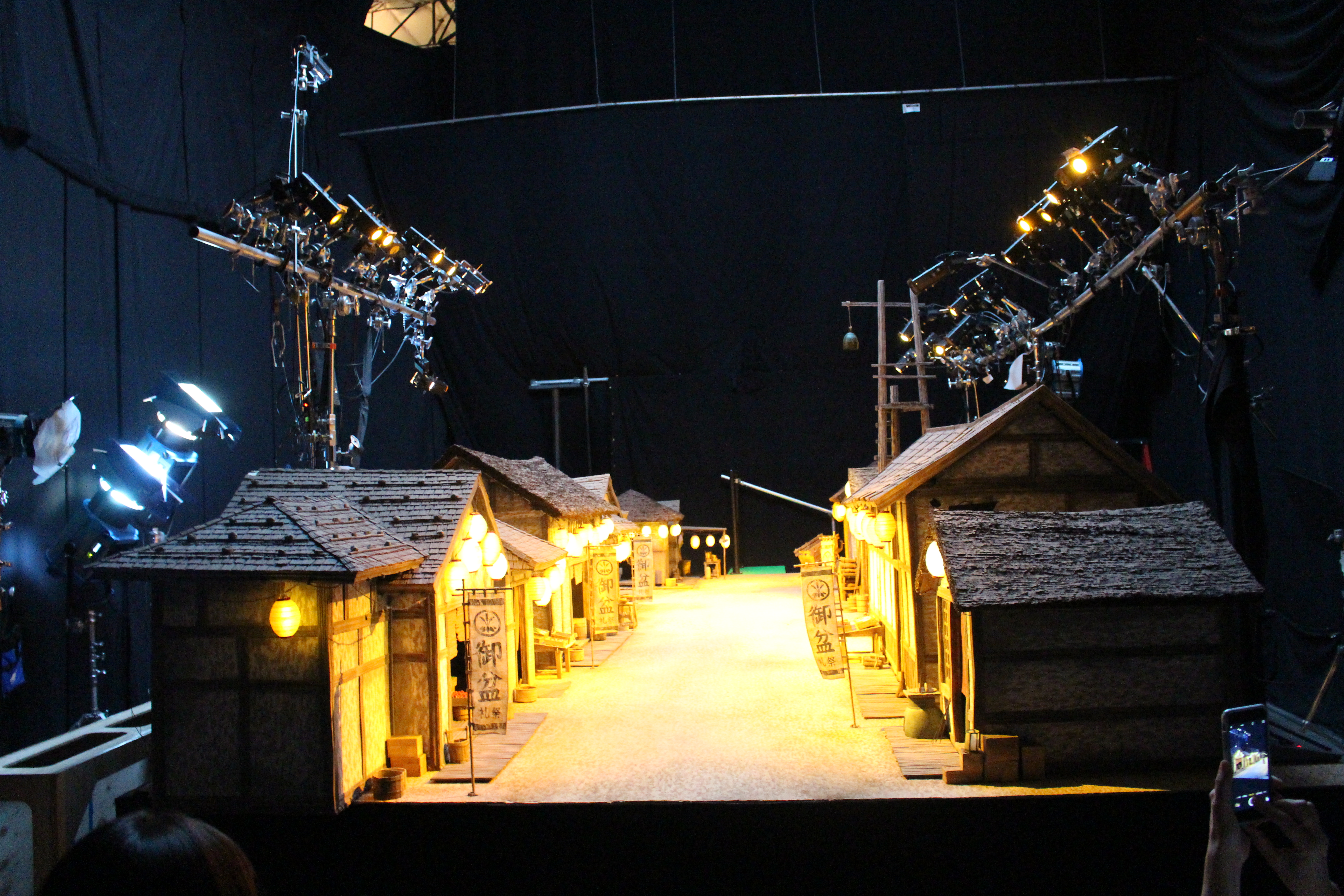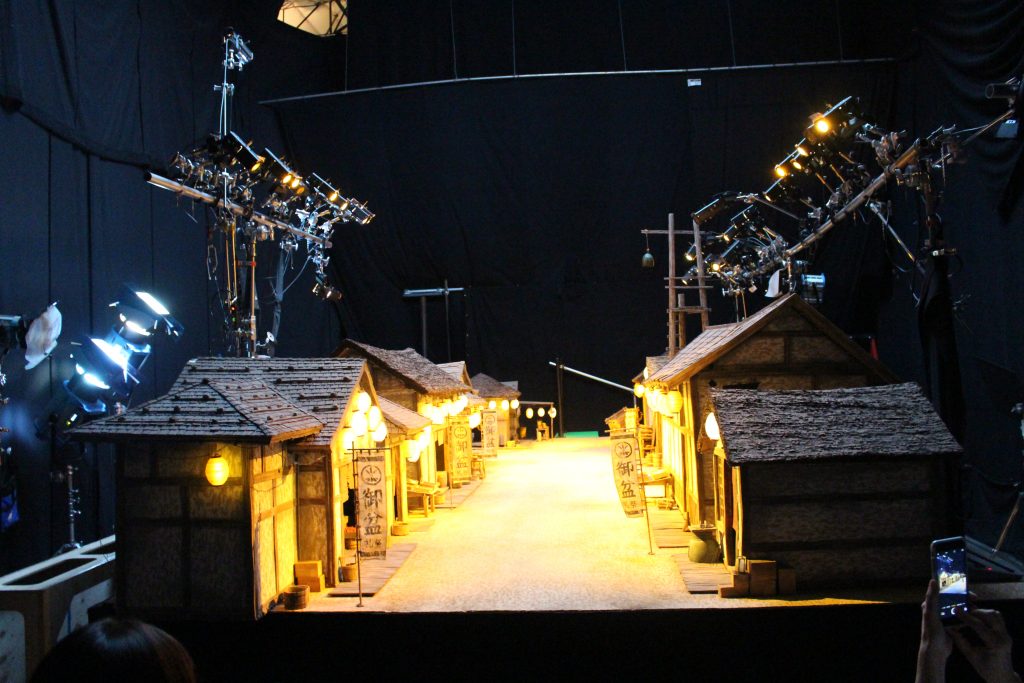 The detail is just crazy.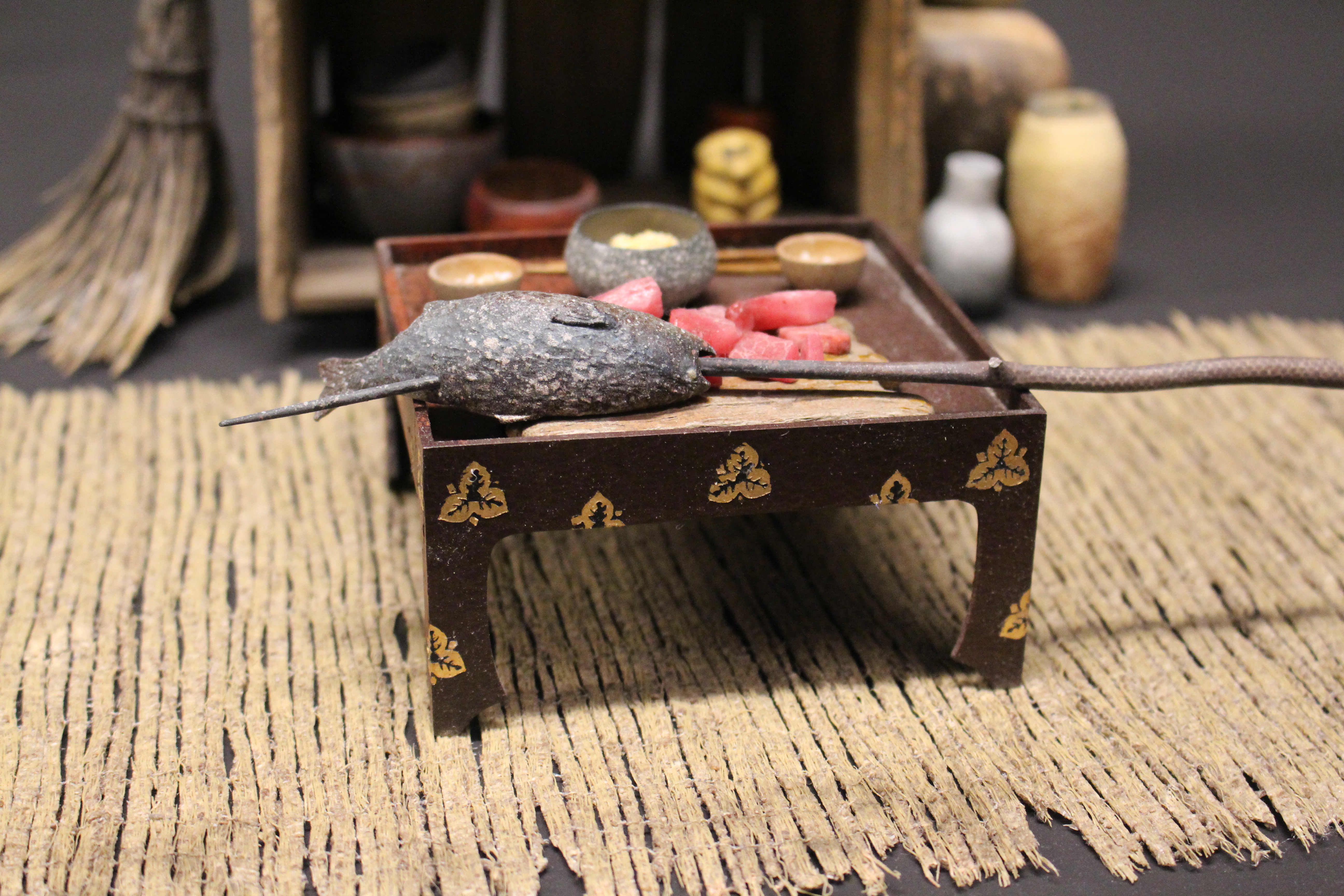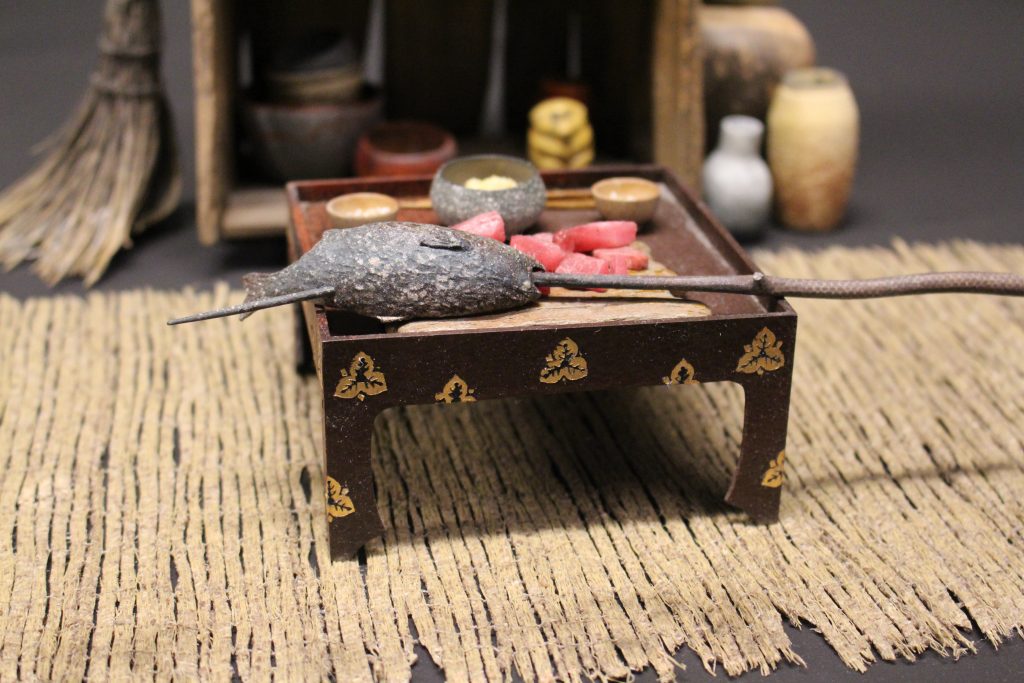 I think this was one of my favorites.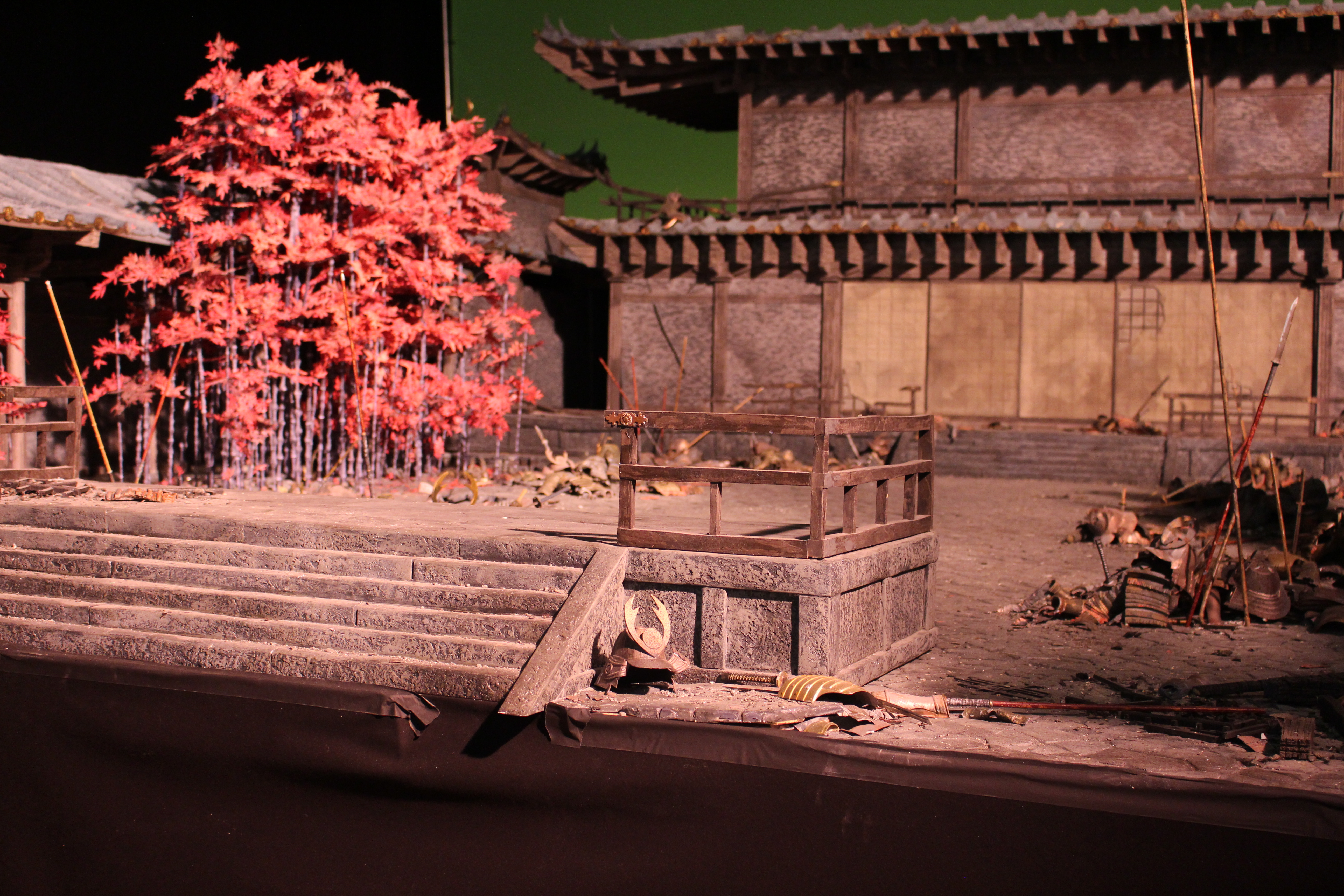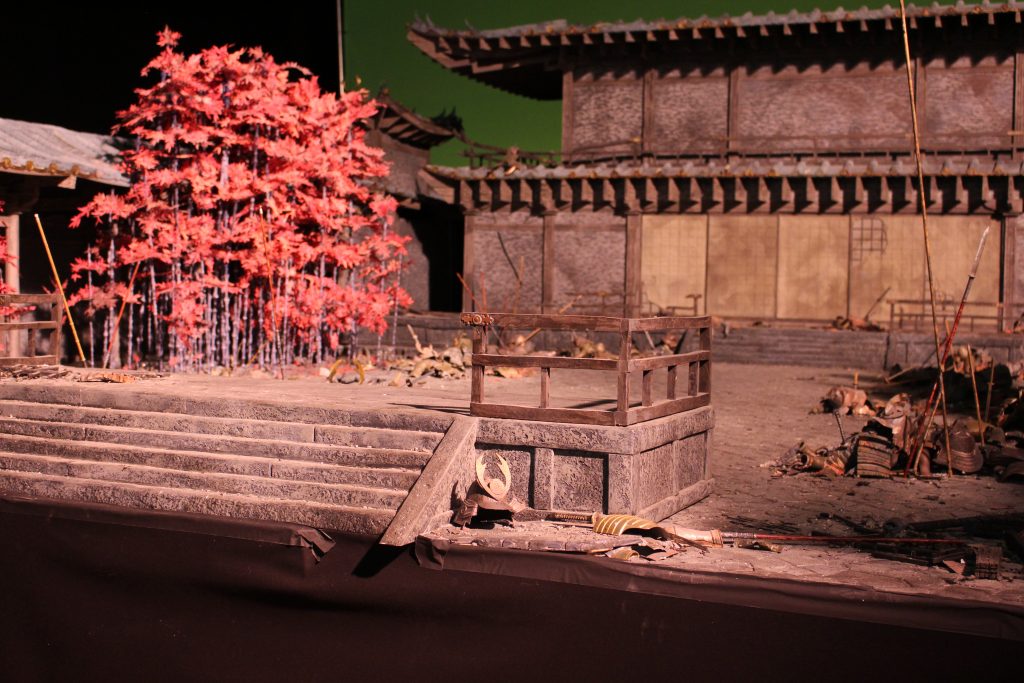 I can't wait to see the film again with my family. It's such a beautiful movie, aesthetically, and the story is incredibly sweet. I know your family is going to love it, too.
As Travis Knight, CEO of Laika and director of Kubo said, "We believe storytelling is an important part of who we all are. We tell stories that move us and we hope resonate in the same way with audiences all over the world."
I think Kubo's story is going to be special for many people. I hope you'll come by and leave a comment with your thoughts.
Filmmakers Travis Knight and Arianne Sutner talk Kubo and the Two Strings
10 Things You Didn't Know About Kubo and the Two Strings