Searching for the best biscotti recipes from top recipe creators? We've got you covered for a bunch of varieties of these classic Italian cookies.
We love biscotti in my house, having a designated cookie jar just for those delicious treats. There's no need to go to your favorite coffee shop for biscotti cookies when they are so easy to make at home!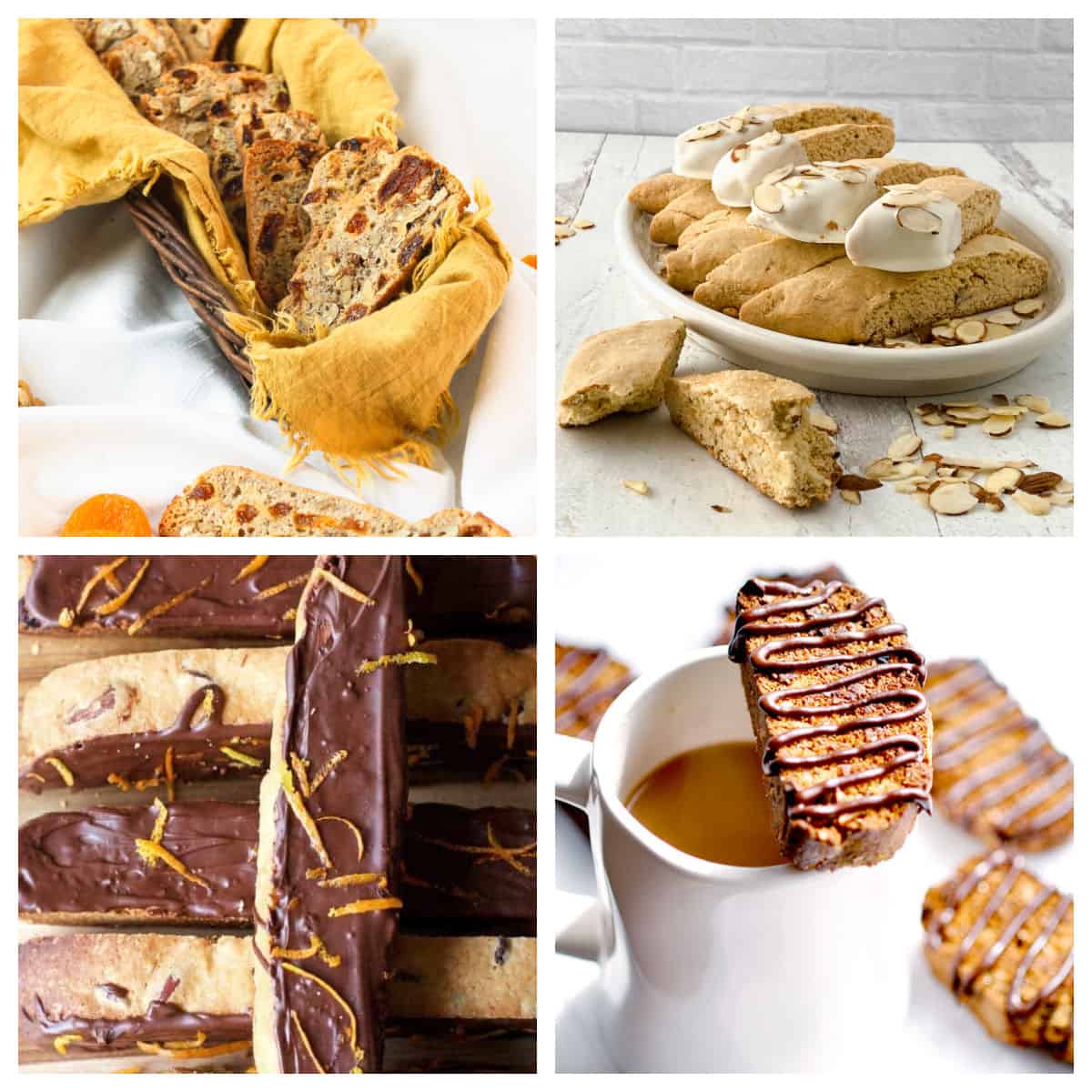 Want to try a couple of our other favorites? These peanut butter chocolate chip cookies are healthier and so good, and this cookie dough ball recipe is no bake!
Jump to:
Common Ingredients Used in Biscotti
Though there are no two biscotti recipes that are alike on this list, most of them begin with ingredients like all-purpose flour, sugar, salt, and baking powder. Combining the dry ingredients with wet ingredients like butter and eggs gives you the basics for the best biscotti recipes.
For the vegan biscotti, we used aquafaba. I know it sounds strange to those who haven't tried it, but it works! It's used in these Italian Amaretti cookies, as well. So good!
The additional ingredients are what give these cookies their amazing special flavors. Dark Chocolate, almonds, almond extract, vanilla extract, dried fruit and orange zest, Nutella, and more. Let me know your favorite!
The Process of Making Biscotti
What gives biscotti that amazing crunch and texture is the double bake. That's one thing all these recipes have in common. After the first bake of baking the whole log of biscotti dough on a cookie sheet, the cookies are cut into thick slices on a slight angle and baked again.
After cooling on a wire rack, the cookies can be dipped or drizzled with chocolate, or left plain.
The Recipes
Variations
Though we have 23 different crunchy biscotti recipes on this list, there are so many more varieties, and more that haven't been created yet!
I've been wanting to try pine nuts as pignoli cookies are one of my favorite Italian dessert recipes. I think just about any good biscotti recipe benefits from a little bit of lemon zest. Anise is wonderful in these cookies, too.
After you decide what to put inside, you can add chocolate on the outside. White, milk, or dark chocolate are all delicious. You can also use chocolate melts, but I prefer chocolate chips. If you need to thin it a bit for drizzling or dunking, add coconut oil to desired consistency.
Frequently Asked Questions
More Cookie Recipes