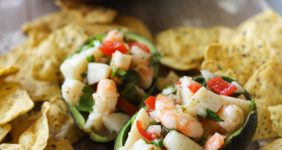 Print
Scallop and Shrimp Seafood Salad Recipe
I brought this seafood salad recipe back from Puerto Vallarta last year because it was one of the best I've ever eaten. It was introduced at ceviche, but the shrimp and scallops were poached just enough to cook them which left them so tender.
Ingredients
To taste kosher salt

8

Oz

Sea baby scallops

8

Oz

Small shrimp

peeled and deveined

3

Oz

finely chopped white onion

4

Oz

finely chopped pear tomato

5

Oz

Fresh lemon juice

3

Tablespoon

chopped fresh cilantro

1

Teaspoon

finely chopped serrano chili

½

Teaspoon

Freshly ground black pepper

2

Oz

olive oil

Saltines

tortilla or plantain chips
Directions
Bring a pot of salted water to boil. Add the scallops and shrimps, reduce the heat and poach gently for about 2 minutes.

Drain well and chill at least 30 minutes, or up to overnight.

Stir together the onion, tomatoes, lime juice, cilantro, serrano chili, and olive oil in a large bowl.

Season with salt and pepper.

Add the scallops and shrimps to the sauce and stir gently to combine.

Divide among 4 glasses or bowls.

Serve with saltines, plantain chips or corn tortilla chips.