Sitting a foot away from Gamora, in full make-up and costume, was one of the best experiences of my life.
This chick is a serious badass; fit, gorgeous, and an attitude to match. Is it the New Jersey girl coming out? Is it the way she moves, as a professionally trained dancer?
Is it her passion raising people up when they're down? I think it's all of the above. There is no doubt; Zoe Saldana was made to play Gamora.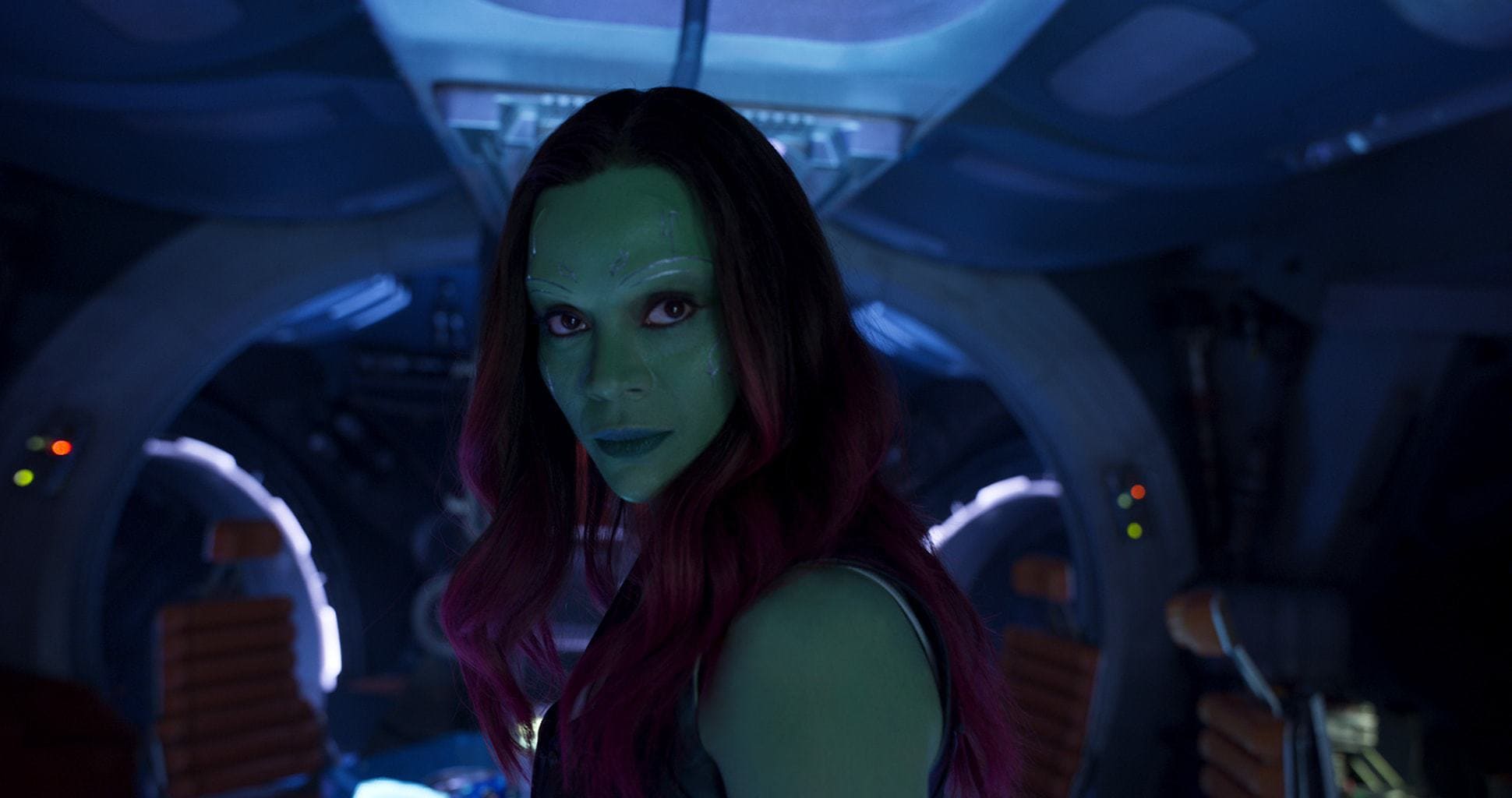 Zoe has a presence. She makes you feel like if you told her you needed help, she would stop everything for you. She's so well respected in the industry because of her hard work and determination. I think I can speak for our whole group in saying she captivated us all.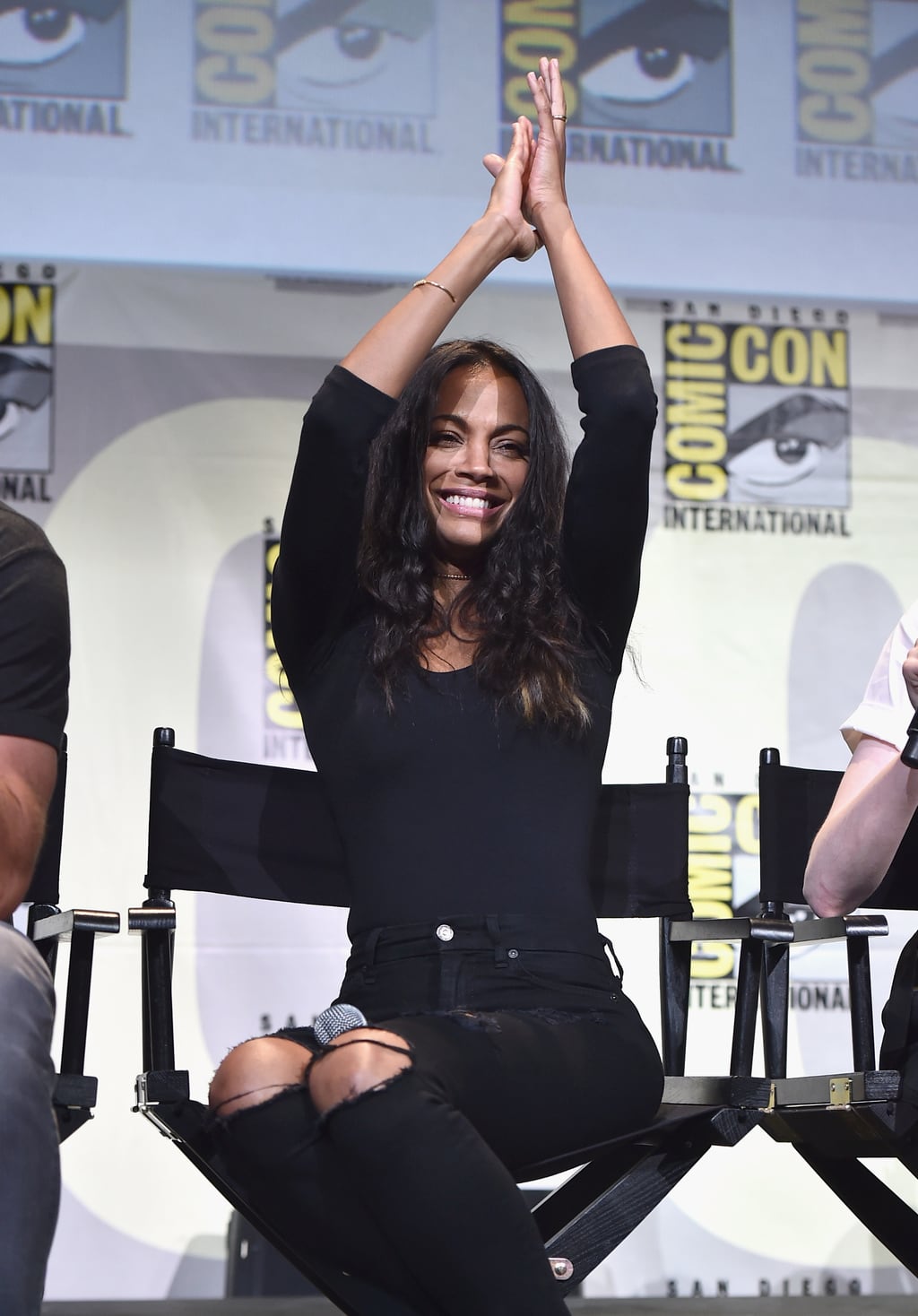 The first thing we wanted to know was what it was like for her to be back among her Guardians family.
ZOE: It feels good. It feels really, really good. It's like coming back to a family of people that you already broke the ice, you feel super safe being yourself and trying new things.
You're working with a director that is super supportive. It's still like a dude's movie where, where he's inviting women to come and kick dudes' asses. So, I signed up. [LAUGHTER]
And it's great. I'm doing a lot more stunts, too, which I'm loving.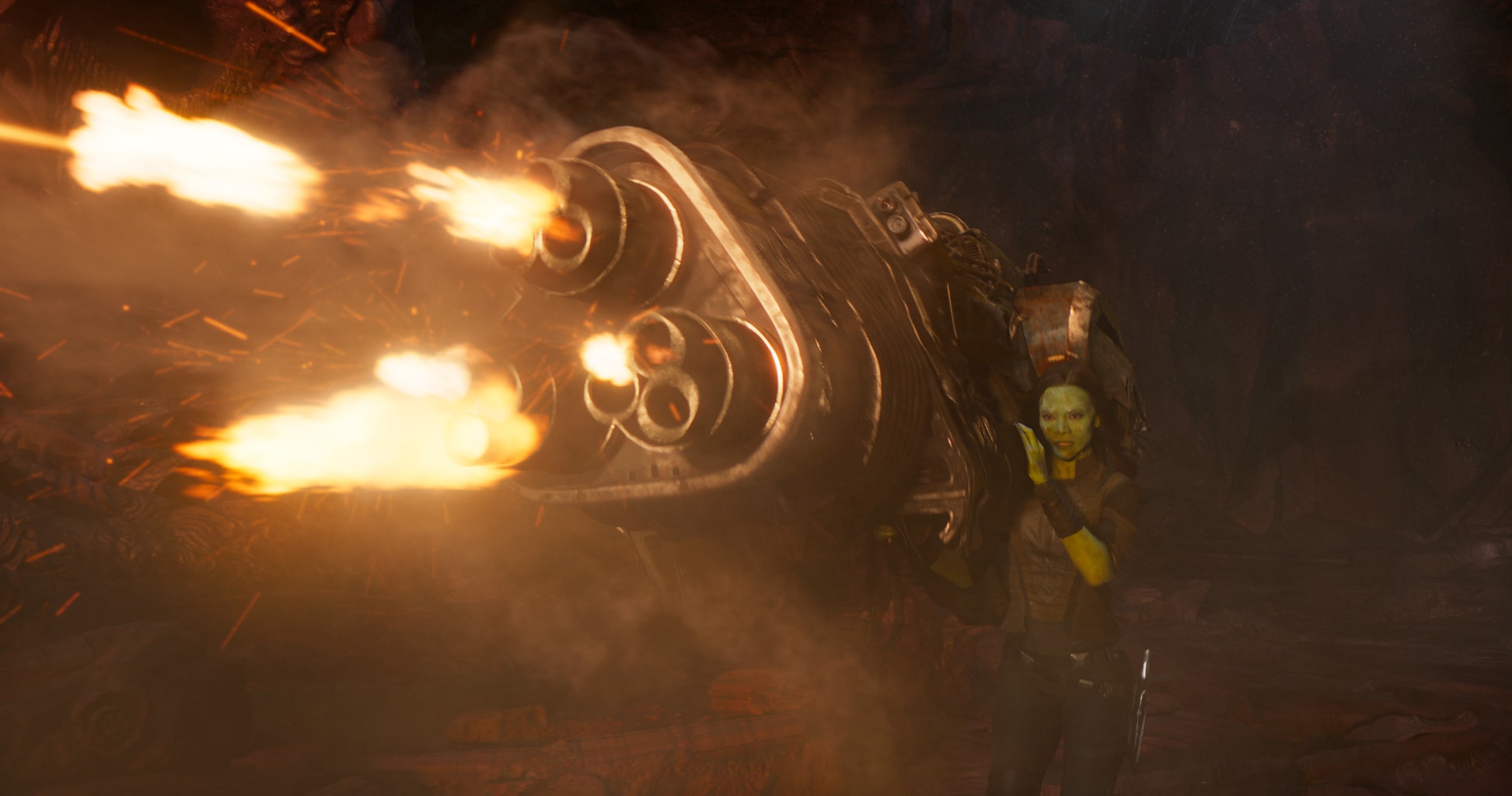 Q: It seems like you and Chris just have a great relationship, I mean, the way you were chatting in there while you were waiting.
ZOE: Yes. We're parents of wonderful little kid boys, and we're constantly bouncing back ideas and, he shares with me how Anna's [Faris] handling being part of a family that's like a traveling troop, and she has to also stay and work and everything.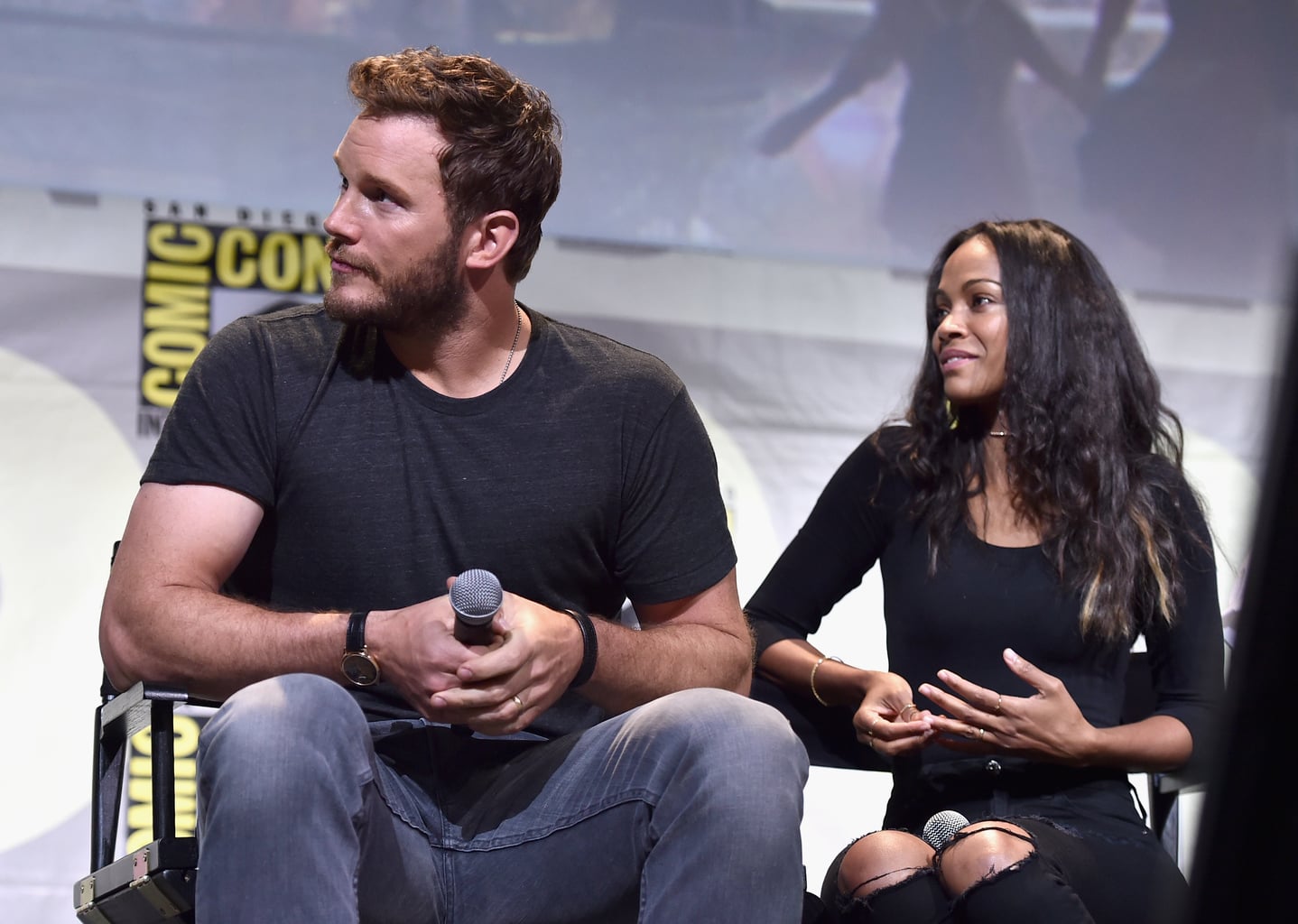 I also share that experience with my husband, and I have to make these like ultimate sacrifices because one of us has to travel with work and the other one is working remotely with you, 'cause at the end of the day it's to not be apart.
There's a constant conversation and then we also compare what kind of fitness things we're doing lately to what we ate.
We're hungry all the time! And sometimes we just talk about what's a good bottle of wine that we'd like to have so, we never run out of things to talk about.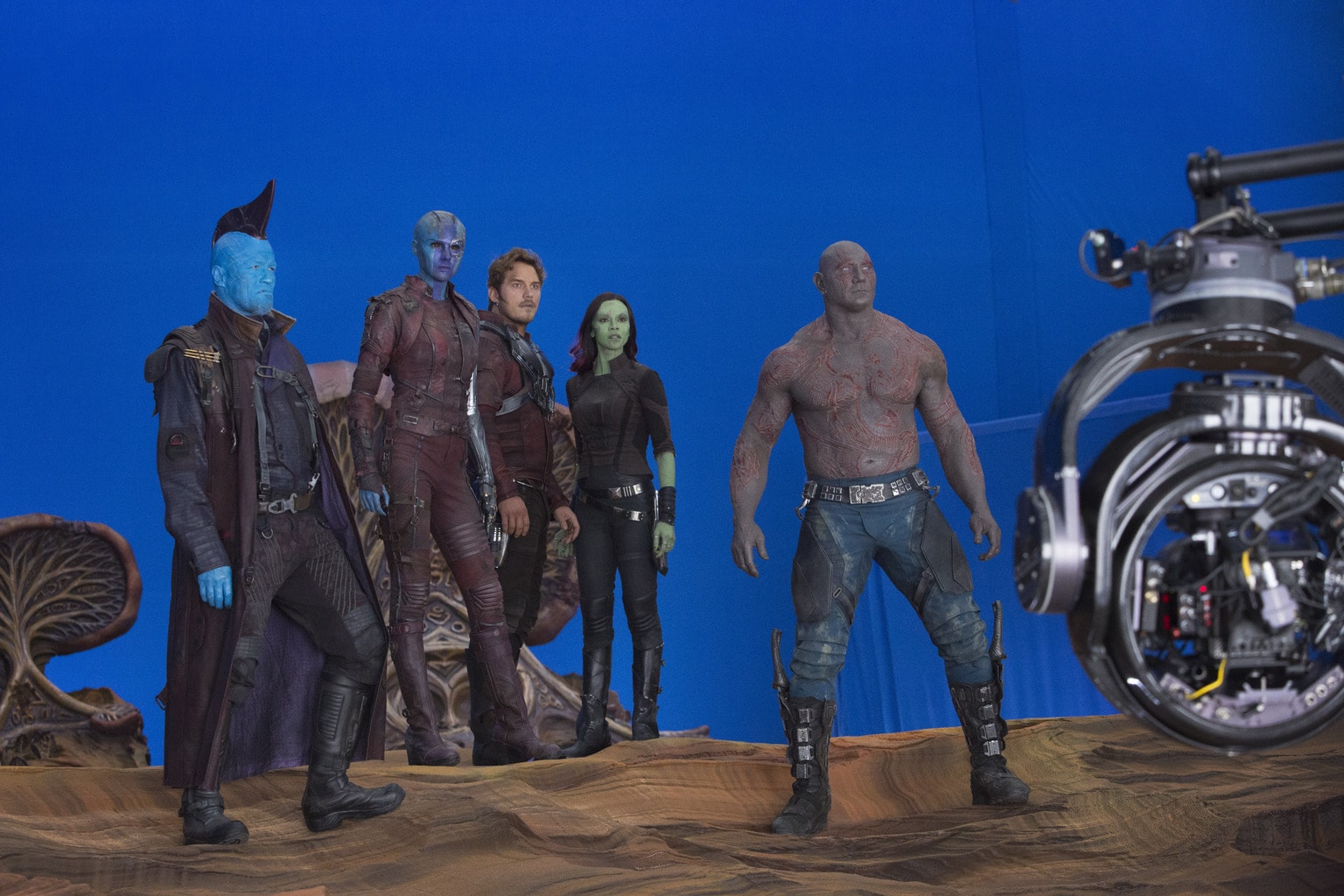 Q: You take on a variety of different movies, especially in the last year. What is your favorite type of movie? Is it the emotional biography? Is it the sci-fi sort of?
ZOE: I like sci-fi and I like spaces that are under-served. And I think that for females, we need more examples, much more diverse examples of professions and callings.
I think that women need to be a little more physical. It's better for our health. It helps our sanity, too. We are the ones that are constantly, you know, hormonal.
Now, don't talk about their hormonal swings, right? [LAUGHTER] I know I was a little girl starving to have more female heroes, you know?
And I held on to the very few that were out there and then I just had to become one because that's what we do for our little girls, you know?
I do know. Don't you love her already?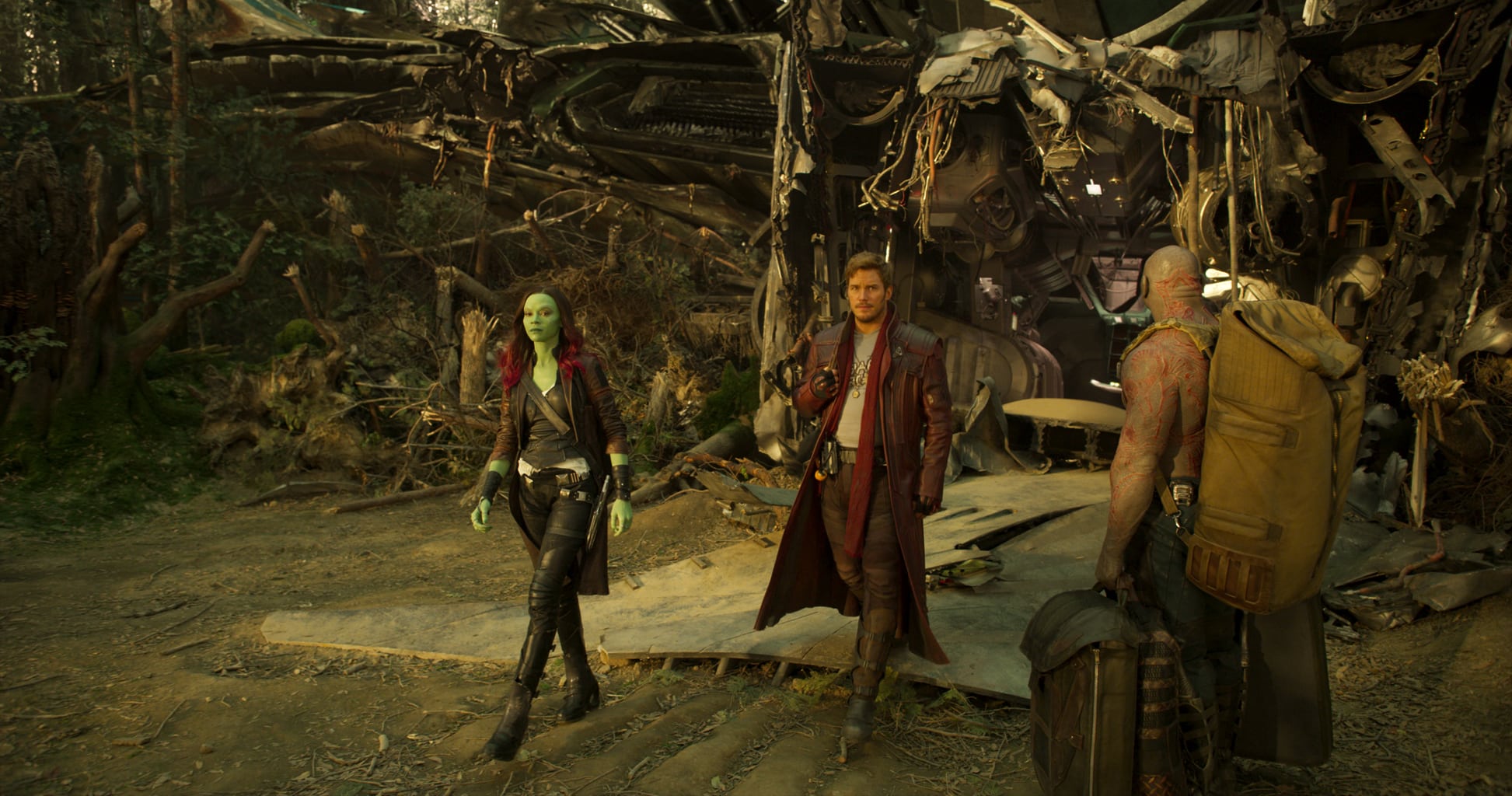 Q: As a working mom, do you have any tips or tricks for finding balance with work and travel and everything?
ZOE: Talk. Talk about everything, no assumptions, no reserved feelings.
And I love sharing this because I know this is good and insightful and people can get information and feel identified through all of our similarities when it comes to the challenges that we face, trying to live in one world where we get to have it all.
Just last night, Mike goes like 'Okay, I understand we're super busy. Let's practice still connecting, conversations.
I don't care what we're talking about. If you're in the bathroom while I'm in the shower, let's freaking just share five things. It could be five anything. And I love that. You just have to constantly keep it open.
And not just because you're so tired, like getting lazy with the most important work in your life, which is your home, your life, you know? So, that's one tip that I would love to share. [LAUGHTER] We're doing it, guys.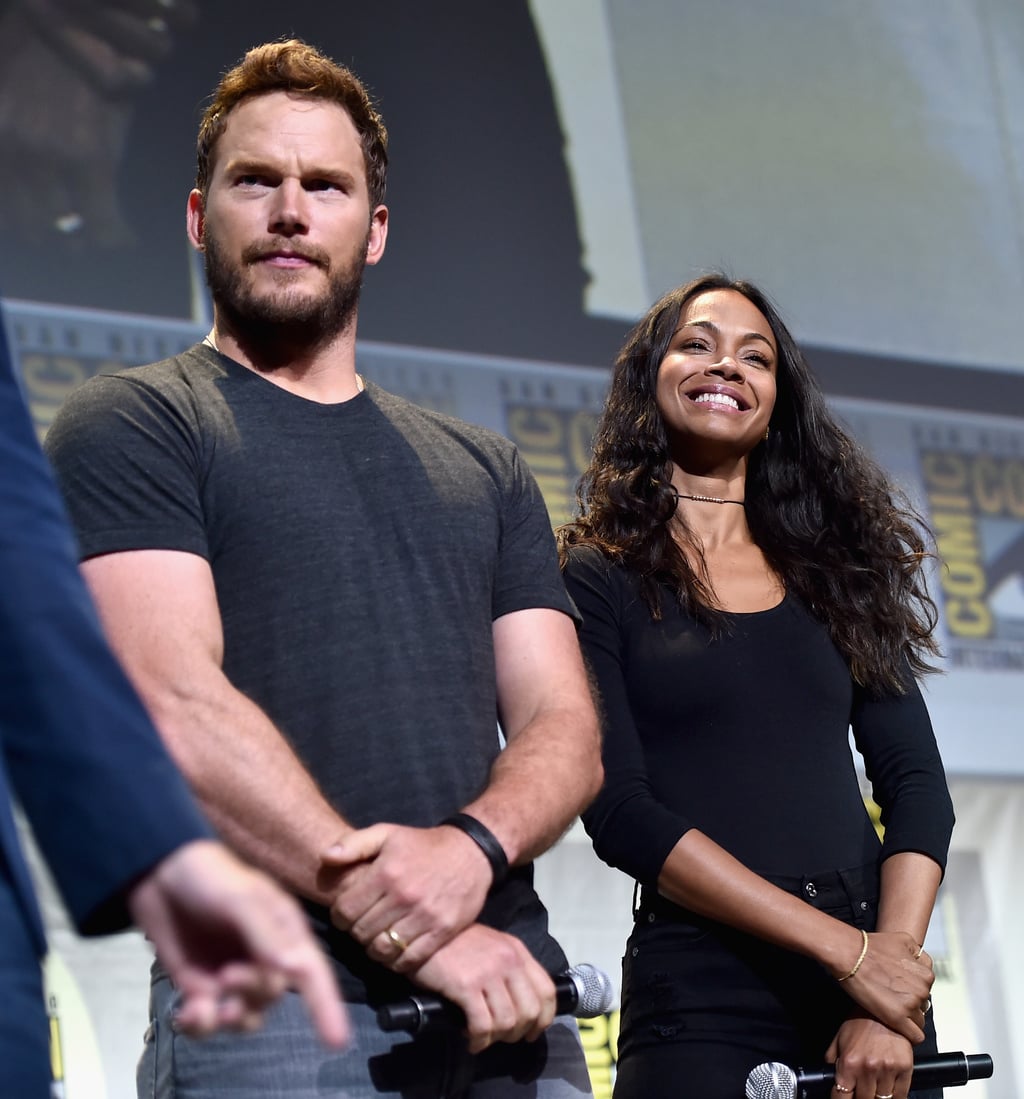 Q: I know you have little babies. Because we all have children, we're all moms here, and we're all looking at you like...
ZOE: Snap that game. (In other words, Zoe believes we should never put ourselves down. I love her advice below.)
Q: Can you talk a little bit about your fitness routine?
ZOE: Thank you. Um, not easy. It requires determination and a lot of discipline. I did not want to hate myself and I did not want to start fantasizing of what I used to be.
I wanted to work with what I have. I gained 65 pounds. I'm not comparing myself to everybody but if my experience can be inspirational for you guys, I'm a killer.
I don't just approach like 'I'm going to start Sunday... I'm going to start Monday because Sunday, you know, we're having the barbeque.' I'm like no #$%&@ way. [LAUGHTER]
No #$%&@ way 'cause to me it's scarier to look at myself while I'm brushing my teeth and have 10 things to say about myself that I hate. I don't want to live like that.
We're gifts. We're #$%&@ unique. We're special. We've got to work. We work for everybody else every single #$%&@ day. You work for yourself. Be self-focused.
I love that and I don't compromise. Even when people, like, you know, in my family. We are Latinas, we eat.
Everything is in the kitchen, do you know what I'm saying? We're happy. Make yourself this food. You're sick?
Get yourself a bucket of ice cream. Make some rice and beans. But I need the energy.
I have twin boys, for the love of God, what am I, crazy? When these kids start running, what am I going to do? Feel tired or no?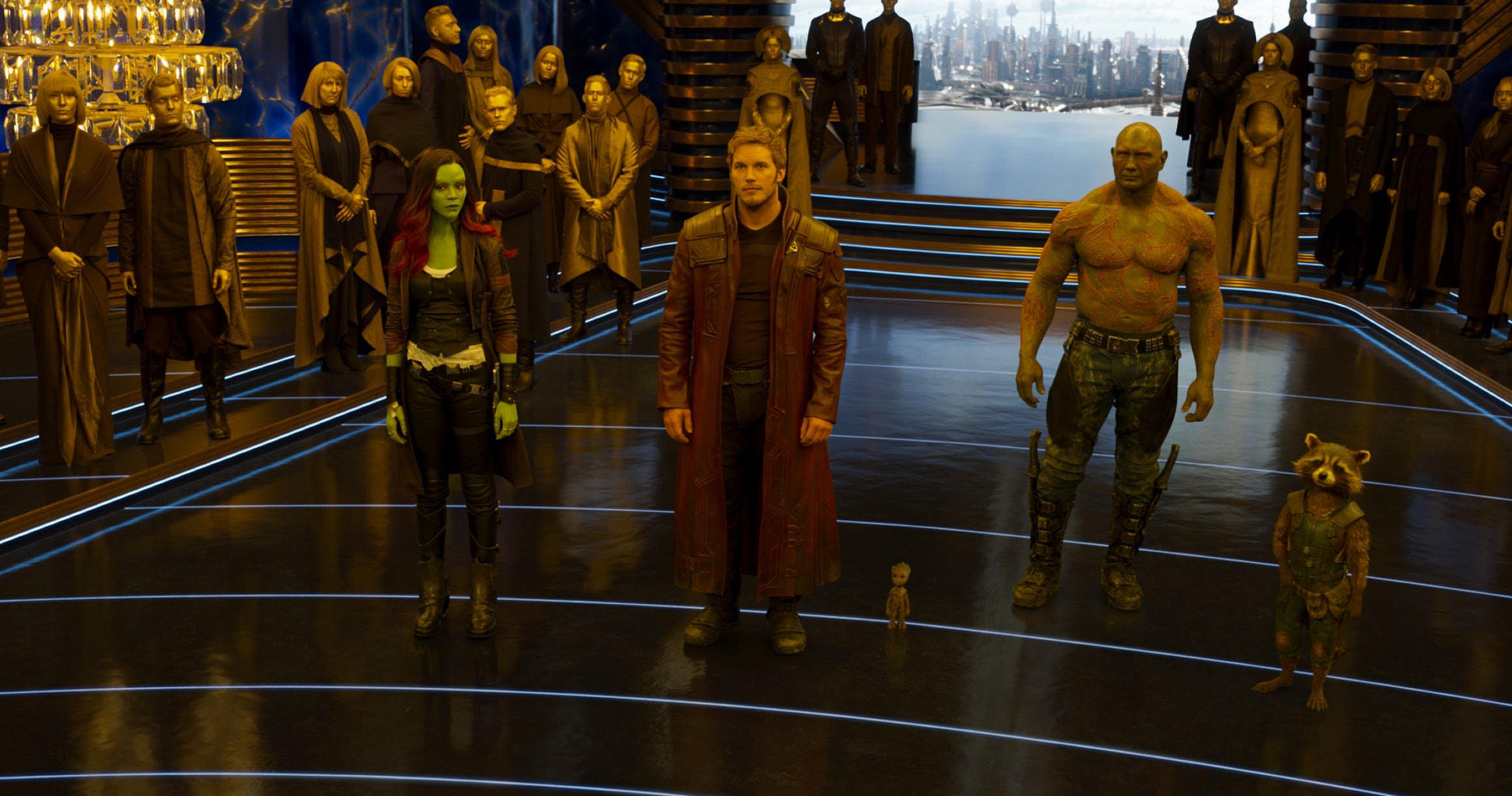 Okay, can't do this, can't do that. We're having a get-together. I'll have dinner before. That way I'm not bitter, at a party, hungry. [LAUGHTER]
I eat right before, and then I'm happy. I'm here. I'm full, you know?
So, just little things like that. It helps a lot when you have a partner that is super supportive and understanding of the ups and downs, and compassionate, empathetic, about the fact that you just went through a life-changing transformation.
It's like you're in the future and you're going back to the past and you can't get back to the future. You're #$%&@.
Do you know what I'm saying? And to have somebody that's kind of going 'yeah, but what do you want to do now that we're here?' It helps. So, find fountains of support. It's very important. I guess I can talk about gluten-free as well.
We're having a lot of problems with our hormones ladies, our thyroids. It's what we eat. It's not in products that we're using, you know what I'm saying?
So, it's about cleaning gut, it's about fixing hormone levels, getting blood panels once a year after we become mothers, because we're having adverse, like lethal reactions to gluten more and more and more and more.
Our children are also being born with celiac and things like that. I don't know if there's a correlation but I read everything.
And I have Hashimoto's [Disease], an under-active thyroid. I'm on medication for the rest of my life. I want to be ahead of it.
I don't want to victimize myself. So, that is something very conscious, we're 80% gluten-free, so to me, it's about if I eat better, in that one moment where I get to sort of cut loose. And you realize also that you don't go to the extremes.
Have other people around you that say 'No, you said you're not going to do that.' And you go 'Thank you. I'm back, I'm back.' Support system.
We were so bummed when Zoe was called back to the set because she said we could have talked all day. We would have, too!
We were all mesmerized by her fierce determination and I think each one of us could relate as a woman. She is a total rock star!
I've got two more interviews coming tomorrow you won't want to miss and remember, on Friday, I'll be sharing more ON-SET photos of filming!!
And in case you've missed the all-new trailer that aired during the big game on Sunday, here it is! (Even if you saw it, and I know you want to see it again!)
Check out this interview with Zoe after the movie came out!
I was invited on this all-expense trip to Atlanta with Disney to interview the cast and crew of Guardians of the Galaxy. All opinions are my own.
Why Kurt Russell Wanted to Be Part of Guardians of the Galaxy Vol 2
James Gunn of Guardians of the Galaxy Vol 2