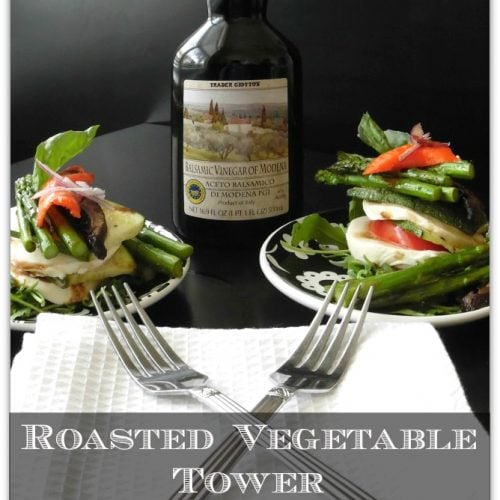 Print
Roasted Vegetable Tower
This Roasted Vegetable Tower is not only pleasing to the eye, but to your tastebuds as well! It's delicious and healthy!
2

portobello mushrooms - cut into strips

1

bunch asparagus -

2

small red or yellow peppers - cut in 1/4's

1

zuccchini - sliced thin

2

ripe tomatoes - sliced 1/4" thick or thinner

1/8

or less red onion - thinly sliced - just a few rings

handful of fresh basil leaves

1

round of fresh mozzarella

olive oil

salt & pepper

balsamic vinegar

1

large bunch baby arugula
Heat oven to 400.

In pyrex glass dish add mushrooms, asparagus, peppers and zucchini.

Drizzle with olive oil and sprinkle with salt & pepper.

Roast about 15 minutes.

Remove from oven and let cool.

Slice mozzarella into 1/4" rounds.

On plate place a large handful of baby arugula then top with mozzarella, tomatoes, zucchini, another piece of mozzarella, another piece of zucchini, tomato, mushroom, asparagus, basil and top with sliced red onion.

Drizzle balsamic vinegar.

With the extra roasted vegetables, place them on one side of the plate stacked together.