If you've seen the film, you know the music of Moana is amazing. There are a couple of reasons for that.
One, as I'm sure you know, is that Lin-Manuel Miranda, creator of the Hamilton craze, was involved.
One of the other lesser known reason is O'petaia Foa'i, the Samoan composer, and singer from the band Te Vaka. I'm winding down all the incredible interviews from Moana, and this one with the amazing and so humble O'petaia Foa'i was one of my favorites.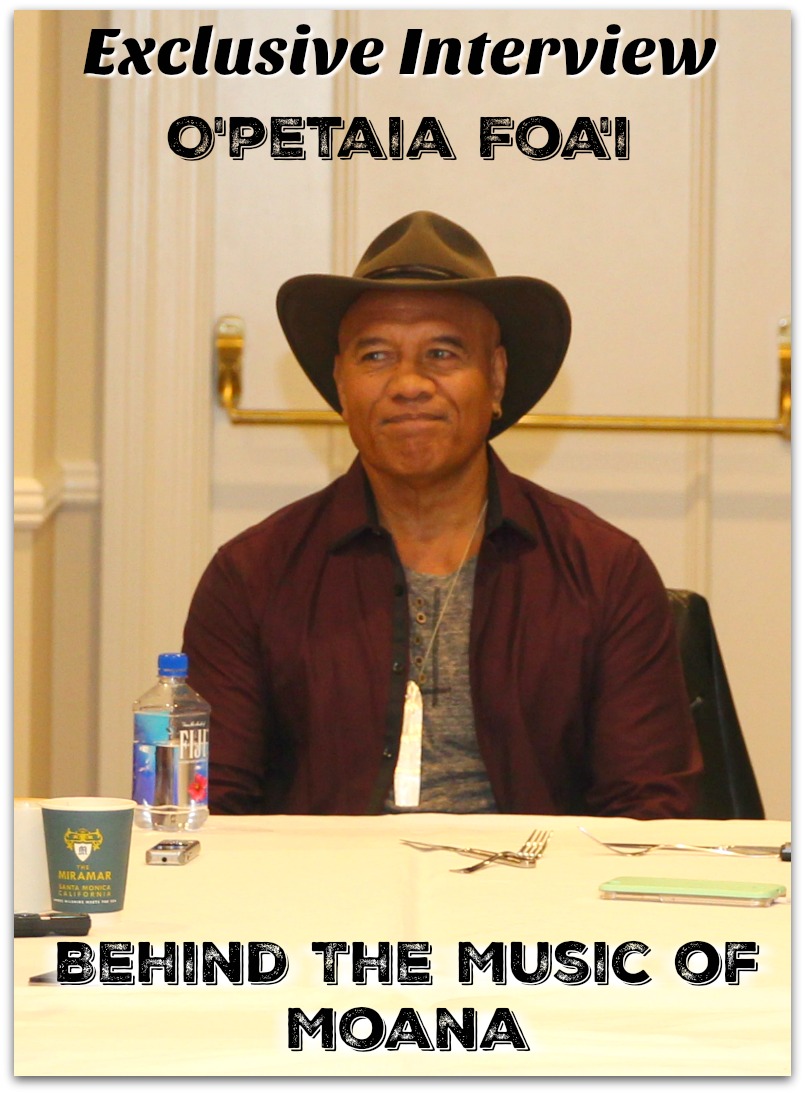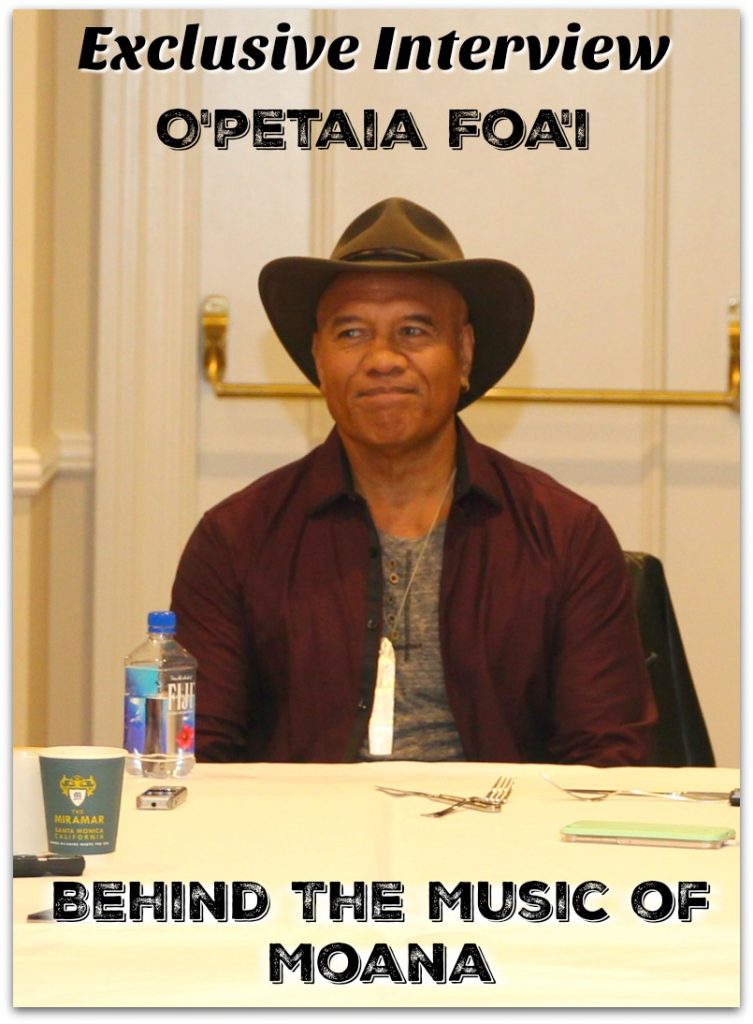 I was born in Samoa in a hut. We're talking about a thatched hut with no walls. So to find myself here is an incredible journey. ~ O'petaia Foa'i
The name O'petaia Foa'i is probably not one you've heard before. In fact, that was the first thing we discussed when chatting about the music of Moana.
How did O'petaia become involved? It seems Disney was looking for someone who knew the type of music they wanted to feature in Moana, so they ordered a bunch of Te Vaka CDs. Julie, the manager of the band, contacted Disney. They checked out a lot of artists and decided O'petaia Foa'i was just what they were looking for.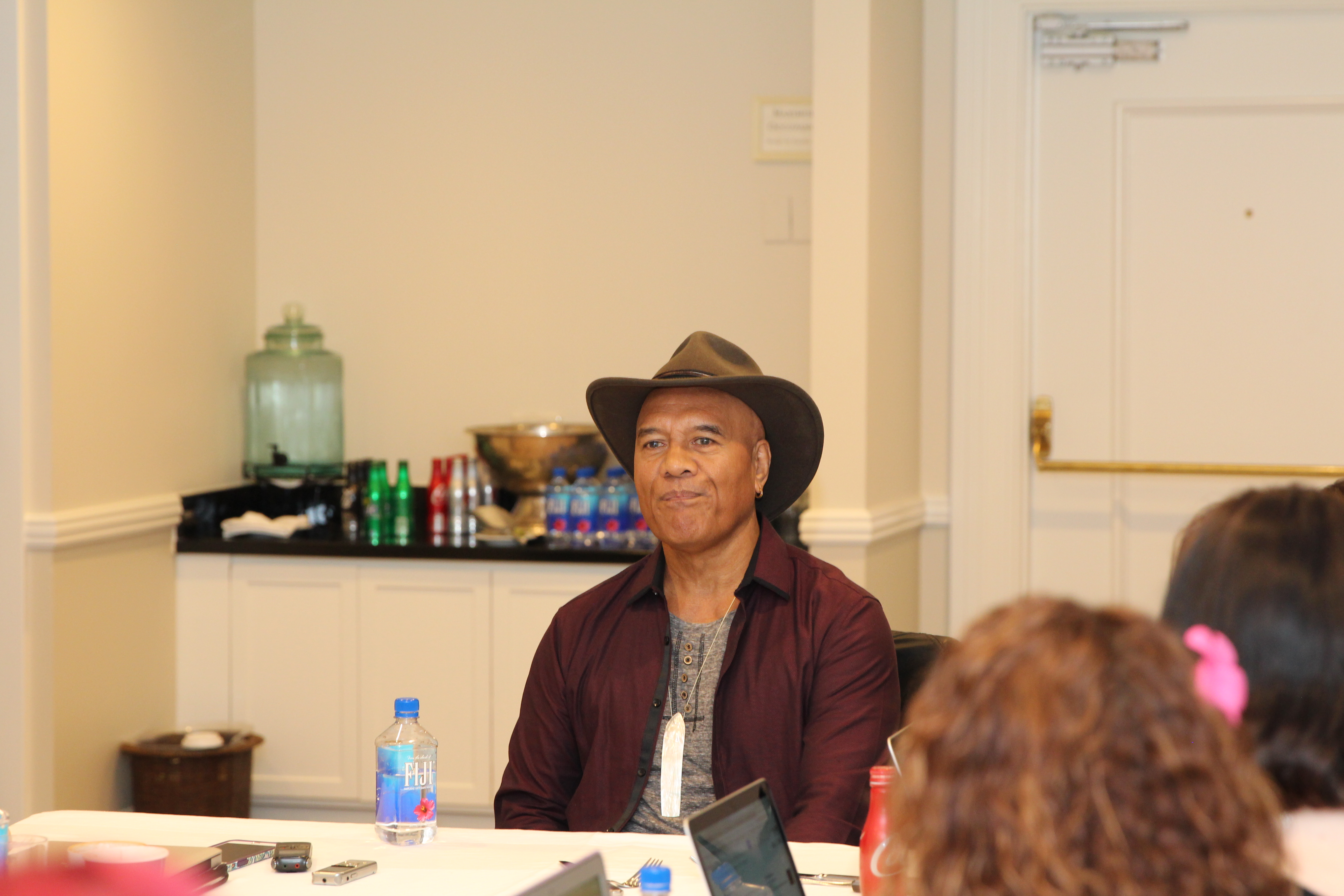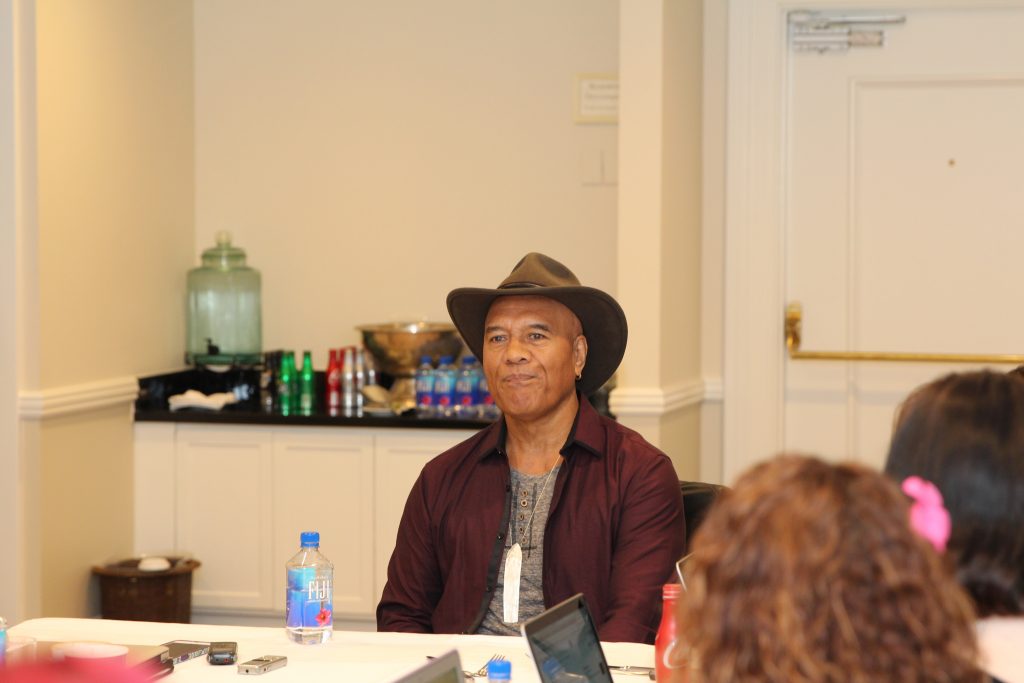 O'petaia said it was an amazing collaboration as he was working one-on-one with Lin-Manuel Miranda and composer Mark Mancina (The Lion King, Speed, Twister.)
O'petaia: Before I became famous, wicked famous [Laughter], we had a lot of time. So when we got together, it was quite an amazing combination. Mark who, of course, is very experienced and Lin who's very good with lyrics and directing, and me. I don't read music, but I do write from emotion. I'm very childish in the studio and luckily so was Lin, so we had a lot of fun together.
We asked O'petaia what his favorite part of the collaboration had been, and he said it was new to him to sit around the table and brainstorm. He said in his culture, music is like breathing air. He always knew it was what he wanted to do in life, though at times it was hard to get a job as a musician. Now that he had a pretty good job and a very nice addition to his resume, we wondered what was on the horizon for him.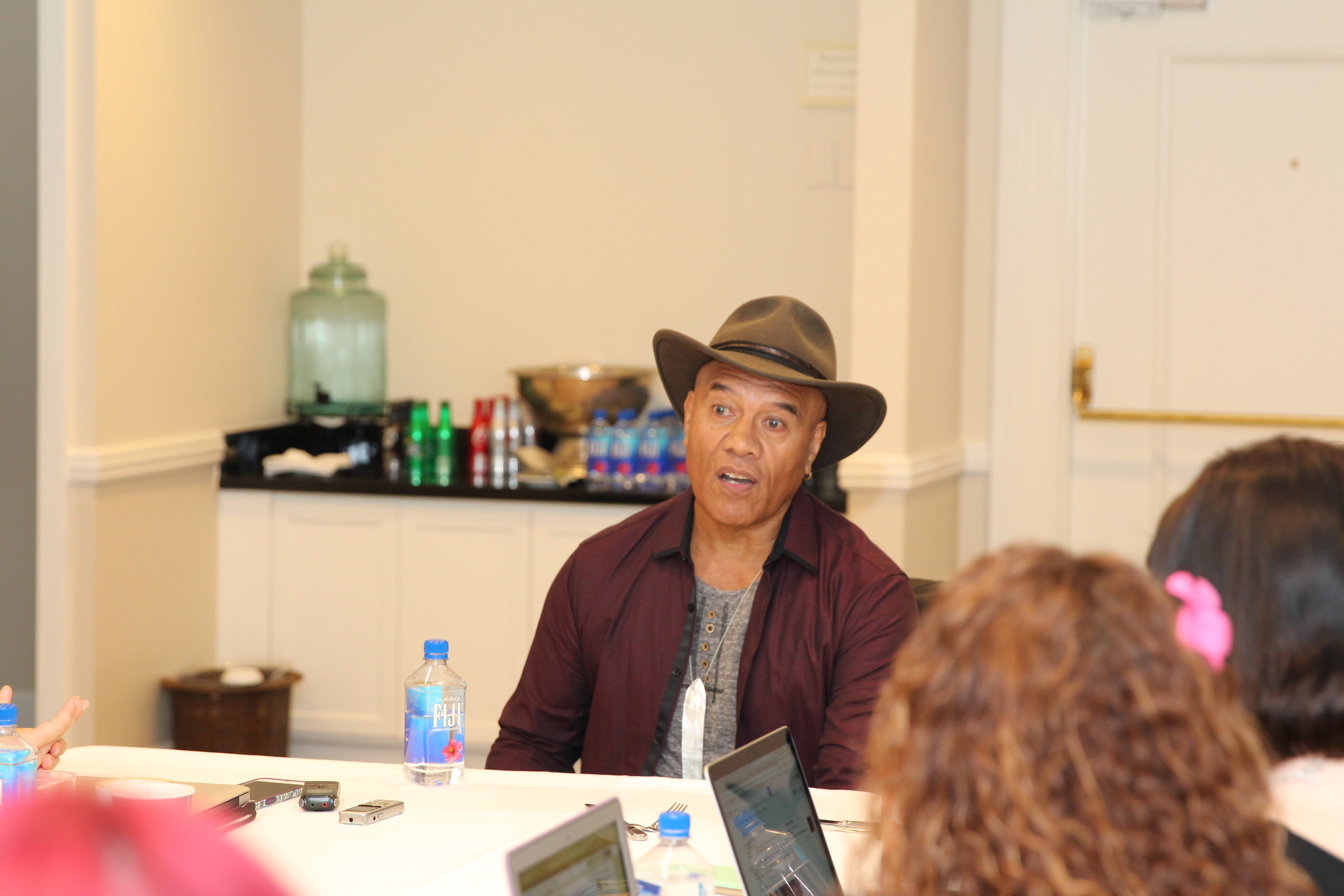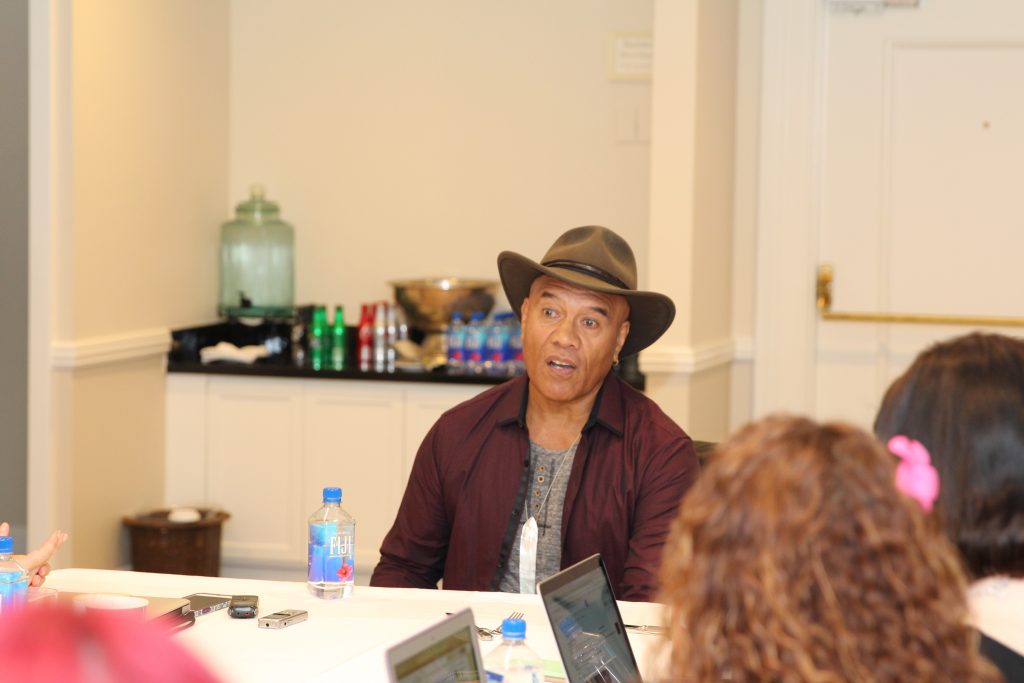 O'petaia: You know, I'm happy where I am now. Just to get here, you know? I was trying to explain to you my journey, it was really to promote my culture. I've traveled the world and people got sick of me talking about these people that are the best navigators, best sailors in the world. And to be honest, I thought I'd reached the end of my run. I was ready to hang up my horse unless the opportunity came up.
How many people would have thrown in the towel just before real success? As we could tell how important it was that the film portrayed the culture in the right light, we wanted to know, now that O'petaia has seen the film, did they do a good job in that respect?
O'petaia: I can say this daringly. My ancestors would be proud of this movie.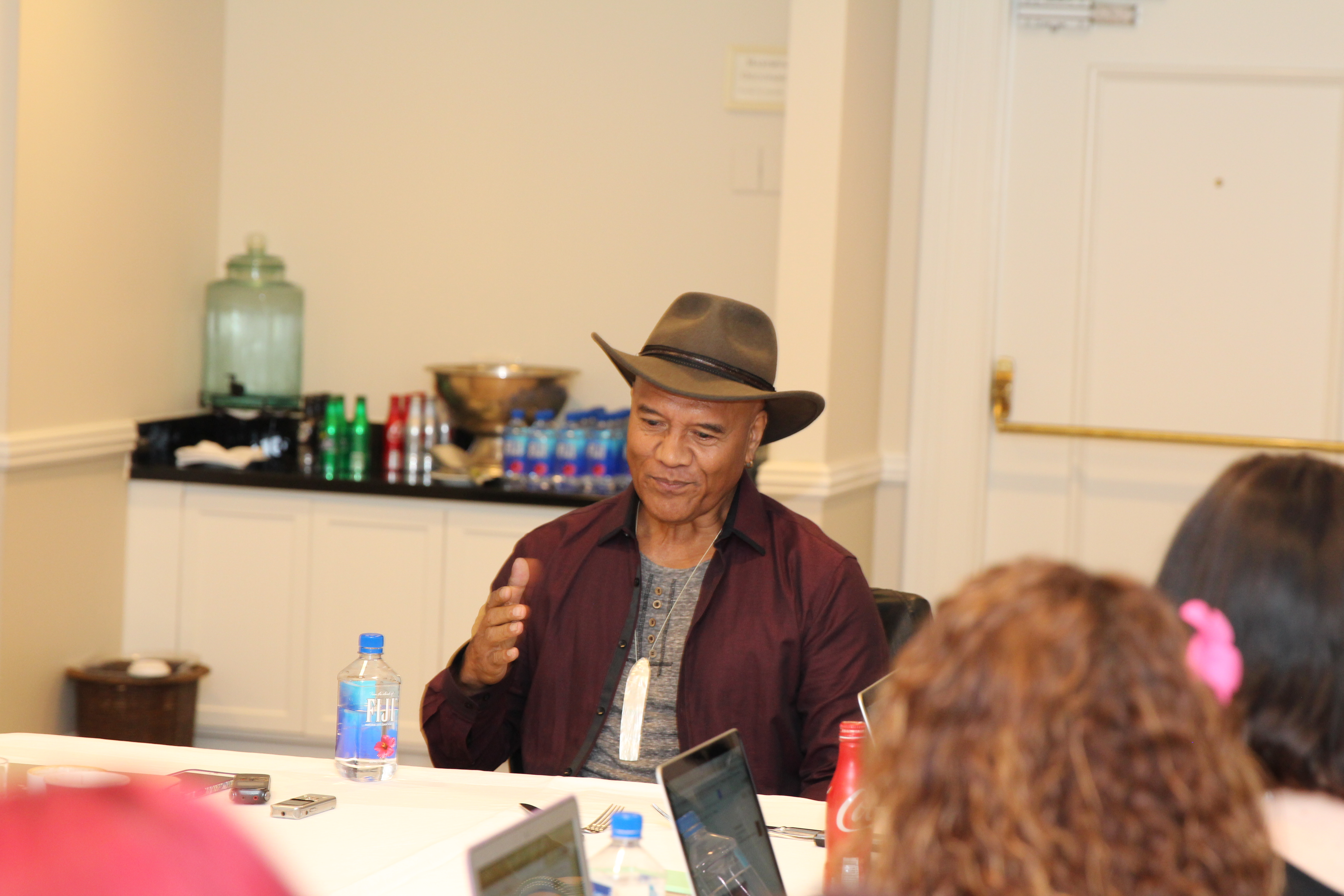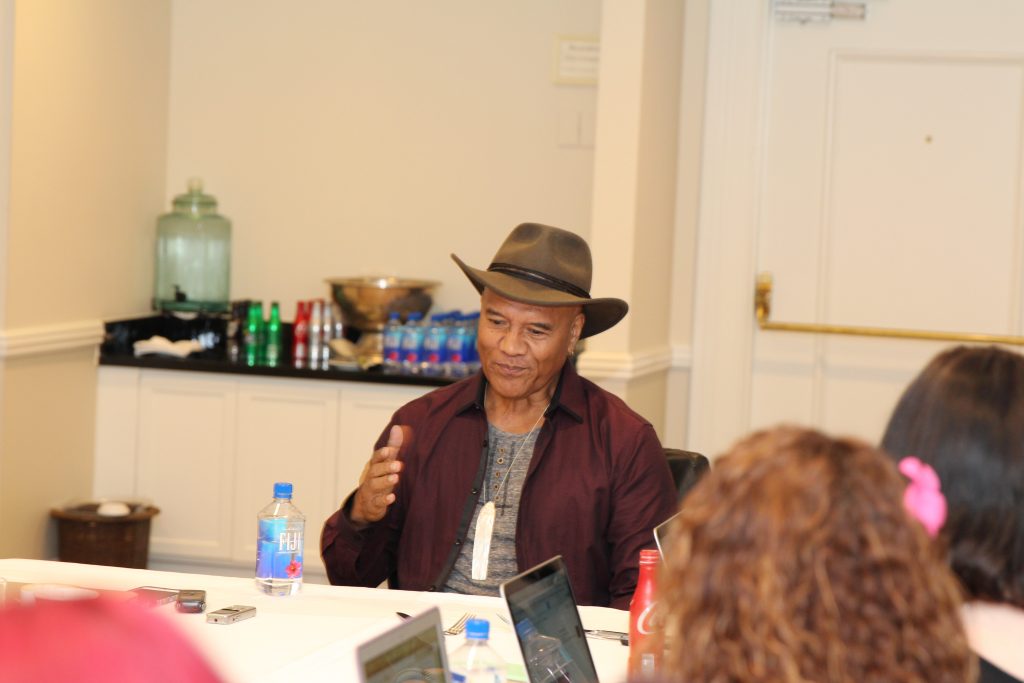 We asked what song had the most meaning to him that made it onto the Soundtrack.
O'petaia: The first track I wrote was 'We Know the Way', you know, and I wrote that as soon as it was explained what they wanted; voyaging is my thing, you know? We got together in Carmel with Lin and Mark and we were pacing up and down and getting all the lyrics together. Smoke coming out of us. And they came out with those beautiful lyrics. And then we knew something was special about this.
Watch this short video of We Know the Way:
Did O'petaia have advice for young Artists that are following their passion?
O'petaia: It's a good question. Maybe I'll answer it a different way if I could. The journey that I made coming from a village to this big city; My roots were firmly entrenched, so there was no way you could shake it, no matter how much I try, it's all in there.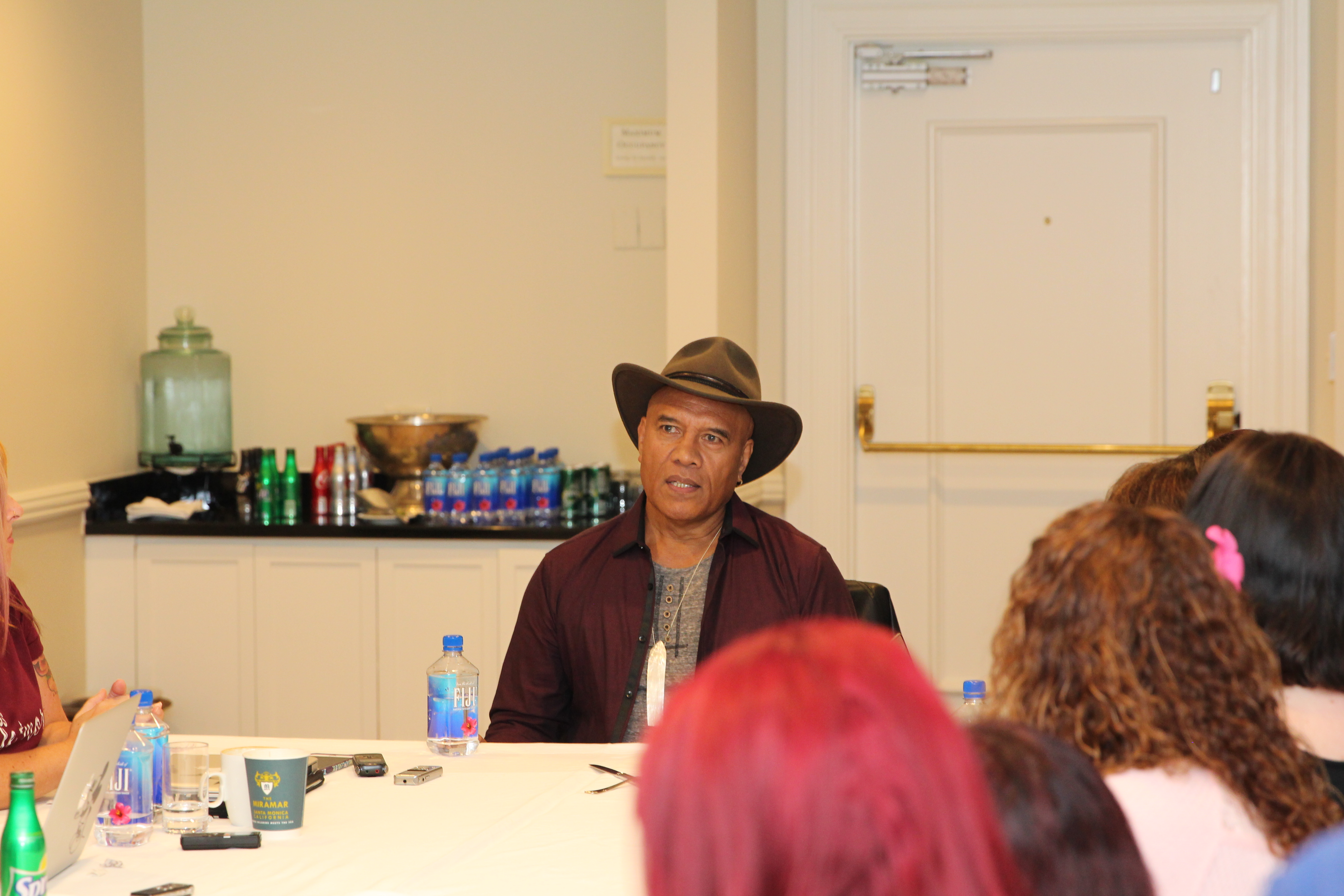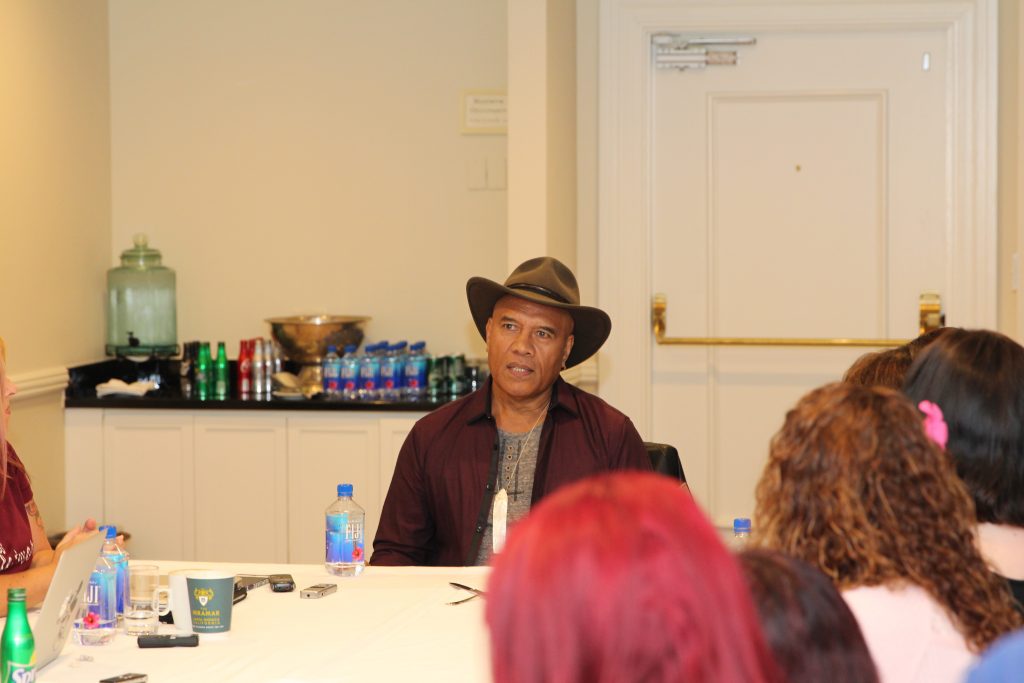 So this movie for me, as much as I want other cultures to be really interested in what the culture is all about, the biggest buzz for me is for my own people because a lot of them were brought up in the cities. And they go 'my father told that I'm connected' but they until you put your feet on that ground, you know? So I'm hoping that this will open the key for them to go. To feel pride and go back and check it out.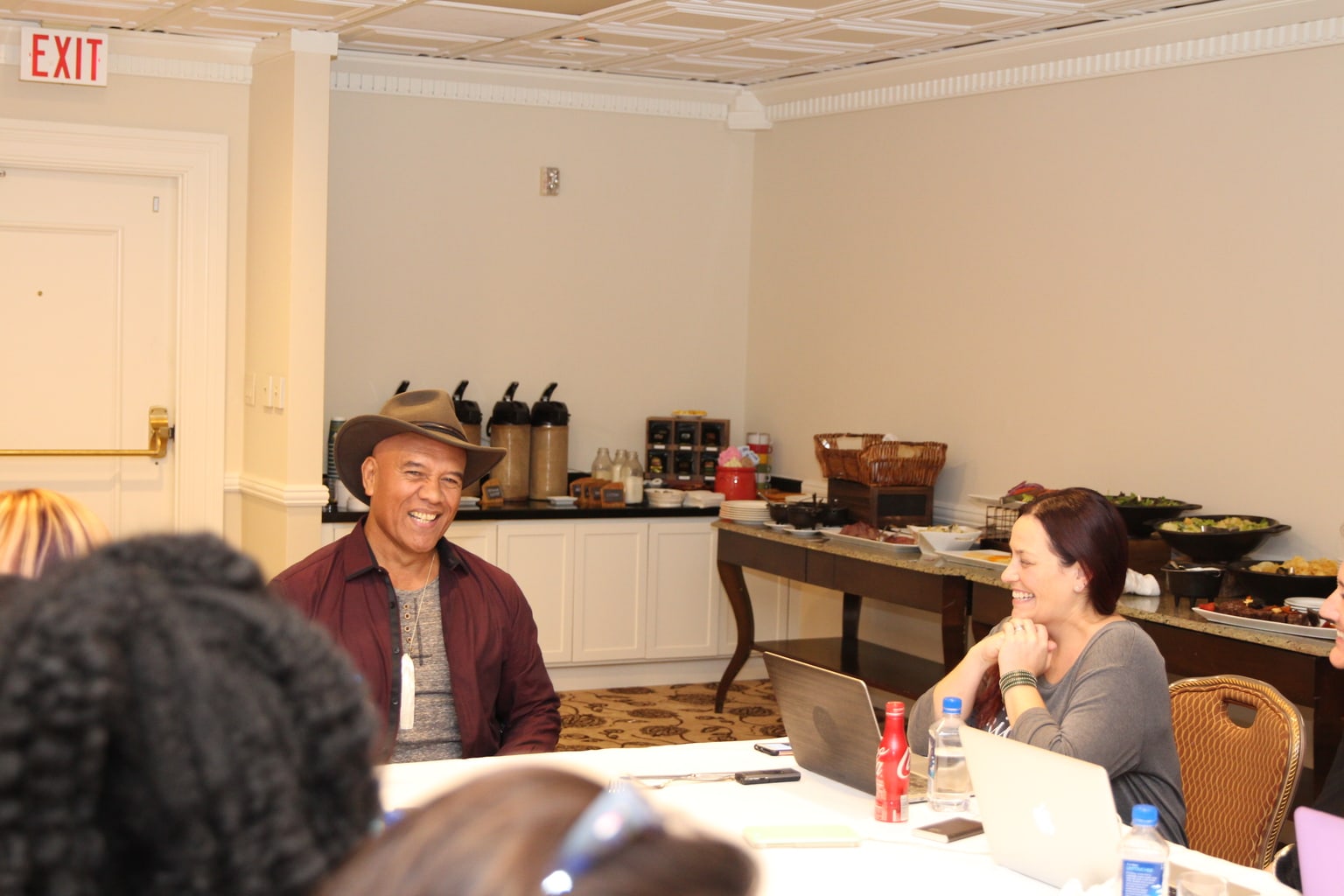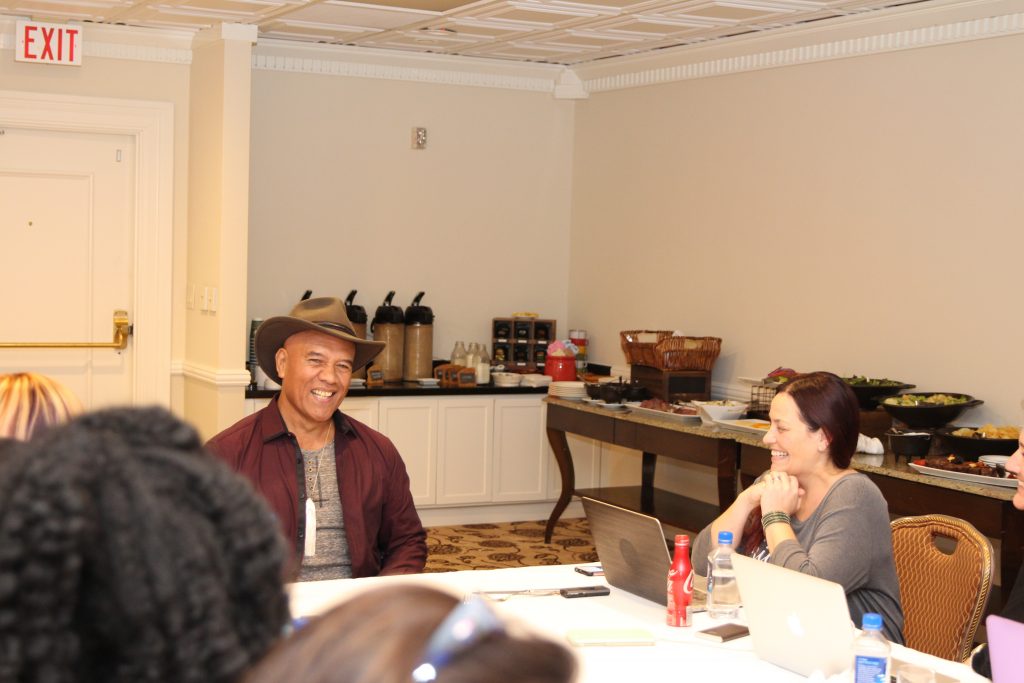 I hope I can check it out one day! It's been a dream to visit that part of the world. O'petaia too a moment for a photo with our group.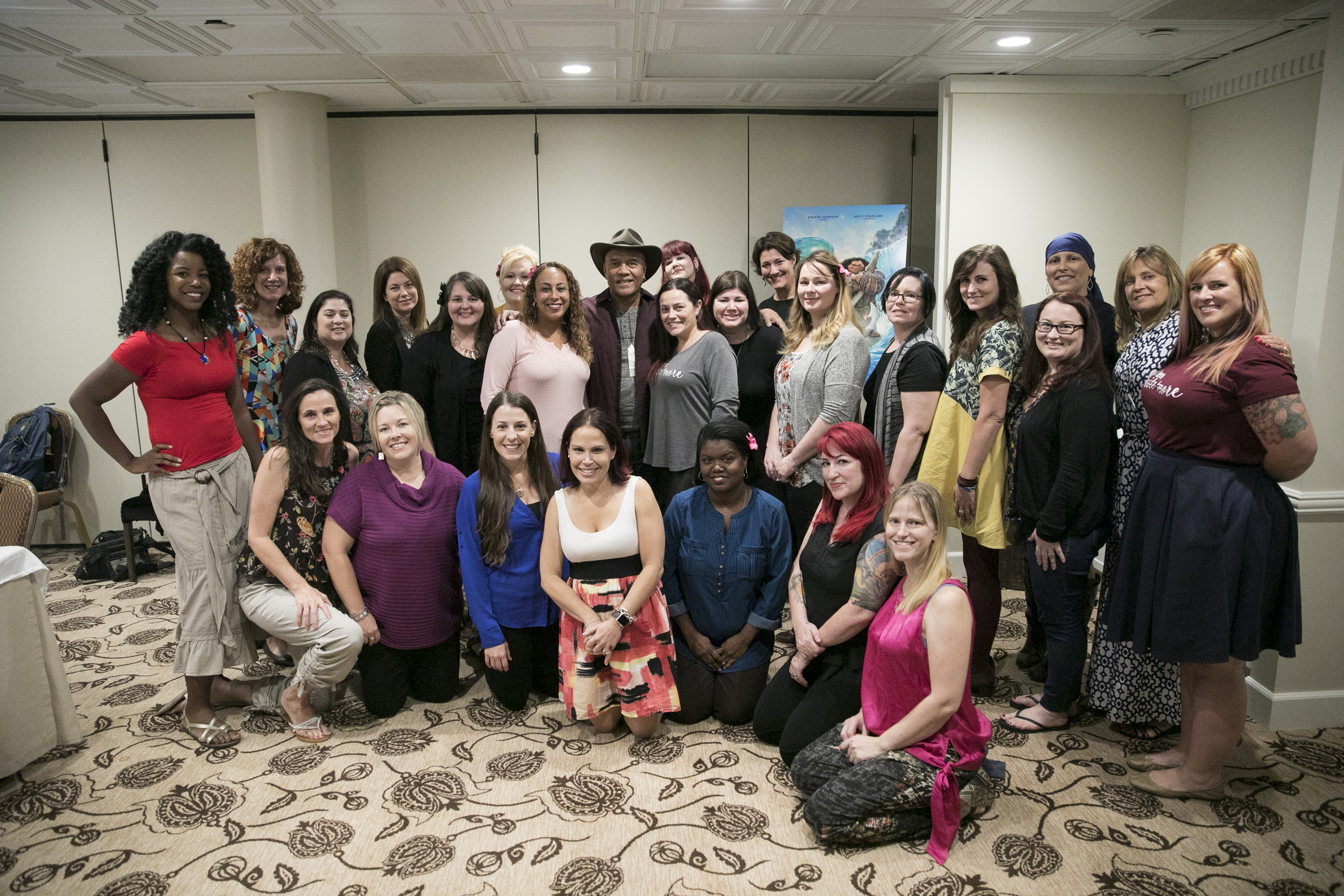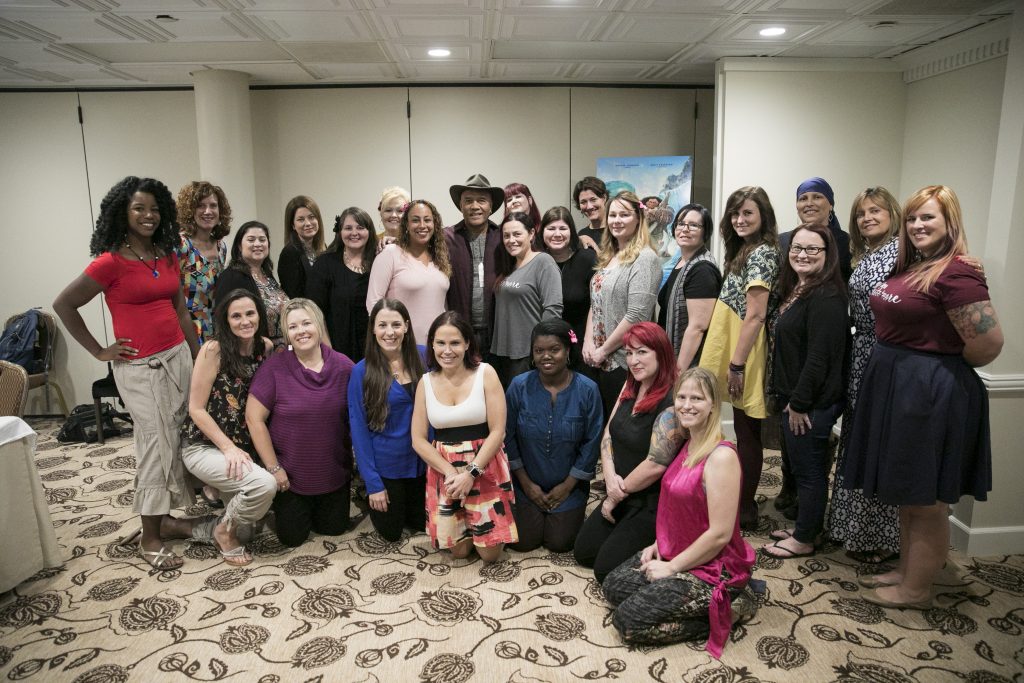 Moana is in theaters now, and you are going to fall in love with the music! Pick up your copy at the Disney Store today!