Let's face it. Kurt Russell doesn't need the work. He's a legend, and at this point, he could just sit back and enjoy life with his lovely partner of over 30 years, Goldie Hawn.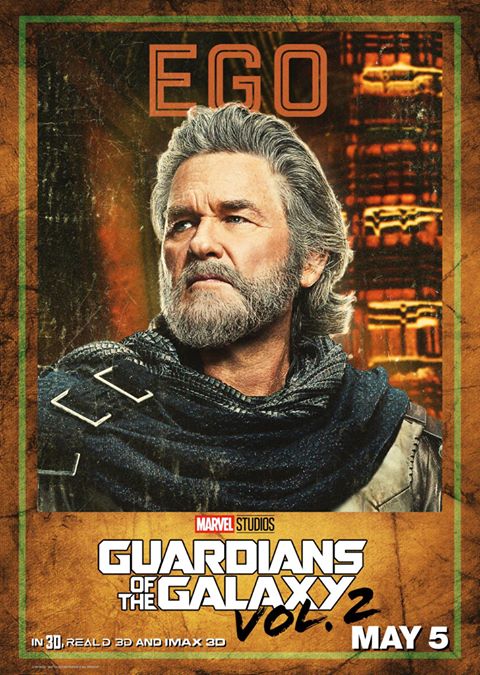 But it seems a 54-year acting career is not enough, because Kurt is as busy as ever and in demand. I asked him about auditioning for the role:
Kurt Russell: Oh, for the role? Well, I guess you would say 55 years' worth. I don't know. Everything you do is what a director is gonna look at to see something that they think is right for you in their movie and play the part that they want you to play. No, I don't go in anymore. You know, they know who I am.
Indeed they do. And in my humble opinion, Mr. Russell is as sexy as ever, and he will gain a whole new fan base from this movie. In fact, Kurt was doing a publicity trip for Hateful Eight and all of a sudden Guardians of the Galaxy Vol 2 was on everyone's lips.
Kurt: Suddenly one day all the reporters and whoever else I ran into was saying 'So are you gonna do Guardians of the Galaxy?' I'd never heard of Guardians of the Galaxy. 'Are you gonna be Peter Quill's father?'
Kurt said he spoke to Samuel Jackson (Nick Fury, a long time character in the Marvel Universe) and he said 'Oh, that's a little different stuff. This is big audiences.' Kurt said 'Is it fun?' There has to be a good reason for Kurt to take a role these days, and fun seems to be at the top of that list.
Kurt: I had never been involved being asked about a character before I'd done it as much as that, and I suddenly realized that this movie must have been very popular. And for some reason, the audience cared about who his father was gonna be.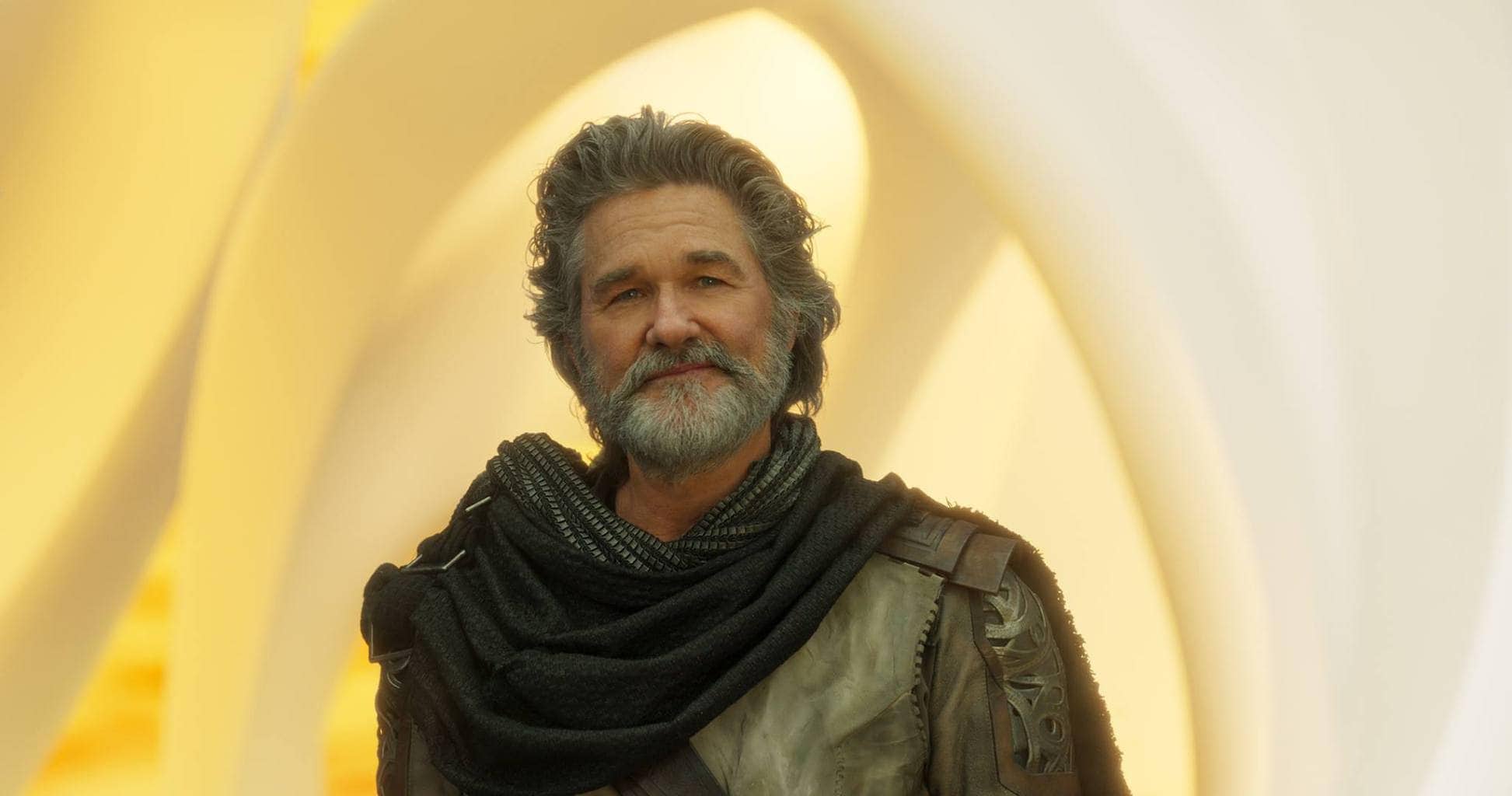 So I said I'll see what it's like. I hadn't read the script. I didn't know anything about it. So I read the script and said, 'I need to see the movie.' I watched it for about eight or nine minutes with Goldie, and immediately, I got the jest of the feeling of what the Guardians of the Galaxy world is like.
I've done a lot of movies in the past, connect some dots there. I get very much why I'd be a good person to play the dad with the script that I had. It's turned out to be a blast; really fun. Chris is great and the whole cast is great and James - it's fun to work with someone who really knows what they wanna do and what they wanna show and pull off and try to create.
I'm his (Peter Quill's) father and he's a man of adventure. It's a very full role. You have to play a lot of different types of scenes where we are emotionally very different. We get to explore a lot of Peter Quill's past. You'll learn a lot about where he comes from and why he is what he is. He's coming from a position of having wondered about who his father was all his whole life and it's me, so.
We had to ask about Peter's mom, who has the story line of music, and wondered if Kurt's character had any connection with the music. Were we going to learn about that?
Kurt: It will be quite important. There's a strong connection to music, particular songs. It's a big part of this world and he continues that theme very, very strongly.
Kurt Russell has been around a long time, so we wondered if he had done a lot with green screens and wires. We were actually on set at the time, so could see the wires and even saw a part of the filming when wires were being used. I read that a rigging team can use $100,000 worth of equipment and more even on a simple wire rig! These were far from simple rigs.
Kurt: It's funny. We call them wire gags and this is where we were the last few days. You can see some of the wires that are left. Wire gags have always been the same ever since probably the 30s and 40s but the technology around the wire gag itself has improved so much and the wires have improved.
They're on computers now sometimes, so you work out what you're gonna do and they dial it in. You get much better precision. The technology of what they can do around you has improved greatly 'cause it used to be that you get a line around you and if you moved too much you'd get some rippling effect. It wasn't very good. But I started doing those in the 60s, early 60s with Disney and they haven't changed really that much. Having said that, we're getting further and further into this world where it will look completely different.
And it's difficult. Like many actors who respond to their surroundings, if you and I are playing the scene together and I see you and I'm talking to you, and I see that and I wanna play with that- if you don't have that, the spontaneity is different.
When we did Tombstone there was a scene where I was walking with Dana Delany. The wind was blowing that day a little bit and so it was blowing some of the cotton woods around and one was gonna blow on her face, so I just picked it and it was just part of the scene. It was very organic. It was very good. That won't happen.
So you have to invent that. That's kind of fun to do. Chris and I did some stuff when we first got together and he really knows that he's my son and that I'm his father and I know that he's my son, and we're doing this really cool thing and there's nothing there. And he and I looked at each other and we sort of - we were imagining things- but we were imagining the same things so that was fun to play with. So it'll be fun for us to see that physicalized and then see if, because we told them what we were thinking, they'll include that.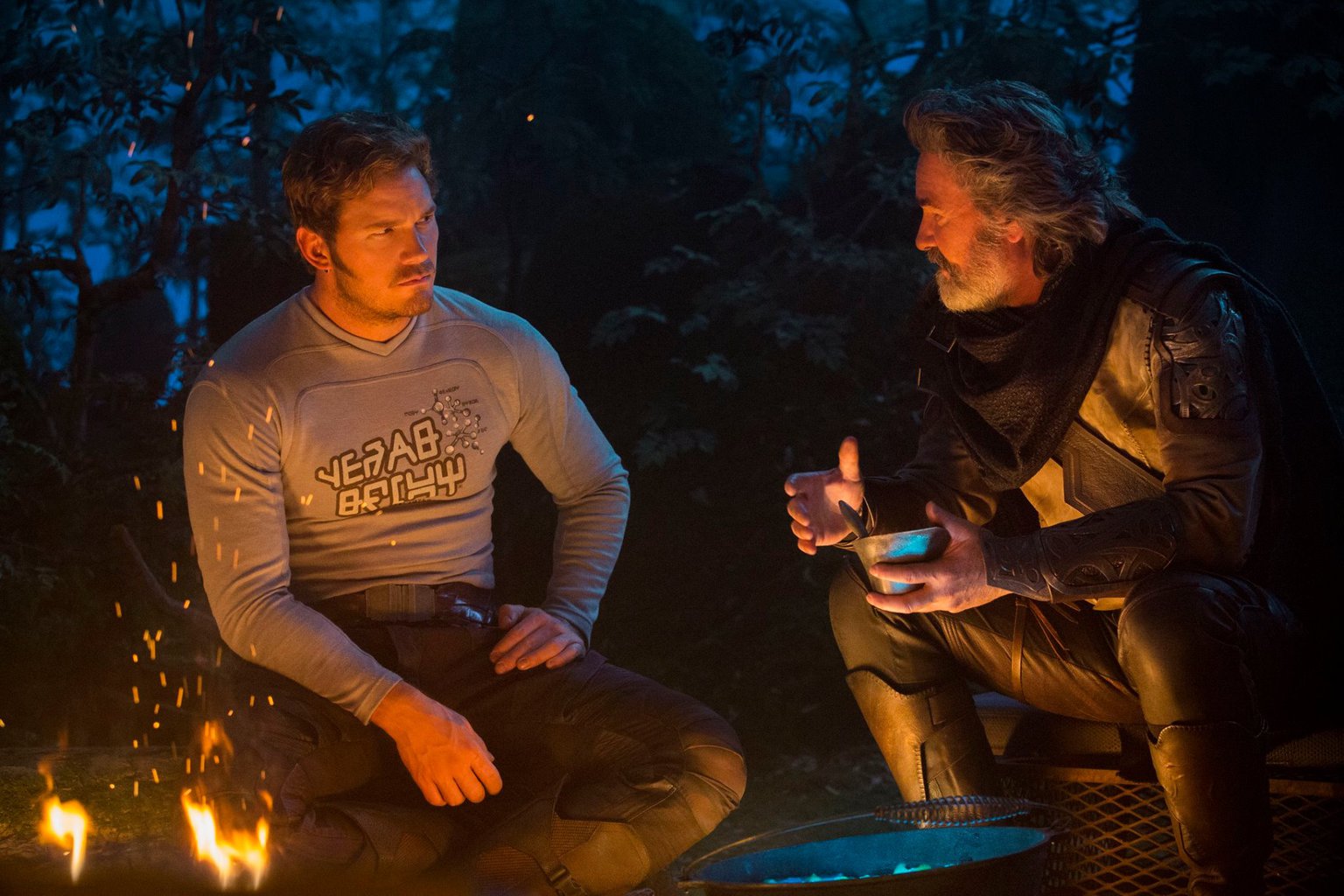 That was fun because only he and I were knowing what was happening and it'll be fun to see that brought to life. But you can't think of it. You're just doing a scene and something just happens.
You might not even be right or wrong, you know, but it happens and you go with it. A tree falls down. Play the tree fell down and you continue on or it stops and gives the scene a whole different feeling and meaning.
I worry about that being lost. So in a movie like this you have to have it 'cause it's just so chock full of things that don't exist, but it's fun to imagine.
We asked if Kurt would be able to see any of those pieces come to life before the movie was finished.
Kurt: They have this thing now called the pre-vis. It's very valuable. It's a cheap version of what you're gonna get that you can look at. What's fun about that is it kicks your imagination off. However, you're kind of locked in to what it is. It can be cool because it makes you feel like you really know how to improve it. We can't go there, but it allows you to kind of see it.
Some of the stuff's fun to just be surprised. It's goofball silly. We don't even know how many of these will be there. They can do so much!
I was doing a movie called The Thing in 1982 and it was this monster that had been to many different planets before it had arrived. And when it evolved out of a dog, a human being, a chair, whatever it was -- it had to be alive. It would transform and go through those transformations before it was turning into whatever it was gonna turn into.
One time I was running away from this thing and turn around and throw a cocktail at her or something and blows it up, but as I turned around and said 'Where is this thing?' When I turn around in the movie, I'm looking at that X and when you see in the movie, of course, it's like this big crazy thing. I never knew what it was gonna be until I saw the movie.
If you haven't seen the movie, what? It's one of my personal favorites! Watch it this weekend!
If your kiddos are fans, how about a superhero party with these Captain America Cupcakes, Iron Man Cupcakes, or Captain America Cookies?
More Marvel Interviews