Posted in partnership with RaceTrac.
What gets you going? For me, it's my family. We all have our own reasons that motivate us to do all we do. RaceTrac gets that and understands we all have different ways we get going in the morning, too.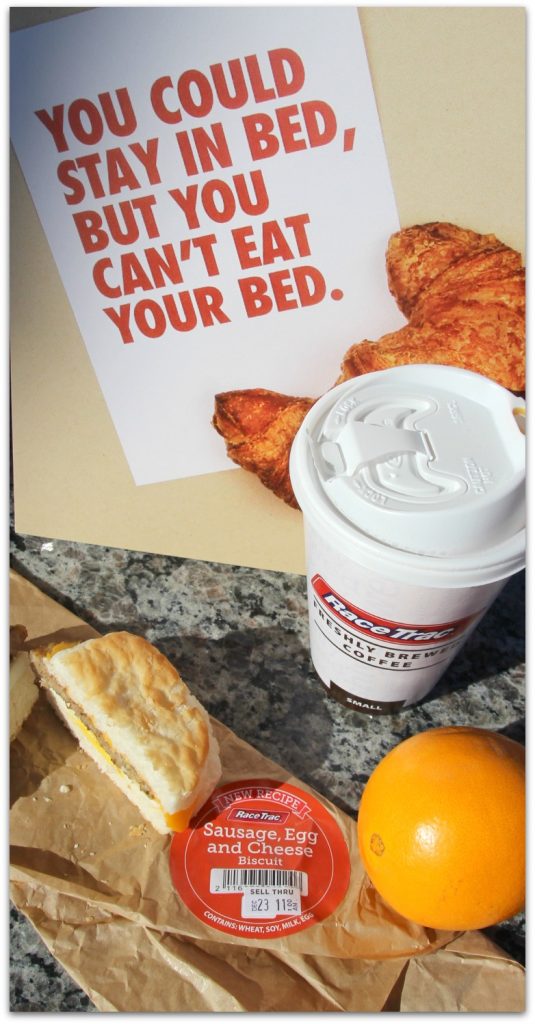 I'm passionate about my coffee. It's the first thing I think of in the morning. When my husband is in town, we brew a pot to share, but when he's not here as he travels a lot for work, I usually grab it on the road.
My younger daughter takes classes at the community college but only has her learner's permit, so I am with her on the road a lot.
Fortunately, there's a place right down the street where I can stop in and grab my coffee and something for her, too.
She's not really a coffee drinker, so, depending on her mood, we can pick up a cup of tea or chocolate milk, and grab a bite to eat as well. RaceTrac has a lot of choices because we're all different.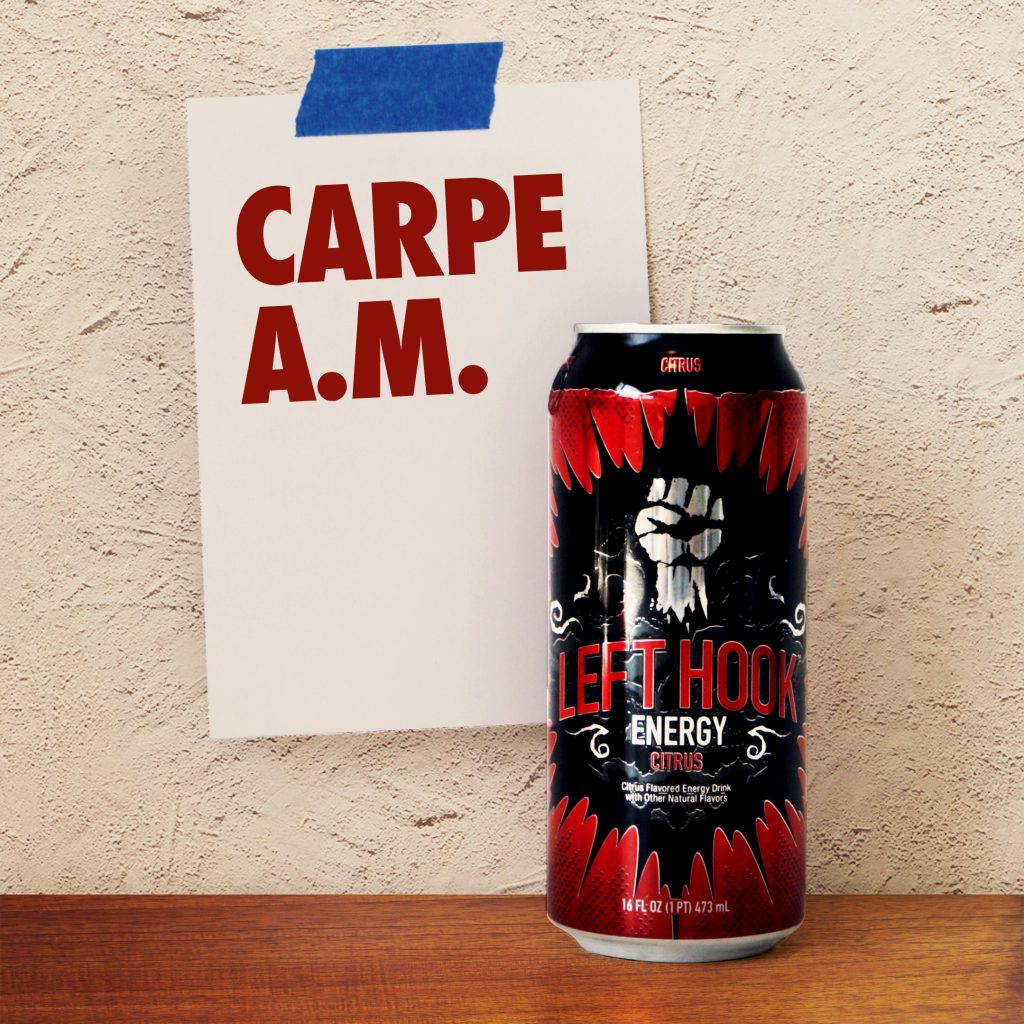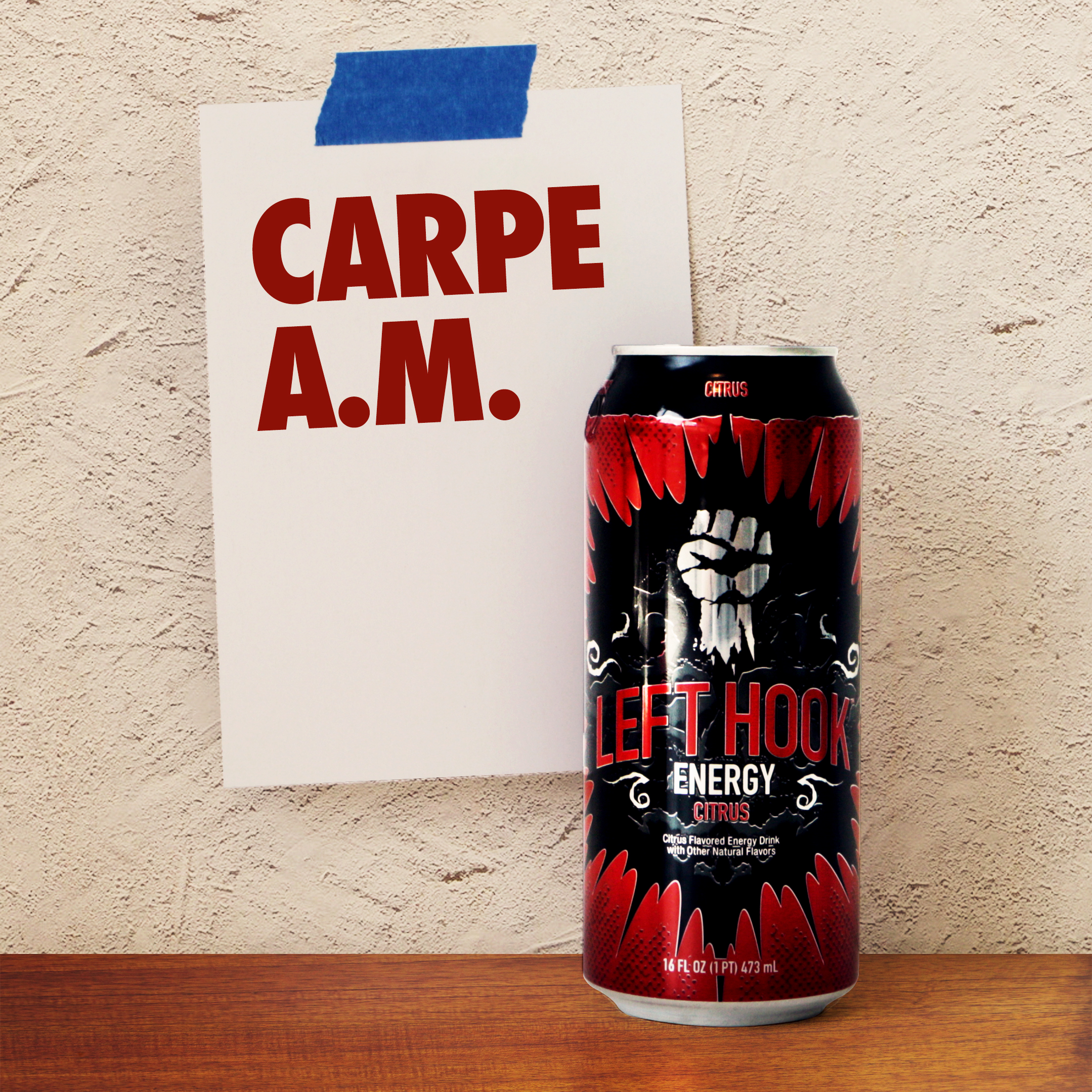 Whatever gets you going. (We're not judging.) ~ Racetrac
I'm so excited to be partnering with RaceTrac as an Ambassador! In a home where two parents travel a lot, with one kid in college in Canada and the other finishing up high school, we have to be flexible. Right now, everyone is home for the holidays, and we've been out shopping for gifts. I'm so glad there's a RaceTrac just about everywhere I go, so I can stop in when hunger strikes and I don't want to spend time for a sit-down meal or wait in line at the drive-thru.
Today has been one of those days and it's not over yet! I've got a volunteer commitment early this evening and then a holiday party to attend, but I still had a few things to pick up this morning.
What Gets You Going?
My daughter and I headed to RaceTrac for gas and decided to go in and grab breakfast. First things first. Coffee! It's usually bold for me, and I fell in love with Costa Rican coffee when we visited a few years ago.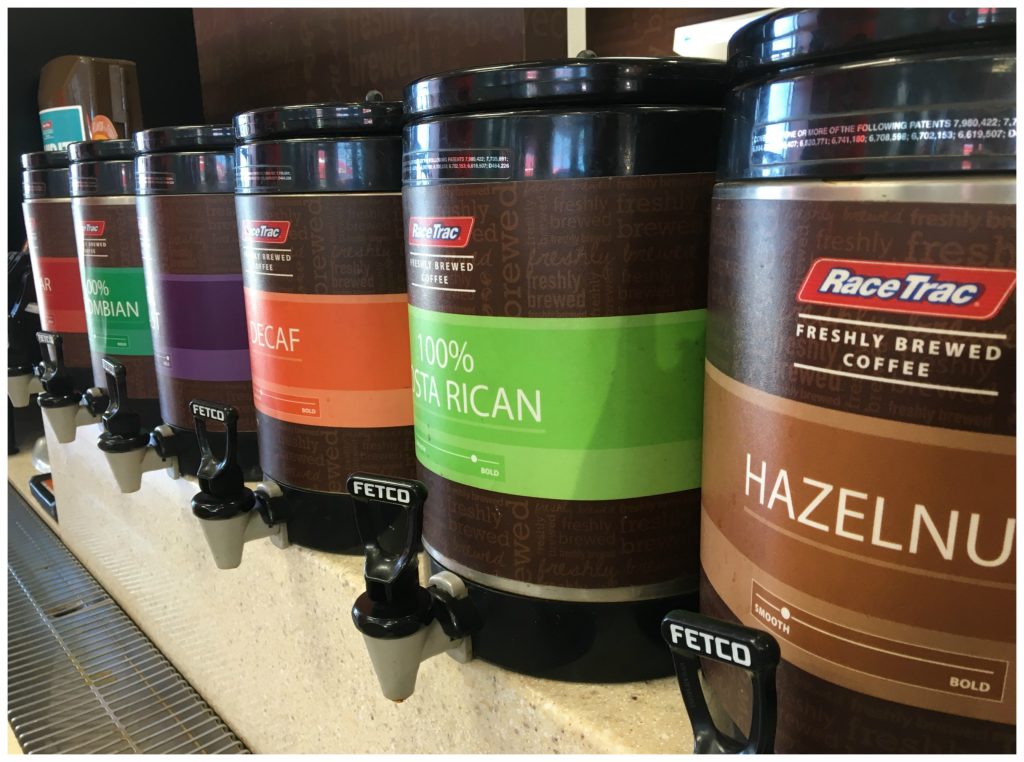 Too bad you can't scratch and sniff this post, because the coffee at RaceTrac smells so good!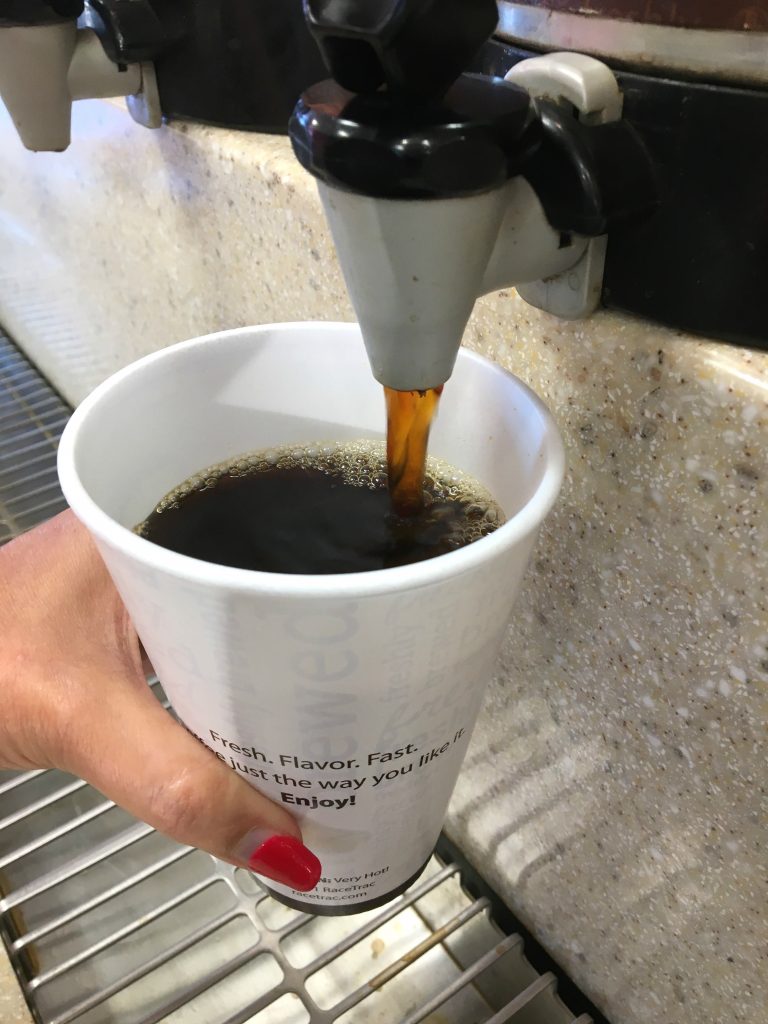 The coffee bar features up to six blends of freshly brewed coffee, including 100% Hazelnut, Regular, Columbian, Decaf and Dark Roast. Always dreamed of being a barista?
You can customize your own CrazyGood Coffee by selecting your favorite coffee blend and pairing it with your choice of creamers, sweeteners, and toppings. And if you'd rather have a specialty coffee or hot cocoa, you can get that, too.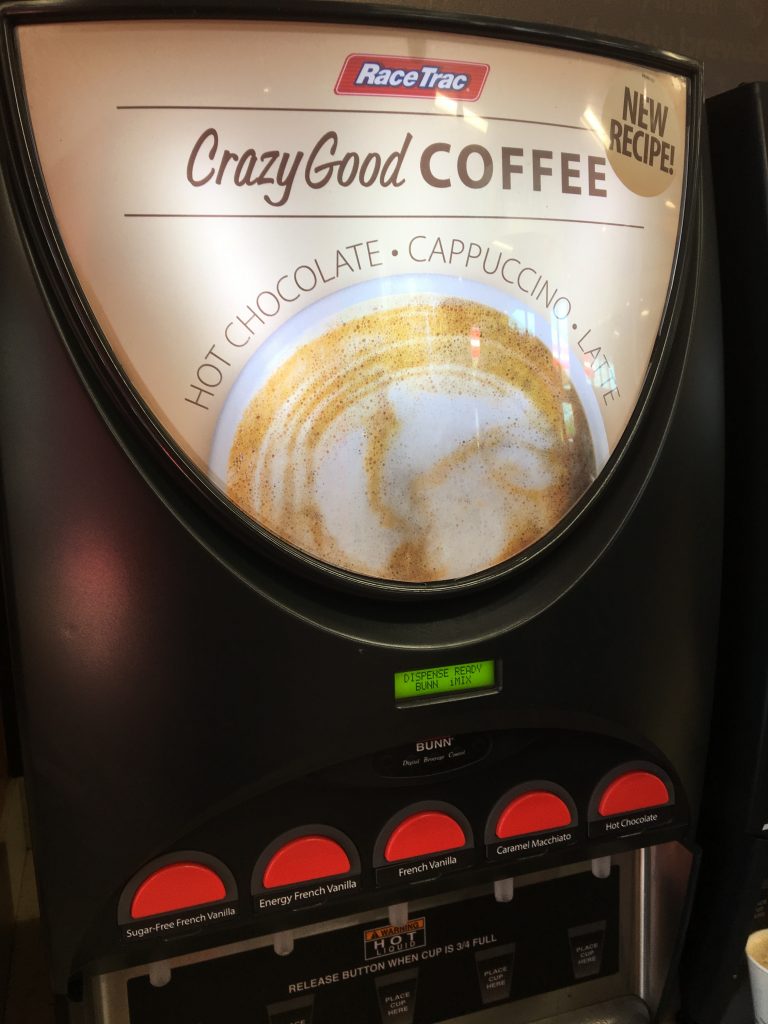 There's even a special dispenser of fresh whipped cream. My daughter was not passing that up!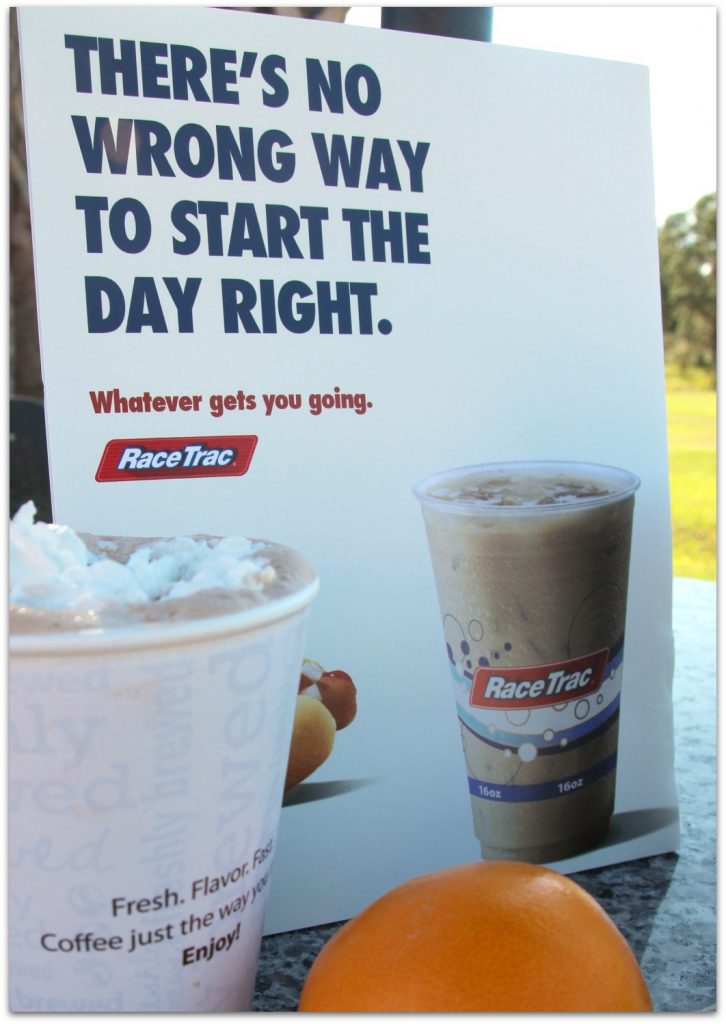 RaceTrac has so many delicious food choices, whether you want breakfast or lunch. They know their guests want more than traditional breakfast choices in the morning. My kids don't drink coffee, and often would rather have a hot dog for breakfast! Whatever gets them going works for me!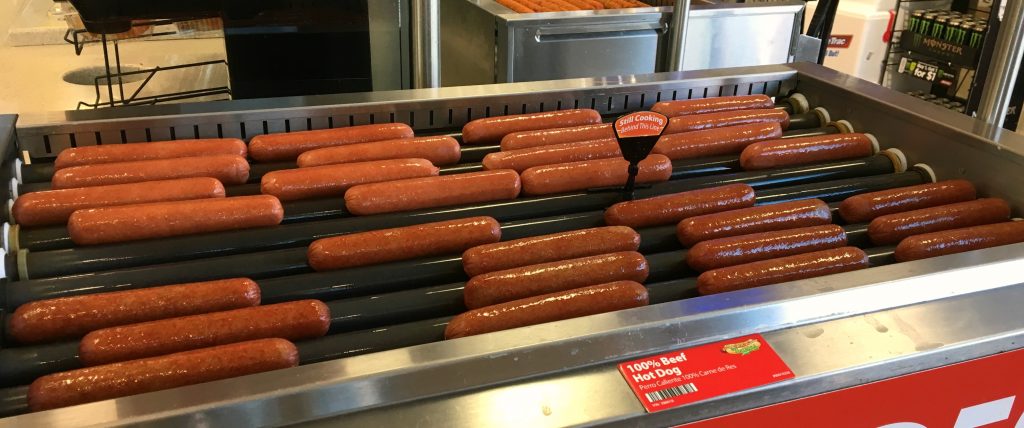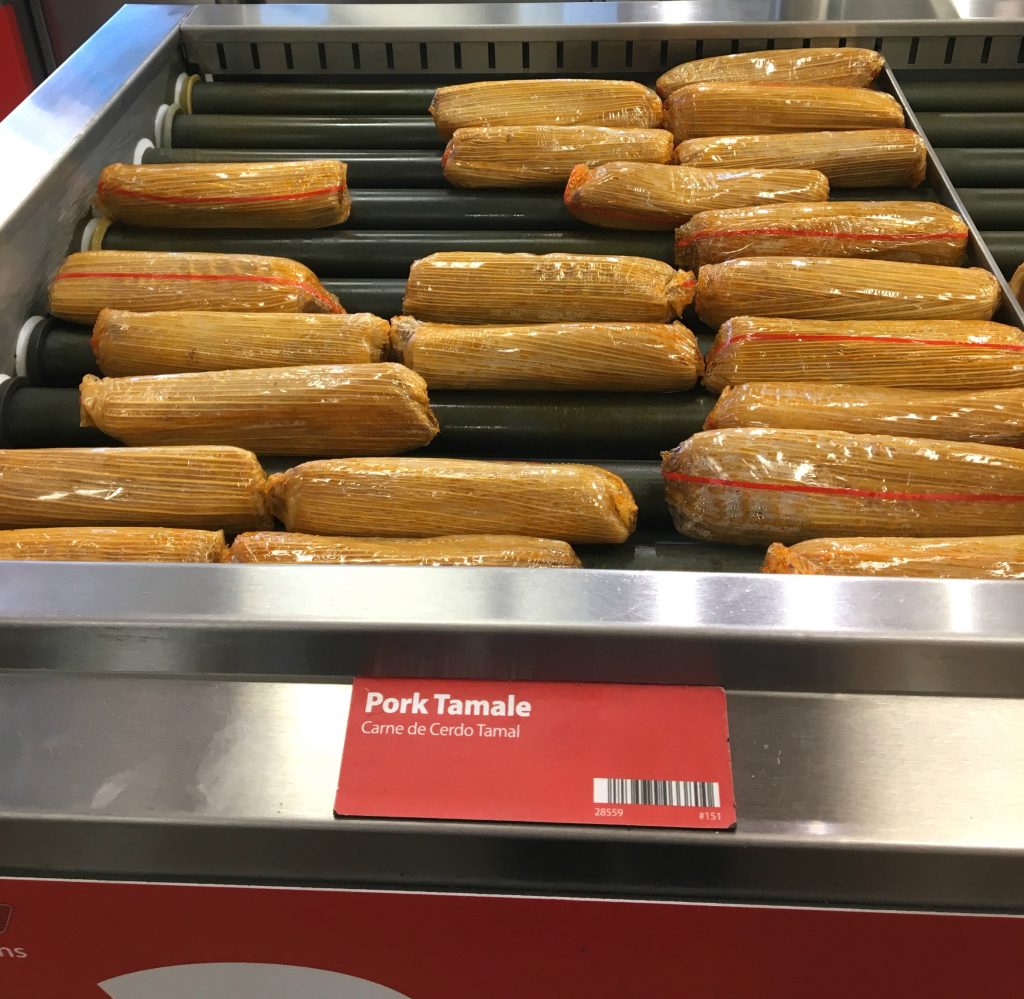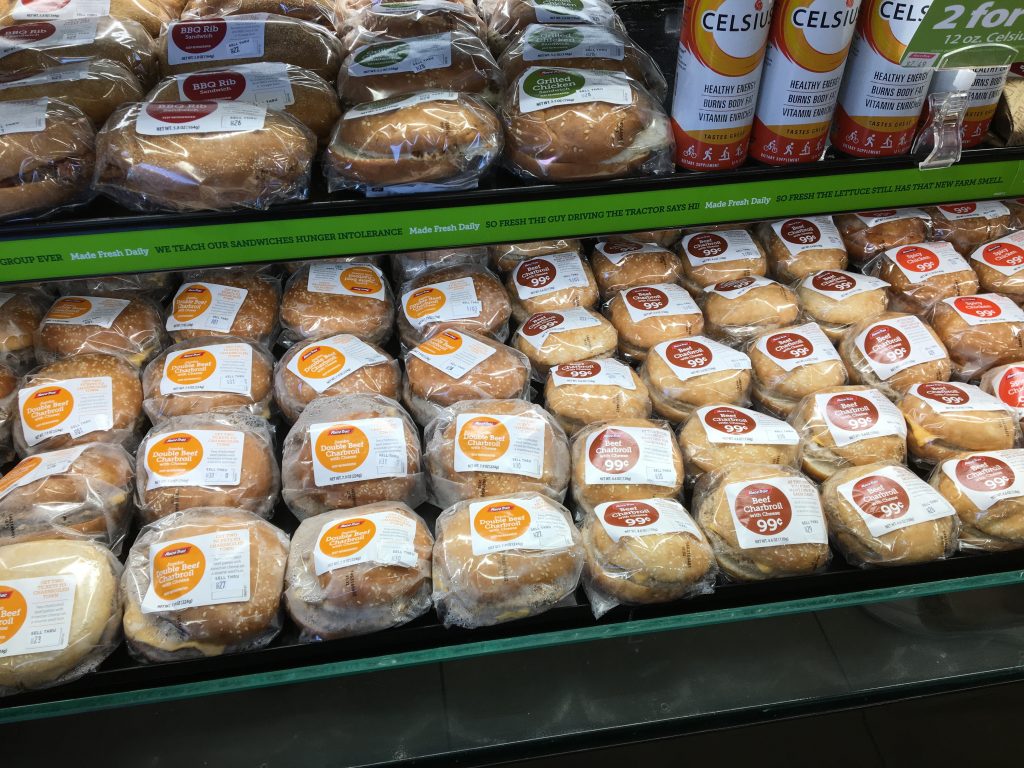 You've got to check out the Roller Grill!
Hot Dogs for breakfast? Absolutely. It's a thing! As a matter of fact, RaceTrac sales data shows that Nathan's Famous 100% all-beef hot dogs are its top-selling food item from 6:00 a.m. to 10:00 a.m.
Prefer Taquitos, Empanadas, Tamales or Chicken Rollers?
You'll find a lot of fresh foods, too, like fruits, sandwiches and wraps, and salad options. Just look at the choices! Burgers, BBQ Rib Sandwiches, Grilled Chicken, and more.
The store closest to me doesn't have the Made to Order option, but there are plenty of items for Grab-and-Go meals. There's a location about 15 minutes away that has Made to Order meals where you can create your own:
Pizza: Grab a piece or customize your own 7‐inch pizza, selecting from toppings like mushrooms, black olives, onions, jalapenos, bacon, sausage, and pepperoni.
Specialty Beverages:

RaceTrac's milkshakes are made with real, hand-scooped ice cream, milk and different fruits and candies. Their flavors are Vanilla, Chocolate, Strawberry, Salted Caramel Truffle, Cookies & Crème and Frozen Lemonade.
Their smoothies are made with Dannon yogurt and topped with real fruit choices like strawberries, bananas, oranges and apples.
The Espresso‐based beverages include lattes, mochas, cappuccinos, espresso shots and delicious hot chocolate. These are offered hot or iced and you can customize with different flavor shots, like hazelnut and vanilla.

Sandwiches are Made to Order, too!
After browsing, with hot beverages in hand, we decided on breakfast. Who could resist one of their fresh donuts, delivered every day?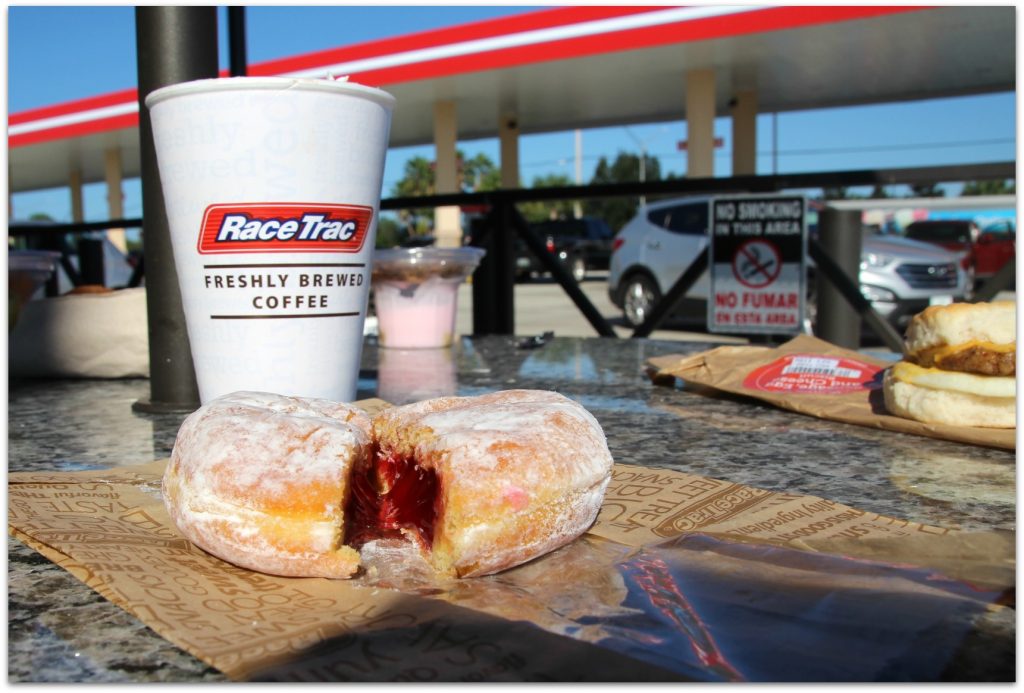 If you'd rather have a healthier choice, you have a lot of options there, too, including whole and cut fruit, sandwiches, wraps and salads that are delivered fresh to RaceTrac stores every day.
Starting in January you'll have another option; the Omelet Wrap is back for a limited time. Stuffed with eggs, ham, sautéed peppers and cheese, the wrap is the perfect drive-and-dine option for busy days.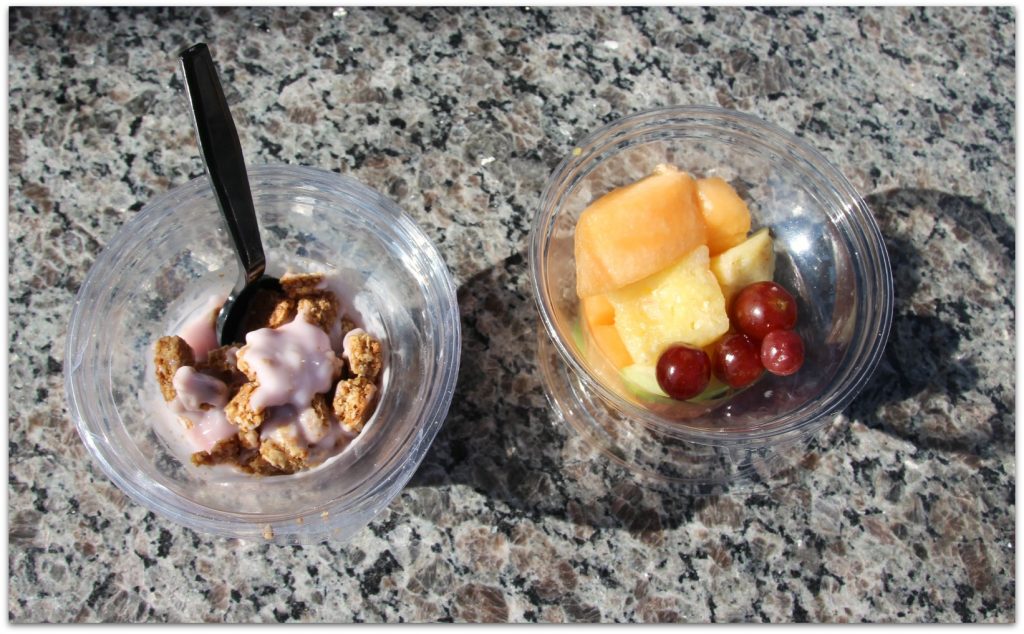 And the traditional Sausage, Egg & Cheese Biscuits, Sausage Biscuits, Ham, Egg & Cheese Croissants, as well as the Chicken Biscuit, are all made with fresh buttermilk biscuits and delivered daily. So many choices and it's all warm and ready to grab and go! Which one would you choose?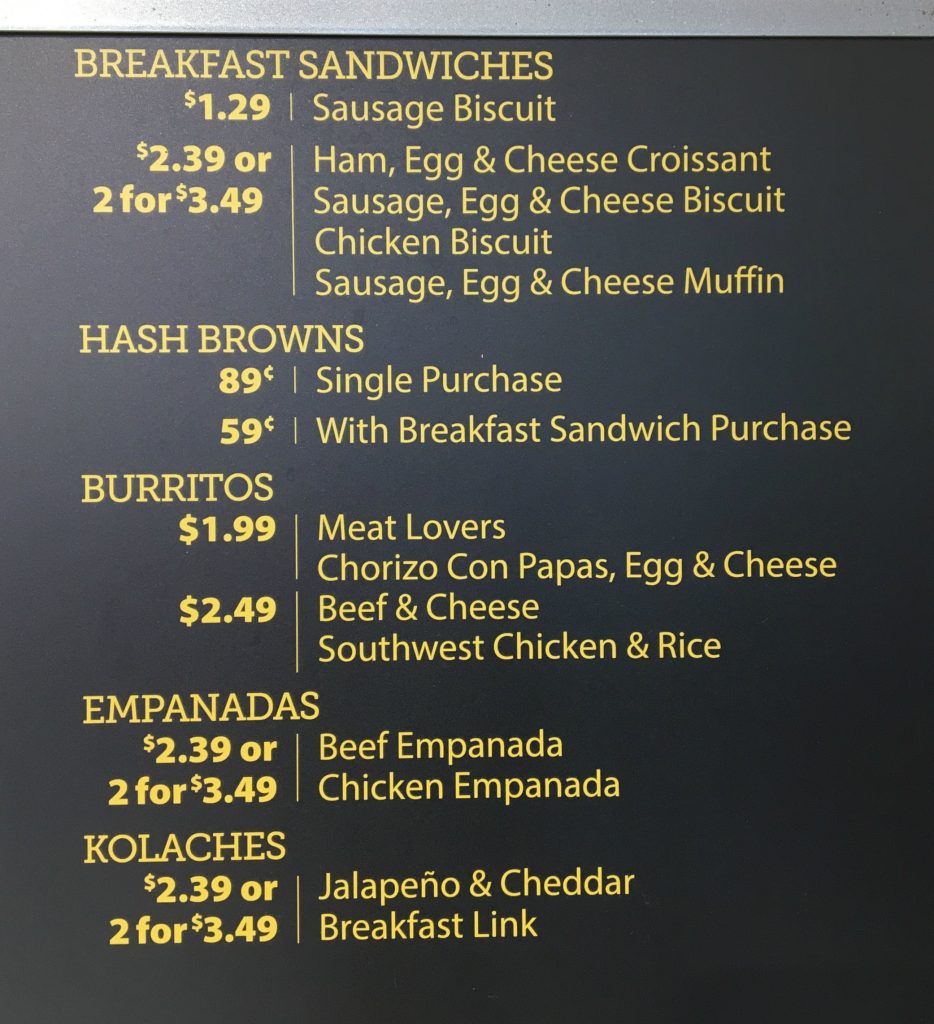 Living here in sunny Florida, it's almost Christmas and it's still in the 80's. We need to cool down year-round here and love the choices at Swirl World, RaceTrac's own line of frozen treats, including frozen yogurt, ice cream and Italian ice, all with swirling capabilities so you can build your own flavor combinations. With 41 toppings for you to further customize your frozen treat, you can get it just how you like it, in a cup, sugar cone or waffle cone. 
Not everyone's morning is the same – so why should your breakfast be the same? You may be heading out to sit in traffic to get to work or school. You may be heading home from the late shift. Whatever gets YOU going is what's important! Stop by your local RaceTrac and grab your favorite. My daughter did!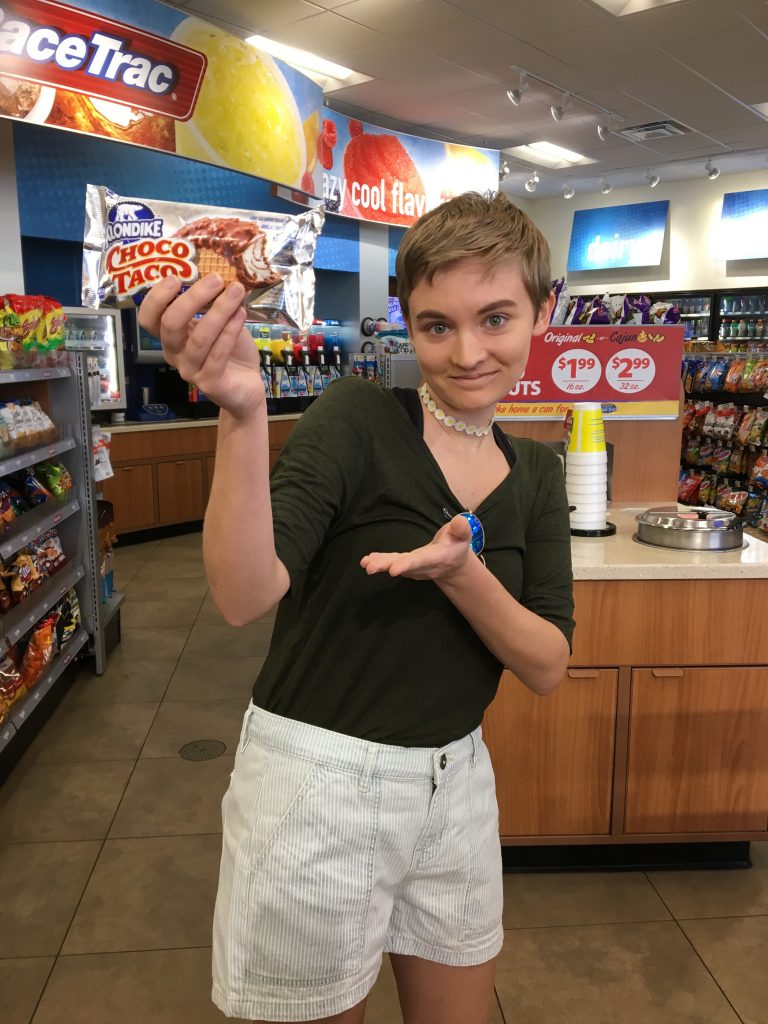 I'd love to know what gets you going! Share in the comments!