With school starting back this week in most of the country, life is about to get busy.  School schedules, sports practices, late nights of homework (you know who you are), and the rush to get a family meal on the table is on the way. The first thing my kids want the minute they walk out of their community college classes is a snack, and I've found one I can feel really good about them having with Taste of Nature Bars.

When Taste of Nature offered to give me a variety of their all natural bars (and some fun swag) to share with friends, I immediately thought of my small group at church. We meet on Tuesday nights at six. Most people are coming right from work and they're hungry, but plan to go home and have dinner with their families. I thought the Taste of Nature bars would be a perfect snack to hold off the hunger pangs. I was right. I cut up one of each bar as I didn't know how many people would be in the group that night. I wanted everyone to be able to try all of them.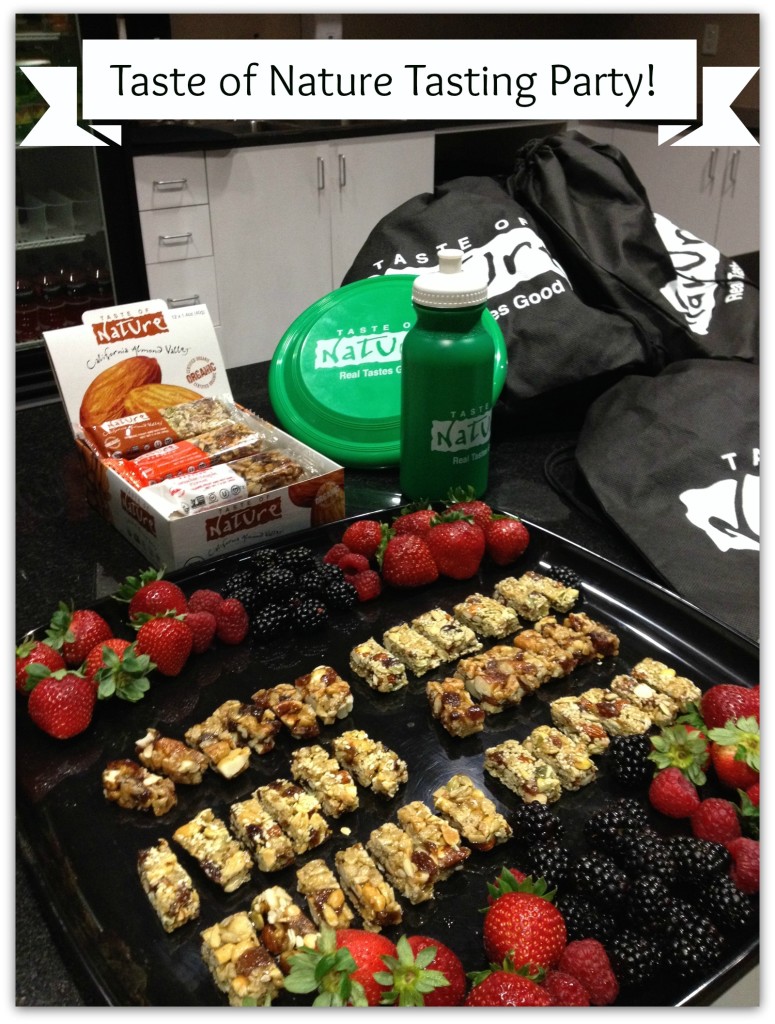 Taste of Nature sent me all six amazing flavors:
Brazilian Nut Festival

California Almond Valley

Quebec Cranberry Carnival

Canadian Maple Forest

Himalayan Goji Summit

Persian Pomegranate Garden
My personal favorite? Himalayan Goji Summit! But they all taste incredibly good! Taste of Nature believes Real Tastes Good, and I have to agree. I can't stop eating them! At just $1.99 per bar and under 200 calories, it's the perfect treat or afternoon snack. They even make a wonderful dessert. Or breakfast. Hmmm...yes, breakfast is a great idea! Can you tell I'm in love with these bars? My friends enjoyed them, too.

How amazing to find something that tastes that good and is good for you! Taste of Nature Bars are certified organic, gluten-free certified and non-gmo verified. Just look at them and you can see everything that's in them: nuts, fruit, and grains. No fillers, no chemicals, and nothing artificial.
You can feel good about eating these bars and giving them to your family. Let's face it; we all snack. But did you know nine in ten people admit that healthy snacking is difficult? See, you're not alone! And 23% have hidden their snacks from others so they wouldn't have to share! I could see myself doing that with the Goji Summit bars...and the Persian Pomegranate bars now that I think about it! Yum! I'm so glad my friends enjoyed them!

You can pick up your own Taste of Nature bars at fine natural products stores and grocery retailers. If you live in the Tampa area, you can pick them up at Village Health Market, Nutrition Smart, or check the website for a store near you.
Of course Taste of Nature is on all your favorite social media channels. so you can Follow them on Facebook, Twitter, Pinterest and even Instagram!
I was selected for this opportunity as a member of Clever Girls Collective and the content and opinions expressed here are all my own.