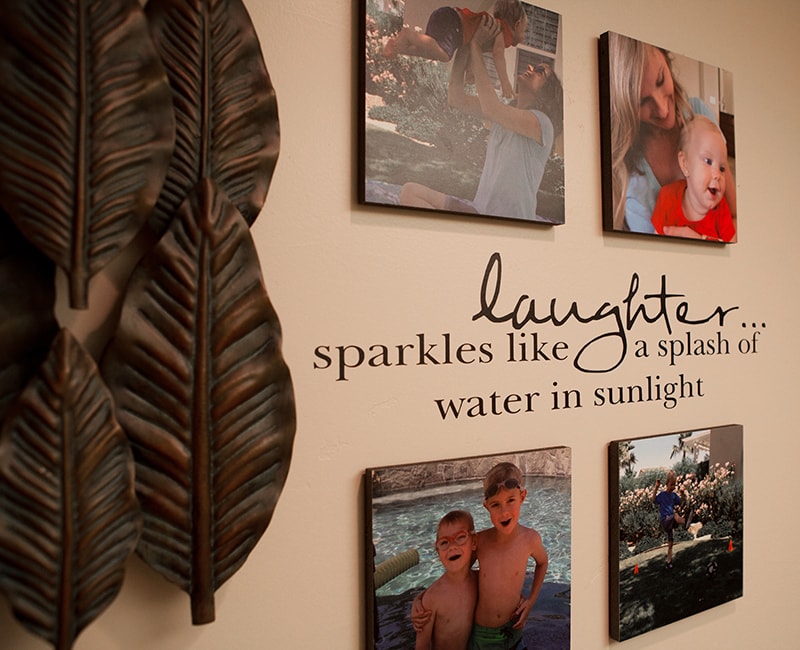 Do you have photo prints in your home? Having photos around of my family and friends has always been important to me. These days, so many of the photos I take are on my phone, and then posted to Facebook or Instagram. The problem is that sometimes I want to preserve those memories, and I just forget. When I was asked to take a look at Sweet Pix, I thought it would be fun to actually get some of these photos on the wall!
Sweet Pix is an app on iTunes where, in just a few simple steps, you can upload your photos and have beautiful (½ inch thick) photo print squares sent to you ready to put on the wall. It is really that easy! Please note, these are not prints on canvas, though, at a glance, they could have fooled me! The photos are actually printed on a special laminate that is made to be beautiful and last for years. Sweet Pix has made sure their photo squares are resistant to tearing, fingerprints, water, and fading from UV exposure. Your photos are printed at very high quality—even your Instagram photos will look beautiful on your walls!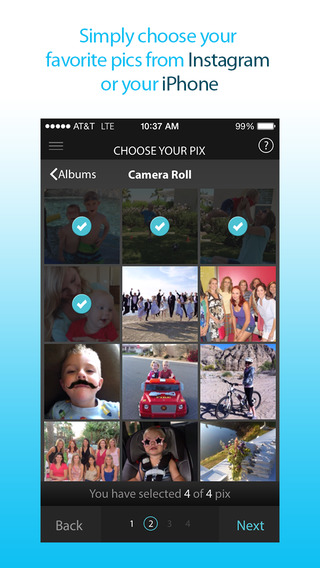 I had some photos I had taken on Halloween and a couple from when my mother-in-law was visiting, so I thought they would be fun to display. I simply downloaded the FREE app from iTunes. Next I chose six 6 X 6 photos and clicked "Next." I chose the photos I wanted to order, and made sure they were centered and cropped before hitting "Accept" for each photo.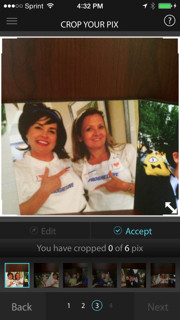 Next it was time to choose a black or white mounting board. I chose black. Once confirmed, my total price was listed and I hit "Next" again.
All I had left to do is fill in my address and contact information, and pay for my purchase. Pretty easy! I do have a couple of tips. First, be sure about your photos before you begin. I was rushing and changed my mind on a photo and had to completely start over. There is no going "back."
Also, as with anything, what you put in is what you get out! If the photo is not crisp and clear, it will not look great on the laminate foam board. You can see an example of that in the photo of my husband and daughter. This was taken in low lighting, but it was her 18th birthday, so I hoped it would turn out better. That was silly, because the photo quality will not improve with Sweet Pix. Still, I'm glad we have that memory preserved on canvas.
In a few days, my Sweet Pix photo print squares arrived. I will say that I wish I had chosen the larger size. The small ones do look nice together, but I think the larger would have looked even better. The Sweet Pix photos come ready to stick to your wall, but I had some other ideas I wanted to try first. We have a media room with a bookcase that I thought would be a great spot to display the prints.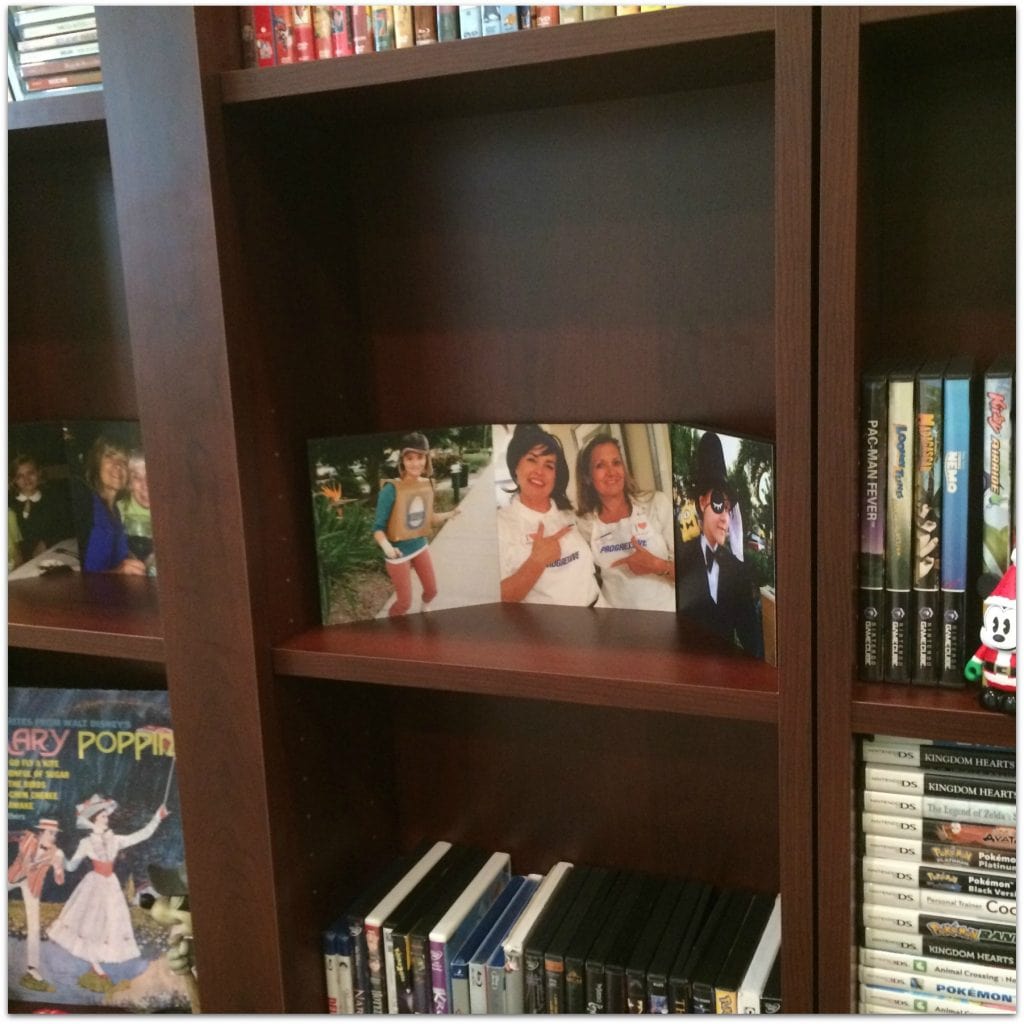 Here's a closer look.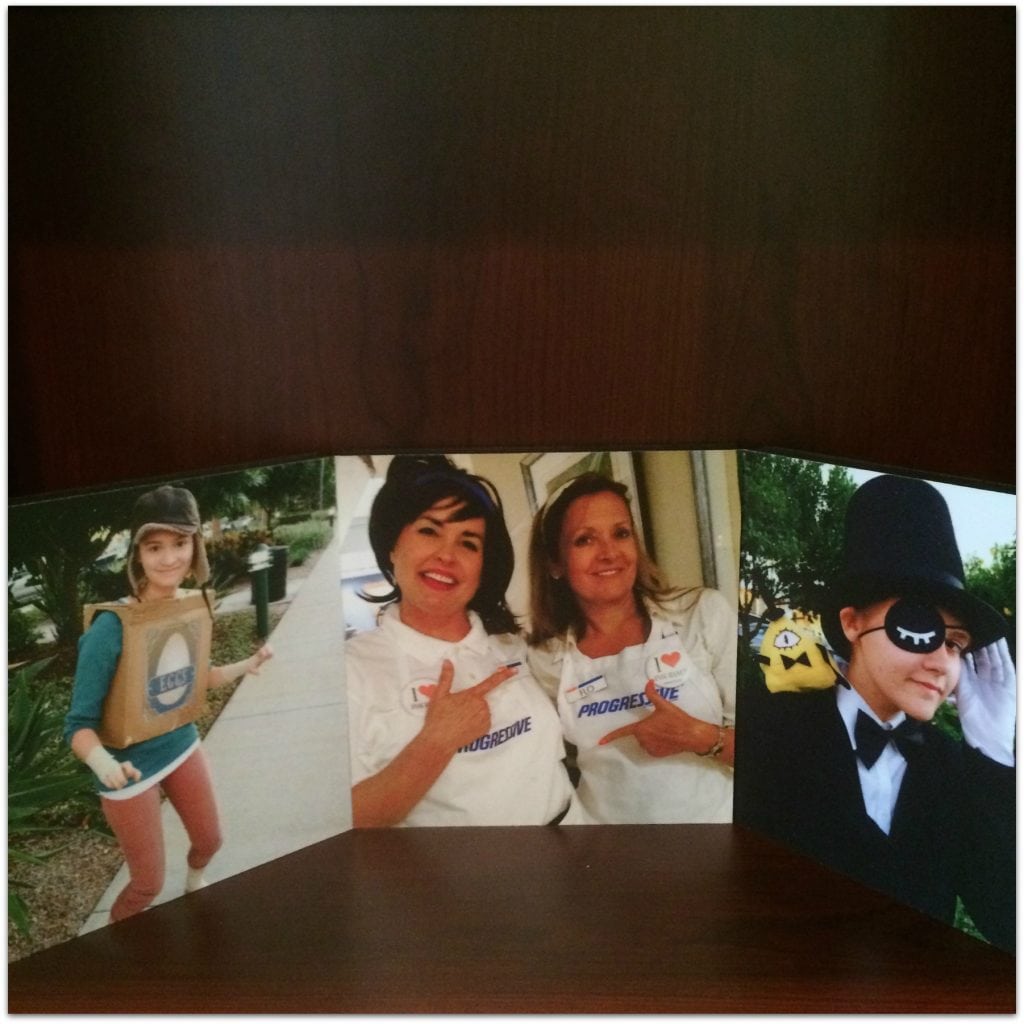 I played around a bit.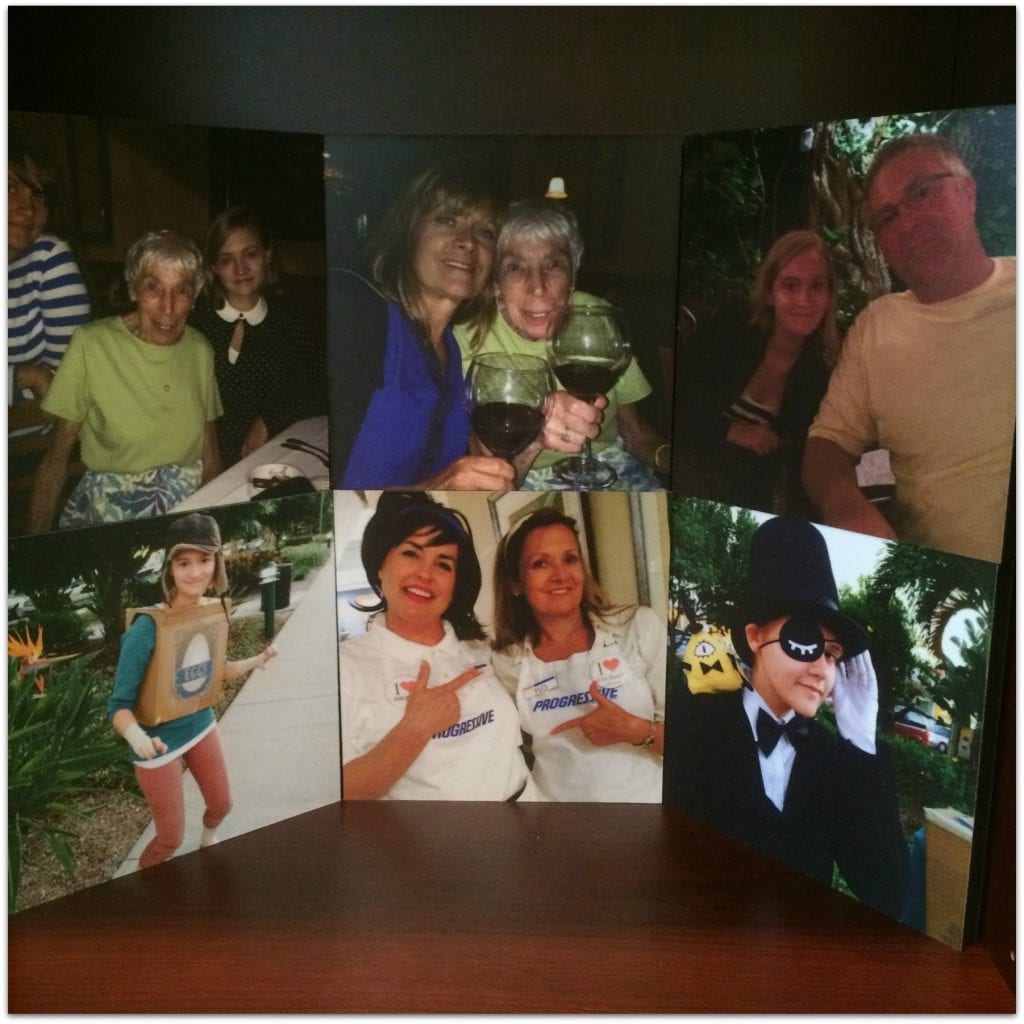 Above I just had the photos set on the shelf, but how would it look if it was actually adhered to the back of the book case? Not bad!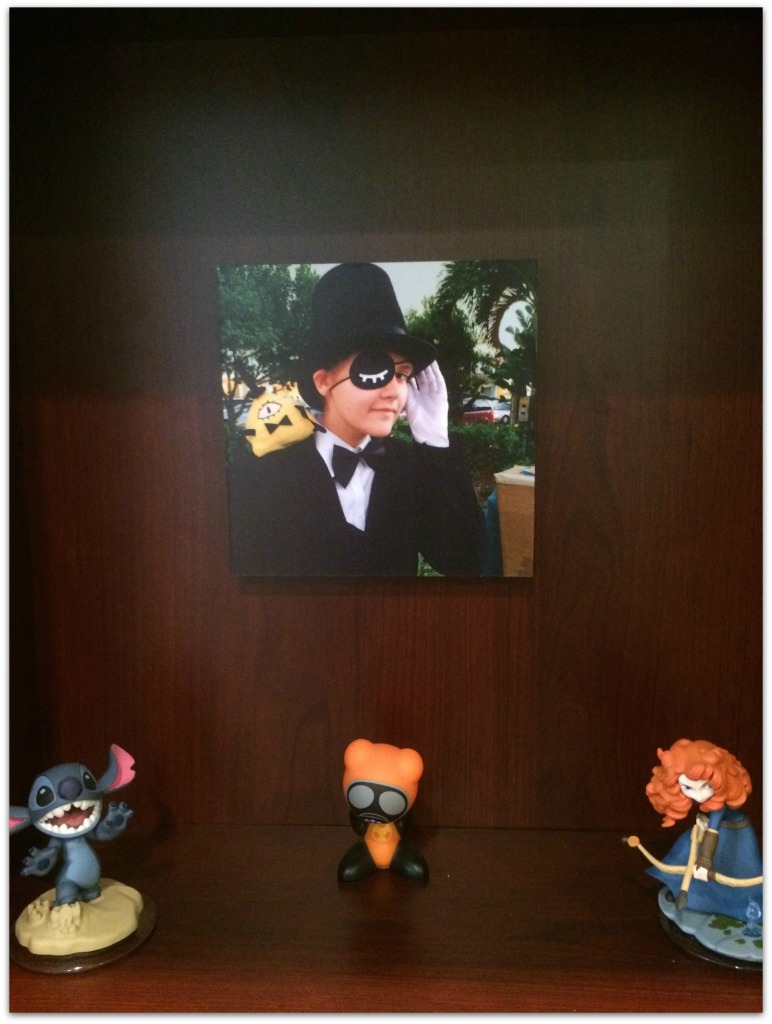 Finally, I decided to do what Sweet Pix suggests, and put them on the wall. I have a tip for you here, too. Only the side with the red lettering is removable! Put the side with no writing on the back of the canvas. The prints are removable as long as you adhere the correct side of the adhesive.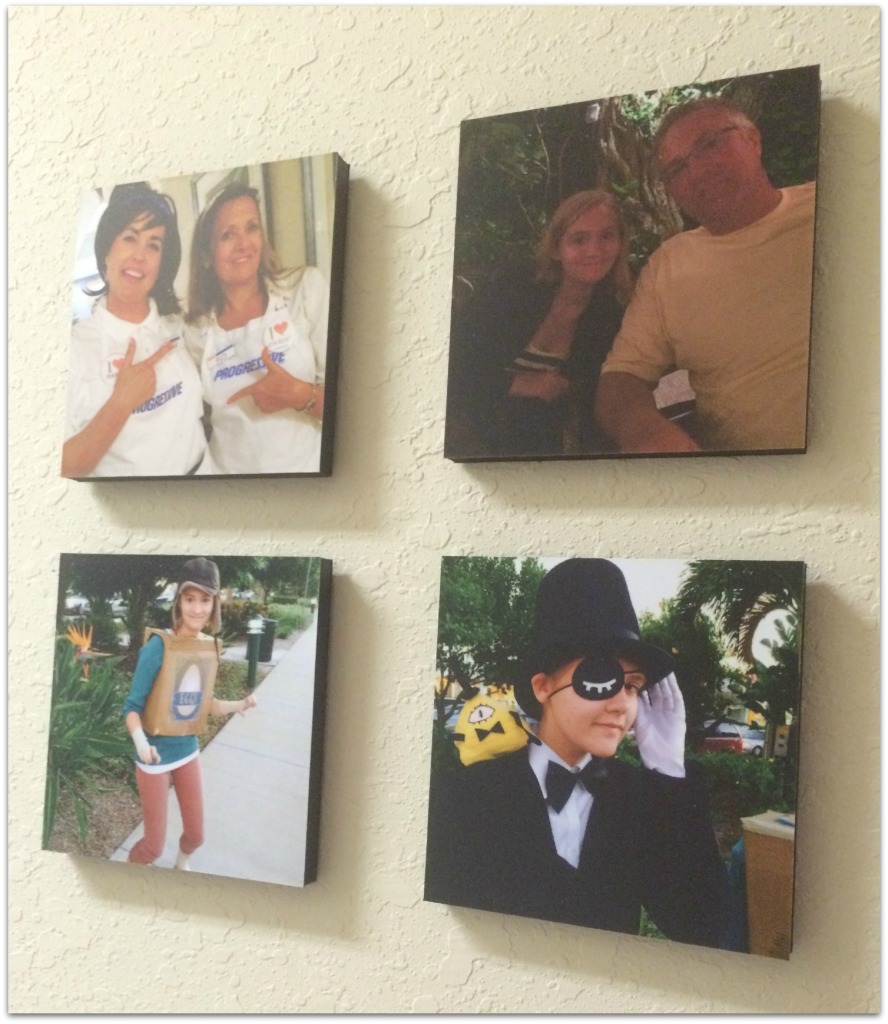 I decided to just place four on the wall, and I'm sending the two with my mother-in-law to her for Christmas. She will be thrilled! 
Here's a quick video of how the Sweet Pix App works.
Sweet Pix makes such a unique gift for family and friends. Think of the possibilities; a set of family photos to grandparents, a set of classroom photos for a teacher, a set of wedding photos for a new bride and groom, or baby photos for new parents. Going to a New Year's Even party? You could take photos and send a set as a thank you gift to your hosts! If you order right away, you may even have time to get them for Christmas! They usually arrive in 7-10 days.
Visit the Sweet Pix website and see how easy it can be to create your own beautiful photo prints. We're so sure you are going to love this app, we want to give a set of photo print squares away! Enter below to win! 18 or older and US only, please. Good luck!