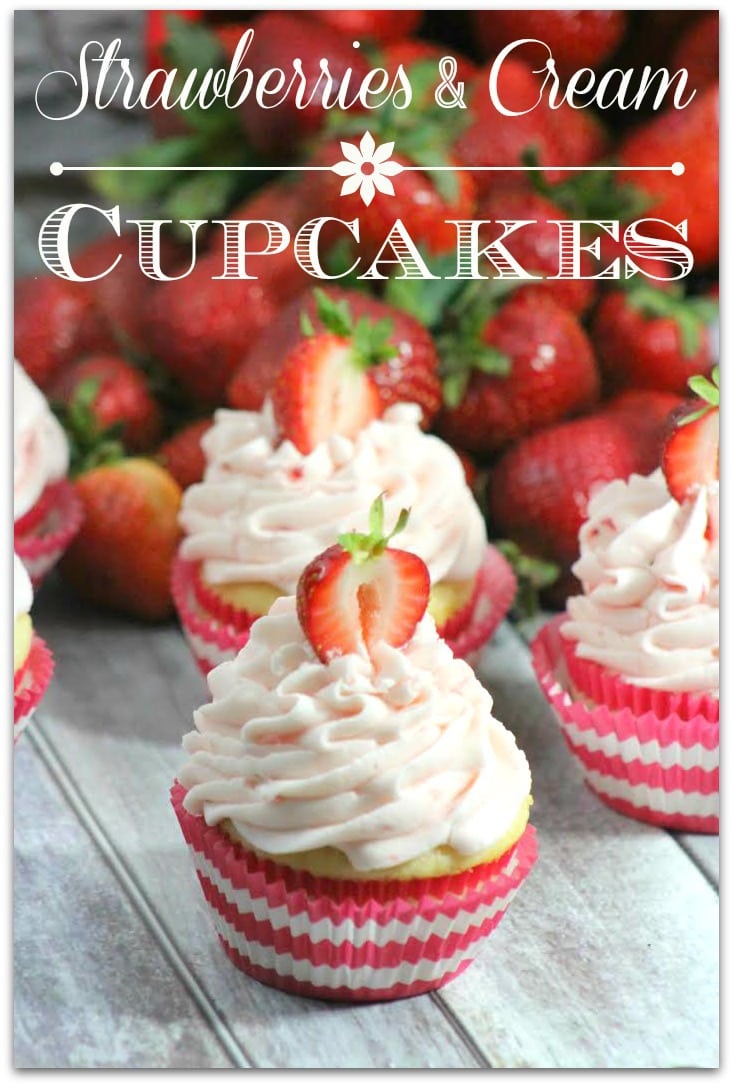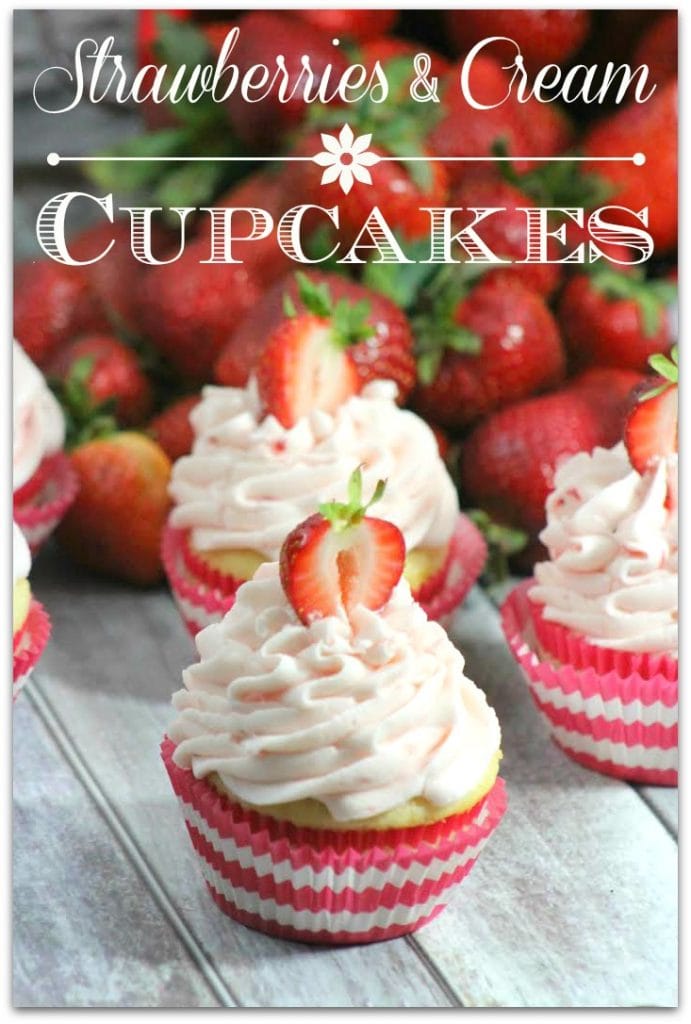 The area where I live in Florida has a huge Strawberry Festival every year. For a strawberry lover like me, it's pure heaven. One of my favorite desserts is simply angel food cake with strawberries and whipped cream. Yum! These Strawberries and Cream Cupcakes are a bit more decadent, and the perfect food to bring to a get together. You'll be the hit of the party when your friends taste this deliciousness!
Strawberries and Cream Cupcakes
Ingredients:
½ C unsalted butter, room temperature
2 egg whites
2 eggs
2 C flour
1 tsp baking powder
½ tsp salt
¼ baking soda
¾ C buttermilk
1 ½ C sugar
1 tsp vanilla
1 tsp strawberry extract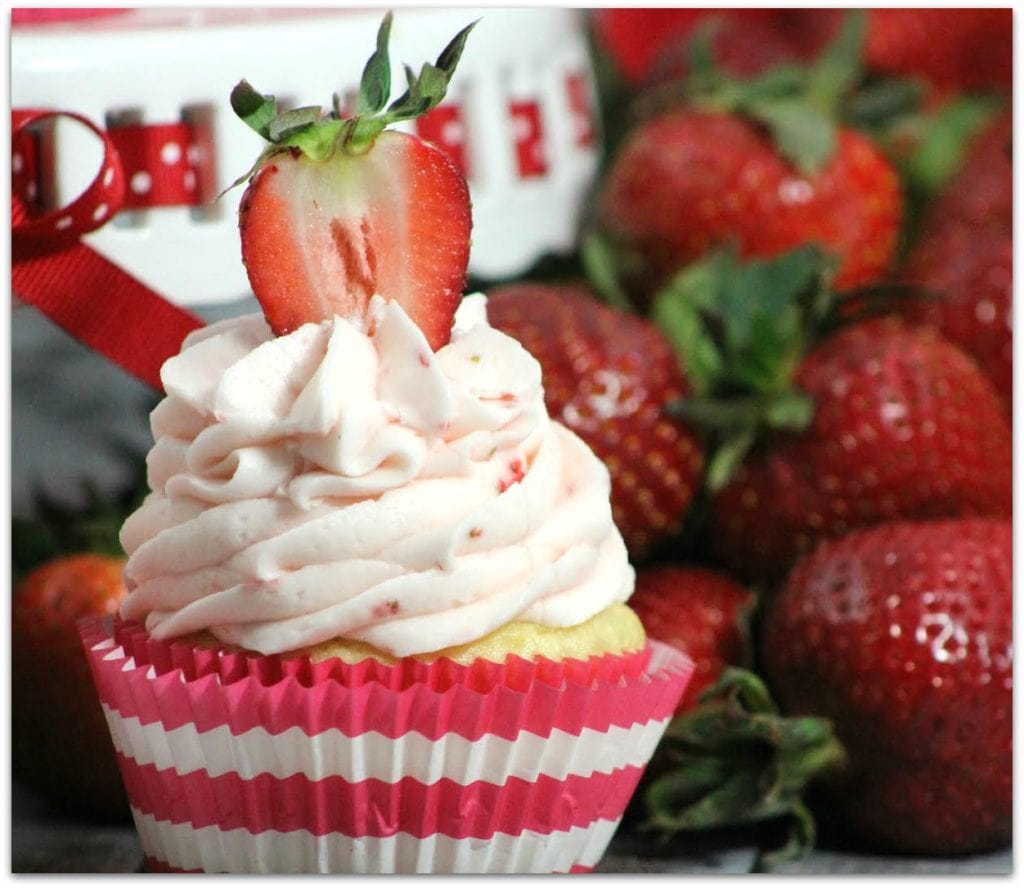 Directions:
Preheat oven to 350 degrees.
Line cupcake pan with paper liners.
Sift flour, baking powder, salt, and baking soda together in a bowl.
Beat butter on high for 30 seconds.
Add sugar, vanilla and strawberry extract to the butter until well combined.
Add egg whites, one at a time, mixing after each.
Add eggs, one at a time, mixing after each.
Add  flour mixture to the wet mixture; alternating with the buttermilk on low speed until it is thoroughly blended.
Scoop the batter into the lined cupcake holders till ⅔ filled.
Bake at 350 degrees for 20-25 minutes or until an inserted toothpick comes out clean.
Cool for 10-15 minutes.
Remove to a wire rack until fully cooled.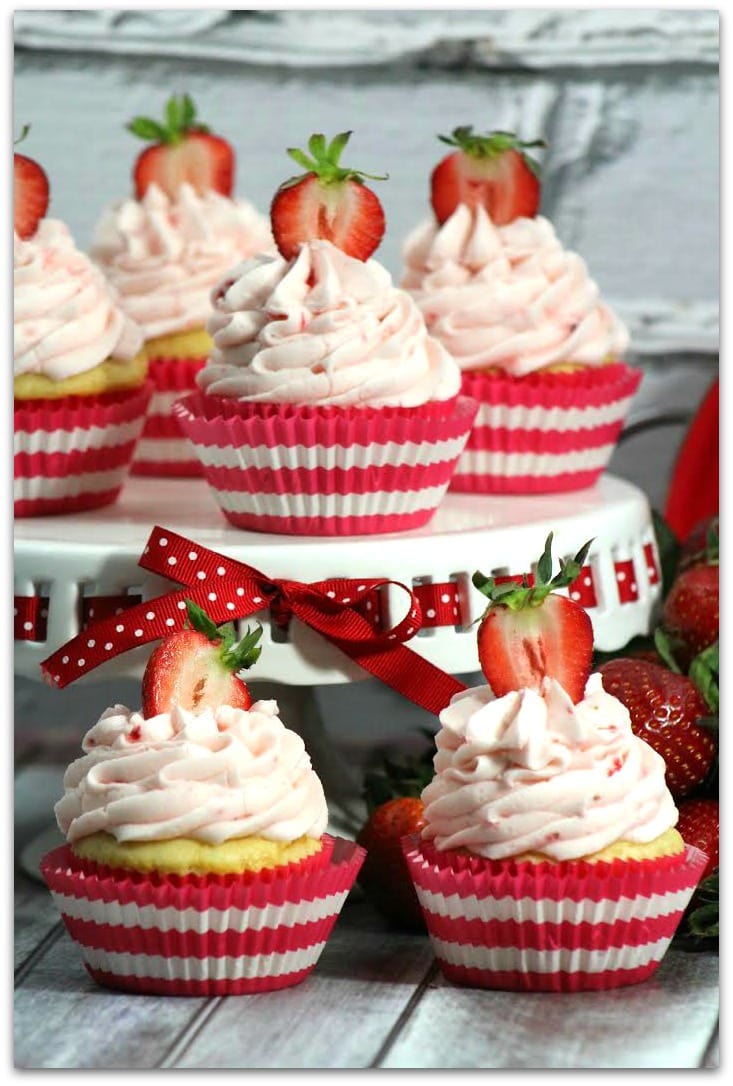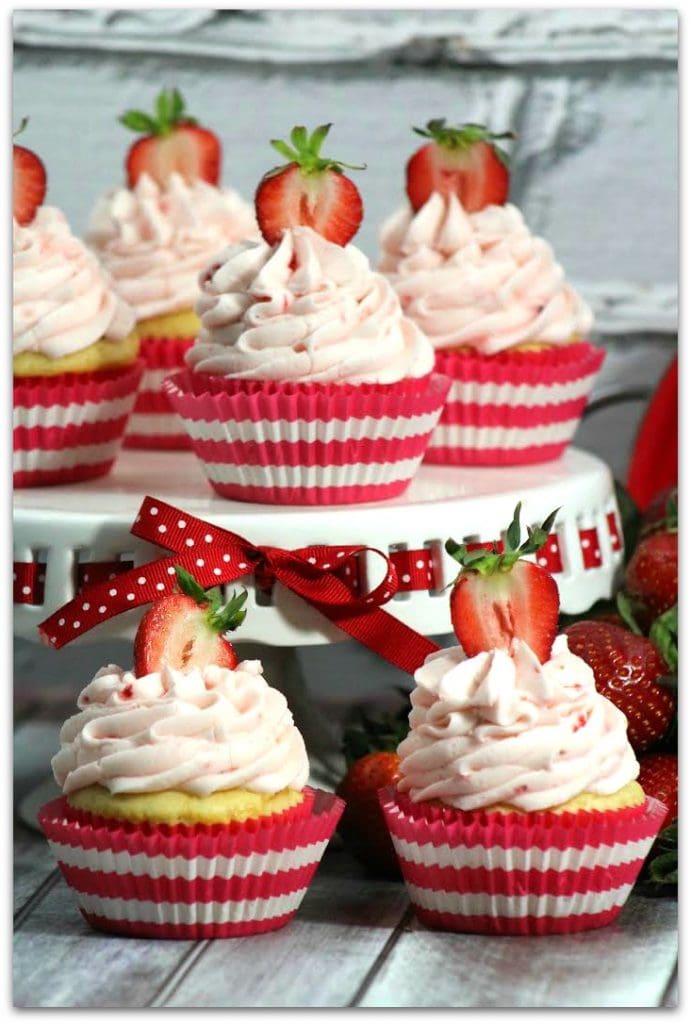 Frosting  Ingredients:
1 C Butter (room temp)
4 + C Powdered sugar
4 TBSP Heavy whipping cream
10 Fresh strawberries, pureed
Directions:
Beat butter until creamed.
Add powdered sugar, ½ C at a time.
Cream both until light and creamy.
If not creaming slowly add a little whipping cream.
Puree 10 fresh cut washed strawberries (with stem removed ) in food processor.
Mix the strawberry puree with the butter and powdered sugar.
Test to see if the frosting can make and hold a stiff peak.
Test by pulling out a spoonful of frosting holding it upside down. If it doesn't drop then your frosting is done.
If not add ½ C powdered sugar.
Test again to make sure the frosting can make and hold a stiff peak.
Spoon frosting into a pastry bag with a frosting tip.
Twist open end to push frosting to the tip.
Frost cupcakes.
Add a half strawberry to each cupcake. Aren't they pretty? You might also like these Lemon Lime Refresher Cupcakes. If you love cupcakes, check out my Cupcake Crazy Pinterest Board!