I'm partnering with Ensure on this post, but all opinions are my own. Please see below for additional disclosures.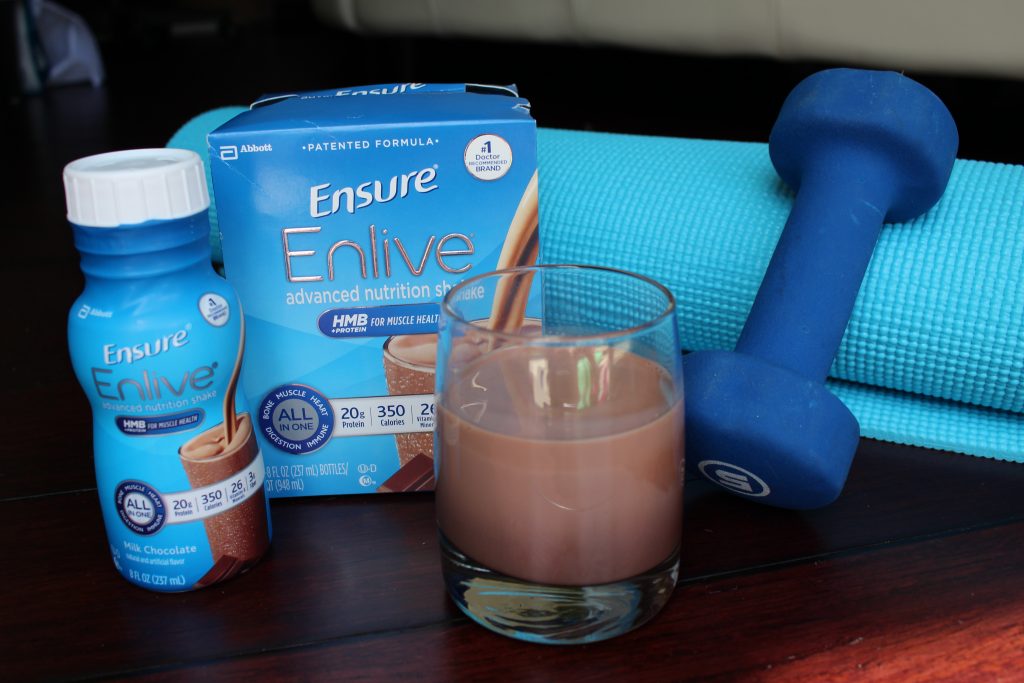 Whether you've had a set back because of illness or an injury, knowing the steps to staying healthy during recovery is important. Last year I had issues with one of my eyes after I had cataract surgery. The first time it happened I had to sit still and sleep sitting up for a week. The second time I had to lie on my side for ten days with very little movement. Not only was I bored to death, but I got absolutely no exercise during that time.
Muscle atrophy isn't that big of a deal if your recovery period is relatively short like mine was, and you are in pretty good shape to begin with. The problems arise when you have not been exercising at all and you become ill or injured.
A perfect example is my mom. She's 77 years old and has not exercised in many years. She had a stroke about three weeks ago, and she's worn out from the physical therapy the hospital is putting her through three times a day. Had she been fit before the stroke, she may not have even had the stroke in the first place. If she had just done some daily walking, it would have helped her in the recovery process. In fact, my mother-in-law turned 94 this month, and she still walks every day. She broke her pelvis a couple of years ago and was back at life in a couple of weeks, astonishing the doctors. Eating right and exercising is why she's in the shape she's in. My mom is on the right in this photo, with my mother-in-law on the left and my oldest in the middle.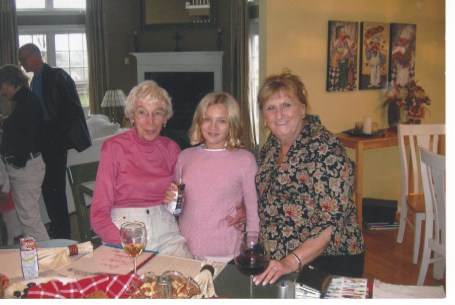 Telling my mom I told you so is not going to help at this point, though I want to say it! I've been telling her for years that she needed to take better care of herself. It seems she finally realizes it, and I'm hoping she means it when she says she is going to begin a walking regimen. The most important thing now is that she changes her lifestyle so this doesn't happen again. If it does happen, the recovery period won't be so hard.
5 Steps to Staying Healthy During Recovery
POSITIVE ATTITUDE: I'm leading with this one because, let's face it; if a person is not motivated to get better, it's going to be a longer, harder road. Whatever motivates you, whether it's Bible study, prayer, a motivational book or podcast, spend some time each day just being grateful. Surround yourself with people who are on your team, too. When I'm down, I have a few friends I know I can call who will pick me up and remind me how blessed I am. I'm pretty lucky that my best friend is my husband. He keeps me motivated to be fit!
REST: Rest is so important in recovery. We've all been in that situation when we've had a minor illness like a cold or the flu and refused to get enough rest to recover, only to end up back in bed. Aim for 7-8 hours of sleep every night, and when you're sick or healing, aim higher. Your body needs time to recover.
TIME TO HEAL: Don't rush it. That doesn't mean you don't want to push yourself...at least a little. My mom has really had to push herself to do the daily exercises she has to do on her own in addition to the physical therapy. But I've seen her taking the initiative to do her leg lifts and facial exercises because she really does want to recover.
EXERCISE: As soon as you're able, get into a routine of regular exercise. Going to a fitness center is great because you surround yourself with others who have the same goal of being fit, but you can also do exercise at home that will get you back into shape. There are TV shows, videos, and books at the library that will help you begin a routine thats right for you. Get outside when you can and enjoy nature and the beautiful scenery.
PROPER EATING: I noticed my mother wasn't always hungry when they brought her meals to her room. Though she wasn't on a regular exercise regimen before the stroke, she still got more exercise all day long just by moving around more, going to the grocery store, cleaning the house, etc. After the stroke, she was going to physical and occupational therapy, and though it seemed to wear her out, it didn't necessarily increase her appetite. I guess being in the hospital could be part of the problem, too!
In addition, some medications can decrease the appetite. We've all heard, if you're not hungry, don't eat. That strategy may work if you're trying to trim down, but not when recovering from an illness or injury. You do need to eat, and it needs to be nutritious calories. Eating right will also optimize your immune system. Eating three meals and two snacks each day will help prevent fatigue.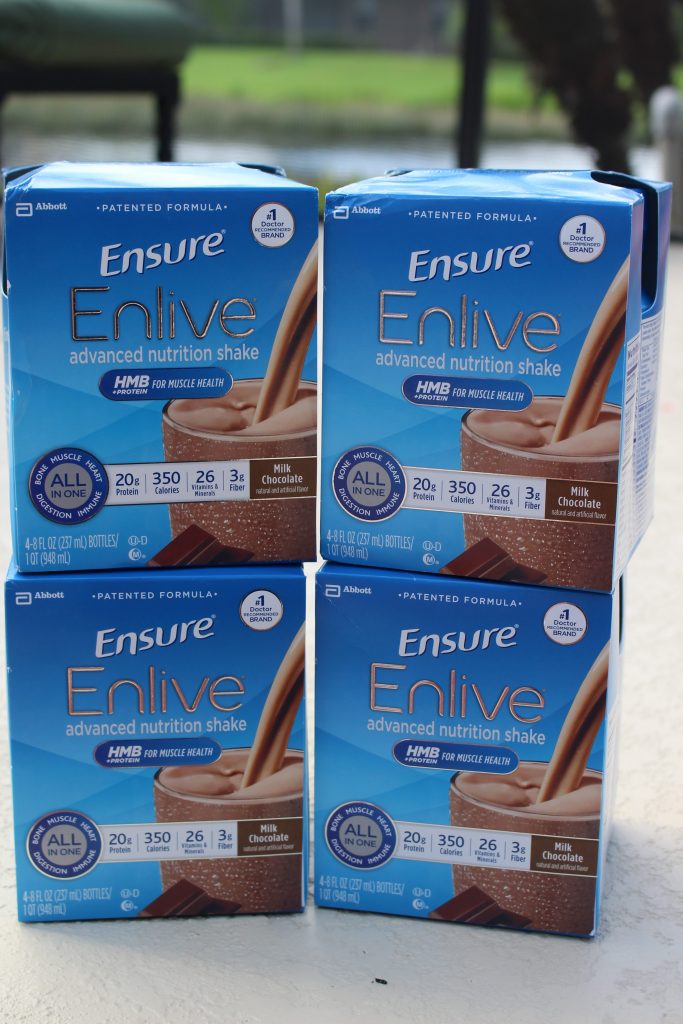 An easy way to make sure you're getting adequate nutrition while also rebuilding your muscles is with Ensure Enlive. A specialized nutrition drink based on science, Ensure Enlive helps adults 50+ get the key nutrients their body needs to help them live a healthy life. It contains the right amount of nutrients you need in a convenient bottle, and when combined with a nutritious diet, it will allow you to stay strong and healthy as you age. Ensure Enlive also contains 20 grams of protein, and the unique ingredient HMB. These two ingredients work together to help rebuild muscles as you age, even if you are recovering from an illness or injury.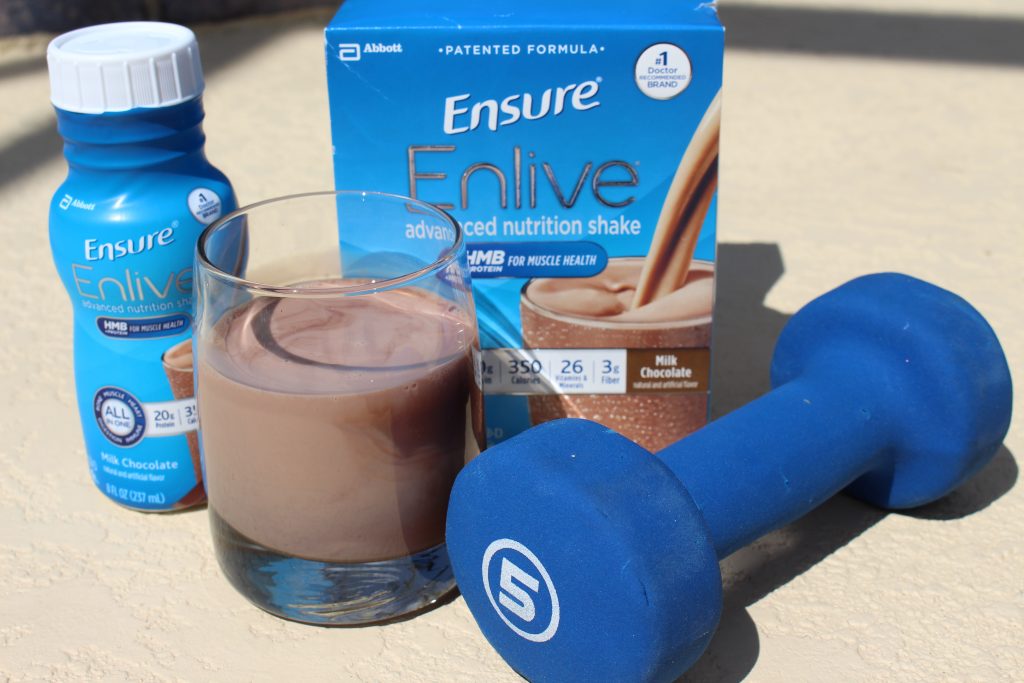 You'll find great recipes for Ensure Enlive on their website, too! Though it tastes great on its own, when adding in a banana or strawberries and a little ice, it becomes a creamy milkshake, more like dessert!
Let's make a pact to go into that second half of our lives strong and fit. Who's with me?
Abbott partnered with influencers such as me for its Ensure Program. As part of this Program, I received compensation for my time. The opinions and thoughts in this piece are my own. Abbott/Ensure believes that consumers and influencers are free to form their own opinions and share them in their own words. Abbott/Ensure policies align with WOMMA Ethics Code, Federal Trade Commission (FTC) guidelines and social media engagement recommendations.