The series premiere of Splitting Up Together was March 27th from 9:30-10:00 p.m. EDT on the ABC Television Network. I'm betting you've seen the hilarious commercial. Yes, it's as funny as it looks!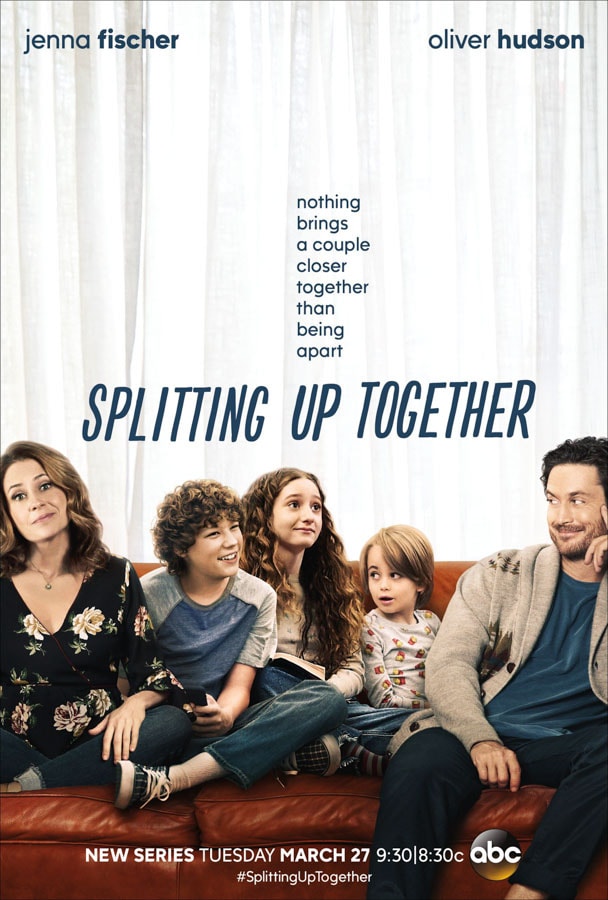 From ABC: From executive producers Ellen DeGeneres, Emily Kapnek ("Suburgatory"), Jeff Kleeman
("Little Big Shots") and Dean Holland ("Parks and Recreation") comes "Splitting Up Together,"
the story of Lena (Jenna Fischer, "The Office,") and Martin (Oliver Hudson, "Scream Queens"),
whose marriage is reignited by their divorce.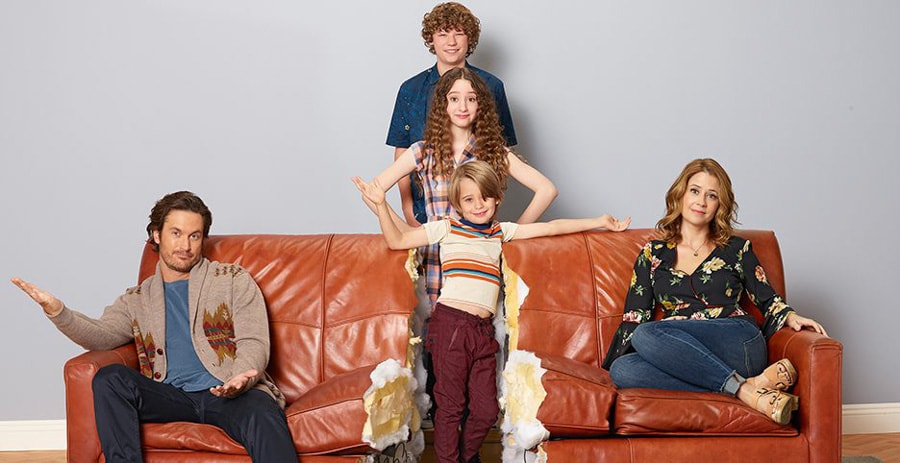 Here's the plot: Lena and Martin are living the life of so many people; a loveless marriage where Lena takes care of everyone and Martin sulks in self -pity. They know the best thing for them is to get a divorce, but financially, staying in the same house is the only thing that works.
So, they choose to switch "on duty" and "off duty" roles every week. The on-duty parent lives in the house, managing everything, while the off-duty parent stays in the detached garage apartment - switching every week.
This show is full of comedic experiences, and fun little "will this make them fall back in love?" questions. In fact, one of the questions I asked was, 'Is there a possibility that we'll see 'Getting Back Together' after a few seasons?' I was seriously invested after just one episode.
Check out the trailer:

Splitting Up Together Interview
Splitting Up Together Creator and Executive Producer Emily Kapnek said she wanted to tell a story about divorce that has a bit of hope. She pulled from stories of everyone around her that had gone through divorces in the past. 
Emily Kapnek: I think the main goal is just to tell a story about divorce that isn't toxic and negative that has a little bit of hope and a little bit of optimism.  
I think everyone always hopes, 'Is there any chance in the world that they can get it back on track?' And I think a lot of kids feel that way. And to tell a show where there is that sort of glimmer that's being dangled and a lot of love between the main characters was just sort of a new way of telling a divorce story for us. 
Splitting Up Together Executive Producer Dean Holland agrees. He said they all wanted to represent healthy co-parenting on screen. 
Dean Holland: Historically it's always been kinda negative that divorce is such a bad thing. And while we were shooting it, numerous people came up to us and told us 'We're doing this.' 'My friends are doing this.' So many people were kind of like, 'Hey, let's kind of both still raise our kids' and somehow manage to make it work.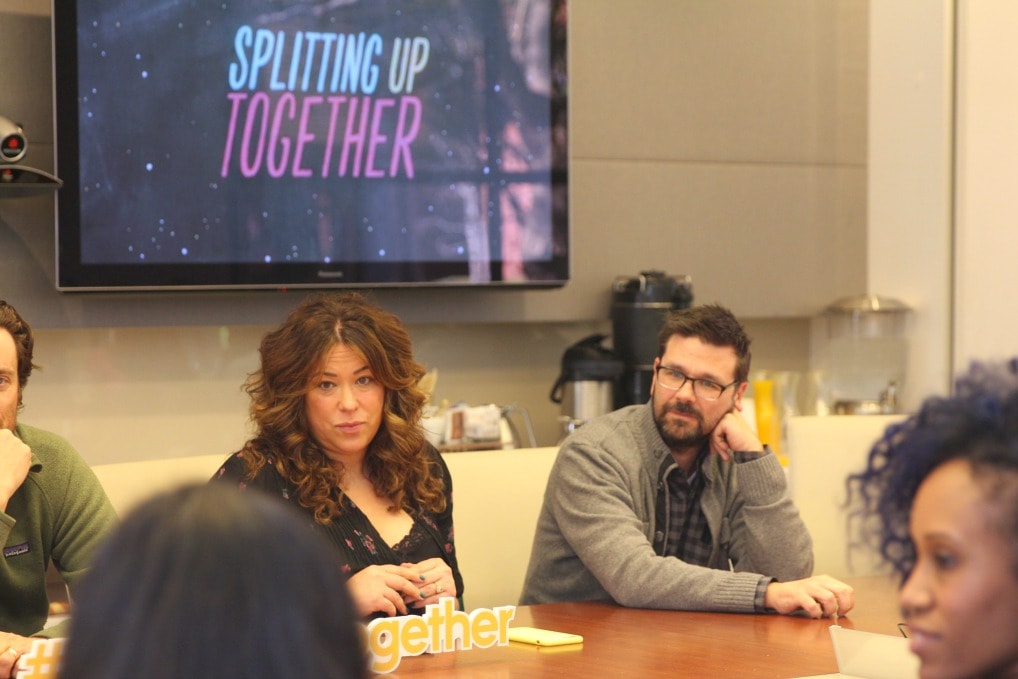 Telling a new story about co-parenting through divorce wasn't the only new territory they explored with this show.  Emily said they also showed Lena exploring the dating scene first - not Martin - which is actually kind of controversial. 
Emily: And why not, you know? When you're in a long-term marriage that has sorta gone off the rails and everything she was saying in the pilot about feeling invisible and feeling like her husband looks through her, this is actually based on [another show]. 
So, there was a whole other series that they did in Denmark. And when I watched it, I was just blown away. It felt very real - how much you were rooting for her, for that main character, Lena. 
The script for Splitting Up Together also tackles parenting issues. Oliver Hudson, who plays Martin on the show, said all parents - whether they are married or divorced or single - can relate to the parenting struggles of Lena and Martin. 
Oliver Hudson: You don't have to be divorced to relate to this because it's about co-parenting. As individuals coming from different backgrounds and families, we have different ideas on how we wanna raise our kids. 
My wife has an idea and I have an idea. There is a meet in the middle.
What I found actually, which was amazing casting, is Jenna is very much like who she is on this show, and I am very much like who I am on this show, you know. 
Lindsay Price, who plays Camille on Splitting Up Together, said she was drawn in by the script and couldn't wait to join the cast. 
Lindsay Price: I mean this script in and of itself captivated me, and I loved the characters 'cause they're real. They're real people. 
But I do think it's interesting she probably immediately seemed selfish that she doesn't want them to get divorced. But I think what ends up happening is when people close to you go through it, you start checking your own life and looking under the bed and seeing what's under there. 
And I think it's challenging, you know. But typically I think she knows that they love each other and that they should be together. Sometimes people can see it better than you can.
One question Emily admitted that they really explored with this show is, once you are divorced, can you go back?
Emily: We just wanted that optimism. And we always said that there were sort of two fundamental questions about divorce in general. And the show, and it's like can you go back? Once you divorce, can you go back?
And then the second question is, should you? And so, if there's the opportunity to do it, does it mean it's right? And just because you want these two characters together, if she's getting something from someone else who's making her feel more valued, if he's able to be who he is more fully... that sort of complication is something we kinda delve into in the later episodes. 
While this show is a sitcom, it touches on some real-life concepts about splitting up that so many people experience. Will they get back together? Why is Martin reacting to Lena dating again? It's all questions we face every day - or know someone that does.
Emily: Yeah, there's a lot there and there's a lot that has to be fixed, and it's not as simple as him getting jealous or feeling like, 'Oh, my gosh she's moving on' and wanting to kind of hold on to that. 
Actually the very next episode, Episode 4, she kinda calls it out a little bit. She's like are you just jealous? Like, does it hurt your ego, or does it hurt your heart? Like, do you care about the fact that I'm out there, or do you care about me?   
Get ready for an amazingly relatable show that will have you laughing, and cheering for, this family. It was so sweet of the cast to take a minute to grab a photo with us. 
You can watch Splitting Up Together when it premieres tonight from 9:30-10:00 p.m. ET, on The ABC Television Network.
Follow Splitting up Together on Twitter, Facebook, Instagram, and follow the hashtag #SplittingUpTogether
This was all-expenses paid trip to experience Splitting Up Together in exchange for sharing it with you. As always, many thanks to ABC for inviting me to participate in this fun event.