The Luxury Collection Hotels & Resorts has just announced the brand's first hotel in Baja California Sur! Solaz, the latest Luxury Collection Resort, will open in Los Cabos in June.
The beachfront property is operated by Quinta del Golfo de Cortez and features a 128-room luxury hotel and 21 extravagant residences.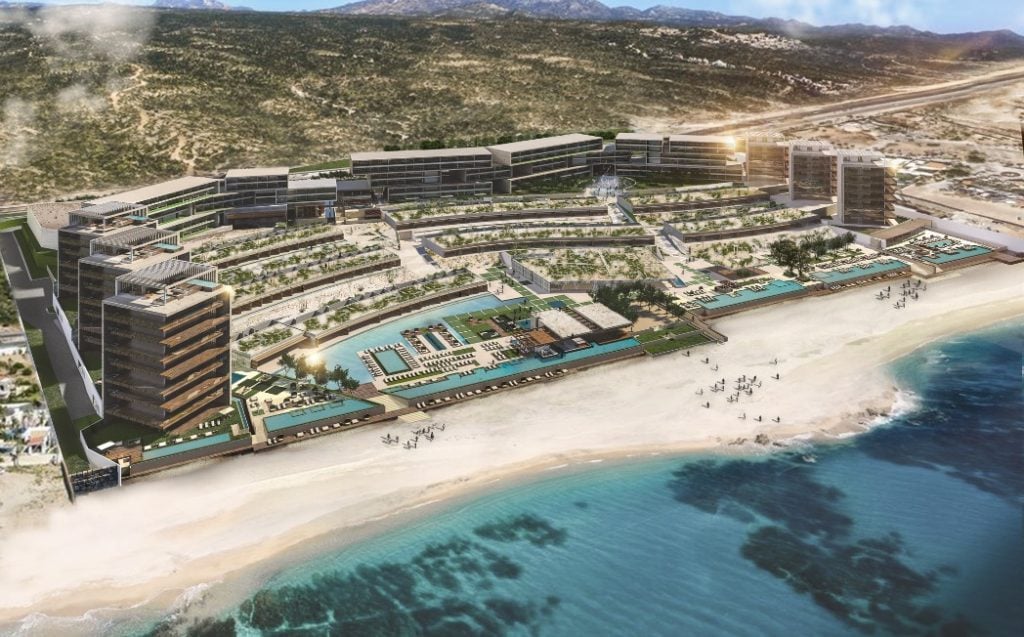 Perched on a coveted 34 acres overlooking the Sea of Cortez, the stunning Solaz Resort highlights The Luxury Collection's impressive expansion in Mexico, now with a total of seven hotels throughout Baja California Sur, Campeche, Mexico City, and Yucatan.  I just love this region!
The Solaz Resort will offer "global explorers a new gateway to the Baja California Peninsula and deliver unparalleled travel experiences signature to The Luxury Collection."
The Solaz Resort's guest rooms are beautiful and spacious.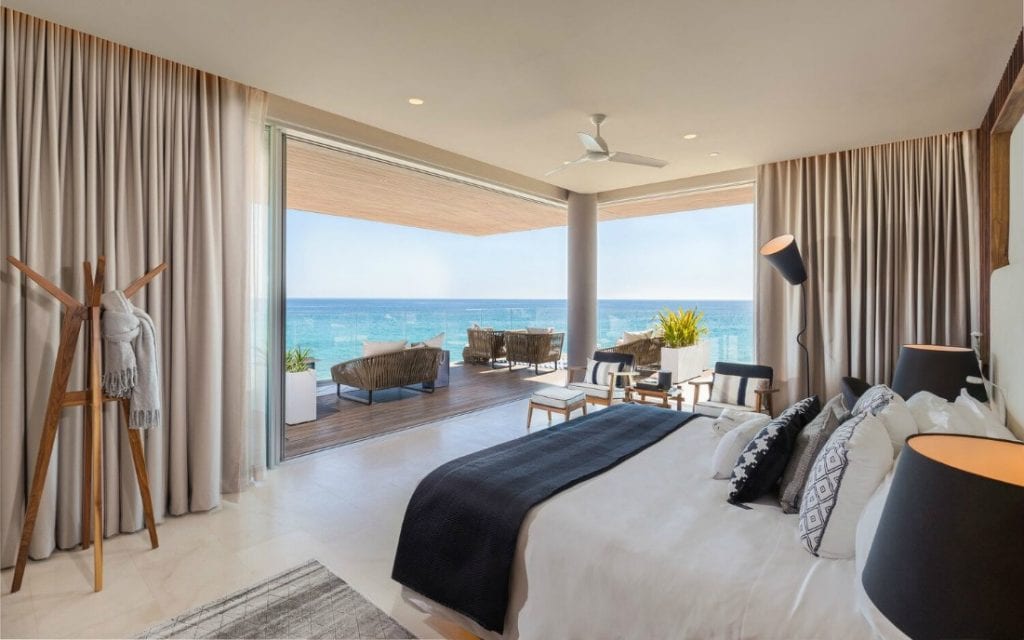 You'll find a spa and wellness center on site. The dining options will appeal to families and couples. The resort even offers private cooking classes, so you know I want to visit! It looks like the experiences will be endless.
Who wants to go fishing on a private yacht with the chef preparing the catch? How about checking out the local history – with a journey to see legendary cave paintings?
From Solaz: Solaz Resort pays tribute to its destination through both design and guest experience, which celebrate the magnificent landscape and cultural marvels of the region. Designed by renowned architectural firm Sordo Madaleno, the resort's cascading terraces blend desert vegetation with quarry stone, granite, marble and wood to create an architectural "sculpture" of breathtaking design amidst desert landscaping.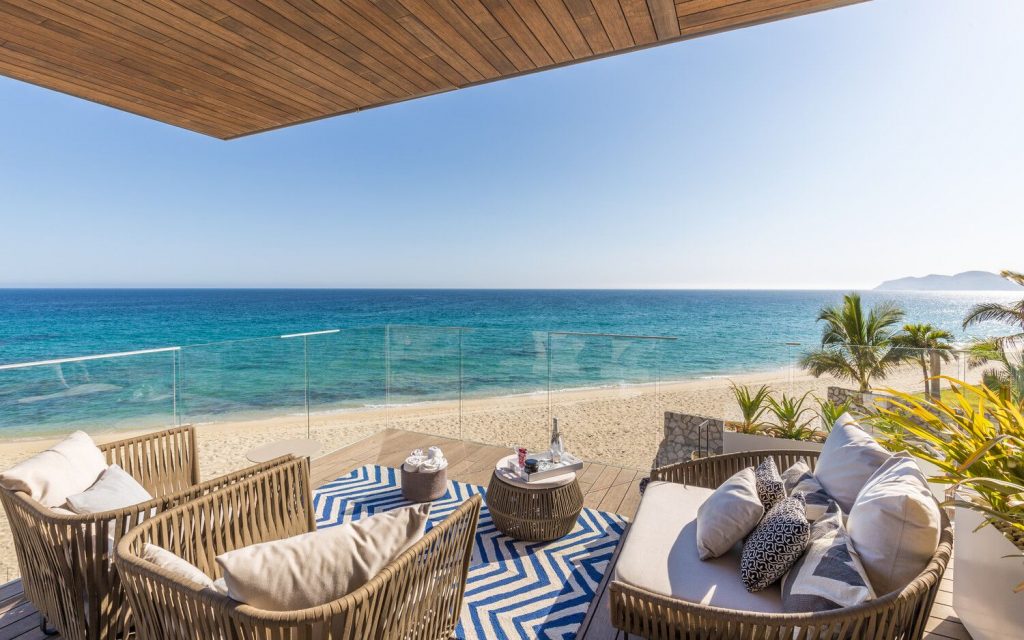 Each masterfully designed guest room and suite at Solaz Resort features a private entrance and patio; custom, contemporary furnishings; and original art. Floor plans blur the lines between indoor and outdoor space, as private terraces provide unobstructed views of the Sea of Cortez.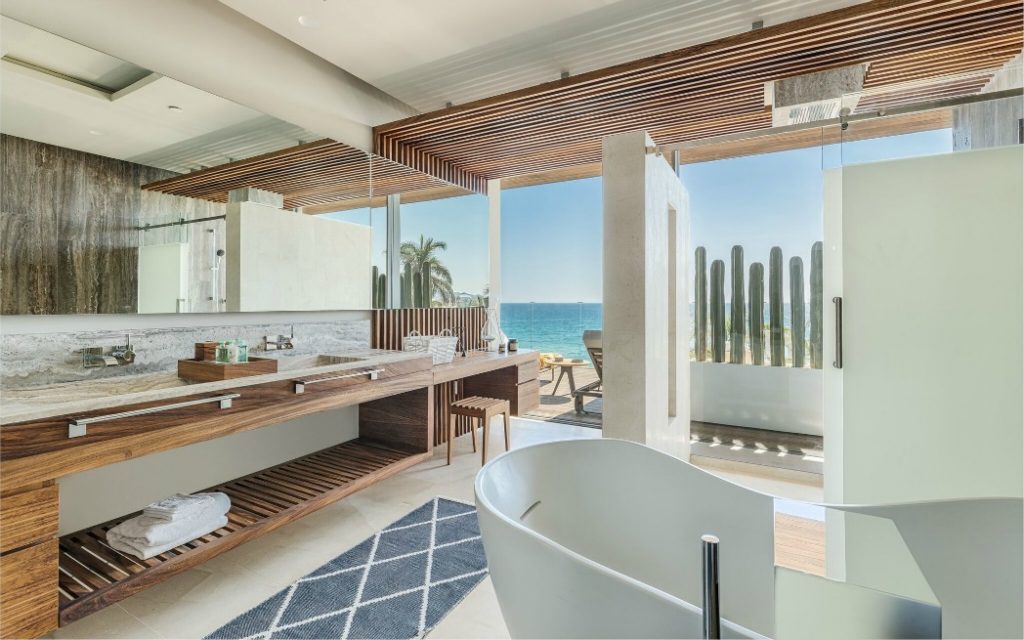 Celebrating art and design at every turn, Solaz Resort features original works throughout — all masterfully created by famed Mexican artist César Negrete, who travelled throughout Baja for years, studying the region's natural history and folklore.
El Gabinete "Del Barco" is an indigenous gallery featuring regional artifacts and open spaces to walk through while enjoying breathtaking natural scenery. Viewed through the eyes of Baja California explorer Miguel del Barco, exhibits include a 43-foot-long whale skeleton suspended from the ceiling, a historical original map collection, and more.
Culinary offerings at Solaz Resort will be as authentically inspired as the property itself. Six unique restaurants and lounges are designed for visitors with discerning palates.
Executive Chef Pedro Joaquin Arceyut and his team will present freshly caught fish and seafood at Al Pairo; traditional and contemporary Baja fare and tapas at Cascabel; and a "Dinner Grill" featuring dry-aged steaks, local live lobsters, and the sea's freshest fish at Mako. (You know I can't wait to experience the food!!)
Those looking for lively libations can enjoy perfectly paired cocktails and an impressive wine program at La Cava, the ideal place to cap off the day with a selection of more than 2,500 vintages — many of which are local to the region.
A restorative travel destination, Solaz Resort features 50-meter infinity pools lining 1,246 linear feet of white sand beaches overlooking the Sea of Cortez. Each pool incorporates butterfly green granite, which emulates and seamlessly merges with the Sea of Cortez's tranquil turquoise waters.
And then there's that gorgeous guest room to retire to at the end of the day.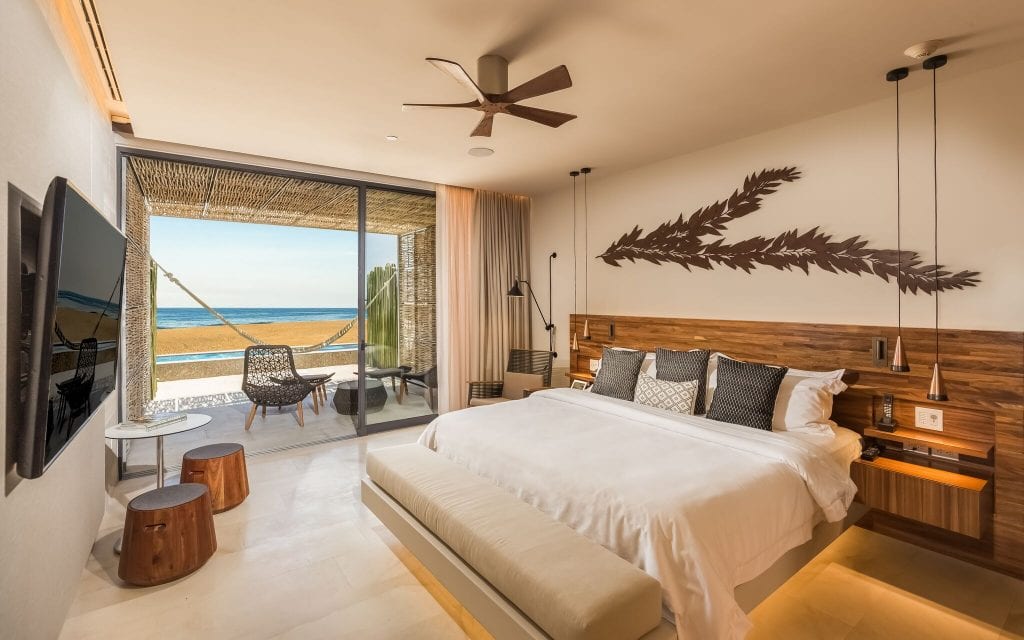 State-of-the-art exercise facilities feature Technogym® equipment and group or personal fitness instruction, and the 10,000 sq. ft. Ojo de Liebre Spa offers 10 private treatment rooms and two VIP double rooms, along with a full range of services like Alo Therapy (Himalayan Salt Igloo) and Thalasso Therapy — the later only available in Baja California at the Ojo de Liebre Spa. A full-service salon provides manicures, pedicures and other amenities.
Families visiting this Luxury Collection Resort can also take advantage of the children's club.
The resort also features residences, as well as 20,000 square feet of meeting, wedding and event space that can accommodate up to 1,000 guests.
The Luxury Collection® is part of Marriott International, Inc. and is comprised of world-renowned hotels and resorts offering unique, authentic experiences that evoke lasting, treasured memories. Not to mention that this is a Starwood Preferred Guest Resort. Love those points!
What are your travel plans this year?