Remember back in October when I shared I had been on set and behind the scenes with Guardians of the Galaxy Vol 2?
That event was in May. MAY! Do you have any idea how hard it was to keep that information from you? I was allowed to tell my husband what I was up to, but that was it!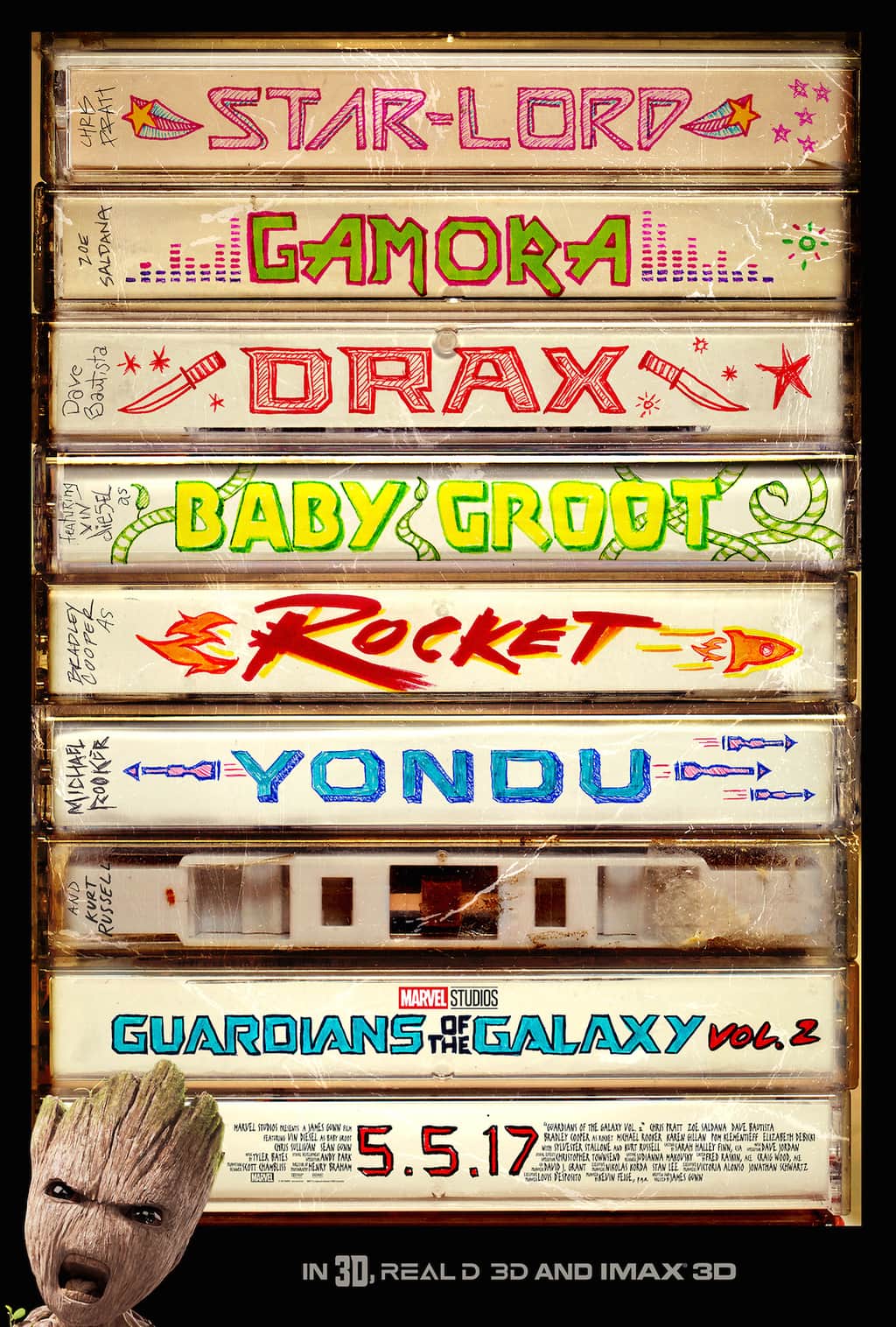 Finally, this week, the embargo has been lifted and I can tell you all about what we did, who we interviewed, and all some of the shenanigans that went on while we were on set.
Each day this week I'll be sharing another piece of our visit, so be sure to subscribe so you don't miss anything!
I wish I could say which was my favorite part of this secret mission, but all of it was so amazing!
However, spending an hour with Property Master Russell Bobbitt, checking out the huge Laser Canons and Necroblasters, touching Rocket, holding Baby Groot, and chatting with Jonathan Schwartz? Mind-blown.
You've no doubt seen the trailer with these guys in action. I still can't believe I saw them in real life -while filming! That post is coming soon!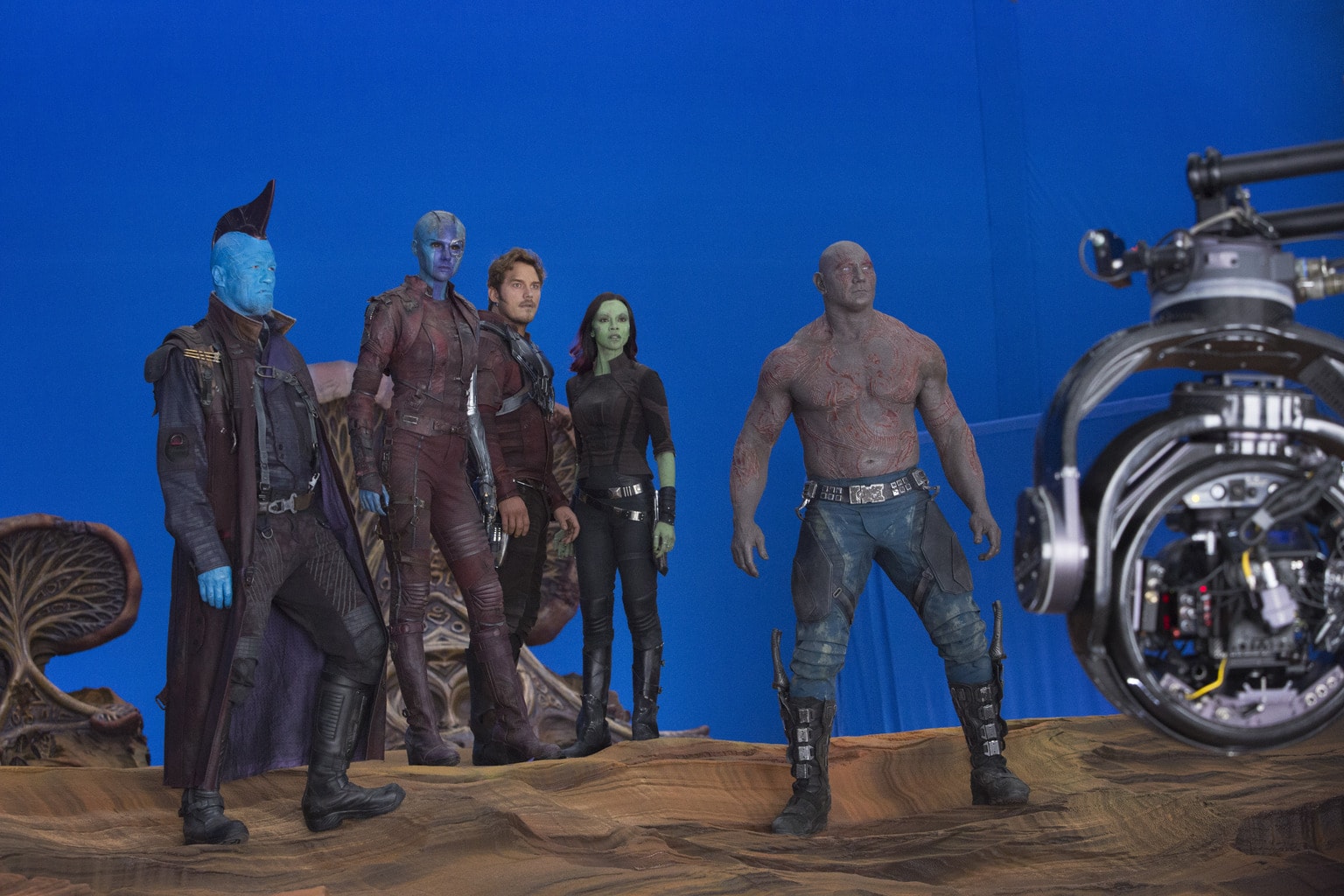 But were you watching the big game last night when the latest trailer was revealed?
Who can't wait for May... besides me?!
On Set and Behind the Scenes with Guardians of the Galaxy Vol 2
We began the day with Executive Producer Jonathan Schwartz in the art room at Pinewood Studios.
Seeing the storyboards of the film was so exciting! I always love seeing the original artwork, partially because my oldest daughter is in college studying animation and has storyboard classes. I wish I could have taken photos, but as you can imagine, it's not allowed.
You may remember that Schwartz was Kevin Feige's assistant on Iron Man 2, Captain America; The First Avenger and on Thor. He was co-producer on Guardians of the Galaxy, so he's been with the Marvel Cinematic Universe for a while.
Feige is the Producer on the newest installment of Guardians, and I can tell you from the bits and pieces I've seen, it is going to rock!
Schwartz shared the sizzle reel with us and filled us in on Baby Groot, who you've probably already fallen in love with from the original trailer.
Jonathan shared that he had to make a decision. Were the Guardians of the Galaxy going to stay together, or were they going to go their separate ways?
Jonathan: When we first meet them at the beginning of the movie, it's a couple of months after the events of Guardians 1.
So, they've sort of been taking mercenary work around the galaxy trying to pay their bills...trying to do better and do good as much as they can.
When we first see them, they are on a mission trying to protect a planet from this horrible, tentacled beast, which we're gonna see a lot of.
They're trying to prevent this beast from stealing something from this planet, which you saw a little bit of [in the sizzle reel.] This a planet who's led by Ayesha (Hint: Badass), a new character who we're introducing in this movie.
Unfortunately, along the course of that mission, some of the Guardians - I'm not gonna say who - refer to their old bad habits, sort of telling us a little bit about the difference... a little good, a little bad. This is definitely a little bad.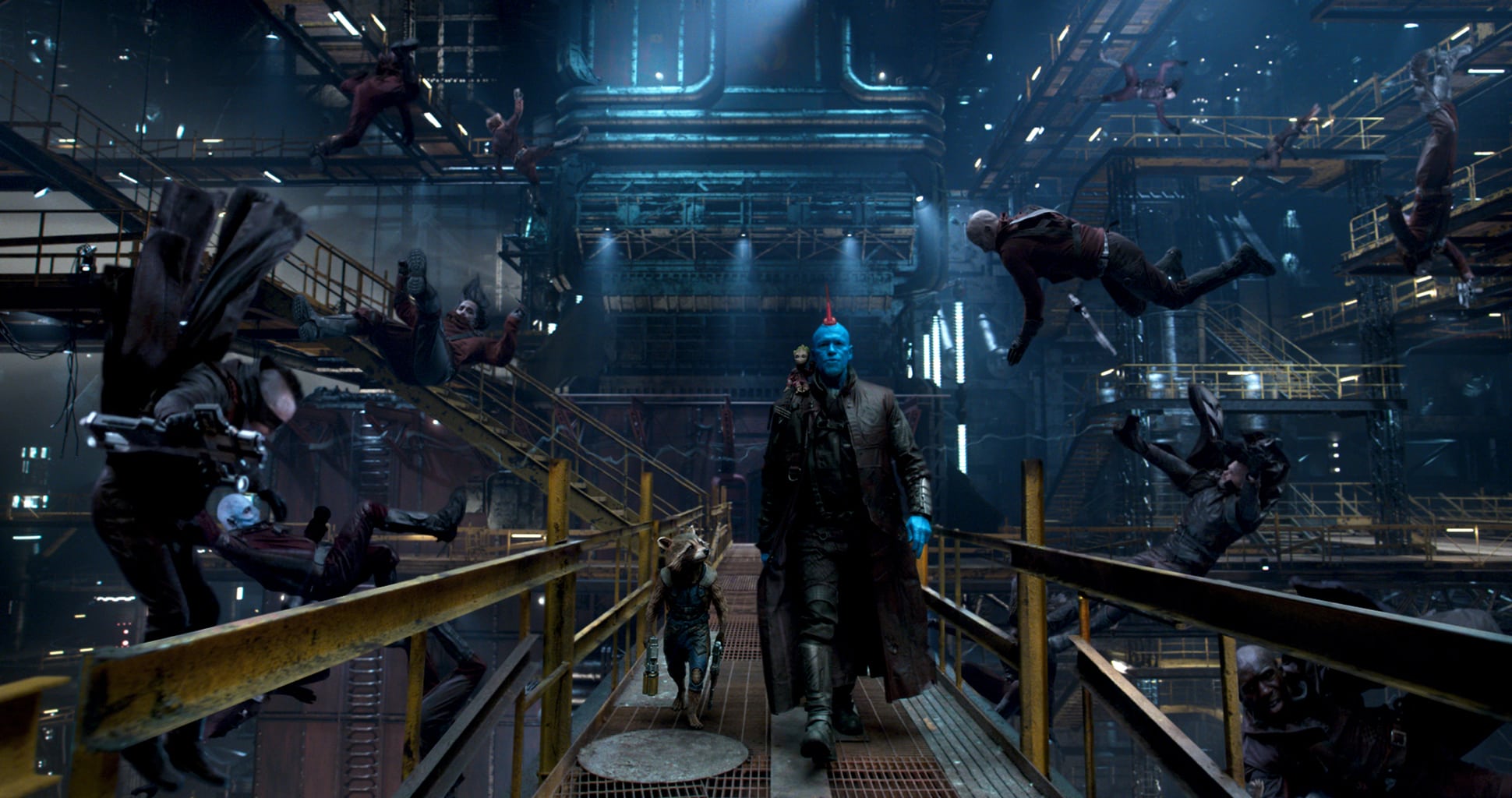 When we first meet the Guardians, you can sort of see it in some of their costume changes. [CHUCKLES] They've evolved a little bit from the way they looked in Guardians 1.
James [Gunn] definitely wanted to put them - kind of more like a rock and roll, Rolling Stones, direction just to kind of get across.
The Guardians are a little full of themselves now. They're a little famous. They saved the entire planet of Zandar and they're like, 'Oh, yeah, we're famous all over the galaxy. We can do whatever we want.'
And as you can imagine the fame is kind of going to their heads a little bit and making it difficult to live with each other.
And, of course, the Milano, Peter Quill's ship, which we see them fly off on at the end of Guardians 1, is a ship that's kinda built for one person, not really a person, a tree, a raccoon, and a giant Drax.
So, the space that they're in has kind of confined them, and as you can imagine, like a family that's in a house that's too small, creating tensions in the group.
Very soon, as a result of that action sequence, the team is stranded on this forest planet we're calling Ego, which is this really cool forest environment that they've never been in before.
It's a much more natural looking place, and it's there that they meet up with the Kurt Russell character we're calling J'son, who is Quill's biological father, who's been searching for him for a long, long time.
And he's kind of the intergalactic adventurer who's been going from planet to planet having his own kind of outer space adventures.
He's been looking for his long-lost son and sort of takes Quill with him to his own planet. That's the beginning of the split in the Guardians.
Some of the Guardians stay behind with the Milano ship. Some go off with Quill and J'son.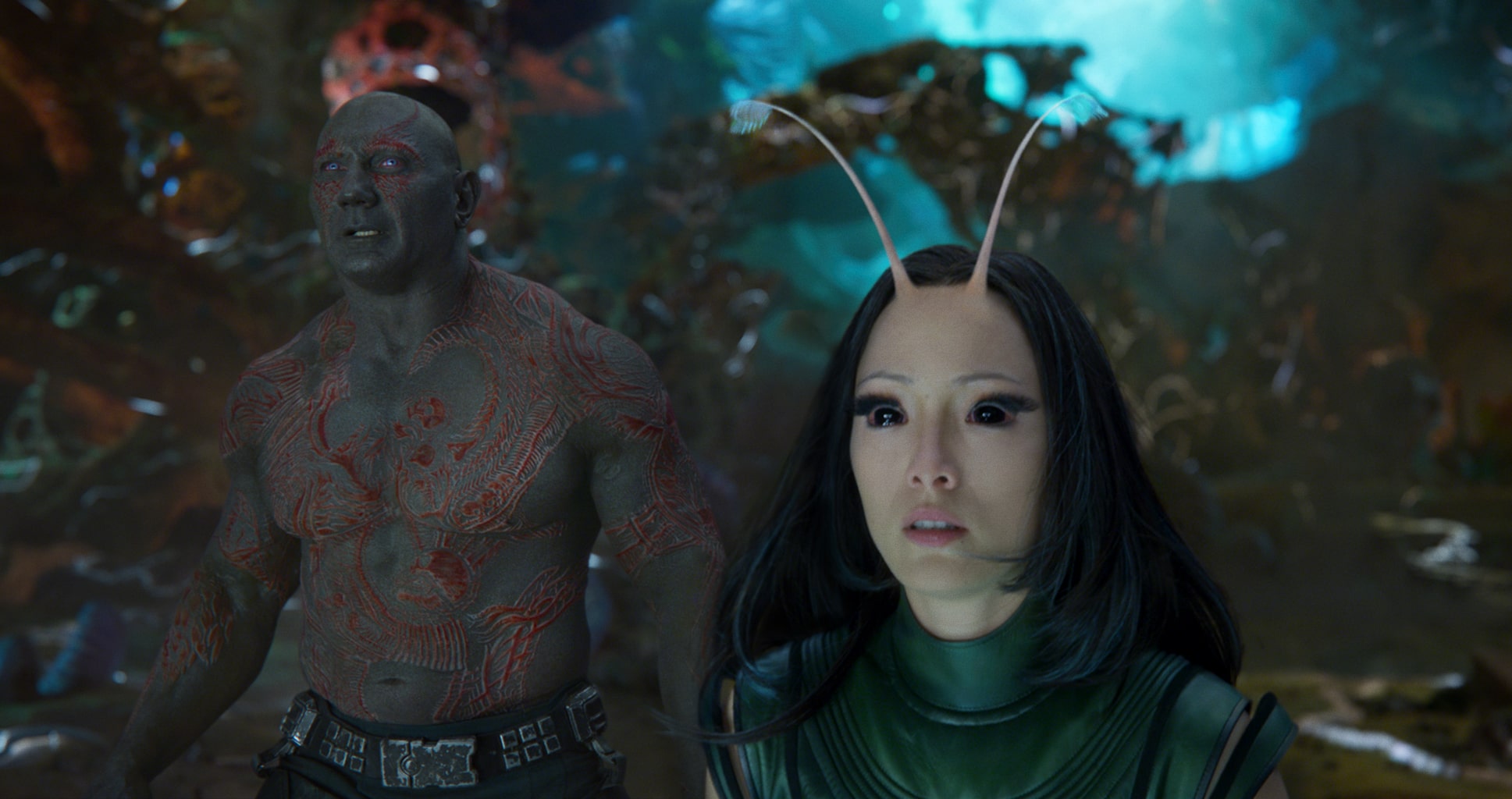 At the same time, we are gonna loop back in with Yondu, the Michael Rooker character from movie one, who sort of raised Quill after taking him to space.
Navigating that father relationship is another big story thread for Guardians 2. After getting ripped off by the Guardians earlier in the movie, Yondu and his Ravagers need to go after them again, which leaves Yondu on a collision course with the Guardians.
And Yondu's reconciling with his past sins- trying to redeem himself- especially as it relates to the way he treated, Quill.
We're gonna see a lot of J'son's planet which is kind of this amazing, colorful, space environment, for lack of a better word, which is very Guardian in the way it looks and feels. It's gonna be a really cool sci-fi environment.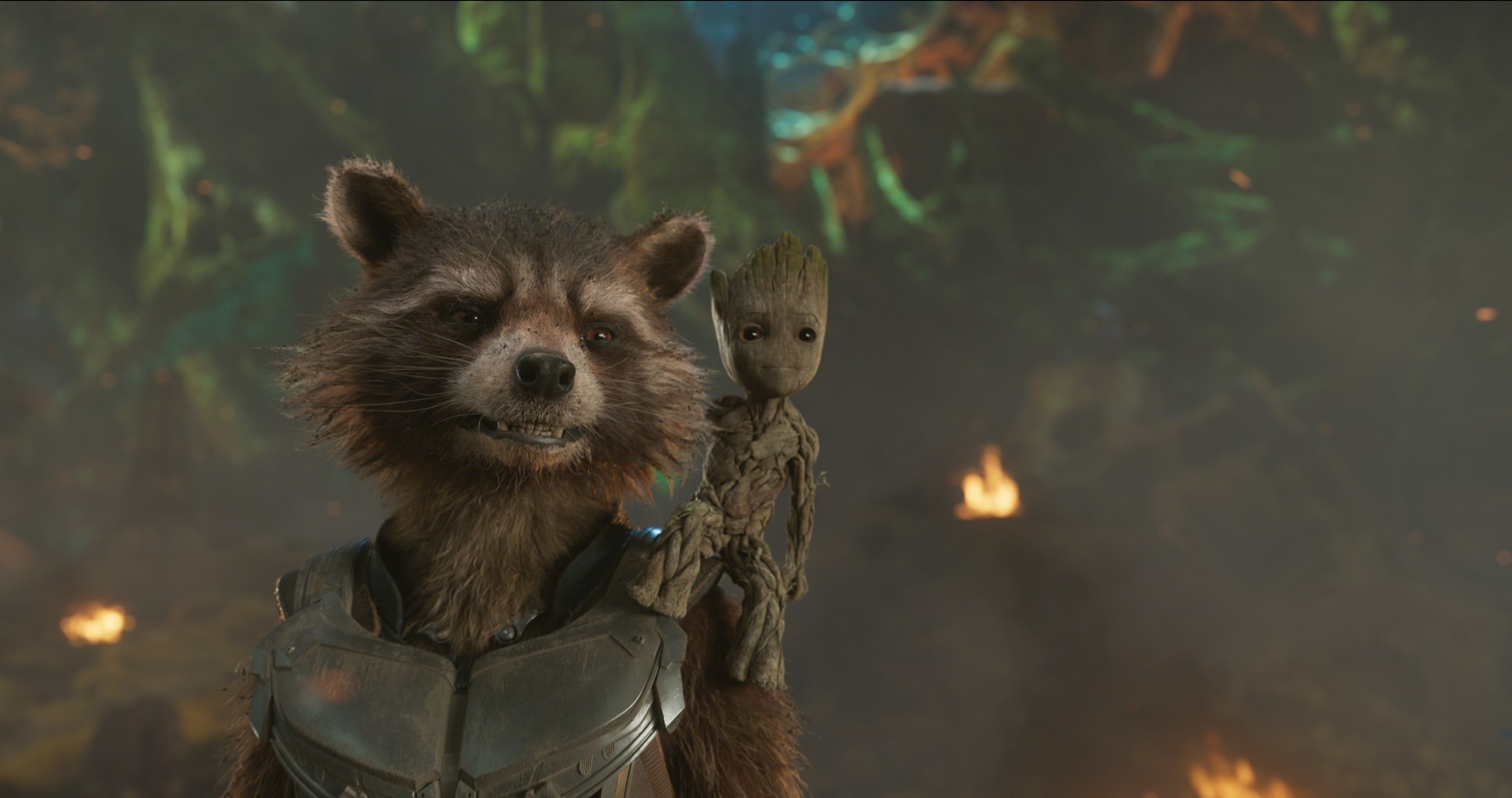 To help us understand, Jonathan shared that the idea for this evolved from these kinds of organic algorithmic drawings, which are actually a mathematical formula.
This just goes to show that the directors and producers don't just sit around and make things up- for the most part. We've got the comics and the films intersecting, and it just works really well.
Jonathan: Over the course of the movie, Quill and his father, of course, get to know each other a little bit. Other Guardians sort of have their own relationships that are building.
There's a new character in this movie called Mantis, who's a classic Guardian from the comics, played by Pom Klementieff, who's totally amazing. (You saw her at the end of the last trailer.)
Mantis kind of works with J'son. Mantis and Drax have a really interesting relationship. It evolves over the course of the movie.
Meanwhile, because Yondu let Quill go at the end of Guardians 1, there's kind of a rift forming in the Ravager camp.
And a lot of those Ravagers think Yondu should no longer be the captain of that group, so over the course of the movie, there's a big Ravager mutiny, led by a character in that sizzle reel named Taserface.
The Taserface kinda takes over the Ravagers and takes Rocket and Yondu and little Groot captive.
I have to stop and say if you haven't seen the last trailer, take a minute and watch now! Mantis is so amazing, and if you aren't laughing at the end, you must not be human...
I feel like I'm sharing too much for some of you, but there is a big action sequence that the team is really excited about involving a lot of awesome Groot stuff.
Yondu gets to retreat back to his look from the comics, which will make a lot of you very happy. The last thing Jonathan said was, You're just gonna have to trust me. It's all going somewhere really special.
After we met with Jonathan, Russell Bobbitt took us on a tour of the Props Department and talked about his history with Marvel films.
Bobbitt has been in the business for thirty years, and has really great stories about past Marvel films, adding even more as he's currently working on Avengers Infinity War and starts soon on an untitled Avengers film coming out in 2019. (YES!!)
You can only imagine the crazy amount of props used for this film, and Bobbitt knows them all. To give you an idea of what he does - for Chris Evans in Captain America: Winter Soldier, Bobbitt made 46 different shields.
He told us they just give him the script and he figures out what kind of props they need. During filming, it's Bobbitt and his department of over 100 people who have to repair, refresh, and remake props that are damaged or broken.
We wondered- does that happen a lot? Oh yeah. From watching the live filming, trust me. Things go wrong all the time.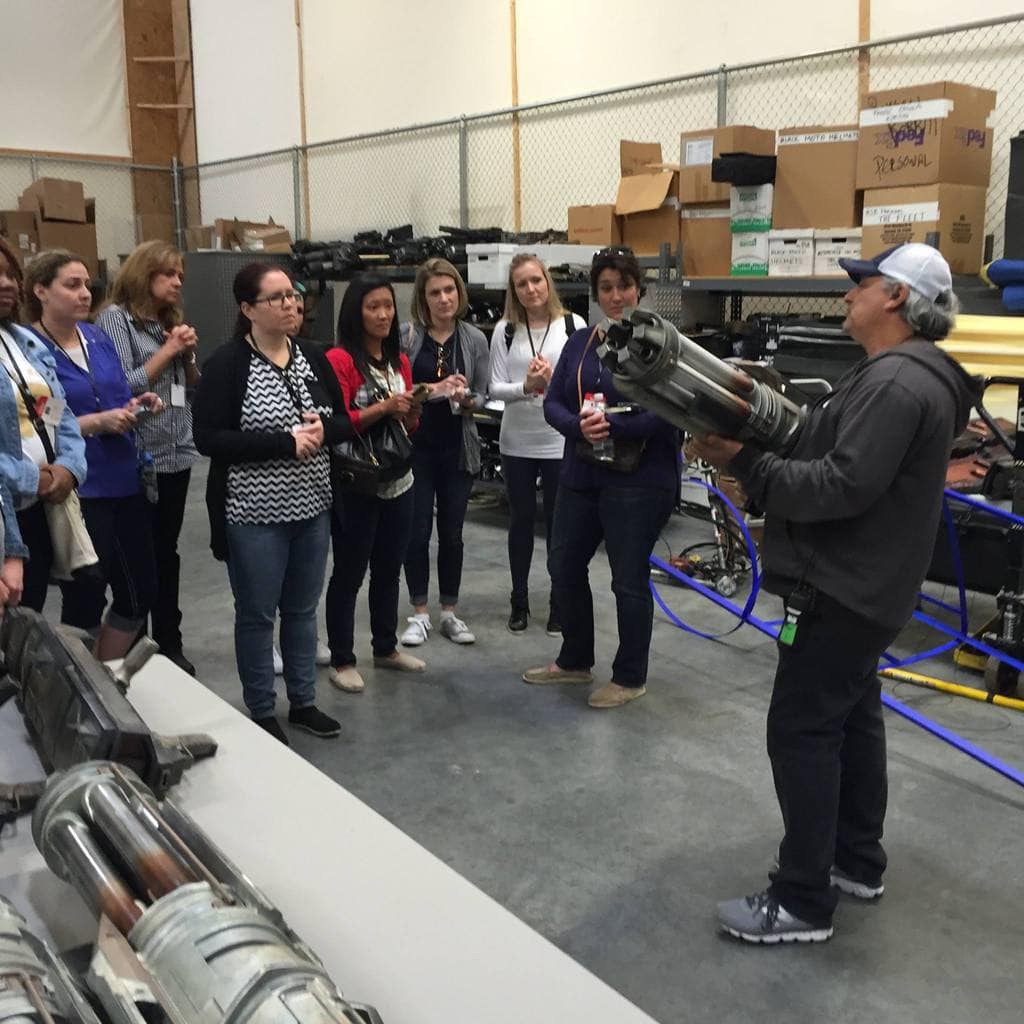 It's an insane amount of work, but Bobbitt clearly loves his job. We could tell by the excitement on his face when he was showing us the Necroblasters and other props.
Russell told us he'll go over the script and make a big list of everything he thinks should be in the movie and then thinks outside the box.
He also does the background stuff, like the background alien person who walks by, and has something in his hand. As you can imagine, size does matter. Russell has to figure out how big a prop needs to be, like for Drax, the prop has to fit his size, which means BIG.
Russell: We design, manufacture and engineer everything basically from scratch on a movie like this because we're in outer space and there is no outer space prop rental house or an outer space store that I can go to...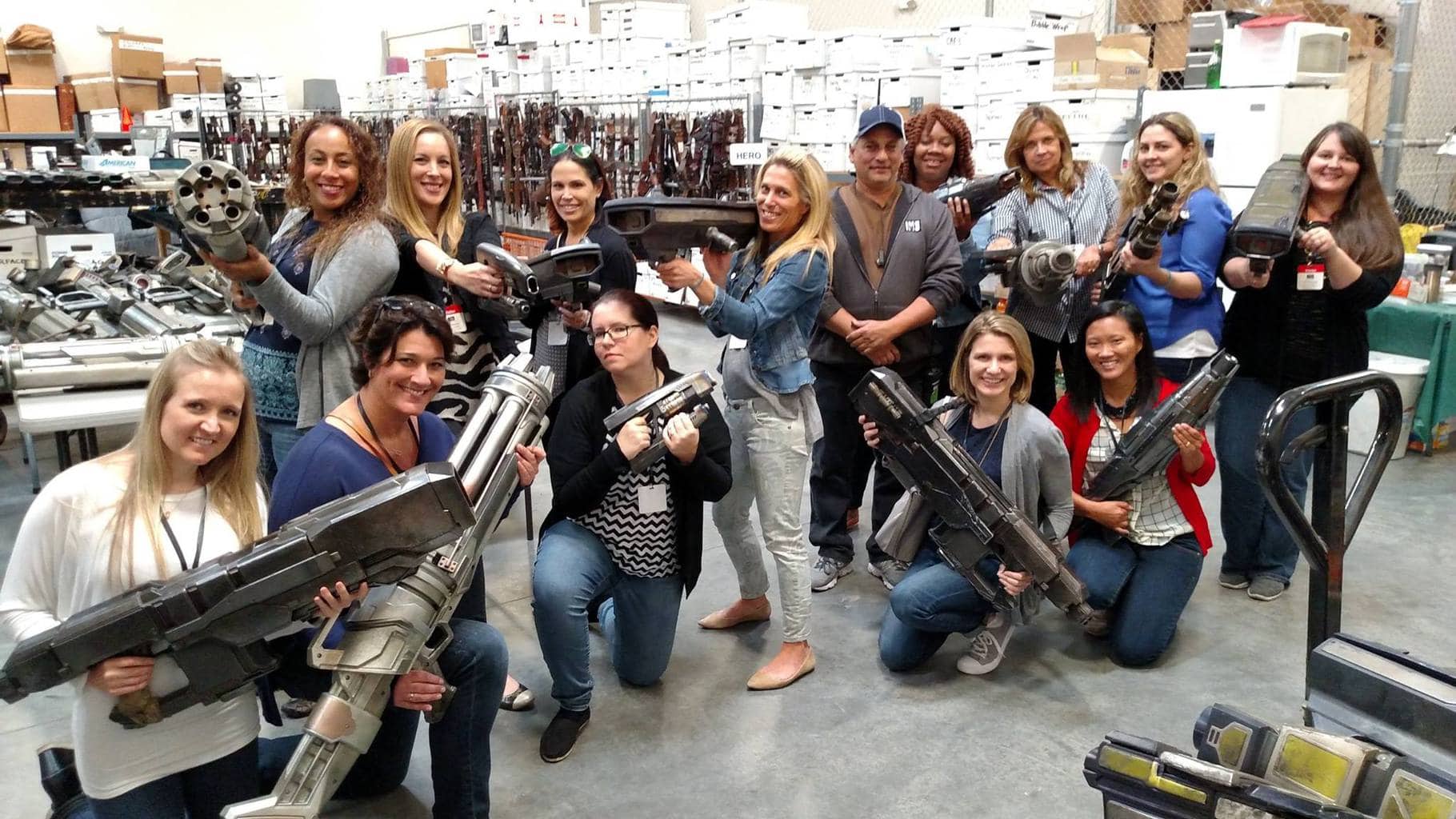 I was trying to look like a badass, but my weapon was heavy, so I'm not sure if I achieved the look I wanted to!
This was a total blast, and also made us realize how difficult it is to hold this equipment for long periods of time. In fact, we also learned there are often two different props that look exactly the same, but one is much lighter.
I was holding the heavy version, and there is no way I could have held it all day! For extended filming, the lighter version is what the actor holds.
We asked if any of the props were brought over from the first movie, and Russell said Drax's knives were used again, and Gamora's sword is the same.
Russell: The Walkman that Chris wears, was insanely challenging in that there's plenty of Walkman's out there. You can find those.
But the headset, allegedly Sony had a fire in the warehouse and all of that model burned to the ground. I told my boys and the people that shop for me, 'Okay just go find them. Go online, go to Ebay, do what you do to find those headsets.'
And we found two pair. Eight thousand dollars each because they were in Guardians of the Galaxy 1. And nothing irks me more than having to pay eight thousand dollars for something that we created in the first place that was a 12-dollar purchase.
So I looked on Ebay. I thought they were joking when they came to me and talked about eight thousand dollars and they showed me. I looked at the Ebay ones. I stared at them.
I studied them. I looked at photos from the first movie. I discovered that they weren't even the actual headsets used in the film.
They were just that model and they're so hard to find that they're able to sell em for eight thousand dollars, even if it's the same model.
I put together a plan and I manufactured my own, probably cost me more than eight but not much more than eight.
And, so we had a manufacturer make more of his headsets because we wanted them to be the same headset.
So I've run into those challenges and we overcome them it's fascinating. It's like the director is so excited.
James Gunn is thrilled to death about that headset because he created it. And so he's really proud of it. He's taken pictures of the Ebay page and posts it and he shows it and just thrills him to death.
For me, I have a budget and I have to, you know, didn't thrill me to death.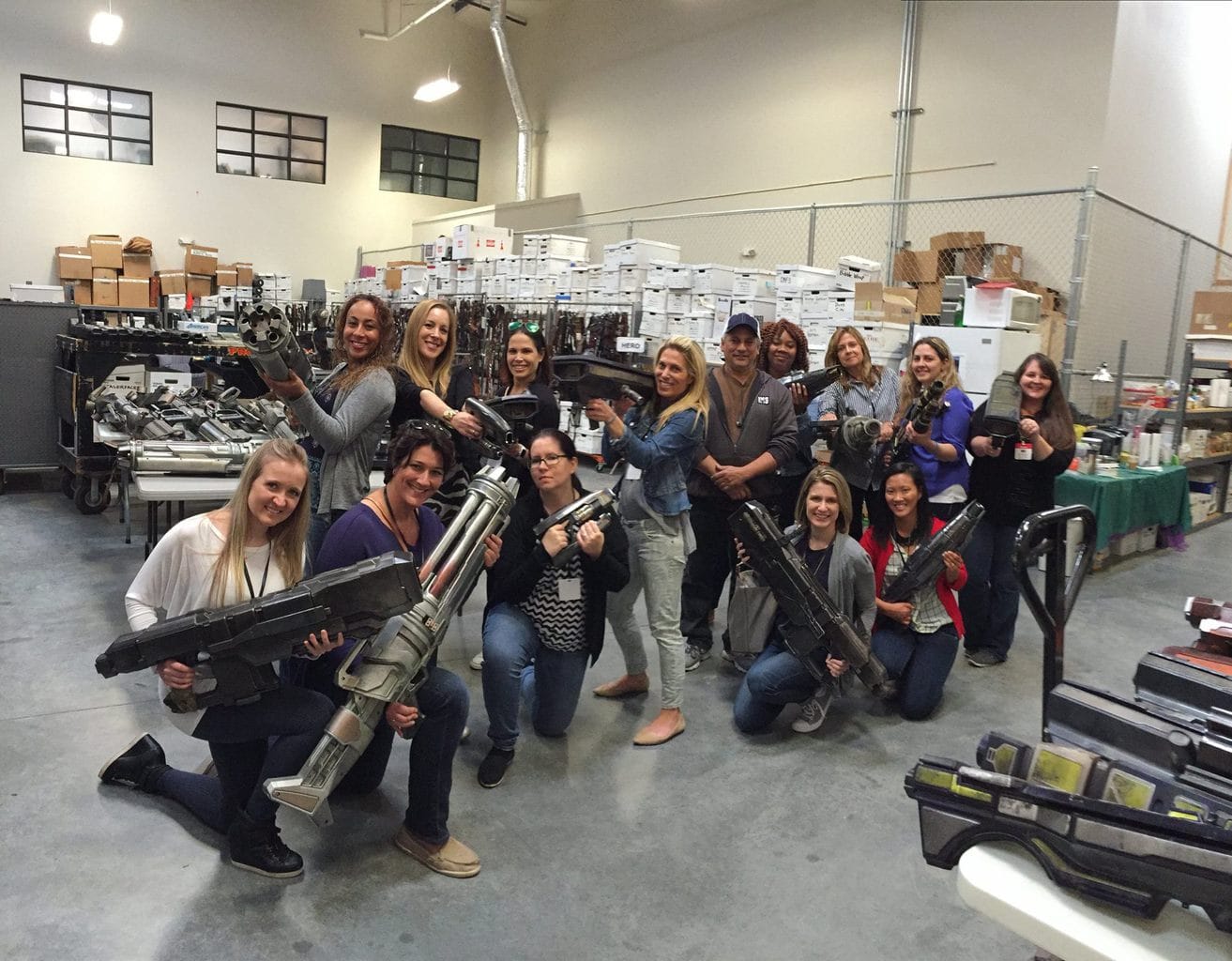 Russell said if an actor touches something, he is the one who found it or created it.
Russell: I went to electronics surplus stores and bought all kinds of gears and electronics and heat syncs and motherboards and I went out and got 1980's cell phones and just tore em apart.
We asked where all the props went after a movie. Where were the props from the first Guardians?
Russell: They go to the magical Marvel warehouse. We all borrow from each other.
Obviously, Thor 3 is happening in Australia, so, Thor 3 prop guys will call up our magical Marvel warehouse and say, send all the crates out from Thor.
(Did yo see my interview with Tom Hiddleston who played Loki in Thor? Just checking!)
We send em all out there. They use em. They make new stuff, then it all gets compiled, goes back to the thing because we're about to do Avengers.
And I'm gonna make the call to the warehouse and say, 'hey, I need Thor, I need Hawkeye, I need every character there is. Send me all that stuff. That way I'm not spending ten million dollars on every film. Thor's hammer is gonna be Thor's hammer all day long.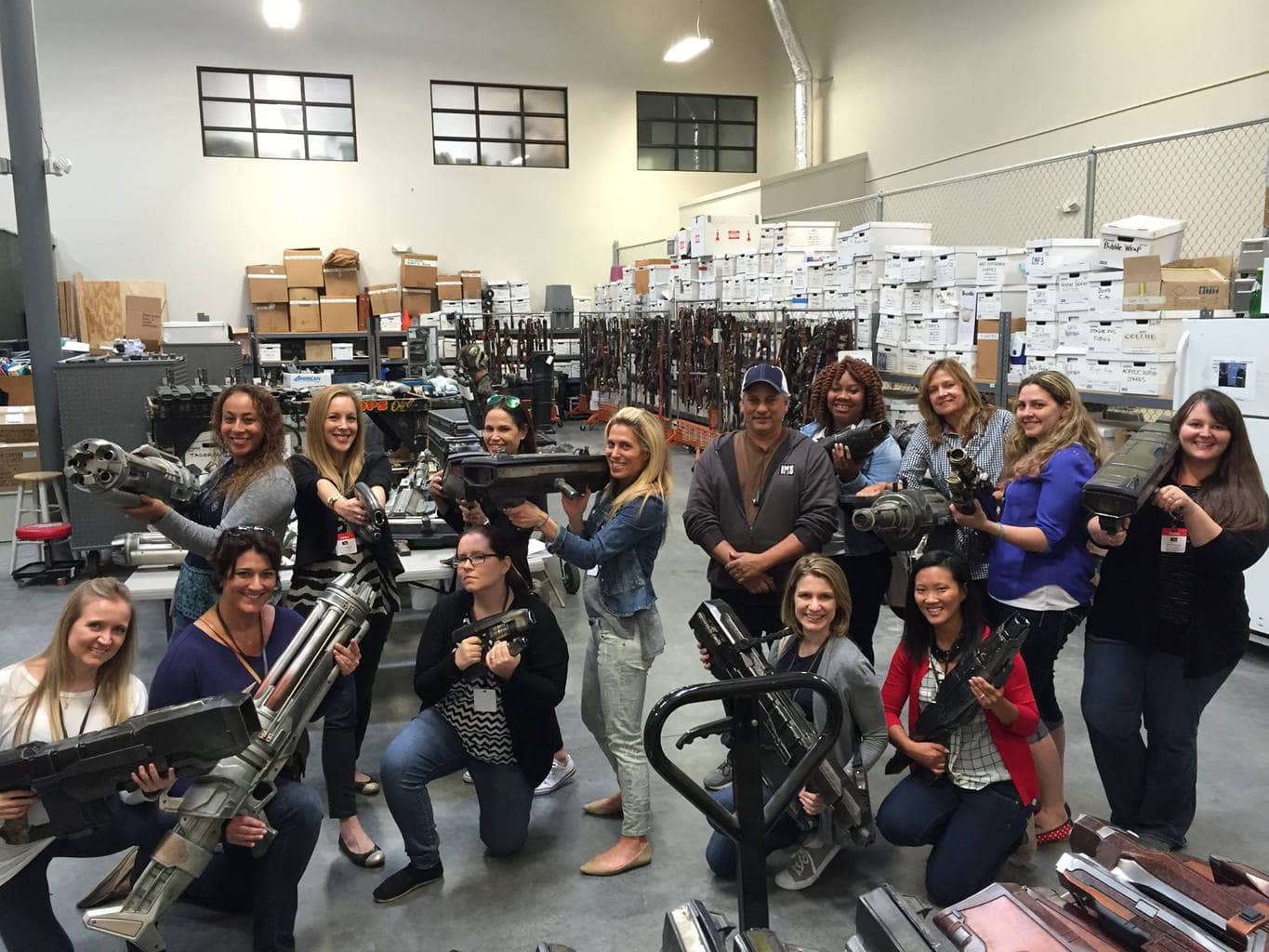 It was finally time to meet Baby Groot.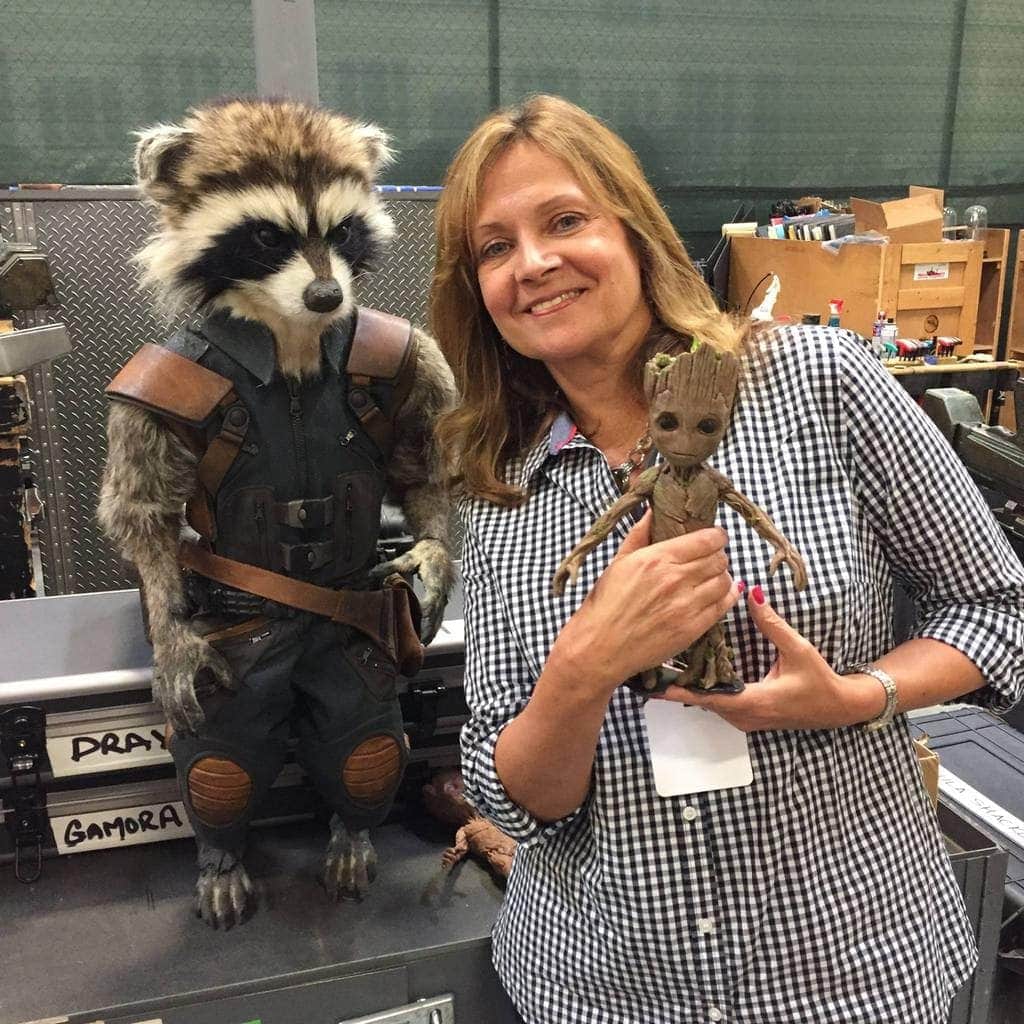 Russell: Baby Groot's all computer graphic. This is a reference piece but we made the reference piece exactly how he's gonna be in the movie.
And so Baby Groot broke a hip. James Gunn stopped shooting, completely concerned about Baby Groot's hip and I had to send him to the Baby Groot hospital. He had a hip surgery.
This is a true story. So we cut him open, we put new armatures in him, and the next time he had to make an appearance on set, James, he was sitting in his director's chair and I saw him look over at Baby Groot to make sure he was okay.
And I, I carried him over and I let James have him and he touched him and moved him and he was so happy that Baby Groot was all better. Pretty amazing.
Check out this behind-the-scenes video of the making of Baby Groot!
Russell: We never know what's really gonna hit big and Groot was like this phenomenal hit. Moms go crazy, dads go crazy.
I have guys come up to me with tool belts on and pull me aside and whisper in my ear, 'do you think it's possible before we're done that I could just get a picture with Baby Groot for my son?'
I'm like, 'of course, you can.' Last day of shooting, I'm gonna be quite busy with Baby Groot.
On top of being a pretty cool guy, Bobbitt is about as nice as they come. He says he's just a guy who's blessed to be in a job he loves.
Our next stop behind the scenes was a tour through the costumes trailer. You can't imagine how many pieces of clothing were in this small space.
I wish I could have taken pictures, but it's not allowed. Everything worn by the actors was in this trailer, including undergarments.
I won't name names, but I will say someone fondled Chris Pratt's underwear. I'm not telling. You can't make me. Maybe later.
If you haven't seen Guardians of the Galaxy Vol 2, get on that, will you? It's SO good!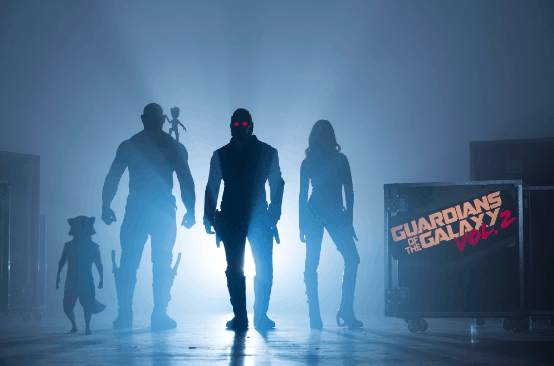 Disney invited me on an all expense paid trip to see the filming, go behind the scenes, and interview the cast of Guardians of the Galaxy Vol 2. All thoughts are my own. Obviously.
Why Kurt Russell Wanted to Be Part of Guardians of the Galaxy Vol 2
James Gunn of Guardians of the Galaxy Vol 2