I hope you've been enjoying reading about some of the new shows from ABC this season! I'm so grateful to Disney for inviting me on this trip of a lifetime! So far I've covered The Family, The Real O'Neals, and today I'm sharing a behind the scenes look from our set and wardrobe tour for ABC's The Catch. I just love being able to browse through the racks and racks of clothes from a TV show. You may remember when I was able to see the wardrobe from Agent Carter. So many gorgeous pieces of clothing! Though Agent Carter is set in the 40's, which was such an elegant time for clothing design, the clothing on The Catch is pretty spectacular, too, especially for Alice, played by the stunning Mireille Enos.
If you haven't been watching this show, catch up! (pun intended!) A quick synopsis: Alice is one of the top investigators in Los Angeles, and has an incredibly handsome fiancé named Benjamin, played by Peter Krause. When Benjamin disappears, taking Alice's money and clients with him, the cat and mouse game begins. Benjamin has messed with the wrong woman. But of course, if doesn't end there, because we find out that Benjamin, though sent to do a job by his very powerful boss, has actually truly fallen for Alice, and fallen hard. It's such a great love story that I can't stop watching.
Though we weren't able to meet Mireille or Peter, we were lucky enough to be on the set the same time as Alice's partner, Valerie, played by the beautiful Rose Rollins.
The Wardrobe
As we were looking through the racks and racks of gorgeous clothing, Costume Designer Peggy Schnitzer filled us in on some of the pieces and why they were chosen.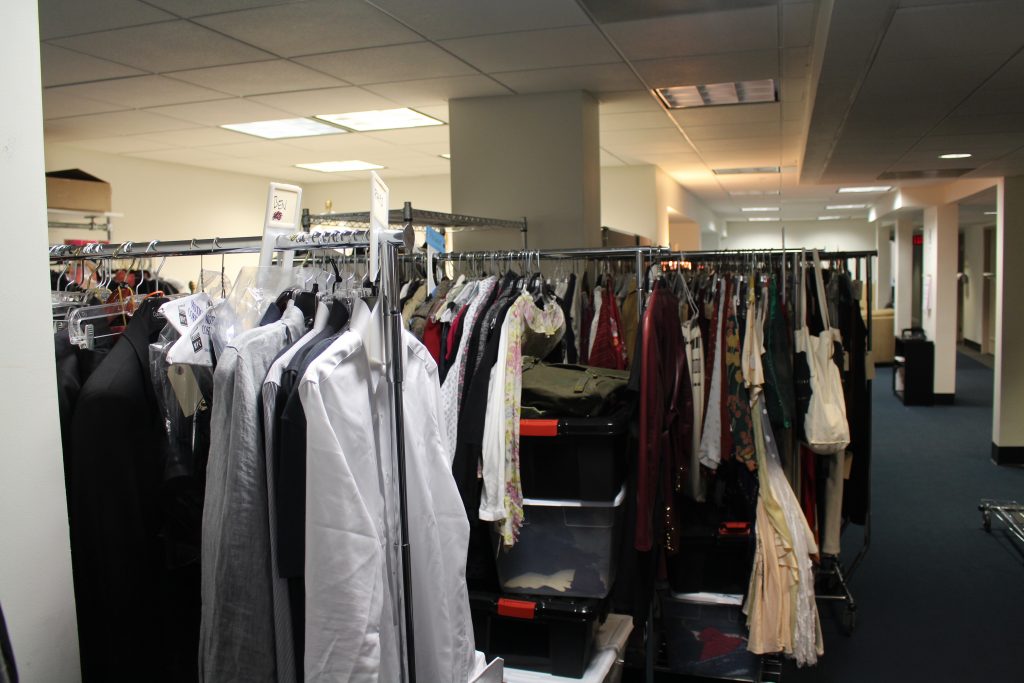 "Peter pretty much wears a uniform; dark suits, mostly white shirts, which were all made for him, or dark shirts. We just thought that was something that you could identify with him, so he pretty much is the consistency in the crazy inconsistency of everything else." Peggy shared that they use the same shirt maker that's been making shirts since Frank Sinatra!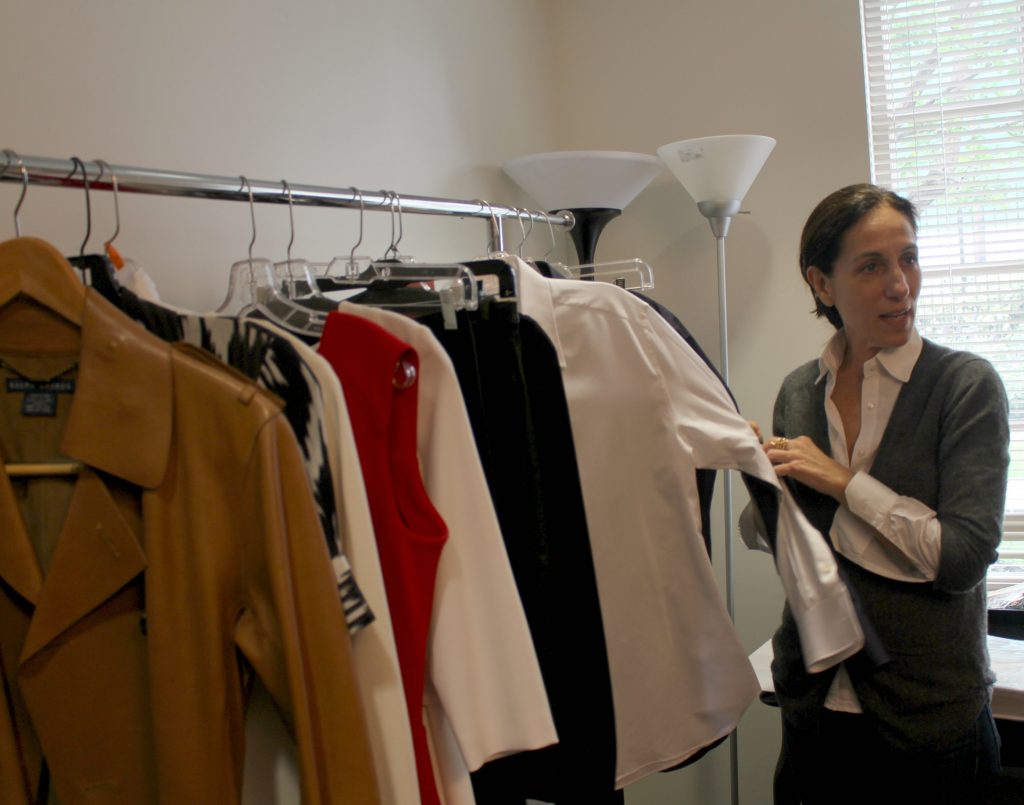 All the women in primary roles seem to wear professional, but feminine styles. "Margot wears very sculpted, body conscious [styles]. She's a little more playful but still professional." (Margo is the mastermind who Ben works for, and you will love to hate her!)
"I pretty much stick to solid colors, because I think it works best for this. There's a lot going on. They can be distracting sometimes."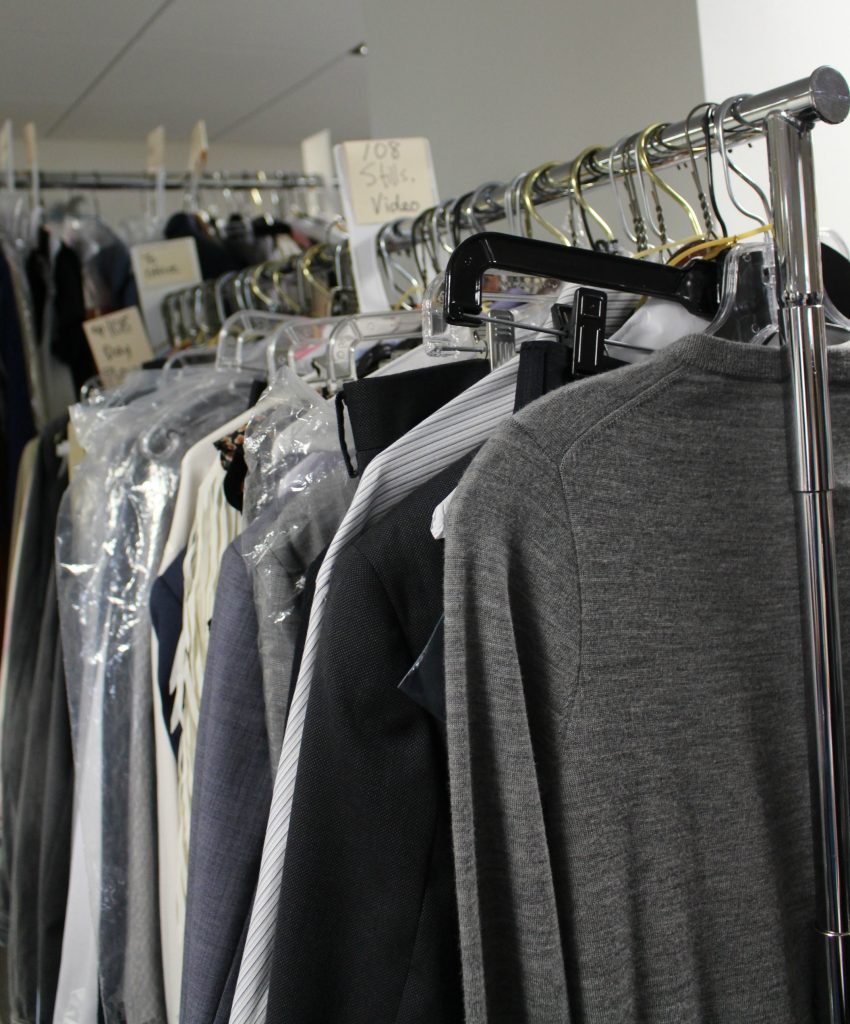 "It's a very much a designer's dream, because it's a great cast, great bodies, great visuals and the story is fantastic. It's really fun to pair up with the story in terms of the design aspect of it."
Peggy made the gorgeous wedding dress that I hope will eventually be worn by Alice in her wedding. It was stunning in the show when she tried it on.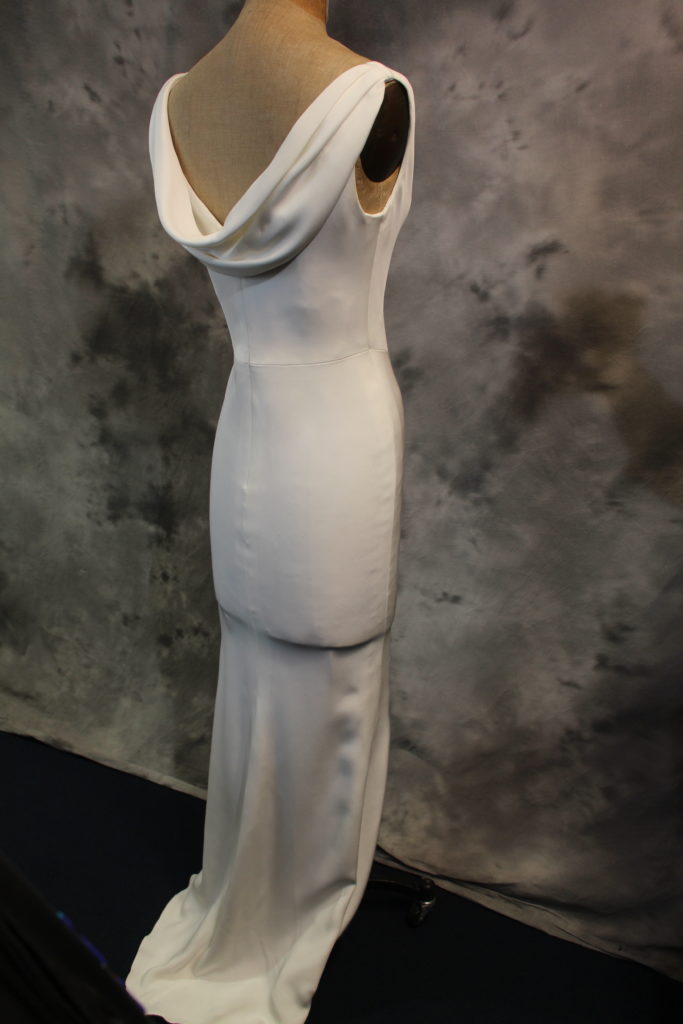 Of course, there are many people behind the scenes, like Carlos Zapeda, who make the wardrobe happen.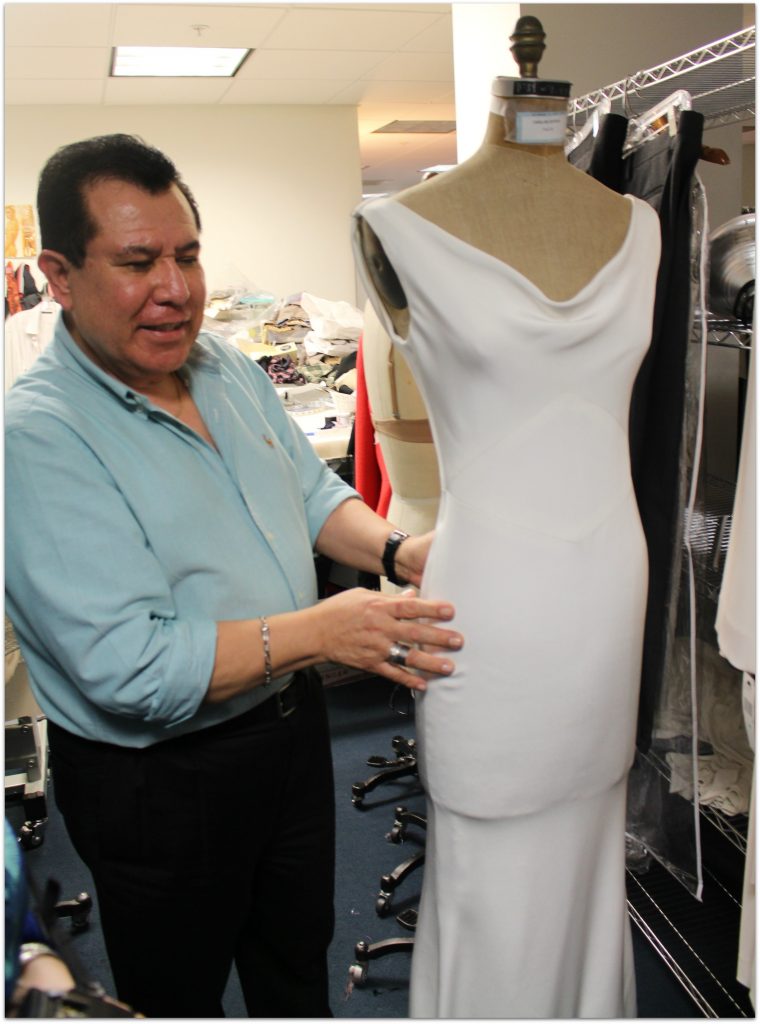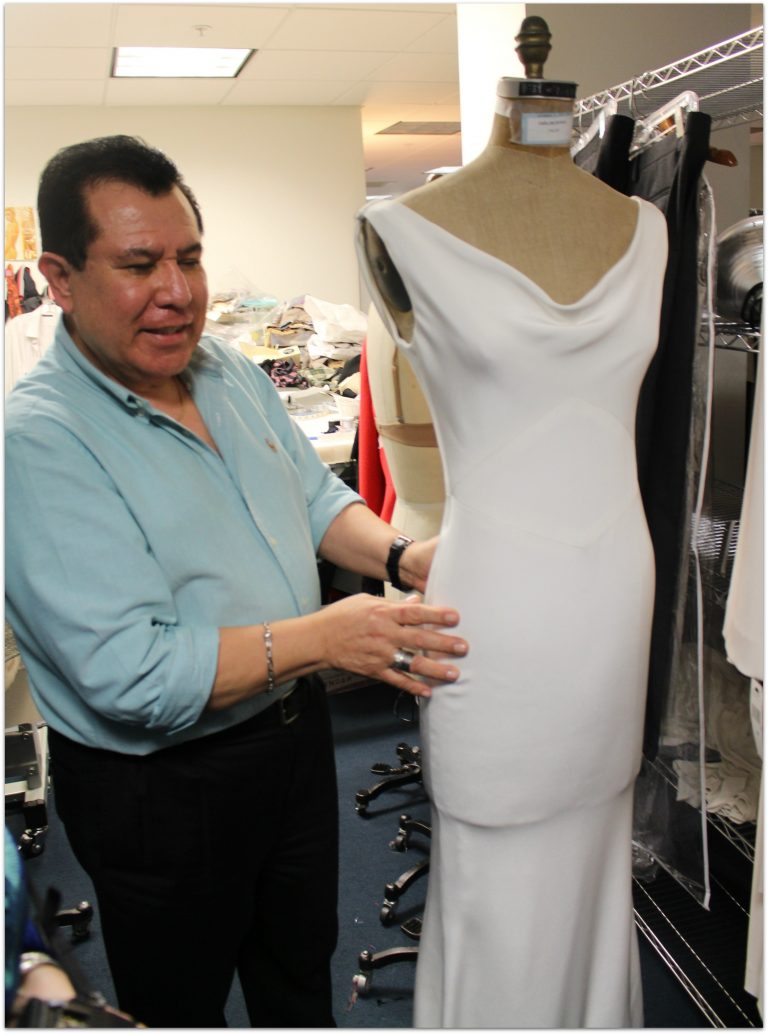 Other people on Peggy's team are Leo Castro, the costume supervisor who runs her department, and Anita Cabada, her assistant costume designer, who is really the only person that shops besides her.
Peggy said, "The thing with TV is it's so fast and you have to come up with ideas and get it done very quickly. We had a little bit of lead time. It was great and he was amazing. He just alters all their clothes to the T to their bodies."
Next we were able to get a peek of the set of The Catch. I still have to pinch myself that I get to do this for work! To watch a show, fall in love with it, and then to be on the set where it's filmed is such a treat.
The Set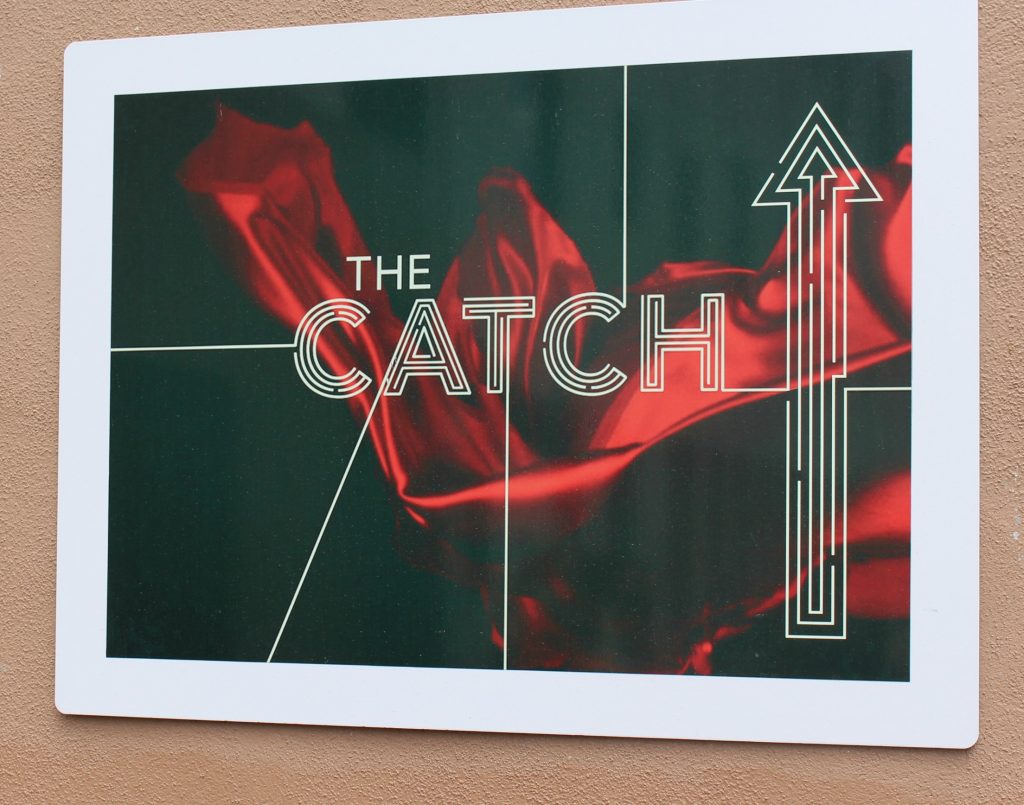 I love seeing how they make a background look so real. This is a windowsill in Alice's office, and in the background is a building scene.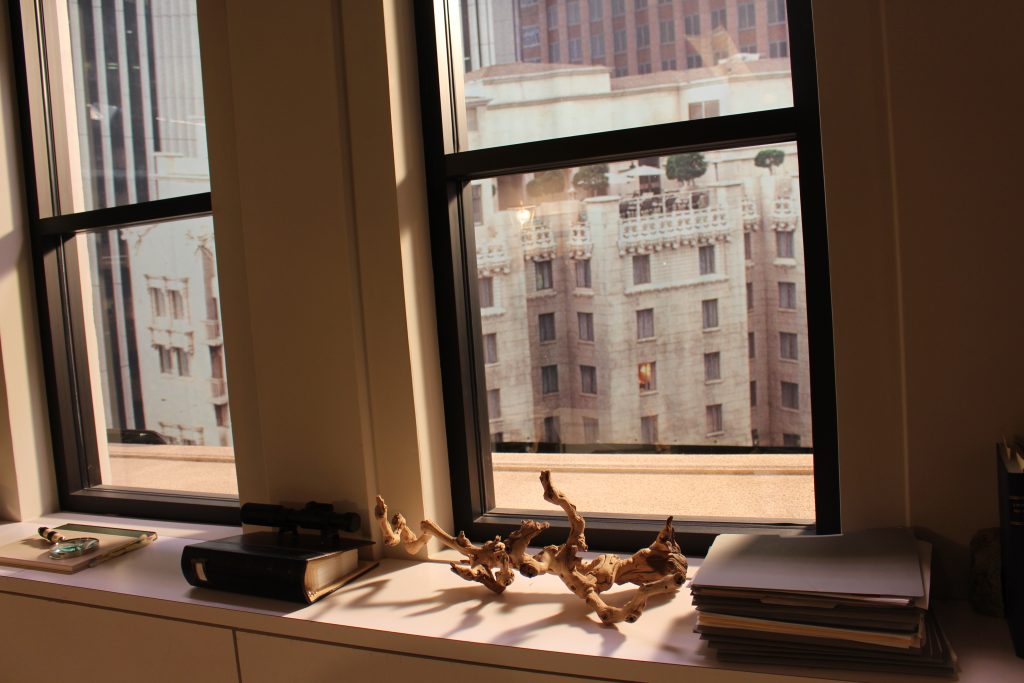 Rose joined us for the tour. This is Valerie Anderson's office, who Rose plays on The Catch.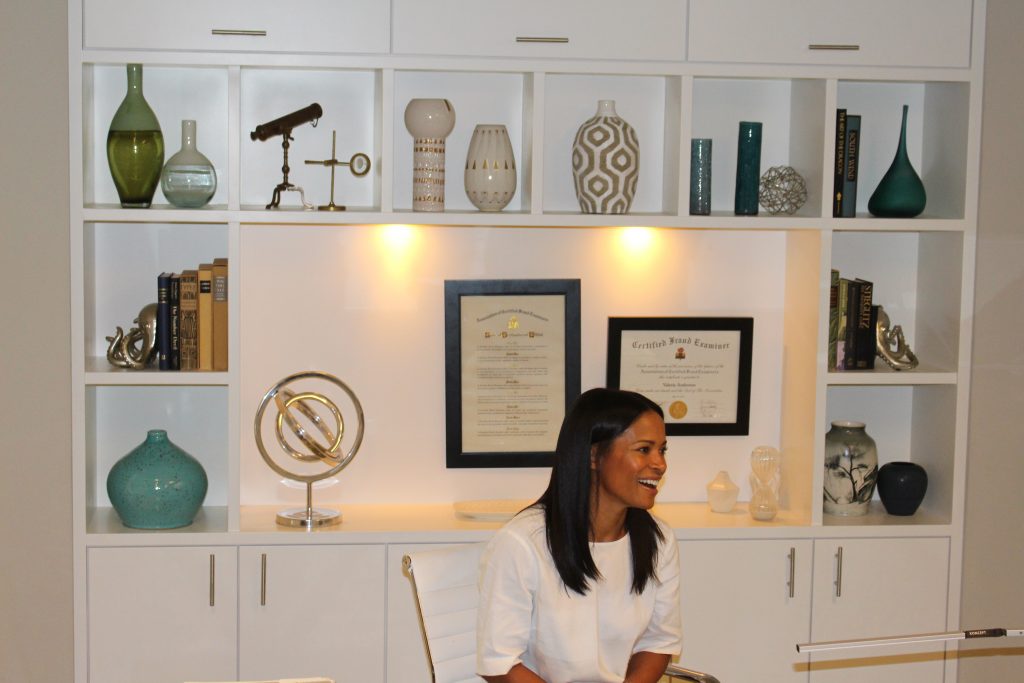 I was excited to see Alice's office.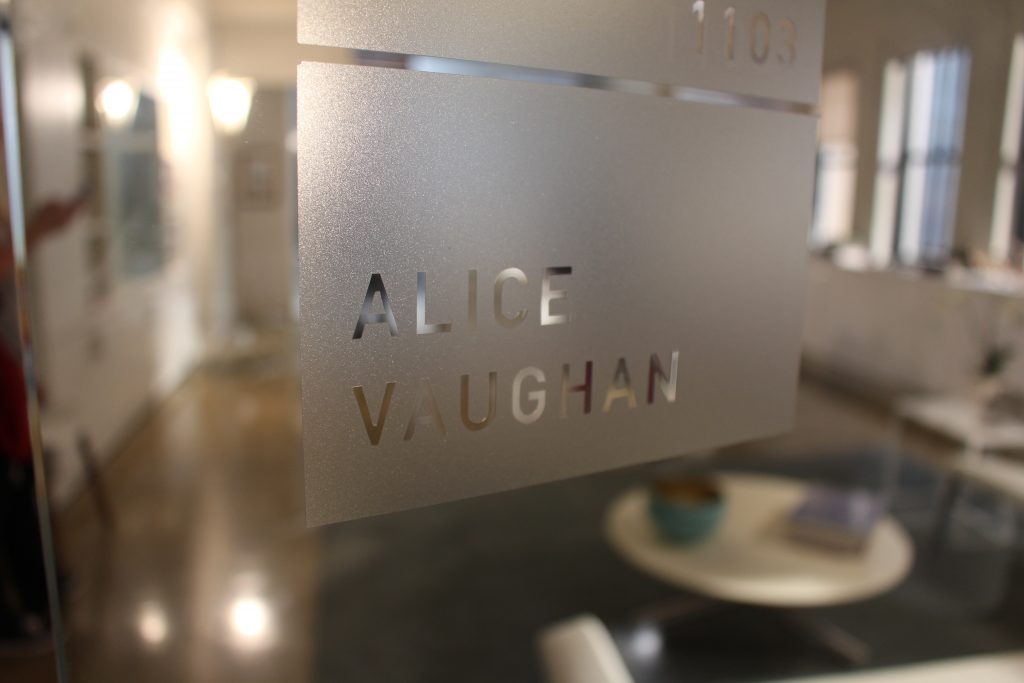 Love that desk!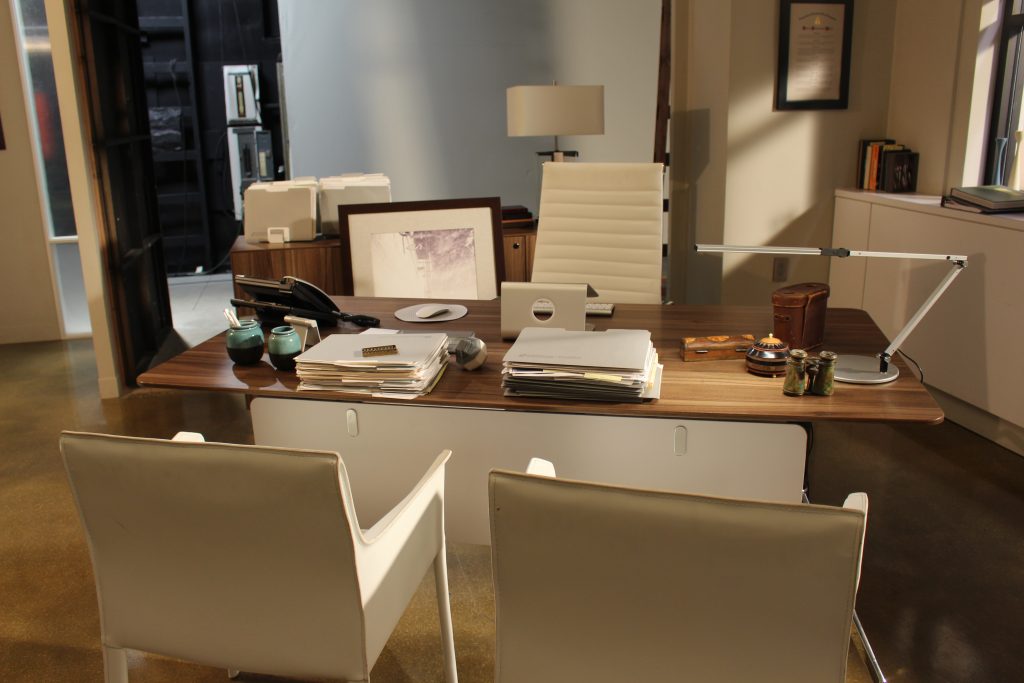 I was even more excited to see her house, which is fabulous. Oh, to be a high-powered, rich private investigator! You should have seen my first apartment when I was a stockbroker. My whole apartment was the size of Alice's kitchen!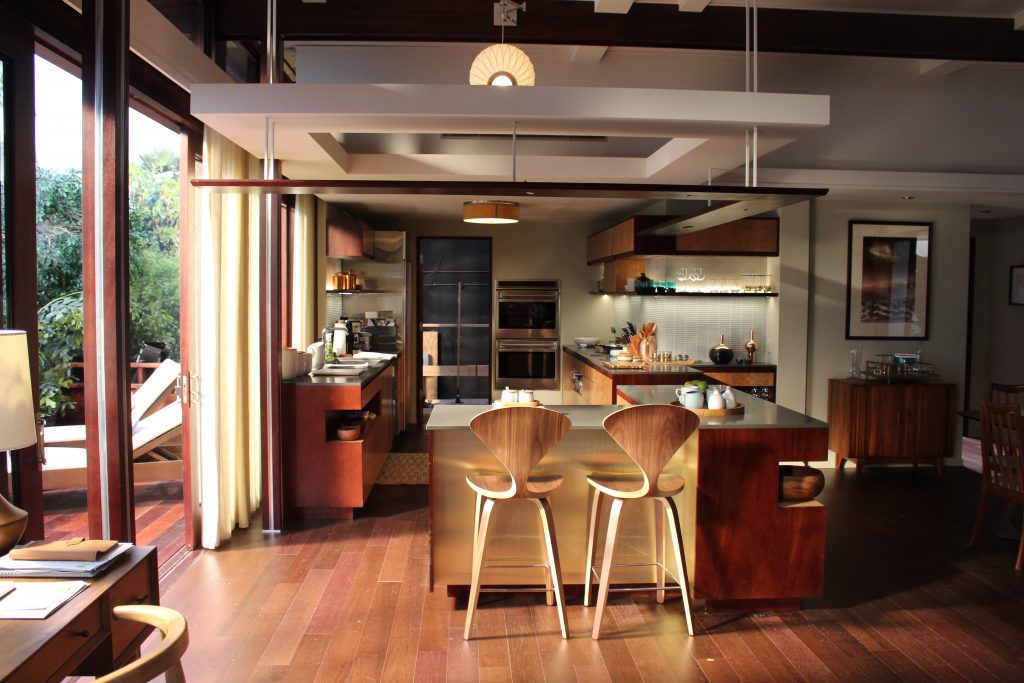 My dream bathroom. How about you?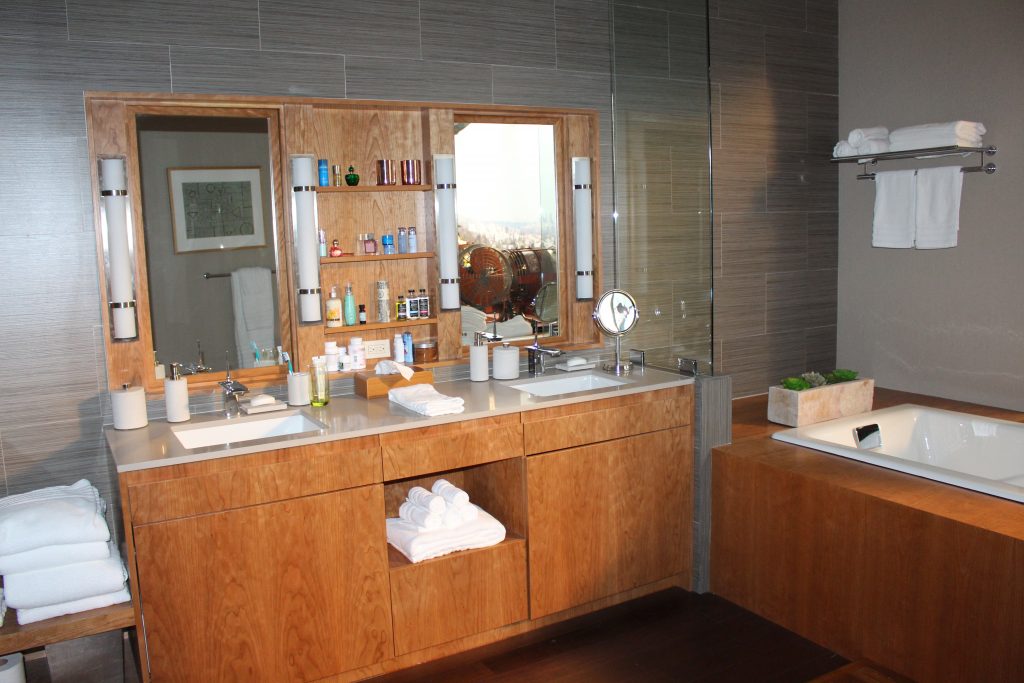 I wanted to look at the colors of lipstick, but didn't dare touch anything!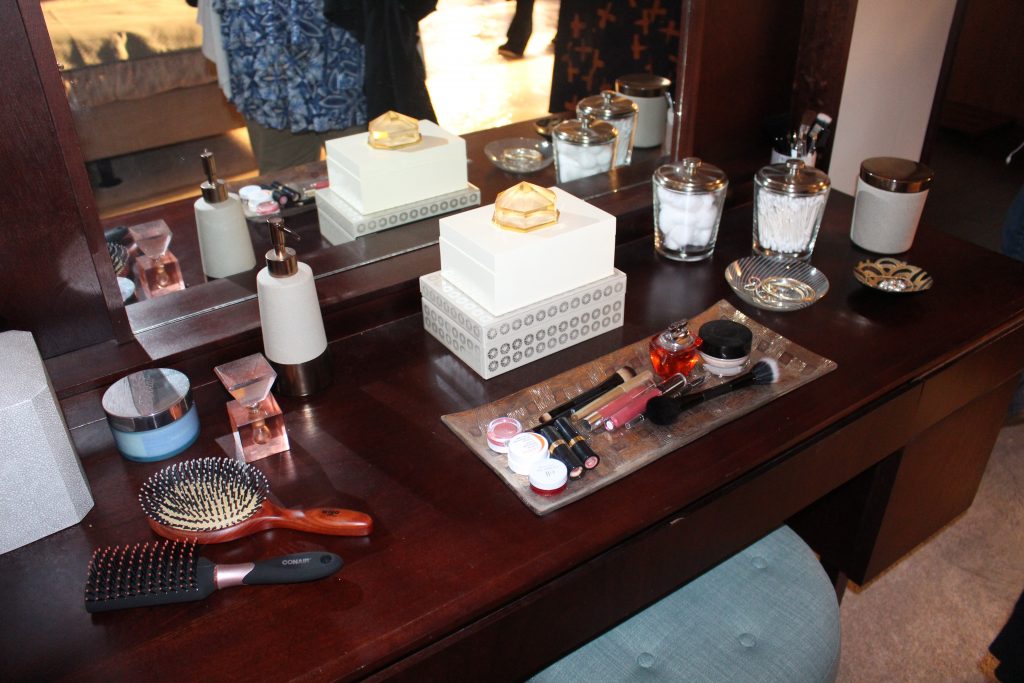 The colors of her living room are just fabulous.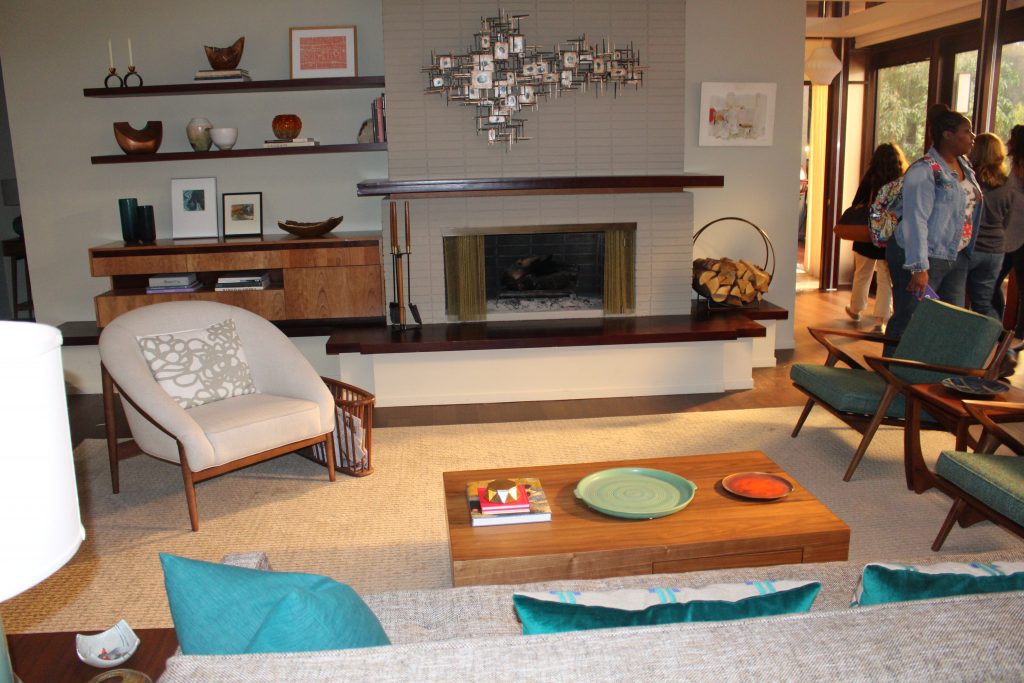 Nice view, right? Again, on the show, it looks like a beautiful view, but you can tell here that it's a background.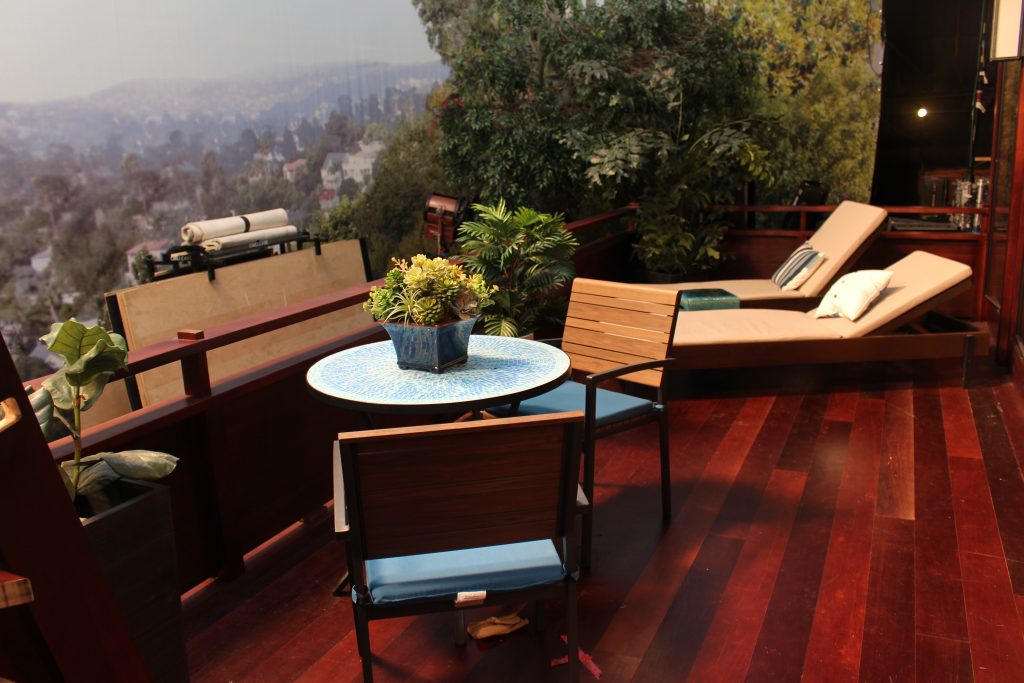 It may look like a normal balcony, but look from a little further away!
Finally, the painting. If you've been watching, you understand the significance.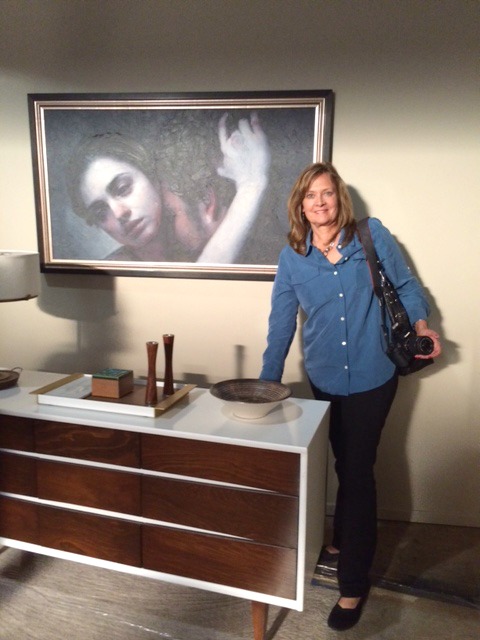 Check out this sneak peek of tonight's episode, The Benefactor. It's going to be amazing! Tune in tonight at 10 E/9C on ABC, and remember, when you find a show you love, watch it within three days or it doesn't count for ratings!
Thanks to everyone at The Catch for being so welcoming!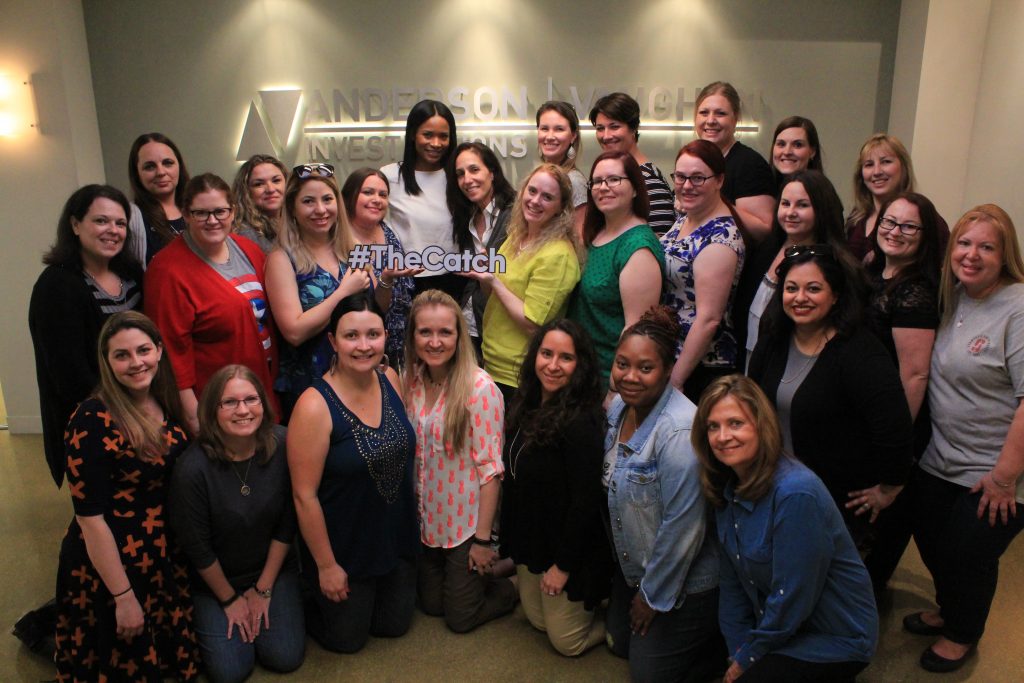 Follow The Catch on all their social channels.
Tumblr