Post sponsored by Shell Fuel Rewards Network. 

Tis the season for spending money, right? Lots of it! So it there was a way for you to save a little cash, you'd probably be interested right?
By becoming a Shell Fuel Rewards Network member, you can not only save at the pump, but there are so many other ways to save, too! Of course, you'll always save 3 cents a gallon when you fill up at participating Shell stations. But that's just the beginning!
By going to the Shell Fuel Rewards Network site, you'll see all kinds of specials!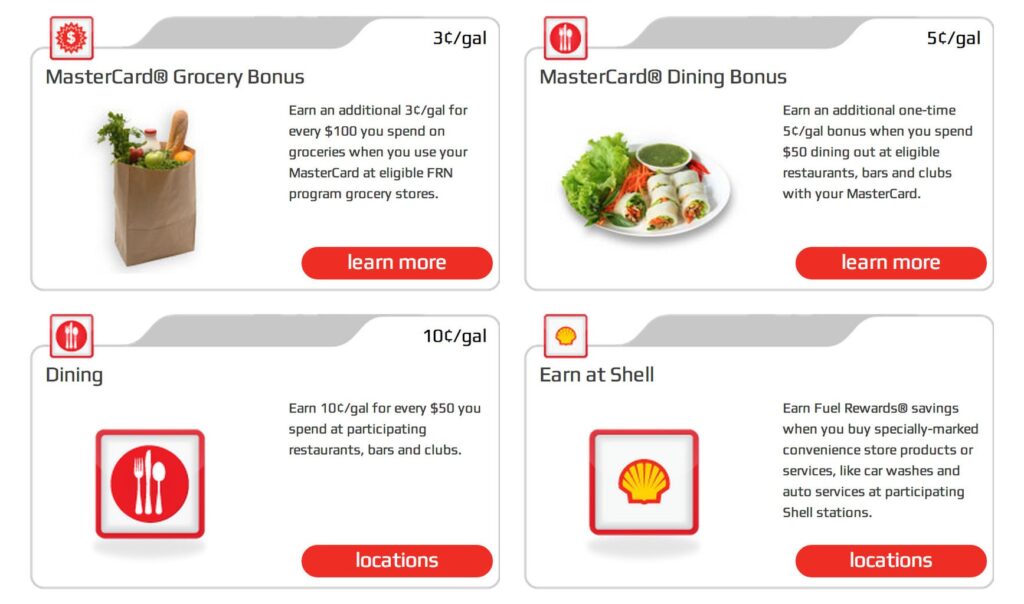 Shell Fuel Rewards Network Limited Time Offers
With Christmas just around the corner, how about earning 20¢/gal for every $100 you spend on qualifying purchases at JCPenney, Olive Garden and/or Toys "R" Us? Awesome, right?

Link your Mastercard to your Fuel Rewards Network account and use it to make qualified purchases at electronics stores (online or in-store) and you'll save 5 cents per gallon on every $100 you spend in accumulated electronic purchases.

Earn an additional 3¢/gal for every $100 you spend on groceries with your MasterCard card.

Link your MasterCard card and earn an additional one-time 5¢/gal bonus for the first $50 you spend dining out with your MasterCard card at participating dining locations.

My favorite way to save is at the grocery store! Get this- right now, you can save 3¢ off/gallon when you buy any ONE (1) 5lb bag of King Arthur Signature Flour. I don't know about you, but it's that baking time of year for me! You won't believe all the ways you can save!
It's so easy to save! Shopping is easy, too. Simply go to the Online Mall, find your favorite stores, click through to your favorites, and earn 5¢/gal or more for every $50 you spend. Some online merchants offer 2x, 5x, 10x rewards or more so your earnings will really multiply fast! How easy is that? Remember, you can only earn by shopping through the Online Mall, not by going directly to the online store. But why wouldn't you when you can save and earn on your purchases?
Wondering if there is a station near you? Click here to put in your zip code to see the closest location to you! 
I joined and I know you'll love it, too! Join today and start saving!