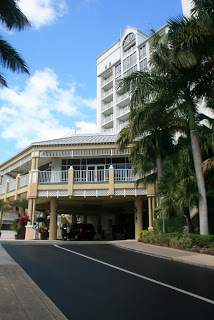 Don't you just love vacations? We had planned our Sanibel Florida vacation months before, so we were excited about getting away. We had finished up the school year and had a road trip planned.
As my husband travels even more than I do, we usually stay with Marriott (love those points!) We did a couple of one night stops along the way, the first at the Sanibel Harbour Marriott Resort & Spa. Let me tell you, this place is fabulous!
Is this a picture of vacation, or what?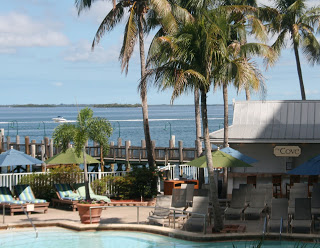 We had a snack right at the Cove as soon as we got in. Trust me, the food here is not typical "bar" food.
Offering several different choices of ethnic appetizers, we had a Mediterranean box filled with olives, hummus, and pita bread, as well as a sushi platter. This was a great way to kick off our road trip and a really nice surprise!
We spent the rest of the afternoon combing the beach for shells, none of which were worth keeping. This was actually kind of strange, as Sanibel is known for shelling. We think we may be on to something.
No, it wasn't a huge storm that had just swept through. It was more like a huge truck. On our way to the beach, we had commented on seeing a tractor-trailer from a souvenir shop that sells shells. It was on the way out when we were arriving. I think that stinks. I wonder if we will eventually have to go shelling at a beach shop?
We made it back to the hotel in time for dinner and the sunset out on the balcony of one of the restaurants.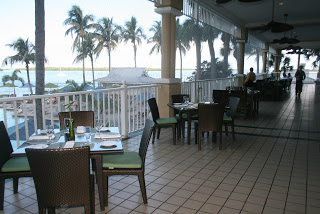 The casual menu didn't have many choices, but the food was good. However, don't plan to sit outside if mosquitoes bother you. I had to take my food indoors.
If you are thinking about vacationing in this area, I would definitely recommend the Sanibel Harbour Marriott Resort & Spa. It's great for families, too. You have the beach, where you can just chill or book a snorkel or scuba trip through the concierge.
If you're a golfer, you've got two great golf courses within five miles, and Sanctuary Golf Course is less than 15 miles away.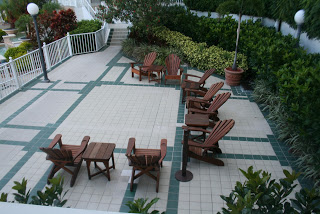 Walk out to the dock and look for Manatee!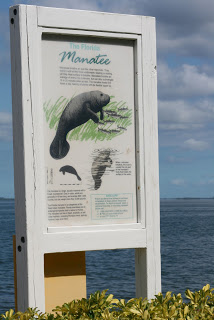 This is where you'd find me, lounging in a hammock with a smoothie from the Cove!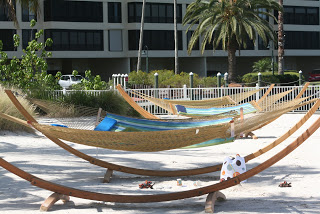 While you're in the area, you've got to head over to
Sanibel Island
and spend the day.
I'd love to hear about your favorite vacation spot! Share in the comments below!