A few nights ago I was able to attend the red carpet premiere of Thor: The Dark World. Yes, believe it or not, I was able to go to two red carpet premieres in a row.
I am still on an adrenaline rush from all the excitement! Interviewing Tom Hiddleston, Zachary Levi, and Jaimie Alexander was an incredible opportunity.
Just being in the historic El Capitan while the premiere was going on was such a crazy experience.
First, I have to share this photo of the awesome bloggers who were on this trip with me. We all shopped and shared ideas for a solid month before the trip, and this group was gorgeous when we headed out to the premiere!
If you saw my post yesterday about the Delivery Man premiere, you read about getting through the crowds to get to the theater. It was even more crowded for Thor: The Dark World. Security was very tight.
I held tight to my ticket! (and I'm saving it forever!)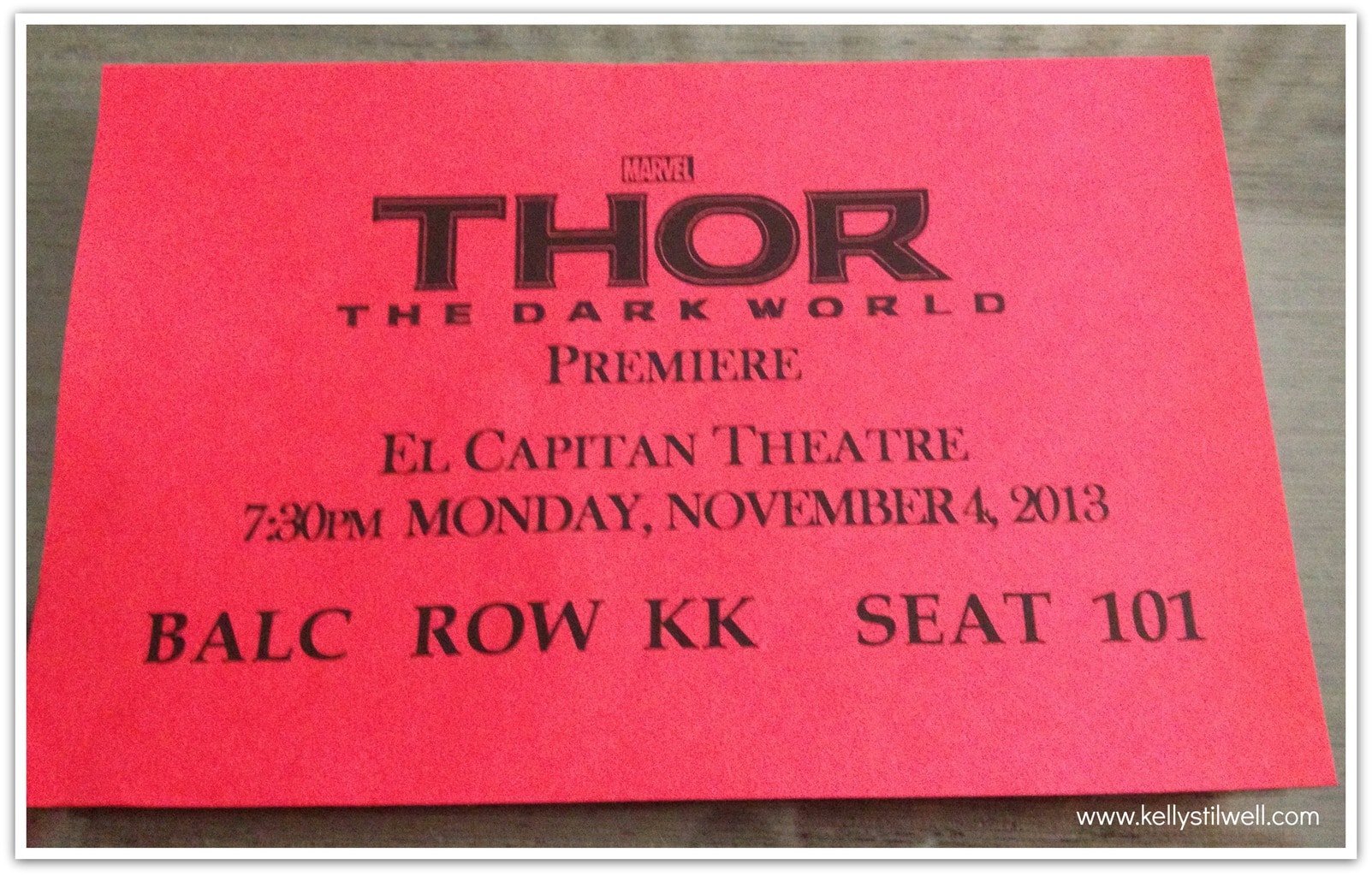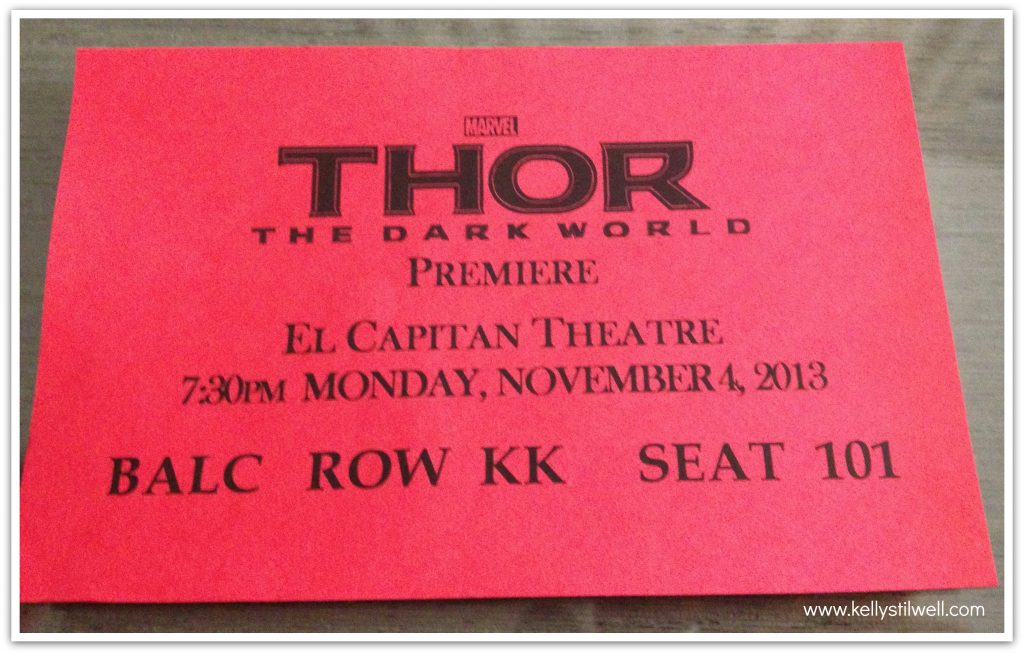 We had to quickly make our way down the red carpet, and try to get a quick photo before we arrived at the end and were swept into the theater. I don't remember who I handed my camera to, but I'm grateful they got this shot. It was so amazing to be there!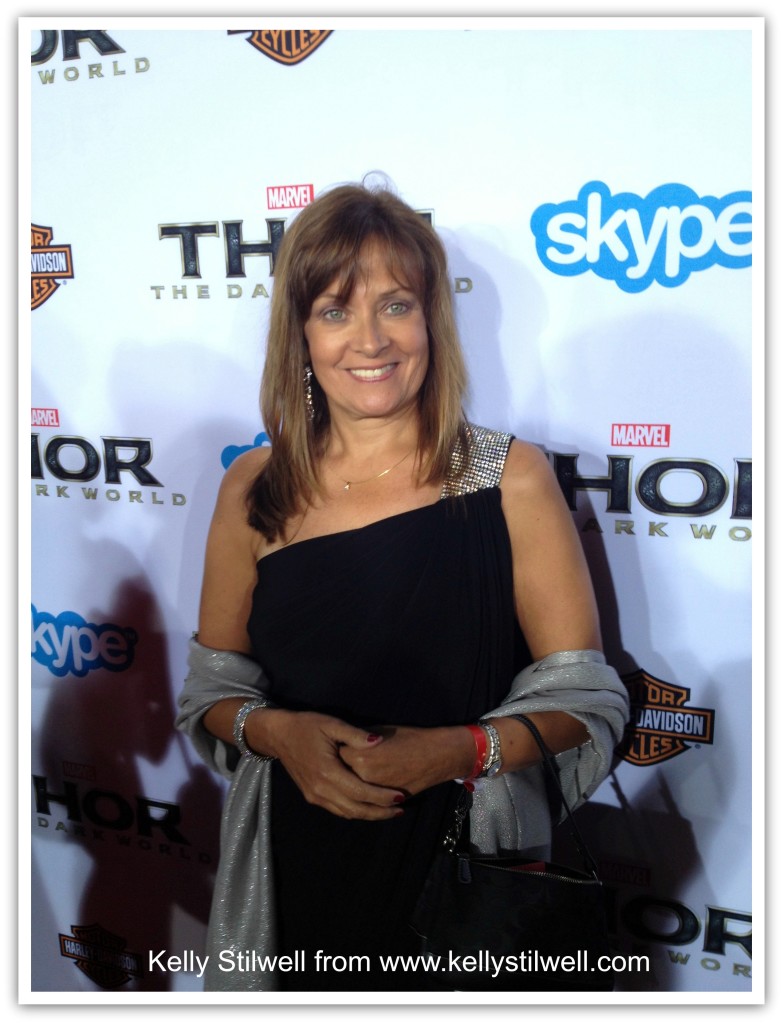 The stars were posing for their red carpet shots, too! I still can't believe I was there! In fact, we had just interviewed Jaimie Alexander (coming soon!) and she was wearing a coat over the dress to not reveal anything to us before the premiere.
Revealing was the word of the night when it came to this dress! Wow!
I just love this photo of Chris Hemsworth and Anthony Hopkins. I think it says, "We did it!" They did, too. I think this is even better than the first Thor!
There were so many amazing moments, I wish I could share the emotions I was feeling while watching it all unfold. Meeting Zachary Levi (interview soon!) was awesome. He is the nicest guy as you can see here.
A few more photos before I share my thoughts on the film. Here's another really great guy. Oh, Loki...
And Clark Gregg, Agent Coulson, one of my favorites! (You are watching Agents of S.H.I.E.L.D. on Tuesdays at 8/7 central on ABC, right?)
This was all so exciting, and now it was time to see the movie. This is where I have to reveal a secret. Before I was invited to this premiere, I had not seen any of the Avenger movies. I guess I didn't think I was a superhero kind of girl. Well, let me just say that I have now seen ALL the Avenger movies to date, and I am a serious fan! If you think you aren't into this type of movie, you have got to see it. Just GO SEE IT! You will be hooked, as I am, and be purchasing all the movies to watch so you can catch up!
Thor : The Dark World has so many twists and turns that I never expected. I actually gasped out loud several times! If you don't know the story at all, let me give you a quick glimpse. From Marvel:
In the aftermath of Marvel's "Thor" and "Marvel's The Avengers," Thor fights to restore order across the cosmos...but an ancient race led by the vengeful Malekith returns to plunge the universe back into darkness. To defeat an enemy that even Odin and Asgard cannot withstand, Thor sets upon his most dangerous and personal journey yet, forced into an alliance with the treacherous Loki to save not only his people and those he loves…but our universe itself.
I was kind of surprised to find myself becoming such a fan of Loki. He is a very bad boy in the first movie. Can he be trusted in this one? That, I am not going to divulge, but let me just say, nothing will prepare you for what happens! I was shocked so many times not just by Loki, but by other scenes as well.
Jane Foster, played by Natalie Portman, is brilliant and gorgeous, which is very cool to see. Her boss, Dr. Erik Selvig, played by Stellan Skarsgard, becomes even more of a goofball in this film than the last. And we have Sif, who is gorgeous and a warrior, as well. Two amazing women in starring roles in one movie! Love it! And I adored Zachary Levi as Fandral. I think you will, too.
Does Thor save the cosmos? I'm going to let you see for yourself. But I will say, for me personally, Thor has nothing on Loki as far as sex appeal goes. Loki is just about as sexy as it gets. Sitting in jail, a mess, when he says, "When do we start?" Swoon! In my opinion, Thor: The Dark World is more entertaining than the first movie. I actually liked The Avengers more than Thor, but Thor: The Dark World is even better. The special CGI effects, not used in the first movie, were just fantastic. I can't wait to see it again. I'm taking my family later this week!
Thor: The Dark World opens today. By the way, DO NOT LEAVE before the end of the credits. There are a couple of things you won't want to miss. That is all I'll say!
I'd love to hear what you think! Please come back and share in the comments!
***Disclosure: I was provided with a trip to attend the Thor The Dark World event in exchange for sharing it with you. My expenses were paid by Disney. As always, all opinions are my own. ***