Thanks to Woolite for sponsoring this post. All content and opinions expressed are my own.
Finally, Woolite® INSTAclean Pet Stain Remover is a real solution for soiled carpets. I've had pets all my life. In fact, I can't recall a time in my life when I didn't have a pet. I grew up with dogs and cats, plus any wild bird I found hurt that I thought I could help recover. When I first moved away from home, I had a cat, a large dog, and a parrot. In a townhouse! You might say I've always been an animal lover. Here's our current furry family member, Gracie.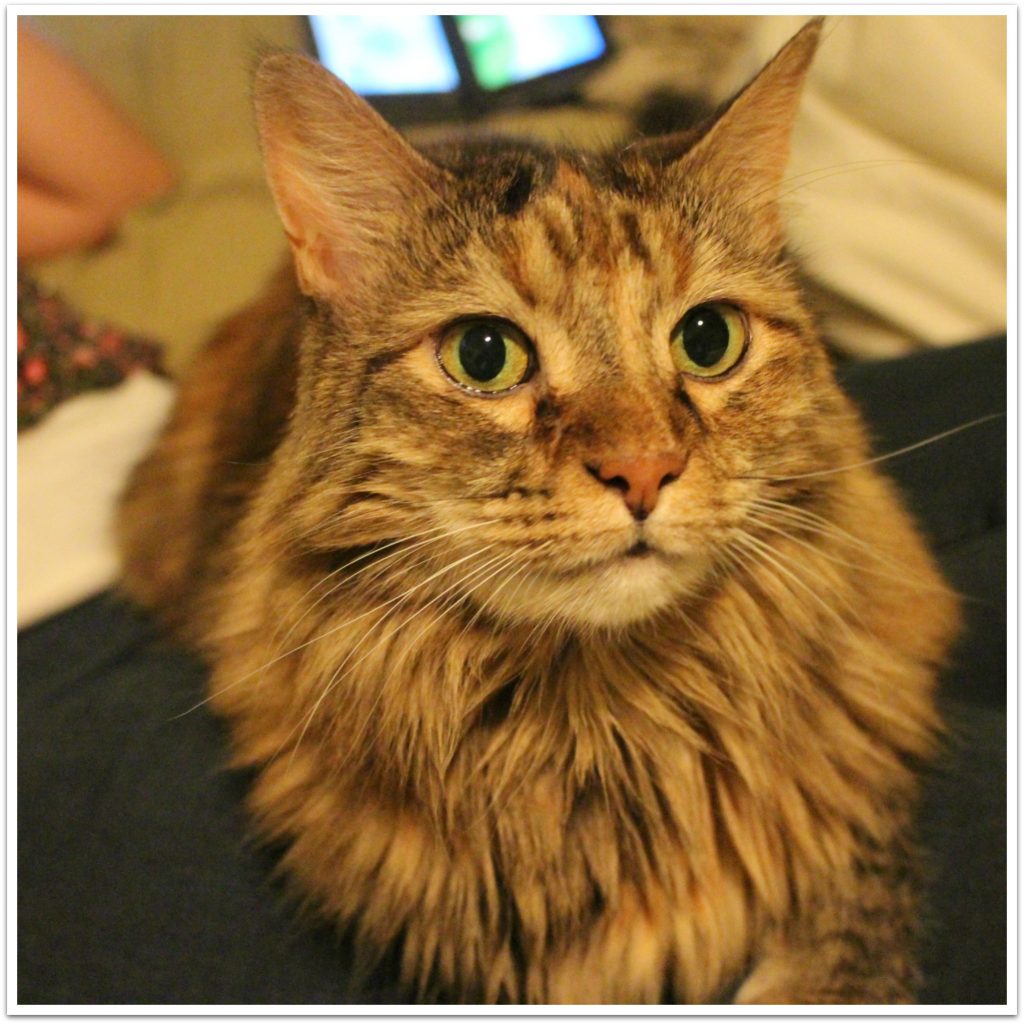 Along with pets, you're going to have messes. Even with the best trained animal, there is an occasional accident. You get stuck in traffic and don't get home in time to let the dog out. You forget to clean the litter box (been there, done that!) and that sweet kitty pees on the rug leaving a nice yellow stain. Or maybe you travel a lot and that lovable feline pees in your suitcase. Yep, she did that.
With dogs, the smell of the urine isn't quite so bad, but with cats, it seems to never go away. And let's face it; sometimes it's big business that ends up on the rug, and that can also leave a nasty stain. Not to mention hairballs! Yuck. Can we change the subject?! How about a solution?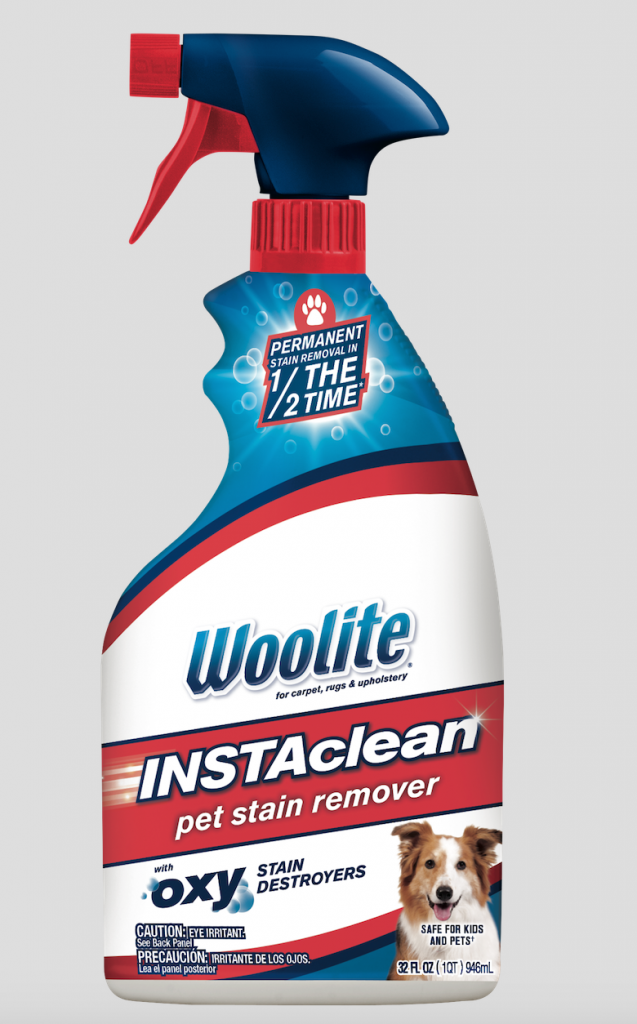 Let's talk about getting the stains out with Woolite® INSTAclean. Finally, we have a real solution for getting out pet stains, as well as eliminating that tough pet odor, and even discouraging pets from re-soiling the same area. I don't know about you, but I've used three different products for pet stains; one to remove the stain, another to remove the smell, and a third to stop my cat from going back to the smell and re-soiling. And many times, though it looks like the stain in gone, it's just been pushed down into the carpet only to resurface later. It's about time we had a real solution. My daughter is going to volunteer today at our local rescue, and I can't wait to tell them about this product!
Some of the features of Woolite® INSTAclean:
Permanent stain removal in just 30 seconds
Removes those really tough stains like urine, feces, vomit, tracked-in dirt, mud, blood, grass, tomato sauce, salad dressing, red wine, fruit juice, make-up, food grease, vegetable oil, coffee, tea, motor oil and more
Oxy Stain Destroyer formula starts working on contact to mobilize, lift, and penetrate the stain at the source
Leaves a long-lasting, fresh scent
Sound too good to be true? That's what I said, too. So I tried it. Woolite® INSTAclean made it easy by sending me a few stained carpet pieces. I was surprised that INSTAclean works great on all stains, not just those caused by pets.
The Stains
Coffee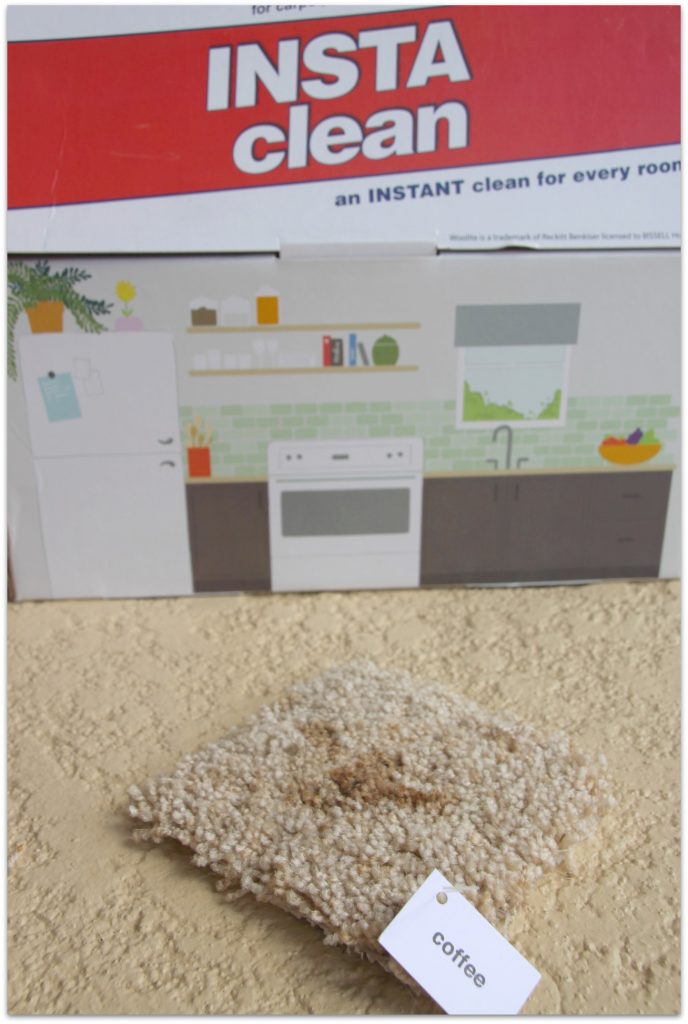 Fruit Juice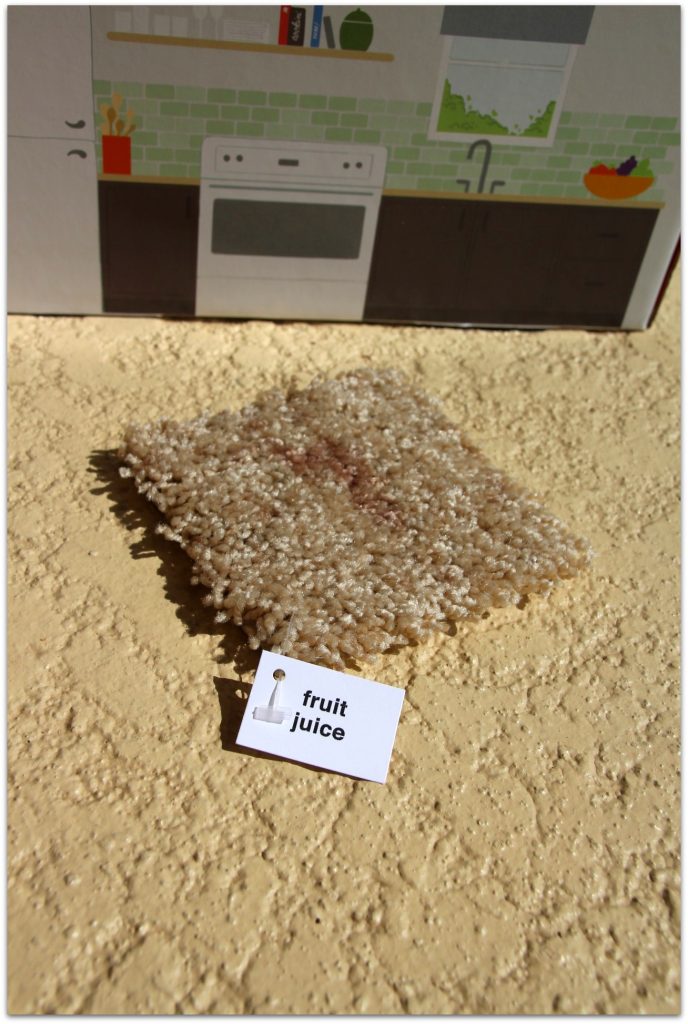 And the worst: Tomato Sauce!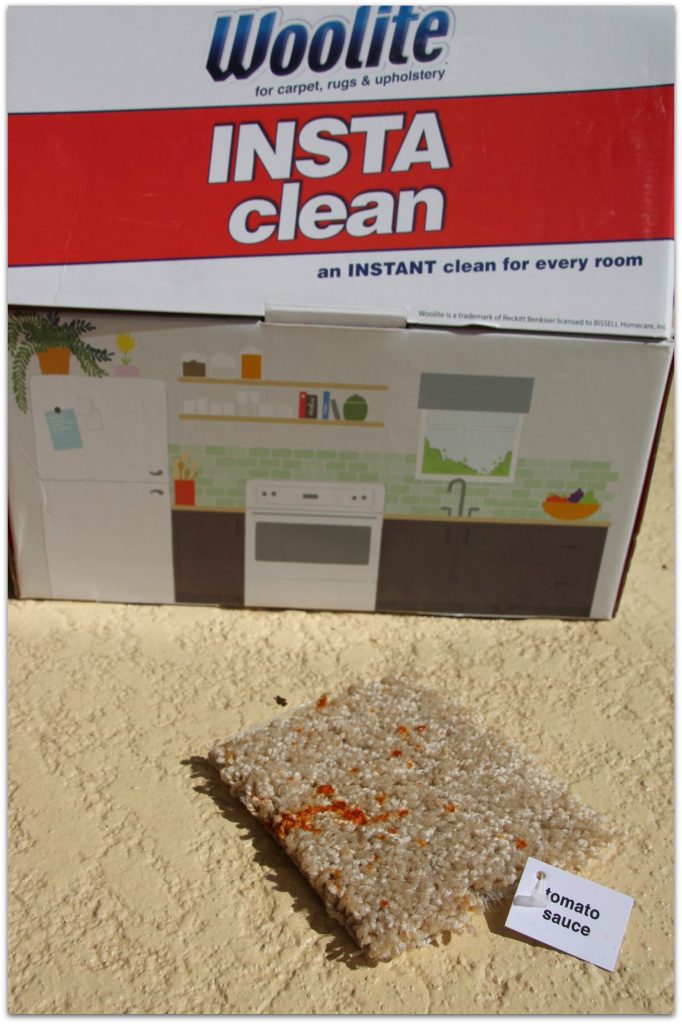 General Stain Removal Tips with Woolite® INSTAclean Pet:
To remove semisolid stains, gently scrape up with a spoon or spatula. Do not use a knife or other utensil with sharp edges or it could damage the carpet or upholstery.
Blot liquid stains with a white-colored absorbent cloth or paper towels. White materials are recommended because certain dyes could bleed and make the stain worse.
Remove the remaining semisolid stain and residue with a sweeper or vacuum.
Before beginning your full-scale cleaning attack, be sure to pre-test any carpet or upholstery stains on an inconspicuous area first. This is extremely important, as different dyes and materials can react to stain-removing products.
I followed the directions and simply sprayed Woolite INSTAclean on the first two stains. I've put the before and after side by side so you can really see the difference.
Results are the Proof!
Fruit Juice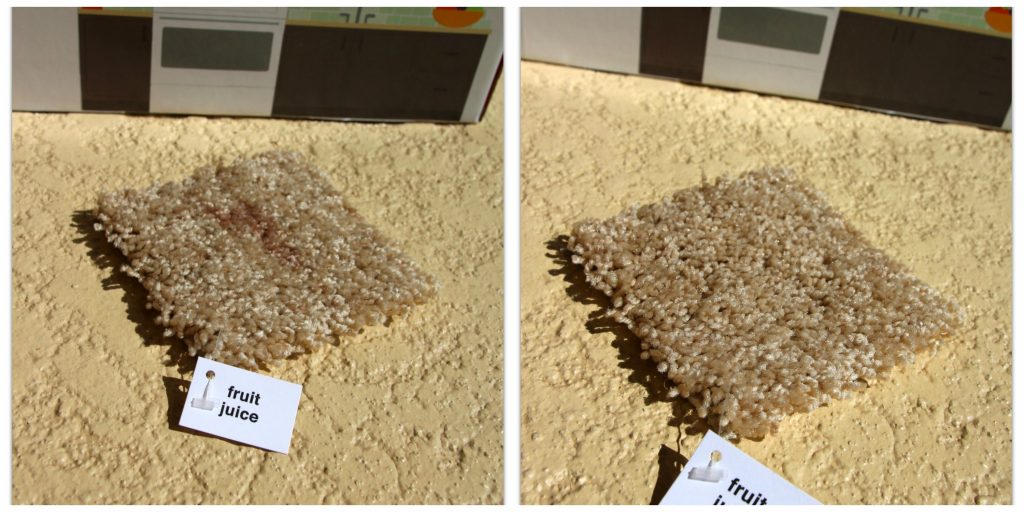 Coffee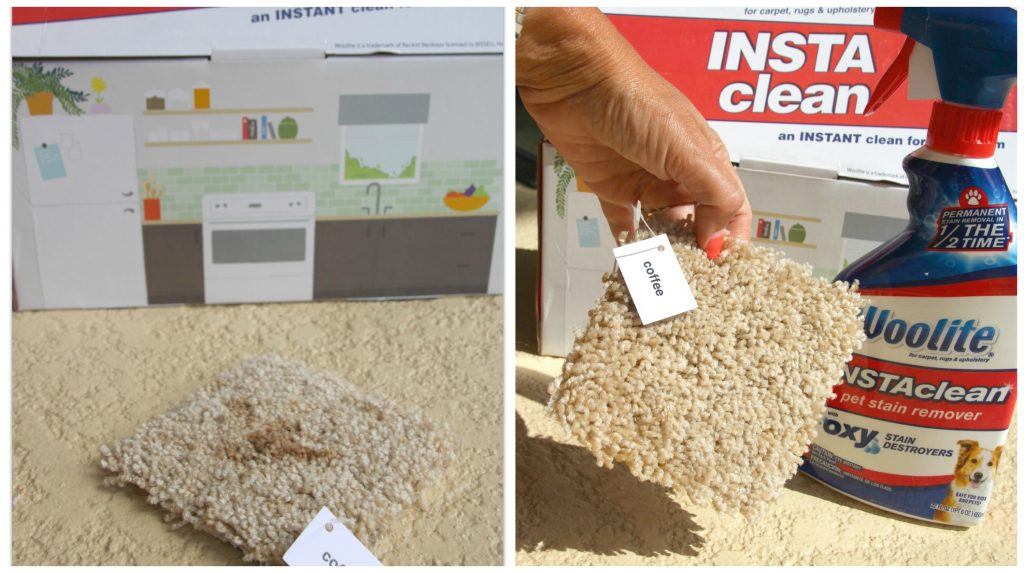 And finally, the tomato sauce, which I really had doubts about! It's always better to take care of a stain right away. Keep in mind, this stain was sent to me through the mail, so it had been on this piece of carpet for a while. Again, I followed the directions, first scraping off as much of the tomato sauce as I could, and then sprayed the carpet with Woolite INSTAclean.
I have four photos so you can really see the results. The first two are obviously before, but I wanted you to see up close how bad the stain was. The third, bottom left, is after the first spray. It was almost clean, but there was still a spot where I'm pointing. After the second spray, the carpet was completely clean, as you can see on the bottom right.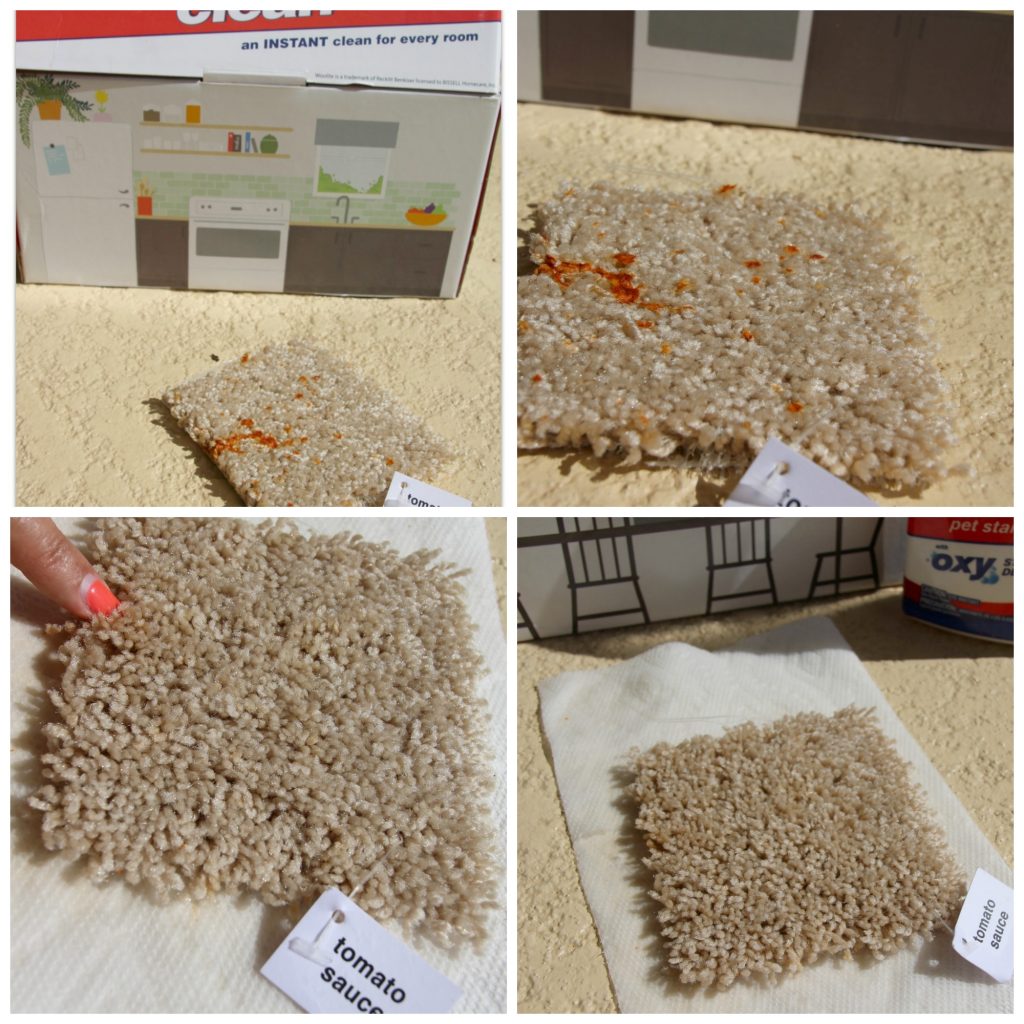 INSTAclean is safe for all colorfast carpets including wool, nylon, acrylic and stain-resistant carpet, and upholstery. Before cleaning: Remove solid and blot excess liquid with a clean, colorfast, absorbent cloth. Test for colorfastness on a hidden area. If color is affected, do not use this product. Before using product on upholstery, look for manufacturer's cleanability code tag. Use on upholstery coded "WS" or "W". Do not use on upholstery coded "X" or "S". Do not use on velvet, silk, vinyl or leather upholstery.
Ready to try Woolite INSTAclean? Check the website to find a store near you or to order online. Please come back and let me know about your results!