Have your kids been begging you to take them to see Ratchet and Clank? You may remember the game, but now the game has come to the big screen and it's got some pretty big talent behind it!
Ratchet and Clank is a hilarious look at how the characters of the Ratchet and Clank game met and became friends. It stars big names like John Goodman, Paul Giamatti, David Kaye, Sylvestor Stallone, James Arnold Taylor as Ratchet, and Bella Thorne as Cora. What I thought was pretty cool is that they were able to get the very voice actors that originated the roles in the games. That's pretty much unheard of, but director Kevin Munroe made it happen. James Arnold Taylor, David Kaye who voices Clank, Jim Ward as Qwark, and Armin Shimerman as Dr. Nefrious, all came back to reprise their roles.
Take a look at this short clip.
After screening the film last month while in Hollywood, I was able to sit down with James Arnold Taylor, Bella Thorne and director Kevin Munroe. The director was so fascinating that I split the interview. Check out Kevin's interview, too!
James Arnold Taylor has voiced more characters than you can imagine, and shared a few of them with us during the interview; Fred Flintstone, Huckleberry Hound, Wile E. Coyote, Leonardo the Ninja Turtle, Obi Wan Kenobi, and Johnny Test. He's also voice-dubbed for actors like Johnny Depp and Christopher Walken, and is a regular host at the biggest Star Wars cons and events, including Disney Parks Star Wars Weekends. He's voiced Stormtroopers, aliens, Imperials, and more, in Star Wars; The Force Awakens.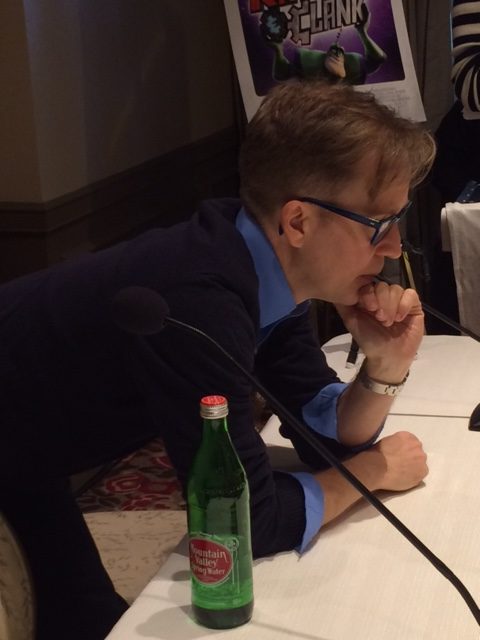 Bella Thorne is very much in demand in Hollywood. Her breakout debut was on the Disney Channel series, Shake It Up!, and co-starred in Alexander and the Terrible, Horrible, No Good, Very Bad Day. She was named Choice Villain at the 2015 Teen Choice Awards for her role in The Duff. Other movies include Alvin and the Chipmunks: The Road Chip, Amityville: The Awakening, and Blended. Bella also stars opposite Patrick Schwarzenegger in upcoming drama, Midnight Sun.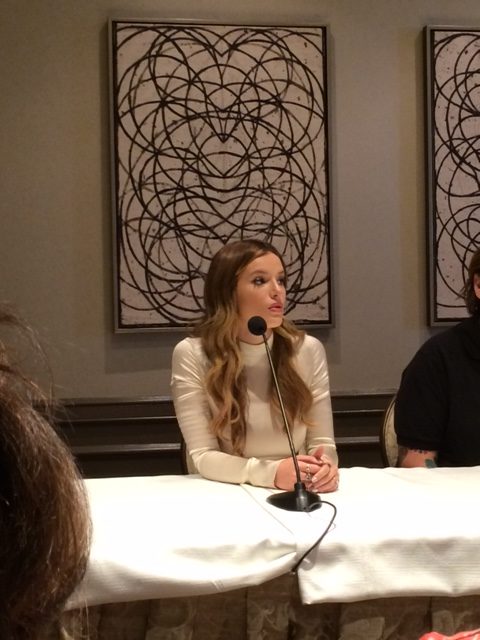 Something both stars have in common is they are both authors. Bella's first novel, Autumn Falls was released in 2014, and her second, Autumn's Kiss, was released last November. James Arnold Taylor wrote JAT 365, a book of daily inspirations and motivations, which I ordered right after learning about it as I love reading motivational books. Both stars are also involved in charity work. It was such a pleasure to chat with them about Ratchet and Clank.
Our first question was for James:
Q. Is there a difference in your approach between voicing, recording for video games, and recording for films?
JAMES: I've been very blessed to be able to do quite a bit of both. And they are extremely different from each other. Video games, you're isolated, you're all alone; you're recording in your little padded room, talking to yourself, just a director feeding you lines. In the film, we got to work together. I work with David, Jim Ward, who plays Captain Qwark, and of course David Kaye, as Clank - we all got to work together, Kevin giving us direction - that was fun. Totally different than a video game. Animated series, you work like that. But that's pretty unspoken, in a film.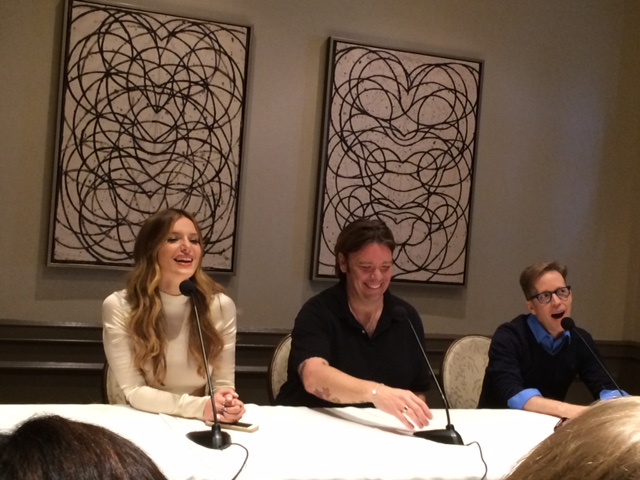 Q: You really encourage people to follow their dreams. And I noticed that was a theme in Ratchet and Clank a lot, too.
JAMES ARNOLD TAYLOR: I think so, too. It's this wonderful thing of the underdog. I look at myself like that too. It's been my dream to be a voice actor since I was four years old. And here we are. And I get to have my name on a poster with Bella Thorne. That's pretty darn cool. So - dream achieved. And I think it's a wonderful theme that kids, and families can go together and see this movie. They can see that sometimes your heroes aren't exactly what they thought, and you can still pursue your dreams, and be the good guy, and save the day. Pretty cool.
Q. This question is for Bella and James. Ratchet and Clank is such a playful project, that I was wondering what the most fun part of doing these voices was for you?
BELLA: The most fun about playing it was probably playing like a bad ass female.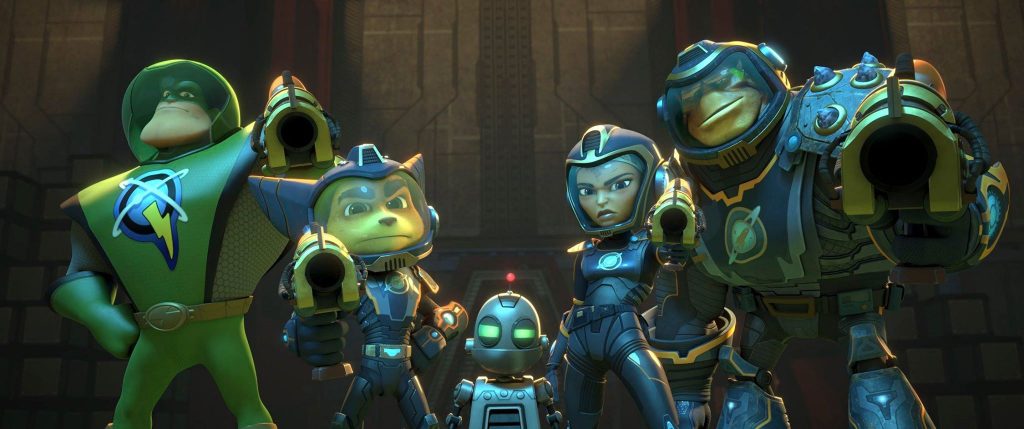 When I walked in you guys were just like, "No, yeah, you can just use your deep voice"  I sound like a man, guys. We don't want to think that a man is actually Cora. The most fun part was probably getting to stretch my personality to its limits, just because I wasn't playing so different of a character from me.
JAMES: And she does an amazing job at it. It's so fun. I was just telling her,  I'm afraid of her character, in every way. And it is great to be able to do that.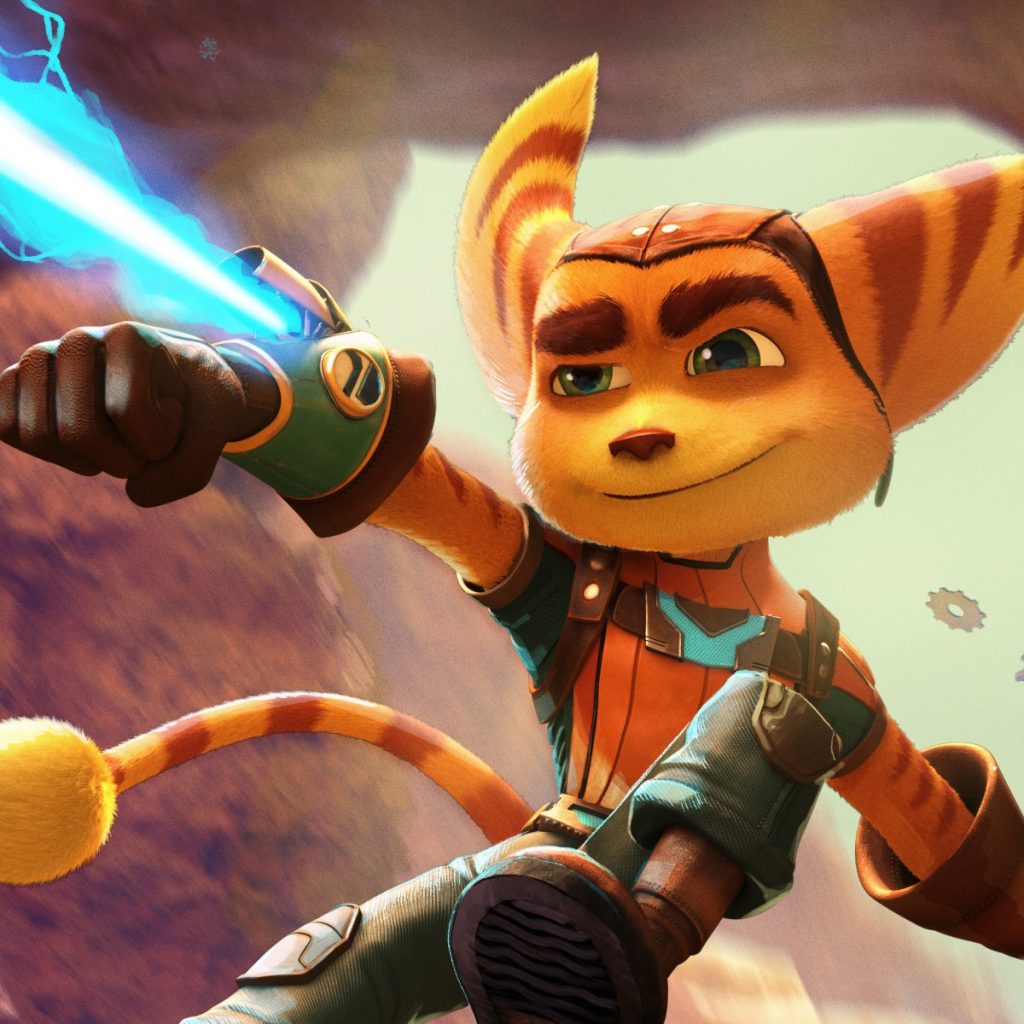 The funnest thing for me is, very similarly, being the character of Ratchet is my regular voice. That's a first for me. I've been Fred Flintstone, and nobody expects Fred to come out of me, or Obi-Wan Kenobi, or Johnny Test's an 11 year old kid. But Ratchet - I get to be me. 
Q. I have a question for James and Bella. How do you identify with your character?
BELLA: Well, pretty much in almost every aspect - super tomboy; you can't probably tell from the way I'm dressed, but in my personal life, you know, I definitely wear what she's wearing in the movie. She's not afraid to boss Ratchet around. I boss him around, a lot. And at the end of the day, she might shoot first, and then ask questions later, which isn't the best thing, but I think in her case, it works. At the end of the day she just wants what's best for the team.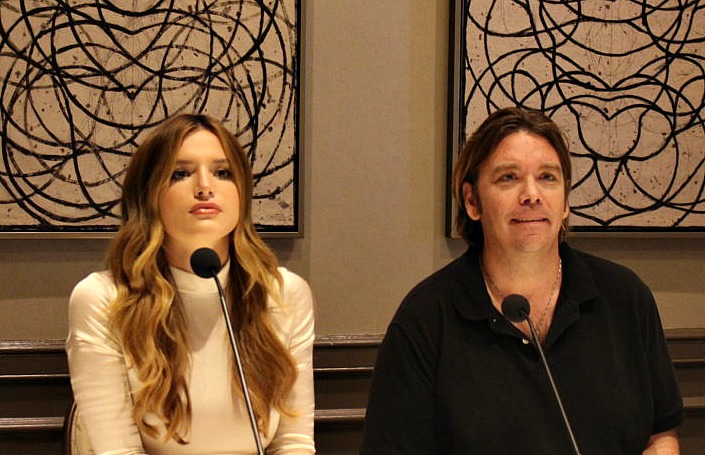 JAMES: I think that it's just one of those cool things, to walk into a character that really is the guy that's the underdog, and he wants to do the right thing, and he wants to save the day, and he wants to have everybody like him. But at the same time, he also wants to be doing cool things. 
Q . For Bella. One of my readers wants to know when you're going to write and direct your own film, because you totally have the brains and talent to do it.
BELLA: Actually, my goal was to have my first self-directed short film premiere at South By Southwest next year, and hopefully some other festivals. I love the creative process. One of the unfortunate things about this film was this character was already created when I came in, and I stepped foot inside her. So that was fun and interesting. But I would love to do some more live action animation, where actually get to go behind the scenes and go and literally create this character, because anything behind the scenes, to me, is just so cool. I'm never in my trailer. I'm always right behind the director, seeing what he's doing. They probably think I'm annoying.
Q: You, and David, and Jim, and Armin, you have probably some of the most experience with this game franchise. Did you ever find yourself in any situation where you were leading the direction or saying, "You know, I don't feel like that Ratchet would do that," or, "I feel like he should say this here."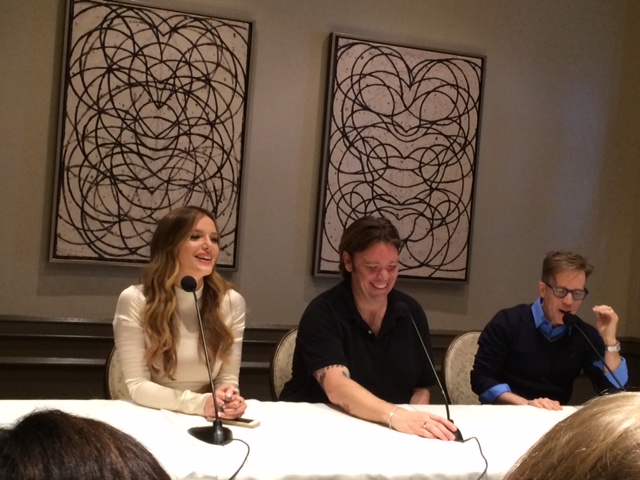 JAMES: I really feel that was the beauty of, Kevin's right next to me. It was such a seamless transition from game to film - the only difference being that we were together. That was the only reason I knew we were doing something different than the game. It felt like the game. And Kevin is so easy to work with in that, too. It's like, "Okay, let's try this line. What do you think?" And T.J. Fixman, who has written him throughout the games, as well, was there. And we were all always able to kind of go, "Yeah, let's Ratchet this up a little."
Q. Bella, in doing this role, did you find your approach changed, doing it as a voice actress, instead of just as an actress on screen?
BELLA: There's so many different things that go into it. When you're acting, you're not acting with just your voice; you're acting with every part of you, like, 'Wow, would my character grab her hair this way? Maybe she wouldn't because she's very naïve.'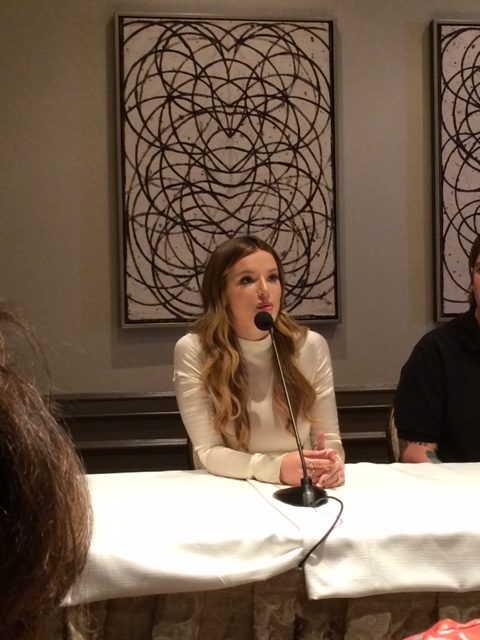 But really on this one, I'm just watching a character and trying to be like her, and make her come alive. It's pretty different, but I still use my body a lot because just in the fluctuations of your voice, they change so abruptly - when you just move your shoulder forward, just like the smallest bit. 
Q. How's the interaction with the fans? Are they sort of questioning you about going from a video game to the movie, and trying to get clues out of you, before it comes out?
JAMES: I have people asking questions all the time. Everything is under an NDA. So even, "How was your day, Honey?" It's like, "I can't talk about it." Or like my son, to my iPhone, "Where is he?" There's so many things that you don't want to give away. Sometimes I go, "I don't want to know anything about it." With Star Wars, when we did Clone Wars, Obi-Wan Kenobi didn't know that Anakin was the one that was going to become Darth Vader. So I was like, "I can't even - I can't think that way. He was the chosen one." Hopefully, that comes across with fans, and you go, "Look, I'm as excited as you, but I can't say anything."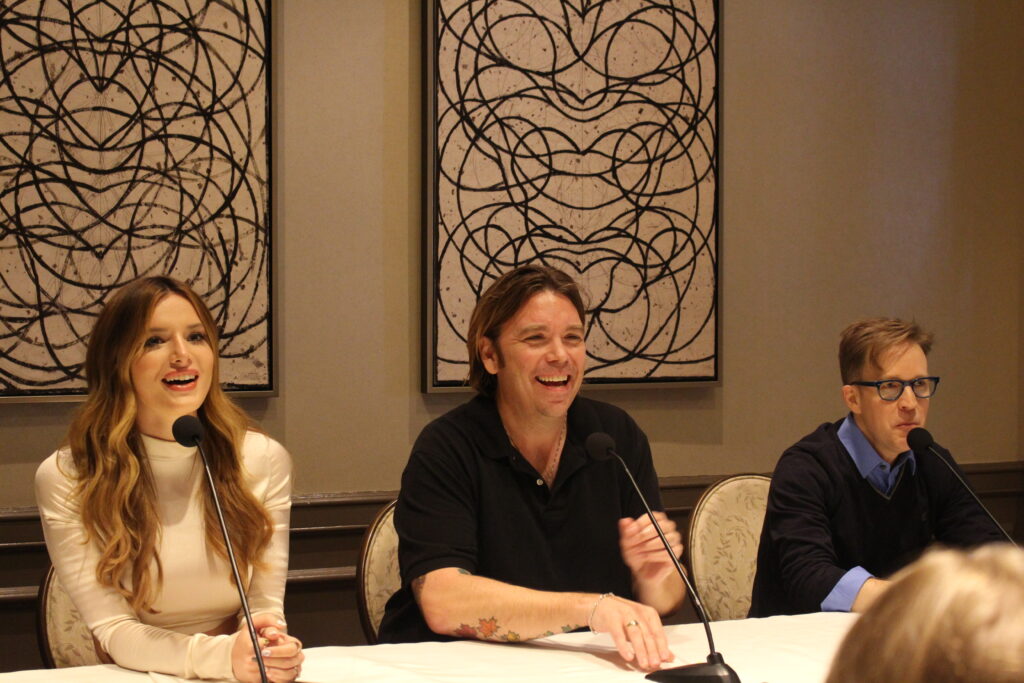 Q. And what do you want viewers to take away from Ratchet and Clank?
Kevin Munroe, Director: The message of that it's not just following your dreams, but it's finding your dream. And I think a lot of time, life will make you think that you're supposed to be dreaming about something else. And, really, if you just listen to yourself, and know the things that make you happy, and know what you can do to make the world a better place, that's what your dream should be.
JAMES: Doing the right thing.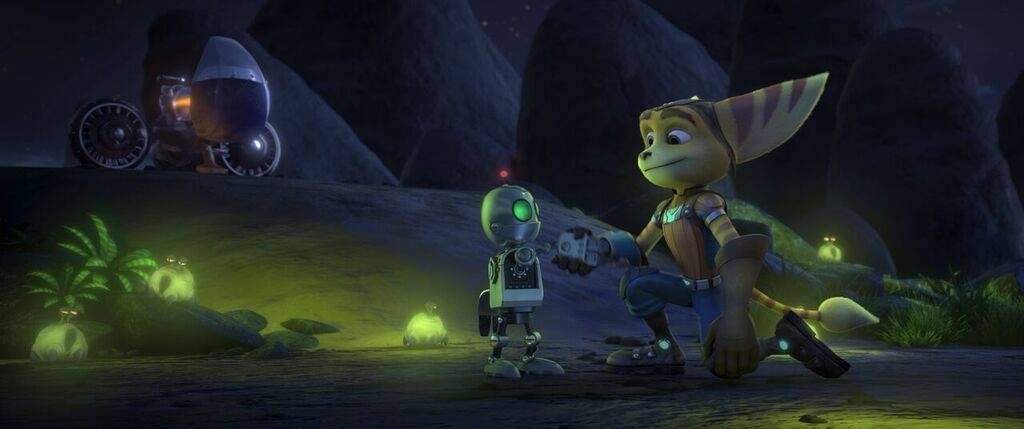 Q: You've written a book about thinking positive. Do you think that you've gotten a lot of the opportunities you've gotten because of your positive attitude? 
JAMES: I'd like to think so. I think it really is. It's a little book, Daily Inspirations, 365 Daily Inspirations. I want other people to be able to achieve what I've achieved in my life. As a kid that sat there at four years old going, "I want to do voices." And I pursued it with a passion. And here it is. And I had a lot of crazy stuff going on around me as a kid, and stuff that kids shouldn't see. And so I thought, "I want to stay positive." And it was really what kept me alive in some of those instances. So I know for a fact that it plays a part in my life, and it plays a part in my career. And I'm so grateful to be here with these incredibly talented people.
Q. Wanting to be a voice actor, what was the best encouragement you've gotten, or best advice?
JAMES: So when I was 19 years old - there's a fellow by the name of Don Messick. He was Scooby Do, Papa Smurf, Mr. Ranger, Boo Boo Bear. He lived not too far from me. I grew up in Santa Barbara. I was working in radio, and we did a commercial together in his home studio. And I went, "This is the best thing in the world. I'm gonna do that someday." So I called him - he was in the phonebook. And I called him up after we worked together, and said, "Hello, Mr. Messick, we worked together. And I was just wondering if maybe I could take you to breakfast some time, and I'll buy it. It'd be wonderful to talk to you about voiceover, and it'd be really great if you could just talk..." And he was like, "Yeah, sure, fine." I went, "Okay." And he took me to breakfast, and talked to me, and told me stories about being Droopy Dog, and Scooby Do, and all of that. And it was so inspiring, and he was so wonderfully humble, and giving of his time. And I thought, "I gotta do that." 
That is so inspiring for people who want to get into this, or any, business, right? Follow your dreams!
Ratchet follows his dream in Ratchet and Clank. And it isn't easy. And he fails. But he gets back up, and he succeeds.
Ratchet and Clank is in theaters now. Take your family to see it soon. I think everyone will love it, and you'll be talking about it for days. Such a great feel-good movie!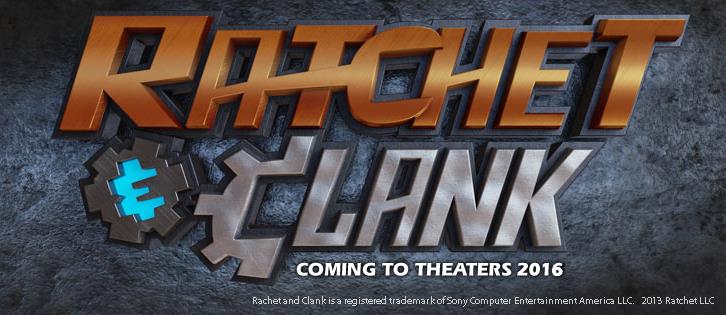 Follow #RatchetandClank on Facebook, Twitter: @ratchetmovie and Instagram: @ratchetmovie
Visit the Official Site