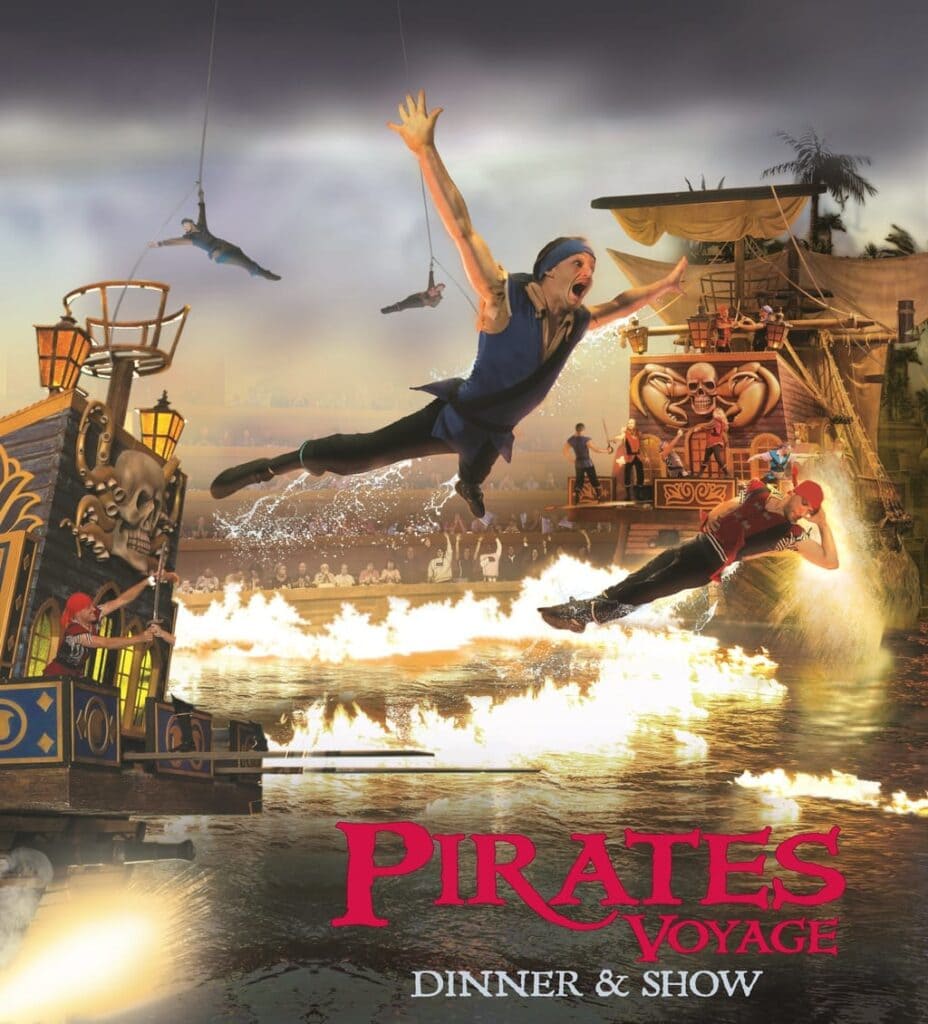 Ahoy, Mateys! Visiting the Myrtle Beach, South Carolina area and looking for something other than an all-you-can-eat seafood buffet for dinner? I thought so! Check out Pirates Voyage! This dinner show is one of the most popular on the Grand Strand, and it's easy to see why.
As we arrived, photos were taken. Later, we were given the opportunity to select and purchase the photos including special souvenir frames. (So of course, we did!)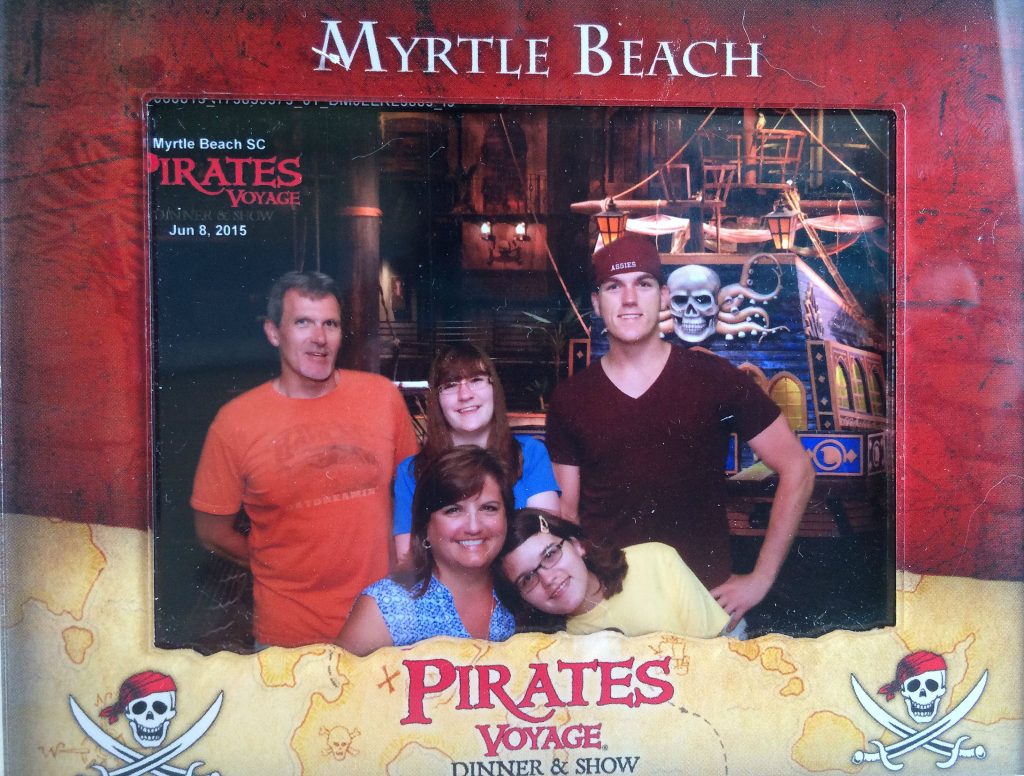 Cast members dressed in pirate regalia escorted us to the pre-show – a smaller theater modeled after the hold of a ship – to enjoy music, comedy, and some pretty amazing acrobatics. Snacks and drinks are available, including a bar, which serves draft beer and mixed drinks in really cool skull-shaped souvenir cups that we took home. Non-alcoholic drinks are also available.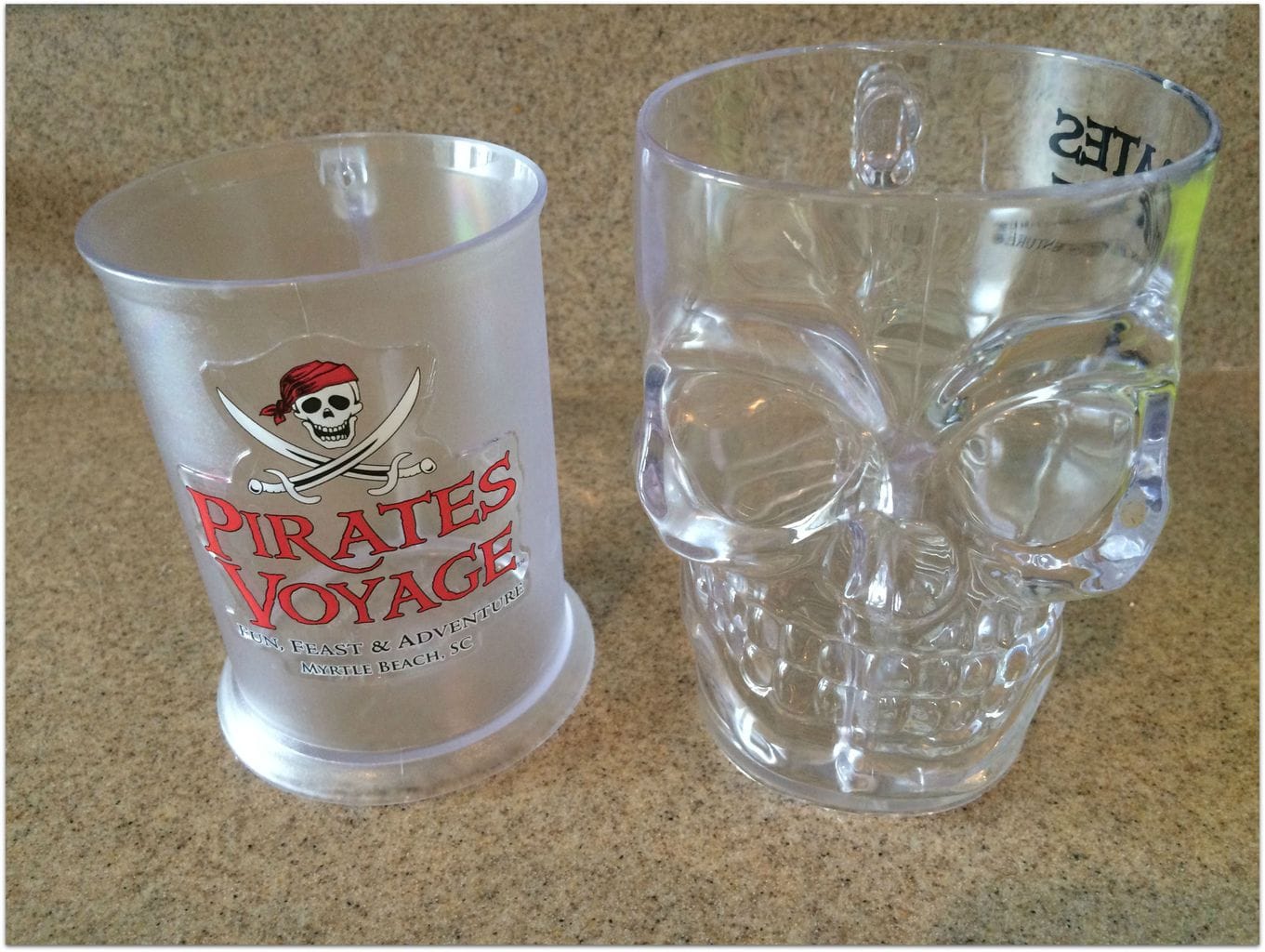 No need to order dinner – everyone gets the same, and plenty of it. Half a roast chicken, pulled pork barbecue, corn on the cob, a biscuit, creamy vegetable soup, and a roasted potato. Dessert is a hot apple turnover, and all non-alcoholic drinks are included in the price. Vegetarian meals are available upon request. I was a little doubtful as to how good the food would be, but was very pleasantly surprised. It was all quite good, and the soup mix is even available in their gift shop.
The show lives up to the hype: "Amazing Aerial Acts!" Singing, dancing, tumbling, and high-diving pirates entertain for well over an hour. There's plenty of competition between the warring pirate captains, who each claim one side of the theater as their "crew", so cheer accordingly! Adorable animal acts, with sea lions, dogs and even ducks will charm kids of all ages. The big finale even includes mermaids!
No need to worry about your children – it's definitely a family-friendly show. There is some use of strobe lighting and a little loud thunder and cannon sound effects, so earplugs might be needed for those sensitive to loud sounds. As they don't like you taking flash photos because it can be distracting to cast members, my photos aren't the best, but you can at least get an idea of what the show is like.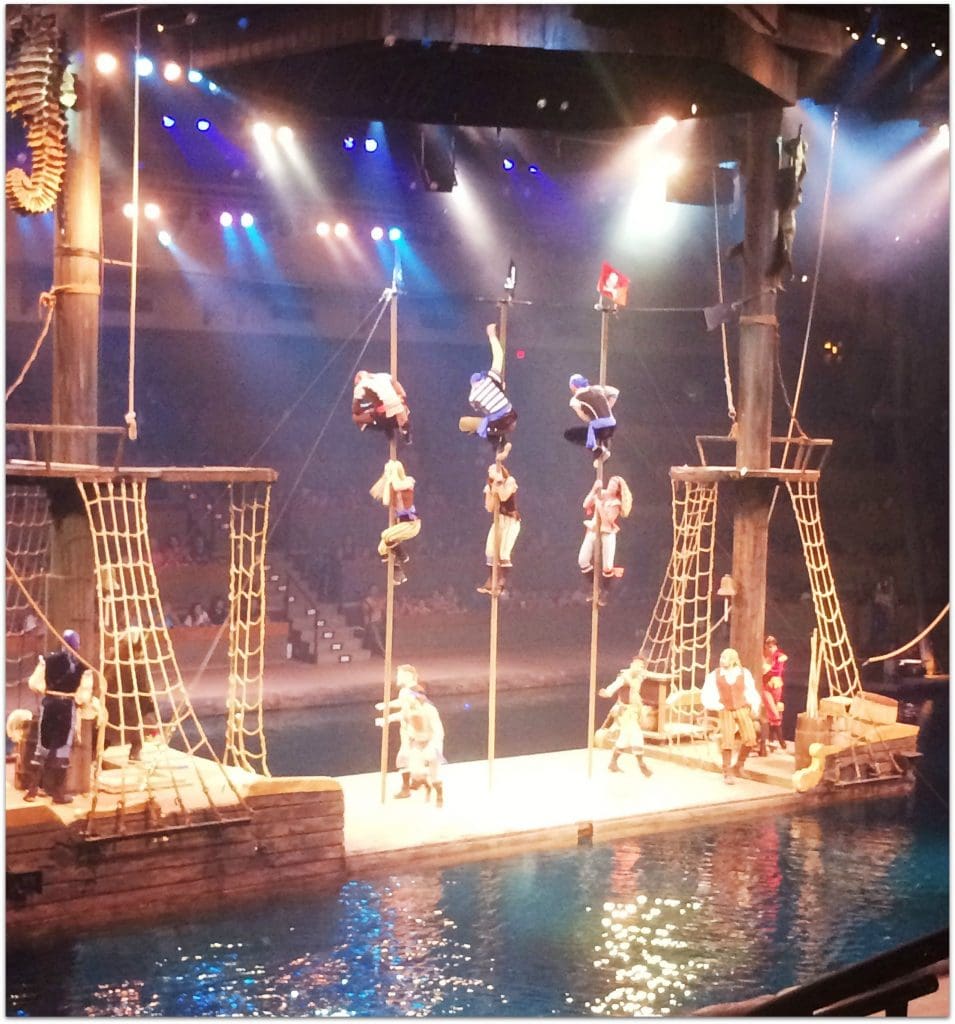 We also attended this show last December, during their Christmas show. The menu is the same but the show theme changed, from the warring captains to helping a pirate captain find the true meaning of Christmas. I loved that show even more than the regular season one. Yes, they included the birth of Christ. Baby Jesus, Mary and Joseph, all on a pirate ship. How could you go wrong? If you get a chance to visit at Christmas, it's definitely worth going. And if you have time, there's your Christmas card photo!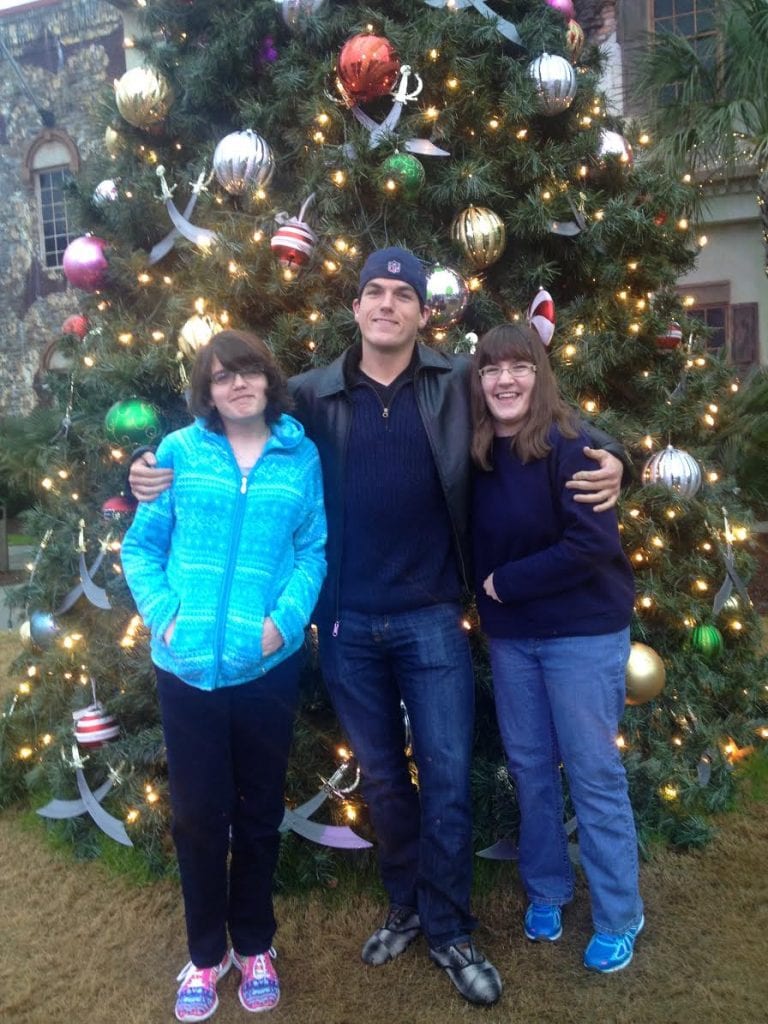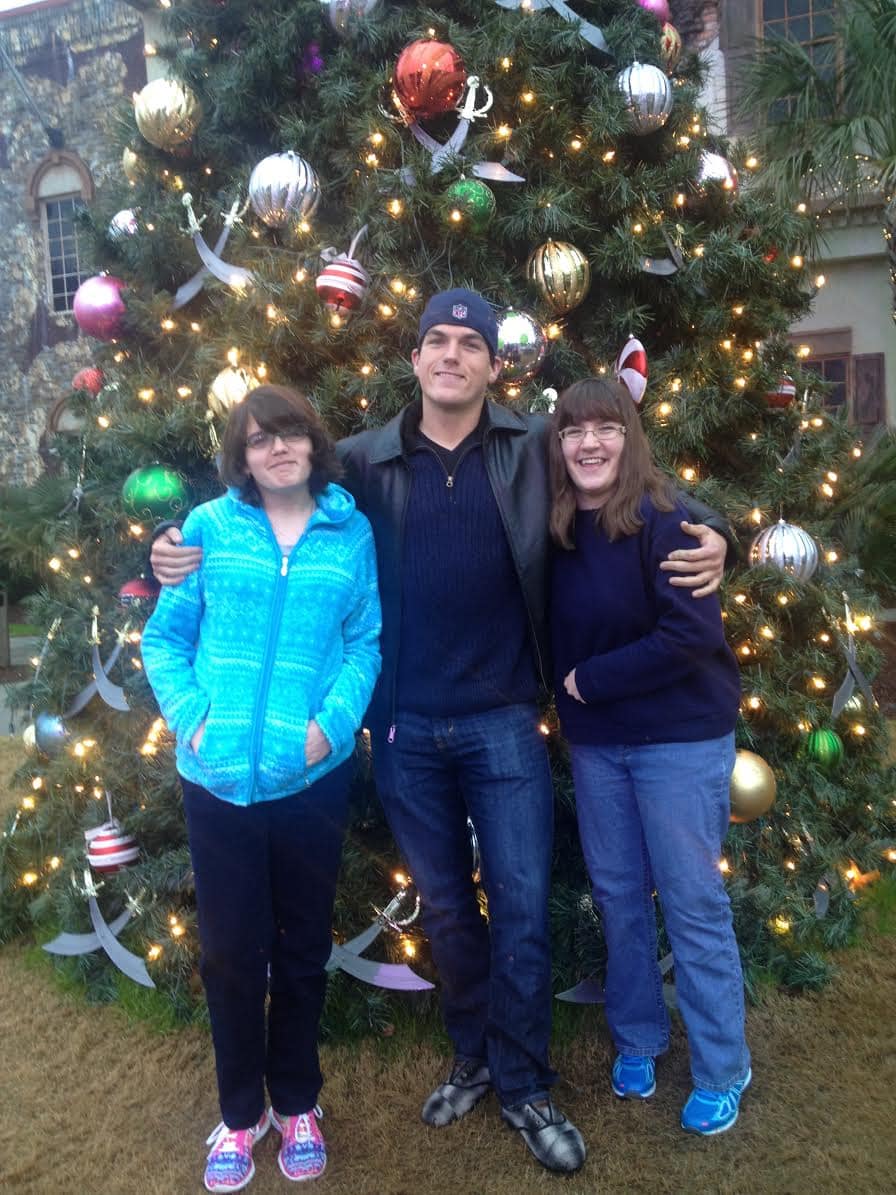 Pirates Voyage, formerly the Dixie Stampede, opened in June, 2011. Even with two or more shows a day, seating is often sold out. Making a reservation in advance is highly recommended!
For more information and show times, check out the Pirates Voyage website. Come back and let us know if you visit!
This post was written by contributor Amy Greene.