Dinner already?! Have you ever said this? It happens to me pretty regularly, but this week was ridiculous. I don't know what happened! My husband was traveling, and I was working a lot. Several days this week I realized it was dinner time at, uh, almost 7. Oops. Enter Pinterest and Google Calendar.
So, I've decided to really try to get better about this. As I am on Pinterest quite a bit (don't judge me), I thought I would search meal plans. Wow! Just spending some time looking at all the wonderful recipes is so inspiring! I would love to reduce the number of nights we eat out, and with some of these recipes, I think my family will love staying home to eat!

Thanks to some amazing bloggers, I have the next 2 1/2 weeks of meals planned out using my Google Calendar. I simply made a menu calendar (you can even color code different "calendars," one color for each child, menus, blogging, church events, etc.) I haven't put everything in yet, but I have a feeling this is going to be a game changer for me! I've also found a few new bloggers to follow. After looking through these sites I found from Pinterest, I'm really excited about preparing fabulous, healthy meals, instead of the same old, same old.

What I really love about doing this online is that I can add the Pinterest link to the recipe in the notes. How cool is that?  You can even schedule pop-up reminders the day before or an hour before. There are so many options. I don't care for my paper calendar for meal planning, so I'm going to try this for a while.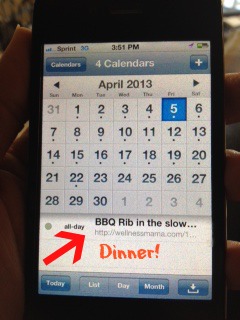 How do you plan your family meals?