Hollywood can be a real boy's club, especially when it comes to who sits in the director's chair. Variety.com reports that of the top-grossing movies of 2016, only seven percent were directed by women.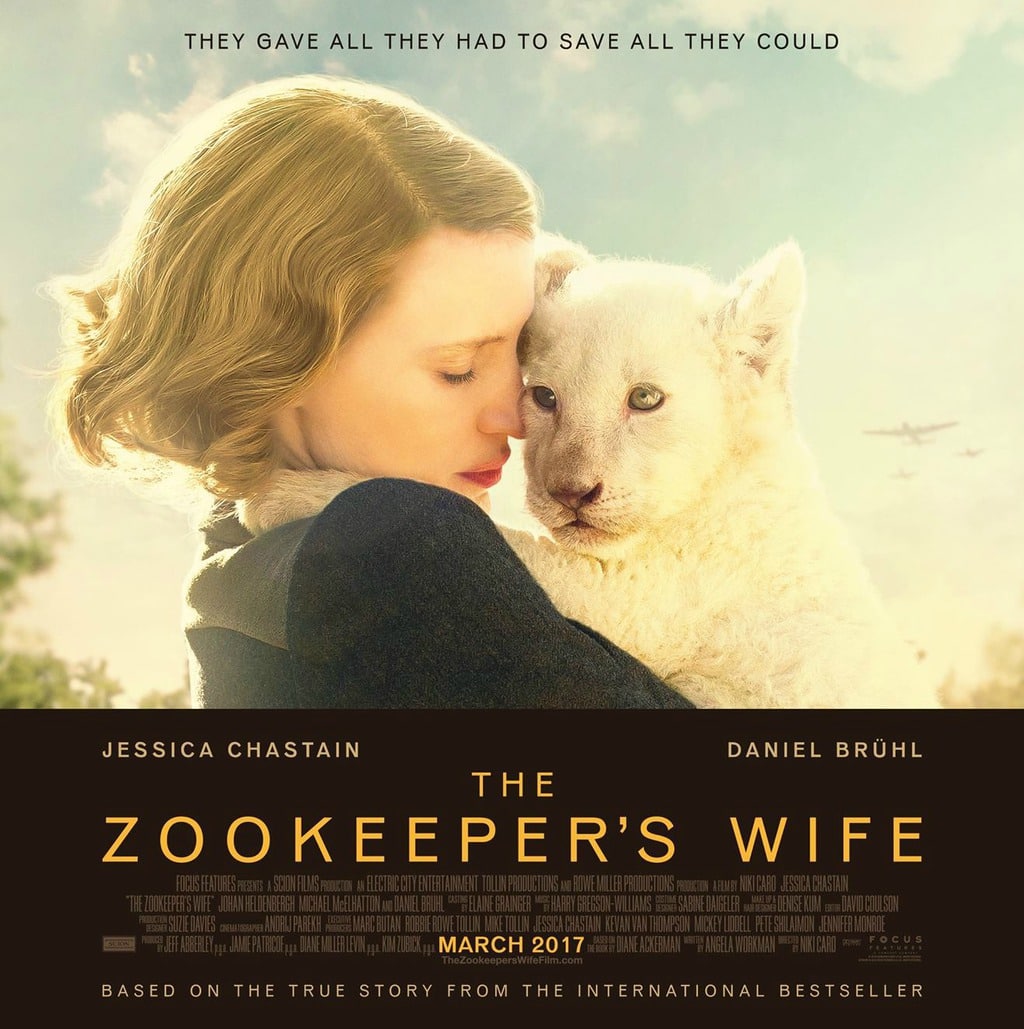 Women Directors in Hollywood
The lack of top films directed by women made it especially appealing to meet and interview Niki Caro, the director of The Zookeeper's Wife. Ms. Caro directed the award-winning film Whale Rider, North Country, starring Charlize Theron, and McFarland, USA starring Kevin Costner.
Currently, she directs the new Anne of Green Gables television series, and will direct the upcoming, live-action version of Mulan. Yes, there will be music.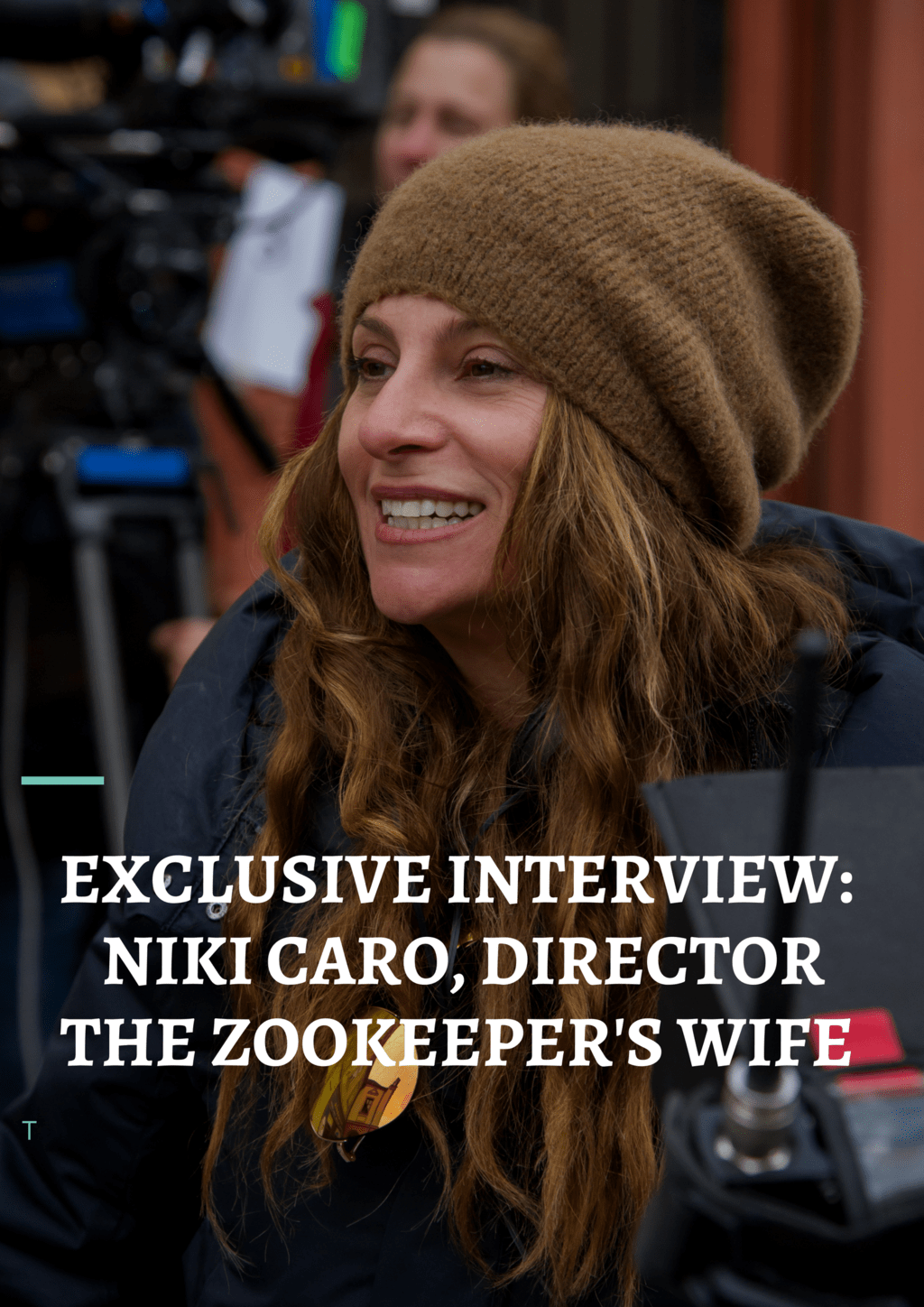 About The Zookeeper's Wife
The Zookeeper's Wife is a movie based on the book of the same name written by Diane Ackerman. It's based on the true story of Antonina Żabińska, wife of Warsaw zookeeper, Jan Żabiński. Together they helped 300 Jews escape the Warsaw ghetto, hidden at the zoo. Two-time Academy Award-nominated actress Jessica Chastain plays the title role.
Interview with Niki Caro
The following is from a post-screening Q & A with Niki Caro and other members of the press. Answers have been edited for clarity.
PLEASE NOTE that some of the movie's plot is discussed and may be considered spoilers if you have not seen the movie.
Q:  You deal with a very heavy theme with the girl who was raped by the two officers.  I was wondering if you can speak a little bit about filming that scene, creating the film, and also about what it was like to work with the young actress.
Niki Caro:
The character of Urszula is emblematic of all children who are hurt by war.  And so as the director of this movie, I had to think very hard about what I could bring to this genre. 
I recognized that it was femininity; that I could take my inspiration from Antonina (Chastain's character), and be very soft, and very strong 
with this material.
Urszula was a very important character because 
her experience had made her animal. I
t's an incredible performance, obviously, by 
young 
Israeli
actress called Shira Haas.  
The scenes between her and 
Antonina are wonderful because we see Anton
ina dealing with Urszula as she 
would with an animal 
-
which is to say, very instinctively; not coming too close, 
but reassuring her that she's there.  
It's Antonina's connection to animals
that she brou
ght to her human 
refugees.  And I think that sort of unspoken trust and compassion 
between those two characters, and those two actresses, is a very, very special 
part of the movie.  
Q: What was it like to work with the young actress (Shira Haas)?

NIKI CARO:
You know, it was incredibly organic...
in that scene, in particular (where Chastain's character talks with Haas' character after escaping the Ghetto after an assault), there was a bunny.
And the bunny 
real
ly shows us the 
healing
power of animals. T
hat it's a little bunny that can 
breakthrough for this girl.  And that's Antonina's gift, really, to know
without words, without overt action, just what to do in that moment.  
Q: What was it like making a movie about the Holocaust?
NIKI CARO: 
I took that responsibility as seriously as it's possible 
for me to take, which is to say very. Authenticity and 
specificity
has always been 
really, really important in my work.  
But this represented a much bigger challenge
-
to honor all of those
souls that died, whilst celebrating 300 that didn't, and the 
amazing work of the Zabinskis.  
I know that what I was trying to do 
at the time was to move the genre on a little bit; to make a Holocaust movie that expressed healing in some measure.  
I thought we were making a historical 

drama, and it's only now that I realize we're making a contemporary film 

- sadly.
But in terms of the film-making, we were really tireless and diligent in our research, which meant going very deeply into the reality of the Warsaw Ghetto.
It was really tough, but we were - all of us - cinematographer, production designer, costume, makeup, hair - everybody - very, very invested in getting it right.  
Q: How was it to direct the climactic scene between Jessica Chastain and Daniel Bruhl?  (played Hitler's zookeeper, Lutz Heck)
Niki Caro: These two, Jessica and Daniel, have a great relationship, and a 
tremendous amount of trust.  So we could really go there. They were absolutely 
prepared to go there, right into 
the violence of that [scene.]  
Niki to Jessica Chastain: I remember talking 
to you guys be
forehand, and saying that there were just two ideas in 
this scene. And the first was the ribbon.  
Do you remember, he takes the ribbon 

out of her hair?  And the second was that she goes (to visit Heck), prepared to do what is 

necessary.  So she goes as a

 

woman, prepared to sleep with him if that is what 

needs to be done to find information about her husband.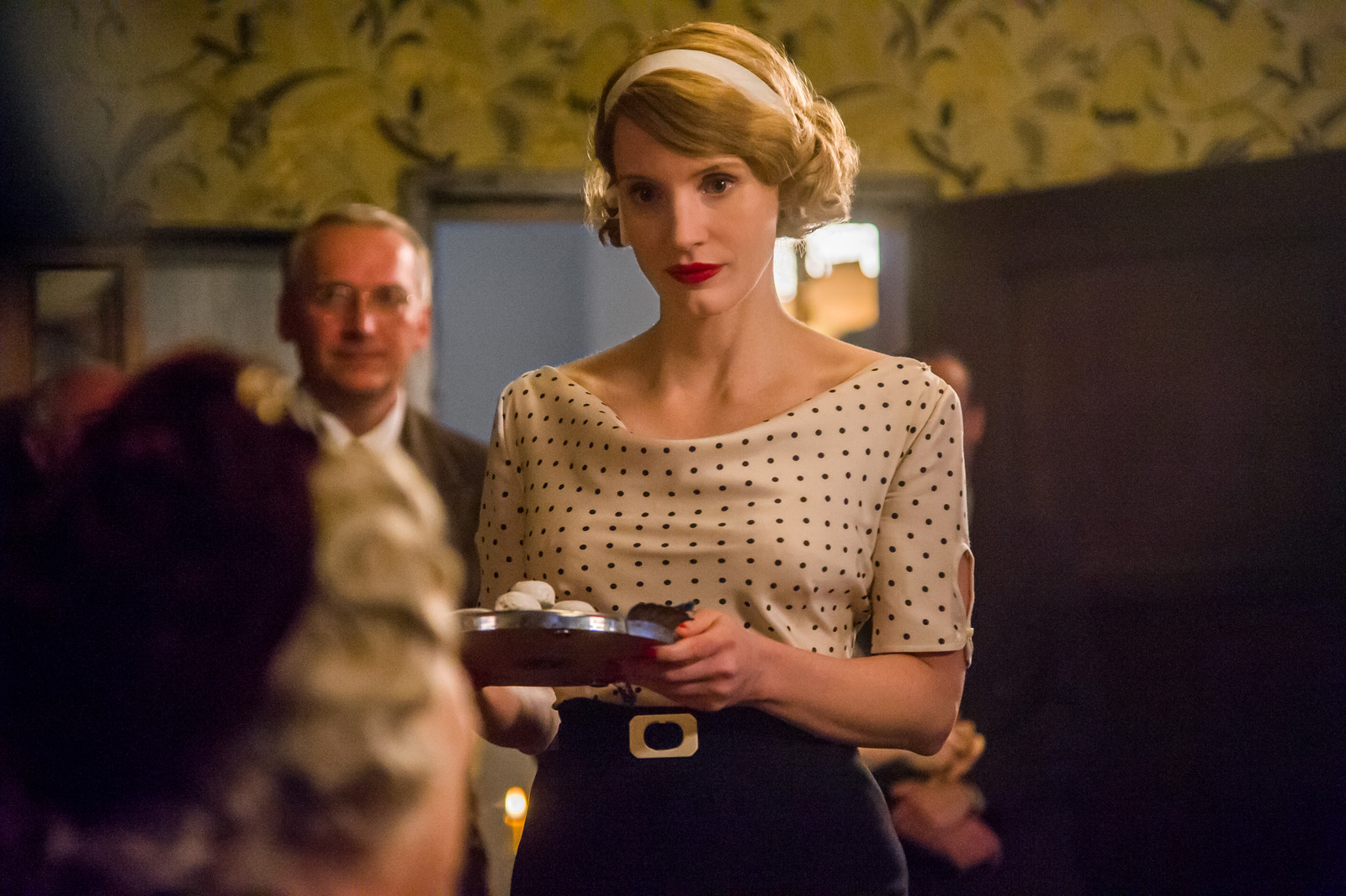 But for Lutz, he can't do it because she doesn't love him.  He loves her; she doesn't love him, and in that 
moment, where she says, "You disgust m
e," 
i
s her profound, accurate, 
and authentic truth.  
That's what breaks the whole violence of the situation, 
that he just can't continue after that.  It was a very amazing, dynamic 
day, physically quite difficult [for 
the actors.]
It often happens, right?  You do these 
really heavy scenes, and when you have trust between the actors 
and everybody feels safe, and confident in the material, that it doesn't need to be
a traumatic experience.
O
n the contrary, it can be amazing, and you can 
just get amazing material out of it.
Can you talk about Chastain's dramatic cage scene where she thinks her young son has been shot?
Niki Caro:
T
he performance is 
-
I almost don't 
have words for it, what she's able to do in any of these moments.  But (for Jessica Chastain's character) to become 
animal like that 
-
to 
be in the cage, and then to hear that shot, and become 
animal
-
incredibly impressive, and so moving to me.
I'm a parent...a
nd I think parent or not, in that moment in the film 
-
which 
actually happened to Antonina,
it's your worst nightmare.  
Q: How much of the film is true? 
Niki Caro
: 
It's a really good question.  This isn't a documentary, obviously. 
You know, we have our responsibility to entertain.  That said, it's 
really close.  T
he character of Urszula, the little gi
rl, she's fictional.  
About 
people went through the Villa (at the zoo). W
e don't have complete stories of all of them.  We don't know details f
or many of them, but Urszula was somebody we felt was 
important 
to bring to the story.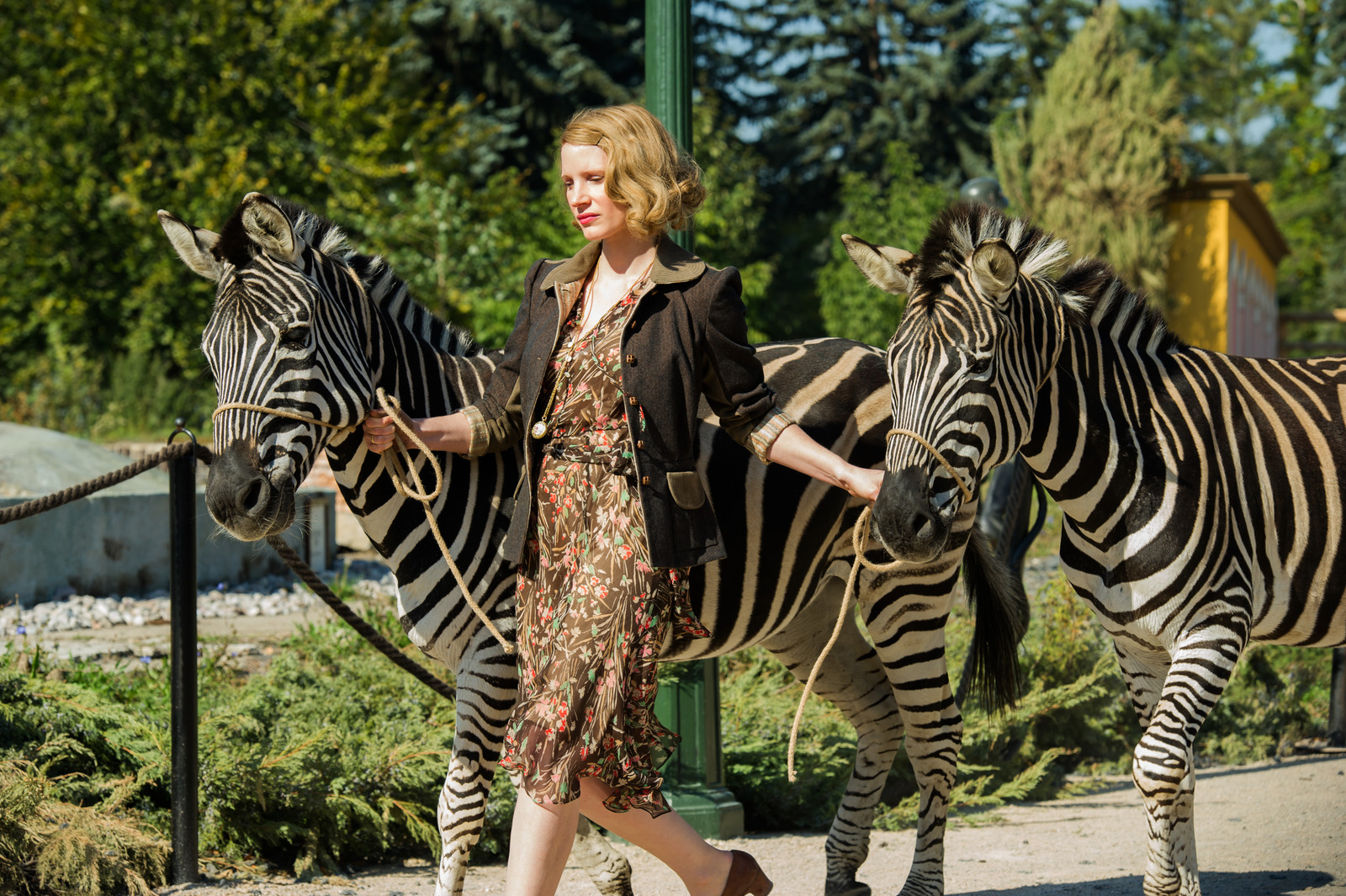 Q: Can you talk about Lutz Heck's breeding program to bring back extinct oxen?
Niki Caro: 
T
otally true. What a nut
case. There is evidence from his letters that he greatly admired Antonina; t
hat 
there was definitely something there. 
But everything else:
the extraordinary circumstances of 
getting people out of the ghetto in trash cans, and having them pass 
through the cages and tunnels into the Villa 
-
all true; (as is Antonina playing the piano to warn the refugees to hide.)
Watch this short clip:
Even more excited to see the film now?  Check out the 
interview with the movie's star
, Jessica Chastain. 
The Zookeeper's Wife
 is currently in theaters everywhere.
Focus Features sent contributor Anne Parris from Not a Supermom 

and

Midlife Boulevard to New York City to screen the new movie, The Zookeeper's Wife, and to interview director Niki Caro.