I love Busch Gardens, which is why I'm so excited to be one of their Ambassadors this year. We just visited again last week, but we didn't have time to do everything, and we missed the newest show, Opening Night Critters. As passholders, we visit pretty regularly, so we plan to see the show soon. Check out this video to see more about working with the animals!

TAMPA, Fla. (

July 9, 2014

) – Busch Gardens® Tampa's newest live stage show

Opening Night Critters

takes the stage this summer in Pantopia Theater. Featuring rescued domestic and exotic animals, including dogs, cats, birds, a horse and a kangaroo, among others, this theatrical tale follows a couple of stage hands as they haphazardly find themselves in the spotlight as the human stars in an all-animal production. 
The stage hands quickly discover that working with these animals isn't as easy as they had originally thought. Try as they might, they can't get their costars to cooperate and when nearly all hope is lost, their kindness and compassion is rewarded when everything falls into place for a fun-filled, furry and feathered finale.

It's so awesome that all the animals in the show are rescued. One of the reasons I was excited to be an Ambassador for Busch Gardens is that they do so much for animals. I've been involved in wildlife rescue myself for many years. In fact, on July 4th, Busch Gardens rescued a Bald Eagle that was found on MacDill Air Force Base, unable to fly because of a wing injury.
The park's vet staf performed surgery and they will keep an eye on the eagle for 4-6 weeks and then move it to a rehabilitation facility. Pretty awesome, right? You can see all kinds birds and other animals at Busch Gardens. It's definitely my favorite thing to do there. (While my husband and kids ride the coasters!) If you ever get the chance to do an encounter with Tufts, the Southern Ground Hornbill. Tufts used to be out all the time, but now he only comes out for encounters. What a personality!
By the way, the hours are still extended until 9 pm at Busch Gardens Tampa, so you can stay late and see the Kinetix and fireworks through August 17th! There is really

so much to do

at Busch Gardens that we usually want to get there early and stay all day! Also new for this year, Gwazi Park is heating up with

Saturday

-night Summer Nights concerts. In addition to pop, R&B, alternative and Latino music artists, guests will find an array of summer-favorite grilled food items and a selection of craft beers. Yum! I love the food at Busch Gardens, and a cold beer is just what I need on a hot day! Here's a selfie of me and one of my favorites at Busch Gardens! I could watch them forever! I'll be sharing more about our visit soon!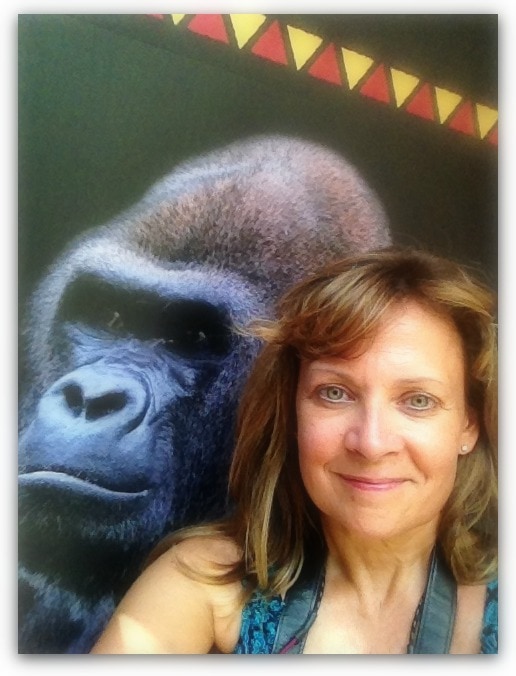 The Summer Nights concerts, at 8:30 p.m., are included with your daily admission or any

annual pass.

  Immediately following the concerts you'll want to stay and experience the grand fireworks finale! (Note: concerts will take the place of Kinetix

on Saturday

nights only.) Yep, those kiddos will be sleeping in the car on the way home… 
Did I mention that

Jack Hanna

will be there in September? You might want to put that on your calendar so you don't miss it!