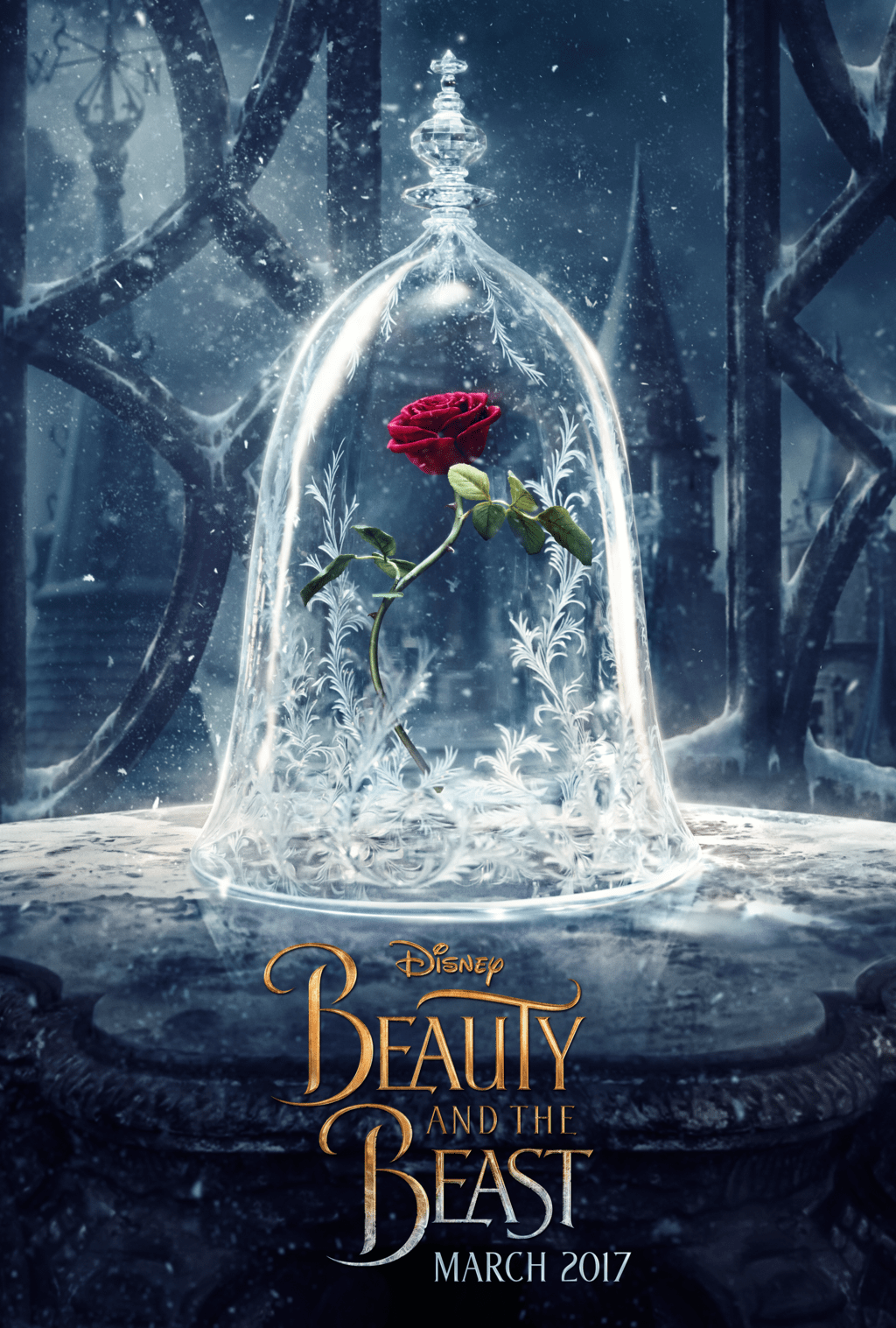 Disney's live-action Beauty and the Beast hits theaters two weeks from today! I remember the first time I saw this was in the works and thinking it was so beautiful!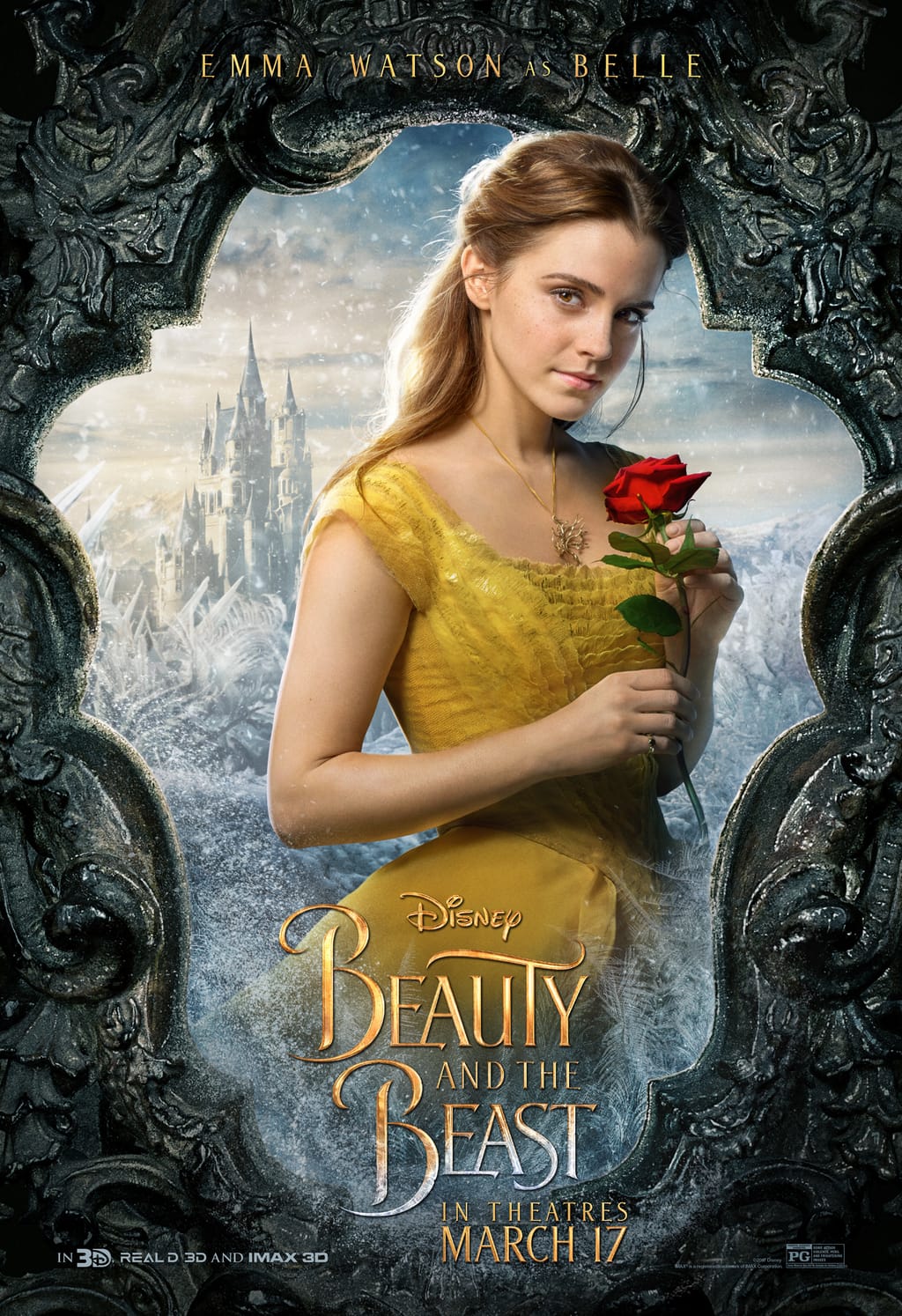 I don't think they could have chosen a more perfect Belle! Little girls everywhere who dream of being a princess will be looking up to the beautiful Emma Watson.
I've always loved this story because the princess is so smart. Her love of reading will be influencing our girls to learn to dream by picking up a book and learning about whatever it is they want to become.
And Belle is passionate about family over everything else. A lesson we can all learn from. Watch the latest featurette to learn more about Belle.
10 Fun Facts about Beauty and the Beast
Like I said, this move is just so visually beautiful! And no wonder!
Over 8,700 candles were used as set decoration during production.
The ballroom floor is 12,000 square feet of faux marble, the design is based on a pattern found on the ceiling of the Benedictine Abbey in Braunau, Germany.
10 glass chandeliers in the ballroom – each measuring 14 feet by 7 feet – are based on actual chandeliers from Versailles which were then frosted, covered in fabric and candlelit.
Approximately 1,500 red roses were grown or purchased during production for use as research or set decoration.
The enchanted forest which surrounds the Beast's castle and features real trees, hedges, a frozen lake and 20,000 icicles, took 15 weeks to complete!
Approximately 180 feet of feather light satin organza was used to create Belle's yellow dress. The dress, which required 3,000 feet of thread and took over 12,000 hours to create, was accentuated with 2,160 Swarovski crystals.
A production crew comprised of more than 1,000 people worked around the clock to design, build and decorate the film's mammoth sets.
The lend-a-hand lights on the terrace and staircase in the Beast's castle and the rose colonnade on the castle grounds are an homage to Jean Cocteau's 1946 Avant Garde film, "La Belle et le Bête, which was a source of inspiration for Bill Condon.
Philippe, Belle (Emma Watson) and Maurice's (Kevin Kline) horse, is played by three different horses, two of which had to be painted on a daily basis.
Adorable Froufrou, the dog belonging to Madame de Garderobe (Audra McDonald) and Maestro Cadenza (Stanley Tucci), is played by Gizmo, a rescue from one of the U.K.'s oldest and most famous animal rescue centers.
Are you excited now? This film has been in the works for so long! Take a look at the Dinner Invitation clip:
Oh, that smile! LOL.
And then there is the handsome Gaston….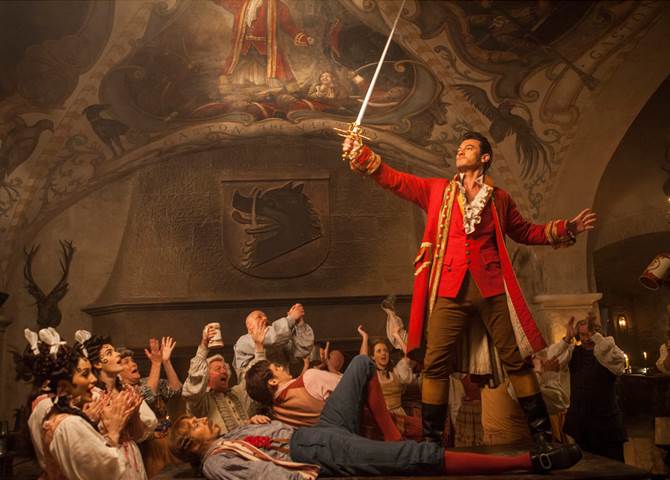 I love this clip!
But you know the rest of the story!
Follow along on social at #BeOurGuest and #BeautyAndTheBeast
Like BEAUTY AND THE BEAST on Facebook
Follow BEAUTY AND THE BEAST on Twitter
Follow BEAUTY AND THE BEAST on Instagram
Visit the official BEAUTY AND THE BEAST website
BEAUTY AND THE BEAST opens in theatres everywhere on March 17th!