This press trip was provided by Disney. As always, all opinions are my own.
A few nights ago I joined 24 other bloggers for the Million Dollar Arm premiere & tailgate at the El Capitan Theatre in Hollywood. I was able to see the film even before the premiere, which was pretty exciting. Initially, when I saw our schedule, I was surprised we were viewing the movie twice in the short time we were there. Let me just tell you that I cried the first time, and cried again the second. Don't let the name fool you, this is about so much more than baseball. It's about growing up, not just for the boys who left their country, but also for the man who brought them here. It's about family, and realizing what is most important. Trust me when I tell you, you're going to love this movie.
This premiere was different than the Thor & Delivery Man red carpet events I attended last November. As you probably know, most premieres have an "after-party", as we did with Delivery Man, but Million Dollar Arm fittingly had a tailgate party first. And before the tailgate, we watched the Million Dollar Arm Pitching Contest, where nine contestants took their final throws, attempting 100 miles per hour. What a thrill to be able to see this event live! Congratulations to the young man who came the closest, whose life will probably be changed forever because of his participation. But then, that is what this movie is all about. Below, the real JB Bernstein congratulates Josh Dahl from Arizona.
Jon Hamm, who played JB Bernstein, was a great choice for this role.
The tailgate party was so well done. Pinks Hotdogs and Budweiser Beer were on hand, as were doughnuts from Krispy Creme and Wonderful Pistachios. I don't usually eat hot dogs, but I thought I would try one as I've heard so much about Pink's. And if you're going to try one, you've got to have chili, right?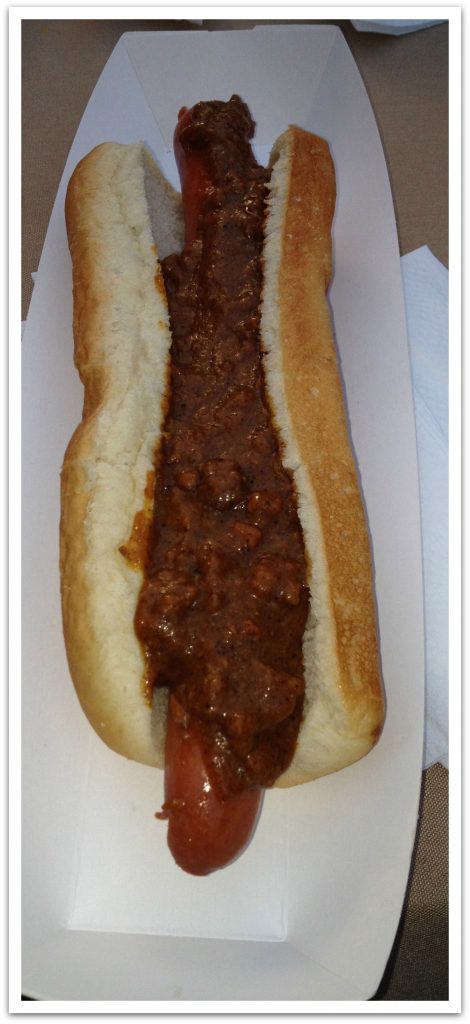 All I can say is that I was going to eat half of it, and when I looked down, it was gone! Pink's rocks! It was really fun to see the stars, many of whom decided to dress up regardless of the theme, eating hotdogs in designer dresses! Hey, if I landed a movie role, I know I would want to wear the hottest dress I could find, too. It's not easy to look elegant eating a hot dog, but I saw several of the ladies pull it off! You'll be happy to know I didn't get a drop of chili on my dress either 🙂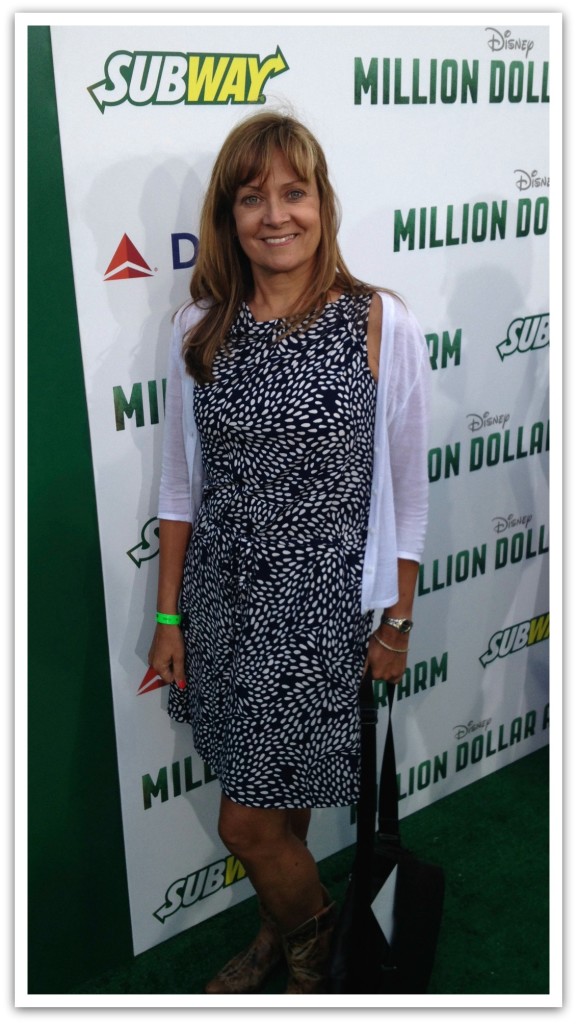 I wasn't sure what to expect at the premiere, but because of the sports theme, the overall feel of the event was more relaxed. Normally, we are rushed down the red carpet, hoping to be able to take enough time to get a good picture before the security guys in black suits tell us to keep moving. This time we were able to take our time, and we had a blast.
One of my favorite people in the movie was Mr. Chang, played by Tzi Ma. I've enjoyed his work for years, and was so excited when I saw him across the turf from where I was chatting with some friends. He saw my surprise, so I waved. Next thing I knew, he had walked over for a photo opp. I knew there was a reason I've always loved him!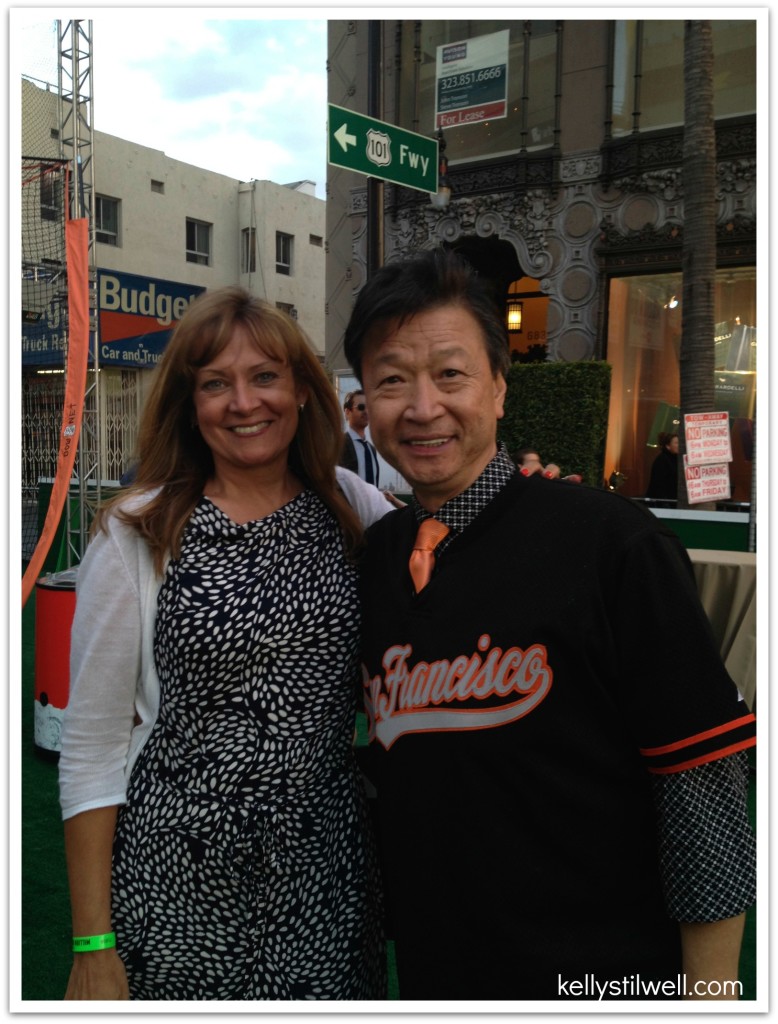 Allyn Rachel, who plays Theresa, JB Bernstein's loyal assistant, was gorgeous and so sweet. You may notice we're wearing the same bracelet 😉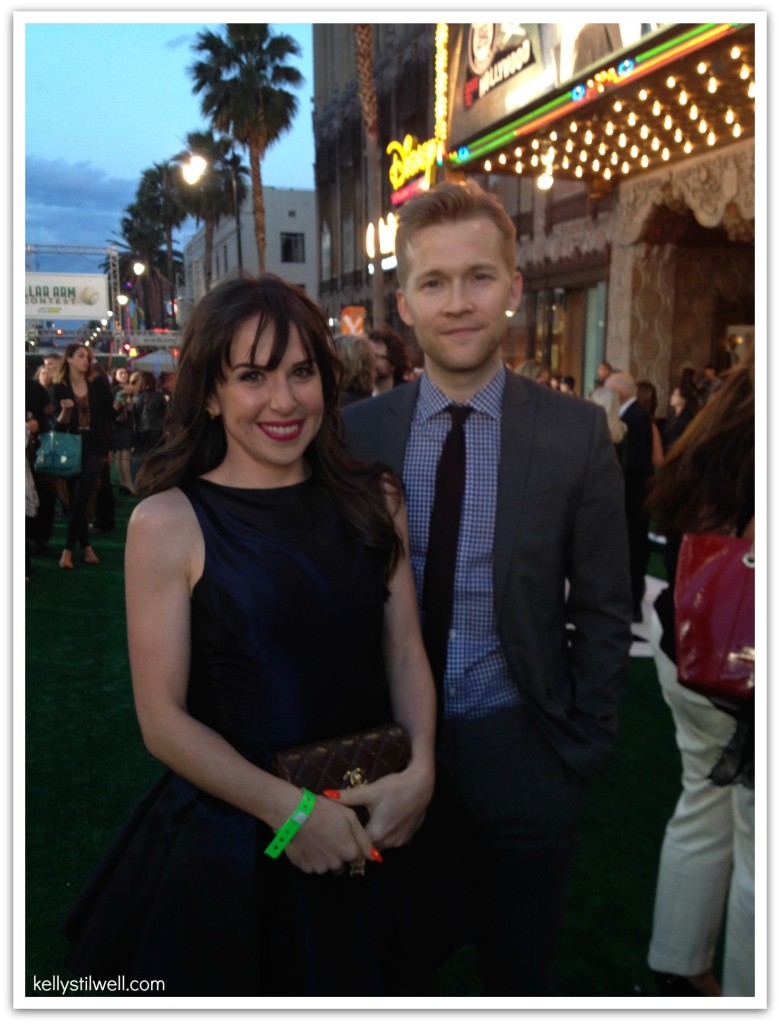 Amit, played by Pitobash was one of my favorite characters in the movie. This was his Hollywood debut, and I think we're going to see a lot more from him.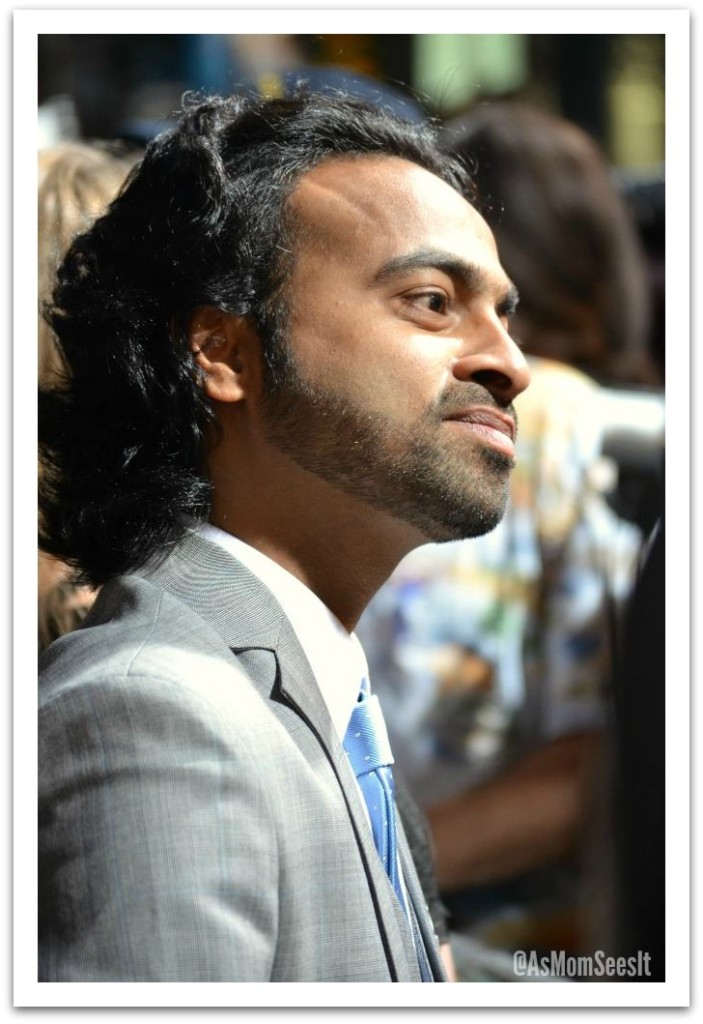 And Lake Bell who played Brenda, JB's tenant, was lovely in red.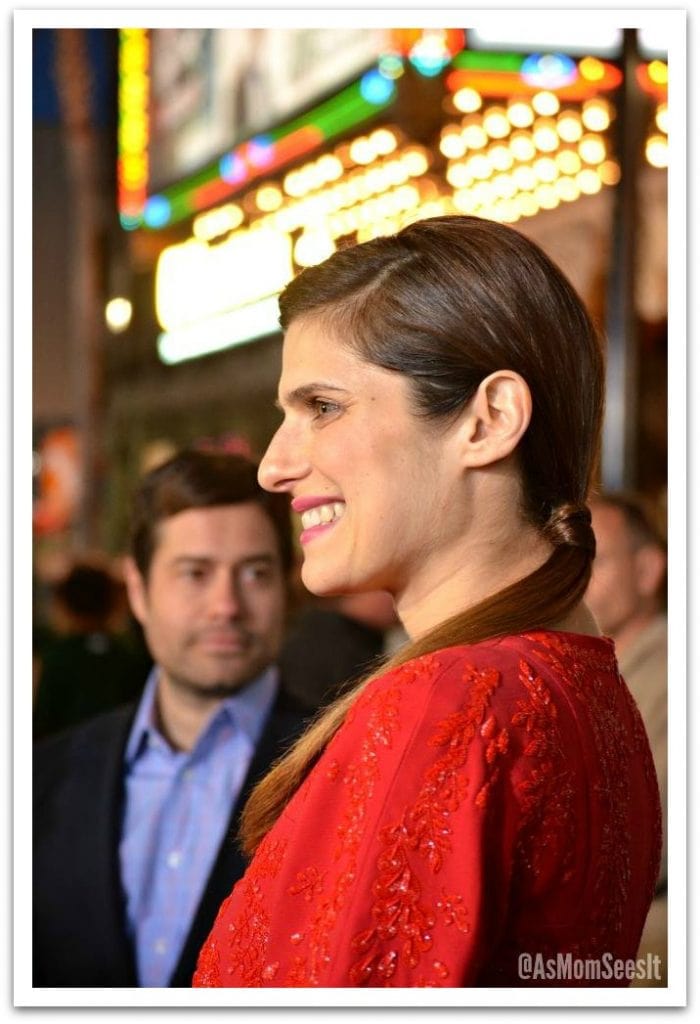 And, in my opinion, the real stars of the show, Suraj Sharma who played Rinku and Madhur Mittal who played Dinesh. They did a phenomenal job! I can't wait to share my interviews with them!
Finally, without these two young men, there would be no story. The original winners of the Million Dollar Arm contest in India, Dinesh Patel & Rinku Singh. Interviews are coming soon with them, as well. You are going to fall in love with these guys. They are just so grateful for the opportunities they've been given.
And here's a group photo of all the baseball greats who attended as well as the contestants in the pitching contest.
Once inside, we enjoyed reaching for the bags of peanuts thrown out into the audience while Take Me Out to the Ballgame was played on the gorgeous organ that opens every movie at the El Capitan Theater. I wish I could share it with you, but you aren't allowed to take photos in the theater. I can't tell you any more about the film until the release date, but I'll be posting about it then!
MILLION DOLLAR ARM will be actually be sneaking into theaters this Saturday night, May 10th, in over 500 locations across the country before opening nationwide on May 16th. It would be a fabulous movie to take mom to for Mother's Day weekend, and everyone can see it! Check your local listings to see if there's an early showing near you!
Thanks for visiting!