Matthew McConaughey is as kind and down-to earth as you would expect. I had been looking forward to interviewing him ever since my visit to Laika Studios, when I found out he would be starring as Beetle in Kubo and the Two Strings.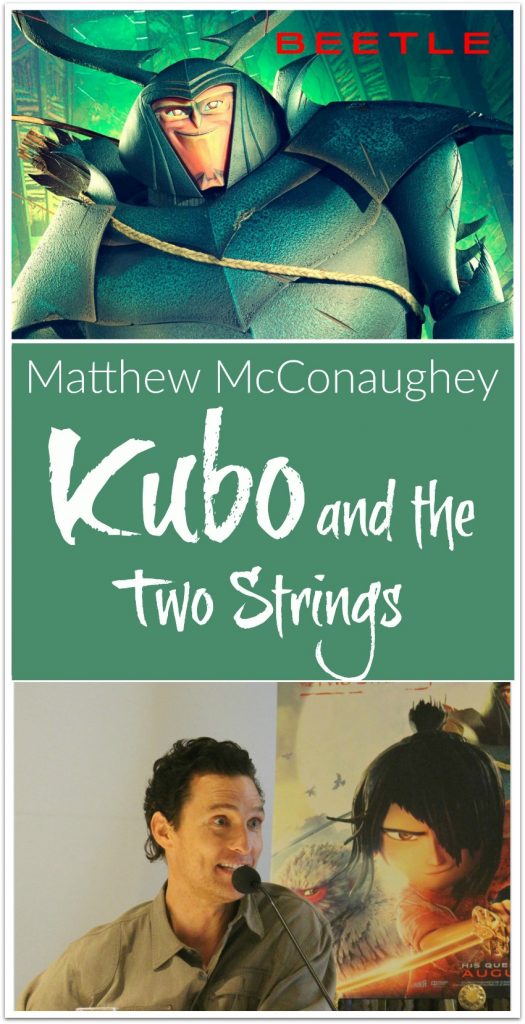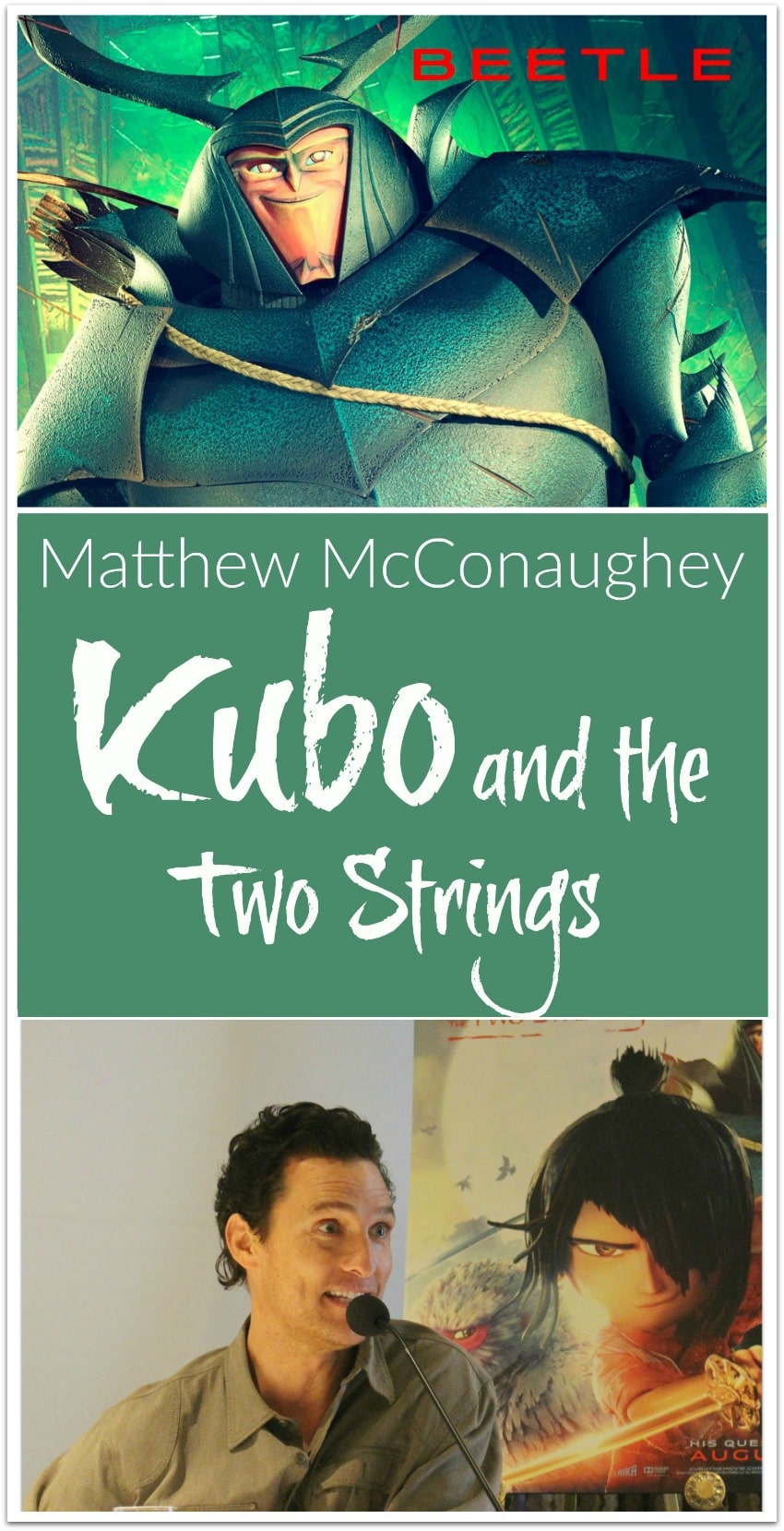 When I was in LA last month to finally see the film in its entirety, I was able to sit down with Matthew, Charlize Theron, who voices Monkey, and Art Parkinson, who voices Kubo.
We had a lot of questions for Matthew. Do you remember his first film? Dazed and Confused was filmed when Matthew was just 24.
Playing a guy who is a little too old for high school girls but chasing them anyway, it wasn't one of my favorites. But I bet, even if you haven't seen it, there is one thing about it you are familiar with. Alright, Alright, Alright are the first words he ever spoke on film.
Many years and many films later, Matthew is one of the most sought-after actors in the world.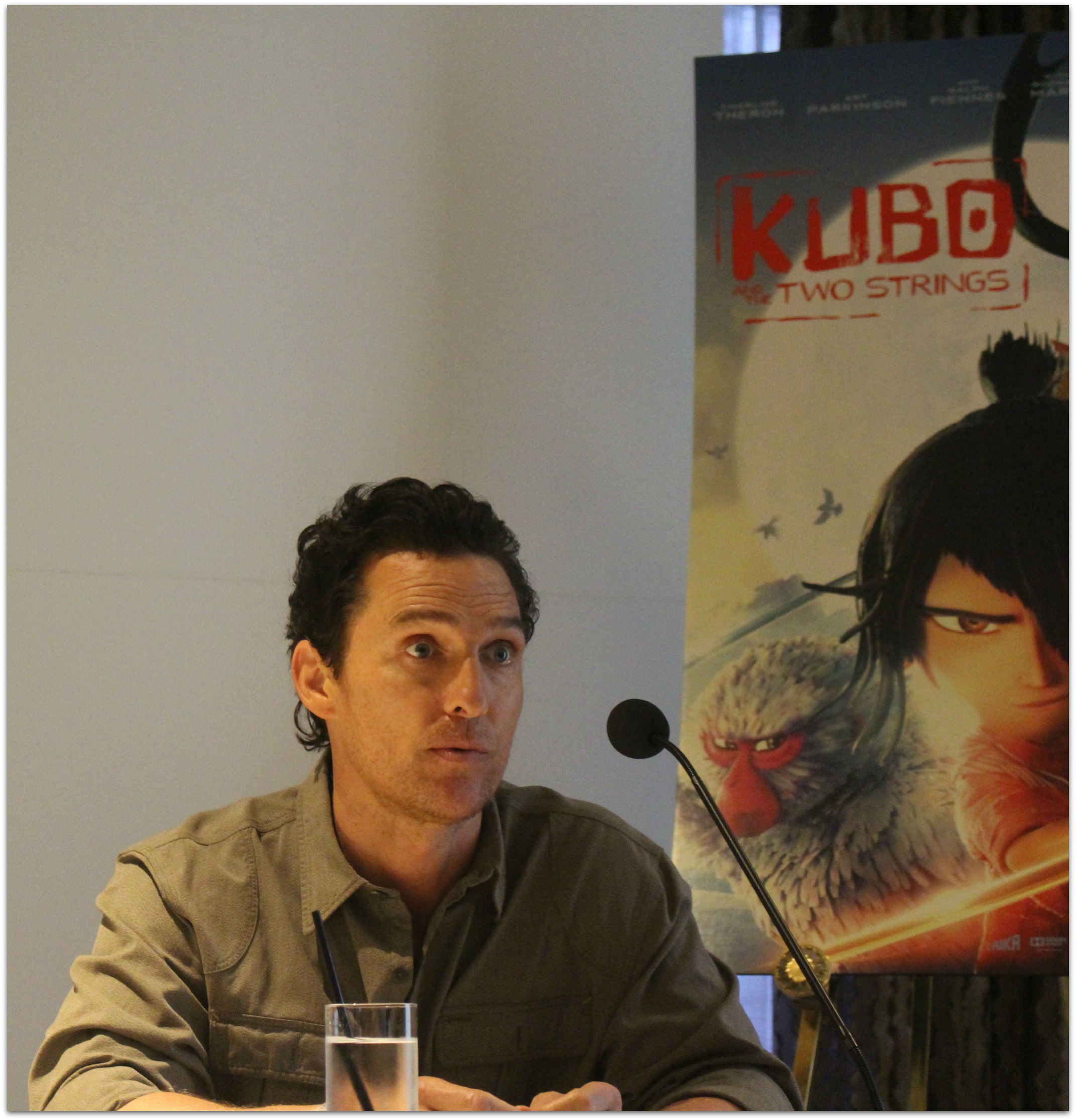 He's mellowed since those days, and now that he's older and a parent, he was the perfect choice for Beetle in Kubo and the Two Strings, a film about a young boy and his mom. Which brings us to the first question.
Q: Kubo stands out because it is a children's movie that takes really difficult subject matter and handles it in a really intelligent way. Was that something that drew you to the project?
MATTHEW McCONAUGHEY: That's something Laika seems to do with all their projects. They don't really pander down to the age group. They deal with adult themes in a way that's digestible for kids. There's always a good moral to the story that's learned in the middle of the adventure. I liked their previous work and this script had all that.
Q: As this was your first animated film, how did you prepare?
MATTHEW McCONAUGHEY: With three kids, a lot of my friends were like asking them, so what's your favorite movie your dad did? And they're like, well, we've never seen any of 'em." I haven't made any films in about 10 years that they could see. Yeah, sit down, guys, let's watch True Detective. I mean, I didn't try too hard to prepare for anything, it was there in the script. And I just started creating and then we'd talk with Travis and say, how do you like this, how do you like that, and we were off.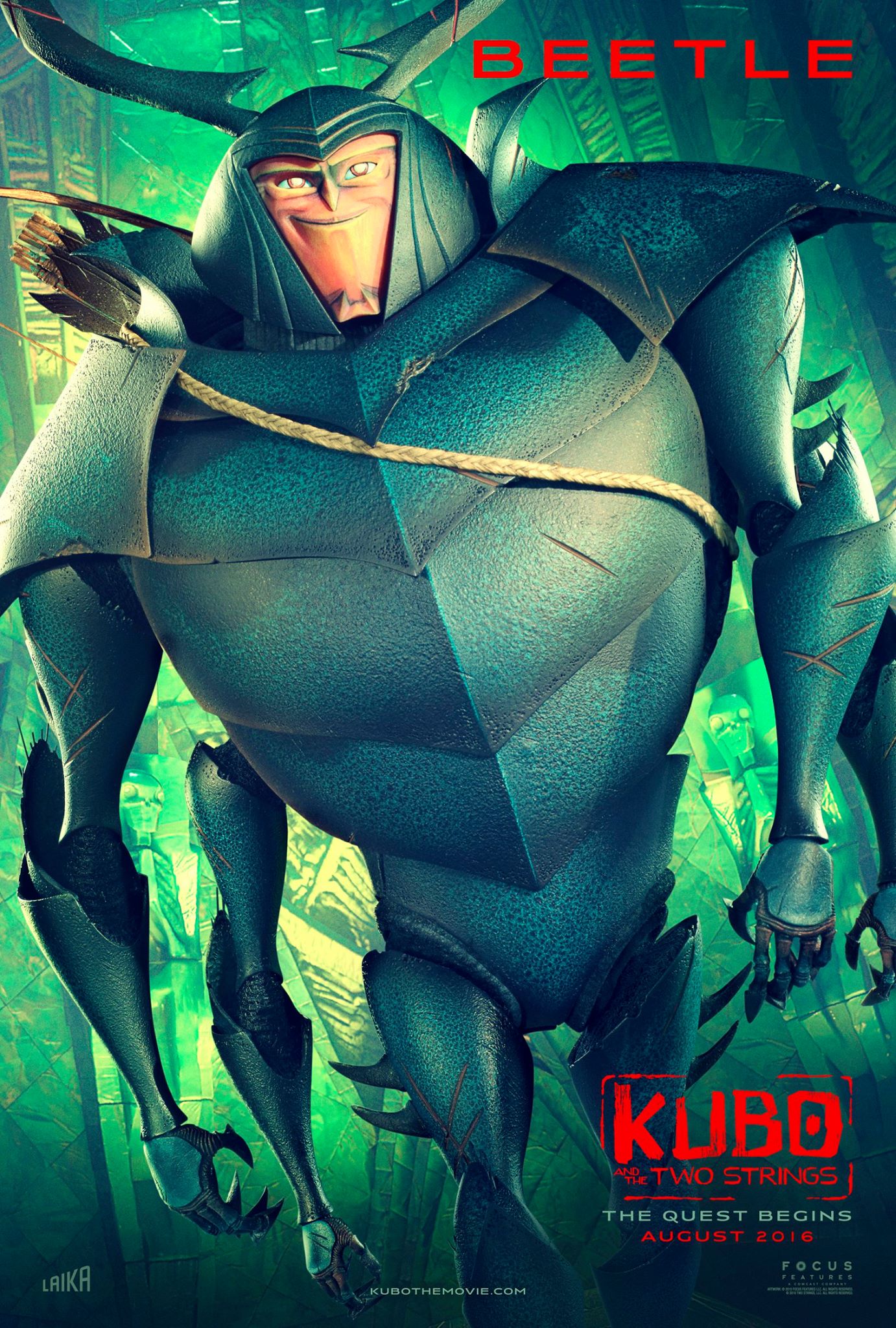 Q: When I interviewed Travis Knight (Director of Kubo), he shared that you read the script to your kids. How did that go?
MATTHEW McCONAUGHEY: I did read it to my children. I've found that's been a good practice for the last 8 years since I've had children, for any script that I do, any time you're telling a story, you've got to think who you're talking to.
We read this over quite a few nights at bedtime and they got into it, understood it. I'd watch their reaction to where they thought things were scary, spooky or funny, and then we all went and watched the film.
I had a great time watching the film but I also had a great time looking out of the corner of my eye at my kids at what they were laughing at. My eldest son, in all the animated films he watches, he always loves the goofy sidekick, and that's what I got to play, sort of the goofy Beetle, you know?
And so they still to this day since they've seen it will walk by and ask me something, and as I'm trying to think, they'll be like, 'Oh, well, I suppose you forgot, like the Beetle. You don't remember that, do you, Papa?'
So they still kind of jeer me a little bit about that. They loved it. And my wife thoroughly loved it. She still talks about it. She had a really great emotional ride watching it. The kids are going to love it, but it's definitely for adults as well.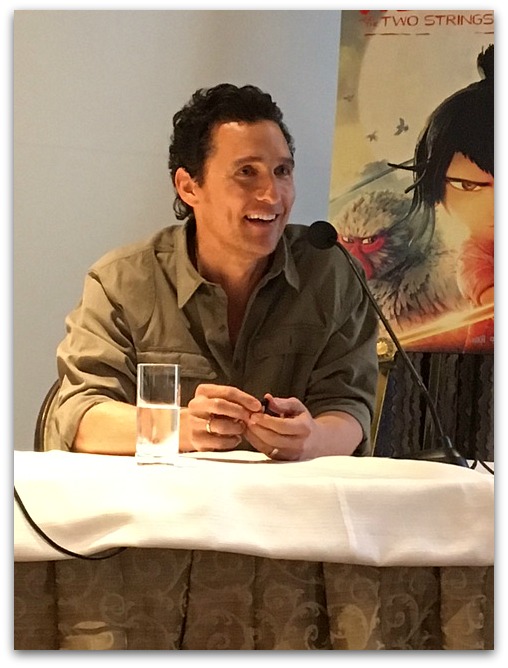 Q: Could you personally relate to Beetle?
MATTHEW McCONAUGHEY: Beetle is a protector. He's a hero in his own mind and maybe so in reality, as well.
But he's also Captain Fun, you know, so that's our Friday nights in our household, where the answer is yes to most everything, and have fun along the way.
One of the things that I like about the story which [I] try to teach to my children as well, and it's true for all of us, is that you have to fight for your own third act.
You have to fight for your own happy ending. The story is about saying, no, don't deny anything that's out there, and the truth may burn and it may be hard, but that's the only way you get through your third act with a happy ending.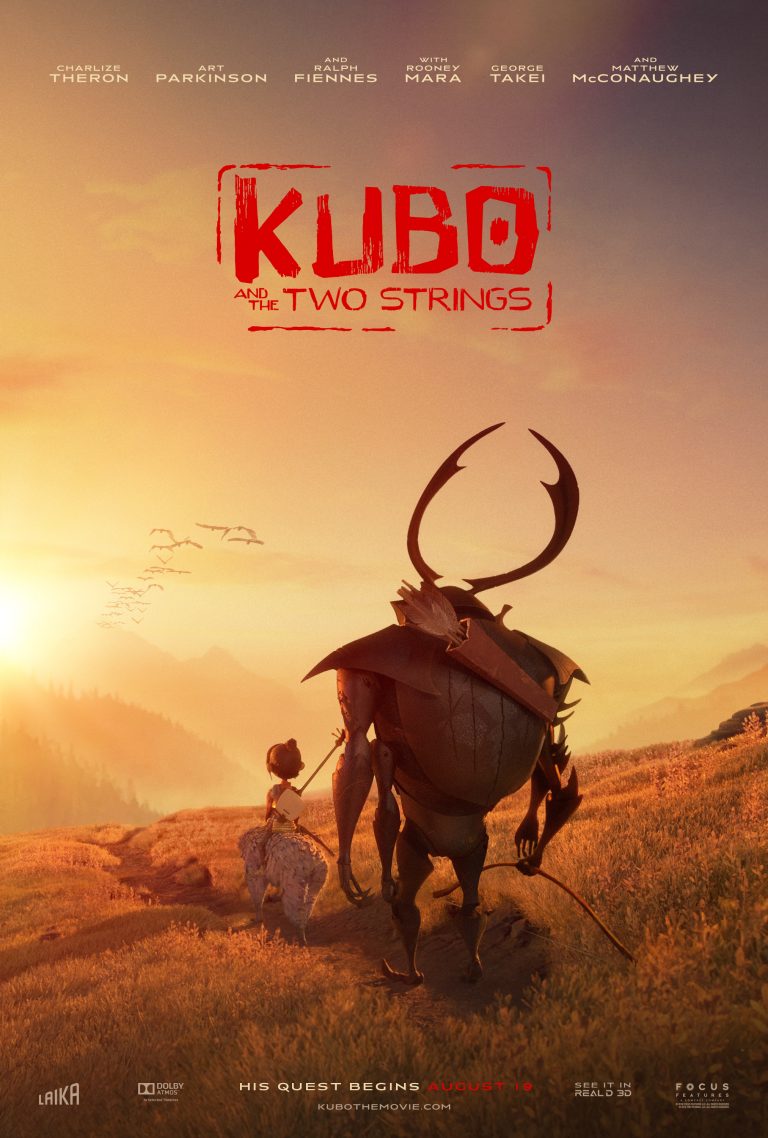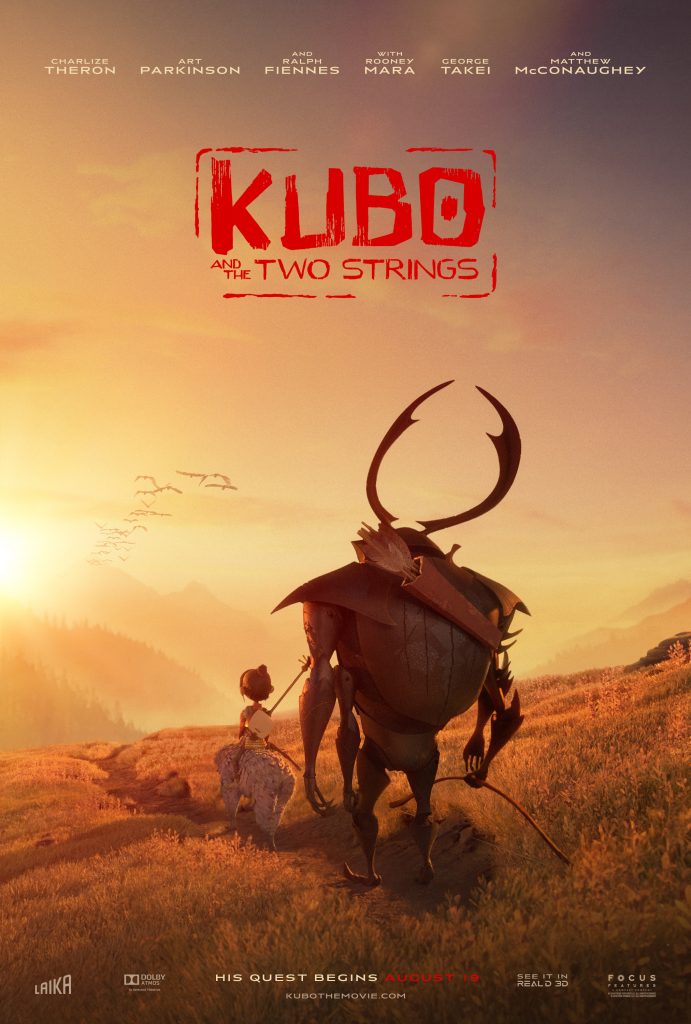 Q: Did you find yourself ad-libbing at all?
MATTHEW McCONAUGHEY: Yeah, they have enough voiceover for three more from the stuff I gave him! I like to walk in and say, "press record." And then don't press stop for the next 12 hours, or however long it is.
So that was part of the fun. It was a fun process. It was supposed to be fun, and you can't really screw up, and if you do, it's just tape. So I played around a lot, and I liked doing that.
Watching the film, it was clearly a fun process for everyone, and it shows. You just have to love Beetle, more and more as the film goes on. But no spoilers!
This is truly a film to watch together.
10 Things You Didn't Know About Kubo and the Two Strings
Filmmakers Travis Knight and Arianne Sutner talk Kubo and the Two Strings