Walt Disney Studios invited me on an all-expenses paid press trip in order for me to be able to share it all with my readers. As always, all opinions are my own.
Madhur Mittal and Suraj Sharma had quite the challenge as actors. It's one thing portraying a made-up character. You become that character for movie-goers. How would you feel if someone else played Iron Man? No way! Robert Downy, Jr. is Iron Man. If a new Forrest Gump movie came out with someone other than Tom Hanks as Forest, can you imagine the uproar?
But playing real-life characters is another story. They were challenged to portray two boys who won a pitching contest in India and were whisked off to America with hopes of becoming major-league baseball players. First of all, the story is crazy. Hard to believe. But it is absolutely true, as you may have read in my interview with JB Bernstein and the boys who actually lived the story, Dinesh Patel and Rinku Singh.
So, when we sat down with these young men, the first question we asked was, What compelled them to audition?
Madhur:   I think the first thing that really hit me was, I think I speak for the both of us, this is a tremendous feat that these guys have achieved, and I had no idea about these guys. Nobody in my family knew. None of my friends knew this story. And what these guys have achieved is something that nobody has ever done any sport in the history of mankind. So, I was really kind of upset and I know for a fact that so was Suraj that nobody knew about this story. And I think it's very important that this story reaches people. And also the fact that, you know, we'll get a chance to portray real-life characters.

Suraj:  Yes, same thing. It's just the fact that these guys came from nothing, went and did something phenomenal. And nobody seems to realize that they weren't really appreciated for what they did. It depressed me almost, and the fact that I didn't know myself. It just leads you to think that their story really needs to be told, and people need to know this. End in itself, other than the fact that it was an amazing feat it just gives you a sense that there's a whole lot out there that we don't really realize; opportunity wise. And the amount someone can work in a situation where they don't know what's going on and make something out of themselves, it's very inspiring.
Madhur:   Also, I think it gave both of us a chance to showcase something different from what people have seen us do in our last films. I played a bad guy in my last film; he played a completely different character. So, I think also it's a great chance for us as young actors to portray something different and expand our spectrum as actors.
You may remember Suraj in Life of Pi, which did pretty well at the box-office and won him a couple of awards. Madhur played Salim Malik in Slumdog Millionaire, which won the Academy Award for Best Picture of 2008, and also won Madhur the Screen Actors Guild Award for Outstanding Performance by a Cast in a Motion Picture. These guys, as young as they look, are not strangers to acting.
Neither had played baseball before, either, which I found surprising.
Suraj:  Zero experience in baseball altogether. Yes. It was quite hard. We had a lot of fun during training though.
It didn't sound like fun to hear Madhur explain!
Madhur: I mean we didn't know anything. We had three and a half weeks to do whatever we could do. We had our coaches flown down from the states, as we used to have four hours of baseball every day and we are both quite scrawny boys, still very thin [LAUGHTER]. So we had to put on a lot of muscle. We trained for three or four hours every day and then rest an hour, and then go to the gym for a couple of hours, and strict diet. Yes, it was quite physically challenging, but it helped, because it's like a blank slate, which was exactly what his character and my character were also going through. It helped understand the emotional parts.
We asked if they had met the guys they were portraying, and were able to pull anything out of meeting them to help them with the role.
Suraj:  For me, the biggest problem was that Rinku, ever since this time period that we are trying to portray, he's changed tremendously.
Madhur: He's so good at adapting that since- when the movie ends from here to here, he's become a completely different person, so talking to him at this point doesn't really help me too much with all this that we're trying to do. But Dinesh helped. Dinesh was with us in Delhi when we were training for baseball and he hung out with us a lot, which is obviously great for me, because I'm portraying him in the film. But what he also did was, not just give us an insight hint of his mind, but he used to tell us all these stories and anecdotes of what happened when they were really going through all this that we're portraying in the film. And that would really give us a lot of insight into how Rinku was at the point in time or how JB was and how Asif's character was.
Both Madhur and Suraj commented on the "massive footage" that Amit (played by Pitobash) got while everything was going on. Suraj referred to it as "massive treasure."
We asked if they had a favorite scene, and both guys said they had so much fun filming. They both agreed that the scene where there was throwing up was not fun. Maybe not fun for them, but it's hilarious! It was also very hot in India. Madhur said he checked, and it was 140 degrees, and his skin was burning. He said those scenes were hard to shoot.
Part of the movie was filmed in Atlanta, or "Hotlanta" as Madhur said. I think he got a kick out of their accents there, trying to mimic it, Y'all makin' a movie? We all got a kick out of that!
A question everyone has after seeing Million Dollar Arm is, Was the flamingo actually something Rinku did? If you don't know what I'm referring to, you have got to see this:

Suraj:  Yes, Rinku, six feet, two inches tall, was doing the flamingo.
We asked how they got into acting, and Madhur told us he had been in the business for as long as he could remember, starting out as a Michael Jackson impersonator at three years old! He shared that his family has always been very supportive, even moving to another area in India when he was five, so he could pursue his acting career. Suraj said he never wanted to be an actor, but once he discovered it, he fell in love with it.
When you see this film, I think you'll see both Madhur and Suraj were passionate about truthfully portraying, with everything they had, the boys who actually went through it all. And it worked really, really well.
Madhur & Suraj were kind enough to get in a group photo with us.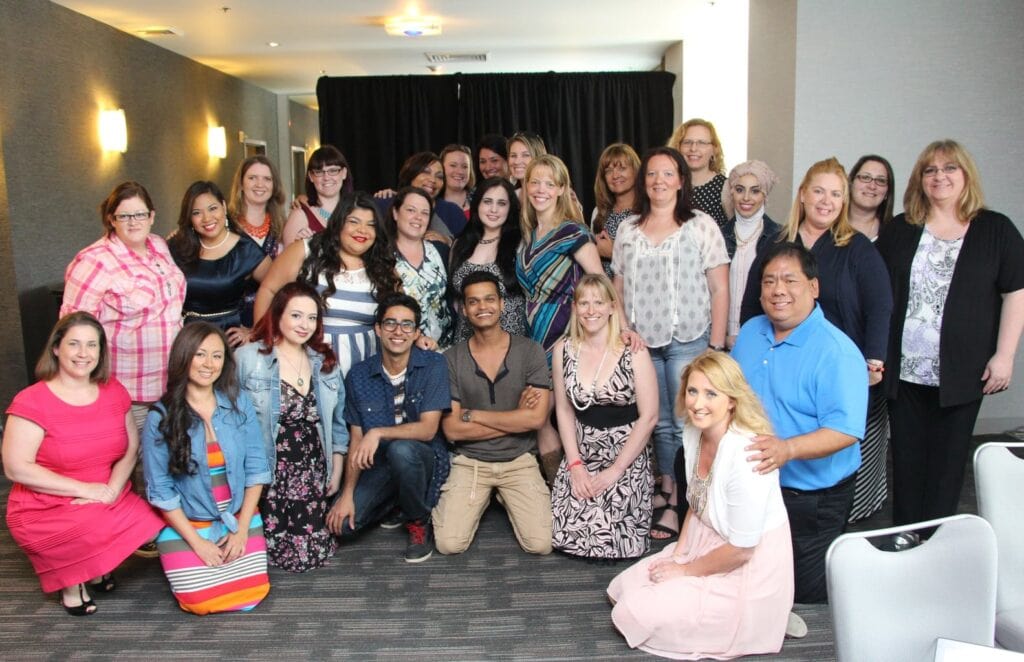 Million Dollar Arm is in theaters now. I can't wait to see it again with my family.
Like MILLION DOLLAR ARM on Facebook
Follow MILLION DOLLAR ARM on Twitter
Visit the Official Million Dollar Arm Site