Have you considered giving life changing gifts when purchasing a present? Yes, the biggest gift giving season is over, but let's face it, we give gifts all year long. Birthdays, anniversaries, baby showers, and special holidays like Mother's & Father's Day are all perfect holidays to give a gift that gives back. What is a gift that gives back? It's simply giving something that will make a difference in the world. Whatever your favorite charity, you can find a gift that blesses others, as well as the recipient. One of our favorites charities is World Vision.

We discovered World Vision many years ago, and purchasing gifts through them impacts children from around the world. Our family has sponsored seven children through World Vision. We started out with two, who were siblings the same age as our children at the time. The siblings were in Cambodia, and through our monthly donations, they were able to go to school with books, have new uniforms, get health care, and more. After 10 years, the community they live in became self-sufficient, and did not need help from World Vision any longer. Amazing, right? We decided to sponsor two more children, and then decided to add another two! We recently got a letter that another community has made it to that self-sufficient status, so we sponsored a boy from Sri Lanka to replace the one who no longer needs us. Through World Vision, we can write to our sponsored children and even send packages. We get letters on a regular basis, and it's been fun to see the changes that take place.
I realize not everyone can afford to sponsor a child, but there is another way you can help those less fortunate, while giving a gift that will be treasured. World Vision's gift catalog has something everyone will love, and these are life changing gifts!
For Mom: Colors of Africa Bracelet & Earring Set: This jewelry set is just beautiful.
For Dad: Fair-Trade Coffee Set (Actually, this mom would love that, too!)
For a child: Plush Toy Goat: Teach a child about giving back by giving this sweet stuffed animal. If they are old enough, you can share the video below, letting them know that a donation was made in their honor. World Vision has a lot of resources for helping children understand poverty and how we can help.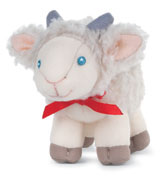 I know one of the things that is always on my heart in the beginning of a new year is, How can I make a difference this year? If you're thinking the same thing, I encourage you to check out World Vision for gift giving, and for making a difference in the lives of children who desperately need it.