Don't you just love when you pick up a book and can't put it down? That is how I felt when I picked up Grounded, by Angela Correll.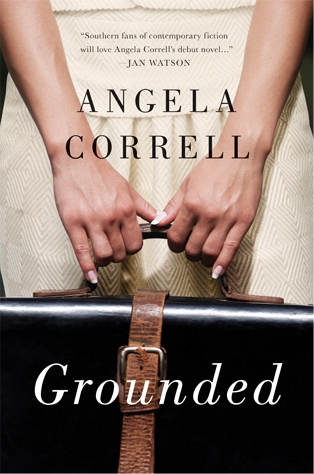 Annie Taylor is a flight attendant. She has a wonderful job where she can travel. She loves spending her weekends in Rome, people watching while sipping a cappuccino. She has the perfect boyfriend who adores her. Life is good.
That is, until things start to unravel. On a flight from Rome to New York, she overhears a passenger say she is from Peoria, where Stuart, her boyfriend is from. It seems Stuart was quite the popular guy in Peoria. In a short conversation, Annie learns new information about Stuart that rocks her world. She asks another flight attendant to cover for her on the clean-up of the plane so she can head right to Stuart's office. While she is en route, her boss is trying to contact her to tell her she is part of a huge layoff because of a buy out. When the two most important things in her life both come to a halt, Annie has to make some decisions.
A visit back to the family farm to see her grandmother sounds like the perfect place to sort things out. At first, she thinks she will go crazy without the big city lights and action, but as she slows down, she realizes she left more behind than just her grandmother when she took to the city.
Here's a peek into the book from Angela Correll's website:
This is the perfect escape from a busy day or a long week. I found myself so looking forward to the next free few minutes I would have to read. I put it in the car so I could read while waiting for my older daughter to get out of her classes. I grabbed it to read while eating lunch. And yes, I stayed up too late a couple of times because I couldn't put it down. You will love it. It's also a perfect book for a book club, even a church book club as there is no bad language, which seems to be rare these days. The author even provides questions for discussion.
Pick up Grounded, published by Koehler Books, and available as of October 1.
(The link below is an affiliate link, so I will make a few cents if you use it,  just so you know!)

I received a copy of Grounded in order to write a review. As always, I only share my honest opinions with you.