Back over the summer, I was sent The Ultimate Beer Lover's Happy Hour. Any book with Happy Hour is one I want to read! (No judging)
I have to say I was surprised that the book was vegetarian, but also pleasantly surprised at the amazing recipes! The Grilled Portobello Burger Recipe is one I can't wait to try, and they suggest pairing it with an Octoberfest Beer. Yum!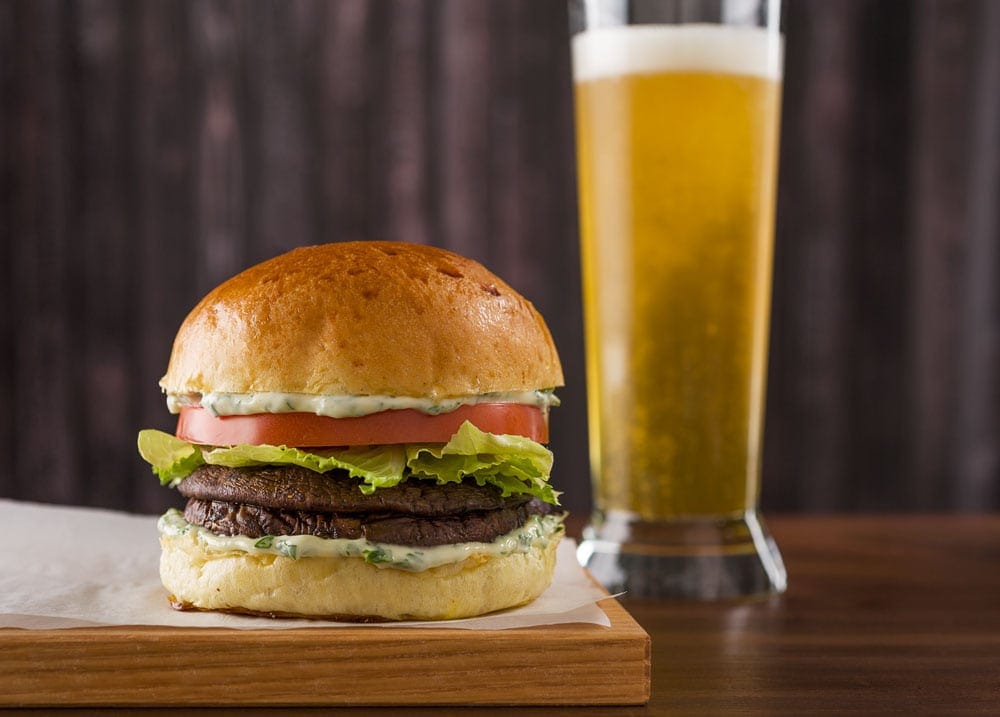 The Ultimate Beer Lover's Happy Hour will take you to a whole new level of tipsy gratification by bringing some of the best bar snacks and beer cocktails straight into your kitchen. This hip new cookbook features over 325 irresistible recipes for delicious bar bites—from Sizzling Sriracha Peanuts to Taproom Tacos to Blitzed Bean Soup—and beer cocktails, chuggers, shots, shooters, chasers, punches, floats, and shakes, with nearly 1,000 related pairing suggestions using today's most popular craft and seasonal beer styles.
Whether you're looking to host the next bash or simply create your own happy hour at home, this all-in-one entertaining guide will help you turn every bite into party night!
Here's that grilled portobello burger recipe!
Grilled Portobello Burgers From The Ultimate Beer Lover's Happy Hour by John Schlimm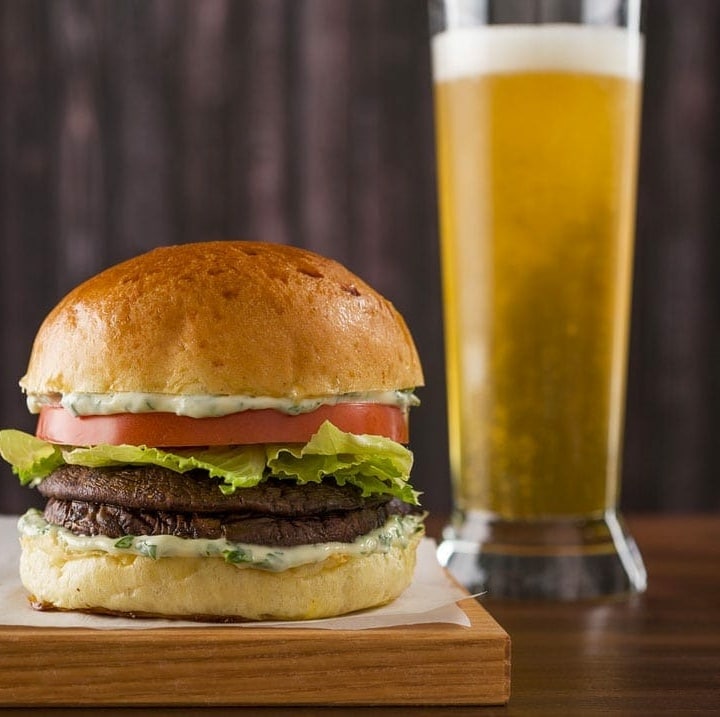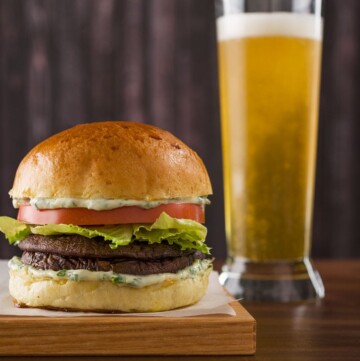 Grilled Portobello Burgers
Grilled Portobello burgers are popping up on menus everywhere, but none of them can hold a candle to this marinated version boasting a culinary treasure trove of ingredients – balsamic vinegar, vermouth, Old Bay, soy sauce, and chiles, to name a few. The only thing that can possibly make this burger better is its sidekick of a Belgian Ale, American Wheat Ale, or American or English Pale Ale. And that's before you even hit up the potential variations that follow, including a Portobello Fire Burger, Buffalo-Style Portobello Burger, and Sauerkraut & Portobello Burger.
Print this Recipe
Pin this Recipe
Rate
Ingredients
1

⁄4 cup canola or vegetable oil

1

⁄4 cup balsamic vinegar

2

tablespoons

dry white vermouth

2

teaspoons

garlic powder

2

teaspoons

onion powder

1

teaspoon

Old Bay Seasoning

2

teaspoons

low-sodium soy sauce

1

⁄2 teaspoon to 1 tablespoon Tabasco sauce

1

teaspoon

freshly ground white pepper divided

2

Anaheim chile peppers

seeded, each pepper carved into 2 wedges
Instructions
Whisk the canola oil with the balsamic vinegar, vermouth, garlic powder, onion powder, Old Bay

Seasoning, soy sauce, Tabasco sauce, and 1⁄2 teaspoon pepper in a large bowl.

Add the Anaheim chile wedges, jalapeños, and mushrooms, and toss to coat thoroughly.

Marinate the mixture at room temperature for 45 minutes.

Lightly oil the grates, if necessary, and heat the grill to medium.

Grill the pepper wedges, skin side down, until blackened, about 10 minutes, turning after 5 minutes to create crisscross grill marks.

Set aside until cool enough to handle, then rub off the skins with paper towels.

Meanwhile, grill the mushrooms, covered, until tender, about 8 minutes, turning once after

about 6 minutes.

Remove from the heat and set aside.

Split the buns and toast them.

Stir the tarragon into the mayonnaise in a small bowl.

Generously spread the mayonnaise mixture on both insides of the toasted buns.

Place two grilled mushrooms on the bottom half of each hamburger roll, and top with a lettuce leaf, tomato and red onion slices.

Close the burgers, and serve promptly.

The book features several yummy variations of this burger, like Mushroom Lover's Burger, Portobello Fire Burger, Buffalo-Style Portobello Burger, and Sauerkraut & Portobello Burger, all with pairing suggestions. Enjoy!