Posted in partnership with RaceTrac. I'm a RaceTrac Ambassador, but my love for their grab and go food is all my own.
It's almost vacation time, and one thing you'll need for those family road trips is grab and go snacks. According to a New York Times article from February of this year, the Great American Road Trip is more popular than ever. In fact, in a study done last year by MMGY Global, it was discovered that 39% of leisure travel in the US included a road trip.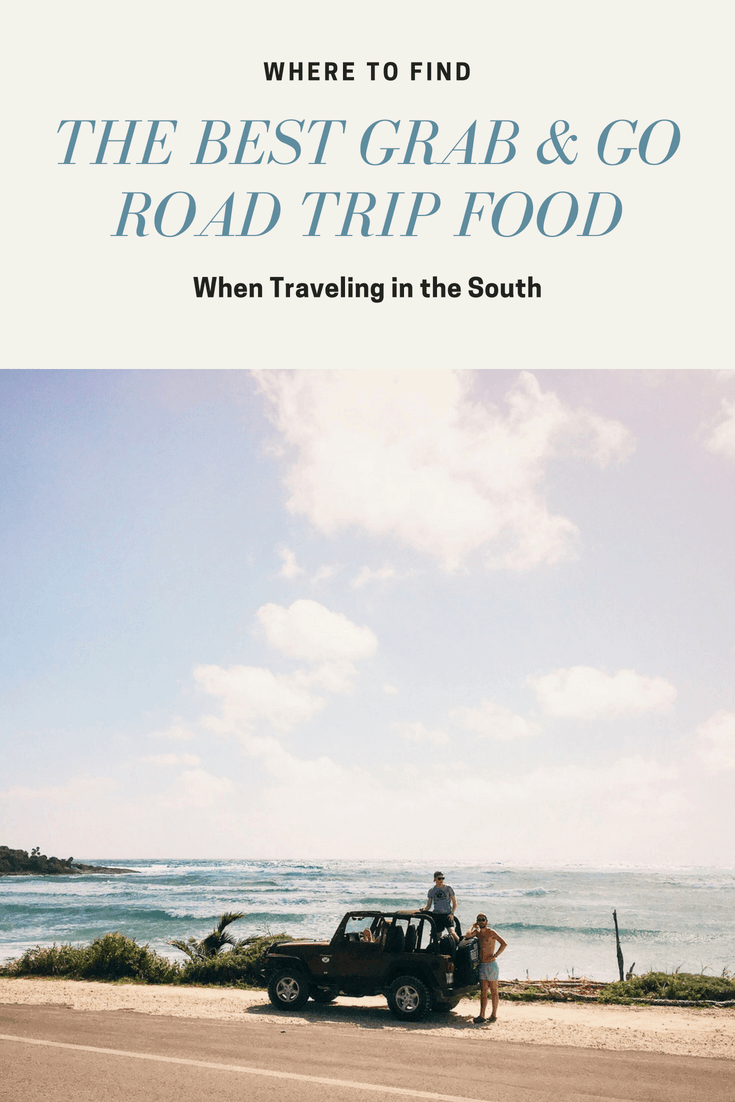 I remember when I was a kid, road trips were all we could afford. In fact, I didn't fly until I was 18. My younger brother and I would climb into the back seat and color or draw (no gaming back then!) while my dad drove to Beverly Beach or a local campground. Those were good times.
My mom would sometimes make lunch for the road, but it was a special treat to stop somewhere along the way. After all, what mom made was the same thing we would have at home. To eat out was exciting!
I think kids still feel that way, and if you're traveling in the south, it's even easier today than it was back then. In those days, we didn't have great convenience stores like RaceTrac.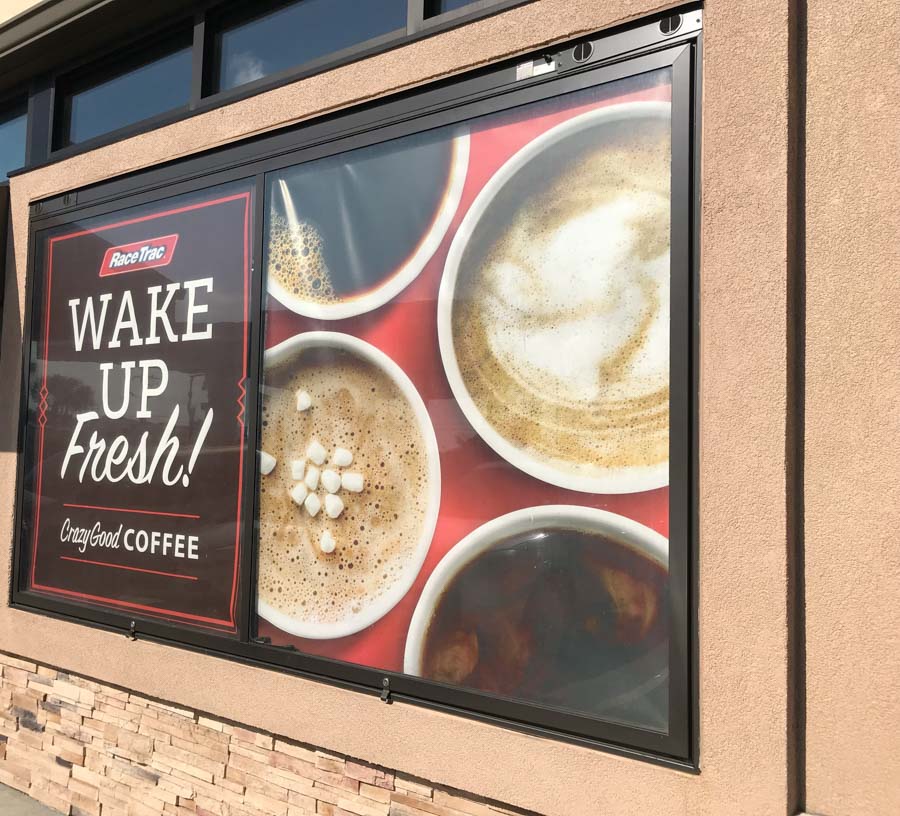 When you stop into one of the 670 RaceTrac locations (found under the under the RaceTrac and RaceWay name) in 12 southern states, you won't just find the typical convenience store food.
RaceTrac has sandwiches, Nathan's Famous 100% Premium All Beef Hot Dogs sizzling away on the Roller Grill, taquitos, tamales, breaded chicken Roller bites and so much more. And remember to stop by the Roller Grill topping bar to make your meal just like you like it.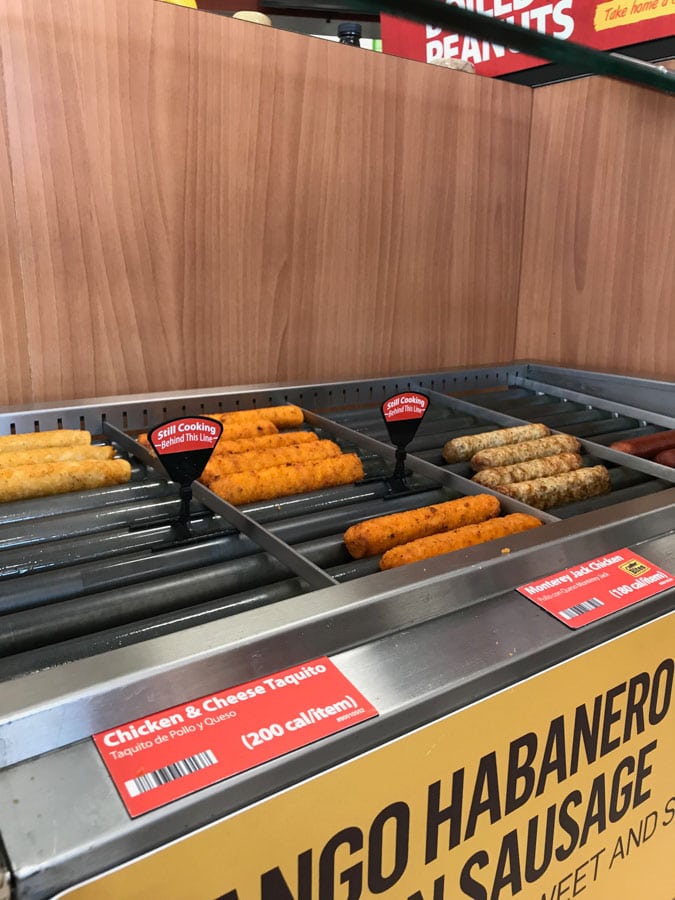 RaceTrac is kind of famous for their Roller Grill, but are encouraging their guests to take it to another level by trying out pizza by the slice. Pizza at RaceTrac is hot, fresh and ready to grab and go! It's really the most convenient pizza you can get!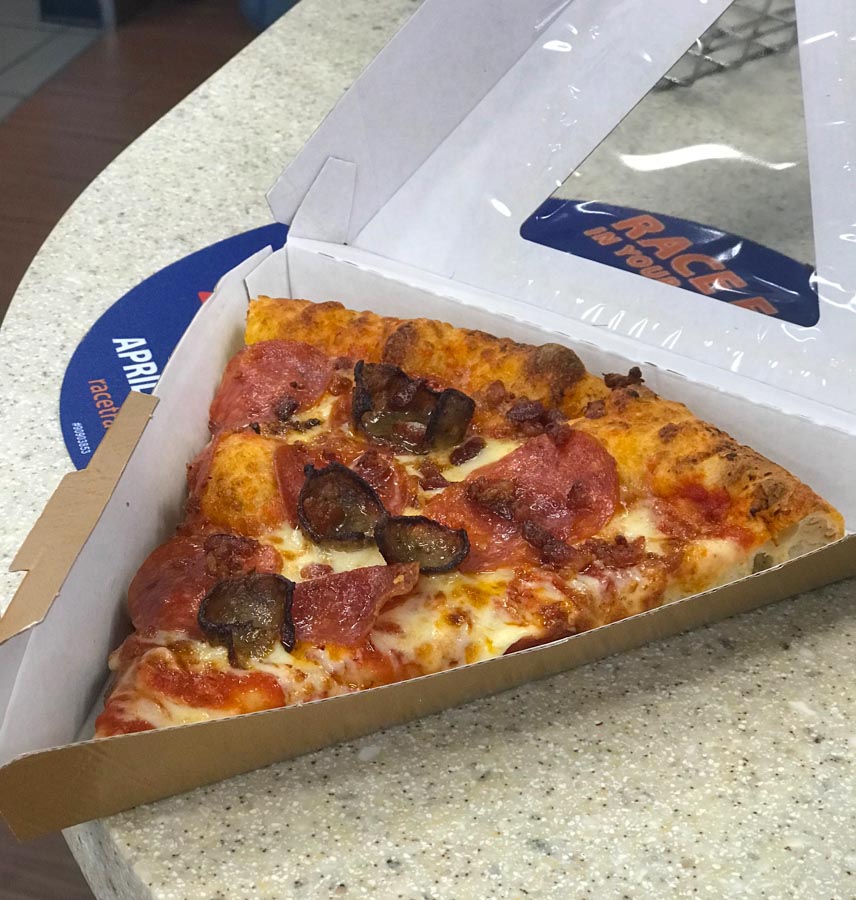 Did you know the pizza at RaceTrac is made in house, with fresh ingredients? They bring in fresh pizza dough, mozzarella cheese, sauce and toppings, and their slices are huge! RaceTrac only cuts 6 slices per 16 -inch pizza, so you are getting a lot of deliciousness. And it's waiting for you to grab and go!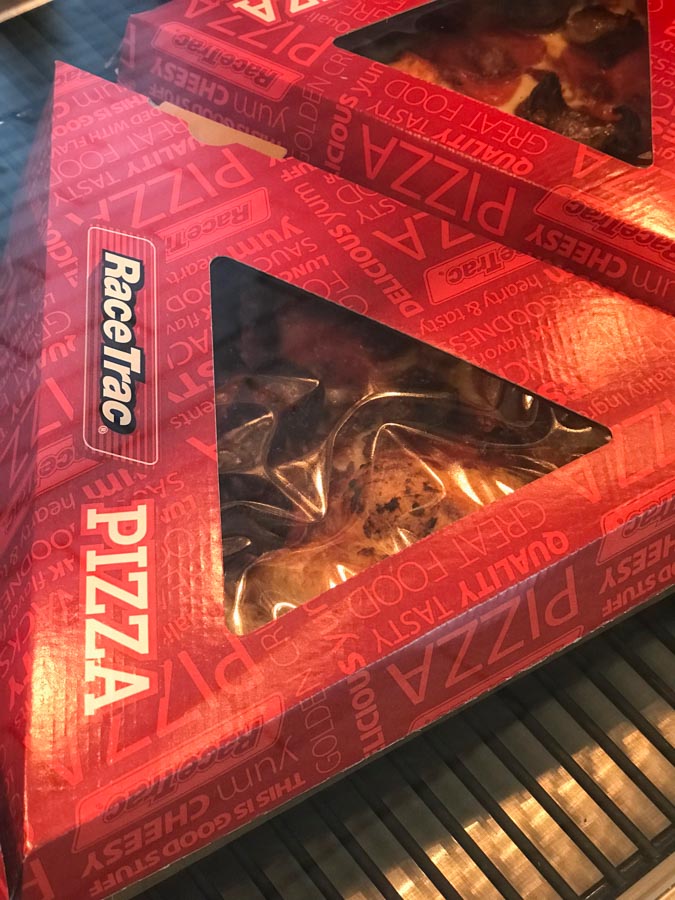 Like plain cheese pizza? They've got it at RaceTrac. Prefer pepperoni? They've got that, too.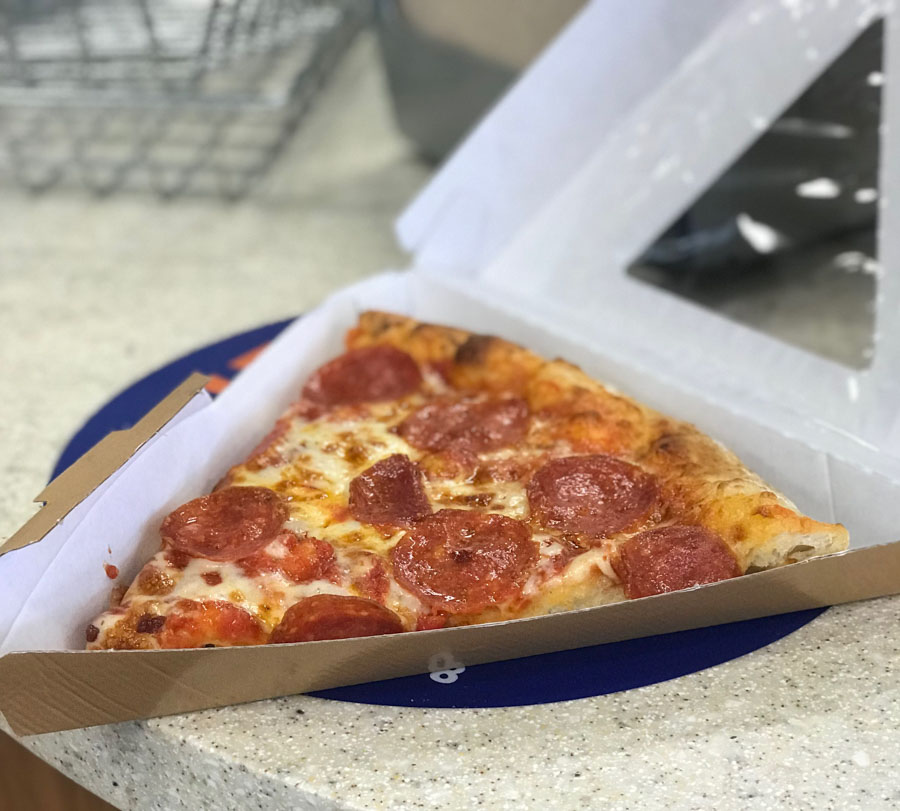 Maybe Meat Lovers is more your style. RaceTrac has you covered!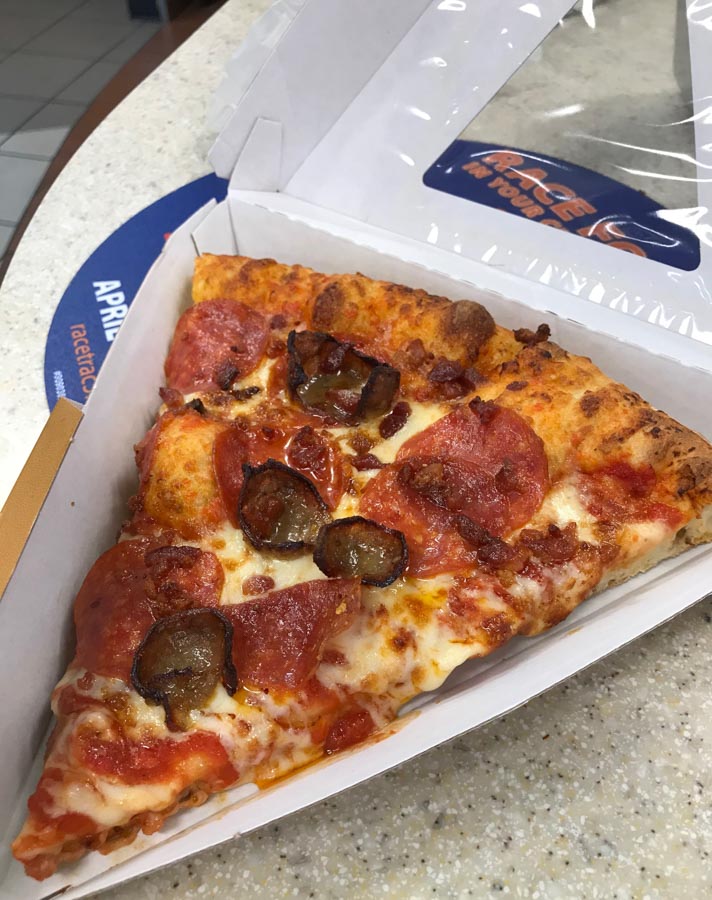 And now for a limited time, RaceTrac is offering Buffalo Chicken Pizza, which is sure to melt hearts AND cheese. Okay, that was cheesy! But on a more serious note, this is the first time RaceTrac has done a pizza slice limited time offer, so stop by your local RaceTrac and tell them you like it so they will do it more often!
The RaceTrac motto has always been whatever gets you going, and they mean it! Like frozen yogurt with your pizza? SwirlWorld has a nice variety of frozen desserts including ice creams, yogurts, sorbets and Italian Ice.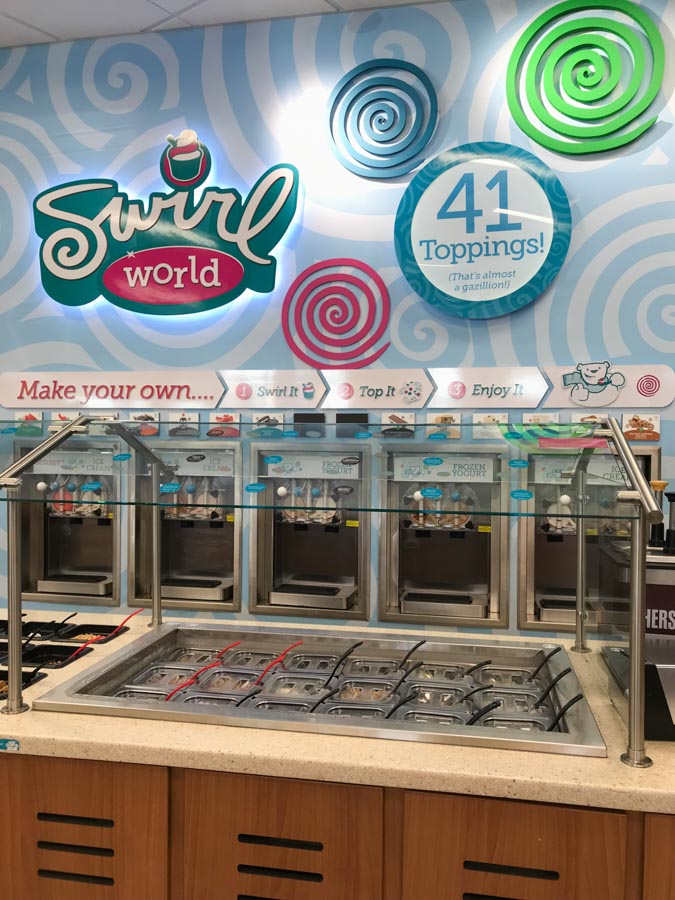 And have you seen that topping bar? Whether you choose a cup, cake cone or waffle cone along with your favorite flavor, you can choose from 40 different toppings! It's a nice treat to stop and stretch your legs on that road trip and let everyone make their favorite treat their way. Be sure to also grab napkins if you grab and go!
Prefer your pizza for breakfast with a cup of coffee? The "Crazy Good Coffee" bar at RaceTrac offers a variety of blends of freshly brewed coffee, including 100 percent Hazelnut, Regular, Columbian, Guatemalan, Decaf and Dark Roast.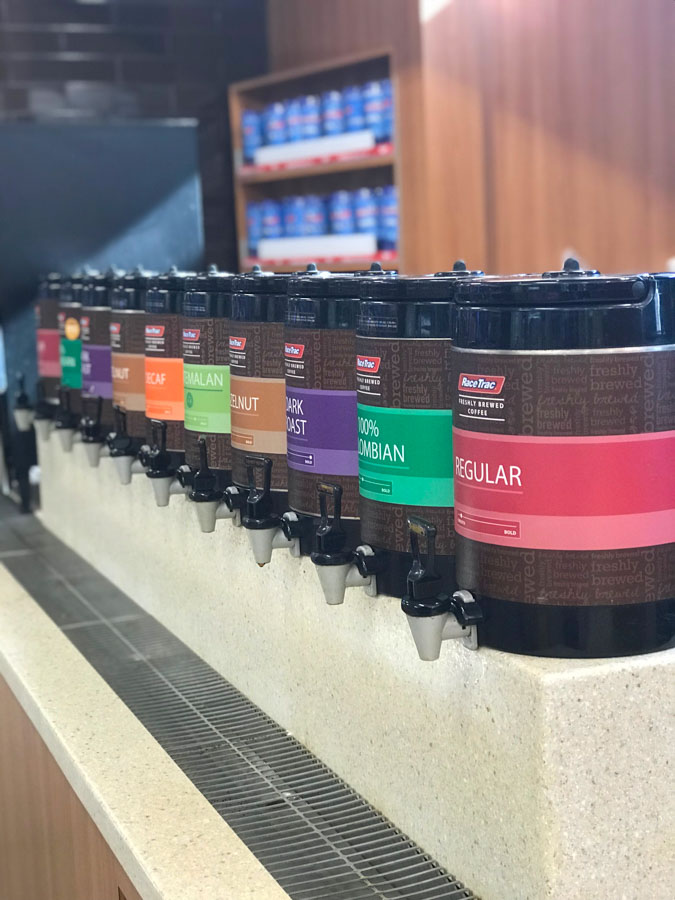 And it's the highest quality coffee – 100% Arabica beans. You can even get cappuccinos, iced coffee, hot teas and hot chocolate, and some stores have the new coffee machines where you select your favorite coffee blend and watch the beans grind right before your eyes. That's a fresh cup of joe!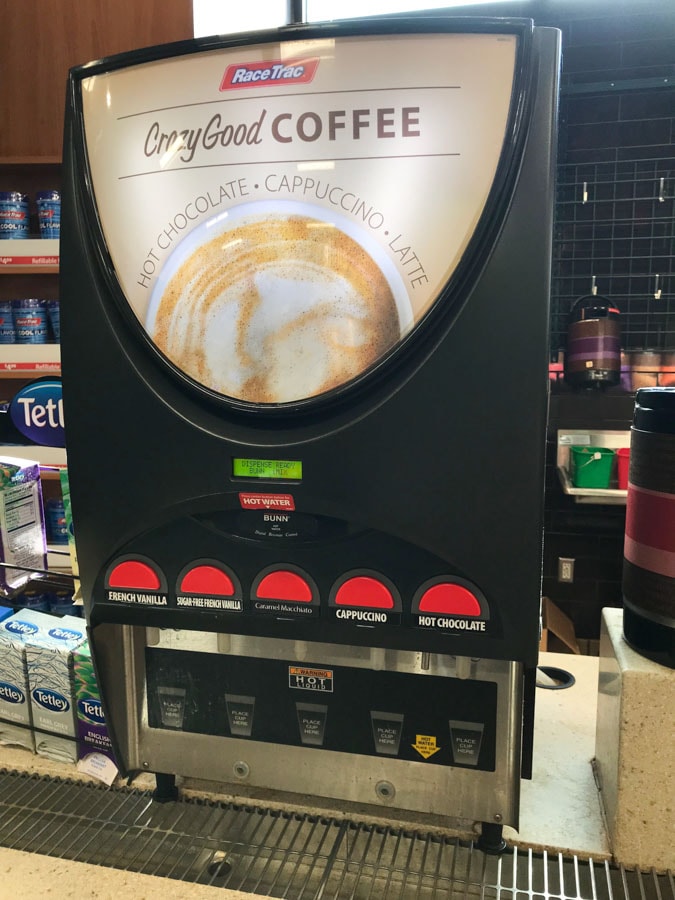 Maybe you're a purist and prefer your morning meal to be breakfast food. RaceTrac has you covered there, too. With their made in-house grab and go breakfast sandwiches, you'll get real buttermilk biscuits, flaky croissants, Jimmy Dean sausage and Tyson chicken breasts.
All the ingredients in the RaceTrac breakfast sandwiches were hand selected by their Executive Chef. You can grab and go the Sausage, Egg, and Cheese Biscuit, Chicken Biscuit, or the Ham, Egg, and Cheese Croissant. Grab all three and share! You know I like to try it all!
And don't forget the pastry case for that sweet tooth breakfast treat.
When lunch or dinner time rolls around, you can pick up a fresh salad like the Farmhouse Cobb Salad, BLT Caesar Salad, Side Garden Salad, or Greek Style Salad.
Rather have a grab and go sandwich? Check out the sandwich cooler and try the Turkey & Swiss with Tomato, Italian Sub, Club Stacker or Chipotle Kickin' Chicken Wrap. Grab and go fruit is also available any time of day.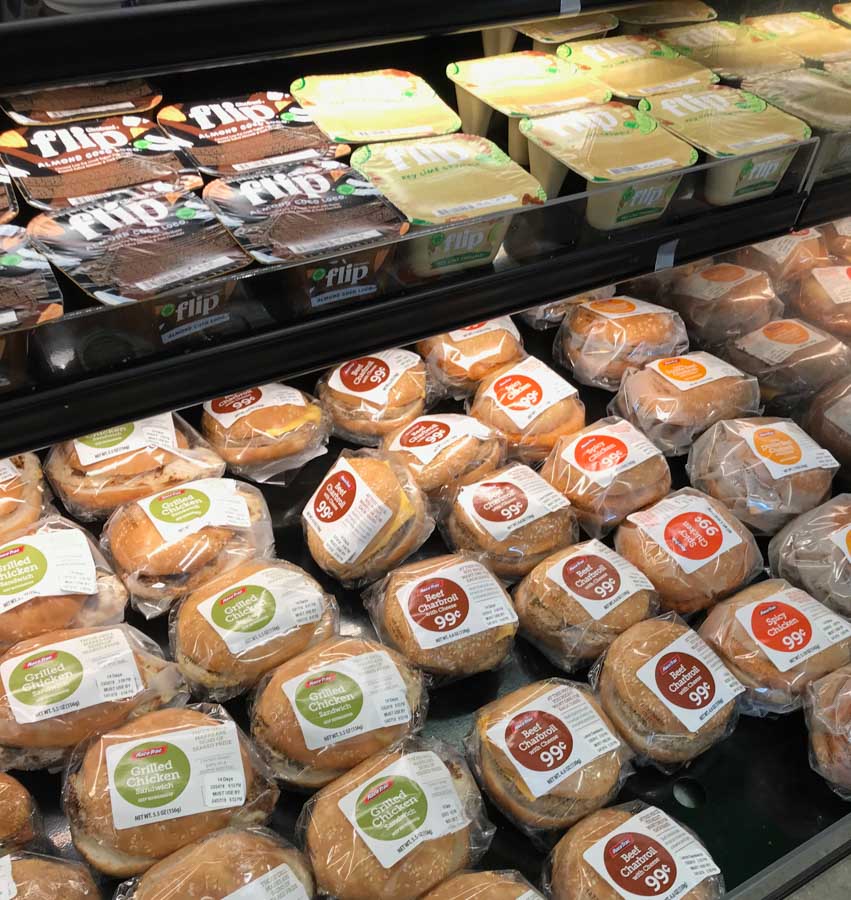 What are you planning for your summer vacation? Is a road trip in your near future? Be sure to stop by RaceTrac for all your grab and go food needs and enjoy that vacation!
Looking for fun tailgating ideas? RaceTrac has everything you need for that, too!
RaceTrac partnered with influencers such as me for its Pizza campaign. As part of this Program, I received compensation for my time. RaceTrac believes that consumers and influencers are free to form their own opinions and share them in their own words. RaceTrac policies align with WOMMA Ethics Code, Federal Trade Commission (FTC) guidelines and social media engagement recommendations.