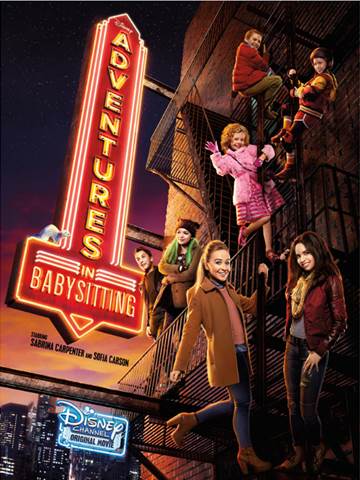 You may remember blockbuster Adventures in Babysitting from the 80's. Well, it's 2016, and it's time for an all new live-action adventure! Don't worry, the new Adventures in Babysitting is as funny as ever, and pays homage to the original. It's fresh and still very family friendly, so everyone can watch this 100th Disney Channel Original Movie together!
While in Hollywood for the Captain America Event, I was also invited to screen Adventures in Babysitting. I have to be honest. I wasn't familiar with the 1987 film until I was told it was added to our list of things to do while in LA. Now that I've seen it, I'm looking forward to seeing it again with my 16-year old daughter. There are some laugh-out-loud scenes that I won't share because I don't want to spoil it for you, but this really is the must-see family film of the summer. Check out this short video:
You may know the story; Jenny is the perfect student, the perfect friend, and the perfect babysitter. She's dependable, a positive thinker, plans out everything she does before she does it, and would never dream of veering off that course.
Lola, on the other hand, has other things on her mind. A free-spirit who doesn't plan anything, Lola is a disaster waiting to happen.
When the two girls both apply for the same coveted art internship, they somehow switch phones. And that is when the real Adventure begins! You really do have to see it to believe it!
These girls are so sweet and so respectful, I absolutely loved chatting with them. I'll be sharing more about that in June after the film premieres.
The Anderson family kids do a fantastic job in the film, too. Trey, played by Max Gecowets, plays the oldest of the Anderson kids, and is the real reason a lot of the disaster begins when he sneaks out of the house. Bobby, the middle kid, played by Jet Jurgensmeyer, isn't really a troublemaker per se, but he can make a mess like nobody's business. Alison, or "AJ", is played by Madison Horcher, and is the youngest child. Pretty much at typical eight-year old, her cantankerous-on-wheels personality will definitely win some fans.
The Cooper family kids bring Emily, played by Nikki Hahn, who is an introverted teen just looking to express herself... and be understood. I think a lot of teens will relate to Emily.
The younger Cooper child, Katy, played by Mallory James Mahoney, is a little fashionista with spunk. Little girls will definitely be picking up her style. I see a future clothing line in the future of this movie!
Adventures in Babysitting also stars "BUNK'Ds" Kevin Quinn as Jenny's heartthrob Zac Chase. Remember a few years ago when the other Zac from High School Musical was every teen girl's crush? Get ready to meet the new summer heartthrob! This kid is so cute, I just can't wait to see the reaction when Adventures in Babysitting premieres on the Disney Channel on June 24th to be followed by the premiere of new live action comedy "Bizaardvark." It's going to be a fun night on the Disney Channel!
For more updates on all things Disney Channel, be sure to keep up with them on Facebook , Twitter and Instagram!