This post about the Disney Parks contains an affiliate link, just so you know!
If you've visited before, you know how much we love Disney! In fact, we were in Orlando at Disney World last week, and we are going to Disneyland soon!
We had an absolute blast at the Disney Parks in Orlando! Have you been? There is so much to see and do. We've been a bunch and still have not seen everything! I was able to see my good friend Stitch this last time at Hollywood Studios! Stitch gives the best hugs!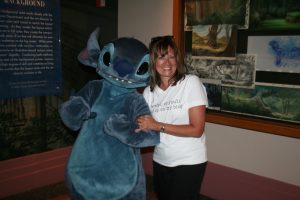 My girls were excited as we also went to Magic Kingdom. Even though they are teens, it's their favorite park. We were able to see Gaston this time in the New Fantasyland. We also spent some time with Ariel. It always amazes me how the characters are able to spend so much with guests. They just make you feel so special! Your kids will love meeting their favorites. Be sure to pick up an autograph book!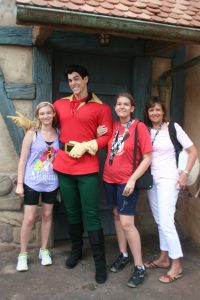 Gaston is such a riot! You could spend all day just in Fantasyland! You have to eat at Gaston's Tavern, too. Yum! Try the LaFeu's Brew!
We also love pin trading. You can buy a lanyard and a few pins in a set to get started. Most Disney cast members wear a lanyard with pins and will trade with you. It is so much fun! My girls have been doing it for years, and I recently started my own collection. I have my eye on a couple of sets I want to collect. Just think, you could make it a tradition for the kids to get a pin in their stocking at Christmas, or for their birthdays! So fun!
Have you been thinking about taking a Disney Parks Vacation? They make it so easy for you by providing a FREE Vacation planning guide!
This Guide will help you with all your vacation planning details. Especially if this is your first visit to the Disney Parks, this guide is so helpful.
Simply click on the Disney banner at the top of this post, and you'll be on your way to planning your vacation with Disney!