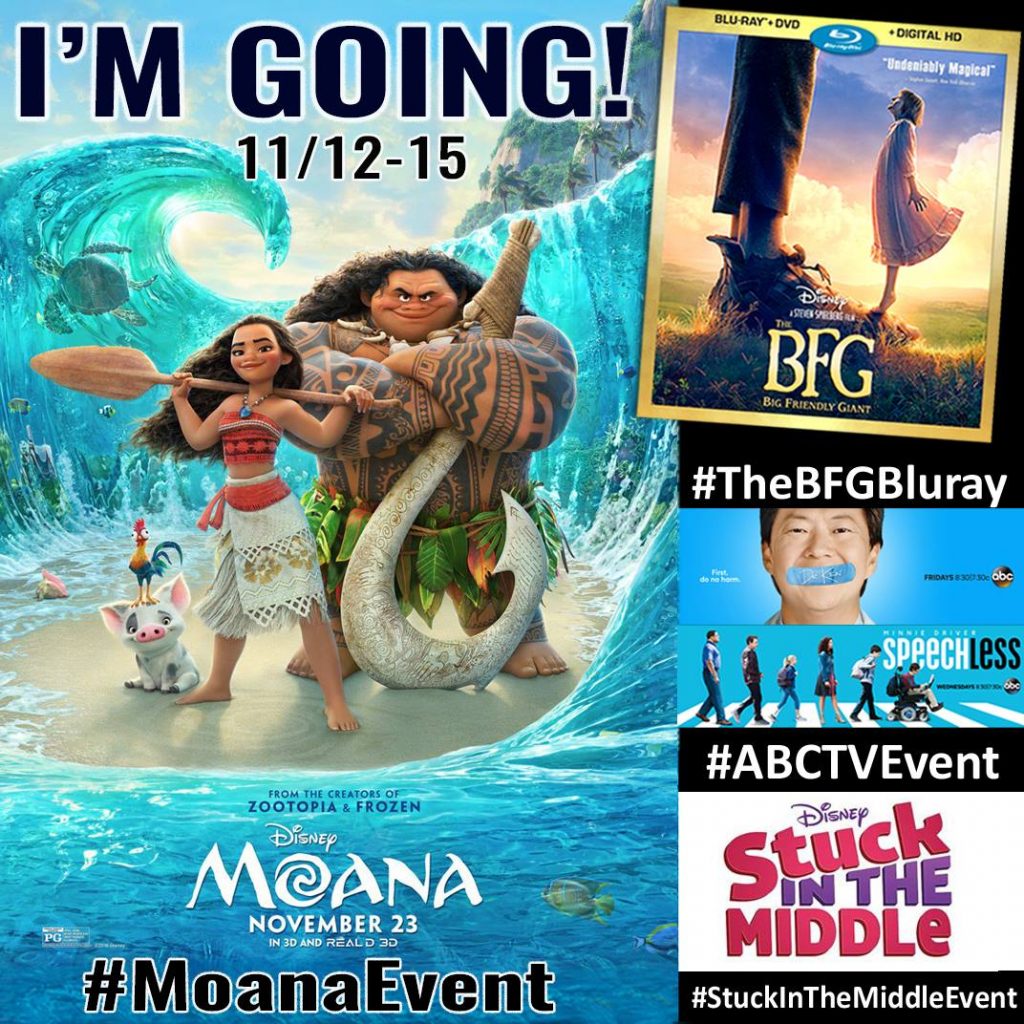 I am so excited to share with you that I'm heading back to Los Angeles for the Disney Moana Event! We just got our schedule and it's BUSY! I don't think I've ever been so excited about an event! Now, I'm hoping you will follow along and share with your friends and family, so I'm giving you the heads up on everything we're doing. Deep breath. Ready?
I arrive in LA on Saturday and will be screening Moana that evening. As you probably know, I won't be able to tell you much about the movie, but I will be able to share my impression. Follow along with the hashtag #MoanaEvent for reactions! Have you seen the latest trailer? So excited! Watch it here:
I'll also be screening the new short Inner Workings. Don't you love Disney shorts? Inner Workings is a hand-drawn/computer-animated adventure short film produced by Walt Disney Animation Studios that will be shown right before Moana!
On Sunday at 9:30 am, the Moana Press Junket begins with interviews:
My first interview is Lin-Manuel Miranda who scored the film! My family are huge fans of Miranda and I can't wait to share this interview with you!
Next up is Auli'i Cravalho, voice of Moana. I shared her story back in October of last year, and I'm so looking forward to meeting her!
We will get the chance to chat with Directors Ron Clements & John Musker about the making of the film.
Next we'll be talking with the amazing Dwayne Johnson who voiced Maui. I remember Dwayne talking about how important this film is to him way back at D23 two years ago, because it's a chance to show his culture to the world. Meeting Dwayne is a bucket list item!
We'll get the opportunity to chat with Producer Osnat Shurer about her role in bringing the film to screen. Osnat worked with Pixar Animation for many years and worked on a lot of our favorite shorts.
Next I'll be talking with Opetaia Foa'i about the music from Moana. What I've heard so far is  amazing!
Finally, we'll be attending the INNER WORKINGS presentation with Director Leo Matsuda and Producer Sean Lurie.
Friends, I really need your help. During these interviews, we will be asking questions in each session. That's where you come in. Send me your questions either by email to kastilwell@gmail.com or tweet me at @kellystilwell and use the hashtag #MoanaEvent. I will be sure to tag you on Twitter if your question is used! I'll do my best to ask every question!
On Monday, we're changing things up a bit. We've been invited to a miniature brunch feast, special photo opp, and interview with Lucy Dahl, daughter of author Roald Dahl. I'll be tweeting with the hashtag #TheBFGBluray as we're celebrating The BFG coming out on Bluray. Haven't seen it? Your chance is coming for the digital download on November 14th and Bluray/DVD on November 21st!

Watch the trailer here:
After brunch we're heading to a set visit for my new favorite show, Speechless! I've always been a fan of Minnie Driver and I LOVE this show! We will also be going behind-the-scenes and have a meet & greet with available cast members.

I'm hoping for Minnie Driver and Micah Fowler, but I'm excited to meet any of the cast! If you haven't seen this show, start with the pilot and catch up. You are going to love it, too! Be sure to watch on Wednesdays at 8:30 ET/7:30 C. Have a question about the show? Remember to either email me or tweet me, and follow along with the event at #ABCTVEvent and #Speechless.
Next we're going behind-the-scenes on the set of "Dr. Ken" with a meet & greet with Executive Producer and star Ken Jeong as well as other available cast members. Dr. Ken is SO funny, and the nurses? You will laugh out loud!! Watch Dr. Ken on Fridays at 8:30 ET/7:30 C. You can catch up easily here. I'll be tweeting with #ABCTVEvent and #DrKen. Questions? You know the drill 🙂

I'm so grateful we have a couple of hours to get ready for the evening activities, because we're joining the stars of Moana on the red carpet for the premiere as well as the first screening of INNER WORKINGS! I am planning to do Facebook Live as well as a lot of tweeting during the event, so follow along with #MoanaEvent!
The next day, Tuesday, I'll be heading to Walt Disney Studios to interview Nicole Scherzinger, voice of Sina in Moana. We'll also be hanging out on the Studio lot for a bit sharing photos, so follow along with #MoanaEvent and send me questions for Nicole!
Have you seen the new Disney Channel show STUCK IN THE MIDDLE? We'll be visiting the set and have a Q&A as well as photos with Jenna Ortega ("Harley Diaz"), Ronni Hawk ("Rachel Diaz"), Isaak Presley ("Ethan Diaz"), Ariana Greenblatt ("Daphne Diaz"), Kayla Maisonet ("Georgie Diaz"), Malachi Barton("Beast Diaz"), Nicholas Bechtel ("Lewie Diaz"), Cerina Vincent ("Suzy Diaz") and Joe Nieves ("Tom Diaz"). If you haven't been watching, you can catch up here.

I hope you'll be following along with all these events! Remember to send me your questions and use the hashtags!