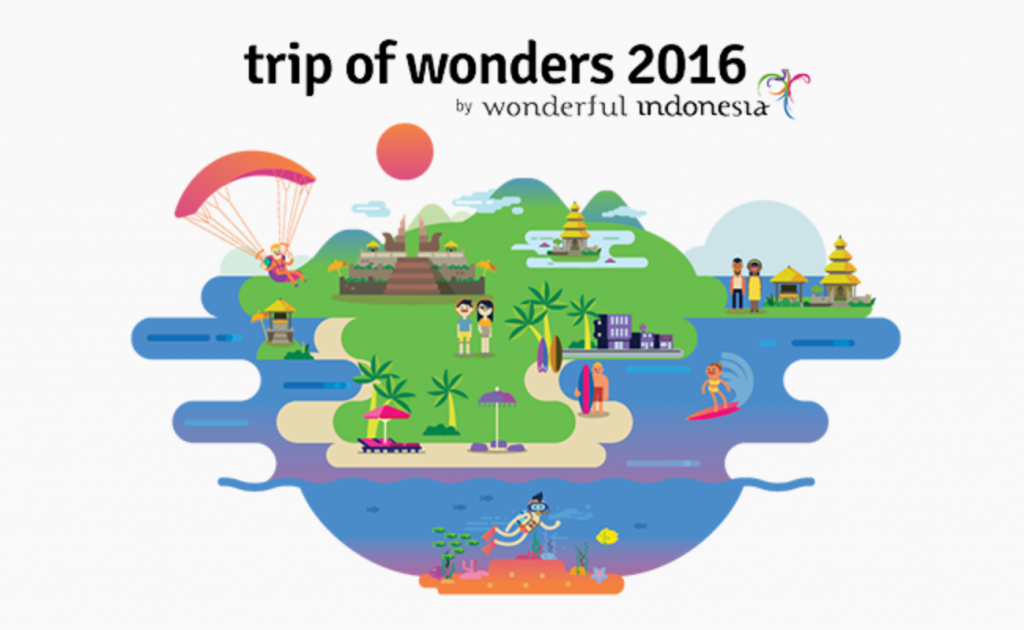 I'm about to embark on the trip of a lifetime to wonderful Indonesia, and I'm hoping you will follow along beginning on Sunday. It will be the closest thing to packing each of you in my suitcase!
This will be my first adventure in Asia, and excited seems too simple a word to describe how I'm feeling. Have you seen photos of Indonesia? Blue seas, white sand, thousands of volcanic islands, Komodo dragons and orangutans, and that's just a taste. We have a plethora of activities on our schedule from visiting the Crater Lake to playing games with Sudanese children. We will be shown around the country learning about the culture and beauty of Indonesia.
Once there, we will be covering a lot of territory! Beginning in Bandung, we will be taking an off-road adventure through the Sukawana Lembung forest. I'm told the food in Bandung is crazy good, so you know I'll be taking a lot of photos and sharing! We will also visit Kampung Daun where there is a gorgeous waterfall and we'll be dining on various Sundanese foods.
Just 50 kilometers south of Bandung is Kawah Patih, where we'll be visiting the Crater Lake, a large dormant volcano. I'm told the experience is surreal, and I'll be ready with my camera to capture it. Next will be a workshop to learn about Indonesia's traditional music. The music is said to be very soothing. I'm told we will be treated to a show, so I'm looking forward to hearing the music for myself.
In reading about Indonesia, I learned the children have hundreds of games which are played in groups. These aren't games like most of our children play today. Many of the games pieces are made of bamboo. Hong Community will be teaching us some of the traditional games, and I'm hoping I'll be able to bring a couple of them home for my daughters and nieces.
Our next adventure is in Jogjakarta where we will visit the Borobudur temple, the world's biggest Buddhist monument. Built in the 9th century and considered to be one of the world's seven wonders, the temple's design in Gupta architecture reminds us of India's influence on the region. We will see the sun rise at Borobudur, which I hear will be an unforgettable experience. I'll do my best to capture it for you and share it on social media and here after my trip. Be sure to be following #WonderfulIndonesia and #TripOfWonders.
Never in my wildest dreams would I ever have thought I would visit the home of a Sultan, but that is what is in store for one of our destinations. The palace of Yogyakrata is a focal point of the Sultan's kingdom. This is also where ceremonies and other cultural functions are held. Just one hour from Jogjakarta is Parankusumo, where we will experience a sandboarding sunset. Yes, there will be video!
Our last couple of destinations before we make the long trip to the east of Indonesia will be to the exotic Hindu temple, Prambanan, and then the Ullen Sentalu Museum in the Kaliurang region. This is only the first week of the trip, and there is so much more to see!
Our second week in Indonesia brings us to an area that I have heard from several people will be another experience I will never forget. Raja Ampat is where we will snorkel and dive with Mantas. I'll be on team snorkel as I'm not dive certified, but from what I'm told, we will see underwater beauty like we've never seen before. I've also read that the handmade crafts are lovely, so I hope to bring back a few pieces of Indonesia from the village in Arborek.
In Lombok, we will visit Kuta Lomback, one of the best surfing destinations. We will also be given a surfing lesson while there, which has been on my bucket list forever. I hear there is a spa day in the mix, too. Yes, please.
The final day of the trip will be in the Gilis, where there are no cars or motorbikes. The Gilis comprises three areas; Gili Trawangan, Gili Meno, and Gili Air, where we will find white sandy beaches, tropical coral reefs, and warm inviting turquoise water. I'm sure I will be sad to leave, and begin planning to bring my family with me the next time I visit Indonesia.
Now that you know where I'll be and what I'll be doing, I hope you will follow along! Remember to follow #TripOfWonders and #WonderfulIndonesia on Twitter, Facebook and Instagram.
And please, if you have questions about any of the regions I will be visiting, let me know so I can ask while I'm there. I feel so blessed to be able to take this journey to a part of the world I've never seen, and hope to encourage you to visit one day, too. In fact, you could win a trip to Indonesia for you and a friend! Just enter on the Wonderful Indonesia Travel website! Enter now so you don't forget! You may even see your name in the top participants list! Good luck!
Follow Indonesia Travel on all their social platforms!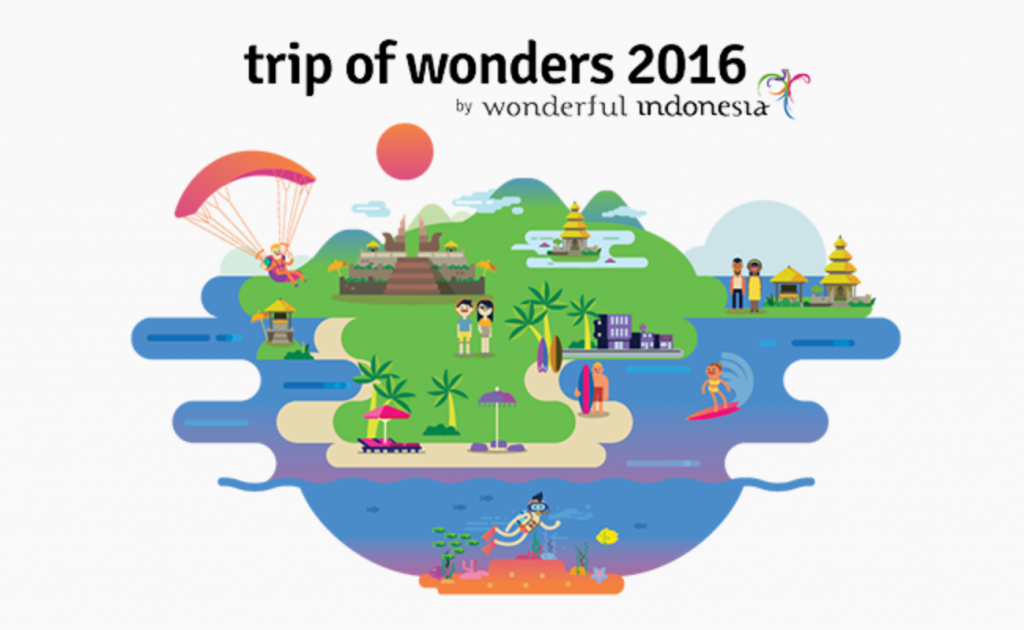 I'd love to know what you would like to see if you were headed to Indonesia. Share in the comments!
Thank you to Indonesia Travel for sponsoring this trip.